7 Annoying Couples Instagram Captions You Need To Stop Using
There's really no getting around it; couples have reached peak annoyance in 2018. They used to cap off at replacing "I" with "we" and copious amounts of PDA, but now we're at a point where the limit to how cringeworthy a couple can be does not exist. I'm not even just saying this as a bitter single betch with a snarky Hinge bio. I'm one half of a couple and I'm literally on my own damn nerves. Honestly, there are millions of reasons why the secondhand symptoms of monogamy are at an all-time worst, but the main culprit here is Instagram. And I'm talking about the captions. Like, there's nothing outwardly offensive about a photo of a couple standing in front of something moderately scenic. But throw a caption on it—that's basically always the reason people hate a couple. Here are a few of the very worst couples Instagram captions ones that you should avoid at all costs.
And no, I'm not going to give you any advice on how to write good couples Instagram captions, because I do not believe there is a safe plan of action to follow here. Basically, we're all just f*cked. Just make sure to never find yourself typing "cutest couples Instagram captions" into the Pinterest search bar, or you'll officially have become a lost cause.
1. "This Guy ????"
This is arguably the most annoying couples Instagram caption in existence. First off, it's just plain lazy. Secondly, it's vague as hell. I'm definitely not suggesting that you DTR on every Instagram caption from here on out—that's the absolute last thing you should be doing—I'm just saying, this caption isn't going to make you appear chill enough to successfully convince everyone that you're not disgustingly obsessed with your bae/posting photos so any potential side chicks know to back off.

2. Literally Any Comparison To A Celebrity Couple
I don't give a sh*t if it's John and Chrissy or Kermit and Miss Piggy; comparing you and your significant other to a famous couple is just not the move. It's unoriginal, and it's basically just a very public, delusional self-compliment. Plus, celebrity relationships (with the exception of John and Chrissy, just going to take a time out to knock on wood here) tend to have a success rate comparable to my ability to fully carry out a Whole30 cycle. You're basically just cursing your entire relationship.
3. "Had The Best Time In With This One"
Did you have an awesome time? Did you drink awesome shooters and listen to awesome music, and then just sit around and soak up each other's awesomeness? I'm willing to bet you really didn't have the "best time" on your first weekender with your significant other. It most likely consisted of three straight days of holding in farts with a few scattered "babe, can we just take a quick pic?" opportunities. Spare yourself the lie and just throw down a string of emojis at this point.

4. "Love You Almost As Much As I Love "
Oh! I see what you did there! You compared your relationship with a human to your relationship with a food that you like to eat. That was pretty funny and I've never seen that before. Okay, but on a serious note, I get that Forever 21 and bad meme accounts have brainwashed us all into thinking that liking pizza and wine is a personality trait, but I am urging you to rise above that here. With one unique Instagram caption, you too can save yourself from becoming a statistic.
5. "The To My "
Unless it's like, actually pretty funny, this is one of the formats of couples Instagram captions that you should try to avoid. I don't care if you go together like peanut butter and jelly, cookies and milk, or orange juice and champagne. Just like, literally STFU.

6. "You Are The Best Thing That's Ever Been Mine"
The only acceptable way to be a Taylor Swift fan is silently. If you're going to let your love for T. Swift show on a public social media forum, your options are a) referencing dramatic breakup lyrics from "Sparks Fly" or the Fearless album only, or b) a single Instagram story from the Taylor Swift concert everyone apparently crawled out of the woodwork and attended. You're not allowed be an avid Taylor Swift fan and in love at the same time publicly. It's just too much. You may choose one.
7. Anything That Even Vaguely Suggests Relationship Goals
You cannot dub yourself relationship goals. It's not allowed. Also, I think I stand for most of the Instagram community when I say it is time to put these bare minimum goals to rest. Like, oh? Your boyfriend opened a car door for you? Or bought you flowers? Those are like, extremely normal displays of affection that do not necessarily need to be Instagrammed and bragged about.

Oh and, as a last piece of advice, for the love of God, please always tag your other half in photos so the rest of us can creep appropriately. Thank you!
Images: Rawpixel / Unsplash; Giphy (4)
3 Ways You're Scaring Guys Off Without Realizing
The annoying thing about dating advice, generally speaking, is that it tends to be 100% based on other peoples' opinions. And if you've ever engaged in polite conversation, you'll know that most peoples' opinions fucking suck. I've read countless times that showing up late and mentioning horoscopes is a guaranteed dealbreaker, but my Scorpio boyfriend (tragic, I know) was kind enough to overlook all that, and we've been thriving ever since. So, I'm not here to give advice on dating specifically, an activity at which everyone unabashedly sucks. Instead, I'm here to make sure you actually make it to the point where you can decide whether or not you want a second date, rather than taking yourself out of the running with a too-soon friend request or some other amateur bullshit. Here are three ways you're scaring guys off before you get a chance to reject them yourself. Take notes.
Overusing Social Media
Social media is tricky. You need a distraction from the all-consuming task of not triple-texting, so you decide to post an Instagram story that happens to highlight your breasts and/or totally raging social life. And which you then go on to update every 30 minutes. Totally harmless right? Wrong. If triple-texting is unattractive because it looks like you're too into him, non-stop social media is unattractive because it looks like you're way too into your phone/yourself. (Which like, you are, but let him find that out on his own.)
Social media stories typically fall into two acceptable categories. If they're actually interesting/entertaining (what the kids refer to as "quality content"), post away. Keep in mind that this typically requires you having an interesting job or life, such as interacting with celebrities. Just my two cents. If your stories fall more into the "day in the life but my hair looks good" category, you're going to really want to limit it to the highlights. ONE selfie er day. ONE meal pic every three days, and the sunlight better be hitting your avocado toast JUST right. You get the idea.
Guys watching a story you updated every two minutes aren't admiring your fun, cool life. They're picturing you standing in the middle of that scene with your eyeballs glued to your phone. More importantly, they're picturing dating you as an unpaid photographer gig with a side of watching you scroll through filters. (Again, this is accurate, but it's also a reality that men need to be phased into slowly. If they're aware of what's happening before it's too late to stop it, you're doing it wrong.)
You're not Kim K. You can't get away with this.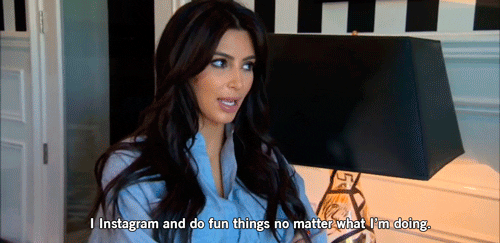 Planning Out Every Last Detail
On average, it takes me and my boyfriend maybe 60 texts to nail down a dinner date. I reject the first 15 restaurant suggestions, he suggests between seven and 12 different meeting points, I get preemptively snarky about his outfit, and the fun rolls on. Fine and good when you've tricked someone into you're in a committed relationship. Early on, though, anything above a single-digit number of texts to make a plan is going to be off-putting. This includes everything from the first "when should we get together" text to when you're actually, physically speaking. Which means you should leave room for one "I'm here" text when you arrive, and should absolutely not be texting "do you want me to get a table or meet at the bar? LMK!" once you do arrive.
Texting back and forth over every detail makes you seem like you can't make a decision without outside input, and runs the risk of exhausting him so much that the idea of meeting you in person no longer seems fun. This includes texts moving around the meet-up time, suggesting more than two locations (or including more than a five-word description of either one), or in any way reiterating the plans you've literally just made. (The boy can both scroll up and read, right? If not, get higher standards.) If you're taking the initiative to make the plan, actually make the plan. And if he's taking charge, either agree to something quickly or decide his suggestions all suck and just cancel altogether. Anything else will just breed irritation when your name pops up on their phone.
Your crush if you don't ease TF up: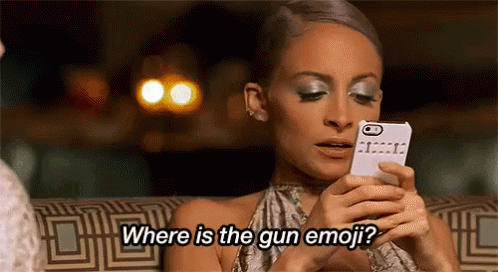 Taking The "Cool Girl" Thing Too Literally
Congratulations, you are a grown-ass woman. Everything in your life falls perfectly into place, seemingly without effort. You don't need this man's validation, and you won't be crushed if this date doesn't go well. You're down for anything that comes up, but you're just as down to walk away. You are the perfect embodiment of everything men are supposed to want women to be. Well—SURPRISE, BITCH! This is 2018, and perfect is no longer good enough. While I maintain that the above is a great attitude to hold internally, there are two glaring issues. One, this is true for exactly no one; you likely try very hard for everything you've achieved, and care at least a little, and hiding that is dumb. Two, it leaves very little room for you to make a meaningful connection. If someone's going to get to know you, you have to show some vulnerability.
That means you can't just be "fine with whatever" when it comes to spending the night, going out again, or picking your first vacation spot. You have to be honest about what you want, even if that means maybe not getting it. While being the Cool Girl might keep a guy interested in chasing you for a decently long time, maintaining the Cool Girl virtually guarantees that he'll never be actually interested in dating you. In fact, he has no idea who the fuck you are beyond a girl who answers his texts less quickly than his other matches, and is therefore intriguing. Somewhere, some bitch who probably has an adorable Southern accent will outplay you by answering his texts just as slowly but then confessing that she's getting attached on date three with a giggle that makes him feel like a Big Special Man. It's all about balance.
This is where being a Cool Girl gets you. Covered in blood and hugging Ben "I specialize in on- and off-screen adultery" Affleck. Don't be the Cool Girl, ladies!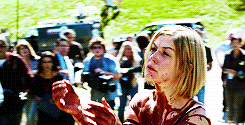 Once you're on the actual date, everyone has a million highly specific preferences for what person they want you to be. (You do too, don't lie.) But with these tips, you'll hopefully at least make it on the date before you fuck it up. Good luck out there!
Images: Giphy (3)
A Strongly Worded Letter To The Girl Who's Still Posting About Her Vacation
Dear World Traveler,
I would say welcome back, but I get the feeling you're not all that happy to be here. Although nobody's excited to come back from vacation, you're taking the whole "take me back!" thing too far—so far the light of acceptable behavior won't reach you for millions of years. Allow me to walk you through every faux pas you've committed since returning from your international vacay.
First, let's talk about the endless Instagrams. While you were out of the country, I was forgiving of your habit of posting multiple times a day. Sure, it's fucking annoying and better suited to Snapchat, but what's the point of going somewhere cool for vacation if you can't rub it in everyone's faces back home? But as much as you may pretend otherwise, you've been home for weeks now. Stop posting pics like you're still traipsing around Thailand. Literally everyone knows you're back at the office, largely because you won't shut up about how you're saving up to go abroad again. If you must post your 342nd bikini pic in a week, at least have the decency to tag it #tbt.

Let's also discuss this obsession with blending in with the locals. You're not Beyoncé. Not a single resident in any given country gives a shit whether you specifically come visit. Tourism is an industry; as long as dumb Americans are spending their money in some way, the locals you so heroically befriended (read: followed around) couldn't care less that you're, like, super in tune with their culture. Newsflash: You're not! I don't care if you consider yourself a "traveler" instead of a tourist—either way, you don't fucking live there. Partying with your surf instructor and learning how to order coffee in another language doesn't make you an honorary citizen any more than twerking made Miley Cyrus black.
While we're on the subject, everyone knows the U.S. grows shitty coffee; you don't need to keep comparing it to the espresso you drank in your favorite café every morning. Suck it up and go to Starbucks like the rest of us.

Then there's the one-upping. Good God, the one-upping. Not only do you find the excuse to turn every single conversation into a story from your vacation, but you refuse to entertain the possibility that anyone in the history of white girls visiting exotic party locales had a better time than you. Honestly, the only upside to this is your expression when someone busts out a story you can't top. 
In conclusion, I get it. Visiting another country is super fucking cool. But there's a time and a place for bragging about your newfound worldly sophistication, and you flew past both a long time ago. Save the vacay pics for your grandma—nobody else cares.
We Will Not "Take You Back",
The Betches
A Strongly Worded Letter Happy Birthday Collages
To the girl who just posted that clearly very time-consuming collage, 
We couldn't help but notice it's your best friend's birthday. We don't know this because we're also friends with your bestie, or because we got a notification that it's her birthday. No. We know this because you evidently went back in time and gathered every single photo you've ever taken together and slapped in into a collage-making program, then posted it on her wall for all of us to see. AND you tagged her in it. Like, okay. We know the whole "happy birthday" post situation was a big deal when writing on Facebook walls was actually a thing (and when Facebook walls were still a thing) and people uploaded new albums like, every two weeks, but that was a lifetime ago and it's time to move on. Everyone knows it's not cool to be overly active on social media anymore. I mean, just ask Kim K.

Here's the thing. Your 35-photo birthday collage is excessive, and no one can even see any of the photos because you tried squeezing so many into one fucking frame. I mean, did we really need to see the same skinny arm pose of you guys from every semi-formal, Halloween, and New Years photoshoot from the last four years?

Oh, and don't even pretend you're actually posting this for your friend's benefit. Do you even know how old she's turning? I mean do you actually know without having to check her birth date on Facebook and do the math? Yeah, didn't think so. If you were going to assault our eyes with this obnoxious collage, you could have at least pretended you did it for your friend's benefit. For one, you could have chosen some pictures where her eyes were actually open—even if you didn't look as skinny in that one. We know you compiled all of your best shots on your phone in the hopes that people will find this collage, actually look at it, zoom in on your face, and be like, "Wow, she looked great in Cabo that time. She prob looks like this everyday."

And while we're on the subject, could you at least vary up the word choice a little bit? If I have to see another post that starts with "From freshman year frat parties to our first real job and beyond" I'm gonna vomit. I get that you love your bestie, and that she's "practically your sister from another mister," but could you at least try to be original? I know that's a lot to ask, coming from two people who pose the exact same way in every picture, but at least do it for my benefit if not for your bestie's. 
Happy Birthday To Your Bestie (I Guess),
The Betches