Anna Faris Was Spotted Wearing An Engagement Ring
It's November, and the temperatures have finally started to drop, which can only mean one thing: holiday engagement season is coming, ready or not. You might still be keeping your friend Heather's impending engagement a secret until Thanksgiving, but it looks  like one celebrity is kicking things off early this season. Anna Faris was spotted wearing a huge ring in LA on Sunday, and all signs are pointing to an engagement.
Anna Faris has been married twice before, most notably to Chris Pratt. They got married in 2009, and after having one son together, it was pretty shocking when they announced their separation in August 2017. Their divorce was finalized the next year, and they've both been busy since then. After a whirlwind romance, Chris Pratt got remarried to Katherine Schwarzenegger earlier this year, and now it looks like it might be Anna's turn to walk down the aisle.
Anna Faris Appears to be Engaged After Showing Off Massive Ring https://t.co/W2qMj8iyzj pic.twitter.com/81vh3ztzh3

— Latest Celebrity News (@LatestCelebNew5) November 4, 2019
She's been dating cinematographer Michael Barrett since late 2017, though we've never known a lot about their relationship. Michael is noticeably absent from Anna's Instagram posts, so we've only ever really seen paparazzi photos of them together. Still, we've known that they were pretty serious for a while, and Michael has definitely spent time with Anna's son. Last year, the paparazzi got photos of Michael and Anna taking her son trick-or-treating along with Chris Pratt and Katherine Schwarzenegger, which sounds awkward, but I'm glad to know that everyone is on good terms.
Anna Faris getting engaged again is an interesting turn of events, considering she publicly discussed her hesitance to get married a third time earlier this year. On Laura Wasser's Divorce Sucks! podcast, Anna was candid in saying that, while she believes in "love and monogamy" and commitment to a relationship, she struggles with the legal system and the way marriage works in our society. Well, clearly something changed over the course of this year, because that ring doesn't just look like a "love and monogamy" ring.
Assuming that Anna Faris is, in fact, engaged, I wouldn't imagine that we're going to be getting a lot of details any time soon. I mean, she's been dating this dude for over two years and still hasn't posted a single photo of him on social media. When are these celebrities going to learn that I really need them to post high-quality, up-to-date photos of whoever they're dating? They make my job too damn hard. No, for her third time down the aisle, I would imagine that Anna Faris will probably go pretty low-key, not like some of the more extravagant celeb weddings we've seen.
Congratulations to Anna Faris and Michael Barrett if they're actually engaged, and if they aren't, then damn, that's a nice ring to be wearing for no reason.
Images: Shutterstock; latestcelebnew5 / Twitter
A Ranking Of The 10 Most Dramatic Celebrity Breakups Of 2017
If you brought a new boyfriend home to Thanksgiving and you're still together as you're reading this, congratulations. Not everyone can make it, which is why today we're reminiscing on the most dramatic celebrity breakups of 2017. Cheers to the ones you remember, and pour one out for all the ones you forgot about. It's been a long year.
Tbh this one was only really dramatic because we're psychopaths who care too much about this, but whatever. They always seemed like a normal, fun married couple with no reason for drama, but obviously shit happens. They released a diplomatic statement about how they have all this respect for each other, because of course.

Like with Chris and Anna, we really didn't see this one coming. They got married at the height of their fame in 2009, but things probably started to go downhill when they named their son Axl. Tbh the last straw for Fergie was probably when she found out Josh was doing ANOTHER Transformers movie. How are they still making those?
8. Katy Perry & Orlando Bloom
Resident weirdest girl in school and our favorite pirate called it quits in February after a year of dating. There's no way to know for sure, but maybe Orlando didn't love the short blonde hair and annoying publicity stunts?

7. Robert Pattinson & FKA Twigs
Who would we be if we didn't update you on Edward Cullen's life? After Rob said last year that they were "kind of engaged" (ladies, you have permission to key your man's car if he ever says that), they reportedly broke up earlier this year. Guess he should have "kind of" tried a little harder, because she's been hanging out with a male model.
6. Nicki Minaj & Meek Mill
Nicki had previously been coy about whether she and Meek were engaged, but she officially announced that they were over in January. Looks like she dodged a bullet, as Meek is now in prison for 2-4 years for violating his probation. Good job Nicki, you got out just in time.

5. Selena Gomez & The Weeknd
We may or may not have already written some stories about this, but it's literally so good. Have fun with Justin and Bella, kiddos, and use protection!
4. Scott Disick & Bella Thorne
We might never actually know what went on here, but what we do know is that Bella came home from Cannes early, and she was replaced with a hotter girl the next day. There are conflicting reports about how *together* they actually were, but whatever. Bella's basically been spiraling since, while Scott got with Sofia Richie and probably a bunch of other 19-year-old models.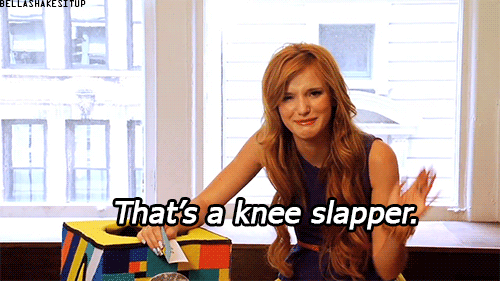 3. Jennifer Hudson & David Otunga
We weren't expecting much from this breakup, but it's really been bringing the drama. Last week, Jennifer got an emergency order of protection, which also means David doesn't get to see their son. This one is gonna be messy, but we really hope Queen J-Hud is okay.
2. Janet Jackson & Wissam Al Mana
You might be wondering why Janet and this guy you've never heard of are on this list, but hear me out. Wissam is a rich businessman from Qatar, and their prenup stated that Janet would get $100 million in the divorce if she stayed for five years, and $200 million if there was a baby. So what did Janet do? You better believe she stayed for five years, had a baby, and got the hell out of there with the money.

1. Mel B & Stephen Belafonte
It's important to be there for the Spice Girls when one of them is in a time of need, and Mel B's divorce was a fucking dumpster fire. Stephen allegedly got the nanny pregnant, paid for the abortion, and was violently abusive towards Mel. Basically, he's a trash human. Scary Spice deserved a less terrifying husband.
Chris Pratt Is Already Losing It After Splitting From Anna Faris
It's still only August, but it seems like celebrities are scrambling to make sure they're on Santa's nice list this year. We already saw Justin Bieber ditch his world tour to be closer to Jesus, and now Chris Pratt is also talking about religion like the world is ending tomorrow.
Chris' separation with Anna Faris is obviously the most important news story so far this month, and we really wondered how each of them would do in the aftermath. Chris made his first public appearance Sunday at the Teen Choice Awards, where he won the prestigious "Choice Sci-Fi Movie Actor" award. A moment of silence for the bleakest sentence eever uttered into existence. In his acceptance speech, Chris decided to keep it real:
"When I came to Los Angeles, I came from Hawaii and I had all of this blonde hair and I was tan and I met an agent because I really wanted to be an actor and get an agent and he said, 'Wow. Bro, you must surf?' And I said 'Yeah,' and that was the first of many lies I told to get where I am today."
He then continued, "I would not be here with the ease and grace I have in my heart without my lord and savior, Jesus Christ."

Okay, that is truly a whirlwind of a story. First of all, we cannot imagine Chris with blonde hair, and we refuse to try. And wow, he must feel like such a piece of shit for lying about something as massive as being a surfer. Tbh if that's what keeps him up at night he sounds like the least fun person on the planet.
He obviously feels strongly about Jesus right now, which I guess kind of makes sense when your seemingly perfect marriage disintegrates. The only problem is that we don't usually take religious advice from someone holding an award that's shaped like a surf board. Correction, we don't take religious advice from anyone, but the surf board isn't helping.