United Airlines Literally Killed A Puppy
United Airlines is officially back on their bullshit in the most spectacular way possible. After dropping their debut single, "Sexualizing A Young Girl For Wearing Leggings", and topping the charts with their hit "Dragging A Doctor Face-First Through The Aisles," it was hard to imagine how they'd top their previous work. But they've done it. Oh boy, have they done it. What I'm trying to say is – United Airlines killed a puppy.
The puppy in question, an 11-month-old French bulldog named Kokito (RIP), died after a United flight attendant forced his owner to put him in an overhead compartment, where he suffocated to death. So now we know what happens when you put a puppy in an overhead bin, not that anyone was asking.
The owners and other passengers say that they protested vigorously, telling the flight attendant that there was a living creature in the bag, but the flight attendant twirled their mustache, laughed manically, and screamed "WE ARE UNITED AIRLINES WHERE THE ONLY LAW IS DEATH!" insisted she put the dog overhead.
Oh, and do you think that's the worst part of the story? No. The worst part of the story is that  the puppy proceeded to bark and cry, but no one could go check on him because of heavy turbulence. By the end of the flight, the cries had stopped, and the family found their puppy was dead.
United has since responded saying the incident "should never have happend" (LOL YA THINK?!?) and that they "assume full responsibility for this tragedy." TBH, I'm excited to see where the company takes their reputation next. Will they follow this up by flushing a cat down the toilet? Strapping a baby to the wing? Making their leg room even smaller?
On the bright side, United flights are about to get hella cheap. Just don't bring anything you care about.
Heads up, you need to keep up with the news. It's not cute anymore. That's why we've created a 5x weekly newsletter called The 'Sup that will explain all the news of the week in a hilarious af way. Because if we weren't laughing, we'd be crying. Sign up for The 'Sup now!
Your Favorite Animal Is Going To Go Extinct Thanks To Trump
If there's one thing we all can agree are amazing, it's elephants. They make the cutest stickers/earrings/necklaces, and they're probably like, cool in real life too. Sadly, it is getting more and more likely that our accidental children will one day ask us, "Mom, wtf is that animal delicately tattooed on your wrist with a long nose? That shit looks crazy." To which we will reply, "It's an elephant. And don't curse so fucking much you little asshole." Why? Because the softcore Neo-Nazi squad Trump administration announced on Wednesday that the remains of elephants legally hunted in Zimbabwe and Zambia can come back into the US as trophies. Because that's actually a super pressing issue in our country rn. So glad he acknowledged this detrimental issue! Like, fuck gun control and stabilizing the Obamacare markets, amiright? Bring in the body parts of innocent endangered animals!
Wonder what would have prompted him to take on this issue, apart from just generally hating anything done by Barack Obama. Oh…wait…

Image via Gothamist
What's that in Don Jr.'s tiny hand, you ask? Oh nothing. Just AN ELEPHANT'S TAIL. Why would anyone even *want* to hold an elephant's tail? That has to be bad luck or something, right? **Thinks about Don Jr.'s impending indictment on Russia related crimes** Yeah, it's def bad luck…
Several agencies argue that big game hunters, especially American ones, bring revenue to the countries they hunt in, as well as awareness for the endangered animal. Which is toootaly true – Nothing makes me more aware that an animal is endangered than seeing a bunch of old, rich, white pricks posing with their carcasses on dating apps.

Much like the Trans ban in armed forces, Trump has continued to do what he does best: avoid real problems and act like an asshole. It's really inspiring.
Anyways, if you want to read more about this, which I suggest you do because I'm biased and don't see a point in the slightest for killing a fucking elephant, you can check out The Washington Post for a full, not fake, news report.
God, it's like a deranged billionaire runs our government or something. Oh…wait….
Update: (11/20/2017): President Trump now appears to be going back on his decision to let people chop up elephants and bring them into the United States. He tweeted "Big-game trophy decision will be announced next week but will be very hard pressed to change my mind that this horror show in any way helps conservation of Elephants or any other animal." Wow. Finally, a president who is brave enough to say, "Maybe that photo of my son gleefully holding a chopped off elephants tail up for the camera was in poor taste."
The administration is set to announce its decision on this issue Sunday, so get ready for him to spend the entire next week congratulating himself for deciding not to kill elephants as trophies.
Heads up, you need to keep up with the news. It's not cute anymore. That's why we've created a 5x weekly newsletter called The 'Sup that will explain all the news of the week in a hilarious af way. Because if we weren't laughing, we'd be crying. Sign up for The 'Sup now!
The World Is Divided Over What Chrissy Teigen Should Name Her New Puppy
Because I had no friends as a child I'm cool and literary, I've sadly had more than one conversation about the word "ambivalent." For those of you fortunate enough to not be friends with me, here's the problem with that word—much like self-tanner or sexting, the people using this word with the most confidence are really the least likely to be doing it correctly. If you say you're "ambivalent" about something, it does NOT mean that you don't give a shit (that word is "indifferent," look it up): it means you have strong, contradictory feelings and you can't pick a side. I could go more into why it makes total sense that this is what ambivalent means but I'd rather not get fired it's not even slightly the point of this article so I'll stop.
The ACTUAL POINT here is that I found something out that I'm really, truly ambivalent about: Chrissy Teigen has a new bulldog puppy (her fourth dog FYI), and it is considered actual, publishable news that she cannot decide whether to name him Paul or Pablo. Let's break down my emotional timeline here.

Phase One: Chrissy Teigen's Instagram Photo Announcing This Dilemma
Three days ago, Chrissy Teigen posts a photo of herself, a beautiful Sports Illustrated model, holding Paul/Pablo, a beautiful little velvet-faced bulldog puppy (note: I am not here for your treatise on the genealogical background of bulldogs. On the overall spectrum of ethical concerns I choose not to have, this falls way below things like my occasional shoplifting sprees laissez-faire recycling habits.) This photo pretty much sums up all my tortured, clashing emotions, because HELLO DOG SOULMATE, but also HELLO unattainable #hairskinfacegoals that I will never achieve because I enjoy doing things like eating 1,200 calories worth of peanut butter cups in my free time. Thanks for the reminder Chrissy—and you KNOW I've always wanted a puppy exactly like that, so this is clearly pointed AF.

Phase Two: Chrissy Teigen's Instagram Caption Announcing This Dilemma
For those of you who are lazy to the point of site-specific illiteracy, here's the caption accompanying that photo: "Super secret shooting with Paul. Or Pablo. We can't decide. Both mom and Luna cannot pronounce Pablo. John won't call him Paul. This freaking house, let me tell you." Here, my ambivalence continues because this is a goddamn perfect caption without even being particularly clever or funny. It's literally just a description of a current situation in her household, plus a half-sentence of the kind of rueful, effortless sass that can only be pulled off by people who are so deeply happy and at peace with themselves that even their sarcasm radiates the same general energy as tacking on "#blessed." So, she's somehow pulled off a caption that simultaneously convinces me that she's better and happier than me, but not in a way that's turned her into one of those joyful, irritating pod people currently spamming your Insta feed with flannel and pumpkins. Seriously. It's like the five seconds of genuine joy you have for your perpetually single friend who FINALLY kills it this cuffing season, before you remember that friends with boyfriends are annoying AF and you yourself are still sad and alone.

Chrissy Teigen is those five seconds of joy, spun out into eternal purgatory where you don't know if you want to murder her and wear her skin you want her to gain 50 pounds or be your maid of honor.
Phase Three: Chrissy Teigen's Actual Dilemma Here
Finally, the problem itself, and it is truly one for the ages, unlike the new "What color are these sneakers?" bullshit. Should she name this adorable bulldog puppy Paul or Pablo???? Honestly, as much as it burns my soul that she has such a disgustingly wonderful life, I encourage everyone to bask in the glow of imagining this to be your largest problem. Is there a secret Kim/Taylor undercurrent, where "Paul" refers to Paul Ryan trying to make a Taylor Swift meme about healthcare, and also the general whiteness of the name Paul, and "Pablo" refers to Life of Pablo? 7000% no, but hey, wouldn't it be absolutely psychotic more fun if there was? If you add up the syllables in this caption, is there a coded message about the secret political resistance being organized by the Teigen-Legends? Again, certainly not, but let the theories fly! Ask your friends! Ask your mom! Post a poll in your Instagram story! Let's all live today like we're Chrissy Teigen, faced with the eternal question of which P-name you should use on your baby bulldog for approximately one day, before calling him variations of "puppy" for the rest of his life.

10 Boujee Instagram Dogs That Are More Fun To Follow Than People
When we say we genuinely envy the lives of Instagram's betchiest dogs, we're not even joking. They have intimidating squads, regularly get blowouts, summer in the Hamptons, wear cool outfits and generally weigh under ten pounds. It's extremely unfair TBH, and I don't care if they set unrealistic standards for women, I still aspire to be one someday. As we've discussed on this site many times, a betch's pet is called a petch, and Instagram is full of petches. These tiny furry creatures have the uncanny ability to make you go "awww!" and "omg!" even when you spend most of the day wearing black and being dead inside. While you may spend all day hating on people, most of us are physically incapable of hating dogs, especially impeccably groomed dogs being photographed in good lighting. Following these majestic creatures will increase your happiness level while scrolling through Instagram, instead of just side-eyeing all the THOTs you're still not sure why you follow. In all their glory, here are our favorite petches of Instagram:
Samson is a Goldendoodle and the unofficial leader of the Dogs of NYC (those other puppies are just his little workers.) Despite living in Brooklyn, practically every important canine event in Manhattan revolves around his schedule, which includes everything from pool parties to socializing at local bars. Whether he's out on the town or relaxing in his iconic robe, you'll want to keep an eye on him. Wherever Samson goes, other trendy dogs will follow.
Speaking of Samson, he's been known to lunch with Marnie the Dog, who has a casual 2.1 million Instagram followers. Marnie is slightly older at age 15, but that doesn't stop her from upholding her status as one of the top dogs on the Internet. According to her bio, "I walking & parties. H8 being alone. I'm a lady!" Does it get any betchier? I don't think so.
Ella Bean is a fellow NYC dog who, in typical fashion, recently decided to spend a summer in Paris. Like every study abroad girl, Ella has been posting photos non-stop of her eating French pastries and posing outside of the Louvre. She's truly living her best life, and how could she not be in those fabulous custom aviators?
Norbert is a West Coast petch who will easily put your sorority's philanthropy events and entire social media presence to shame. As a therapy dog who donates most of his time to volunteering at Children's Hospital LA, he knows the importance of giving back to the community. He also knows how to rack up the likes, because if you didn't post about it did you even volunteer?
Meet Agador, AKA Pooch of NYC, who has the best hair out of anyone ever I've seen, human or animal. Everything about his aesthetic is extremely on brand, from his bed,to his blowouts and the glass of wine that's never too far out of reach. If only he would respond to my DM's, *sigh*, I really think we could be great friends.
Perry calls himself a dog model, and for good reason. He's got a natural chemistry with the camera and tends to be more minimalist than some of the other dogs on this list (while still being extremely extra compared to any other normal animal). There are a lot of Pom's out there trying to make it big, but Perry's just got that "it" factor that makes him stand out from the rest.
The only thing better than one betchy dog is a pair of betchy dog siblings. The Morkies of NYC, Cleo and Jack, are a power duo currently taking the city by storm with their adventurous spirit and matching OOTD's. Catch their photos in the city or by the beach, just make sure you catch them somewhere. We heard the Olsen twins are extremely jealous.
No one has perfected the "I literally can't even," face quite like Sprout. Another seasoned New Yorker, Sprout takes bullshit from no one and has a jam-packed schedule filled with Equinox sessions, walks through Central Park and photo shoots in his living room. It's not easy but someone's gotta do it.
Doug the Pug is arguably one of the most important voices of our generation, and I find him more relatable than most people I know. Powered by iced coffee and social media attention, Doug brings a fresh look to some of the most basic of Instagram concepts to make them completely new again. Check out his 4th of July pics and thank us later.
Saving our personal favorite for last, we present to you Bruce Springsteen, the official petch of Betches. Whether he's keeping us company at the office or hanging by the pool, he's constantly serving up RBF and absolutely never TTH. His only request: stop trying to make fetch happen. Duh.
Science Says Dogs Are Better Friends Than People
Dogs are the purest beings in this world, and yes, I'm including Beyoncé so don't ask. They're our confidantes, our companions, and most importantly, they listen to all our problems without judgment because they don't have a very good grasp on English beyond "no," "stay," "seriously, no, I mean it," and "pizza." Every living being understands pizza.
So is it any wonder, I ask you, that kids have been scientifically proven to have better relationships with their pet than with their siblings? The correct answer is no. If you ask literally anyone on this planet if they'd rather hang out with their pet or another human being, they're obviously going to pick Colonel Fluffington.

In a study published in the Journal of Applied Developmental Psychology, researchers from the University of Cambridge surveyed 77 12-year-old children about their family relationships. Each household included at least one other child and a family pet. When researchers looked for trends in their results, they found that the kids reported stronger relationships with their pets than their siblings. Considering pets like to snuggle and/or purr while siblings like to punch each other in the stomach and/or steal each other's clothes, I think we can safely agree that science is on to something here.

Dogs apparently made the best pets; kids reported less conflict and more satisfaction with them than any other kind of pet. I repeat: Dogs are the purest beings in the universe. The study also found that compared to boys, girls had more tumultuous relationships with their pets, reporting both more companionship and more conflict. Maybe they're practicing for appearing on The Bachelor one day?

Anyway, the researchers were stoked about their findings because it shows that non-humans can serve as social support, and prior research says the same thing. One 2015 study even found that having a pet can help you make friends with actual humans, mostly because you wind up talking to all the people who want to pet your dog. It's a win-win, except for the part about having to talk to people.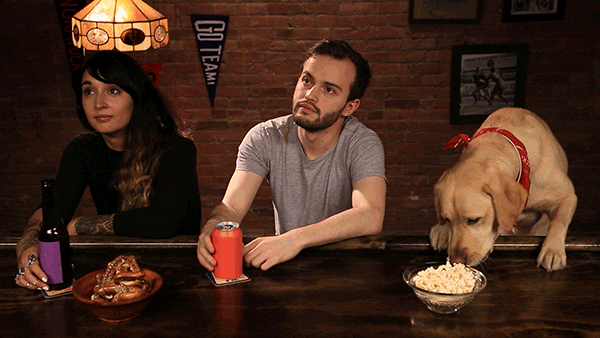 P.S. If you were wondering whether this entire article was an excuse for dog GIFs, you're absolutely right.