The 8 Messiest Celebrity Tell-All Books You Have To Read
Raise your hand if you're a messy b*tch who thrives on drama and other people's misfortunes. If you didn't raise both of your hands and feet, then you might want to get out now because this post is for gossip mongers only. You've been warned. Now that that's been handled, welcome, bottom feeders, to the book round-up you never knew you wanted! Celebrities are literally always trying to sell a memoir about their innermost secrets and are constantly disappointing me and the register girl at Barnes & Noble when she sees me coming to return a book five days after purchase. Most times, these so-called "tell-alls" are just a way to revive a career, promote a new season of their show, or just generally cling to their relevance for another five seconds. And there's nothing wrong with that, but I'm not shelling out $27 for a hardcover version of information I could've tracked down through a semi-intense dive into their social media. So, for those of you craving the real tea and gossip that's juicier than whatever your Aunt Linda is about to spill at the Thanksgiving dinner table, these are the celebrity memoirs for you. 

We've talked about this one before but, y'all, Demi Moore's new memoir is actually bonkers. Not only does she finally open up about her marriage to Ashton Kutcher (#tbt) and the wild threesomes they used to have to try (in vain) to save their marriage, but she also talks about her meteoric rise to fame and struggles with addiction. She doesn't just come for her ex Ashton Kutcher, either (though that in itself is messy as hell and way worth the read). She comes for ALL of Hollywood: she dishes on her other ex-husband Bruce Willis and one-time flame Rob Lowe. She even speaks to that one time Jon Cryer publicly declared she took his virginity, claiming he'd been with other women before and that he was just "bad at sex." HE WAS JUST BAD AT SEX. I'm dead. Deceased. This isn't just a book, it's a Hollywood hit list and a petty work of art. Basically, a must-read. We bow down to you, Demi. 

In another article I wrote for this site, I made a bold statement when I compared those who are actively not following the Anna Delvey story to mole people, and I still stand by that statement. When news broke about Anna Delvey, the fake German heiress who somehow managed to con $200K out of Manhattan's elite party scene, I was completely captivated. How did she get away with this? And do any of her friends understand how Venmo works? These were the questions that kept me up at night. My Friend Anna focuses on those friends, the people she scammed, and how she got away with it—one friend in particular, who arguably got hit the worst by Anna's cons. Written by her former friend Rachel Williams, whom Anna personally scammed out of $62,000 during one lavish vacation, this book reads like a twisty thriller about a sociopath, except everything actually happened IRL. For those looking to familiarize yourself with the story before Shonda Rhimes' new Anna Delvey Netflix series drops, then I URGE you to pick up this book. Rachel answers probably every single question you've ever had about Anna.

For those of you who are like "who tf is Corey Feldman" just know that I'm marking you for the youth you so clearly are, and I hope you can feel my shame through this screen. Corey Feldman was one of my FAVORITE child stars and starred in cult classics such as The Goonies and Stand By Me. He was the height of '80s fame and also a childhood crush of mine. I still secretly harbor ill wishes towards that trollop Stef for getting to make out with him during The Goonies. I will say, post-child star fame, Corey has not fared well. He's battled with drug addiction and, to my knowledge, has not landed an acting role since we entered the 21st century. His memoir, Coreyography (great title tbh), sheds light on this. In his book he talks about the dark underbelly of Hollywood for child stars: from getting hooked on drugs at a young age to the rampant sexual abuse he experienced during his time in the lime light and his "innocent" friendship with the late Michael Jackson. This book can be pretty heavy and, at times, even triggering, but it's definitely worth the read. 
This one is for all you Bachelor Nation fans out there. Andi Dorfman, ex-Bachelorette and Mike Fliess's worst nightmare, wrote a tell-all back in 2016 about her time as The Bachelorette. Not only did she give us an inside look at what actually happens during the fantasy suite dates, but she wasn't afraid to talk sh*t about her exes Nick Viall and Josh Murray. You love to see it. It is the ultimate burn book for all things Bachelor and Nick Viall, which should be reason enough to pick this one up. 

I, personally, have been waiting for Jordyn Woods to set her NDA on fire and break the internet by releasing her own tell-all about the Kardashians, but until then I'll settle for Lamar Odom's memoir. Former NBA player and ex-husband to Khloé Kardashian, Odom spilled all the tea when his memoir came out at the beginning of the summer. Tbh I feel like the Khloé Kardashian drama is the least exciting of all the bombshells he dropped in this book. Like, for example, did you know that he used a FAKE PENIS to pass a drug test before the Olympics? HOW?? Or that he was a host to multiple orgies when he lived in Miami? For people who Keep Up, or those who just really want a wild read, then you need to binge this one ASAP. 

This book was just released this week, and it's already everywhere. The author, Robyn Crawford, is the late Whitney Houston's longtime best friend, and in her memoir she comes clean about the romantic rumors that swirled for a long time regarding her friendship with Houston. Crawford confirms that her and Houston did have a romantic and sexual relationship in the early 1980s, but called things off when Houston started to get famous because Houston said it would "make our journey even more difficult." It's been rumored for a while that Houston was bisexual (her ex-husband Bobby Brown made a comment about it in 2016), but nothing has been confirmed, as Houston passed away in 2012. Whitney Houston is an absolute legend and this book shines a light on aspects of her life that have never been released to the public.
Open by Andre Agassi

Even if you're not a big tennis fan, or your idea of being "sporty" consists of going to a bar on Sunday in your ex-boyfriend's stolen jersey, you'll still love Andre Agassi's memoir if you're a fan of juicy gossip. Agassi, who was known early in his career for his giant hair, admitted that he actually wore a wig on the tennis court once his hair started to thin. Impossible beauty standards at it again!! Honestly, he looks better with a shaved head anyway. Over in the personal life department, we also get an inside look at his failed marriage to Brooke Shields. He comes clean about testing positive for meth (yikes) in 1997, and basically says he did drugs because he was scared to marry Brooke (double yikes). He also admits that he blamed his assistant to avoid the consequences of said positive drug test. Weird, this reads a lot like my last boyfriend's explanations for why we broke up.

I haven't watched The View in years, mostly because I'm not a middle-aged housewife, but I still couldn't put this book down. Journalist Ramin Setoodeh somehow managed to interview basically everyone involved with the show in its 20-year history, and the behind-the-scenes drama is messier than your Sunday brunch that turns into "one more drink" at a bar nearby. This book has the tea on how basically everyone who has ever left the show was fired, even though they acted like leaving was their choice. You'll read about how Star Jones used the show to get her entire wedding free, and of course, all the drama with Rosie O'Donnell. But for me, the craziest thing was that Barbara Walters basically had to be pushed out when she retired, and the producers had to forcibly stop her from extending her contract. What a way to go.
Images: Amazon (8)
Betches may receive a portion of revenue if you click a link and purchase a product or service. The links are independently placed and do not influence editorial content.
Tyler C. Was Spotted Hanging Out With Another Bachelorette
Guys, I officially can't keep up with all the Bachelor drama. Between Demi and Tanner, Tayshia and JPJ, and all of Tyler C. and Gigi Hadid's orchestrated paparazzi outings dates, it's all too much. Well, guess the f*ck what, Bachelor Nation: you now have more Tyler C. drama to add to your Google alerts. According to Instagram account @bachelorteaspill, Tyler C. was spotted leaving the apartment of another Bachelorette—and no, it's not Hannah B., so pour one out for yourselves and your belief in true love right now. Roll tide.
Bachelor Tea Spill posted a photo to their Instagram of Tyler C. and Andi Dorfman in workout clothes, presumably leaving a building. They claim, "Tyler and former Bachelorette Andi Dorfman spotted leaving his (Matt's) apartment yesterday afternoon" and "The two went to his run together." I'm assuming by "Matt" they mean Tyler's overly zealous friend, Matt? (And if that's the case, why use a stress pronoun to refer to a totally different person? That's not how those work.) Anyway, as my esteemed colleague 50 Shades of Betch informed me, Tyler is staying at Matt's apartment at the moment, so for all intents and purposes, it's Tyler's apartment for the time being. In other words, Andi was spotted leaving "Tyler"'s apartment, with Tyler. Hmm.
Bachelor Tea Spill also claimed, "The pair also went on a helicopter ride a few weeks ago in NYC." HMMM. So we have a run and a helicopter ride. These are two activities that could honestly go either way. A run isn't romantic in nature—and I'd argue that the last person I'd want to see me sweaty and red would be one of my romantic interests. (Then again, I'm not a model, so.) The helicopter ride is a little more suspect, although it could be just a fun touristy thing Tyler and Andi decided to do. Given that Bachelor Nation is essentially one giant friend group who all knows each other (and the same could be said of almost all of reality TV, thanks to crossover shows like Ex On The Beach), my alarm bells are not immediately going up. I think it's very possible that Tyler and Andi could be hanging out as friends. Even the whole "leaving an apartment together" thing doesn't feel that suspect, considering they were clearly in workout gear and this was in the middle of the day. Like, Andi could have gone to pick Tyler up for their run without it being serious.
This all comes just one day after Tyler was hanging out with Gigi Hadid again, and with that information, I'm going to go ahead and say that Tyler and Andi are probably not a couple. Don't get me wrong, I know men are idiots and all, but you'd have to be pretty f*cking stupid to be seen photographed with another woman one day after going out with Gigi f*cking Hadid, and then still expect to continue going out with Gigi Hadid. Like, there would just be no bouncing back from that. You can yell at me that "he's single, he can do what he wants" until you're blue in the face; I don't think anyone would be happy to see their date out with somebody else one day later.
So we don't know yet what the deal is with Tyler and Andi, but I think one thing is clear. He is definitely not getting back with Hannah anytime soon, and is going to ride this wave wherever the fame takes him.
Images: bachelorteaspill / Instagram
Everyone's Least Favorite 'Bachelorette' Winner Is On Hinge Now
One of the last times we really heard about Josh Murray was because he was breaking up with baby-voiced Amanda after meeting and subsequently getting engaged on Bachelor in Paradise. Before that, he made headlines for being publicly ripped to shreds for being a manipulative bastard by another former Bachelorette Andi Dorfman in her tell-all book.
Now, Josh is back at it again on the dating scene and apparently since the Bachelor franchise hasn't worked out for him, he's on the app circuit now.
Friend of Betches Jared Freid got the, uh, opportunity (if you want to call it that) to interview Murray about what he's really looking for in a potential girlfriend. So ladies, if you want an (alleged) emotionally abusive asshole, listen up!!
Murray tells Freid the first thing he looks for in a girl is that she cares about he family. I mean, he did fall for Amanda and her two adorably sweet daughters, so I don't think this is a total lie. He probably really does like families or some shit. I think I read somewhere—or did I just watch it in a Criminal Minds episode? *Shrug*—that many serial killers and narcissists have loving families and are prominent members of their communities, so this detail checks out for sure.

Next, he says putting a dog or animal in your profile picture is a great way to get him to swipe right—er, whatever you do on Hinge to get a match. Can we just assume he means a dog or a bunny or something silly and cute? No one wants to see your nine cats walking around on your kitchen counters, Katie. That's what we in the dating biz call a "turn-off".
Josh assumes he's still single because he's so picky. Okay, that's like, a page out of the single betch playbook. If you just say that you're really picky and want to wait for the "right person" it throws your friends and family the hounds off the scent that you're actually a total psycho and no one wants to date your sketchy ass. Just saying.
The dating and successful relationship expert then goes on to explain that it's not a great idea to post a lot of party pics on your dating profile—you wouldn't want your future husband to see you as a drunk sex-fiend when you are trying to come across as wifey material. Besides, everyone knows your best bet is to go on national television and act like a drunk sex fiend—that's the path to marriage.

Are we actually convinced that this guy with a shit ton of Instagram followers needs dating apps to find a woman? Eh, although the Bachelor franchise wasn't too kind to him in the end, not really. But if you happen to see Josh Murray out and about in the game, please send us screenshots because we're dying to see that profile pic and what he uses an opening line. K thanks.
The Last 7 Seasons Of 'The Bachelor' & 'The Bachelorette' Ranked
I'm going to go out on a limb here and say the last 7 seasons of The Bachelor/Bachelorette are all tied for the most dramatic season ever. Right, Chris Harrison? But some of these seasons were shittier than others. I'm looking right at you, Nick Viall. In case you forgot which season rocked and which ones sucked in recent history, we've conveniently ranked them for you. You're welcome. Let's reminisce on all the mediocre times, shall we?
7. Nick Viall

No one is fucking surprised Nick's season sucked. You know it. I know it. We all know it. The big mistake show runners made in creating this season was casting the clogged drain of humans, Nick Viall. Did they have a check list of shitty qualities they wanted in a person? Like, who is the most dumpable, lispy, awkward guy we can think of and let's just cast him. For fuck's sake. The only thing good about the season, really, was Corinne and even she couldn't turn this sinking ship around.
6. Juan Pablo

Juan Pablo was the wooooorrst. Well, in this case, the second worst. I feel like he gets points for mostly sticking to the show's format and not making his dates go to the fucking North Pole to impress him. Juan Pablo was a dick, but at least he was bangable. If you're saying you wouldn't hit it, you're lying. Just put a bag over his head so you don't have to listen to him talk. He also loses points for being homophobic. Didn't he mouth off about how gay people weren't real people or some shit? Yikes. Hard pass.
5. Andi Dorfman

I dropped Andi on this list because girl has some questionable judgement. First of all, she let Nick into her final two and had sex with him. Andi basically got us all into this whole mess in the first place. She also picked Josh who was definitely a douche/potential sociopath. I mean, look at him. I feel like The Bachelorette is generally less dramatic than The Bachelor (i.e. less fun to watch) because dudes don't know how to fully whip out their crazy like a group of ladies can (did I just set feminism back 50 years?), but Nick and Josh had some good arguments. Nick also called Andi out for sleeping with him and then dumping him. I mean, that was slut shaming at its finest, but it made for good TV.
4. Kaitlin Bristowe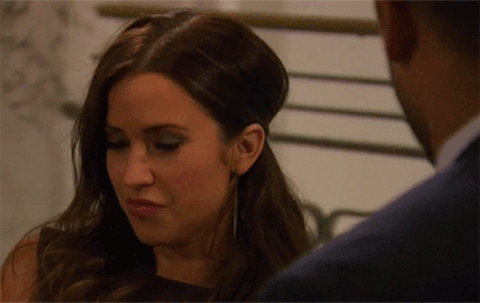 On Kaitlin's season of The Bachelorette they did that weird thing where they made the dudes pick between her and another chick for the right to be the Bachelorette on the first night of the show. Awkward, yet, still interesting. Kaitlin also banged Nick. Is he charming or something when he isn't on TV? I feel like I'm taking crazy pills! Anyway, Kaitlin's season was pretty dramatic, but she kind of ruined the whole thing when she snapchatted herself and Shawn in bed together before the finale. Bonus points for having the best Snapchat presence out of all the Bach alums, though.
3. Chris Soules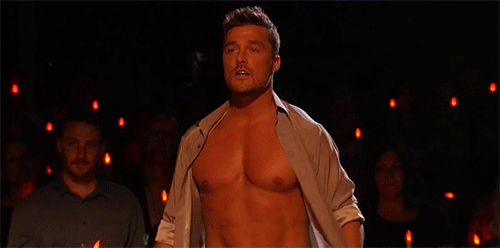 Chris is probably one of the dumbest people that has been on the show, but, dat ass doe. He was cute, charming and had an insanely beautiful smile. I give Chris extra points for helicoptering away from two crying bitches in the desert after dumping them both on a two-on-one date. Like byeeeeee. His season was also pretty enjoyable to watch. Remember when that one girl who was like, so weird about her dead boyfriend? She was all like, "Isn't my story amazing?" Nah lady, you're a creep. This season also gave us Ashley I., who I think is a total blessing to The Bachelor franchise. 
2. JoJo Fletcher

I still don't really believe JoJo is a real person. Who just looks like that and also has perfect boobs? We'll call it witchcraft. Even though you could kind of tell that JoJo was going to choose Aaron Rodgers' little brother from the beginning, her season was still pretty captivating. This is the season that gave us THE CHAD, for chrissakes. Also, her final four was pretty decent, and by decent I mean hot. Good for JoJo.
1. Ben Higgins

Do I maybe have a huge crush on Ben Higgins? Of course I do. Everyone does. He's like the boy next door. He somehow got dumped by Kaitlin yet wasn't pathetic about it. He was also super nice to all of the women, letting them just fester in drama of their own making. The season gave us Olivia, who was the season's villain and basically Corinne Lite. Ben also broke all the damn rules by telling both JoJo and Lauren B. that he loved them. I mean, that wasn't the best move but it was definitely great television, and Jojo still hasn't gotten over it, which is personally amusing for me. 
Amanda Stanton And Josh Murray Are Hooking Up Again
After last night's big reveal that Andi has a message for Nick before he whittles his four unsuspecting victims—I mean, potential wives—down to three, I'll be honest, I was pretty much expecting that to be the end of blasts from Bachelor past making the news this week. I mean, how many more shocking revelations can one fanbase handle?
Read: The Best Bachelor Recap You'll Ever Read Week 8
Au contraire, my friends. Speaking of Andi and her bad choices, Josh Murray (who actually won on Andi's season and then was accused of being an emotional abuser in her book) and his ex, baby-voiced Amanda Stanton, were spotted kissing over the weekend. Cool.
Do you think Josh somehow knew that Andi was resurfacing in the cesspool that is the world of The Bachelor and didn't want her to have the upper hand in the headlines? According to her book, he seems kind of manipulative enough to do just that.
Anyway, so the real question remains: Are Josh and Amanda getting back together?
So the kissing photo of the two was snapped on Saturday night, then, Amanda tweeted this on Sunday:
ever have those days where you just wake up in an obnoxiously good mood?! me all day today pic.twitter.com/gAdpBe3jxa

— Amanda Stanton (@amandastantonnn) February 21, 2017
If that's not a sub-tweet, I don't know what is. I mean, she could be talking about something else, sure. But we all know if we're going to sub-tweet about someone in a good way, it's probably because we just made out with that person the night before.
Josh said Monday that was the first time he had seen Amanda in a while and they had a "good time". Yeah, that's the kind of shady shit all my guy friends say after they hook up with an ex. We see you, Josh.
Will they get back together for good? I mean, that's TBD and I honestly hope not because he sounds like kind of a shitty guy. But maybe reuniting will keep them both off the next season of Bachelor in Paradise, giving us more screen time with Corinne and Chad. We can only hope, right?