The 6 Craziest Moments From The Stormy Daniels Interview
Just this month we've been bitchslapped by the likes of four different blizzards, but those were all just warmups for the real winter storm that touched down last night on 60 Minutes: Stormy Daniels. For the first time since news of the Forbes-spank-heard-round-the-world broke, Stormy finally spoke out to tell her side of the story to the impeccably chiseled silver fox, Anderson Cooper. Some of the facts we already knew, however there was still plenty of tea to be spilled. So what did we learn from the eye of the Storm? These are her stories.
1. The Spanking Was Her Idea
It was a dark and Stormy night (lol sry can't help myself) when The Donald approached Ms. Daniels at a celebrity golf tournament. He invited her over and, according to Stormy, talked about himself the entire time. How surprising and unexpected.

At one point during the conversation, Trump picked up a magazine to show off his own photo on the cover. Like any woman who has ever dealt with a shamelessly self-absorbed fuckboy, Stormy had pretty much the only logical response, telling Trump that someone "should take that magazine and spank with it." And so it is written, so it shall be done. Anderson Cooper was all of us upon hearing this, asking Stormy, "You told Donald Trump to turn around and take off his pants?" Because seriously, on what planet is that something you'd actually want Trump to do?

2. Donald Has Daddy Daughter Issues
We've known for a while that Donald Trump thinks his daughter, Ivanka, is a regulation hottie. To be Trump's type, you either need to be a foreign model who speaks limited English, or blonde, like Ivanka. He's a man of many nuanced tastes.

During her time in his hotel room, Trump told Stormy, "You are special, you remind me of my daughter – smart, beautiful." I'm not really sure what triggered that association, but I imagine it went something like this:
Stormy Daniels: *spanks Trump*
Donald Trump: Wow, you really know how to use those hands. You know who has good hands? My daughter Ivanka. Softest hands ever. Big, like mine, because I'm her daddy. Are you somebody's daughter too?
"He was like, 'wow, you are special. You remind me of my daughter.'" –Stormy Daniels says of her conversation with Mr. Trump the night they met. pic.twitter.com/Mj52gSoDbH

— 60 Minutes (@60Minutes) March 25, 2018
3. Trump Didn't Use A Condom
According to Stormy, she asked about his wife (who had just given birth to their son, Barron), and Trump assured her that Melania was staying in a separate room and wouldn't be an issue. Next thing you know, he's "perched" on the bed and Stormy realized she had gotten herself into quite the pickle. She claimed she didn't want to get anywhere near his pickle and wasn't attracted to him at all because she's a human being with eyes and a brain.

Still, she chose to go ahead with it because she felt like she had put herself in a bad situation and deserved what was coming to her. Quick PSA to all women: you don't owe anyone anything, and you can always say no at any point. That being said, this isn't even the craziest part of the story because apparently TRUMP DID NOT WEAR A CONDOM. I've thrown up in my mouth at least three times trying to write that sentence. If you wouldn't pick up dog crap without a plastic bag on your hand, you should not be letting that fleshy baby carrot anywhere near your body if it's not wrapped in latex, bubble wrap, and disinfectant.

4. Stormy Was Threatened To Keep Quiet
In May of 2011, Stormy agreed to sell her story for to a magazine for $15k. Trump's people stopped that in its tracks and tried to make sure Stormy would never come for Trump at a public level. When the election race started heating up, the offers came pouring in for her to speak out and tell the story again from her perspective. One day, she was threatened by a man who approached her in a Vegas parking lot, telling her to leave Trump alone and physically threatening her in front of her infant daughter.
Not long after the magazine story was killed, Stormy Daniels says she was threatened by a man who approached her in Las Vegas. "A guy walked up on me and said to me, 'leave Trump alone. Forget the story.'" pic.twitter.com/JMskKQiYCi

— 60 Minutes (@60Minutes) March 25, 2018
My grandpa actually helped build Trump tower when Trump was only known as a greedy businessman (lmk when you'd like to film my 60 Minutes episode, Anderson. I'm ready for my closeup), so I've heard since I was little that Trump was a "wise guy." Little did we know he'd actually resort to mob tactics to threaten his enemies. But the chances of any one of Trump's henchmen successfully carrying out some kind of hit? Fuggedaboutit.

5. Trump's Lawyer Might Be In Some Deep Shit
Michael Cohen, Trump's attorney, drew up a deal with Stormy 11 days before the election, where she would agree to stay silent for a payout of $130k, which Cohen would pay her personally. If this sounds shady, you're not wrong, because Michael Cohen may have illegally violated his campaign contribution limits by paying for something that would benefit or protect Trump's campaign. Cohen says that neither the Trump Organization nor the Trump campaign reimbursed him, but that won't matter much if what he did was not exactly on the right side of the law to begin with.
Mr. Trump's attorney says the $130K he paid was not a campaign contribution, but Trevor Potter, a former chairman of the Federal Election Commission, disagrees. pic.twitter.com/Qxigc4R1l2

— 60 Minutes (@60Minutes) March 25, 2018
Trump also never signed the NDA, which could render it completely invalid and give Stormy the freedom to say whatever's on her mind. The truth, she will come out, hunty. And when she does, she'll read you all for filth.

6. Stormy May Or May Not Have Receipts
Hot Damn-derson Cooper asked both Stormy and her lawyer if they have any photos, text messages, or videos of the affair, and they were both v cagey about it. What's the deal, Storm? Are you sitting on some juicy nudes? Is there a sex tape? Does the world actually want to see any of that or is it going to be like a "2 Girls 1 Cup" thing where we immediately regret watching, but we can't look away? Only one way to find out.

Heads up, you need to keep up with the news. It's not cute anymore. That's why we've created a 5x weekly newsletter called The 'Sup that will explain all the news of the week in a hilarious af way. Because if we weren't laughing, we'd be crying. Sign up for The 'Sup now!
5 Celebrities With Iconic Resting Bitch Face
Labor Day has come and gone, which means it's time to pack away your white clothing resting betch faces that are officially so last season. While RBF never goes out of style, we highly recommend freshening up your look every few months to stay trendy and keep your acquaintances on edge so they're genuinely afraid of you. As always, we've got the chicest betch faces for you to choose from, that are certifiably terrifying and extremely on brand.
Here are our top five picks for Fall 2017:
1. RuPaul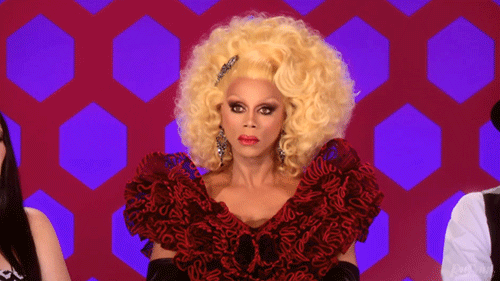 It's no secret that drag queens have been slaying RBF since forever, but RuPaul's look is currently shining especially bright. With a hit TV show and better bone structure than anyone on the planet, her look is one that says "You're wasting my time" before you even get the chance to speak. As we enter winter/cuffing season, we love RuPaul's betch face for first dates, work meetings, and other situations where your superiority must be instantly known.
2. Bella Thorne

Bella Thorne is obvi a trainwreck, which is why her resting face of pure washed-up exhaustion will speak to betches who barely survived the summer and are not excited for fall. Her chaotic life has clearly taken a toll, both mentally and physically, and her resting face somehow captures all of it. The Bella Thorne is a must-have for hungover brunch, waiting in line for birth control at the pharmacy, and any time this fall when you simply cannot and will not.
3. Prince George And Princess Charlotte

Prince George and Princess Charlotte aren't even five years old yet and they're already over smiling to keep the peasants entertained. With a third sibling on the way, they're more than ready to let the newest royal child be the nice one and focus on being as bougie as possible instead. Their signature stank faces are versatile and can be worn anywhere, but we recommend trying them on an elevated surface for a fresh way to look down on other club-goers.
4. Anderson Cooper

Anderson Cooper has about fucking had it with all the shit that's gone down this year, and his RBF is simply stunning as a result. His look of utter disgust is completely effortless, and his spirit seems truly hardened after being forced to engage with the current state of American politics on a daily basis. Will he ever recover? We're not sure, but that's what makes his look so hot right now and perfect for letting people know you're woke and therefore permanently pissed.
5. Raven Symone

Just in time for the That's So Raven reboot, we're seeing the Raven Symone betch face make an impressive comeback this fall. Raven has always wowed us with her ability to be joking in one instant and then all of a sudden dead-ass serious in the next. Her resting face in between lets everyone know she's not just sassy, but will also legit ruin your life if you cross her. It's all we can ask for out of a great RBF, which is why you little nasties can find us sporting this staple betch face pretty much every day this week.