Scooter Braun Is Trying To Gaslight Taylor Swift
In July, Taylor Swift caused something of a rift in the music industry and public opinion when she opened up about Scooter Braun's company buying out Big Machine Records, the old label under which Swift recorded her first six albums. The reason anybody cared was because this meant Braun's company would now own the masters to Taylor Swift's first six albums, which affects her ability to earn money off the master recordings. (Like, royalties, basically.) It also means she does not have control over how those recordings are released. That second bit became especially relevant yesterday, when Taylor Swift released a very open statement accusing Scooter Braun and Scott Borchetta, the founder of Big Machine Label Group, of forbidding her from performing her old songs.
Don't know what else to do pic.twitter.com/1uBrXwviTS

— Taylor Swift (@taylorswift13) November 14, 2019
In the statement, she claims that she will be honored with the Artist of the Decade award at the American Music Awards, and wanted to perform a medley of her hits throughout the decade. Makes total sense. But, she alleges, "Scott Borchetta and Scooter Braun have now said I'm not allowed to perform my old songs on television because they claim that would be re-recording my music before I'm allowed to next year." She continues that, in addition, Netflix had been filming a documentary about her life, but "Scott and Scooter have declined the use of my older music or performance footage for this project, even though there is no mention of either of them or Big Machine Records anywhere in the film."
She claimed that Scott Borchetta told Taylor's team that she would be allowed to use her music only if she agrees to not re-record "copycat versions" of her music next year, and if she stops talking (sh*t) about him and Scooter. In other words, as Taylor ominously puts it in her statement: "be a good little girl and shut up. Or you'll be punished."
This morning, Big Machine Label Group released a statement that straight-up denies each of Swift's accusations. The statement says, "At no point did we say Taylor could not perform on the AMAs or block her Netflix special. In fact, we do not have the right to keep her from performing live anywhere." Which is cool, but (deliberately or not) avoids the issue of did Big Machine say Taylor could not perform certain songs? The question is whether or not she was permitted to perform, it's whether she was permitted to perform the songs she does not own the masters for.
Furthermore, they also claim, "Since Taylor's decision to leave Big Machine last fall, we have continued to honor all of her requests to license her catalog to third parties as she promotes her current record in which we do not financially participate." This directly contradicts Taylor Swift's assertions that Scooter Braun et. al. are basically holding her music hostage and preventing her from doing what she wants with it.
But in their statement, Big Machine Label Group takes it one step further and completely throws Taylor under the bus. "The truth is," it reads, "Taylor has admitted to contractually owing millions of dollars and multiple assets to our company, which is responsible for 120 hardworking employees who helped build her career." This is attempting to make Taylor look greedy; she is worth an estimated $360 million, and yet she is being accused of screwing over "hardworking" little people. This statement to me is suspect. Taylor Swift has the money—I'm inclined to believe that if she is withholding money and assets (aka songs), she has a good reason for it.
Then, they go on to say that they have tried to come to a solution with Taylor that benefits both parties, and thought they were getting somewhere, until Taylor nuked it yesterday with her statement enlisting her fans to go apesh*t on Braun and Borchetta. They said that in a more fluffed-up PR way, but it's clear the message they are trying to convey: they are just innocent, hardworking people who are trying to work with Taylor, and she is the one standing in her own way. They claim, "Taylor made a unilateral decision last night to enlist her fanbase in a calculated manner that greatly affects the safety of our employees and their families." Which, like, okay. Taylor Swift does have a rabid fanbase, but it's not like she's got actual hitters out here. Worst case scenario, I feel like Scooter Braun is going to have a lot of angry teenagers in his mentions and DMs.
But the statement ends with the real knockout punch: "Taylor, the narrative you have created does not exist." When I read that, I audibly bellowed out, "oooooh!" with my hand over my mouth like I was at a f*cking rap battle. (My coworkers looked concerned.) This is what we in the business refer to as a callback—in this case, to Taylor Swift's infamous response to the Kim/Kanye feud of 2016 when, after losing the battle against the Wests in the court of public opinion, Taylor said, "I would very much like to be excluded from this narrative." I'd bet that this was a very deliberate choice in words, meant to call into question Taylor's credibility, and remind people that, at least according to the story Kim and Kanye told, which many people believe, Taylor Swift has attempted to manipulate facts to sway public opinion in her favor before.
Frankly, it's hard to know what to believe when we are receiving two completely contradictory accounts. I always like to say that the truth lies somewhere in the middle, but there doesn't seem room for much of a middle ground here: you either did forbid someone from performing at the AMAs, or you didn't. You either blocked their Netflix special, or you didn't. Maybe I lack imagination, but I don't see how both scenarios could still hold truth.
Given her history, I have to believe that Taylor is telling the truth. She knows better than anyone what can happen to one's career when they are perceived to be caught in a lie; to deliberately manufacture a false tale of victimhood would surely blow up in her face, and Taylor and her team would have to know this. If she was not being prohibited from performing at the AMAs and doing a Netflix special, then surely she would just do those things? Aside from news stories and an outpouring of support from people who already support her, Taylor Swift would have nothing to gain by making this up.
So then, it's my opinion that this statement from Big Machine Label Group is nothing short of a hit job. Forget trying to spin Taylor's story—they are upending it. They're denying it ever happened. And by doing so, they're trying to call her sanity into question. If Taylor's account is true, then this statement is pure gaslighting—both her, and the public.
Images: taylorswift 13 / Twitter; Getty Images
The AMAs Fashion That Should Have Been Stopped & The Looks We're Living For
Mondays always suck, unless it's the day after literally any award show. There's truly nothing better than sitting at your desk, pretending to work as you scroll through Instagram and judge the shit out of all the red carpet looks. As you've probably seen if you follow any celebrities on any form of social media, last night was the American Music Awards. Let's give compliments like a drunk girl in a bathroom then talk shit about the worst dressed, shall we?
Best
Demi Lovato
Okay, all extra celebrities, please take notice. Demi's look is like, the perfect example of the perfect music award show red carpet look. The dress is super flattering, the hair and makeup is incred, and overall it kind of has an edgy vibe but is still a classic look. Well done, Lovato.

Selena Gomez
Honestly, Selena has kinda been on my nerves recently for literally no reason whatsoever, so this is difficult for me to say, but I'm obsessed with this look. Usually a drastic post-breakup hair change is a bad move, but when you're rich AF and can get back into a relationship with Justin Bieber like, a week later, the rules don't apply. I love this new (old?) Selena.

Lady Gaga
Gaga wasn't even technically at the red carpet at the AMAs—she was at the Washington D.C. stop of her tour—and she still looked better than everyone else. She rocked an Alaïa to honor the recently passed designer (RIP) and channeled some major Madonna vibes. Into it.

Ciara
Pretty sure Ciara's sole purpose in life is to just be hotter than the rest of the human population. This dress is so dope. Plus, her hair and makeup is perfect but still looks natural.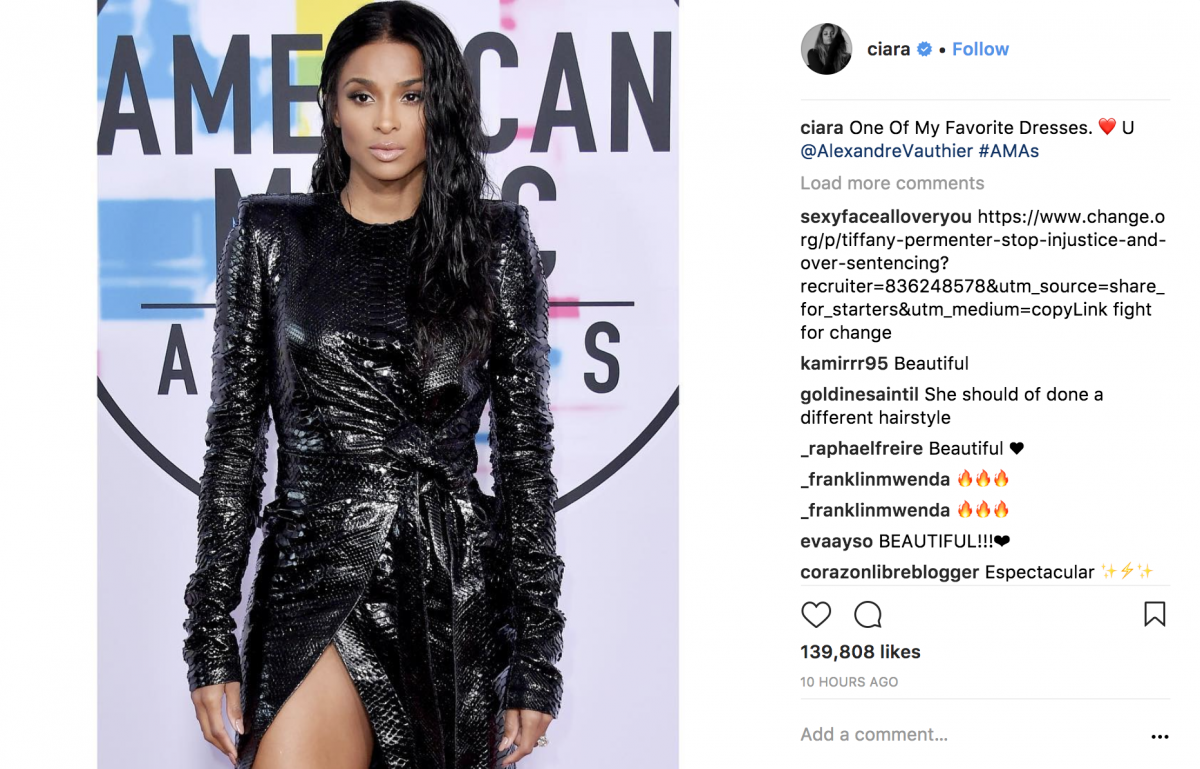 Kehlani
TBH, Kehlani's dress is kind of eh, but I'm considering her one of the best simply because she can pull off a low ponytail without looking like a founding father.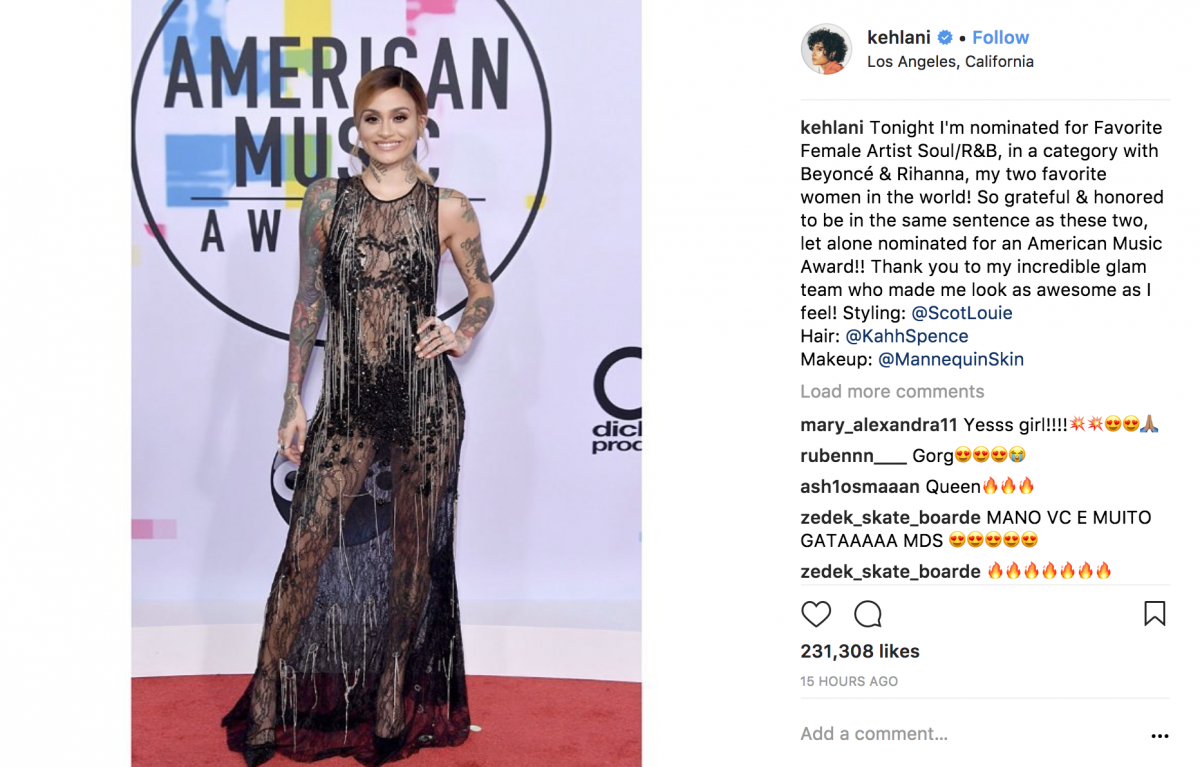 Worst
Sabrina Carpenter
I have no idea who you are, but I hate your dress. Sorry. It's very Miranda Hobbes and the boots kind of look like a serial killer made them out of human skin à la Silence of the Lambs.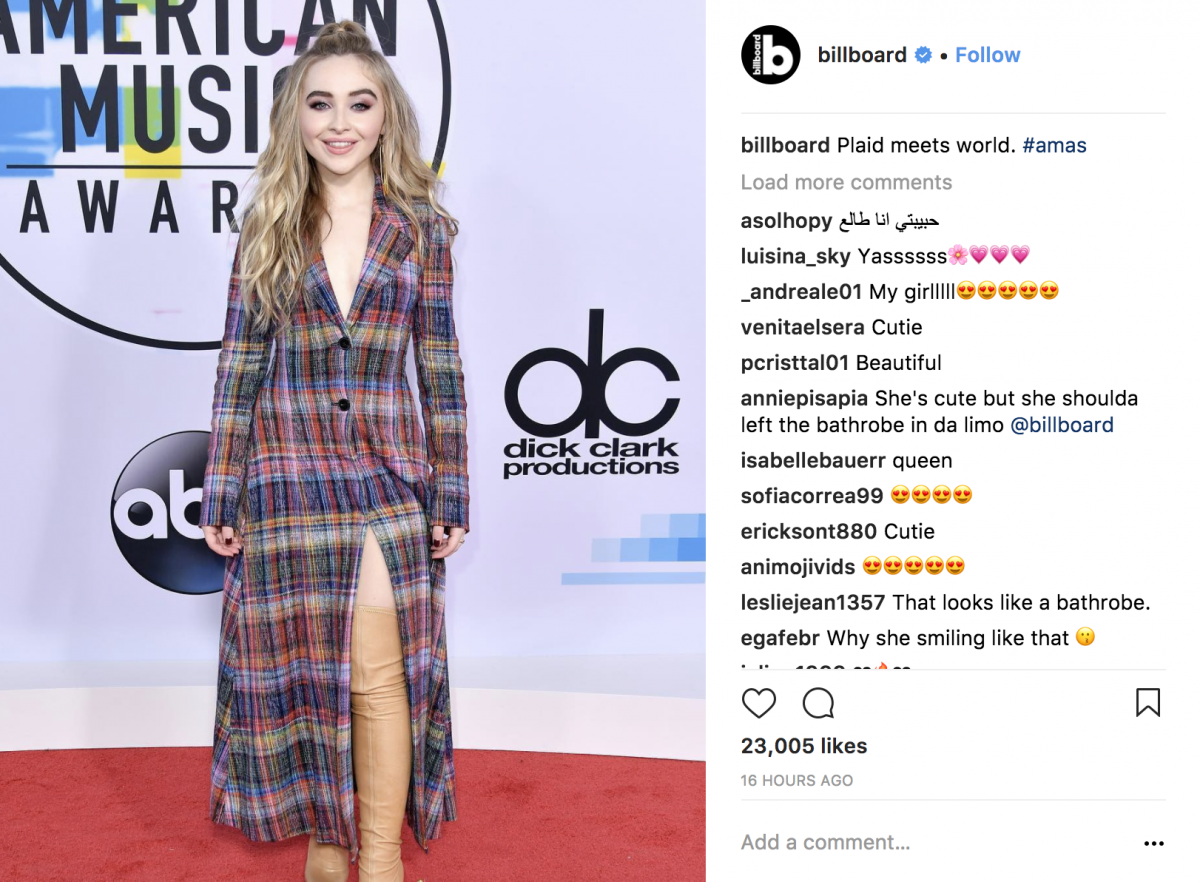 Demi Lovato
I'm putting Demi down for best dressed and worst dressed, because not even the most flawless styling could balance out this dress. She looks like a walking lava lamp. This is potentially one of my least favorite dresses in history.

P!nk
Even P!nk looks pissed to be wearing this dress. It kind of looks like a fancy loofah that came with the Bath and Body Works gift set your dad's new girlfriend bought you for Christmas after your parents' divorce.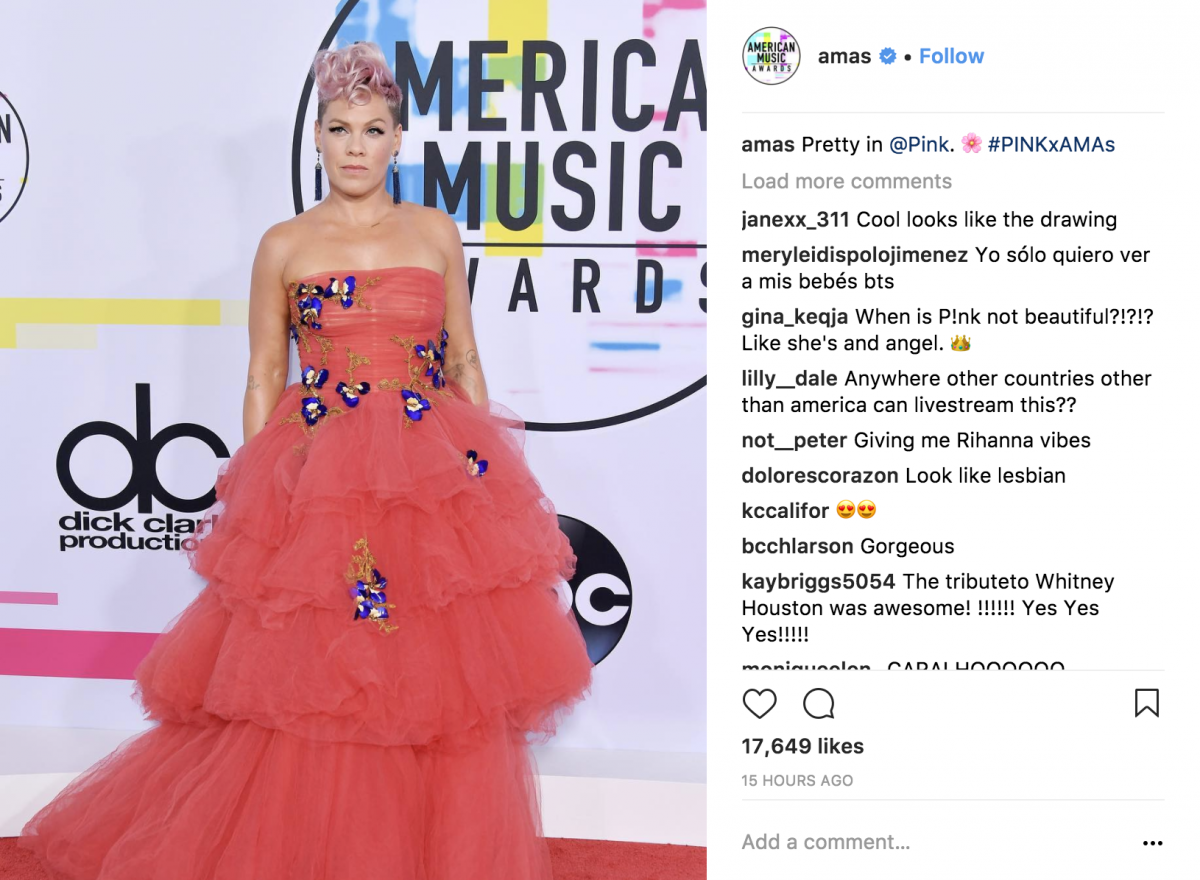 Bebe Rexha
I'm confused as to what is happening here. This dress probably had good intentions (even if it's made out of a fabric I would have worn to a friend's bat mitzvah in 2004), but then it decided to allow Bebe's boobs to try to run away from each other. Also, just looking at the cut of the dress paired with the shoes stresses me out, because I keep picturing Bebe falling over and having to do the worm instead of walk.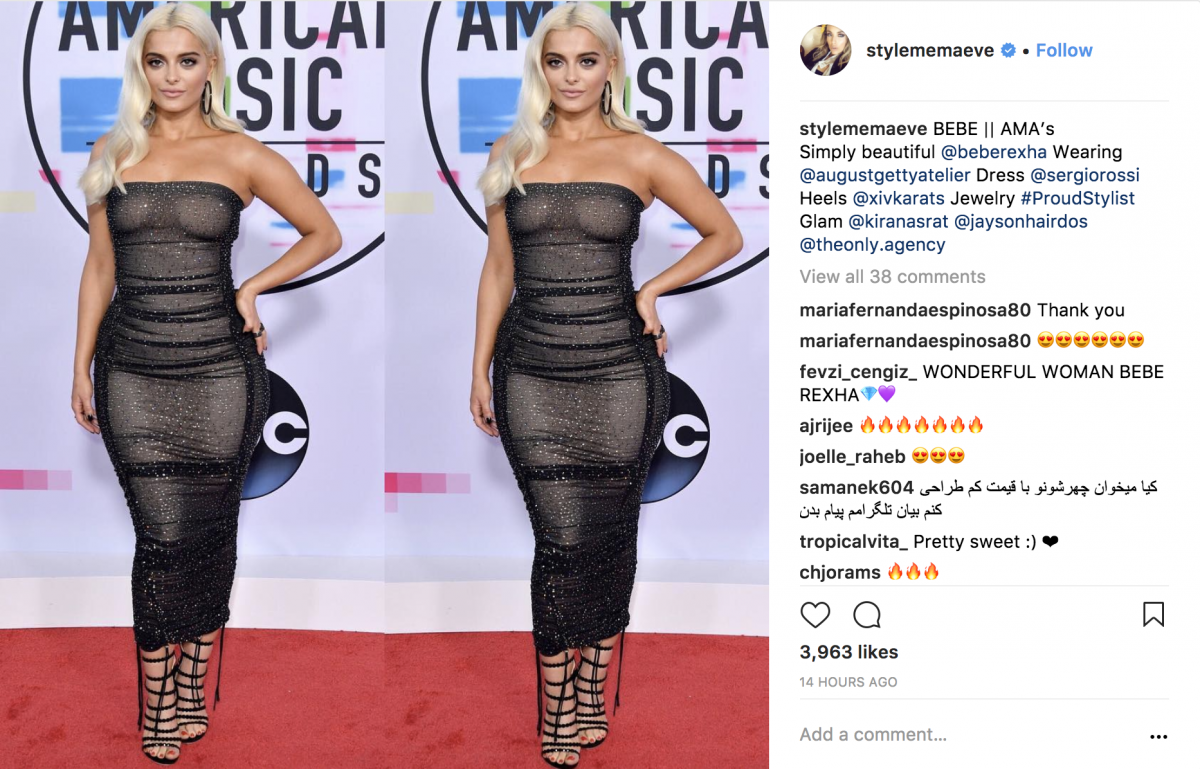 Julia Michaels
I mean, if the end goal here was to channel Lydia Deetz from Beetlejuice, then this look is killer. But like, I'm assuming that wasn't the point. This year, Comme des Garçons has kinda scammed everyone into thinking that it's fashionable to wear heaps of fluffy red fabric, but this look obviously isn't working.

WTF Was Selena Gomez Doing At The AMAs?
The American Music Awards are pretty pointless. It's unclear who actually decides the winners of these awards, and most of the performances just feel like overdone publicity stunts. Enter, Selena Gomez.
We were low-key excited to see what Selena did on Sunday night, as it was her first TV performance in over a year, and her first public appearance since ditching The Weeknd and getting back with Justin Bieber. And it was fuckin' weird.
First of all, she's blonde now. We don't necessarily hate it, but we're not sure if it's actually an improvement? Idk, not everyone needs to be blonde. But really, her hair color was the least questionable thing about her performance.
She performed "Wolves," her new song featuring Marshmello, who wears a giant robot head à la Deadmau5, and he was banging on some drums off to the side, which obviously added a lot to the performance. Selena was wearing a white nightgown, and her hair looked like she just took a shower, but with bacon grease instead of water.
She starts out on the ground in front of an old car with the headlights on, so we're thinking she maybe got like hit by the car and then is dead now? Or something? Then all these girls who look like they escaped from the 1800s come running in, and they dance around her and lift her in the air, and there's really just a lot going on.

The biggest issue with the performance was that Selena was definitely lip synching, which is pretty rough. Like, even if you're still recovering from your kidney surgery or whatever, you couldn't at least sing along to the backing track? Selena's never been known for her powerhouse vocals, but usually you can actually hear her trying.
The other really weird thing was that usually Selena ends her performances with a smile and a "thank you," a fact I definitely know by researching it and not off the top of my head because I've seen all her live performances. Anyway, this time she just gave a dejected look and a half-hearted "thank you", kind of like you do when an ugly guy calls you cute.

So what the hell is going on? Is Selena regretting all her choices, like going back to her fuckboy ex? Did she like, forget about the performance until 30 minutes before? Is the old Selena dead and we're now ushering in a new, darker Selena? We'll have to wait and see what the next few months look like for her, because Sunday night kicked things off to a really confusing start.