8 Cozy Loungewear Pieces You Can Work From Home In
If I relate to any fictional character, it's Schitt's Creek's Alexis Rose, who wears an ensemble to her court-mandated community service. I, too, dress up regardless of where I'm going, but in these trying times, I haven't left my apartment in *checks calendar* a long f*cking time, and I don't want to waste an outfit if the only people who see me are the frat boys who live in the apartment across the street. However, I refuse to wear my floor-length bathrobe and magenta Uggs all day because I am a firm believer in look good, feel good, and it's hard to feel like a boss when I look like Tony Soprano pre-coffee. Seriously, if we are going to be staying in our homes for what looks like the foreseeable future, it's important to make yourself and your home as aesthetically pleasing as possible.
So because I have paused my Rent The Runway account and the only clothes I own are jeans and oversized T-shirts, I have decided to invest in loungewear that is both cute and extremely comfortable. Again, I'm not trying to impress anyone with my outfits because no one can see me, but if you are like me, you feel more productive and useful when you get dressed in actual clothes, rather than just chilling in whatever you slept in. So, between reading emails and pretending to pay attention in Zoom meetings, I scoured the internet for quality loungewear and these are my  favorite things that I'm excited to live in for the next quarter.

I got these joggers over the summer and am shocked they're still in stock, because they're the most comfortable item I own. I don't like to be swimming in sweats, so I sized down and they fit a little more snuggly than pictured above, but you do you. Here's how amazing these are: my incredibly bougie boy toy thought they were cashmere. I'd also like to add that I am pretty tall and these are way more high-waisted than they are on the model above, but I like them that way because I can wear a cropped tee with them and not feel like a wannabe TikTok star.

I have these in every color and have never worked out in them because these are my lounge leggings. If someone told me they're made of silk and clouds, I'd believe it. Truth be told, I like my leggings to be a little bit sculpting because I feel like I'm wearing a fitted sheet otherwise, but these are neither light nor sculpting. However, they work because the material is thick enough that when I bend over because I spilled pancake mix all over the floor, no one can see my bare ass. Highly recommend.

When my former roommate broke our lease and abruptly moved out, I made sure to keep forgot to give back her American Apparel sweatshirt. However, because karma is a b*tch, I leaned against a freshly painted pillar on the subway platform and properly ruined the sweatshirt. Luckily, American Apparel has a storefront on Amazon and, not only did I replace it, but I bought it in every color! It's easy to just throw on, it's super soft and, unless you dunk it in wet paint, holds up pretty well.

I know this set is super expensive for pajamas, but hear me out. My roommate got me the Slip silk pillowcase for my birthday and I didn't realize how amazing silk was until I slept on this pillowcase. Silk is cooling, obviously very soft, so light and just all-around amazing. The only problem with silk is that it's hard to wash if you're a peasant and don't go to the dry cleaners for your PJs. These, however are washable and, may I add, so worth the price. They're so f*cking comfortable and you can even wear them out once the world returns to regular programming. I've definitely tucked this top into a pair of high-waisted Levi's and called it a day.

I don't have to tell you that everything Target sells is amazing, but I will say, these shorts are no exception. They're made from Target's super secret Perfectly Cozy material, which explains why they are so comfortable. I proudly own the matching sweatshirt and am proudly wearing this set as I sit here writing this story.

I swear I don't mean this in a bad way, but the material is actually really thin, which I appreciate because waffled tops generally activate all of my sweat glands. This one is super soft and a tiny bit sheer, which is fine if you are also alone in your apartment. P.J. Salvage is famous for its super-soft materials and this oversized top is no exception. This top runs a little big, so size down if you don't want it to double as a short dress.

I could be wrong, but I feel like after Juicy Couture exited the scene, Wildfox promptly took its place. I have a few pairs of the signature Tennis Club sweats and I love them. They're so soft and, I don't know how, but incredibly flattering on my butt. It's not just me, though. A few of my friends have said the same. They are perfect for times like these when you can't leave.

Is it crazy to drop so much on a jumpsuit that's so soft it feels like pajamas? I mean, I've definitely stress-impulse-bought worse things. This jumpsuit is, as I previously mentioned, so f*cking soft and comfortable. And I know that some of you may come at me for promoting actual clothes during these times, but this is where you're wrong. Less pieces to put on and take off = less effort. You can wear this on your Zoom meeting to look professional, then you can fall asleep on your couch in it, and you can even wear it outside of the house (if we are ever allowed to do that again).
Betches may receive a portion of revenue if you click a link and purchase a product or service. The links are independently placed and do not influence editorial content.
Images: Inside Weather / Unsplash; Aerie; Nordstrom; Electric Yoga; Amazon (2); Lunya; Target; PJ Salvage;
5 High-Waisted Bathing Suits That Don't Look Like Diapers
Is it just me or is bathing suit shopping more stressful than wedding dress shopping? At least the dressing rooms at bridal boutiques don't deploy meth lab lighting or mirrors that convince me I'm a chubby ghost who should just lead with my personality when I meet people. Look, when it comes to donning a bathing suit, I think every woman should wear whatever makes her feel her sexiest, but for me, that's def not a string bikini that exposes a casual 97% of my translucently pale body. Don't get me wrong, I like my body, but that doesn't mean I want to focus all of my beach/pool time silently praying that my SoulCycle ass doesn't swallow my bikini bottoms. Enter: high-waisted bathing suits!
Do you guys know about high-waisted bathing suits? I've always ignored these because they can look very diaper-esque if worn incorrectly. But there are some people out there who demonstrate the beautiful magic of high-waisted bathing suits, and I am here for them! There are so many flattering, non-diaper, high-waisted bikini bottoms out there, and if you don't have the energy (or time) to sift through them all, I got you. Whether you're thin, curvy, tall, or short (or any of the other 102 body types out there), accentuating your waist is always a good idea. These high-waisted bathing suits don't look like diapers, I promise you.

J.Crew slays bathing suits. This blue-and-white striped number is no exception. How cute is this thing, people? I always like to incorporate pale colors and/or white into my suits because lighter shades—especially white—make you look tanner than you are. As someone who actually wears a foundation shade called "Ivory," I can confirm that I don't look like a corpse in light-colored swimwear. No matter what skin tone you are, this color combo will def flatter your complexion and figure. Plus, this subtle red moment is giving me all the life I'll ever need. Yes, J.Crew, yes.

While trying on thousands of bikinis, I noticed that aggressive patterns weren't working for me. This could just be because my look already has a lot going on so patterns aren't really my vibe, but like a wedding dress, bathing suits shouldn't have too many elements because said elements take away from the shape. This Beach Riot bikini has the right idea, though. It has enough going on with the stripes, bold colors, and sexy shape, but doesn't overpower anyone wearing it. Most important to note, it's ribbed for her pleasure. Contrary to my summer internships at fashion houses, which, on a scale of Arya Stark's Faceless Men of Braavos apprenticeship to loving life, was a solid three, I'm not a fashion expert. However, I can confidently say that any simple shape or bright colors should be complemented by a ribbed material, otherwise it kind of looks like a sports bra. 

Concerning facial expression aside, this model looks absolutely fierce in this studded ensemble. I am living for the subtle sparkle and overall simple vibe here. Idk about y'all, but I will def be purchasing. The straps are removable (bless), so you can wear this as a tube top until you get sick of pulling it up every time you move, like, at all. I stan. Secondly, these bottoms are simple and chill enough that you can wear pretty much any top with them and not look like a complete idiot. I'll take it in all the colors, please!

If you don't want to spend more on a bikini than you would on dinner, Zaful has your back. As its prices imply, the bathing suits and other clothing it sells aren't exactly couture, but they get the job done and look cute in pics. The patterns are as trendy as trendy can get (just take a look at their Instagram if you don't believe me) and this mix-and-match situation is no exception. I never thought I could rock flowers and stripes in one look, but here we are and I'm not mad about it. I bought one of these saucy numbers last year for a beach trip and it def did not last the entire summer (do not machine wash, people!), but if you just want to boost your swimsuit collection for trips to the Hamptons, Rehoboth Beach if you're poor (hi), or Mexican bach parties, Zaful is the move. It may not be a huge financial investment, but it's an investment in your Instagram, and what's more important than that?

I love AE's mission statement to be inclusive, chic and fun. Like, I want to be those things, please! Teach me your ways, AE. Anyway, a simple black bikini is such a good call because black is slimming, which we could all use as we prance around the pool without any clothes, amiright? IMHO, what makes this look non-diaper-like is the fact that it is has seams along the sides and is slightly ruched. Otherwise, these bottoms would just be like black Spanx without Spanx's magical powers to hold all your sh*t in. So the ruched aspect is v important here. It's also on 50% off rn, so make it rain on these sales.
Images: Unsplash; Aerie; Zaful; Bloomingdales; Dolce Vita; J.Crew
Betches may receive a portion of revenue if you click a link and purchase a product or service. The links are independently placed and do not influence editorial content.
The Best Lingerie For Your Body Type
Lingerie is low-key one of the best inventions of all time. It's like, these fun little pieces of underwear you can wear under your regular, everyday clothes without anyone knowing that you're actually living out your goddess/stripper/girl from a rap music video/whatever you want to call your personal sex fantasy goals while just walking around in society. Or, you can wear it without anything over it to seduce someone. OR you can even just wear it while you watch The Office alone in your living room with a tub of cookie dough while your roommates aren't home. That's the beauty of lingerie. You can do whatever the fuck you want with it. Here are a few ways to step up your lingerie game depending on your body type.
If You're Really Busty…
Strappy little bralettes definitely aren't going anywhere anytime soon, which kind of sucks if your boobs weigh more than a rice cake. It can be really difficult to find interesting bras for big boobs, but ASOS Curve has a few expertly engineered styles, so you can rock that trend without slicing your shoulder in half.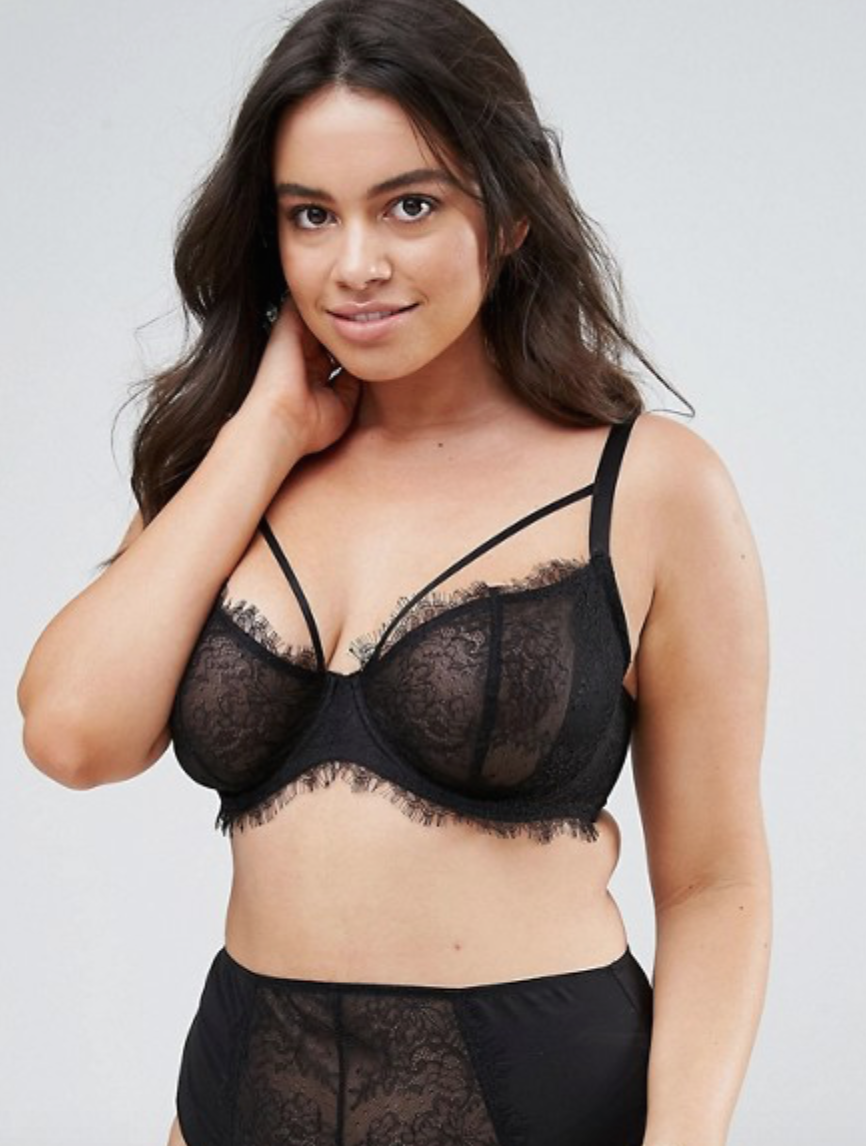 ASOS Curve Eyelash Underwire Bra
If You Want To Look A Little Slimmer…
When bodysuits and one pieces first became popular again, we were all like, "Holy shit, yes, this means we can go back to eating bread!" Then, we actually started trying that shit on and realized they have the potential to be as unflattering as your middle school field hockey warm-ups. Look for bodysuits that create subtle optical illusions, like this one that will make you look slimmer because the lace panel stretches around to the front, creating a false silhouette that is smaller than your natural waist.

If You Actually Kind Of Hate Lingerie In General…
Lingerie doesn't necessarily have to be little lacey pieces of string, so if that doesn't sound like something you want to spend your money on, there are tons of other options. Just seek out styles that are typically flattering on everyone, but in new materials. For example, literally everyone in the world looks good in a sports bra. It's just like, a thing. This grey velvet bralette is basically the sports bra you try to sneak under all of your clothes, when you know nobody's going to see it, except you'll actually want to show it off because it's really cute.

Out From Under Catalina Velvet Bralette
If You're A Proud Member Of The Itty Titty Committee…
Like I already said, strappy, delicate bralettes are literally everywhere these days, and chicks with small boobs are lucky AF, because they look good in all of them. However, if you want to pull some tricky shit to make your boobs look a little bigger, you might want to get creative. Skip heavily padded pushups with a ton of underwire, because they're super uncomfortable and the scam will be totally obvious once you take it off. Instead, opt for a high neck bralette contraption thing that has so much going on that it's just like, "Yeah, there are definitely some boobs in that mix, right?"

If You Have A Little Booty…
If I could live in a different decade, I would pick literally any era where little butts were a thing that people got excited about. Since I don't have a time machine or butt implants, I've settled for buying underwear that makes it look like I have a butt. These are my favorite things ever, because they have a wide waistband to make your stomach look flatter and ruching on the back to make your butt look fatter. They're literally amazing and I swear by them forever.