Amanda Bynes Is Not Pregnant
The last few weeks have been a big time for celebrity baby news, and given that all the other news is about coronavirus or murder hornets, I'll take it. We've had pregnancy announcements from Gigi Hadid, Lea Michele, Aaron Carter, Chris Pratt, and Ashlee Simpson, just to name a few, and I'm sure there will be more quarantine babies on the way. But who isn't pregnant in quarantine? Amanda Bynes!
Back in March (yes, this was less than two months ago), Amanda shocked us all when she and her (ex?) fiancé Paul both posted a sonogram picture on Instagram. Amanda captioned her photo "Baby on board!", so it was pretty clear that it was meant to be a pregnancy announcement. Or was it? Amanda quickly deleted the photo, so we were all left to wonder WTF was going on here. Was there, in fact, a baby on board?? That is, until this week, when Amanda's attorney finally decided to clear things up.

In a statement given to Fox News (ew), her attorney David Esquibias said "Amanda is not pregnant and she is not residing in a sober living facility." So uhh, no baby on board, and I guess that's that on that. He didn't offer any further explanation about the whole pregnancy thing, so I guess we may never really know what happened there. Esquibias also spoke to Entertainment Tonight, saying that Amanda "is sheltering in a safe location and is doing very well." That's good to hear, but I want to know why her attorney is suddenly going on a press tour. These past two months have been a whirlwind, and I feel like we had all basically forgotten about Amanda's sonogram post, so why bring it up now? Also, is she still with her drop dead gorgeous fiancé Paul? Or is he completely out of the picture? Why can't her attorney make statements about the things we actually care about?
The last time we heard from Amanda's attorney was back in March, just a day after the alleged pregnancy announcement. At that time, he told Fox News that Amanda was "seeking treatment for ongoing mental health issues," and that "Any reports that Amanda is suffering from drug or alcohol addiction issues are completely false." While, at the time, he didn't directly reference the pregnancy thing, he did ask for privacy for Amanda, and for "any speculation about her personal life from the public and the media to cease so Amanda can focus on getting better."
The thing is, I feel like speculation about Amanda did kind of cease after this? Like, we talked about the weird, maybe fake pregnancy announcement for a few days, and then we all moved on? Maybe David Esquibias hasn't noticed, but there's been a loth happening in the world since mid-March, so Amanda Bynes' non-pregnancy wasn't the kind of story that hung around for weeks. I mean, the government literally confirmed the existence of UFOs last week, and none of us even cared! To be honest, I care more about Amanda Bynes than UFOs, but still, we're living in a 10-minute news cycle.
Sadly, Amanda has been radio silent on Instagram since the sonogram picture, so her attorney's statements are the only info we have on her current situation. I wish she would bless us with some quarantine content, but maybe she just needs a break from social media for a while. Either way, I would really like an update on her relationship with Paul, so if her attorney could address that in his next Fox News statement, I'd appreciate it.
Images: s_bukley / Shutterstock.com; amandabynesreal / Instagram
The Best Shows & Movies Coming To Netflix In May 2020
You know what they say: April Showers bring May… Netflix marathons? Look, I know you would rather not be watching one million hours of TV. May is supposed to be the beginning of darty season (or maybe you've graduated to drinking on rooftop bars). The sun is starting to shine, everyone can smell the beginning of summer, and things are generally looking up. This May… well, there's no need to restate the obvious, but all I'll say is that it does not appear we will be heading to a rooftop bar anytime soon. 
At least we don't have to worry about how pale we've all gotten. If only the glow of a computer screen could tan my face. Not that I'd have anyone to show it to, but I'd like to feel at least somewhat confident about my appearance in my Zoom square during meetings, which I do stare at 100% of the time. Anyway, here are the best shows and movies coming to Netflix in May.
'Becoming'

This week, Higher Ground Productions, The Obama's production company, announced their plans to air the documentary Becoming, which follows Michelle Obama on tour promoting her memoir of the same title. The documentary is set to premiere on Netflix on May 6th. I will take any and all Obama family content I can get, so I cannot wait to see the stories Michelle encountered and shares in this movie.
'Back to the Future' & 'Back to the Future Part II'

Has the Back to the Future franchise aged well? My guess is no, but I haven't seen the classic 80s movies in forever. Luckily, the first and second movies about the antics of Marty McFly and Doc Brown time-traveling are coming to Netflix this month, so we can decide once and for all. Hilarious that 2015 was considered to be so far into the future, and now I look back on those days wistfully.
'What a Girl Wants'

What A Girl Wants is Amanda Bynes at her peak. Fresh off the success of The Amanda Show (can they put that on Netflix?), Bynes goes to England to find her dad, who is none other than Colin Firth. A British politician, he takes her into his family, but she has to learn to fit in and not cost him the election. But at what cost, if she can't be her quirky, destructive self?
'Jerry Seinfeld: 23 Hours To Kill'

Seinfeld fans will be happy to know that Jerry Seinfeld is coming out with a brand new stand-up special, taped at the Beacon Theater in New York, premiering on May 5th. I watched the trailer and all 90 seconds of it are Jerry trying to convince the audience that something can suck and be great at the same time. "Never feel bad that your life sucks. The greatest lesson you can learn in life is 'sucks' and 'great' are pretty close," he tells us. Okay, clearly he knew this quarantine was coming? Something smells fishy, but maybe he will have some advice for us all.  
'Workin' Moms: Season 4′

Netflix is releasing the next eight episodes of Workin' Moms on May 6th, which gives you just shy of a week to catch up. The comedy follows the lives of four moms who met in Mommy & Me classes, and who have to return to the workforce after giving birth. In season 4, the kids are growing up, and the moms are too. They still have to figure out how to keep their lives, families, and careers are together without going insane.
'Dead to Me: Season 2'

The end of season 1 of Dead To Me was pretty crazy. (Spoilers ahead.) Judy confessed to Jen that she ran over Ted (Jen's husband), but then it was like… maybe not? And then Jen shot Steve, Judy's ex-fiancé, because she thought he was the one that killed Ted? Steve kind of sucked, so when the season ended it was kind of like… okay, I guess everything's evened out now. Season 2 says not so fast, missy, we've got a lot of questions to answer. Does Jen forgive Judy? Is Steve really dead? Who is actually responsible for killing Ted?
'The Eddy'
The director of La La Land, Damien Chazelle, is releasing his new eight-episode drama, The Eddy, on Netflix May 8th. "The Eddy" is the name of the struggling Paris jazz club owned by musician Elliot. The show follows him as he tries to save his club and his family when both begin to unravel. I expect lots of Paris scenes (who doesn't like those?), and lots of great music, so this show will definitely be one to look out for.
'House at the End of the Street'
The 2012 psychological thriller House at the End of the Street starring Jennifer Lawrence will soon be available on Netflix. In case you're looking to feel something again, horror movies are probably your best bet. When 17-year-old Elissa moves to a new town with her mom, she learns the house at the end of the street was the site of a gruesome murder in which a girl killed her parents and then disappeared. Elissa begins to date Ryan, the girl's brother, who still lives in the house and holds many secrets and grudges. I'm sorry, but that is a major red flag and her first mistake. 
'Grey's Anatomy: Season 16'

The most recent season of Grey's Anatomy will still be on Netflix. With production cut short due to the virus, the season features 21 episodes instead of the planned 25. If you need something comforting (comforting, as in, a show you've been watching for literally ever), then you'll be glad to see the newest season coming out May 9th, with all of your favorite characters—well, the ones who are still alive.
'Unbreakable Kimmy Schmidt: Kimmy Vs. the Reverend'

I have seriously been missing Kimmy Schmidt in my life, and I am so excited about this special. The whole eclectic bunch from the show appear in this special, and in Kimmy Vs. the Reverend, Kimmy embarks on her biggest adventure yet. The more exciting part? It's interactive; the viewer gets to choose what Kimmy does with her life. That's good, because sometimes she needs a little direction. Remember Bandersnatch? I imagine it will the same sort of setup, except it's not part of the Black Mirror franchise so you won't be weirdly distraught by the ending. 
'Riverdale: Season 4'

I seriously cannot believe this show is still being made. So much respect for Riverdale, the best show written by predictive text on an iPhone. I faded out during season 2 when they made up a drug ring and decided to call said drug "jingle jangle." But that's not even close to the worst they've done on this show. I might need something to laugh at and hate-watch soon, though, so maybe Riverdale will make its way back to my screen after all.
'Soul Surfer'
This is a classic. Soul Surfer is based on a true story of the life of Bethany Hamilton, whose left arm was bitten off in a shark attack. She eventually recovers and learns to surf with one arm. Still, she is frustrated that she can't be where she once was, and slowly realizes that her dreams of pro-surfing competitions and sponsorships probably aren't going to happen. When Bethany goes on a service trip to Thailand after the 2004 tsunami, she realizes that she can still use her skills to teach kids not to fear water. Let me tell you, you are never not in the mood for this movie. It's inspiring and a feel-good for sure. 
'Just Go With It'

Just Go With It is your typical Adam Sandler comedy, and is a fun watch when you're not really in the mood for anything else. Sandler's character is a womanizer, and his go-to move for getting women is telling them he's going through a divorce. When one of them demands to meet his "ex-wife", he enlists the help of Jennifer Aniston and also, to keep it going, pretends her kids are his kids. The kids convince Sandler to take everyone to Hawaii, where he and Jennifer Aniston actually do fall in love at the end of the day.
'Uncut Gems'

Speaking of Adam Sandler, he stars in Uncut Gems, but this crime thriller is the opposite of his typical roles. I'm glad this movie is coming out on Netflix because I thought about seeing it in theaters last year, but ultimately decided it wasn't worth the money, and then promptly forgot about it. Luckily for me, the wait is over. Uncut Gems is about a jeweler who needs to repay his debts quickly. Through dangerous and high-risk pawning and betting, he finds ways to get increasingly more money, and hopefully, it will be enough. 
There's a lot arriving to Netflix in May, so hopefully, something catches your eye. As always, they're kicking many shows and movies to the curb as well. Here are some of the shows and movies that are leaving Netflix in May 2020: Scandal: Season 1-7, It Takes Two, Yours, Mine and Ours, Austin Powers in Goldmember, Austin Powers: International Man of Mystery, Austin Powers: The Spy Who Shagged Me, Dear John, Final Destination, The Final Destination, Final Destination 2, Final Destination 3, Ghosts of Girlfriends Past, My Girl, The First Wives Club, Royal Pains: Season 1-8, Limitless, The Place Beyond the Pines, Love, Rosie, She's Out of My League, What's Eating Gilbert Grape. 
Images: sebastiaan stam / Unsplash; Giphy (10)
There Are Updates In Amanda Bynes' Engagement And Conservatorship
If you've been following the life and times of Amanda Bynes over the past few weeks, you'll know that it's been a wild ride. It was less than a month ago when Amanda first shared that she was engaged on Instagram, and in that time, we've gotten to see our first glimpses of Paul Michael, her fiancé. We learned that she was a year sober, and so was Paul. She said her clothing line was coming soon. Sure, the face tattoos were still concerning, but things for Amanda seemed… good?
But then, over the weekend, reports surfaced that Amanda and Paul had called it quits, and reader, I was crestfallen. What could have happened so quickly? Amanda seemed so in love when she posted that video with the baby talk! All the videos were deleted, and things seemed grim.
Well, it looks like Amanda and Paul might not be done after all, because Amanda posted another selfie of them together. She captioned the photo "My love" with a black heart emoji, which certainly suggests they're still together. So what's the actual story? Were the breakup rumors false in the first place? Why did she delete all the photos and videos of them together? Maybe the whole relationship was a media ploy from the beginning—and if so, why? And WHY does Amanda keep getting face tattoos? So much to ponder.
While I'm still desperate for answers about Amanda Bynes' love life, the potential drama with Paul isn't the only turmoil that's happening in her personal life. Amanda is still under a conservatorship through her parents, which means that she doesn't get to make a lot of her own life choices. Along with her parents, a judge is responsible for deciding what kind of treatment she's receiving, and Amanda doesn't really get a say in the matter. For the past few months, she's been receiving treatment for her mental health issues at an outpatient facility, but things in the past week have gotten more grim.
According to a source from The Blast, Amanda had a secret hearing last Thursday, at which a judge ordered her to check in to an inpatient psychiatric facility for treatment. According to the source, Amanda's parents were at the hearing along with Paul, and the breakup rumors surfaced just days later. I don't pretend to know what all is going on with them, but I have a feeling these two might be connected. From the initial engagement announcement, sources were saying that Amanda's parents weren't going to let her marry Paul, so it seems like they might not be the biggest fans of the relationship.
At the hearing, Amanda apparently agreed to go to the facility, and she was ordered to check in over the weekend. Well, that didn't happen. Even though she said she was down to go, she never actually showed up at the treatment center. Oh, Amanda… According to The Blast's source, the family is now trying to figure out how to proceed from here, because things don't seem to be going great at the moment.
While we don't have all the details of Amanda's situation right now, it's not a huge surprise that she doesn't want to go to the inpatient facility. In a recent Twitter video, she said that she wasn't happy with her outpatient treatment situation, and that she wanted to transition to a more standard therapy situation, but this new decision is the total opposite of that. Maybe she isn't in a position to make the best choices for herself, maybe she is, but either way, she doesn't seem to be just going along with whatever the judge tells her to do.
So, where are we with Amanda Bynes right now? Honestly, everything seems very unclear. Hopefully she's getting whatever treatment is best for her, and if she's back with Paul, hopefully it's a positive relationship. Who knows—maybe six months from now she'll be married with a successful clothing line! I really just want the best for Amanda Bynes, whatever that looks like. We're all rooting for you!
Images: amandabynesreal / Instagram
UPDATED: Amanda Bynes Ended Her Engagement
UPDATE: Well, how the turn tables have… On Sunday night, E! News broke the story that Amanda Bynes' engagement to Pol has sadly ended after three weeks. I mean, who could have possibly seen this coming? I mean, everyone, but still, that happened fast. There aren't many details about the split, but Amanda seemed to confirm the news when she deleted all the posts about Pol from her Instagram. (Thanks to the power of the internet, all the posts are preserved below!)
Now that Amanda is single again, what's next? Theoretically her clothing line is still happening, so hopefully she'll circle back with some updates on that soon. As for her personal life, she's still under a conservatorship until at least this summer, and she's doing outpatient treatment at a facility that she said costs $5200 a month. In another video, she said that she wants to switch to therapy that her insurance will cover, but the conservatorship doesn't allow her to make that choice. Clearly, she has a lot to figure out right now, but hopefully things start looking up soon.
ORIGINAL ARTICLE: So far, 2020 has been a year full of surprises. Billie Eilish won all the Grammys, The Bachelor has *actually* had the most dramatic season ever, and I did my taxes two full months before they're due. Surprising developments all around. But perhaps nothing has been more surprising than Amanda Bynes getting engaged. In the past week, we've slowly gotten more information about wtf is going on in her life, but we're still left with more questions than answers.
On Valentine's Day, Amanda shocked us all when she posted this photo, featuring a gigantic diamond ring and the caption "Engaged to the love of my life." No less than five people DMed this photo to me asking for answers, and reader, I regret to tell you that I had no answers! By all accounts, there was no record of anyone that Amanda Bynes had dated recently, so the engagement truly did come out of nowhere. And really, for the first day or so, I wasn't even convinced that the engagement was real. I don't even know if I'm 100% convinced now! Idk, sh*t is weird.

After seeing this photo, I was thirsty for information, mainly about what man Amanda Bynes found that could afford a ring like that, and does he have a single brother? Luckily, Amanda didn't make us wait too long to start getting a little more information, because she started posting videos on her Instagram, but there's still much to be cleared up.
Who Is This Guy?
"I'm sorry to everyone whom I called ugly on Twitter" is my forever mood (h/t @CulbertsoMorgan)

Also I'm deeply worried about Amanda Bynes and her face tattoos. pic.twitter.com/sqAXruB3nK

— Maya Polon (@MayaPolon) February 28, 2020
After posting a few photos of her man this week, Amanda Bynes really blessed us on Thursday night, with a video introduction. No lie, I've watched this like, 40 times, and I have no regrets. It is ART. His name is Paul, but Amanda kind of pronounces it like "Pol," which I love for her. Actually, I might just call him Pol from now on—it has more character. She says that he's "drop dead gorgeous" (sure), and that they've both been sober for over a year. However erratic she can seem on social media, being sober for a year is a huge achievement, especially given the alarming reports a few months ago that she had fled her sober living facility.
We don't know a lot about Pol (whose real name is Paul Michael), but an E! News source says that the two met in rehab, and have been dating for "two to three months." I can't say that sounds like a recipe for a life-long relationship, but I'm out here getting ghosted left and right, so what do I know?
Is That ANOTHER Face Tattoo?
I'm dismayed to report that, yes, it looks like Amanda Bynes has gotten a second face tattoo. I mean, why have one lopsided heart permanently inked on your face when you could have two? Unlike the first one, this second tattoo is smaller and completely filled in, which made me think it was a mole or something at first. But uh, it doesn't really look like a mole, it looks like a tattoo. Ugh, Amanda, we were all rooting for you!! Pol, if you're listening, please keep Amanda away from the tattoo shop.
Why Did She Call Me Ugly On Twitter?
Amanda Bynes is infamous for some wild tweets, and she feels bad about it, okay? In the video with Pol, she apologized "to everyone whom I called ugly on Twitter." Someone please make a cross-stitch of that quote and mail it to me, thanks! She says that, at the time, she was feeling really ugly herself, and that she wasn't able to express herself appropriately because she was "so drugged out." I get it. I've watched eight seasons of Vanderpump Rules, so I'm very familiar with people rage texting when they're f*cked up. It happens. Good for her for getting sober and apologizing for hurt she caused.
Wait, She's Still Doing A Clothing Line?
Amanda's Instagram this week has really been the gift that keeps on giving—she posted two videos yesterday alone! The first one got less attention because Pol wasn't in it, but there was still some really important information. In this one, she thanks her followers and supporters, and then drops a hint about where her career is at right now. She says she's out to dinner with her friend and FIDM advisor Kathy (hey Kathy!), and that she's "really looking forward" to starting her clothing line, and that it should be available online "in the near future."
This is exciting news, considering that we really haven't heard much about her fashion plans since her PAPER Magazine interview in late 2018. She graduated from FIDM last year, but considering the drama with her conservatorship in the fall, I wasn't sure if a fashion career was still in the cards. Honestly, if she needs some cash, she should just put Amanda Show quotes on T-shirts, because everyone I know would buy the hell out of those.
Is She Okay?
Look, I really hope so. It's really encouraging to hear her say that she (and her fiancé) are sober, and hopefully she can keep it up. She does seem happy right now, which hasn't always been the case. Yesterday, Entertainment Tonight reported that, according to a source, Amanda's parents have yet to meet her fiancé, but it's hard to know if that's true. And even if it is, we don't know if Amanda is on the best terms with her parents. At this point, there's really no way to know how this will turn out, but I'm hoping for the best.
Hopefully Amanda Bynes stays sober and happy, and I'll stay tuned for that clothing line. In the mean time, Amanda, please PLEASE don't get any more face tattoos. It's all I ask.
UPDATE: It's our lucky day, because Amanda Bynes is back with two more videos! Things with Pol seem to be going great, so let's unpack what we learned this time.
Do The Paparazzi Photoshop Her Pics?
Before we get back to talking about Pol, let's discuss this first video that Amanda posted on Thursday. In this one, she talks about her frustration with paparazzi photos of herself. She says that in every paparazzi pic, she looks completely different, with "16 chins." Relatable. She claims that paparazzi services are actually Photoshopping pictures of her to look uglier, which, idk. I believe that she believes that, but I'm just not sure that's a thing. Like, I've seen myself in the security camera at Target, and trust me, it looks nothing like my selfies.
Okay, But What About Pol?
I'm baby Amanda Bynes pic.twitter.com/7RLeM0rnqX

— Sarah (@edgeofyourseat) February 28, 2020
After her video about the paparazzi, Amanda went back to talking about her drop dead gorgeous fiancé, Pol, who sadly had to go back to Monterey. This is actually so funny, because she says she shouldn't have divulged his location, so she won't post the video, but uhhh, here we are watching it. Amanda, you're so silly! She says that he does the cutest baby voice, and then she shows us her own baby voice, and really I've never been closer to ripping my hair out. I never knew that hearing Amanda Bynes say "you're so sexy I love you" with a lisp would be so triggering, but here we are. Hopefully Pol comes back from Monterey soon, because I feel like Amanda needs someone to hang out with.
Images: amandabynesreal / Instagram
Did Amanda Bynes Flee Her Sober Living Facility?
If anyone has had a roller coaster of a decade, it's Amanda Bynes. Way back in 2010, she announced an indefinite hiatus from acting, and things have been a little rough for her since then. I don't need to rehash all the details, because honestly I don't have all day, but we all remember the tragic tweets, and the even more tragic blonde wig. Truly a moment in time I will never forget. But all that is in the past, and there's a fresh batch of Amanda Bynes drama that we need to talk about. She isn't tweeting about Drake murdering her vagina anymore, but things are not all sunshine and rainbows.
First, a quick recap of Amanda Bynes' 2019. In January of this year, Amanda checked in to a rehab program after an alleged mental breakdown. In late 2018, she had announced her relaunch of her career in a Paper Magazine interview, but a People source said that she began to struggle once she started getting media attention again. She remained in the inpatient mental health facility through the spring, and when she graduated from FIDM with her Associate Degree in June, she received a day pass to leave treatment. Shortly after receiving the Associate degree, she began classes at FIDM to work toward her Bachelors degree, and things seemed to be looking up for her.
Details about her whereabouts were scarce through the summer and fall, until last week, when things got dramatic all of a sudden. Reportedly, Amanda had been staying at a sober living facility, where she had to cooperate with strict curfews and drug testing, and received mental health treatment. But last week, Amanda decided it was time to go, and checked herself out. While initial reports suggested that Amanda was spiraling out of control, fleeing from the facility and disappearing to god-knows-where, an Entertainment Tonight source clarified that she's actually staying with her parents while she figures out where she wants to live.
While it normally wouldn't be that scandalous to move back in with your parents, in Amanda Bynes' case, things are a little more complicated. She reportedly wants to move out and get her own place, but she can't just do that, and unlike me, it's not because she can't pay the broker's fee. It's because, since 2013, she's been under a conservatorship with her parents. They first filed for this when she was placed on a psychiatric hold, and have renewed it as recently as last year. This means that, much like we've discussed with Britney Spears, Amanda Bynes doesn't legally get to make a lot of her own choices, regardless of where her mental state is at. But even though her parents are her conservators, they don't really get to make the choices either—instead, they have to meet with a judge. I am not a lawyer, don't ask me why. Therefore, Amanda and her parents were in court for a hearing this week to decide whether or not she should be allowed to live on her own, now that she's left the sober living facility.
On top of leaving the sober living facility, the ET source also said that Amanda recently dropped out of her classes at FIDM. Of course, people leave school for a wide variety of reasons, but it definitely seems like she's going through a tumultuous time right now. There's no word yet on what the judge decided in regards to her living situation, but for now, let's take a look at Amanda's most recent Instagram post to get a better idea of where she's at right now. Here it is, take it in:
So. We've got a teal hair situation and over-plucked eyebrows, but what we really need to discuss is the caption, because it's both offensive and confusing. First of all, Amanda, to my knowledge, is not Japanese, so she really shouldn't be captioning her photo Geisha girl-anything. The whole concept of Geisha is widely misunderstood in western cultures, which is problematic. Buuuut the other, even weirder thing is that there's literally nothing about this photo that says "Geisha girl vibes." It's just like, a run-of-the-mill selfie? Why would you go with a cringy caption like this, when it doesn't even describe the photo?
While this photo alone isn't evidence that Amanda Bynes shouldn't be trusted to live on her own, it's something I won't stop thinking about for a while. Before, she had school and a theoretical return to acting to focus on, all while living in a facility designed to help her out, but now the sources are saying that she's basically doing nothing. If I were her, I might just chill at my parents' house for a bit, until I had something else going on. Like, I would literally give anything to go a few months without paying rent. But hopefully the judge makes whatever the right decision is for her, and Amanda comes up with Instagram captions that are a little less questionable. Call it a New Year's resolution.
Images: GVK/Bauer-Griffin/GC Images/Getty Images; amandabynesreal / Instagram
Amanda Bynes Just Made An Instagram
It's been a tumultuous ride for Amanda Bynes, but she's finally showing her face again, this time on Instagram. On Tuesday afternoon, the new account @amandabynesreal popped up, and I immediately stopped what I was doing when someone sent it to me. The account only has around 7,000 followers, and she's not verified yet, but it seems like it really is her.
Queen Amanda Bynes made her grand Instagram debut in a mirror selfie that honestly looks like it could be from 2014. She's got bubblegum pink hair, she's in a room with some college-dorm-looking blinds and twinkly lights, and her phone is a big-ass Samsung. There's deep chaotic energy here, but I'm still kind of here for it. We really have no idea what's going on in this photo or in Amanda's life, but I NEED to know more ASAP.
For the caption, Amanda just used a kissy-face emoji, which just doesn't feel like enough information. Girl, what are you up to?? Is this photo recent?? Are you okay?? This is her big Instagram kickoff, so I would've loved a caption that had a little more going on, but alas.
Obviously, Amanda Bynes has had a tumultuous past on social media, as Twitter played a large part in her meltdown several years ago. Never will I ever forget the time when she wanted Drake to murder her vagina. Iconic. Obviously, Amanda was struggling with her fair share of mental health issues at that time, and it seems like she's been doing better recently. Last year, she resurfaced on the cover of Paper Magazine looking healthy and amazing, and earlier this summer she graduated from college. She's been keeping a low profile other than those couple of events, but maybe that's about to change.
Does Amanda Bynes' new Instagram presence signal something exciting to come in her life and/or career? Is she launching a clothing line, or making her return to the big screen? It's too soon to know, but I hope that her Instagram will be a fun way to get more of a glimpse into what's going on with her these days. For all the sh*t she's been through, I still miss the good old days of classic Amanda Bynes movies like What A Girl Wants and She's The Man. If there's one person who needs a comeback in 2019, it's Amanda.
Images: amandabynesreal / Instagram
Amanda Bynes Finally Graduated From College
There are certain celebrities that people are extra invested in, and Amanda Bynes definitely fits that category. I feel like our entire generation has been rooting for Amanda to succeed since the "I want Drake to murder my vagina" days, and things finally seem to be going in a positive direction. The last several years have been quite the roller coaster for Amanda, but this week she graduated from college, which is a super big accomplishment for her.
Amanda Bynes first enrolled at the Fashion Institute of Design and Merchandising (FIDM) back in 2014, but she had some issues during her time there. In her first year there, she was reportedly kicked out of school for a multitude of reasons. She allegedly showed up to class high (who would do such a thing??), got caught cheating on tests, and caused "horrendous arguments" with her classmates. Okay, so none of these are *good* things, but I feel like everyone reading this can probably check at least one of those boxes.
Also, in doing my research for this (reading several old Page Six articles), I learned that Amanda Bynes got arrested for a DUI in 2014 because she was under the influence of ADDERALL. I'm sorry, this is a crime?? How much Adderall do you have to be cracked out on to get arrested, because we've probably all been there. Amanda Bynes really did college just like all the rest of us.
FIDM graduate 2019 #fidmgraduation pic.twitter.com/KdFI5dPOdK

— amanda bynes (@amandabynes) June 25, 2019
But apparently FIDM decided to let Amanda back in, and now she's finally done with her degree. We hadn't really heard from Amanda for a few years, until she resurfaced last fall with her Paper magazine cover. In the interview, she was open about her past substance abuse issues, and seemed hopeful about her future in fashion. She said that she planned to launch a clothing line, and she even wore some of her own pieces for the shoot.
All things considered, it seemed like Amanda Bynes was doing well. But then, it was reported earlier this year that Amanda had entered a mental health facility for stress-related reasons. There were never really any public details about this, but I was definitely nervous that we were going to go down another dark path with Amanda. To be honest, I still feel like I have PTSD from all those manic tweets back in 2013.
Even if we don't know everything about Amanda Bynes' situation, her graduation seems like a good sign that she figured things out, at least for now. I would love to have a chat with her about what's going on with her hair, but mostly I'm just happy that she got that degree. Congrats girl, now welcome to post-grad life. It's soooo fun and not stressful at all!
Images: Shutterstock; amandabynes / Twitter
TV Shows From Your Childhood You Didn't Realize Were Empowering
From one betch to all the betches out there, happy International Women's Day! May we take no sh*t from men neither today nor any day! According to the UN, "International Women's Day is celebrated in many countries around the world. It is a day when women are recognized for their achievements without regard to divisions, whether national, ethnic, linguistic, cultural, economic, or political." So basically, it is a day that women are actually acknowledged for being badass bosses, regardless of extenuating traits like race or politics. Recognition of women's existence and achievements seems like it should be an everyday thing, but whatever, I'm not here to complain. On the contrary, I'm about to make y'all really happy with some flashback Friday feminist empowerment from our favorite television shows circa the '90s and early 2000s.
That's right, some of our favorite childhood shows made a legit and impactful effort to instill feminism in our young and impressionable minds so that we would be prepared to enter young adulthood with the betchy confidence of Angelica Pickles circa the early years. Let's get to it.
 'Rugrats'
I'm going to start with Rugrats because it is the freshest in my memory. A few weeks ago, my roommate and I were watching that Friends episode guest starring Elizabeth Daily, AKA the voice of Tommy Pickles. (For those of you who are wondering, her actual real life voice is the literal same as that of Tommy Pickles.) So, like any sober 25-year-olds, we got nostalgic and wanted to relive the joy of a Rugrats episode, but because cartoon quality has gotten significantly more legit since the '90s, Rugrats no longer graces our television screens via cable. It is, however, on available for purchase. So without hesitation, we threw our hard-earned dolla dolla bills at the entire first season of this show, and literally watched the entire thing within a week. I am not impressed with us, but I am impressed with the astute level of feminism in this gift to humanity.
For those of you who may have forgotten, Angelica is low-key the star of the show because she was bossy as hell, and I am here for it! How could she not be when her boss bitch mom actually uttered the words, "Angelica will make it in a male-dominated power structure." Um, YES. Let's not forget about DiDi Pickles, who was the glue that held her weird little fam together. Let's face it, her hubs was a toy inventor with the mental capacity of a stale cracker, and Tommy is a textbook case of ADHD's early symptoms. She was progressive af and we aren't mad about it. Betty Deville is another top contender for most feminist queen of Rugrats. She was always donning her athleisure because she gotta #werk, raise a family, and crush souls of judgmental trolls all day everyday. Last but not least, Charlotte Pickles, who was gloriously terrifying and got whatever the f*ck she wanted. This human form of a power stance knew how to command a room and didn't have time to deal with your sh*t. Claps for you, Charlotte.
'The Amanda Show'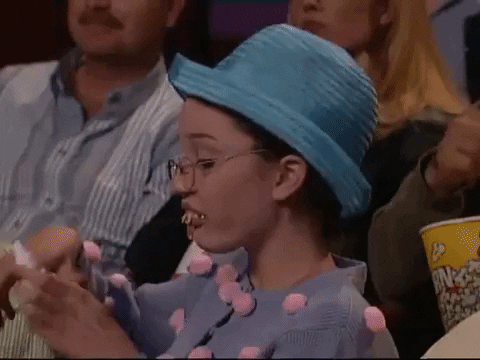 The Amanda Show was SNL for '90s babies. She was Kristen Wiig, Kate McKinnon, Maya Rudolph, Leslie Jones and Tina Fey all rolled into one sassy betch. Because Amanda played upwards of 800 different characters in countless sketches on this blessing of a television show (#MoodysPoint), I just don't have the time to go into all of them, and I refuse to focus on only a few because they all deserve recognition. So instead, I'm going to focus on the show in general. The Amanda Show made humor accessible. I know what you're thinking, "What?" But think about it, The Amanda Show was just an endless sea of hilarious jokes from a group of really attractive kids who were not afraid to don heinously ugly wigs, outfits, or fake teeth for a laugh. I feel pretty confident in myself, but idk if I could have thrown on a pair of fugly overalls, a bucket hat and dentures in front of a 1) live studio audience and 2) millions of viewers at home. Kudos to you, Amanda. We love you!
'The Powerpuff Girls'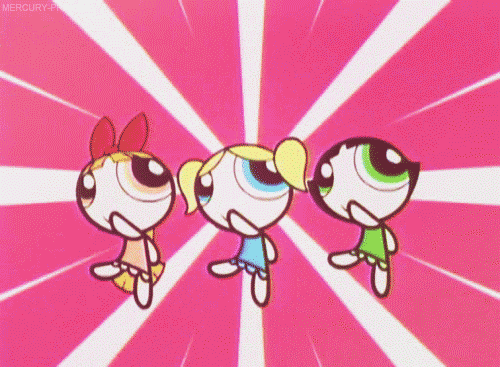 I watched this show a looong time ago, so I'm going to keep this brief. If there is another definition of girl power that isn't "Sugar, spice, and everything nice," I don't want to hear it. These were the ingredients chosen to create the perfect little girls, but Professor Utonium accidentally added an extra ingredient to the concoction: chemical X. Thus, the Powerpuff Girls were born using their ultra-superpowers. Blossom, Bubbles, and Buttercup have dedicated their lives to fighting crime and the forces of evil, and I'm impressed. These sister were like, what, seven years old and fighting crime? I can't even find a dude who washes his hair, and these girls were out here making the world a safer place. Good for them.
'The Fresh Prince Of Bel Air'
Each of the three main women in this amazing show were absolute queens in their own right, but I am just going to focus on one, the matriarch and feminist icon, the OG Vivian Banks. (Not her replacement who looked literally nothing like her in any way, and I need an explanation from the producers for this abomination). Anyway, Vivian 1.0 showed all of us plebeians how to rock a mint green power suit and raise a family, both of which are impressive. So in like, basically every episode, Aunt Viv stood up to sexism, ageism, racism and a slew of other -isms, because she's a hero who's too stylish to wear a cape. Her education about cultural references was truly unparalleled. Let's not forget her absolutely schooling Will when he acted like he was an expert in black history because he read Malcolm X's autobiography. The exact quote was: "You can read that book, you can wear the t-shirt, you can put the posters up and shout the slogans, but unless you know all of the history behind it, you're trivializing the entire struggle." YAS, AUNT VIV, YAS. The bottom line is Vivian was a woman who was unabashed to speak her mind, especially when dealing with her moronic male counterparts. Sorry, Carlton, we love your mom and her dance moves more.
'Sex and the City'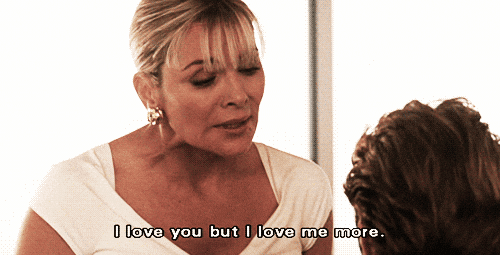 Ok, before everyone judges my mom for letting me watch this show, she didn't know I binged harder on SATC than I did on Halloween candy. Skip your eye rolls and scoffs for calling this show feminist, but what would you call a squad of women who subconsciously discussed the bs behind the coveted fairytale ending and openly shut down slut-shaming? This group of revolutionary women (I'm a total Carrie) made it okay to engage in sex with guys you aren't Facebook official with, to have fun without worrying about the haters and, of course, to prioritize Manolos over all else. Idk if this was intentional or not, but these four women make up one perfect betch: Charlotte is romantic, Miranda is brilliant, Carrie is funny, and Samantha is Samantha. Of course, no one woman is actually perfect, which is why all of these traits are separated into four individual women, but they are all great and I love them. On a side note: it truly breaks my heart that SJP and Kim Cattrall aren't actually friends IRL, because their characters were the most likable on the show. Truly, no one could pull off jewel tones and feathered accessories like they could. I'm hoping that somewhere in lower Manhattan, Carrie and Samantha are getting afternoon cocktails rn.
'Lizzie McGuire'
This show was my life, and I have no shame in my game. Lizzie was a cultural icon who struggled between staying true to herself and wanting to fit in, but then she realized how much the popular kids sucked and got over it. Snaps. Lizzie's main feminist feat is that she was not afraid to go through all of the same struggles all teenage girls go through: heartbreak, annoying siblings, eating issues, and, most iconically, bra shopping with your mom. Lizzie facing all of these preteen issues made all of us realize that these are just normal parts of life, and we shouldn't feel embarrassed to be experiencing them. Lizzie came into her true feminist self in the final scene of the movie, though, when she chose herself and her hair extensions over a guy. Nevermind that he lied, cheated, and tried to pass Lizzie off as Brunette Lizzie Isabella, but he tried to play her for a fool, which just isn't how you save your career, sweetie. Lizzie's too smart for that sh*t, you Italian meatball!
Images: Nickelodeon; @stephdelucaaa, @freshprince.ig; @wearemitu / Instagram; Giphy (3)