There Was A Mini 'Clueless' Reunion, And We Have Questions
It's been almost 25 years since Clueless came out, which makes me feel like the oldest person on the planet. Lucky for us, the cast still gets along, and they reunited over the weekend at the Chicago Comic & Entertainment Expo. Paul Rudd, Alicia Silverstone, Donald Faison, and Breckin Meyer sat down for a panel discussion together, and obviously everyone freaked out over it.
At the panel, they reminisced about their days making Clueless, and Paul Rudd was also asked about his secret for literally never looking older. He said that it's all due to "total darkness. And a little moisturizer," while Breckin Meyer joked that he sucks the life out of babies. Honestly, I would try anything at this point to get skin like Paul's, so they really shouldn't joke about that. There was no discussion of a Clueless reboot or sequel, but maybe that's for the best. Basically everything else from the '90s has already been brought back, so we should probably ease off the reboots for a while.
First, I have to address the most hilarious part of this post. Paul Rudd doesn't have Instagram (I would follow him in a second), so Breckin Meyer instead tagged him as Chris Hemsworth. Lmao, classic mix-up! This is definitely an Avengers joke, but it also feeds into my theory that all white men basically look the same. A quick scroll through Breckin's Instagram shows that he loves to troll people (especially his famous friends), so I'm loving this.
Obviously, there was one important person missing from the reunion (I don't consider Stacey Dash important, and you'll soon see why). We can't talk about Clueless without bringing up Brittany Murphy. She tragically passed away in 2009, cutting short a career that included classics like Uptown Girls and 8 Mile. At the C2E2 panel, her costars remembered her fondly, with Alicia remembering how she was in awe watching Brittany's audition for Clueless, and she told the director that they needed to hire her.
Let's take a look at what all of the other stars of Clueless have been up to lately:
Paul Rudd
we talk about the miracle of Paul Rudd's aging like he didn't already look like a 36 years old in Clueless (1995) that's just what he looks like people, he's a handsome dude.

— Andee (@andee404) March 25, 2019
Out of everyone in Clueless, Paul Rudd has obviously risen to the top in the last two decades. These days, he's making major money playing Ant-Man in all of the Marvel movies, which is basically a Hollywood golden ticket. I don't need to go through his whole resume, because you already know. I will add that I randomly saw Paul in NYC last year, and he looked like a damn snack in person. Paul Rudd, you're doing amazing sweetie.
Alicia Silverstone
I will always have a soft spot for Alicia Silverstone, but Cher Horowitz in Clueless is definitely still her most iconic role. She obviously isn't an A-list star like Paul Rudd, but she still works consistently these days. Last year, she starred in Kyle Richards' show American Woman, which no one actually watched, but I feel like I did from sitting through all the drama around it on The Real Housewives of Beverly Hills. The show sadly got canceled after one season, so Alicia has plenty of time to focus on her activism. By that, I mean that she's a vegan and an anti-vaxxer. SMH.
Stacey Dash

It's unclear why Stacey Dash wasn't at the reunion, but I still love her as Dionne. After starring in the movie, Stacey Dash spent three years playing Dionne in the TV spin-off of Clueless, but her career has been, um, interesting since then. She was in a Kanye West video, she broke a rib on the reality show Celebrity Circus, and she's gotten involved in politics as a Republican. She supported Trump in 2016, and briefly ran for Congress last year, saying she wanted to "free people from the shackles of a plantation mentality." Yikes. Stacey has also been married four times, and she got married to her current husband just 10 days after meeting him. Bleak.
Donald Faison
First, I need to point out that Donald Faison's Instagram photos look like they were taken on a selfie camera in 2011. It's been so long since I've seen this filter, I almost forgot what people used to look like before FaceTune. As you probably know, by far the biggest role of Donald's career was Christopher Turk on Scrubs, which ran from 2001-2010. He also starred in a sitcom called The Exes from 2011-2015, which I heard of for the first time approximately 30 seconds ago. In the past few years, he's mostly just done guest roles on TV shows, including Ray Donovan, House of Lies, and Drunk History. Oh, and how could I forget, he also had a voice role in the critically acclaimed Robot Chicken: Star Wars Episode II. Sounds awesome.
Breckin Meyer
Let's be honest, this Clueless reunion is the most attention Breckin Meyer has gotten, like, maybe ever. Good for him. He usually keeps it pretty low-key, but as I mentioned before, his Instagram is pretty funny. Breckin ALSO voiced a role in Robot Chicken: Star Wars Episode II, and has been in several other Robot Chicken specials. Am I the only one who hasn't heard of these? Currently, Breckin has a main role on a new ABC show called The Fix, that just premiered last week. This is obviously a big time for him, so congrats to him on going viral with these Clueless photos.
So it's pretty obvious that Paul Rudd is doing the best out of all the Clueless cast, but it's interesting to see what they've all done with their careers in the past 24 years. I still can't believe it was that long ago. If you're old enough to have seen Clueless in theaters, it's time for a massage and a face cream right now.
Images: Shutterstock; @breckinmeyer (2), @aliciasilverstone, @Donald_aison / Instagram; @andee404 / Twitter; Giphy
8 Best 'Clueless' Quotes To Incorporate In Your Everyday Life
Any betch knows that while Mean Girls is our soul, Clueless is our bible. Cher is the ultimate betch for many reasons. Her wardrobe was on point—her commitment to dressing like a slut in high school and nearly giving her dad an aneurysm was admirable. Her friend group ruled Beverly Hills high school and set the standard for our future friend circles. She was also deeply committed to philanthropy: she tried to donate her skis to the Pismo Beach disaster relief efforts, she set up Mr. Hall and Miss Geist and helped all their students get higher grades, and she gave Tai a much-needed makeover. But probably the best thing about Cher and everyone in Clueless in general was her lexicon. Clueless may not have invented the phrase "as if," but it might as well have. The same goes for "Oops, my bad." Now that I think about it, there is no shortage of amazing, now-famous lines from this masterpiece that many of us still use today. If you want to expand your Clueless vocabulary beyond "That was way harsh, Tai" but aren't sure how to incorporate these quotes into your modern vocabulary, we present a guide to the best Clueless quotes to use in everyday life here.
1. "Is that in the Valley?"
When you're discussing plans for the night with your friends but are feeling lazy and don't want to take part in an event that would be farther than a ten block radius from your apartment. Fuck that.
Used in a sentence: Friend: What are your thoughts on going to that bar we've been to in Brooklyn? Me: Is that in the Valley?

2. "She's a full-on Monet"
To describe any girl that your crush, or your friend's crush, is currently dating. I'm sure she sucks.
Used in a sentence: Don't worry, he'll dump her soon enough. It's only a matter of time before he turns the lights on and realizes she's a full-on Monet.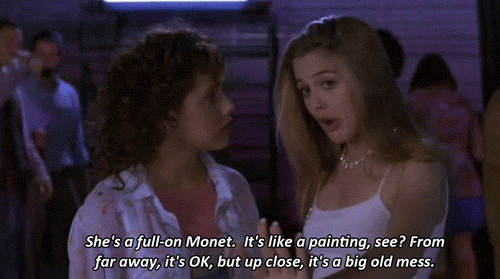 3. "I thought they declared peace in the Middle East?"
Any time someone brings up politics at a party.
Used in a sentence:  Rando at party: Will you be attending any of the 5,000 protests going on tomorrow?  Me: I thought they declared peace in the Middle East?

4. "Hymenally challenged"
To refer to you or your friend going through a dry spell.
Used in a sentence: (at Sunday brunch) I cannot personally add to this conversation of "who I did last night" because I am currently hymeneally challenged.

5. "I was surfing the crimson wave"
To justify something bitchy you did or said (while on your period, or not. Who cares.)
Used in a sentence: I'm sorry I spilled a drink on you and then got mad at you for being mad at me. I was surfing the crimson wave."
(Adding "I had to haul ass to the ladies" is optional)

6. "Most capable looking outfit"
To describe the perfect outfit you need for a job interview, a hot date, the gym…
Used in a sentence: I need to wear my most capable looking outfit tonight so this guy understands that while I may have introduced myself by making out with him, I am a very serious woman with standards.

7. "No shit. You guys got coke here?"
When you walk into a pregame where you barely know anyone and need to break the ice. You'll probably have to already be drunk enough to say this.
Used in a sentence: That's literally how you're gonna say it.
(Bonus points if someone responds "Yeah, this is America". Now you're making friends!)

8. "You know I don't speak Mexican!"
When you pretend not to know what the other person is saying/talking about because it's just not the kind of shit you want to hear at the time.
Used in a sentence: Friend: How many shots did you just take? I think you need to stop and maybe have some water. Me: Sara, you know I don't speak Mexican!