Here's How Politicians Would Spend Their Quarantines
Hey girl, wanna quarantine & chill? Welp, hope so, because you don't have much choice. Trump has urged Americans to limit gatherings to 10 people or less. Quarantining ourselves will help keep COVID-19 from spreading, and it's especially important for young people to take on this responsibility, as we are often carriers who can spread the virus unknowingly to elders or people with other health conditions, who are more likely to experience serious effects from the disease.
While some of us are working from home, and many of us are stuck without work or paid time off (send love and cash to any service workers/independent contractors you can!), most politicians are still out in these streets. I guess they have a duty to fulfill in these dark times…let's see if they can rise to the occasion.
But since we're home, we've decided to spend some time coming up with how some of our most beloved and most despised politicians would spend their quarantine & chill time. Let the games begin!
Bernie Sanders
Bernie is going to take this time to get set up on the Youtube so he can continue making videos once again asking for us for our financial support. His wife, Jane, will be his videographer, and they will go widely unseen since Bernie doesn't realize it's all about the TikTok at this point. He will ignore Hulu's repeated recommendation that he stream "Hillary."
Bernie will also, of course, take this time to really lean into his bedhead and socially distance himself from any type of hairbrush or comb. Jane supports him in this journey because their love is pure.

Elizabeth Warren
Liz will be damned if this quarantine stops her from being productive. She's color-coding her closet, reorganizing the food pantry, doing her friend's taxes, and making spreadsheets simply for the fun of it.
If she, her husband, and Bailey want to watch a movie? You bet your sweet ass Liz has made a PowerPoint presentation breaking down which options are best and why.
Liz will, of course, continue coming up with bulletproof political plans that will go underappreciated by the American public.
Mike Pence
Things are finally as God intended: Pence is at home with Mother, away from any other nasty woman's presence.
Here, Mother can provide Pence with the 8 glasses of warm, whole milk he requires per day, while she reads him the Hyde Amendment (the legislative provision barring the use of federal funds to pay for abortion) out loud to soothe him. All is well.

Mitch McConnell
Mitch McConnell will treat social distancing the same way he treats his time on Capitol hill: by ignoring the many bills currently on his desk that could literally save lives. He and his wife, Transportation Secretary Elaine Chao, will further map their path to corrupt the federal entire government until McConnell is exposed to the virus, after which he will retreat back into his shell to self-quarantine for 14 days.
Joe Biden
Tbh who fucking knows, but I can confidently predict he would go on live TV and say something like, "I spent my quarantine time like I did every Christmas as a kid: riding my tractor down to the graveyard to have chicken fights with Ol' Man Popsicle Stick, who, have you me, under many things, as they say, would not, on account of, you know, the thing."

AOC
No amount of social distancing can stop this content queen from setting Twitter ablaze with her hot takes. Anyone with a bad take is getting retweeted WITH comment and dragged to clap back hell.
No internet troll is safe. No conservative commentator can hide. She's coming for you.
Susan Collins
Hopefully sitting in a corner and thinking about what she's done. And then regretting it.
That's all I'll say on that.
Brett Kavanaugh
Speaking of Susan Collins…
You just KNOW Brett is the guy who is going out to crowded bars and getting blackout, even after we've been told to socially distance ourselves.
Nothing can stop him from going out with his boys Tobin, Squi, and P.J.!!! Time to chug some beers and FSU because this is AMERICA and no one can tell him no (and if they do it will not compute).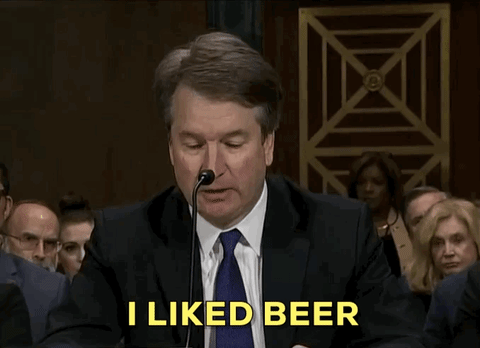 RBG
A GoFundMe has been put together to provide RBG with a glass box, a la the one Joe locks his victims in in You, but obviously less creepy and fully equipped with everything Ruth needs for her daily workouts.
Food and water will be brought to RBG by a person in a hazmat suit, who will deliver it through a small opening in the box. Again, much like Joe from You, but with the intent to keep this woman tf alive, not to kill her. She is routinely let out so she can be measured for the top-secret, Bloomberg-funded RBG clone that we are definitely not making.
Cory Booker
Cory Booker gets to spend his quarantine time the way we all wish we could spend ours: with Rosario Dawson. The two are finally together without the distractions of his busy political life and her busy celebrity/being a perfect person life.
With this extra free time, Cory will of course continue to pursue his passion of tweeting out bad jokes about coffee. Fuck it, he might just turn it into a passion project and make a coffee table book full of lame coffee jokes. The perfect present for all of our dads.
"Sleep" and I broke up a few nights ago. I'm dating "Coffee" now. She's Hot!

— Cory Booker (@CoryBooker) May 29, 2009
Maxine Waters
Maxine Walters will be reclaiming her time, tyvm.
Donald Trump
Social distancing as president is what Trump had always thought this job would be like. He's locking himself in his room, ordering all the McDonald's fish fillets in the greater D.C. area, stockpiling Diet Coke, and watching Fox News.
Melania is pretending to have COVID-19 as an excuse to not be near him.
At long last, peace, quiet, and a lack of total responsibility. America is finally great again.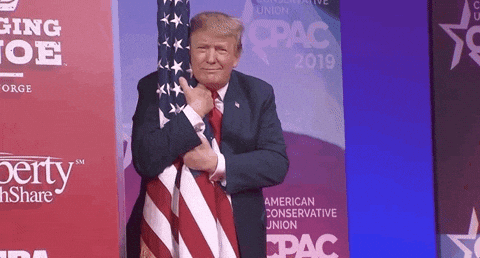 Want more stories like this? Subscribe to the Betches Sup newsletter for a lunchtime briefing to make you laugh, instead of cry, about the news.
Images: Giphy (5)
All Your Faves Introduced a Bill For Free Birth Control Without A Prescription
Access to birth control means giving womxn the basic right of controlling their own bodies. So naturally, it's up for debate. However, a group of congresswomen and a senator are introducing a bill that could help make sure that affordable birth control is available to all womxn.  Yesterday, Representatives Ayanna Pressley, Katie Hill, Ami Bera, AOC along with Washington Senator Patty Murray released a bill that would ensure that birth control pills require neither a prescription or an out of pocket fee. Finally, lawmakers with some goddamn sense around here!
Psst! ? Birth control should be over-the-counter, pass it on.

— Alexandria Ocasio-Cortez (@AOC) June 7, 2019
No, the pill isn't yet available over the counter. But the bill stipulates that when the FDA approves birth control pills for OTC use — which the bill urges it to do without delay — women should be able to get it without a prescription and with no extra out-of-pocket fees.
AOC dropped the trailer to the bill in a tweet that said "Psst! Birth control should be over-the-counter, pass it on" last week. Turns out this wasn't just another one of her *perfect* tweets, it was the foreshadowing of an actual bill. Deemed the '#FreethePill legislation' (so chic), the bill is v similar to one that was proposed by Senator Patty Murray in 2015. Murray essentially drafted the OG legislation and is now teaming up with this group of congresswomen bring it back, stronger than ever. We stan a comeback.
Massachusetts representative Ayanna Pressley referred to the group of lawmakers as "the Destiny's Child of OTC birth control" with Murray the reigning Beyonce.
Hi there @tedcruz hit up our girl @pattymurray she and I have already written the bill, album dropping tomorrow ? @AOC's vocals (& original co sponsorship) = on point. @KatieHill4CA's an original too. Just call it the Destiny's Child of OTC birth control https://t.co/Ri2q1Viez4

— Ayanna Pressley (@AyannaPressley) June 12, 2019
To those asking, yes @PattyMurray's the Beyoncé of the group. Thank you for your long-standing leadership on reproductive justice Senator https://t.co/OWRkUU8dOs

— Ayanna Pressley (@AyannaPressley) June 12, 2019
"Wait" you must be thinking. "Republican Senator and human form of phlegmy sneeze Ted Cruz is a supporter of the bill?"
I agree. Perhaps, in addition to the legislation we are already working on together to ban Members of Congress from becoming lobbyists, we can team up here as well. A simple, clean bill making birth control available over the counter. Interested? https://t.co/7kh3kqxN1w

— Ted Cruz (@tedcruz) June 12, 2019
As you may recall, Ted Cruz and AOC had a nice convo on Twitter about how they would like to team up and introduce a bill that would ban former members of Congress from becoming lobbyists. That was enough to freeze over a nice top layer of ice in hell, and with this second Twitter interaction, I can only assume hell now looks like the set of Frozen. Since when is Ted Cruz so into bipartisanship? Does he have some ulterior motives here? Did Arya Stark murder Ted Cruz, take his face, and is now working from within the GOP?!
The likely explanation is that Ted Cruz supports this bill because it would mean moving reproductive healthcare to the free market. As it stands now, the Affordable Care Act essentially requires employer-backed insurance to cover women's birth control, so all insured Americans have access to it. Altering this so that birth control is given OTC would take the government out of providing womxn with birth control, which is something religious and small government conservatives can get behind.
I still like my Arya theory though.
The Best TV Shows And Movies Coming To Netflix In May
Schools are almost out, and it's time to relax and let loose. And by "let loose" I mean stay in on a Friday night for some Netflix and chill. There are some incredible original movies coming to the streaming platform this month, like Wine Country and Extremely Wicked, Shockingly Evil and Vile. Two totally different movie night-vibes there, but excited for both equally the same. I mean, a movie directed by Amy Poehler, and another starring Zac Efron? That's pretty much all I could ever ask for in life! And from my streaming service nonetheless! Is that sad??? Maybe. Do I care??? Nope. So here are the TV shows and movies hitting Netflix this month that we're most excited about, plus a few that we're well, not so much.
1. 'Austin Powers: International Man of Mystery' & 'Austin Powers: The Spy Who Shagged Me,' May 1st

If you've been getting out your DVDs or VHS tapes to watch your favorite Austin Powers movies, then you're an idiot and very behind on the times. But, no need to beat yourself up, you can now sit back and relax because these iconic movies will be available on Netflix as of May 1st. And, as if people don't overuse Austin Powers movie references enough, expect them to be in full force this summer with these two titles now available for streaming. Guess you could say it's both a blessing and a curse.
2. 'Knock Down The House,' May 1st
When I first saw this movie title, I assumed it was some Netflix interpretation of Bringing Down The House, an iconic cinematic masterpiece that I'd be super on board for a revival of. Unfortunately, it's not. And even more unfortunately, it's a political documentary. Again, I'm not the ideal customer for this kind of sh*t, considering my tastes in entertainment are superficial and far from deep. But, for those of you with more complex taste than myself, this documentary documents (woah, imagine that) four progressive women who ran for Congress in the midterm election, and one candidate's ultimate success in doing so. It's said to be hopeful and inspiring, so maybe I will actually put a pause on re-watching old Vanderpump Rules episodes to give this one a shot. I mean, I could use some hope and inspiration from someone other than Tom Sandoval to get me through my week, so we'll see.
3. 'Chasing Liberty,' May 1st
Chasing Liberty is the epitome of a classic rom-com from the early 2000s. I mean, you have Mandy Moore at the height of her being Mandy Moore, playing the president's daughter who can't get the secret service off her back long enough to actually date boys. Tragic, right??? Tbh, idk if I've ever actually even seen this one, or if I'm just confusing it with that Disney channel movie with Hayden Panettiere that had basically the same exact plot. Either way, I now can't get the song "My Date with the President's Daughter" out of my head. Honestly, such a bop.
4. 'Wedding Crashers,' May 1st

Like, if this isn't the best movie ever for staying in bed all day hungover, then I don't know what is. Everyone loves Wedding Crashers, and this classic comedy hits Netflix this May, just in time to cure your Memorial Day hangover. Thanks for thinking of us, Netflix!!! It almost negates the fact that you're increasing your monthly fee. Almost. Then again, wtf do I care, I don't pay for this. Shouts out to whoever is, though, I appreciate you!!
5. 'John Carter,' May 2nd
I'm going to be honest, this is one I'll probably skip. I had actually never even heard of this movie so I asked my sister's boyfriend, who is a TV and movie connoisseur, about it and his exact summary was, "it's a SciFi movie with good actors and a cute love story." And sorry, but like, ya lost me at "SciFi." I'm a religious watcher of Keeping Up With The Kardashians, so needless to say, I'm not really a SciFi gal. But for those of you interested, it's a Disney movie based on a book, and is about an ex-military captain who somehow randomly wakes up on Mars (talk about the Sunday scaries) and is now faced with saving a bunch of randos. I mean, talk about "I didn't sign up for this sh*t."
6. 'Extremely Wicked, Shockingly Evil and Vile,' May 3rd

If you didn't fall in love with Zac Efron as Troy Bolton in High School Musical, then you're either too young or too old to be here rn. Stop what you're doing and go watch this instant classic I think we can all agree that Zac Efron is a babe. And he has only gotten hotter with age. HOW?!?! And he's going to be playing Ted Bundy, the infamous serial killing heartthrob??? Sign me up! I mean, in all seriousness, it's kind of dangerous that he's playing this character. It's totally just going to further confuse hopeless romantics everywhere, making them believe that the serial killer-like tendencies of the guy they're dating (but like actually, beyond just not texting you back for three days) are just something you can "fix." Just kidding. But I will be excited to watch this.
7. 'Lucifer' Season 4, May 8th

So like, I don't watch this show but maybe I should, because people are pretty hype for its return. Season 4 comes to Netflix this month, and like I just said before, people are stoked. Apparently, this show has some real stans because after it was canceled by Fox after season 3, fans campaigned for it to come back. I mean, just because something has passionate, loyal fans doesn't mean it's a winner *cough cough Donald Trump* but this show does look kind of good. And the lead guy is hot as sh*t, so that's probs reason enough for me to give it a whirl.
8. 'Wine Country,' May 10th

Well, when you have a new movie starring half the adult cast of Mean Girls, you know you're in store for a treat. Not to mention, it also has Maya Rudolph, Rachel Dratch, and Paula Pell. Plus, as if that star-studded cast isn't enough, the whole thing is directed by Amy Poehler. Expect your Insta feed to be flooded with stories of girls having wine nights together to watch this movie. And no shade to them, cause I'll be grabbing my gals and doing the same. I mean, the premise is a girl's weekend, very basic plot line. And like, if the cast wasn't so good, then it would probs be a movie I'd never see. But, with a cast of women who genuinely make me laugh with everything they do, I'll have this in my queue the day it comes out.
9. 'Wanda Sykes: Not Normal,' May 21st

Wanda Sykes' first one hour Netflix special comes this month, titled "Wanda Sykes: Not Normal." Apparently the special surrounds our current f*cked-up political and cultural climate. And considering how f*cked-up the world truly is right now, there's no doubt in my mind Wanda will have some great jokes for us on the matter. Bring it on, Wanda.
10. 'When They See Us,' May 31st
This is a limited miniseries surrounding the wrongful conviction of five men of color over a female jogger who was beaten and raped. It's based on the true story of the Central Park Five and documents the breakdown of our criminal justice system. Honestly, the trailer is chilling, and if that's not enough reason to watch, recently admittedly guilty Felicity Huffman is a main character in the drama. And, she's playing the assistant district attorney who presided over the case and was a huge contributor to the infamous f*ck-up. Ironic, I know.

There are tons of other popular titles on the list coming for May that I've heard of, yet haven't seen. So if I didn't mention your beloved movie or show (like, relax Hairspray stans) there's no need to come for me. Feel free to utilize the comments section for good, and promote said movie or show that you clearly feel so irrationally passionate about. If that's what helps you sleep at night, who am I to stop you?
Images: @charlesdeluvio / Unsplash; GIPHY (5)
Beto's Latest Insta Story Is A No From Me, Dawg
Ever since AOC pioneered the art of going live while making mac-and-cheese and talking about the need for universal healthcare, young hot politicians have been dipping their toes into the waters of insta story to varying degrees of success. Usually they're just copying AOC's model of being cute and making food and talking to constituents in a direct, normal way, but sometimes…sometimes they go too far. And with that I give you 2020 hopeful/certified cutie-pie Beto O'Rourke's latest story:
Beto is Instagramming his dental cleaning pic.twitter.com/BWyncSW3OK

— andrew kaczynski (@KFILE) January 10, 2019
This, I think we can all agree, is bad. I don't even want to be at my own dentist's appointment, let alone yours.  You sir, have gone too far. You have strayed from the light, and now all politicians are in danger of going down this dark path. What's next,  Joe Biden posting a play-by-play of his prostate exam?  Elizabeth Warren live tweeting her pap? We don't need this. No one needs this.
And in case you're wondering, yes, there was a political element to this story. Beto used much of the story to interview his dental hygienist Diana, who talked about her life growing up in El Paso as part of a series Beto has been doing about people who live along the border. And to that I say…okay? Can we not talk to Diana about this in the waiting room? Maybe take Diana out for a post-cleaning coffee? Who legitimately wants to look at this:
Happening now on @BetoORourke's Insta story: "I'm here at the dentist, and we're going to continue our series about people who live along the border. My dental hygienist, Diana, is going to tell us about growing up in El Paso." pic.twitter.com/WsGZ9c9IBD

— Grace Panetta (@grace_panetta) January 10, 2019
Personally, insta story-ing from your dental cleaning and then using it as a chance to "interview" your hygienist about her life on the border feels like the posting a thirst trap but including an inspirational quote of political insta stories.
But don't worry, Beto. You can totally still get it.
Heads up, you need to keep up with the news. It's not cute anymore. That's why we've created a 5x weekly newsletter called The 'Sup that will explain all the news of the week in a hilarious af way. Because if we weren't laughing, we'd be crying. Sign up for The 'Sup now!
A Troll Tried To Shame Alexandria Ocasio-Cortez And It Totally Backfired
Well folks, it finally happened. The right figured out how to savagely take down left-wing, newly sworn in congresswoman and bold lip legend Alexandria Ocasio-Cortez. The battle has been won, as a Twitter user dragged Ocasio-Cortez by posting a video of her *checks notes* innocently dancing along to a song from The Breakfast Club and seemingly having some sober fun on a college campus?
That's right, some idiot thought he could destroy the voice of our generation by exposing her as a great dancer who also went to Boston University. Nice try, asshole. The whole thing obviously backfired, because of course we are all obsessed with this adorable video of AOC showing off her dance moves as a youthful, adorable college kid. I mean, weird that she's on the rooftop of her college and not learning how to poorly blow smoke O's while smoking weed out of a carrot, but I'll let that slide.
The original (which has since been deleted of course) read:
Here is America's favorite commie know-it-all acting like the clueless nitwit she is…
…High School video of "Sandy" Ocasio-Cortez
Here's the video from some other guy so you can watch it yourself:
…High School video of Alexandria Ocasio-Cortez — Congratulations New York! pic.twitter.com/VSKdUImhZj

— Dan Jordan (@realdanjordan) January 2, 2019
A big LOL to the fact that conservatives think a woman being sworn into Congress should be discredited because she once ~danced~ as a teen, but are totes fine with the fact that a man was sworn into the Supreme Court after eye witnesses told stories about him belligerently punching a man in the face at a bar for literally no reason and putting his dick in a woman's face at a college party just for funsies. Not to mention, he had a friend name Squee…and casually was accused of sexual assault by multiple women. Very cool and very legal.
Anyway, the internet responded as it should for once and was like "lol what r u talking about tho?"
And here's the live footage of my initial response to the video:
Anyway, republicans are clearly obsessed with AOC (just wait til you read the eventual comments on this article…wow) and they're honestly starting to look v desperate. Looking forward to their next devastating takedown of her, in which they release a clip of her curing cancer while rocking red lipstick and revealing that she's also an incredible singer or some shit. Keep 'em coming guys, these are honestly entertaining.
Update: AOC has responded, and because she's AOC, it's the f*cking best:
I hear the GOP thinks women dancing are scandalous.

Wait till they find out Congresswomen dance too! ????????

Have a great weekend everyone 🙂 pic.twitter.com/9y6ALOw4F6

— Alexandria Ocasio-Cortez (@AOC) January 4, 2019

Heads up, you need to keep up with the news. It's not cute anymore. That's why we've created a 5x weekly newsletter called The 'Sup that will explain all the news of the week in a hilarious af way. Because if we weren't laughing, we'd be crying. Sign up for The 'Sup now!
Alexandria Ocasio-Cortez's Insta Stories Will Change Your Life
While Rudy Giuliani doesn't understand how a link works, millennial congressional queen, Alexandria Ocasio-Cortez is giving us the Instagram stories our social-media addicted hearts desire. She used her Instagram throughout her campaign as a way to connect with voters, but most of us not in her constituency probably didn't get hip to this until the other week when she really outdid herself. One blustery November night AOC, turned on some Janelle Monae, heated up some mac-n-and cheese, and went live. History was made.
You'll talk to your kids about this they was Boomers talk about where they were when the moon landed or whatever. Mike Huckabee wishes he could utilize social media in such a charming way.
AOC has also been using Insta stories to document her first few weeks in Washington, which totally demystifies whatever is going on beneath the intimidating Capitol.
Like did you know that there is a congressional lottery to decide what offices people get each year? That's literally how we did dorm rooms at my college.

Aside from being very fun to watch, these stories are connecting to younger voters and allowing for a new type of accountability from and connection with our representatives. Like, if I knew Congress gave out swag bags…maybe I would have run for Congress, ya know? AOC is reaching a whole new demographic with these stories and probably inspiring some smart middle school girl to one day get a swag bag of her own.
Check out the saved stories called "Congress" on her profile to watch all of what she's posted so far. Next, I'd love to see all official voting done by Instagram poll, but this will do for now.
Heads up, you need to keep up with the news. It's not cute anymore. That's why we've created a 5x weekly newsletter called The 'Sup that will explain all the news of the week in a hilarious af way. Because if we weren't laughing, we'd be crying. Sign up for The 'Sup now!
5 Progressive Women Who Could Be The Next Alexandria Ocasio-Cortez
When progressive Latina and bold-lip-wearer Alexandria Ocasio-Cortez won her primary against longtime Democratic Rep Joe Crowley, everybody lost their minds. What could this mean for the 2018 midterms? If a 28-year-old socialist can win her primary, should we be paying attention to other progressive women in their elections? Who is the next Ocasio-Cortez? And also, what lip color she use? The answers to both those questions are yes, and Still "Stay All Day" liquid in beso.
I have been getting many inquiries about my debate lip color in the last two days.

I GOT YOU.

It's Stila "Stay All Day" Liquid in Beso. ???? pic.twitter.com/xhkxSXZXCO

— Alexandria Ocasio-Cortez (@Ocasio2018) June 17, 2018
So who is the next progressive af lady candidate we should be paying attention to? I mean, probs all of them. But here are 5 we think have the potential to be the next Ocasio-Cortez. There are currently 435 members of the House of Representatives, meaning we have approximately 434 seats left to fill before there are a satisfactory number of progressive women in government. Then we'll move on to the Senate…and the governorships and…you know…The White House.
Ayanna Pressley for MA's 7th District
Ayanna Pressley is a 44-year-old Boston city councilor who is currently looking to beat out a well-known white male incumbent in the primary for Massachusetts' 7th District. Sound familiar? Pressley was the first woman of color elected to Boston's city council and called Ocasio-Cortez her "sister in change," which is incidentally what I call any girl who helps me freshen up my makeup in the bathroom.
Pressley is running against long time Democratic incumbent Michael Capuano and her primary will take place on September 4th. If you're a Massachu-betch from the 7th district, check out her website here. Or if you're not, you can still check out her website, and donate to her campaign.
This morning, I called for the defunding of ICE, see my full statement below. #abolishICE #ChangeCantWait #mapoli pic.twitter.com/oxjQvrRXjf

— Ayanna Pressley (@AyannaPressley) June 25, 2018
Julia Salazar for NY State Senate
So we already know NYC can elect one millennial socialist Latina to government, but can they elect…two?!?! We're gonna find out thanks to Julia Salazar, 27-year-old Democratic Socialist who is taking on Martin Dilan in a primary to represent the State Senate's 18th district. The news literally can't stop drawing comparisons between the two very different women (for one, Julia tends to do a nude lip) because they hold similar progressive values and are unafraid of ruining a pair of flats knocking on doors.
Salazar is challenging an eight term incumbent who previously represented her district for ten years on the City Council. According to Salazar, he's also taken "an enormous amount of money from for-profit real estate developers." Her primary is Thursday, September 18th and if you're a NYC betch from NY's 18th district, take a look at her website here. She literally says "tax the rich to fix the subways," and after I read that phrase I blacked out and woke up donating to her campaign.
#CuomosMTA is hardly going the way of elderly riders and those with disabilities. A total of 640,000 New Yorkers are locked out of our subway system because their neighborhoods lack a single accessible station.

It's not right, and we're going to fix it. https://t.co/eTb4skIx5o

— Julia Salazar for State Senate (@SalazarSenate18) July 24, 2018
Stacey Abrams for Governor of Georgia
Stacey Abrams actually already won her primary well before Ocasio-Cortez, but the big test will be if she can actually win the election to become the next Governor of Georgia. If she does, she will be the first black woman ever elected governor in the whole damn United States. That's right folks, we've had more governors that were former professional wrestlers, than we've had governors who are black women. Sit with that for a sec.
Abrams is the first black woman to lead either party in Georgia and she will face off against Trump BFF Brian Kemp in the midterms on November 6th, 2018. Georgia betches, you can check out Stacey's website here, and register to vote here.
Georgia's next governor must support small businesses across our state—including Amya's Lemonade Stand in Decatur! Happy to invest in her #smallbiz with a "micro loan" and foster her entrepreneurial spirit. Go Amya! ???? pic.twitter.com/SMh2ZyB0pd

— Stacey Abrams (@staceyabrams) July 20, 2018
Miranda Hobbes

Cynthia Nixon for Governor

Let's bring it back to Sex And The New York City for a sec to talk about the one and muhfuckin' only Cynthia Nixon. She has been running a progressive challenge to NY's Governor Andrew Cuomo that's been gaining major steam, especially since Ocasio-Cortez (who she endorsed)'s upset. Cynthia is running on a platform of legalizing marijuana (gr8), ending mass incarceration (gr8er) and fixing the goddamn subway (gr8est).

The biggest test for Cynthia will be if she can actually beat out Cuomo in the primary on September 13th, 2018. Then there's the pesky business of actually winning the general election, but if there's any one we know can do it, it's Miranda.
I believe health care is a fundamental human right. Yet many New Yorkers face skyrocketing costs and families continue to be uninsured.

Every New Yorker can have good health care, with no copays and no deductibles. That's why I'll create a single payer, Medicare For All system. pic.twitter.com/WUGK51KAHh

— Cynthia Nixon (@CynthiaNixon) July 24, 2018
Cori Bush for Missouri's 1st District
If you've been following Ocasio-Cortez on all social media (and I have) you'll notice she popped over to St. Louis last week to Stan for another young progressive looking to unseat a Democratic incumbent in her area. Cori Bush is an activist and organizer who has also been a pastor and a nurse. (Meanwhile I can't find time to both go to the gym and watch The Bachelor.) She's looking to unseat Rep William Lacy Clay who has held the House seat for Missouri's 1st district for seventeen years, and whose father had previous held it from 1969 – 2001.
Cori Bush's primary is Tuesday, August 7th and she's running on a platform of "jobs, justice, and medicare for all." You can find out more about her campaign (and donate to it) here.
Breaking News: Conservative goes to our @CoriBush rally in St. Louis and… gets inspired? And then… gets uncomfortable… about being inspired by a Democrat? ???? https://t.co/PrOzylu95y

— Alexandria Ocasio-Cortez (@Ocasio2018) July 24, 2018
BONUS PROGRESSIVE: Zephyr Treachout for NY Attorney General
Okay okay New York we get it, you're liberal. Treachout's primary is the same day as Cynthia Nixon's (say it loud for the New Yorkers in the back: September 13th), and she's looking to become New York's Attorney General. Treachout is no stranger to campaigns. She ran for NY's 19th district in 2016 (but lost to Republican John Faso) and ran for governor in 2014, but lost to Cuomo in the primary.
Trechout is a law professor and constitutional law expert (so she's like, really smart) who says her priorities as AG will be 1) leading the legal resistance against Trump, 2) cleaning up Albany corruption, 3) battling financial fraud and corporate scams and 4) making the argument against mass incarceration.
I am running to be the next Attorney General of New York. I accept no corporate PAC money, and no LLC money.

This is not complicated: No Attorney General should take money from corporations she is charged with overseeing & investigating & whose lawbreaking she may prosecute.

— Zephyr Teachout (@ZephyrTeachout) June 28, 2018
Once again, New Yorkers, that primary is on September 13th and everyone who is anyone will be voting in it. And that goes double for November 6th.
Feeling Inspired?
Well then it's time to get your inspired (and gorgeous) ass to the polls. Betches is partnering with Rock The Vote to do just that.
The link above will take you to the Rock The Vote website where you can get registered and sign up for text message alerts about upcoming elections in your area. Never miss an election – or an opportunity to Instagram your "I Voted" sticker – ever again.
Heads up, you need to keep up with the news. It's not cute anymore. That's why we've created a 5x weekly newsletter called The 'Sup that will explain all the news of the week in a hilarious af way. Because if we weren't laughing, we'd be crying. Sign up for The 'Sup now!