James Kennedy's Mother Posted A Wild Statement About Her Son's Behavior
While I've absolutely loved this season of Vanderpump Rules so far,I've loved the off-camera drama even more. AKA James Kennedy's multiple meltdowns between aired episodes, as his life slowly unravels on screen. The latest in this series? An Instagram statement from James Kennedy's mother, Jacqueline Georgiou. Before I tear this woman to shreds begin, I'd like to acknowledge her struggle with alcoholism, and put forth my sympathies for how it has affected both her life and the lives of her children. THAT BEING SAID: James Kennedy's mother has had more than enough time to thoughtfully respond to his behavior, and the fact that this is what she comes up with is halfway between hysterically funny and rage blackout-inducing. Let's dive in, shall we?
The Background
In case you haven't been avidly watching, here's a quick recap of James Kennedy this season. He rapped about Jax sleeping with Faith while Brittany was working at SUR, then got drunk and body-shamed Katie at Pride. Lisa promptly fired him from SUR for both his alcohol problem and his treatment of the women who work there. (If you're on board with the logic of that sentence, congratulations. You're already miles beyond Kennedy's mother's understanding.) In last week's episode, Lisa Vanderpump met with James' mother, Jacqueline. We learned that Jacqueline is nine months sober (very sincere congrats!), and struggling to justify her past failures as a mother (also congrats, important step).
On the not-so-great side, she also said James was entitled to his behavior because he was "provoked." She also told Lisa she "can't give up on James" because he considers Lisa a "mother figure." To which Lisa responded, as gently as possible for such an obvious burn: "no, you are his mother figure."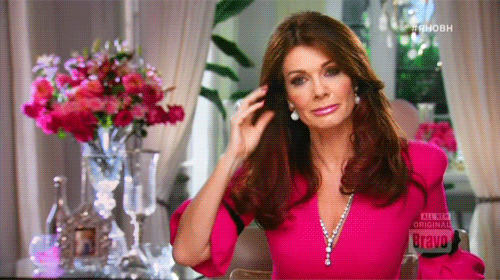 Next, James doubled down on all his crazy by talking sh*t about the recent deaths of Lala and Jax's fathers. (A risky move! Do not recommend!) Lala, not to be outdone, screenshotted the VPR scene with James' mom and posted an Instagram story, captioned like this. "Is this for real? Did this woman actually raise someone?" It's unclear whether this was the final straw for Jacqueline, but we now have her response.
The Statement
I'm too lazy to re-type the whole thing You've waited long enough, so I'll put the statement in full here for you to peruse.
Done? Still breathing? Excellent. Many, many comments off the bat from me! In a baffling first move, she begins with the phrase "to whom it may concern." I understand this is (to an extent) celebrity Notes app protocol, but it's also a phrase that feels overly formal when used in a cover letter, let alone an Instagrammed picture of a note handwritten on a piece of looseleaf. Also, someone should inform Jacqueline that Notes app exists, because the handwritten aspect makes it that much more upsetting.
Next! It is shocking to me how little anyone even peripherally involved with VPR understands what "feminism" means. And they use the word all the god*mn time! In this instance, Jacqueline accuses Katie of "claim to be a feminist then play victim." While "playing victim" is generally a bad move, I kind of fail to see what it has to do with "claiming" to be a feminist. Maybe Jacqueline is one of those feminists who believes women showing any kind of weakness detracts from the whole movement, but I think more likely she doesn't care about feminism or anything really other than continuing her moment of fame. Which will very, very swiftly end if James is not reinstated at SUR.
On this particular incident, she also defends James by saying he "never used the word 'fat'" (low bar there, Jackie), "nor did he speak to Katie first." Ok but Jackie!!! Inappropriate comments do not have to come out of a void to be inappropriate. And the fact that you can't condone, even a little bit, what he did say to Katie makes it impossible to take anything else you might say seriously. Sorry!
Also me:

On the Kristen/Hope situation, she has a similar take (TL;DR James is blameless, hire him back). Yes, Kristen has a serious problem when it comes to finding people's past hookups and bringing them to their workplace, but Jacqueline manages to void her criticism on this point too. She refers to it as "harassment (single white female style)," at which point I became incapable of thinking about anything Kristen has done wrong and could only focus on how truly insane this woman is. Also, if all else fails I hope James releases a single titled "harassment (single white female style)".
The note wraps up with a few more baffling moments, like the mention that "Ms. Doute repeatedly beat the shit out of my son on previous episodes." (Was it repeatedly? Not that once is okay—just trying to gauge how mentally sound this letter writer is). There's also "Mother figure…anyone with ½ a brain should know what I meant." (Lisa did know what you meant! She just wasn't down for you to offload your maternal responsibility!) She finishes off with a note to "all you judges and jurors," who she warns "before you speak and give your opinion," "unless you are living your best 'Oprah Life' then SYMFM." I cannot find backup for this on the internet, strangely, but I can only assume that stands for "shut your mother f*cking mouth." What "your best 'Oprah Life'" means, I can't begin to guess at.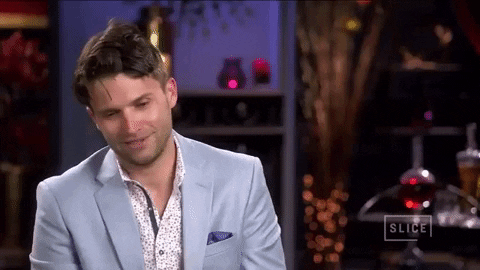 Finally, Jacqueline signs the note like this: "Jacqueline Georgiou/Mother." Because honestly, after reading through that, you may have been tempted to forget that she's an adult woman, let alone a mother. I can't f*cking wait to see James' response to this, and I can only hope it's half as savage as me tearing my mother apart in middle school for calling my teacher when I got in trouble. Until the next tweet storm, have a great weekend!
Images: Giphy (3); @jacquelinegeorgiou / Instagram
I Guess It's Time To Talk About Tom Schwartz's Drinking
For the past few weeks, one question has started to haunt me as I watch Vanderpump Rules. No, not "why am I still watching this drivel" (though that's a close second). Instead, I'm increasingly concerned about Tom Schwartz and his drinking. Don't get me wrong—I understand that this cast is pretty much contractually obligated to get shitfaced on camera. And I also know that drunken live footage is universally unflattering, and that's why I don't let my friends post Insta stories anymore. But even so, Schwartz has been toeing the line between occasionally sloppy party boy and straight-up hard to watch. I did a little digging to see how worried we should be about Schwartz's drinking.
Part 1: A Brief History of Schwartz's Drinking
TBH my memories of early Schwartz are as follows: dry spell, panic attack, afraid of commitment. So let's skip ahead to last season, for which Schwartz was problematically drunk roughly 90% of the time. Notable drunk moments include Schwartz screaming at Katie and calling her a bitch on their pre-wedding Vegas trip, vowing not to go through with the wedding, and then waking up as though everything was completely fine. Also, let's not forget how so many of these drunken pre-wedding fights began. Schwartz cheated on Katie with a girl in Vegas (a VPR rite of passage, I guess). You can take a guess as to whether alcohol was involved there too. Overall, Schwartz came into season 6 with a definite reputation as a heavy drinker. But for obvious reasons, the viewer's focus was less on his drinking and more on why TF the wedding wasn't cancelled.

Part 2: Tom "I Have No Recollection Of That" Schwartz
From episode 2 of this season, we were seeing a whole new side to drunk Schwartz. Namely, we see Schwartz doing what you do every Friday night and calling up his bestie Jax and sobbing about how he has no idea what he's doing in life. Relatable? Yes. But also a conversation that makes you hope Schwartz is getting a redemption arc this season, starting by sobering up. We get the opposite.
Starting in episode 4, drunk Schwartz drama starts to really heat up. Lala shares with the group that (married) Schwartz made out with her friend a few weeks ago. Schwartz doesn't remember this, but doesn't really claim it didn't happen, either. He seems to find this a sufficient explanation to his wife. Even more troublingly, when Katie responds to the incident with reasonable rules like "stop taking shots" and "this is the last time you're using 'I have no recollection' as an excuse," he acts like she's putting him on house arrest. Uh, no. Even if you weren't making out with random girls when you got blackout, that's still a perfectly reasonable request. In true Schwartz form, FYI, he chases with conversation with a round of absinthe shots.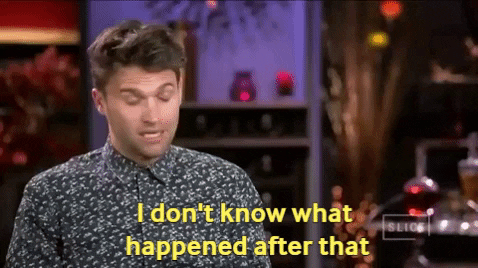 Part 3: Less Cheating, More Drinking
I'll spare you the details of every time we see too-drunk Schwartz fucking up, but here are the highlights. Katie continues to plead with him about his drinking. Schwartz continues to tell her to fuck off and refer to their marriage as a prison sentence. Gradually, the marriage dynamic improves, but the drinking doesn't. One night, he gets so wasted he can't make it home. Another, he's drinking straight from the bottle at 3am the night before an important TomTom meeting. (He of course shows up late and reeking of alcohol and possibly tweaked out on coke.) In Mexico, Schwartz reaches the height of sad-drunk aesthetic. He's mainlining tequila, he wanders into a different resort, he nearly pukes in a golf cart, and he tries to get Kristen and James  to ride bikes with him at 7am. If that isn't the saddest lost-drunk-boy thing you've ever heard, IDK what is.
*rare footage of Scheana making a good point*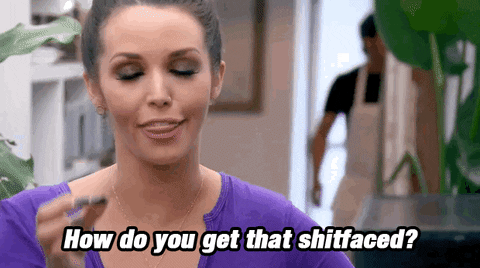 Part 4: Comments From The 'VPR' Cast
The couple spoke to US Weekly back in January, when Lala first aired the rumors of Schwartz's post-marriage makeout. When asked directly whether he has a drinking problem, Schwartz vehemently denied it. (The direct quote here is "I don't have a drinking problem, I'm not in denial or anything." Which like…no one had asked whether you were in denial, but now that you mention it…)
He goes on to admit that he has "a tendency to push to the extreme" and that he's "got to chill with the shots."  Katie, while standing 100% behind her husband in a way that's somewhere between heartwarming and enabling, chimes in with her very real concerns here too. "I don't want to have to worry about his safety," she says, adding that it's "really serious if you're black-out drunk and know what has happened."
Admittedly, most of my weekends could be classified as "really serious" by that measure. But Katie, in pointing out her genuine fear for his safety, is pointing to something a little darker. In Mexico, Schwartz slurs reassurance over and over that he's fine. Katie no longer even tries to make him a presentable companion, or bothers getting annoyed. "You didn't know where you were," she tells him. "That's not fine." And when you're speaking to your 35-year-old husband, that's absolutely correct.
*Schwartz, nodding thoughtfully*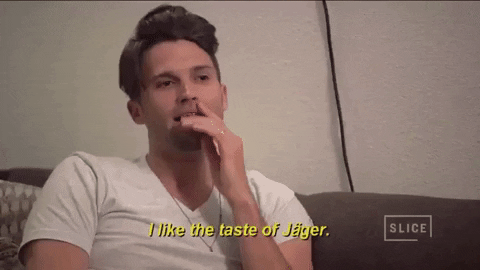 Before I wrap this up, I do want to mention that I think Katie's been an absolute angel this season. And if Schwartz is struggling with his drinking as much as it appears, I'm truly sorry for them both. Ever since Schwartz was weeping in the corner of Jeremy's birthday party, I've had a nagging fear that seems to keep coming true every episode. Even though Schwartz seems at the point with his drinking where he can tell that it's making him unhappy, and even actively tries to stop (like in Vegas), he doesn't seem to be able to. I hope he's faring better in his off-camera time, and I hope that Lisa maybe stations him somewhere other than the bar for his work at TomTom.
Images: Giphy (4)
Your Eye Color Could Be To Blame For Your Alcoholic Tendencies
Aryan race, beware… looks like we've finally found your flaw. The American Journal of Medical Genetics just released a study claiming that light-eyed individuals (especially blue) are more at risk of developing alcoholism than their dark eyed counterparts. This is great news for some because they can now start blaming eye pigment for their alcoholic tendencies instead of bad relationships, absent fathers, etc. Researchers admit the findings are only a small portion of preventing alcoholism, but let's be real, scientists can't do shit when it comes to our drinking habits.
This news is probably the first to ever touch on the disadvantages of having blue eyes. All our lives we've been bombarded with song lyrics and Photoshopped pictures boasting the unparalleled beauty and exceptionality of blue-eyed women. Millions of brown-eyed girls can attest to eye-rolling the shit out of someone gushing about how beautiful someone's blue eyes are (like, she'd only be a 4 if she had brown eyes, ugh). So, brown eyed betches, here's some good news. Your blue-eyed friend may get more free drinks at the bar, but you are way less likely to show up drunk to your child's piano recital. Even trade, right? And after all, eyes are the windows to the alcoholic's soul.
Tequila Lollipops: For Getting Shadily Drunk On The Go
Maybe I'm just more of a functioning alcoholic than I used to be, but it seems like boozy versions of kid-friendly treats have fucking exploded in the past few years. Milkshakes, popsicles, gummy bears (okay, that's been around a while but still)… The list never fucking ends. Well now thanks to Cosmopolitan, we can add tequila lollipops to the roster. So a portable candy margarita? Sign me right tf up.
Unfortunately, these aren't for sale yet so you'll have to make them yourself. You just make normal lollipops which, if you're like me and not fucking Willy Wonka, have no clue what that means. It's actually not that hard though. We'll walk you through it. 

Ingredients
3/4 cup water
1/2 cup corn syrup
3 cups sugar
1/2 cup tequila — or more if you're feeling brave/had a bad day at work or some shit
Food coloring —technically optional but like, it looks pretty
Lollipop sticks
Stir together the water, corn syrup, and sugar in a saucepan. Then stop stirring and let that shit do its own thang and come to a boil. Add in your Bacardi 151 tequila and stir fast (imagine you're flicking your wrists in a rap video or something, IDK). Take your saucepan off the head and spoon the liquid onto a silicone baking mat so it doesn't stick. Yah surprise—you need a silicone mat. Whoops. If you already started this recipe and don't have one because you're not Ina Garten, you can use parchment paper instead and probably get away with it.
 

Take a lollipop stick and dip it into a lil bit of food coloring, then swirl it around in the candy. Leave that shit alone and let it cool. And you did it!
These lollipops are perfect for pregames or pool parties or, ya know, a shitty day at work when the coffee isn't cutting it. I mean, it's not like my boss will know. He'll probs think I'm just enjoying a casual midday lollipop and not a candy tequila shot at my desk. Nothing to see here, Nick. God, I'm fucking brilliant.
Alcoholic Blondies: A Recipe And A Memoir
It's Singles Awareness Day (vom), and what better way to celebrate than with a dessert-alcohol hybrid? We adapted this recipe by a) making it less fucking work and b) making it slightly more alcoholic.
Also, brownies always have all the fun, and the idea of more chocolate right after Valentine's Day was making us vom. So, we opted for blondies—our favorite butter and sugar combo. Just add whiskey for a super awesome evening date with some sweatpants and hard alcohol.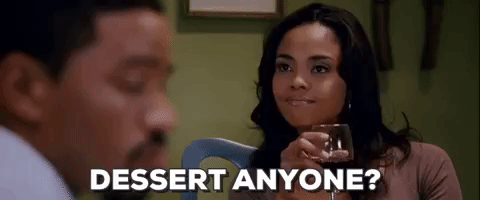 Ingredients
2 sticks of butter, room temperature — YES REALLY OMFG.
1½ cups dark brown sugar
½ cup granulated sugar
2 eggs
1/3 cup of Larceny or Maker's Mark whiskey — PLZ don't use Jack Daniels because ew, you guys
2 tsps. vanilla
1 ½ cups all-purpose flour
½ teaspoon salt
¾ cup candied nuts — we used candied walnuts which we found at a fancy store
Preheat the oven to 350 degrees and while that shit heats, spray an 8×8 pan with Pam. 
Grab a skillet and add the butter, stirring constantly—i.e. try not to be distracted—over medium heat or until it sorta browns and smells nutty. Take off the heat and let cool a bit.
In a giant bowl, cream the butter and sugars together until light and fluffy, then add the eggs, whiskey, and vanilla and mix.
In a totally different bowl, mix together the flour and salt, then slowly pour that shit into the butter and sugar mixture. You want this shit to come together, but like, don't overmix it. Kinda like your love life. Anyway, fold in the candied nuts and pour the batter into your greased baking pan.
Bake for about 25-30 minutes, or until a knife inserted toward the center comes out clean. Let this shit sit for a bit and think about what's it's going to do to you, then transfer to a wire rack to continue cooling.
Feel free to pour on a little extra whiskey because like who the fuck cares, honestly. Cut or eat with a spoon out of the pan. We aren't judging