Your Hangovers *Are* Getting Worse As You Get Older & Here's Why
Raise your hand if you've ever been personally victimized by vodka. Seriously, have anyone else's hangovers gotten significantly worse after the age of 25? It used to be as easy as going out, throwing back a nauseating amount of jungle juice and cheap liquor, and bouncing back after a greasy breakfast sandwich and a quick power nap. Now, it's two glasses of wine and a headache for the next three days. I used to pride myself on the fact that I wasn't a "puker", but after I hit my mid-twenties, just a couple rounds of skinny margs would be followed by hours of holding my hair back the next morning. What gives? Are we just getting weaker in our old age, or is it possible that we've forgotten how bad our hangovers really were when we were younger?
Looking back at old Snapchats from college, all we see are the blurry videos of the nights of our youth, and not the mornings after that we spent throwing up and vowing to never drink again. So is it us, or is it science? As it turns out, there are valid medical reasons for why we can't stomach our hangovers as well as we used to, excuse the pun. In addition to my own personal "research" (drinking), I reached out to some medical experts to provide some much-needed insight on why hangovers feel worse as we get older. 
Hangover Hell
Even if you don't drink, it's pretty safe to say that everyone is familiar with what a hangover is. Generally, it's a day of sickness, complaining, and overall misery that follows a night of heavy drinking. But what are hangovers, medically speaking? I spoke with integrative physician Dr. Taz Bhatia, who broke down the science behind hangovers. Dr. Taz says, "The technical name is veisalgia and refers to a syndrome of symptoms post-alcohol—headaches, fatigue, nausea, vomiting, and focus issues."
I don't know about you, but I always feel more justified when I can put a medical term to my woes. Saying "I have veisalgia!" sounds way more serious than just saying "I'm hungover," and therefore warrants more sympathy instead of judgment from your friends and family. Dr. Taz adds, "Many of these symptoms are most likely from detox pathways getting overworked along with leaching of key nutrients like B vitamins and amino acids."
Have you also noticed that, as you've gotten older, regardless of what or how much you're drinking, your hangover the next day is exceptionally dreadful? Take solace in knowing that you're not alone, and that you're not imagining this; your hangovers really are getting worse as you're getting older. I'll give you a moment to go yell "I told you so!" at whoever mocked you for being a wimp during your last hangover. Dr. Jason Burke, hangover specialist and founder of Hangover Heaven IV Hydration, says, "Yes, hangovers are getting much worse as we age. I say that when people are 20 years old, hangovers last one hour, when you get to age 30 they last all day, and once you become over 40, they become a multi-day experience." So, something to look forward to. Yay. 
Age And Alcohol 
So why do hangovers get worse as we get older? "Because the body's reserves are worn down—and there is often not the nutrient reserve, immune reserve, and given time—a greater accumulation of toxins that stress liver function," says Dr. Taz. Yet another reason to begrudge getting older, enzyme activity in your liver decreases as you age; therefore, your body might not be metabolizing alcohol as well as it did when you were younger. And as we get older, our percentage of body water also decreases, which can increase our blood alcohol concentration (even when we drink less), thus giving us worse hangovers the next day. Furthermore, Dr. Burke explains, "As people age, their ability to rebound, heal, and recover becomes less. As your body ages, it loses its regenerative functions. A hangover is a physical insult to your body. This is why you feel so bad. So, when you are 20 years old you rebound from anything faster, including hangovers. Unfortunately the only thing that gets better with age is wisdom." Ironically, I think I need a drink to help come to terms with this bitter fact.
Ready to resent your hangover and men, even more? In addition to getting worse with age, studies have also suggested that women experience more severe hangovers than men. To add even more salt to the wound (sans the tequila), Dr. Burke says that women may begin dealing with harsher hangovers at around age 27 or 28, whereas men may not start to experience issues until age 30 or 31. So I guess alcohol is sexist now, too. As to why women have more intense hangovers, Dr. Taz says, "There are studies that show that women have slower detox pathways and therefore don't metabolize alcohol as well." I seriously feel betrayed by my body right now.
Dr. Burke adds, "Women experience worse hangovers than men, mainly due to nausea and vomiting. This can be incapacitating. Women tend to get more nauseous and men tend to get more headaches with hangovers. Most people can function to a certain degree with a bad headache, but if somebody is vomiting uncontrollably, there is really nothing else to be done." Sad, but true. Personally, I recommend aiming your vomit at a guy so that they can be just as upset and miserable as you are. Balance restored. 
How To Help Your Hangover
Just because you can't stop yourself from aging doesn't mean that all hope is lost. There are still preventative steps you can take to help ease the severity of your inevitable hangover. For starters, the type of alcohol you choose can play a role in how much you suffer the next day. We probably all know this already, but in case you don't, Dr. Burke advises, "Darker alcohols definitely cause worse hangovers than clear alcohol. And cheap alcohol causes worse hangovers than high-end alcohol." Sounds like top shelf shots all around! Dr. Taz also recommends loading up on B vitamins, vitamin C, and staying hydrated. So, while you might not be able to fully prevent a hangover, you can still do your best to soften the blow. 
Additionally, Dr. Burke relays, "The best way to not end up feeling like death warmed over the next morning is to have a plan when you go out. Especially if you are near age 30 or older." Basically—and I know nobody wants to hear this—know your limits. You can't expect to drink five vodka sodas and miraculously feel fine the next day, no matter how much vitamin B you pound. Sorry!
As for drinking an abundance of water as a means of warding off a hangover, Dr. Burke says it can help, but only to a small degree: "If you have had 12 shots of Jagermeister, you can drink all the water you want and you will still feel like death in the morning. It will help somewhat, but it does not resolve the neuro inflammation, nor the oxidative stress." Harsh, but fair. I mean, drink the water; you're probably dehydrated anyway. Just don't expect it to work a miracle.
On the chance that you find yourself in a situation where one drink turned into five and you didn't take any pre-drinking precautions, don't beat yourself up. It's going to happen. Just go for any of your tried-and-true hangover hacks and try and remember that this feeling won't last forever. Hydrate yourself with electrolytes, and sleep it off knowing that your hangovers are getting worse as you age, it's just science—sorry!
Image: Space_Cat / Shutterstock.com
Why Wine Makes You Hungover
We've all been there: you wake up from a long night and too many glasses of wine with a splitting headache, thirsty, and desperate to blame the hangover on anything other than your actual, ahem, drinking. "It must've been the sulfites," you think to yourself while reaching for a bottle of coconut water. Not so fast, sister. Sulfites are one of the most misunderstood components in wine, and contrary to what you might believe, they probably don't have anything to do with your massive hangover. We talked to Orsi Szentkiraly, editor of the forthcoming book from National Geographic, The New Sotheby's Wine Encyclopedia, to set the record straight about the role sulfites play in winemaking and whether or not they're actually bad for you. We also chatted with Dr. Michael Roizen, author of What to Eat When Cookbook, about a more likely reason for your wine headache, and what to do to prevent it in the future. 
What Exactly Are Sulfites, And Why Are They In My Wine?

Sulfites are sulfur-based compounds that are commonly used as preservatives in a variety of different foods. However, they're more notoriously known for the role they play in winemaking. Szentkiraly explained that sulfites have been used in the winemaking process for centuries as an antibacterial and antioxidative tool. "Because wine barrels are so porous, effective cleaners like sulfites are needed to sanitize them properly," she said. Sulfites are also used to prevent oxidation of grapes. In simpler terms, "just like you would squeeze lemon juice over a sliced apple to prevent browning, sulfites help grapes maintain freshness and color," Szentkiraly explained. These naturally occurring compounds have been an essential aspect of the winemaking process for centuries and continue to demonstrate their benefits in modern vineyards today. In fact, their antioxidative properties are part of the reason so many of the wines we love are available today. The surprising thing? Szentkiraly says that "sulfites exist in almost every bottle of wine, whether you happen to notice the label on the back of the bottle or not."
Can Sulfites Affect How I Feel?
That depends! "Sulfites will only affect you if you have severe asthma or a preexisting sensitivity to them, and if you do have a genetic sensitivity, you'll know about it before drinking a glass of wine," Szentkiraly says. That's because sulfites are used in a huge variety of foods, from dried apricots to frozen french fries, and ingesting those will likely aggravate you just as much or more than the wine will. If you do have a sensitivity, consuming sulfites would give you respiratory symptoms like shortness of breath, trouble breathing and a possible asthma attack. It would NOT give you a headache. Therefore, even if you did have sensitivity to sulfites, the symptoms do not resemble those of a hangover. Thus, Szentkiraly says you cannot blame a wine headache on the existence of sulfites. "The worst thing in wine is alcohol," she says, "not sulfites."
The most surprising part? Szentkiraly notes that less than 1% of the population actually has a legitimate sensitivity to sulfites. Mind. Blown. 
If It's Not The Sulfites, Why Do I Have A Headache?

If you've gotten to this point in the article, you probably realize that sulfites aren't the reason for your headache. Let's say it real loud once more for the people in the back: if, (and that's a big if) sulfites make you feel anything at all, they certainly will not make you feel the symptoms of a hangover. But that's not to say that other things in wine can't exacerbate your heavy head, swollen sinuses, and stuffy nose. We spoke to Dr. Michael Roizen about the other components in wine that might contribute to a nasty morning after drinking. Dr. Roizen says "a more likely offender is the histamines in red wine, rather than the sulfites." Histamines are an organic compound that are present in a variety of fermented products like sauerkraut and cheese, and are particularly prevalent in red wine. Roizen says that histamines affect a much larger number of people and can absolutely cause headaches and a stuffy nose. Unfortunately, he notes that the best way to prevent histamine headaches is to avoid the foods that bother you. Bummer! "Wine headaches are almost entirely due to alcohol and dehydration," says Dr. Roizen. His hangover solution is one we know all too well and seem to forget all too easily: stopping dehydration in its tracks by following every glass of wine with a glass of water. 
The bottom line? Don't be afraid of the "contains sulfites" label on the back of a wine bottle unless you have a legitimate preexisting condition. If you notice that a certain bottle of wine bothers you more than another, just pop it back on the shelf and follow Dr. Roizen's advice: more water, less hangover. 
Images: Kelsey Knight / Unsplash
Gen-Z Are Dressing Up As Old People To Buy Alcohol
The kids have done it again! I've got to say, I have nothing but reverence for Gen-Z. (Okay, maybe reverence and a little bit of fear.) They're trolling Trump on TikTok, trolling Trump through his app reviews, and now, they're coming up with new and hilarious ways to buy alcohol. "BuT iT's iLlEgAl", you say. And yes, it's definitely illegal, but does that mean I personally can't find it funny and creative? Back in our day, the inventive alcohol consumption millennials were known for were shooting vodka directly into our eyes and soaking tampons in alcohol. So I've got to at least respect the creativity of today's teens, because they are full-on dressing up as grandmas in masks in order to buy booze. Say what you want, but it's at least healthier than putting liquor in your vagina.
This trend got big on, where else, TikTok, when one user (whose video is now private, probably smart) filmed herself getting wrinkles drawn on, grabbing a walker, and heading to buy booze, wearing a baggy shirt, wire-rimmed glasses and a babushka. Another video shows a girl putting on a full-on grandma Halloween mask and procuring some coveted cans of Mike's Harder from 7-Eleven. If she did all that for a Mike's Harder, imagine what she'd do for a Klondike bar. (Since this morning, the video became unavailable.)
To be fair, though some teens are doing this, it doesn't even seem to be that many (there isn't like, a centralized hashtag for this prank or anything—again, smart considering this is very much illegal). A person who's caught drinking underage will usually be subject to a fine in many states. Businesses who are caught selling alcohol to minors can get fined or have their liquor license suspended or revoked. People love to sh*t on millennials for "doing it for the 'Gram" and participating in risky or otherwise idiotic behavior for Instagram likes, but Gen-Z is now documenting their own illegal behavior on TikTok, so it looks like we're both stupid.
Some people might not be able to see the humor in underage kids buying alcohol (ok boomer), but teens are still otherwise united in a cause that I think we can all get behind: trolling Donald Trump and his reelection campaign. In addition to their inspired plots to mess up his rallies and App Store rating, they also recently devised an ingenious plan to f*ck with his online merch store.
This plan revolved around a practice known as "shopping cart abandonment," and it's pretty brilliant, both in its simplicity and effectiveness. Basically, the Gen-Z-ers in question went to Trump's online store, and added a sh*tload of merch to their carts, which they obviously didn't intend to actually buy. Items left in carts mess with the algorithms of e-commerce sites, and can lead to products being shown as sold out to other customers.
The next gen z prank on Trump. I was skeptical but a lot of the stuff is sold out so long story short I am at $700 of merchandise so far and counting. Join this movement and make America great again pic.twitter.com/lPDRwLdiTT

— 🌹Snarky Blonde🇺🇸 (@Orvieto2016) June 26, 2020
For a normal online retailer, unintentional shopping cart abandonment is actually a big issue, one that Business Insider estimated in 2016 contributed to trillions of dollars worth of lost sales annually. But for the Trump site, this was no accident—it was a deliberate scheme meant to f*ck with them. As a result, the site now only allows users to add three units of any given item to their cart at once. This must be really frustrating for all those hardworking Americans who want to buy their Trump merch in bulk!
Basically, whether it's obtaining alcohol illegally or mercilessly trolling the Trump campaign, Gen-Z is doing amazing, sweeties, and keeping us entertained in the process. As much as I want to be annoyed by the TikTok generation, and as much as I'm sure they personally disdain me for being a millennial, I really can't hate. Can't wait to see what goofy hijinks they cook up next!
Additional reporting by Dylan Hafer
Images: oneinchpunch / Shutterstock.com; Orvieto2016 / Twitter
13 Mother's Day Gifts Under $100
When it comes to made up, unnecessary holidays, I will always be the first to say how stupid they are. Case in point: wtf is National Fruitcake Toss Day and why do we set January 3rd aside for it? As far as I'm concerned, January 3rd is a day of post-NYE rest. Mother's Day, though, is not one of those holidays, and it is as legit as it is necessary. I applaud all mothers for all of the incredibly hard work that they do. I, for one, was a supreme brat from ages 12-23, so I am definitely going to spend May 10th bestowing upon my mother a thoughtful gift that says, "thank you for putting up with my bullsh*t for so long."
Here's the thing, though: my mom deserves like 25 Hermès scarves, the Tiffany diamond (you know, the one Lady Gaga wore to the Oscars) and a few other luxuries, but I just got laid off and can barely afford organic strawberries these days. Luckily, there are a few great Mother's Day gift options for under $100 that say "You are a queen and you deserve the best, but, as you can see, I am poor rn." Good enough, I guess.

I'm sure some of you may think that no respectable woman would carry around anything that says "mom" on it, but this phone is not for regular moms; it's for cool moms. Seriously, my mom is a classy broad with amazing style and I know for certain she'd f*cking love this leather case. It's totally customizable, so if you're not into pastels with navy accents, you can pick whatever color combo your mother would love most. Have fun spending the next four hours designing this bad boy!

Most mothers I know subsist on tea, and these super cute vintage-looking tins from Society Social make for a great gift. Each tea flavor comes in a different colored tin and contains 20 tea bags, so she'll be set with her tea habit for a good while. Also, if you ask me, this is a literal steal.

This silk pillowcase is a perfect example of something I've always wanted, but could never bring myself to actually buy. Luckily, I dropped enough super subtle hints to my roommate and she bought it for my birthday. Let me just say, it totally lived up to the hype. Here's why your mom will also love it: it's anti-aging. For starters, she won't wake up with creases all over her face, but more importantly, the silk won't absorb her serums, moisturizers and eye creams. It also protects her hair. Win-win!

If you've ever been to New York, you've been to Levain. They make the densest, richest cookies I've ever had, and I mean that in the best way. The sweet relief that comes with taking a bite of the classic chocolate chip walnut is what I imagine doing opioids must feel like. Seriously, they're so f*cking good and can last for months in the freezer. I don't know your mom, but I promise she will love them.

Local Eclectic is a female-founded and female-run online marketplace for emerging and independent jewelers to sell their gorgeous designs. I have gotten so much jewelry from this place that I'm embarrassed to admit how much of the money I don't have has supported my jewelry addiction. Anyway, these birthstone rings are super delicate and can be layered, so getting a few for your mom based on the months you and your siblings were born is so cute. Or just get her one to remind her who her favorite is.

This robe is currently on sale, so don't wait to get it if you want to save serious $$. It's made of Turkish cotton, which means it's soft af. The inside is a super plush terry cloth and the exterior is a very on-trend waffle pattern. I am really tempted to get this for myself because I'm pretty sure that my current dark gray floor-length robe was inspired by the Grim Reaper's from the Sims. Serena & Lily is a home brand beloved by many moms, so I'm sure any of them would appreciate this.

Let me just start by saying if you have principals and refuse to spend $67 on a candle, check out Voluspa for gorgeous candles at a less offensive price. Anyway, Jo Malone is known for her perfume and, as of late, her candles. I actually have this one on my nightstand and I get whiffs of it even when it's not burning. The glass container has a really nice minimalist look and the candles all smell amazing, so you really can't go wrong. The Wood Sage & Sea Salt scent is the most popular, and I love that not-so-subtle "bougie parfumée" flex on the bottom of the label.

Guys, listen: for my first Mother's Day, I would really appreciate a bottle of 90-proof liquor. In all seriousness, this is a great gift! Everyone loves a good cocktail—especially now that we will most likely still be staying at home on May 10th—and gin is a crowd-of-less-than-10-pleaser. Also, this bottle looks like something Julia Engel would have displayed on her bar cart because it's so charming and whimsical-looking.

In the Pursuit is kind of like Local Eclectic, but for literally everything, not just jewelry. If your mom is into crystals, burning sage, and palo santo, she will lose her mind at this kit. It contains a rose quartz crystal, clear quartz point, sage wand, beautiful matches and a bunch of other sh*t that will definitely clear the bad energy from her house.

Gray Malin is a photographer whose pictures are reminiscent of Slim Aarons, but way more affordable. I got this book for myself at a book-signing and, after flipping through it, bought myself one of his photos. His work, mostly aerial photos of beautiful beaches around the world, is really beautiful and the book is a great way to see it all without having to drop thousands on a big-ass picture your mom has no wall space for.

Everyone loves slippers, and if anyone tells you otherwise, they're a liar. UGG may not be as cool as it was in 2006, but their slippers are still unparalleled. If your mom is aching for a canary yellow slide that she can wear around the house, she'll love these. They also come in black, though.

If your mom loves yoga as much as she loves the environment, this towel is the perfect gift for her. I know what you're thinking, "a towel?" but this is no ordinary towel. In fact, it's made from recycled fabric and is non-skid, so your mom can use it as a yoga mat. I mean, who doesn't love a good multi-purpose product, right?

If your mom lives in the tri-state area, don't even think about getting her flowers unless they're from PlantShed. If Rufus Humphrey was a botanist instead of an art-junkie, he'd have opened PlantShed (it's half charming flower shop and half coffee shop). They teach you how to care for your new plant so that your mom couldn't kill it if she tried.
Images: Brigitte Tohm / Unsplash; Bloomingdale's; Gray Malin; In The Pursuit Studio; Caskers; Jo Malone; Serena & Lily; gopjn.com; Levain; Slip; Society Social; Casetify; Kin; PlantShed
Betches may receive a portion of revenue if you click a link and purchase a product or service. The links are independently placed and do not influence editorial content.
3 Ways Weed Has Improved My Sex Life
Here's a very millennial humble-brag you probably haven't heard before. While the idea of having sex without alcohol was once unthinkable, I now don't like drunk sex much at all—but think high sex is completely incredible. In college (and I know I'm not alone in this), sober sex just never really happened. Being drunk nearly constantly didn't help, but sex seemed like something you could only unlock after getting drunk and brave enough to meet up with someone. It was a way to pull back from the experience and be less aware of what was going on. I know this all sounds a little tragic, but hey—not all of us had fairytale romance in college. I had fun, I'm fine, and I currently have a very different approach to sex.
Weed, for me, works in the exact opposite way from alcohol. It makes me more present, and more aware of my body and my partner (such a hippie, I know). You don't necessarily want to get super baked, but a decent THC buzz could take your next sexual experience from meh to lying in bed for hours thinking about how good it was (while furiously ordering Postmates, le duh). Note that I'm only speaking from experience here. If you want a more scientific rundown of how THC and CBD can affect your body, try this one from Allure. Here are some ways I've (personally) found that weed can improve sex.
Me telling my boyfriend I want sex: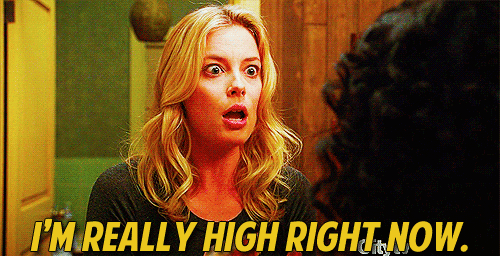 Disclaimer: If you know you don't like weed, this article is not a suggestion that you try it anyway. In fact, if you don't like weed, then I actively recommend that you avoid it—especially in a sexual situation. This should be a mandatory inclusion with every piece of internet advice, but it's way too rarely said: Just because something works for me doesn't mean it will work for you.
Weed Tames Anxiety
Once again for the people in the back: if you know that weed, in fact, heightens your anxiety, get out of this article. Just go. Now, allow me to paint a picture for my remaining stoner friends. You know the feeling that sets in when you take a couple hits after a stressful day? How all the sh*t stressing you out a minute ago now seems way more manageable? Yeah, whatever strain of weed gives you that blissful, chilled-out head high, that's what you'll want to smoke before sex. And that's doubly true if you struggle with anxiety.
Now that I'm in my 20s, I feel stressed out for 95% of every day. The possibilities for anxiety are endless: if it's not a work problem, then something at my apartment is falling apart or I haven't done laundry in three weeks or my diet is a disaster—you get it. It can be really hard to get that running list out of my head when I'm trying to relax and enjoy some much-needed stress relief (my euphemism for sex). I've literally called off sex mid-session because I couldn't stop thinking about whether I'd paid my credit card bill. When I get a little high before sex, I don't have that problem.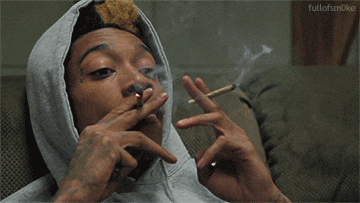 So carefree.
Weed Heightens Your Senses
This goes back to what I was saying about weed making me more aware of my body. The only time I get a comparable bodily feeling is when I'm doing yoga—and like, actually focusing on the breath and my body the way I'm meant to, not just zoning out and copying the people around me. Weed makes me realize how little I typically focus on the moment, and reminds me to appreciate how f*cking fun touching each other can and should be.
I also find that the heightened sensation makes me clearer on what exactly I'm in the mood for, and how I want to be touched in that moment. It's always a great sign when the person you're having sex with checks in to make sure they're getting you off, but sometimes I totally choke up when faced with a "is this ok?" or "do you like this?" I've squeaked out "yeah, fine" a few times before I'd even really thought about it. When I'm high, I know exactly how much I like the way I'm being touched, and find myself asking for it if I want something different.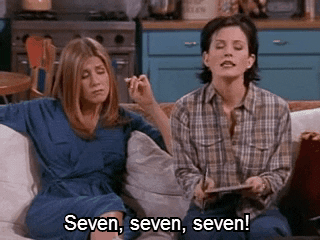 Look at Monica. She knows exactly what she wants.
Weed Makes You More Confident
Again, I speak only for myself. I know many people who enjoy the physical effects of weed, but become decidedly more timid after smoking. For me, (some) weed works a tiny bit in the way I used to use alcohol. It's a way of lowering inhibitions, and making me feel more free to speak my mind. This is definitely linked to the reduced anxiety, but it's more than that—I like the way my brain works when I'm high, and feel less insecure that something I want to say is stupid or boring. I'm less judgmental, and I don't expect the worst from other people. All of this makes it way easier to interact, open up, and enjoy the moment.
How does this translate to sex, you might ask? Well, it makes me feel hotter, for one (doesn't confidence always?), and it makes me feel more adventurous. Both are solid qualities to have during sex. And while being more aware of my body isn't always a good thing for me (like when I'm obsessing over what I look like from certain angles), it is a good thing if I'm also Lizzo-level confident in my mind while experiencing that awareness. Lowered anxiety + heightened sensation + extreme confidence = ideal sex combo. Thank you, weed!
Me, high and ready to go: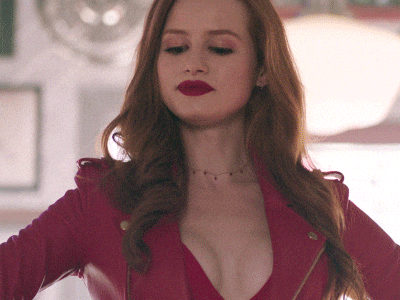 Now, go forth and toke up, my good readers. Now that it's summer, I suggest taking bong rips in an ice cold air-conditioned bedroom, or (for the adventurous, and non-city dwellers) bringing a blanket and a joint to a secluded patch of nature. And if you need something to carry your weed in, we got you.
Images: Giphy(4)
I Was Sober At A Music Festival & This Is What It Taught Me
If you know me, you know that there are a few things I like in this world above all else: contemporary R&B, cheese, and partying. One of my favorite pastimes lately is day drinking. Does that sound concerning when I type it out? Yes, moderately. Cool, charging onward. I also love going to music festivals—I typically go to three or more a year. I know, I'm insane. How do I do it? No idea. I think it's a lethal combo of loving live music and hating myself, in order to willingly spend my money and PTO days getting f*cked up in a field, standing so close to speakers that the bass makes my insides vibrate. Hey, everybody's got their idea of a good time.
So I was surprised as anyone to find myself, at 10pm on Friday night at Shaky Beats festival in Atlanta, as Rüfüs Du Sol closed out day one, dead-ass sober.
*Record scratch* Yeah, that's me. I bet you're wondering how I found myself in this position. I'm about to tell you.
I guess, in order to really get the full picture, I have to back up a bit. The year was 2018. The weekend was Labor Day. The festival was Electric Zoo, one of my favorite festivals that I have been going to for the past three or four years. (I have lost count at this point.) Every year, I tell myself that I'm not going to do too many interviews and I'm just going to enjoy the festival, and every year, all three days, I get sucked into doing an interview at like, 7pm, which is prime festival time. Seriously, all the best acts start playing right at 7pm! Don't get me wrong, doing interviews is great; I get to meet and talk to artists like Alesso, Alan Walker, and Troyboi. But it also takes what should be a fun and relatively relaxing experience (going to a festival and writing about it after the fact) and makes it stressful: coordinating interviews, plus making it to the acts I want to see, plus simply giving myself enough time to maneuver through the crowds and make it to my interview slot in time.
And when you factor drinking into all of that, what should be a simple activity gains so many moving parts that it becomes like solving the Da Vinci code. Because I can't be drunk during my interview, but ideally I'd like to be a little lubricated so I'm not super self-conscious and awkward, but I can't pregame too hard, but drinks at the festival are absurdly expensive, and you can't pay for anything in cash, because the festival is cashless, so now I gotta make sure I have enough money on my wristband for a drink, and if I don't have enough I need to go to another kiosk to add money to my wristband, and…

You see what I mean? After everything was said and done, of course I had a great time at the festival, but I spent so much time running around, getting to my interviews, figuring out if I was too sober or too drunk, waiting on line to get a drink, etc. etc. etc-f*cking cetera, that I forgot to actually appreciate the fact that I was at Ezoo. It's funny, many people will regret how much they drank during the weekend (which I have done in the past and will likely continue to do in life, don't get me wrong), but after that weekend, I regretted how much mental energy I spent worrying about how much I was drinking and when I'd have another drink and from where I would procure said drink. To this day, I feel dumb and a little ashamed about it.
So when I found myself back at Shaky Beats, another one of my favorite festivals, in Atlanta this year, I didn't want that sh*t to happen again. I've become a little tired of drinking in general—the taste of most types of alcohol, the way beer makes my nose stuffy (which I suspect is some sort of allergy or intolerance but I'm too afraid of the consequences to get it checked out by a doctor), the way it zaps me of all productivity and energy the next day.
I didn't set out to be sober the first day of the festival, but found myself that way half on purpose, half by accident. I didn't pregame, which was by design. Drinking plus Atlanta heat equals total exhaustion, so I didn't want to drink until the sun went down anyway. Second of all, I told myself going into Shaky Beats that I was going to have a good time, and not worry about getting drunk or anything. I just took a "if it happens, it happens" type of approach towards drinking at the festival (one I should take to my love life as well, instead of this death grip I currently have on trying to control every interaction I have with a member of the opposite sex, but that's neither here nor there), rather than a "I will be bored if I don't have a consistent buzz the entire time" approach.
And you know what? At around 8pm, I still hadn't had a drink, and I really wasn't missing anything. I was, seriously, totally sober (not even uppers or weed!), and having a great time. Not to mention, I was 100% alert. And, like, why wouldn't I be having a great time? I genuinely enjoy the music (it's the whole reason I was at the festival), and could say I saw some of my favorite acts, like Big Gigantic, What So Not, and San Holo—and remembered their entire set. At that point, since the festival ended at 10:30pm (my only gripe with it, tbh), I just didn't see the point in drinking. Sure, I could have a $11 beer or whatever, but what would it do for me that I wasn't already currently experiencing? Nothing.

Contrast that to the next day, when I did decide to have a couple of drinks. Why? I don't know; I felt like it. And honestly? I just felt kind of off. Once the sun went down, I was like, two Mike's Harders deep and just overall in a weird mood. I can't describe it. It was maybe a mix of the alcohol and the knowledge that the festival was ending soon and I'd have to get on a plane the next day and go back to work that just had me feeling a little bummed out, in a way I couldn't put a finger on. Yeah, I still had a great time—I saw Party Favor, hands down my favorite act of the weekend; discovered Clozee, a French DJ who is getting added to my pregame playlist immediately; and got showered by glow sticks and confetti during Martin Garrix's headlining set—but I left the festival feeling kind of dampened. Drinking wasn't even really worth it.
Am I going to be sober forever? Probably not—recently, I was on day eight of a ten-day course of antibiotics and itching for a glass of wine at the end of a long day. But, as f*cking dumb and cliche as it sounds, I know for a fact now that I don't need alcohol to have a good time. Does it help sometimes? Yes, especially if I'm forced into a situation I don't like (see: birthday parties where I only know the birthday girl or boy). But at a place like Shaky Beats, when I'm with people I like, doing something I genuinely enjoy anyway? Except for the vague sense of ennui, it didn't add anything to the experience, and knowing that for the future feels kind of empowering.
Images: Katrina Barber
How To Get Summer Body Ready Without Giving Up Alcohol
Spring is officially here, which for most women is a sign that summer is coming, which means bikini season. Oh boy! Not to mention, the weather is finally warming up, rosé season is upon us, and there's nothing better than sitting on a rooftop with an adult beverage (or three) in hand. Ok, wait, let me back up and tell you who I am. My name is Justin Gelband—I'm the guy who created ModelFit—and now I have my own fitness studio in NYC. But I've spent the past 15 years training the world's top models and A-list actors with my workout method (obviously called the JG method), so I guess that's why Betches asked me to give you my tips on how to get summer body ready without giving up alcohol. 

Most of my clients want have to maintain their bodies, whether it's for a new role, or for walking in the Victoria's Secret Fashion Show. They work hard and dedicate themselves to being the best they can be. But guess what—with hard work, comes reward! For the purposes of this article, that reward would be alcohol, right?! Now, I'm not telling you to slug a cocktail after every workout, but you also don't have to give up a drink at Sunday brunch or a champagne toast at your best friend's wedding altogether. With my method, I want to help women build the connection between their minds and bodies so they can not only look their best on the outside, but feel their best too—and I promise, a little alcohol won't kill you with my method of functional movement based on Movement, Motivation, and Moderation!
Movement
Movement speeds up your body's metabolism so you can burn the calories that come with alcohol! Dancing or simply moving around during your night out can help burn the calories you're putting in your body. I would also suggest holding off on food an hour or two before drinking, and not eating at all after party time is over—I know drunk munchies are real, but you're strong-willed, I believe in you! If you crack under tipsy pressure, and you HAVE to eat, stick to fruits, vegetables, or anything light. This way, you are balancing the toxicity of the alcohol with foods that won't add to it. Especially since heavy amounts of sugar and salt are huge contributors to holding water and water weight!
Motivation
This might seem like a small piece of the puzzle, but motivation is a big key to success in getting ready for the summer (and life in general). If you're motivated to look fantastic, you will put your energy towards treating your body with respect—that not only means working out smart, but drinking smart as well. You don't need to drink til you drop, no matter how stressful your work week was. Put yourself towards the mindset that you are drinking to enjoy yourself, not drinking just for the sake of getting wasted. Then, your hangover days will (hopefully) be behind you and you can wake up in the morning feeling motivated to work out and sweat out the alcohol from the night before, so one equalizes the other.
Moderation
View this post on Instagram
Drinking is going to cause you to gain water weight and can cause other body image problems, so please moderate your drinking! So, if you're used to drinking three drinks in a night, drink two. If you're drinking (even one drink) every day, cut that down to three days per week. If you find these simple ways to cut some corners, you will still be able to get summer body ready without giving up alcohol. Drink red wine instead of white, and keep in mind a glass or two doesn't mean a bottle! We've all been there. Look at the calories in the hard alcohol you're drinking and go with whichever has the least number of calories and sugar. And try to steer away from mixers—it's the sugars in mixed drinks that really get you. If you can't drink something straight, then add a mixer (sip, no slugging) and have one or two less drinks. This will cut down on the body holding water or gaining weight.
A common misconception in today's age puts being "skinny" in the same category as being "healthy." This is not the case, trust me. Sure, you can give up alcohol and maybe see some weight loss, but does this improve your overall health? Have a drink or two, but discipline yourself and commit to exercising, and you'll be summer ready… but start NOW! Don't wait until May and say, "Okay JG—I need to transform my body by Memorial Day—help!!" You have 2 months to get your sh*t together, so zombie walk over to my studio with some betches, and I'll be there to whip your butt in shape.
Images: Elevate / Unsplash; Justin Gelband (2); dietstartstomorrow, justingelband / Instagram
Do The Kardashians Drink? An Investigation
It's a momentous day in Kardashian-Jenner history. Kylie Jenner, creator of lip kits and center of the self-made billionaire controversy, is finally 21 years old. Happy birthday! I'll be honest, last week when I got the assignment to write this story, I was in disbelief that Kylie wasn't 21 yet. Like, I knew she was young, but considering that she's already bought houses and starred in TV shows and launched an empire and had a baby and gotten lip fillers and then had them removed, it's pretty shocking that she's just old enough to legally drink as of today. With Kylie finally being old enough to order a glass of wine at dinner, it got me thinking—do the Kardashians drink? For the most part, they've avoided any sort of reputation as big partiers, but this question warrants a little bit of a deep dive.
Khloé
Okay, this is probably the easiest one to figure out. In 2016, KoKo hosted her own talkshow that was literally called Kocktails with Khloé. If it wasn't clear, the entire premise of the show revolved around Khloé getting drunk with her celebrity guests, so it's safe to say that she enjoys an adult beverage. The show was canceled after just eight episodes, but while she was promoting it, Khloé gave Us Weekly an interview with a lot of helpful info about her family's drinking habits.
Khloé likes shots, which makes a lot of sense. "Like, I don't care to just have a glass of wine. No, I want to get f*cking buzzed or drunk. That's the point…It's like, I'm normally good, but when I'm ready, I'm going to drink my vodka or shots. I'm going to drink." My favorite part of the interview is when Khloé says about her and her sisters "We've never had problems or rehab stints or this or that." Um, that's great, but isn't she forgetting about the time she literally went to jail because of a DUI? Pretty sure that was documented on a hit television show, but who am I, a fact checker?

Kim
Kim Kardashian does not drink. Wow, am I doing something wrong in my life? In that interview, Khloé said that "Kimberly does not drink alcohol whatsoever. Pregnant or not, she's just never been into it." Okay, first, I LOVE when they call her Kimberly. I have no idea why, it just makes me happy. This story gets even better. Last year, Kim went on Watch What Happens Live! and shared the crazy story of why she doesn't really drink. Apparently, when she was literally 14 years old, her dad taught her to drive so she could be Kourtney's designated driver and go to parties with her. Um, WHAT? "I felt this responsibility of driving everyone. And everyone would take advantage of me, and I would be the designated driver. And they would literally only have me hang out just to drive everyone home." Okay, so it is definitely illegal for a 14-year-old to drive a car, and Kim's dad was literally a lawyer! I am so, so confused by this story, but I guess it's great that Kourtney wasn't driving drunk? This family is wild.
Kourtney
As you could guess from that iconic designated driver story, Kourtney isn't afraid to have a good time. Khloé said that Kourtney partied in college and still enjoyed drinking up until when she had kids. Khloé says that Kourt basically doesn't drink anymore since having kids (and becoming a low-key health freak), "but during Christmas Eve when we're having a party, she still has, like, a glass of champagne." Okay, if I ever have kids, please force tequila shots into my hand, because I refuse to become this boring.
Kris
Unsurprisingly, Kris Jenner has the drinking habits that sound the most appealing to me. What can I say, I'm basically a grandma. Kris drinks a glass of wine every single night, which is like, very good for your health. In 2016, she said in an interview "I like to have a glass of wine at 6. What 60-year-old woman wouldn't?" What did we do to deserve Kris Jenner? I'm not sure, but she is my idol.

Kendall & Kylie
When Khloé gave this interview two years ago, Kendall and Kylie were just 20 and 18, respectively. That's below the legal drinking age, but when has that ever stopped anyone? At the time, Khloé said that Kendall and Kylie were not into drinking, specifically saying that Kendall is "really focused and determined." Yeah, because a glass of wine really ruins your determination in life? Whatever.
For what it's worth, about a year ago, Kylie told BuzzFeed in an interview that she had literally never had a sip of alcohol in her life. She actually specifically said she's excited for her 21st birthday because she's never tried it. "I feel like that's fun. You know, I've never had a drink before so I just wanna know what it's like." Okay, wow. Good for her I guess, but if I were a literal billionaire I would probably be wasted on Dom Perignon at all times. I guess this year she'll be, like, realizing stuff about mixing liquors and drinking on an empty stomach. Mazel!

Happy birthday Kylie, you've come a long way from that 9-year-old pole dancing at your mom's party. Enjoy your (literal) first sip of alcohol! Please report back on your experiences, and let us know when you have your first hangover. It's all downhill from here.
Images: Giphy (3)