People In Alabama Are Having Coronavirus Parties To Get Infected On Purpose
In news that could not be more quintessentially Alabama, CNN reports that some young people in Tuscaloosa are holding coronavirus parties in order to purposely infect themselves with the virus. Truthfully, not a single word in that sentence surprised me, except maybe the fact that Florida was not involved. Congrats guys, it wasn't you this time!
In a presentation to City Council members, Fire Chief Randy Smith explained that there is a trend amongst young people in Tuscaloosa where they're throwing ticketed parties to catch coronavirus, and the first person to get a confirmed positive test wins a payout from the ticket sales. So this is like a coronavirus party-meets-pyramid scheme. Great! Council Member Sonya McKinstry said that there have been several parties in Tuscaloosa and surrounding areas in the past few weeks, and they confirmed with doctor's offices that these are actually real. And this is why we can't have nice things (and why other countries are literally banning us).
The city is reportedly working on breaking up these parties, and also passed a mask ordinance that will go into effect on Monday. It will require adults and children over the age of 8 (parents will have discretion with children aged 2-8) to wear face masks in all public places, including inside businesses, on public transportation, and at outdoor gatherings with 10 or more people. It will be in effect for at least the next 30 days, and those who violate the law face a $25 fine.
Though it seems like a special breed of stupid, the idea of hosting a gathering with the express purpose of exposing guests to a virus is not actually new. Beginning in the 1970s and 80s, parents would set up "chickenpox parties" for their children in the hopes that they would contract chickenpox sooner rather than later. Today, however, the CDC "strongly recommends against hosting or participating in these events," urging parents that the chickenpox is a serious disease that can cause severe complications and even death, even in healthy children (hmm, where have I heard this before?). The CDC adds that since there's no way to tell how severe a child's symptoms will be, "it is not worth taking the chance of exposing your child to someone with the disease."
While for most people, the CDC says, one-time exposure to chickenpox grants immunity for life, when it comes to COVID-19, we're really not sure yet, which makes having these immunity parties extra dangerous. According to Mayo Clinic, "It isn't yet clear if infection with the COVID-19 virus makes a person immune to future infection." We also don't know yet if having the antibodies protects someone from re-infection. Dr. Dyan Hes, founder of Gramercy Pediatrics, tells Betches, "Currently, we really do not know if there is COVID-19 immunity at all." Cool cool cool cool cool. While some people who contract the virus do get antibodies, she says, "Studies show that many patients lose their COVID-19 specific IgG antibodies within weeks to months after their infection. Other studies show that patients with mild infection or asymptomatic patients never mounted an IgG response with antibodies."
And just to scare you even further, Dr. Hes adds, "We do not know if the antibodies are protective, and this is a problem. Many people who have antibodies assume that they cannot be susceptible to the virus again," but this is not necessarily true. She advises, "The moral of the story is that everyone should still be wearing a face mask, follow social distancing guidelines, hand wash frequently, and use hand sanitizer when washing is not an option."
But, I hate to have to break this to you, it's not only Alabama. The New York Times reported that on June 17, well after large gatherings were banned, a group of about 100 people attended a party in Rockland County, NY. (In fact, the state order at the time limited gatherings to 10 people.) The host of the party apparently showed symptoms of being sick at the time of the event and, along with eight guests, later tested positive for COVID-19.
Rockland County officials deployed contact tracers to see who else may have been exposed at the party and found that guests were refusing to speak with officials or outright denying they were at the party. Officials were forced to subpoena eight people they believe were at the party, and those who refuse to cooperate will face fines of $2,000 per day. Stupid and stubborn! Tracers were also concerned about two other parties in New York City on June 20 and 27 that may have had some guest overlap with the Rockland County party.
BuT wHaT aBoUt ThE pRoTeStS? While you're right, Karen, that experts worried that the mass protests would cause a surge in virus cases—Dr. Fauci called them a "perfect set-up" for the virus and L.A. mayor Eric Garcetti was concerned they would become "super-spreader" events—so far, this has shown not to be the case. In New York City, there has not yet been an uptick in coronavirus cases, despite the large protests that have been continuing for weeks. Experts are attributing this to a variety of factors, including but not limited to: protests being held outside as opposed to inside; protesters marching at a brisk pace, not remaining stagnant, and wearing masks; protesters being younger and therefore less likely to show serious symptoms; and even just dumb luck.
And, a new working paper from researchers at Bentley University, the University of Colorado Denver, and San Diego State University analyzed data from 315 American cities and compared incidences of COVID-19 in 281 cities where large protests were held to the 34 cities in which they were not, and found that protests had no significant effect on COVID-19. They attribute this surprising finding to the fact that protests may have actually caused an increase in people who stayed at home. In other words, maybe people who would have otherwise been out and about stayed at home so as to avoid the protests.
Even though it's July 4th weekend and the urge to party might be tempting, I'm going to take a page from Coach Carr's playbook and say, "just don't do it, ok, promise?" And before you go sh*tting on Alabama, Florida, or any other states, just remember that recklessness isn't limited to one part of the country, and that the U.S. is the Alabama of the world right now.
Image: Kyle Smith / Unsplash
Of Course States Are Using COVID-19 To Ban Abortion
If you think politicians would put trying to take reproductive rights away from people on hold during a global health crisis…think again, bitch! Several states are trying to ban abortions, deeming them as "non-essential" during the COVID-19 pandemic, and one has done so successfully. Because a time-sensitive procedure that will affect the rest of a person's life and is not essential. Sure, Jan.
On Tuesday, the 5th U.S. Circuit Court of Appeals  threw out a lower court ruling that would block the temporary abortion ban in Texas, following a long legal battle between the state and reproductive rights groups. The judges noted that the state has the power to restrict resident's rights, such as peaceful assembly, during an emergency, and that "abortion is no exception." As a result, nearly all abortions are banned in Texas. 
This fight did not begin on Tuesday for Texas. This all began on March 22, when Texas Governor. Greg Abbott issued an executive order banning abortions during the coronavirus outbreak, deeming them medically unnecessary and claiming they use up valuable medical supplies. After reproductive rights group sued the state and secured a temporary pause on the ban, the circuit court this week ruled against them to allow it.
Republican-appointed judges in Texas wrote that the state is allowed to "to restrict, for example, one's right to assemble peacefully, to publicly worship, to travel, and even to leave one's home" in a public health emergency and that therefore: "The right to abortion is no exception."
So they agree it is abortion is a right, and one they are choosing to allow the governor to curtail. Excellent. We'll remember that.
Planned Parenthood and the Center for Reproductive rights said they're reviewing their legal options and may attempt to take the case up to the United States Supreme Court. The ban is set to expire on April 21, and states that a medical professional who provided an abortion before then could be fined $1,000 or face jail time of up to 180 days. For sure what we should be focusing our energy on rn, great job everyone.
To anyone seeking abortion care right now, we see you, we trust you, and we support you.

Abortion is 𝙚𝙨𝙨𝙚𝙣𝙩𝙞𝙖𝙡. It is not something that can be delayed or forgone without serious impacts on the pregnant person's health and life. #MyRightMyDecision #SustainingCommunity pic.twitter.com/V181IhRGke

— Center for Reproductive Rights (@ReproRights) April 8, 2020
The problem here is that abortion is incredibly time-sensitive, so, uh, maybe it should be an exception? Just a thought. It's also worth noting that this decision claims to be based on the fact that abortion is "medically unnecessary" and would use up supplies needed to treat COVID-19 patients, but the reality is that the most common method early in pregnancy is administering medication abortion. This requires no medical gear. In fact, the ban on abortion would simply delay this process, which would then force people to seek a surgical abortion or give birth. And what do you know,  both of those procedures require more medical resources
Other states that are trying to impose similar bans are Alabama, Iowa, Ohio, Kentucky, Indiana and Oklahoma. Did you really think Alabama would miss a chance to fuck shit up for womxn's right? Abortion rights groups have acted immediately to get some of these bans lifted, and so far judges have  sided with them in Alabama, Oklahoma and Ohio.
Banning abortion is taking away fundamental human rights, period. But to use a pandemic as an excuse to do it is especially heinous. This is a time when people are losing their jobs, and consequently, their health insurance. Denying them access to abortions at a time like this is asking them to completely throw away their livelihoods.
Plus, we all know banning abortions does not stop abortions. It simply creates more harm.
First of all, people who can't get their abortions in the states banning them will likely travel to other states to get what they need. Crossing state lines is not ideal during a time when we are asking people to stay at home, and could lead to further spreading of COVID-19.
People seeking abortion care in West Virginia would need to drive much further to reach a clinic due to the state's #COVID19 abortion ban. This is shameful & puts the health & well-being of patients at risk in the middle of a pandemic. #AbortionIsEssential pic.twitter.com/qpfO3FYveL

— Guttmacher Institute (@Guttmacher) April 8, 2020
Or, people will be forced to try to conduct abortions illegally and unsafely. Research shows that after Roe V. Wade was passed in 1973, the number of deaths associated with illegal abortion decreased dramatically. Banning abortion doesn't stop abortions from happening, it simply makes them more dangerous and leads to more deaths. So, if you're pro-life, lives might be something you want to consider.
It's scary how quickly lawmakers jumped at the chance of using a pandemic as an excuse to take our rights away. It reminds us that we can't stop paying attention to this shit, even in a time like this, when everything feels overwhelming. Of course, give yourself breaks and practice self-care, but stay vigilant.
Anyway, I'm sure Republicans will agree to give all the womxn who can't get abortions because of these bans a $500 check as part of the coronavirus stimulus because their fetus is actually a child.
To stay informed on the impact of the COVID-19 pandemic on reproductive rights, subscribe to The Betches Sup newsletter. 
Alabama Freshman Arrested For Calling In A Threat Against LSU
It's no secret how hard some students go for their school's sporting events. However, this University of Alabama freshman will change your perspective on just how far crazed fans will go for the sake of their team.
On Saturday night, 19-year-old Alabama freshman, Connor Bruce Croll, was arrested for allegedly calling in a threat to Louisiana State University's Tiger Stadium during their game against the University of Florida, one of the biggest rivalry games of the college football season. Neither LSU nor Alabama officials have released further details about Croll's threats, but they must have been serious enough that he has been in holding at Tuscaloosa County jail since the incident.
Whatever happened to a good, old-fashioned streaking to disrupt a game? Kids these days. In a past life, these threats may have been brushed off as a harmless joke, but in today's social and political climate, this sh*t is not to be taken lightly! Some people are genuinely reckless and radical and capable of some scary stuff. Sadly, I wouldn't put it past a die-hard fan to do something dangerous for the team they love, which makes Croll's alleged threats even more unsettling.
It's still unclear what Croll's actual motives were. Some suspect the threats were called in because of Alabama's ongoing football rivalry with both LSU and UF. All three schools are a part of the Southeastern Conference (SEC), with LSU ranked at No. 2 (just behind Alabama). Perhaps Croll felt their ranking was too close for comfort, and he needed to disrupt his school's rivals. Did he watch I, Tonya right before this? Was he was hoping to rattle the players? Was this a failed attempt at a claim to college fame, or a hazing ritual gone wrong? Is he reeeeeally dumb enough to think he'd get away with this? Or is he simply just a messed-up human? Any way you spin it doesn't make threatening others acceptable, and I can pretty much guarantee this wasn't how Croll anticipated things going.
On Monday, Alabama spokesman Chris Bryant commented on the allegations saying, "we are aware of the arrest of a UA freshman over the weekend. Threats and pranks can have serious ramifications and necessitate an appropriate response. The university and UAPD are cooperating fully with the investigation, but we cannot provide any additional details on a pending matter… The LSU community has always been gracious to us, and we regret these events."
There are no official reports about what Croll will be charged with, but Yahoo! Sports reports that he's being held without bond and is "expected to face charges in Baton Rouge, Louisiana". In the state of Louisiana you can serve up to 15 years in prison for "disruption of the general public," according to a report by Tuscaloosa News. You can also face a $15,000 fine (aka one semester of out-of-state-tuition at Alabama). Either way, if the allegations prove to be true, Croll can kiss the "best four years of your life" goodbye.
Evidently, some members of SEC take football wayyyy more seriously than the rest of us. I understand being super invested in a team, and it's no secret 'Bama students go all out for the Crimson Tide, but what Croll did is inexcusable. And also very stupid. Let this be an example for anyone considering doing something drastic (or illegal) for their team: Just. F*cking. Don't!
Images: Shutterstock.com
Why Everyone Is Freaking TF Out Over Alabama
Guess what, guys? For the first time in 2017, we're here to report GOOD news about something POLITICAL. Unheard of, right? Well buckle up, because 2018 is coming and it might not be the apocalyptic wasteland we were all fearing.
Last night, in a move that many hoped for but few thought possible, Alabama elected a democratic senator for the first time in twenty-five years. Doug Jones will be filling the seat vacated by Jeff Sessions instead of Roy Moore, a man who (allegedly) dates fourteen-year-old girls and still secured the endorsement of the RNC and President of the United States.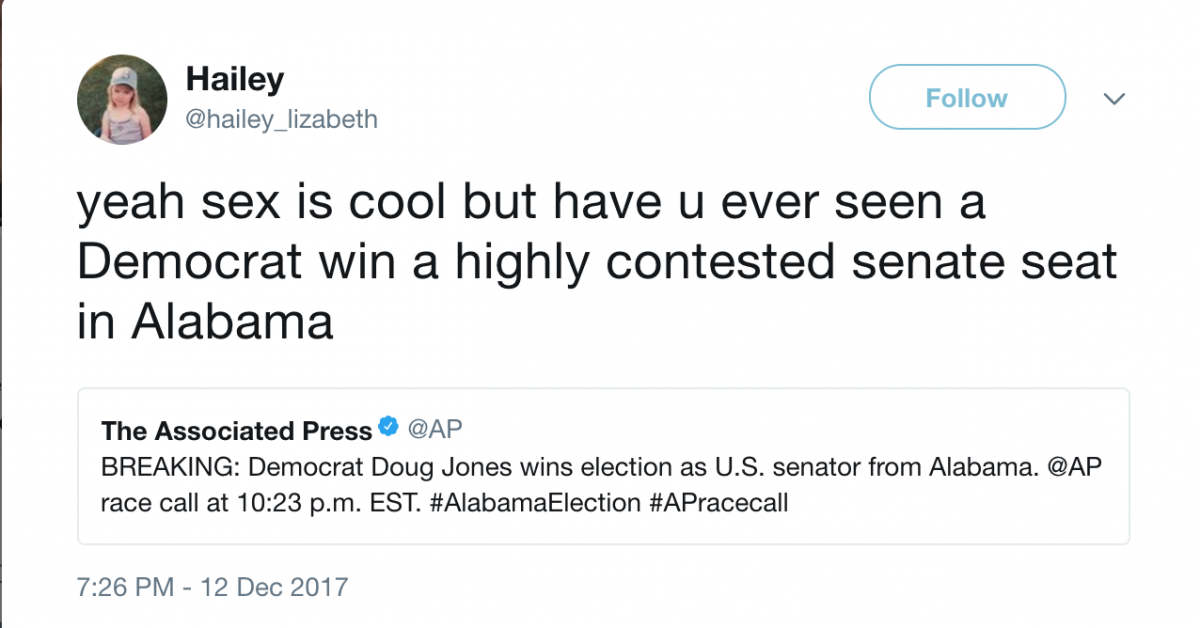 Alabama. A democrat. Can you believe it? Sure, all it took was for the Republican option to be an openly anti-Semitic, racist, child-predator, but let's just take a win where we can get one, okay? I think we all have to become Alabama football fans now, but honestly that's a trade I'm willing to make to keep child molesters out of the Senate. Roll Tide.
Who Do We Have To Thank For Roy Moore Taking An L?
Black people, who showed up to the polls and saved America's ass yet again, despite attempts by Republicans to deter them. Black women in particular deserve your thanks today, as 97% of them voted for Jones, as opposed to the 63% of white women who voted for Moore. @white ladies, let's do better, yeah?

This is an especially large blow for Trump and his greasy puppeteer Steve Bannon, who were counting on Moore's vote in the Senate to pass atrocious legislature like the GOP tax reform. But now with the GOP majority down to just one vote, some are viewing this as a turning point, a beacon of what's to come in the mid-term elections next year. If Alabama can elect a Democrat, literally anything can happen.
What is this unfamiliar feeling in my chest? Is it…hope? Will it last? Will I drown it in wine the next time the President tweets? Only time will tell.

Heads up, you need to keep up with the news. It's not cute anymore. That's why we've created a 5x weekly newsletter called The 'Sup that will explain all the news of the week in a hilarious af way. Because if we weren't laughing, we'd be crying. Sign up for The 'Sup now!
These Allegations Against Alabama Senate Candidate Roy Moore Are Gross AF
I just…honestly….I don't even know anymore. I'm running out of words to say so I'll let my boyfriend SNL's Colin Jost explain the present state of our world:

The rootin' tootin' cowboy hat-wearing sex monster on the far right of that graphic is former Alabama Supreme Court Judge and current contender for the Alabama Senate seat, Roy Moore. It's very likely you've heard Moore's name in the media in the last few days, thanks to shocking allegations that when Moore was in his 30s, he engaged in not one, but MULTIPLE relationships or attempted courtships of teenage and underage girls. There's a word I'm searching for…it's somewhere between disgusting sleaze ball and piece of pedo trash, but for now I will continue to refer to him as "Moore" or "Mr. Sex Monster" for #journalistic purposes.
WTF Did He Do?
Before we even get into his fondness for underage women, it's worth noting that Moore was already proving himself wildly unfit for office for a plethora of other reasons. He disobeyed court rulings, getting himself kicked off of the Alabama Supreme Court twice, believes homosexuality should be illegal, and said Muslims should not be able to serve in Congress. So yeah, a truly upstanding representative of our great country.
The first woman to come forward with allegations of sexual misconduct against Moore, Leigh Corfman, claims that when she was 14 years old, Moore (32 at the time) took off her shirt and pants, groped her, and guided her hand to touch him over his underwear. I repeat – an adult male in his thirties tried to make a high school freshman give him an OTPHJ. In addition to this story, three other women came forward claiming that Moore either made advances towards them, took them on dates, or went so far as kissing them when he was in his thirties and they were all between the ages of 16 and 18. At that time, the age of consent in Alabama was 16, so Corfman's situation was most certainly illegal, but all four of the accounts are, in proper legal jargon, majorly fucked up.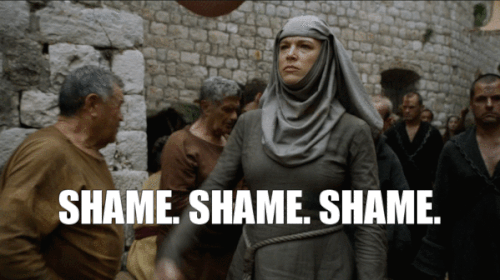 On Monday, a fifth accuser, Beverly Young Nelson, detailed an aggressive account from when she was 16, in which Moore allegedly lured her into his car after her shift as a waitress, and proceeded to grope her breasts, and squeeze her neck as she tried to fight him off, eventually attempting to force her head into his crotch. Blowjob head-pushing should be a federal crime punishable by law no matter the situation. Prisons would be overflowing with politicians, frat bros, and Tinder hookups. Oh, and he was literally banned from his local mall for scamming on teen girls, so we might come out of this with a Senator who is allowed in the White House, but not Abercrombie. That's where we're at.

Does Anyone Even Care?!
In any normal, rational world, these allegations would be horrific and damning enough to cement a swift disqualification from any campaign for political office. However, we clearly do not live in a rational world, as evidenced by the fact that our country's President is an admitted pussy-grabber, and was accused of assault and harassment by over twenty women and it doesn't mean shit. *takes ten shots*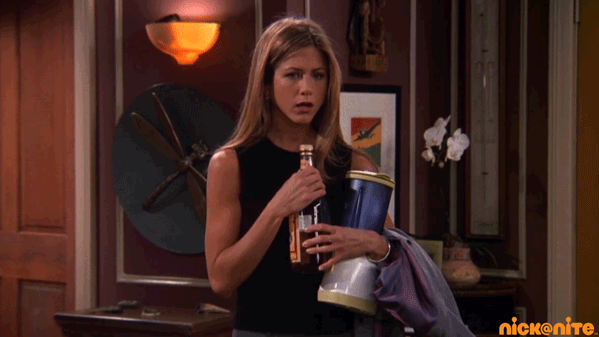 Some Senate Republicans are actually thinking with their brains and are calling for Moore's removal from the senatorial race. Senate Majority Leader, and Yertle the Turtle, Mitch McConnell said he "believes the women," which is about the first thing out of his mouth that hasn't made me want to punch him right in his flabby jowls. Of course, even Republican officials coming forward in opposition is still not enough to convince the people of Alabama that a sexual predator is obviously not an acceptable choice for office. The race between Moore and Democratic nom. Doug Jones is still inexplicably close, and Moore is using every last big bad huffy puffy breath to completely deny all allegations against him, claiming "fake news" and political sabotage.
Alabama State Auditor, Jim Zeigler, is one of the people rushing to Moore's defense. He literally said – I couldn't make this shit up if I wanted to – "Take Joseph and Mary. Mary was a teenager and Joseph was an adult carpenter. They became parents of Jesus." Ok, no. If I learned one thing in the CCD classes I did not pay attention to, it's that Mary was a virgin. As in untouched. No P in V = J if you catch my drift. In defense of his own actions, Moore said, "I don't remember dating any girl without the permission of her mother." If you're in your thirties and have to check with her mommy if your brand new friend can come over for a playdate, she's too young for you, bro.

The Alabama Senate elections are slated for December 12th (Alabama betches – U registered?), and while many Republicans are coming out in support a potential write-in candidate being thrown in the mix or expelling Moore from the Senate, this creeper still might get elected. If I may, I would like to offer some suggestions for write-in nominees who are proven to be more competent and less morally deplorable than Moore: any of the women who bravely came forward, Oprah, a cardboard cutout of Obama, your local town pool lifeguard, a tree. Scratch that, I just found out Channing Tatum was born in Alabama, and I think Senator Magic Mike kinda has a nice ring to it.

Update: Since publishing this article, four more women have made allegations against Roy Moore, bringing the total amount of women who have accused Moore of being a gross ass skeeze to nine. All of the women alledge Moore attempted to start relationships with them when they were under age and he was in his thirties (vom), and at least two of them accuse him of sexual assault. We'll continue to update this article as new allegations arise because like, I just have a feeling more allegations are going to arise. IDK what it is. I'm just like, kind of psychic when it comes to sexual misconduct allegations. I have a fifth sense.

Heads up, you need to keep up with the news. It's not cute anymore. That's why we've created a 5x weekly newsletter called The 'Sup that will explain all the news of the week in a hilarious af way. Because if we weren't laughing, we'd be crying. Sign up for The 'Sup now!
You Can Pay An Insane Amount Of Money To Get Into A Good Sorority If You're Ugly & Boring
Ahhh… sorority rush. The one time of year where a bunch of fake af basic betches recruit a bunch of younger, newer fake af basic betches to pay to be their friend. The only problem is if you're ugly or stupid or or poor or have the personality of a fucking brick wall, you're pretty much SOL. Especially those first three because god knows all they really care about is you being hot, sitting next to a nerd all through high school having a good GPA, and what your dad's bank account looks like. But don't worry. If any of that describes you, we're here to make your shitty-ass Wednesday better and tell you about sorority rush consultants aka middle-aged women who you can pay to help you become a college version of a Stepford wife. Lucky you!
Town & Country did a whole write up on the mysterious life of these rush consultants, and tbh, I can't tell if their take is "holy fuck this is terrifying" or "yippee what a brill idea." But I'm here to say that this is the thirstiest, most pathetic shit I've heard in my whole life. And while I read the entire thing in all its glory, I'm taking a bullet for you betches and just breaking down the most important parts to save you both time and brain cells. I accept both cash and wine as forms of payment as a sign of your gratitude. Oh, and the asterisks mean the girls' names were changed to prevent further hazing for paying someone to make them cool.
"The cards were stacked against Hannah*, a PNM—or 'prospective new member'—entering rush week 2017 at the University of Alabama. She was a sophomore, for one thing, not a freshman like most of her fellow PNMs. She wasn't a legacy, but worse than that, she wasn't even from the south."
Not from the South?!?! THE HORROR! As a person from the South who was in a sorority at an SEC school, I can tell you that no one gives a flying fuck if you're from the South or not. It's not like northerners or westerners are fucking lepers or something. And wtf is a rush consultant do about that? Forge your birth certificate. Fucking doubt it.

"She was down an internet spiral when she happened upon Pat Grant, the founder of Rushbiddies, a Birmingham-based consultancy dedicated to helping girls, in Grant's words, 'prepare for one of the most important aspects of higher education'—that is, rush week."
First of all, I wouldn't take sorority advice from a woman named Pat. Sorry. But that's just a fact. Second of all, of course this shit it based out of Birmingham. And third of all, "one of the most important aspects of higher education"? Are you serious? I'm all for getting shitfaced and dressing like a slutty highlighter for a neon-themed mixer but I wouldn't exactly describe that as "one of the most important aspects of higher education" for women. But thanks for your opinion, Pat.
" will do damage control when needed, like in the case of the PNM whose winter break Snapchat showing her dancing with another girl went viral in the days before her second semester rush. 'All it takes is one image to be misconstrued,' says Grant. 'I say, I don't care if this guy is just a friend of yours. If you've got your arms all over him, they're not gonna know he's not your boyfriend. Or maybe that swimsuit doesn't make the best impression.' Over the summer, at Grant's recommendation, Hannah edited her feeds to delete anything political. 'I didn't want to give anyone any reason to cut me,' says Hannah. 'It has to be super vanilla, all the way through.'"
Wow. There's so much bullshit here I can barely fucking breathe. Did I miss the part where dancing with other girls, hanging out with guys who aren't your boyfriend, and wearing bikinis aren't pretty much the only thing sororities do? I can honestly say in the four years I was in college all I did was dance like a hoe with my friends, hang out with fuckboys without being their girlfriend, and skip class to go to the pool in the smallest bathing suit I could find. Who fucking cares? Are these people trying to join a sorority or a convent? PLEASE ADVISE, PAT. And god forbid a good Southern girl care about politics. Or have opinions of any kind, for that matter. There are more important things a sorority sister should focus on—you know, like contouring and shopping and husband hunting. Obvi.

"'Grant tells the story of one girl who showed up to a pre-rush workshop wearing a dress and cowboy boots. 'I said, why did you choose cowboy boots?' Grant recalls. 'She said, everyone knows cowboy boots are my signature. I told her, maybe back in high school they were your signature. But here, you don't have a signature. You have to meet what's expected until you're established. Then you can wear your cute little cowboy boots.' Sarah* worked with Lorie Stefanelli of Manhattan-based Greek Chic to prepare for rush at Texas Christian University. Over the phone, they'd practice typical conversations to determine 'what elements of my personality to play up,' she says. 'We also paid a lot of attention to my outfits. Lorie was very particular about looking classy, not wearing super-short shorts or revealing dresses. More Audrey Hepburn.' Safe looks included anything Kate Spade, Tory Burch, or monogrammed. At Alabama this year, says Hannah, some girls "didn't get that you should cover up. They'd show up in backless dresses and they'd get released."
Let me start by saying, I personally do not believe cowboy boots are ever a good wardrobe choice. Like, are you hear to rally the cows or fucking drink? But I digress because there's a bigger issue. If by "meet what's expected" you mean "wear fucking Lilly Pulitzer like a massive toddler on Easter," that's gonna have to be a hard pass from me, dawg. And idk where sorority girls get off telling people to cover up. Have you gone through your Explore page on Insta recently? It's pretty much boobs and labia and sorority hand signs. So excuse the fuck out of me for showing my back.

"Grant aims to get her girls into one of their top two houses, and says she hit the mark for every one of the 20 girls she put through recruitment last year. She charges $1,500 for her most popular package, which includes 40 hours of text, chat, and Skype, as well as workbooks and handouts, but of course, it's not about the money."
$1,500 for texting someone a few times about what to wear for rush? Of course it's not for the money! Pat is practically a philanthropist. Idk if you heard, but she's actually being considered for the Nobel Peace Prize this year.

"Sarah says she talked to Stefanelli every night during rush week, usually for two hours. 'She'd help me decide the order of the houses I liked,' says Sarah. 'Or I'd say, is this OK to say tomorrow if I am invited back? PNMs like to talk. And when you're insecure, it's much better to have someone outside of the process to talk with.'"
Hey "Sarah", here's some fucking advice. Say whatever you wanna say. You are literally determining what group of girls are to haze and judge tf out of you be your friends so if shit's awkward, they're probs not the right house for you. Is that not fucking obvious?