Shopbop's Winter Sale Gives You Up To 60% Off, So Here's What To Buy
We're in a new year, so that means a bunch of shit sitting in your closet is definitely sooo 2017. Starting making moves to pass the hand-me-downs to your sibling, or if you're feeling like a decent human being (for once), donate that shit ASAP. With our fave stores and online retailers already gearing up for spring 2018, you'll need to make a ton of room for the shit-ton of new clothes you'll be buying with your dad's credit card. In case you still need to get your hands on a few winter must-haves, Shopbop is having an insane winter sale where tons of their styles are up to 60% off. *Cue 2007 Britney Spears anxiety attack* Apologize to your bank account, credit card bill, and parents ahead of time, because this is obviously too good to pass up. From designer dresses and basic booties to necessary totes and maybe even a new iPhone case, I've made this v simple for you—here's everything you should add to your cart.

This blouse is probably the cutest effing thing I've ever seen. The bright red color is def timely for the season and its long sleeves are honestly a blessing, because I can't step out of my house in anything less as of late. IDC how slutty everyone else in the group chat says they're dressing. Hypothermia, can we not? Pair this with high-waisted pants or a trendy black high-waisted skirt.

Leggings are all that fit us right now with our winter weight coming up on us hard and strong. Instead of feeling freezing during your morning commute, these are specifically created with a fleece lining, so you can still feel your legs by the time you get to your job. They're still v stylish and trendy with their small mesh cutouts, so you can even look like you actually go to the gym, too.

Whether it's for the office, happy hour, an annoying winter wedding, or your next Hinge date, you'll always need a LBD on hand. In casual jersey material with dramatic bell sleeves, this black number goes perfectly with the rest of your all-black style and makes you look thin AF, regardless of how much pasta you've been eating on the DL.

At this point, I'm collecting this style in like, one of every color because they're so fucking comfy, warm, and make me feel (and look) bougie AF. They're still all everyone's wearing, so def get another ASAP.

I could be biased, but also I could just have a good fashion sense. I just bought these, simply because I officially have a sock boot in basically every color now, and it was def a good purchase I do not regret (for once). The nude shade allows you to wear them with whatever TF you want and they're comfortable enough to dance all night in.

If you're in desperate need for a new work tote, or just a new big black bag in general, you'll want this one. Trust me. It's like, roomy enough to hold everything you could need in life, but not too big where you feel like you're lugging a suitcase around. It features removable straps and probably a hundred compartments to organize your life.

I think this speaks for itself because 1) When don't you shatter your phone case? and 2) everyone knows the best (and cutest) cases come from the one and only, Kate Spade. And like, honestly, this one is cute af, but if you don't have an iPhone 7 or 8 yet, sorry not sorry.
---
Betches may receive a portion of revenue if you click a link in this article and buy a product or service. The links are independently placed and do not influence editorial content.
11 Amazing Post-Christmas Sales To Spend Your Whole Paycheck On
Look, I love Christmas and the holiday season for all the right reasons, but I reaaally love post-holiday sales even more. While they might not be as good as Black Friday or Cyber Monday, they definitely come pretty damn close. It's like when my fam casually gifts me cash money and gift cards to my favorite stores, they're practically begging me to blow it all ASAP. Despite the amount of gift cards you're given, whether they be to stores or general Visas, you literally almost always go over budget and end up spending more than intended. As I add up the amount of carts I have loaded up and share my best post-holiday shopping deals with you, I'm reminded that I should probably be working on paying off my credit card bill, but… like, there's online shopping to do first.
1. Aldo
For those sock boots, chic sneakers, and NYE-ready heels you've been eyeing, Aldo is having some bomb select styles up to 50 percent off. They're all honestly cute af and there's free shipping with any purchase of $50 or more, so obviously get a few pairs.

2. ASOS
From December 22 to December 29, ASOS is holding an "up-to-50%-off sale" for everything you could possibly want. From dresses to a new winter coat to shoes, each category has select styles for up to 50 percent off.

Boohoo Velvet 80's Shoulder Plunge Bodycon Dress
3. Bloomingdale's
Our fave little brown bag store is holding a sale that takes up to 75 percent off of an amazing selection of things. Whether it be a new dress, shoes you probs don't really need, or a set of winter shit to keep you warm af, it's a rare opportunity to get some boujee shit on sale.

C By Bloomingdale's Ribbed Cashmere Cuff Hat
4. Good American
Until January 7th, select styles of the Kardashian booty-enhancing denim are 40 percent off. Daaamn, Gina.

5. H&M
Good only until supplies last, tons of new items are marked down to be up to 75 percent off, aka basically free.

6. Lord & Taylor
Take an extra 50 percent off of women's clearance and when you use the code BONUS, you can take $20 off of purchases of $160 or more through January 1. WAIT, it gets better. Take an additional 20 percent off of sale and full-priced items using the code WINTER, too.

Karl Lagerfeld Paris Lace Sleeveless Top
7. Macy's
Take advantage of Macy's After Christmas Sale until January 1st that has a ton of new markdowns, and take an extra 20 percent off of using the code JOY.

Free People Illusion Bodycon Mini Dress
8. Nine West
From December 26 through January 3, take an extra 30 percent off of those shoes or new crossbody you didn't get in time for Christmas.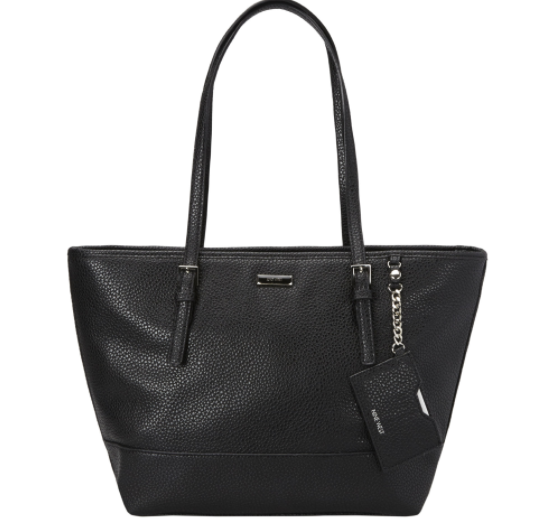 9. Nordstrom
For their Half Yearly Sale, a huge selection of styles are up to 50 percent off until January 2nd. This includes clothing, handbags, and even must-have beauty products.

Urban Decay Troublemaker Eyeshadow Palette
10. Sephora
It's clickbait, they said. Sephora never has sales, they said. Well, joke's on you, because our go-to beauty retailer is holding a sale… on sale. From now until January 2nd, take an additional 20 percent off of sale items. On the count of three, all hail Sephora.

BareMinerals Nudes For Days 6 Piece GEN NUDE Lip Wardrobe
11. Victoria's Secret
Well, guys, it's that time of year again. Today kicks off the first day of the Victoria's Secret semi-annual sale. With literal thousands of styles up to 60 percent off, there's no reason why you shouldn't buy underwear, bras, and lingerie at a discounted priced because you'd never buy them at full-price anyway.

Victoria's Secret PINK Lightly Lined Strappy Triangle Bralette