Here Is All The Evidence That Jordyn Woods And Tristan Thompson Hooked Up
As most Americans with a working Internet connection know by now, Tristan Thompson and Jordyn Woods are currently set up to be the most hated people in America. Khloé Kardashian reportedly dumped Tristan Thompson last night—not, y'know, because he cheated on her days before she gave birth. It's because he cheated on her once again—this time, with Kylie's BFF Jordyn Woods. Apparently, Thompson flew into town for Valentine's Day (aw), but then spent Sunday at a house party "snuggled up" with Jordyn. TMZ reported they were "all over each other" and "making out," (TBH, grateful we at least don't have to hear about Thompson "making out, grabbing junk, motorboating" again. As I'm sure Khloe is too.)
Look, no matter what happened, I'm sure we can all agree that Khloé should dump Tristan's ass once and for all. But given how close Jordyn is to the family (remember that recent series of her and Kylie in blackface matching bikinis?), I'm obviously very excited concerned to see what kind of rifts this incident could cause. Here's what the Internet has to say so far, and all the hints we've gathered that the cheating rumors are true.
First off, Tristan apparently tweeted "FAKE NEWS" following the incident—then deleted it.
While many of us might take that as confirmation the reports are false, if we've learned anything from James Kennedy (or Trump, for that matter), when someone calls something "fake news", that means it's incredibly likely to be real news, and furthermore, that there's probably proof of it. (Otherwise why would his publicist demand he take down the tweet? Famous men have lied their way through worse…)
Confounding this "did Jordyn Woods hook up with Tristan Thompson" sh*tstorm is this recent Instagram from Jordan, but more importantly, this comment by Khloé.

This photo was uploaded two days ago, after the alleged cheating would have occurred, and still Khloé commented "baby girl". If Jordyn did hook up with Tristan, would Khloé really be commenting cute things on her Instagrams? Then again, if the timeline of the incident is to be believed (which I will get to in a second), this comment could have occurred literally right before Khloé found out about the alleged cheating.
Next up in the "they really hooked up" evidence, we have this incredibly cryptic tweet from Jordyn—posted Sunday, the day she and Tristan allegedly hooked up.
I could love you and still cut you tf off.

— Jordyn Woods (@jordynwoods) February 17, 2019
In it, she says "I could love you and still cut you tf off." Which yeah, is one way to announce to your close friends that you're a cold-blooded sociopath who will hook up with the father of their children at any point. Though in her case, it's really more the Kardashian/Jenners who have the ability to "cut someone off" here—by which I mean Jordyn is dreaming if she thinks her career is not taking a hit from this. You don't mess with America's royal family and come out on top, honey. You can talk to Blac Chyna about that.
While Jordyn and Tristan are busy being shady on Twitter, the Kardashians and their allies are sharing their feelings with another time-honored social media tradition: the telling Instagram comment. In a now-deleted post by Hollywood Unlocked, founder Jason Lee puts forth a pretty damning series of claims about the incident.
In the video, Lee confirms the entire thing. He says one of his writers was there, and reported to Lee that Tristan "took everybody's phone" (yikes), then Jordyn came in and "was all up in lap," " was all over her," "touchy-feely," and—the kicker—"you let the girl stay the night until seven in the morning." Honestly, I'm feeling like this is all the proof I need—and Khloé and her friends seem to agree.
Thanks to Comments By Celebs doing the lord's work out here, you'll notice Malika Haqq (Khloé's BFF) commenting "STRONG FACTS," Larsa Pippen (another family friend) commenting "Amen!!!" and Khloé herself just adding shouting emojis. If I were Khloé, my entire brain would just be shouting emojis at this point, so I really feel that. Malika goes above and beyond to prove herself as bestie of the year (to be fair, the bar just got way lower), and commented on another post about the situation saying "These hoes ain't loyal."
So…Malika in, Jordyn out? While Kylie hasn't officially responded to the rumors yet, a source told E! News that "the whole family is writing Jordyn off," and adds that Kylie "was in denial for days." For now, it doesn't seem like the Kardashians have taken action—Khloé and Kylie still follow Jordyn, and in other mildly suspect news, Jordyn and Tristan don't follow each other.
In a final twist to this situation, which I am updating in real time, Tristan apparently admitted to Khloé that it was true when she confronted him. Several sources approached Us Weekly that Tristan "admitted it was true" when she confronted him on Monday.
And there we have it. Tristan Thompson and Jordyn Woods are over, cancelled, done.  Can't wait to see what kind of pointed inspirational quotes Khloé posts on her Instagram for the next month, and really can't wait for a Revenge Body: Part II. (In that one, she gets Hulk-strong and beats the sh*t out of all her exes).
3 Signs His Female Friend Is Sabotaging Your Relationship
I can already anticipate all the backlash to this article (I announce to my three readers). People of different genders can be friends without being attracted to each other, When Harry Met Sally set us all back decades, blah blah blah. Ideologically, I want to and kind of do believe all that. But I was also single for basically the entirety of college, better known as the four horniest years of everyone's life. So, I can tell you with complete confidence that single women competing for male attention are among the most vicious, scheming creatures on this earth. If you are a heterosexual woman in your twenties, it's pretty much guaranteed that you have at some point toed the line of acceptable behavior with a guy in a relationship. Similarly, you've likely felt threatened by a female friend who you suspected would rather see your relationship fall apart.
Then again—purely statistically speaking, definitely not from experience—you've probably also ruined, or at least damaged a relationship by being a jealous psycho when nothing was going on. So, from my vast experience, here are the three signs to let you know that a female friend is actually something to worry about. Read on before sending your 50th passive-aggressive text about Karen from work.
1. She Pretends You Don't Exist
This seems like an obvious one, but you'd be shocked how many well-meaning boyfriends pretend not to notice don't notice it. Typically, I allow my close friends to go on five dates MAX before I start angling to meet whoever they're dating. If your boyfriend has a close female friend who shows zero interest in getting to know you, that probably means she's busy pretending you don't exist—and encouraging him to do the same. By never asking to meet you, your boyfriend's "friend" is, at best, undermining your importance in your boyfriend's life and subtly implying that you won't stick around long enough to be worth meeting. At worst, she's implying that it would somehow be awkward or unthinkable for her to meet you—after all, you wouldn't introduce one girlfriend to the other, right?
Since you can't exactly tell what's going on in her head, here are a few warning signs. If she exclusively invites your boyfriend to hang out one-on-one at bars, date-y restaurants, or activities she knows you're not into, not great. If he has to ask if he can bring you whenever she invites him to a party, not great. And if, when you arrive at a party with him, she pretends you're not there while treating your boyfriend like they're the only two people in the room all night, really really not f*cking great. Finally, if you go out of your way to be friendly to her—DESPITE ALL THIS—and she barely acknowledges you? That's when you walk out.
Basically, if she's trying to will you out of existence so she can keep pretending she has your boyfriend all to herself, you have a problem. And if your boyfriend lets her get away with this, you have a sh*tty boyfriend.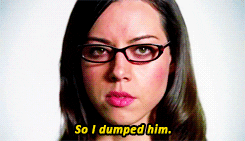 2. She Touches Him—Like, A Lot
I am not a total psycho. (Well, I kind of am, but that's not pertinent here.) I understand that friends make physical contact, and I am not suggesting you burn all your boyfriend's possessions every time you see him give someone a hug. That being said, if you're reading this article, I assume you have at some point flirted with a man. You know what friendly touching looks like, and you know what flirty touching looks like.
When it comes to this particular issue, I really encourage you to trust your gut. When I was 17, I spent months watching my best friend "playfully" hit my boyfriend's chest whenever he made a joke. I was told by everyone I knew to "calm down," and they were just friends. Even the friend in question just pulled the excuse that she "expressed herself physically." Lo and behold, six months later I find out they've been having secret sleepovers. So no, you can't exactly require that your boyfriend abstains from any physical contact with other human beings. But if you're watching someone touch your boyfriend in a way that makes you feel sick, pay attention to that feeling.

3. She Sends Him Emotional Drunk Texts
Again, I understand that friends are there to offer each other emotional support. If she tells him intimate things or goes to him for support after a breakup, that's not necessarily a red flag. But if she texts him highly affectionate or deeply personal things when her inhibitions are lowered (aka she's drunk AF), it may be a clue into what she wishes their relationship was like. And obviously, if she texts him anything along the lines of "come over," you need to have a serious conversation about boundaries.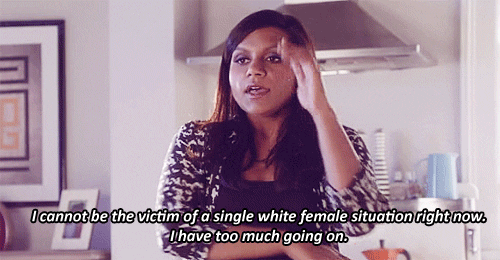 I'm not going to lie—this was a tough article for me to write. Like, had-to-take-a-walk-around-the-block-and-ward-off-a-full-scale-panic-attack tough. I've been cheated on, and I've also been the other woman (I think—they didn't mention their girlfriend for the weeks/months we spoke, but it later sure seemed like a girlfriend existed). So while I really do trust my boyfriend, I've seen firsthand how a seemingly happy relationship can be sabotaged from the outside. Is it usually a sign of an underlying problem? Sure. But even if it doesn't go to the point of cheating—if there's just another woman in his life who consistently forces your boyfriend to choose between her comfort and yours—it can make the strongest relationship feel shaky.
So, if your boyfriend has a female friend who exhibits the above behaviors, I encourage you to talk it out. No ultimatums, no screaming I WILL CUT THAT B*TCH (just me?). An honest conversation about what would make you feel better, and whether those are steps he's willing to take. If he refuses to even entertain the conversation, or—*gasp*—calls you crazy, then it's time to consider how much of the problematic dynamic is actually being caused by your boyfriend.
Images: Giphy (4); Parker Whitson/Unsplash
I'm Pretty Sure Lala Kent Fabricated Her Relationship With The Married Guy At This Point
I only started following Lala Kent on Instagram yesterday, and boy, what a payoff. In the past 24 hours, she's already given me enough fodder for not one, but two articles. First, there was the thirsty post of the bouquet that she captioned "Thank you R.E. ". We all obviously took R.E. to mean Randall Emmett, Lala's rumored married boyfriend since last season. Well now, Lala's back with another Instagram story, and I've got to tell you, this has really changed my opinion. At first I thought Lala was out here, playing up her illicit relationship for publicity. Now I think she's completely fabricating this relationship that does not actually exist for publicity. Take a look at this picture and you'll see why.

Let's cover the obvious first. NOBODY TALKS LIKE THIS. Nobody writes like this; nobody talks like this; this is not a letter that any person would naturally compose. "You're my angel and warrior"? "I am blessed to have you as my partner and lover"?? "LOVE, YOUR MAN AND BOY TOY"??? Come the fuck on. Nobody, especially not a man who's trying to hide his affair from his wife and kids, would willingly write this. You know what it does sound like, though? Exactly what a woman who's writing a fake love letter to herself would say, or what a man would say under duress with a pen taped to his hand and a gun to his head. Honestly, either scenario is equally plausible at this given point.
I also thought, upon first glance, that the handwriting was a little suspicious. One, it's pretty neat—a little too neat, perhaps? Is that sexist, though? IDK. Two, and most importantly, take a fucking look at the first supposed love letter from her supposed lover.

TWO COMPLETELY DIFFERENT SETS OF HANDWRITING. You don't exactly need a degree to discern that. And then reconsider the two messages. "I love you, I'm so proud of you" vs. "I am blessed to have you as my partner and lover"… the same person didn't write those. In scientific terms, there is just no fucking way. Wildly different handwriting, wildly different messages—it doesn't add up. We're talking two different unsubs people. And at this point, I doubt this supposed "R.E." wrote either card. I feel like Lala completely just made this whole relationship up to stay relevant and is sending herself flowers just to post about them. Which is pretty sad. I saw a girl do that once with a wedding ring in an episode of Catfish—that's the level she's on right now. She is no better than people who pretend to be complete strangers on the internet to trick other people into relationships with them. Just think about that for a sec. That is pretty fucking low. Somebody call Nev and Max—we've caught a live one.
Now this is the last I want to hear about Lala's fictional married boyfriend. If you need me, I'll be tailoring my resume to apply for a position at CSI.