The Best Early Prime Day Home Deals To Shop Right Now
Betches may receive a portion of revenue if you click a link and purchase a product or service. The links are independently placed and do not influence editorial content.
Mark your calendars: Prime Day is officially one week away. It feels like Christmas morning, only it's mid-July and I'm buying my own presents. I'd personally like to thank Amazon for allowing me to purchase the things needed to keep my abode humble while convincing my husband we're saving money since everything's on sale. 
Most of the discounts that start on July 12th are still being kept under wraps, but we're not gatekeeping all our favorites that you can shop early. Here's a roundup of all the best home deals so you won't actually break the bank when decking your halls.

Adjustable Portable 8 Position Lap Top Desk

Mind Reader
So you've finally decided to upgrade your space after 2+ years of WFH? It's time to stop working from bed, and this is the perfect portable laptop desk to make any space work-friendly. Goodbye, tech neck.

48-Foot LED Outdoor String Lights

Amazon Basics
While not everyone can vacation in Italy this summer, you can bring the Amalfi ambiance to your backyard by dining al fresco under these outdoor string lights.

Waterproof Portable Bluetooth Speaker

JBL
From the beach to your backyard, keep the summer concert series going just about anywhere with this waterproof portable speaker.
Nothing screams "adult" quite like buying yourself a vacuum. Don't worry though, you don't have to actually clean—this Roomba will do the dirty work for you.

Queen-Sized Sleep Element Mattress

Casper
You know how we mentioned adulting with the vacuum? Well, it's time to buy a new mattress too. The one you took from your childhood bedroom just won't cut it anymore.

100% Cotton Terry Bathrobe

Pinzon
Imagine being able to feel like you're at a five-star hotel while lounging around in your new bathrobe sipping on an oat milk iced latte every morning. You're welcome.
Great news—gone are the days of having to get up from the couch to see who's at the front door. The Ring Video Doorbell not only makes you feel safer, but also lets you keep an eye out for all your incoming Amazon packages.
You can blend way more than just smoothies with this Vitamix. Can't you just picture piña coladas by the pool?

7 Piece Barware Essentials Set

Viski
Speaking of piña coladas… Get classy with your cocktails this summer. This set has everything you need to make it shaken or stirred. 

Pre-Seasoned Cast Iron Skillet Set

Utopia
The seasoning process of skillets always seemed so complicated to me. Thankfully, these come pre-seasoned so you are one step closer to that perfect cast-iron cookie recipe.
I know it's all "hot girl summer" and "hot girl walks," but let's not forget to stay cool with a good indoor fan.

Wrist & Ankle Weights

Bala Bangles
Update your at-home workout with these aesthetically pleasing wrist & ankle weights. They're so cute you might even want to leave the house with them on.
Image: NICK FANCHER / Deathtothestockphoto.com
WTFunds: 10 Financial Terms Everyone Should Know
If you're a having a bit of a WTF moment right now because you're a REAL ADULT paying taxes and bills all by yourself, you're definitely not alone. Entering the finance world can be pretty scary because it is guarded by toxic finance bros and confusing terminology that seems to be an entire language on its own. So if you clicked on this article, you're probably thinking that you're just a beginner trying to get your feet wet, but honestly, you're one step ahead! The HerCapital team is here, and we're going to show you that money can be easy and approachable, by introducing you to 10 basic financial terms that you need to know.
1. Compound Interest
Ever heard the phrase "time is money"? Well, whoever coined that phrase (no pun intended) definitely knew what they were saying because in financial markets, time literally equals more money! Compound interest is the interest an investor earns on their original investment and all the interest that has been earned from the interest added up over time—essentially it's "interest on interest." The effect of compounding becomes especially powerful with time, which is why it is advised to invest early, even if it is with a small amount.
View this post on Instagram
2. Federal Reserve
If there's anything quarantine can be remembered by, it would probably be Dalgona coffee, wearing PJs to our zoom meetings, TikTok binges, and all that hubbub about the Federal Reserve. Wait…who…what? The Federal Reserve—"Fed" for short. Serving as the bank's bank, the Federal Reserve is responsible for setting monetary policy for the United States and maintaining the overall stability of the economy through altering money supply and interest rates. Through the sh*tstorm of COVID-19, the Federal Reserve is the one behind the scenes supporting households, small businesses, and government, through actions like lowering federal funds rates (the interest rate at which banks borrow and lend money to each other) and encouraging banks to lower lending requirements so they can give more money out to borrowers.
3. Inflation
Inflation is the rate at which the general level of prices for goods and services is rising or decreasing, even when the quality of said products is constant. Today, most central banks set inflation target rates at 2%. During the Great Depression, inflation rates were negative over a long period of time, which meant that prices were dropping like it's hot! Sometimes this happens because people hold off on buying goods, in turn hurting the economy in the long run since there is limited economic activity. On the flip side, positive inflation can be troublesome as prices of goods increase dramatically—imagine that $2 coffee doubling to $4 in a year; that would not be great for your budget.
4. FICO Score
We personally would never go on a sketchy Tinder date without going on an FBI-esque investigation and going down the rabbit hole of weird 2014 Facebook photos. When it comes to credit, it's pretty similar. By ranking consumers on how likely they will be to pay off their credit obligations, FICO scores help lenders make informed decisions on whether or not they will extend credit. Scores range from 300 to 850 and baked into this score are elements like how much you currently owe, your payment history, and the length of your credit history. The higher your score, the higher your creditworthiness, and people with higher scores often have an easier time securing loans and seeing benefits in their terms and interest rates. Ah, if only spotting red flags in people were that easy.

P.S. In case you are wondering, the name comes from the Fair Isaac Corporation who created the score. 
5. Individual Retirement Account (IRA)
If there's anything everyone in the world can agree on, it's that we f*cking love free money. So think of IRAs as piggy banks that let you set aside money for retirement, where your contributions grow with interest and you don't even have to lift a finger. Traditional Individual Retirement Accounts (Traditional IRAs) let you deposit pre-tax income to a retirement account where that money grows tax-deferred until you take it out for the golden years. Roth IRAs, on the flip side, are not tax-deductible (meaning you deposit after-tax income), but you can still make contributions as long as you are earning an income and withdrawals are tax-free.  A key difference between the two is that you cannot deposit into a Roth IRA if you earn too much (>139k if single and 206k if you are married)! To open a Roth IRA, you need to find an institution (banks, brokerage companies, federally insured credit unions, and savings and loan associations) that has IRS approval to offer this type of account. 
6. Capital Gains
Like the term itself describes, capital gains are the gains (income) that stems from the sale of an asset, such as financial investments or real estate. If you hold the underlying asset for less than a year, the capital gains are taxed at the same rate as your income. This profit is typically taxed at 20% or less for long-term assets i.e. assets held for longer than one year. 
7. Securities
Now, while putting your money in a savings account is better than just parking it under your mattress, you could honestly get so much more by putting your money into securities, tradable financial assets used to raise capital for governments and corporations both privately and publicly. Traded in financial markets, securities include stocks, bonds, and options, all varying in definition and ownership. What you really need to know, though, is that investing in securities typically comes with a higher yield, which means more bang for your buck, literally. Read more about them on our website.
8. Financial Statement
If you're an investor, you have probably heard of people screaming to buy the "hottest stock" of the moment. But you might wonder, what's the hype? That's where financial statements come in. Financial statements clear the noise and get to the down-and-dirty realities of a company's financial performance. They are written records of all business transactions and activities, reporting elements like profit and losses, liquidity, and assets. The four main financial statements are the balance sheet, income statement, statement of shareholder's equity, and cash flow statement. So when you invest, be sure to do your research, comb through those statements, and make an informed decision.
9. Asset Allocation
There are appropriate times to be risky and times to play it safe. Just like in life, you might want to try out that piece in your closet that you never, ever wear, but if you're cutting bangs after a fresh heartbreak we'd tell you to slow down a little bit. When it comes to your financial plans, asset allocation is all about understanding and tolerating your risk and wisely choosing where to put your money. Different asset classes react differently in the economy, thus you can create your own mix that caters to your needs, time horizon, and goals. And take the time-tested tip to diversify, diversify, diversify!
10. Bull & Bear Markets
Within the financial world, the terms bull and bear markets refer to the general sentiment about the markets. A bull market is a sustained period where prices for securities are on the rise, often driven by optimism, investor confidence, and high expectations. On the flip side, a bear market is a period of contraction, characterized by falling prices. It generally occurs amid investor pessimism and shaken confidence and is often accompanied with an economic downturn, such as recession. I guess you could say that investors find this time to be unBEARable… sorry.
And that's it—the 10 financial terms everyone should know. Wasn't too bad, right? If you have any more questions or are looking for more resources, you can drop a comment here, or check out our HerCapital website and Instagram @her.capital. We've got lots of stuff for our community of badass women invested in their financial futures like you.
Images: Sharon McCutcheon / Unsplash; @her.capital / Instagram
What To Know Before Moving In With Your S.O. So There Are No Surprises
Now that the world is slowly starting to turn again, it might be safe to resume thinking about the next phases of our lives. Like, if the pandemic put your wedding on pause for a while, you may be starting to look into microweddings or other alternatives. Similarly, if coronavirus f*cked up your plans to move in with your S.O., now that spring has come and gone, it may be time to start thinking about that again (just be warned that working from home with them for months on end might result in a literal crime scene). It's exciting to be able to take those big steps with your S.O., but before you take the plunge, there are a few things to think about, especially when it comes to cohabitation. We spoke with Leslie Montanile, an N.Y.C-based divorce attorney, to discuss how to successfully move in with your S.O. and the many benefits of living together before saying "I do."
Blending Lifestyles
When you move in with your S.O. before you tie the knot, you get to know all of their daily habits and quirks, which is a huge bonus when preparing for newlywed life, according to Montanile. While you might think that your partner is crushing #adulting prior to moving in together, you may quickly find out that Brad isn't actually the neat freak you thought he was, but was just shoving his dirty laundry in the closet before you came over. However, says Montanile, "the good news is that you can find a middle ground by blending your differences so that both of you are comfortable in your new arrangement, making adjustments before taking that trip down the aisle." Just like you learned in kindergarten, sometimes you have to compromise.
Growing Pains

Although moving in together can bring couples closer, don't expect it to be all sunshine and rainbows from the moment you move in. Most couples will likely argue during the adjustment phase, especially when it comes to personal space and living habits. Since friction is totally natural when you and your partner have differences about, like, the A.C. temperature, Montanile suggests finding "a solution to your differences that are creating friction in the first place." This can actually be super healthy for your relationship, Montanile says, since "You can be secure knowing that arguments during the adjustment period do not mean you are not compatible—in fact, it means you care enough about your partner to express your frustration or discontent at the moment and are not afraid to show how you are feeling." Eventually, your lifestyles will meld together, and you can get back to your mushy couple stuff (gag).
Come As You Are
Initially, giving up your personal space and private time can make you especially pissy towards your partner—being hypercritical, starting fights about what you should order for dinner, sh*t like that—or it can even make you question the entire decision to move in together. Before you commit to living together, Montanile advises sitting down "to discuss what is important to you to keep as part of your new life together. Whether it is a weekly date with your friends, yoga, cooking class, golfing on the weekend, etc., these are the activities that made you and your partner happy before moving in together and should not suddenly cease." After all, no one wants to be that girl whose only personality trait is being Josh's girlfriend. Since you fell in love with your partner as a unique individual, "maintaining some of that individuality keeps your romance alive," Montanile explains.
Making Money Moves
Talking about money can be awkward, but it's necessary to discuss when moving in with your S.O. When you began dating, you might have followed a set spending pattern, like taking turns paying for dates or having the partner with the higher salary treating the other, but there are even more financial factors to consider when combining households. Montanile advises couples to "discuss their budgets and spending habits before moving in with each other so that there are no surprises." While it's not the sexiest conversation, "Deciding how you will handle the newly joint expenses upfront will take the stress off the relationship right from the start to concentrate on the fun new adventure of living with the one you love." For example, you could both agree on a bill-splitting app to use or create a shared spreadsheet to track expenses, then you can move on to the fun stuff, like attempting to put your IKEA bookshelf together.
Happily Ever After
While you may want to jump straight into wedding planning the minute you've posted your "He put a ring on it!" Instagram, there are literally so many perks to living together first. After all, remarks Montanile, "it is a big deal to move in with someone no matter how much you love them and want to be with them." Basically, it's like getting to know each other all over again, except in an up-close way and in your shared space, instead of over Tinder. So, it's not uncommon for your S.O. to act a little differently after move-in day, Montanile says. "Perhaps you find that your partner is quieter than usual—realize that when you are with someone all the time, you will learn that they are not always 'on' as if you were dating. Everyone has downtime or up time that you do not see when you are not living together." You shouldn't worry too much, though, because your partner is prob just adjusting to not having their own space anymore, which can cause them to behave a little differently until they become comfortable in your new, combined abode. At the end of the day, all of the ~struggles~ of moving in together are so worth it, since they're all part of creating a grown-up, happy, and lifelong relationship.
For more insight on love and law, visit Leslie Montanile's website.
Images: Cottonbro / Pexels; Giphy (2)
I Tried To Keep A Budget For One Month & Here's What Happened
If you've read any of my other articles, you know I'm all about being a betch on a budget. But I have a confession. I don't actually "budget" my money. Sorry, I'm a fraud.
To earn back your trust, I decided to turn things up a notch for a month and set hard limits on how much I can spend on shopping, going out, groceries, and literally everything else. Here's how it went down.
Part 1: My Plan
TBH I had a head start when it came to managing my funds. I've been tracking how much money I make and how much I spend for the last three years. No, I don't use an app designed for this exact purpose. How do I do it? Yup, you guessed it! I created my very own color-coded, personally-customized spreadsheet, complete with formulas, monthly summaries, and labels galore. But I don't budget anything. I literally just tally up how much comes in and how much goes out every month, then cry about how much I could've saved.
Here's how much I usually spend every month:
Shopping: $100
Going Out: $300
Groceries: $200
Coffee: $100
Gas: $250
Bills: ~$2,000
Total: $2,950
I promise I didn't just pull those numbers out of thin air. To prove it, here's a screenshot from my spreadsheet so you can see what the weekly damage typically looks like:

As you can see, I love egg sandwiches, but those delicious bad boys add up. So do groceries, and lattes, and sushi lunches. I obviously had to reel it in to save any money. I had to try to spend as little as possible on everything I'm generally so carefree about.
Here are the hard limits I planned to enforce for the month:
Shopping: $0
Going Out: $100
Groceries: $200
Coffee: $50
Gas: $200
Bills: ~$2,000
Total: $2,550
I planned to cut back my spending by $400.
*gulp*
Part 2: What Happened (By Category)
Shopping
Since my monthly allowance was a whopping zero dollars, I wasn't supposed to shop. At all.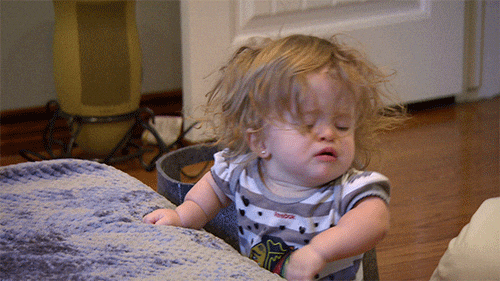 Whereas I'd normally fall for sponsored Instagram fashion posts on the regular and risk taking a $10 loss on lingerie from China I'll never wear, I had to not do that. Do you know how hard it is to close out of a website full of amazing deals, or scroll past an ad for super cheap bikinis? REAL HARD.
Anyway, I had ants in my apartment for the first time ever so, of course, I had to blow my limit on something super boring like ant traps. So I went to Target to buy them and bought one box instead of two to save $5. I could've only spent $5, but I ended up spending $24 because I also needed nail polish, and then I found a cute bra on clearance…because it's Target and nobody ever walks out of Target with only what they originally came for. Don't judge me.
Goal Spend: $0
Actual Spend: $24
Pass/Fail: FAIL
Going Out
I rarely go out to bars, but I always go out to eat, which is where a lot of my money goes every month. The month I was budgeting, I only went out a few times and kept my orders to a minimum when I did. I also let people treat me to dinner or a drink for once in my life, so I didn't have to be a total hermit. Shout out to my real ones. #blessed. It was a struggle fighting off all of my brunch, sushi, and margarita cravings—but I did it!
Goal Spend: $100
Actual Spend: $86
Pass/Fail: Pass
Groceries
I have a huge appetite, and I f*cking love food. So, yeah, I basically starved this month. Jk. I was just forced to eat and cook the stuff that's been in my fridge and pantry, when I'd typically go out to eat and let perfectly good groceries go to waste.
I forced myself to get only what I needed, when I'd normally buy a ton of new snacks and random sh*t that caught my eye while wandering around Whole Foods and Trader Joe's. I also meal prepped for the week and tried to not eat all of it in two days. And I succeeded.
Is it healthy to live off waffles, instant ramen, and almond milk lattes? Because I've been doing it for a few months now and I feel p r e t t y damn good

— Morgan Mandriota (@MorganMandriota) March 1, 2019
Goal Spend: $200
Actual Spend: $194
Pass/Fail: Pass
Coffee
my favorite winter activity is complaining about the cold while I'm chugging iced coffee

— Betches (@betchesluvthis) February 23, 2019
I write for a living, and I love getting my work done from coffee shops 3-4x/week. But a $5 almond milk latte with cinnamon plus $1 tip every time I hit Starbucks or my local coffee shop adds up to almost $100/month on coffee that I could brew at home for free. This month, I basically worked from home more often and went to the coffee shop less often to save a few bucks. Not much else to document here. Love you, caffeine.
Goal Spend: $50
Actual Spend: $37
Pass/Fail: Pass
Gas
When I'm not at the gym, on my couch, or hanging with friends, I drive around aimlessly for hours. Weird? Let's call it therapeutic. Doing this obviously eats up gas. I drive a Jeep that fills up at around $30/tank. $30 in gas for a week can easily become $60 if I end up driving to the Hamptons just to look at crazy houses two times per week. Shut up, it's inspiration and motivation to achieve my goals. I stopped doing this, though, and put my time to better use instead—and definitely saved some cash in the process.
Goal Spend: $200
Actual Spend: $126
Pass/Fail: Pass
Bills
Between my rent, phone, car, phone insurance, car insurance, Netflix, and other little expenses that pop up, like doctor visits and monthly cloud storage subscriptions, I spend about $2,000 every month in bills. Bills are a must, so I couldn't reel that in any more than I already have.
Goal Spend: ~$2,000
Actual Spend: ~$2,000
Pass/Fail: Pass?
Part 3: Final Results & Thoughts
Here are the final numbers:
Shopping: $24
Going Out: $86
Groceries: $194
Coffee: $37
Gas: $126
Bills: ~$2,000
Usual Monthly Spend: $2,950
Total Goal Spend: $2,550
Total Amount Spent: $2,467
Total Goal Saved: $400
Total Amount Saved: $483
Pass/Fail: PASS! (WITH ROOM TO SPARE)
I was able to save almost $500 just by budgeting my spending for one month! Not shocking, but definitely difficult.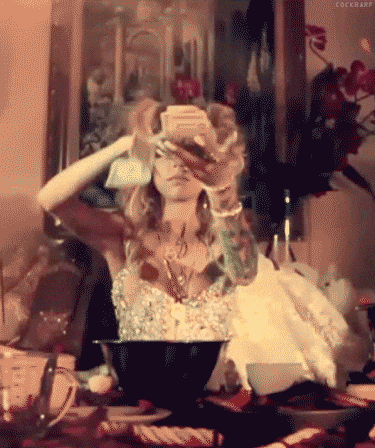 I realized that I spend WAY too much money on unnecessary sh*t when I could be saving it instead. I have goals, like eventually owning a house and traveling the world, so I need to be more mindful about where my money is being thrown around in order to achieve those goals.
As tough as it was to fight the urge to get an egg sandwich or a margarita when I desperately craved one, it felt awesome to exercise willpower that I didn't know I had, and save money while doing it.
Moral of the story: Budgeting your money is 100% possible and 200% worth the struggle when you have hundreds of extra dollars laying around at the end of the month. Do it.
Second moral of the story: I really just need to be a gazillionaire who doesn't need to budget her funds anymore. Venmo me, plz.
Images: Giphy (2); @morganmandriota, @betchesluvthis / Twitter; @betches / Instagram
Organizational Products You Need To Channel Your Inner Marie Kondo
Like the rest of the world, I am really, really obsessed with Marie Kondo right now. Like, I need her to follow me around and give me life advice all the time. She could tell me which of my dates are trash and don't bring me joy. She's like Xanax in person form with her little calming voice. There is nothing that woman can't handle, and she'll make it pretty and decluttered in the process. If you want to live as peacefully as Marie, you def can't be throwing all your sh*t around all the time because living in clutter stresses everyone out. I bought a TON of organizational products after moving to smaller apartment last year and even more after watching her show, but here's a list of my favorite have-to-have organizational products if you want to live the Marie Kondo way. It's like I'm Oprah, here are my FAVORITE THINGS:

This rack is the best. Not only is it super cheap, but I was also able to build it in about 7 minutes. I'm no Rob Parks-Valletta, but if you ask Scheana that's pretty impressive. I used to have a way bigger closet and I kept my shoes in clear plastic boxes (which is totally the way to go if you have the space) but in my new tiny af walk-in, this saves soooo much space. I have it against the wall where there isn't hanging space and it fits exactly 30 shoes—booties and heels included. They also have a hanging version for the back of your closet door (I have both for max storage) . Pro tip: Put your heavy shoes on the bottom, which I originally didn't do and eventually my tower started to sag. The tower is also attractive enough that it can be on display in your room without being totally heinous.

I started meal prepping because I never have time to cook, which caused me to eat out all the time, which caused me to gain weight. I've been using old takeout containers for ages to portion out my meals, but they're ugly, they crack, they take up a lot of space in my cabinets, and they come in so many different shapes and sizes and I can never find the f*cking matching lids. I finally decided to buy nice glass containers, and it changed my life. They are easier to clean, look nicer, have locking lids so they don't spill, and are oven/dishwasher/microwave/freezer safe. I have this set of 5 instead of 30 cheap broken ones, and I feel like so much more of an adult.

This is for that "paper" section that makes people cry on Tidying Up With Marie Kondo. Why? Why are you saving old receipts from 2009 anyway? Once you go through all of your paper, photos, etc., save what you absolutely must keep in this adorable organizer. It also folds up in case you don't have an office and don't want it as wall art.

You have no idea how ashamed I am of myself. There is nothing, nothing that excited me more than the day I first used my Joseph Joseph Kitchen Drawer Organizers. This is because I have the World's Tiniest Kitchen™ and I have no drawer space. These trays are so genius. I was able to use both the cutlery one and knife one in one standard kitchen drawer with room to spare. Cutlery used to take a whole drawer by itself and then I had all my kitchen knives haphazardly thrown about in it and risked violent death every time I needed one. Okay, at least a light stabbing. NOT ANYMORE. I have these right next to each other and then in the additional space leftover, I have odd kitchen items like wine openers, chopsticks, pho spoons, rubber wine corks, etc. This is how I know I'm old, cutlery organization brings me SO MUCH joy.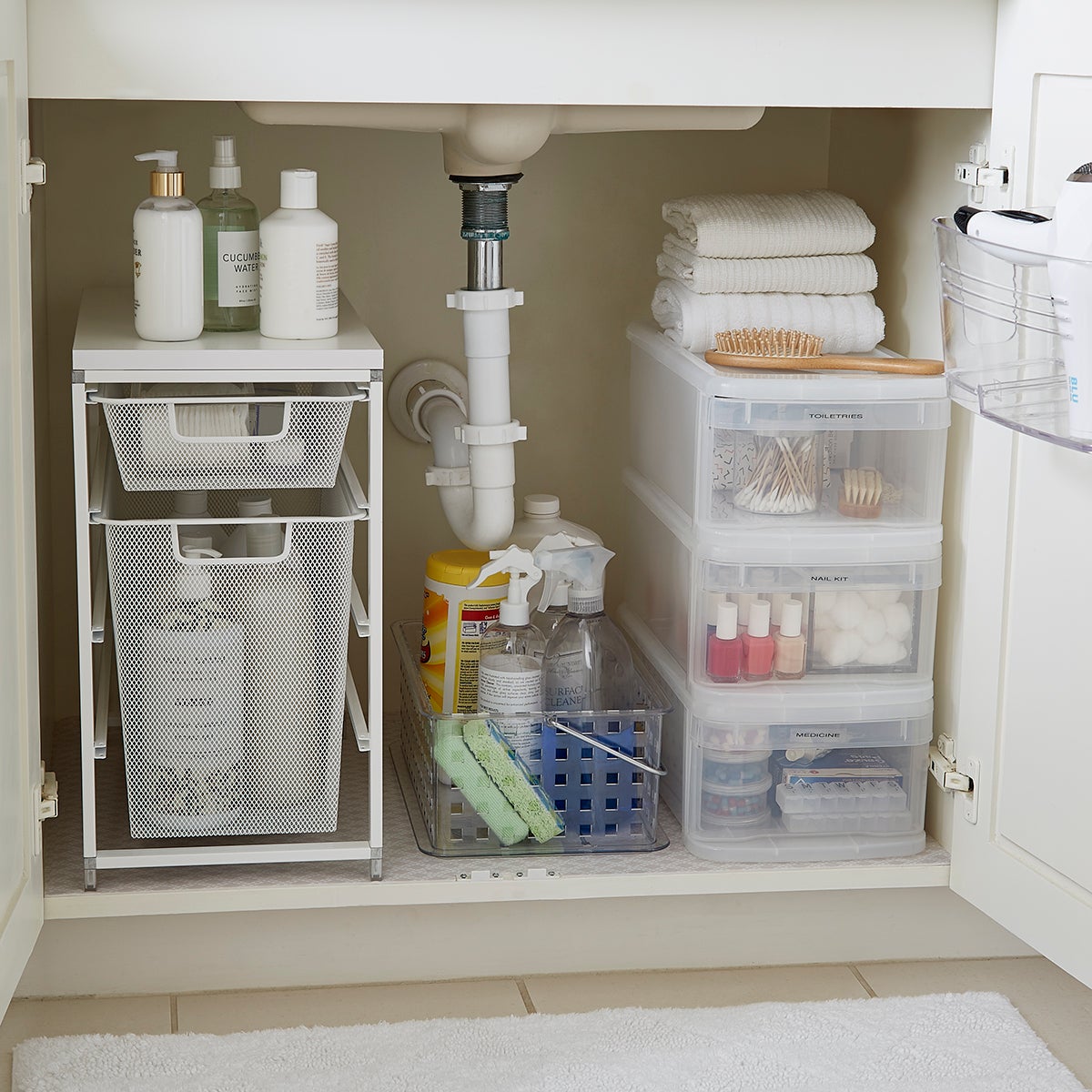 I saw this on Instagram and my mind exploded. Let me ask you, is it weird to be sexually attracted to a bathroom storage set? I mean. Just look at the picture. My bathroom under sink area was full of baskets that were stacked on each other and I had to move each one to get things out of them. This is so much better. However, definitely measure your under sink before you just buy all the stuff. I learned the hard way that my sink pipe is not so neat and narrow as the picture and instead juts out sideways to take up a ton of unnecessary space. I was only able to fit two stacking drawers instead of three, and there was no room for the little caddy in the middle. But I just kept those items and put them under my kitchen sink. I still regret nothing and I can find things so much easier now.

This is one of those weird organizational products that I never knew how much I needed. Since I like to procrastinate doing laundry for as long as possible, I go through a lot of clothes and all my hangers end up all over the place. Usually on the floor of my very tiny closet. Which then I accidentally step on them as I'm trying to get to my clothes. And then they break. And then I cry, because they're those slim-fit velvet hangers, which btw, save so much space and are a total must-have if you somehow missed the boat when they started being trendy 10 years ago. But I saw this hanger stacker recently and was like, "actually that could fit in my tiny closet next to my shoe rack" (see above). So I decided to give it a try and it is so convenient. I just neatly toss all my hangers on it as I use my clothes. It's also way nicer when you need to hang things back up, since they're all in one place, you don't have to go hunting for them. We've had no hanger casualties or closet clutter since!
Images: Amazon (5); The Container Store; Netflix
Betches may receive a portion of revenue if you click a link and purchase a product or service. The links are independently placed and do not influence editorial content.
3 Genius Products That Solve Your Most Pressing Adulting Problems
Being an adult is hard. I know, hot take. I'm convinced that there are certain mysteries that no matter how old you get, will never be solved. Things like "how do I lose socks when I do my own laundry" and "what happens to all my Tupperware lids" and "how on God's green earth do I fold a fitted sheet???" Luckily, this is 2018, and there's a random gadget or start-up to solve almost every problem we have. I've scoured the internet for the most genius inventions to make your life easier. I'm starting with the bedroom because that's where I spend the most time, and because figuring out how to fold a fitted sheet literally keeps me up at night. Here's what I found:
Probably the bane of my mom's existence (other than the fact that I work for a company called Betches) is how I never made my bed in high school. I know, I was just so "cool" and "rebellious". IDK, it's just annoying, okay? Thankfully, this new company called Primary Goods has invented these kinda genius bedding sets that basically make themselves so you don't have to make your bed ever again. If you've ever gotten annoyed by how your top sheet doesn't stay in line perfectly with your duvet, then you'll love how the duvet cover and the top sheet snap together so they don't separate in the middle of the night. This also makes making your bed easier since you just snap the top sheet to the duvet and then throw them both over your bed at the same time. So no more wrestling with the flat sheet, climbing on top of your bed and trying to tuck it under your mattress and then realizing how not strong you are, and then doing it all over again with your duvet cover. Nope. You can do it in one go. Personally, I feel like the whole point of having a top sheet is BECAUSE it is separate from your comforter, but then again I only use a top sheet when it's like 98 degrees and too hot to sleep underneath a real blanket. But it easily unsnaps from the duvet cover so it's like, NBD. Regardless, I did like how the design of the duvet cover made inserting my duvet a lot easier, which is truly a blessing. Also, their fitted sheets really stay put and all their bedding is RIDICULOUSLY comfy.
If you've ever struggled with folding a fitted sheet (ALL OF US, DON'T EVEN LIE) then holy shit did I find the product for you. It took me a lot of Googling, but I found something. QuickZip fitted sheets are two-part fitted sheets (I know, say fitted sheet again) that have essentially solved this age-old problem. There are two parts to the sheet, a bottom and a top, and they're separated by a zipper. The bottom part fits around the perimeter of the bed, and it's basically like a ring. The top part is more or less a rectangle that zips on to it. So basically you have a flat top part that folds easily, and the bottom part that stays put around the bed. This means no more sheets popping off the bed in the middle of the night, and more importantly, no more Youtubing videos on how to fold a fitted sheet. Holy shit, my life is changed. What will I do with all this extra time now? Maybe I'll start a vlog.

Okay so remember when I implored the universe what happens to all my socks when I wash them?? How do I do MY OWN LAUNDRY with an even number of socks and end up with at least 3 missing ones on any given week? Are they hiding with the Tupperware lids? Are they being transformed into dryer lint? Only God knows. Well, I found this thing called Sock+its that's basically a sock keeper. You attach your socks into it, throw the whole thing in the laundry and the dryer, and it keeps your little sock couples together for you. No more mismatched socks, unless of course, you're into that look. What a miracle!

Image: Toa Heftiba / Unsplash
What To Do If You Procrastinated Your Taxes
April 17 is officially the worst day of 2018. No, the pee tape didn't leak; it's motherfucking tax day. It's a day when even the most commie pinko liberal SJW becomes a wingnut constitutional originalist. It's also a day when we're reminded (ad nauseam) of how much money the scumbag tax prep companies spend to keep our tax code complicated as shit. Coincidentally, if you're reading this by the time it's published and haven't done your taxes yet, it means something else: you done fucked up. Luckily, the entire reason I got harassed into writing this was to explain what to do if you missed the tax deadline (or just fucked them up).
The good news is that it's not all gloom and doom. Even if you hit the unholy trifecta of a) being late as shit, b) owing money and c) making dumbass mistakes, you're probably ok. The IRS isn't going to repossess your grandma's house, and the jackbooted brownshirts aren't coming to throw you into debtors prison. I mean, I'm also definitely neither a lawyer nor an accountant, so I guess those things could happen. More likely, though, one of the following (decidedly less threatening) scenarios apply to you.
What To Do If You Missed The Tax Deadline
Scenario 1: You're Expecting A Refund
This is undoubtedly the best scenario for people who read this website, because you don't have to do shit. Well, almost shit. If (like most Americans) you overcook your withholdings on your tax forms during the year (and you work an hourly or salaried job where taxes are automatically withheld), you're probably owed a refund by the IRS. In that case, all you have to do is file them by November—no special extensions required. You see, the IRS has already held onto your money (interest-free!) for the better part of a year, and they're happy to continue to do so. They won't even charge you a penalty!
The only caveat is if you don't e-file by November, you have to mail them in. I'd bet good money ($5) that 50-60% of our readers don't know how to address an envelope at this point, so don't let it get that dire.
Scenario 2: You Owe Money
Option One: File And Pay ASAP
LMAO you're fuccccccckkkeeeedddddddddddddd. Jk, you really aren't. But the bad news is, you can no longer file for an extension that would have bought you until November to get your taxes filed. Your best bet is to file ASAP to avoid the penalties and interest the IRS will gleefully throw at you. (Note, again, that you get no such recompense when they're holding onto your money.) File now, pay your bill, and honestly nothing bad will happen to you outside of some (honestly pretty reasonable) fees. You can use the government's online forms or whatever soul-sucking tax prep software you prefer. If you made under $58,000 last year, you can file your federal taxes 100% free through any service.
Wait, what's that? You owe a lot more money than you have because you're incredibly financially irresponsible? Ugh, you'll still be ok. Step one is still to file ASAP, and to pay as much as you can upfront. If it takes you another paycheck or two to make up the rest, you won't be out that much. But if you'll need a lot more time than that (where the fuck does all of your tax-free money go, anyway?), you can set up a payment plan with the IRS. There will still be penalties involved, but they're a lot less squirrely when they know when the money will be there. Note that you can't do this, like, every year.
The good news is that this does not apply to the majority of workers, usually only contractors and others who receive 1099s instead of W2s. That'll eventually be most workers if companies like Uber get their way, but not yet. Yayy gig economy!
Option Two: Become A Sovereign Citizen And Go Off The Grid
If you think about it, have you ever really read the Constitution and all of its amendments? I reckon that you have not, but there's a nonzero part of the population that has, and an even nonzero-er portion of those people interpret it to mean that the government doesn't actually have the right to tax you. Are these people insane? Fuck and yes, they're insane as hell, but you have to admit that there's a certain charm to living in Bumfuck, Oregon and shitting in an outhouse. So refreshing! You just have to get used to carrying a gun at all times and yelling "TAXATION IS THEFT AND THEFT IS VIOLENCE" every time you pass a cop.
What To Do If You Made A Tax Fuckup
Scenario 1: The IRS Rejects Your Return
So you filed on time, which is good! V responsible of you. But then, seemingly out of nowhere (read: like 24 hours after you clicked "file" in TurboTax), you get a harrowing message: The IRS has REJECTED your vile, no-good return! This sounds like the audit police are about to bust in and give you the Michael Cohen special, but fear not—they just need you to fix your obviously wrong shit. Your tax filing software (whether you do it through the government or otherwise) will tell you where you messed up. In this situation it's a glaring, easily fixable error; like forgetting to claim any income or trying to write your Sephora points off as a charitable donation. Oops!
Scenario 2: The IRS Accepts Your Return
While this may sound better, it's actually… not, somehow? That's only because you have to play the waiting game, though. If the IRS accepts your return with something you know is wrong, that means you have to wait until it's processed, and until you receive your return (if you're expecting one) before filing an amended return. If you already owe money or made a mistake that could cause you to owe money, on the other hand, you should file that shit ASAP. And don't worry about the little shit: The IRS will correct your math mistakes on their own, and they'll kindly let you know if you're missing any forms or schedules.
Finally, don't worry too much about a mistake leading to an audit, even a kind of big omission. You want to know the biggest red flag for IRS auditors? Making more than $200k per year, which quadruples your chances. Otherwise, unless you're just straight up not reporting all of your income (they receive the same forms you do, you know..), you aren't worth the trouble.
Heads up, you need to keep up with the news. It's not cute anymore. That's why we've created a 5x weekly newsletter called The 'Sup that will explain all the news of the week in a hilarious af way. Because if we weren't laughing, we'd be crying. Sign up for The 'Sup now!
Images via Giphy (3)
Good Credit Cards For People Who Know Nothing About Credit
I first realized I needed to improve my credit score when trying to take advantage of the 20% off discount I could get by opening a GAP credit card. I thought "sure, I want these jeans and I would like them to be cheaper." Turns out credit cards don't totally work that way, because you can only get a credit card if you have a credit history, and you can only have a credit history if you get a credit card (among other ways, but that's the easiest). It's kind of like how you need job experience to get a job, but nobody will hire you without experience. For the record, at age 19 I had no credit history and no chance of getting a discount on those jeans.
I've come a long way since then, and I have learned quite a bit on my journey from credit-less to Credit Karma user to about-to-get-some-free-shit-from-magical-rewards-points. First of which being: don't waste a credit check on a pair of mediocre jeans from the GAP. I'm not saying I'm an expert, and this is Betches not like, the Financial Times, but I do hope that I can share some relatable wisdom for those of you that don't know what a credit score is, still use your parents' credit card, or didn't realize you can literally get paid to shop (see cash back card below). Because building credit and then deciding which cards to get once you've built that shit is harder than finding a quality photo of Kylie Jenner's baby bump.
Step 1: Build Some Credit
It's hard af to get your first credit card (see GAP story above), but it's not impossible. Unfortunately, most starter credit cards require a deposit, will have a low credit limit, and will give you absolutely no rewards. But life is rough and we all gotta start somewhere. So if you are a total credit newbie, or have to crawl yourself back up from a shitty credit score due to overdue student loans, here are some decent options:
Capital One Platinum Card: No annual fee, and you can get an increased credit limit if you behave (read: pay that shit on time) during your first five months.
Discover it Secured Card: This ish requires a deposit, but you can get cash back on purchases and it helps you build your credit as long as you are responsible (again, pay that shit on time).
P.S. When I say "pay that shit on time" I mean ALL that shit. None of this "minimum payment due" crap—it's is a trap. Pay your full balance whenever it is due or you will buried in interest, debt, and shitty credit for the rest of your life.


Step 2: Get Some Rewards
Turns out the benefits of credit cards extend far beyond the ability to spend more money than you have in the bank (I am by no means encouraging this behavior—seriously, don't do it. But it is a thing). You can get free flights, hotel rooms, and free money (sorta) just by buying things with your credit card and paying it back on time. So once you have built up some credit, you should throw your debit card away, shred your cash, and get in on one of the rewards cards below, because it's basically like getting paid for your responsible shopping habit.


Straight-Up Cash Back Rewards
Chase Freedom: You get $150 cash back when you spend $500 in the first three months. It's basically like a buy 2 get 1 free situation.
Bank of America Cash Rewards: This card has no annual fees, you get 1% cash back on all purchases plus 2% at grocery stores and wholesale clubs and 3% on gas for your first $2,500 in purchases each quarter. And if you deposit your cash back into a Bank of America account, you get a 10% bonus. That's right—literally free money.
Travel Rewards
Chase Sapphire Preferred: Get 50,000 points to redeem on travel when you spend $4,000 in the first three months. So like, buy an expensive plane ticket, and then get some points to help make your next plane ticket less expensive.
Airline Specific Cards: If you fly the same airline on a regular basis, you should probably be working those mileage points. Southwest, Alaska, and United all have credit card options, and if you have United's rewards credit card, maybe they will let you keep your dog alive.
Amex Starwood Preferred Guest: Earn enough points and you can get free nights at fancy-ass Starwood hotels (The W, St. Regis, etc.). Plus, this one is a pretty purple color and I always felt like having an American Express card means you made it in life.

Step 3: Swipe Responsibly
Whatever card you end up getting, even if it's not one of the above credit cards, fucking pay your bill on time. Because none of the rewards from credit cards are worth it once you start getting charged interest. Set up auto pays, write it in your calendar, do whatever you need to do to pay off your balance IN FULL each month. And remember that every time you apply for a card, your credit score takes a hit (it's a vicious cycle, I know. Life, again, is unfair). So please don't go apply for every card on this last and say Betches told you to, because we sure as hell didn't (and the credit bureaus aren't gonna care).
Images: Giphy (3)