Leonardo DiCaprio Might Be Getting Engaged Soon
Leonardo DiCaprio is getting engaged. Okay, I'm getting ahead of myself. Rumor has it that he's planning on popping the question soon, and I'm v upset about it. After 43 years of being the ultimate bachelor, Leo might be settling down with his new model of the week, Camila Morrone. An insider told Us Weekly that he has "never loved a girl like this." Aw, that's sweet. Of course, there's not really any way to judge the accuracy of "insider" reports, but let's assume this is true. Is Camila Morrone the future Mrs. DiCaprio?
Need a recap on who Camila Morrone is? As we've discussed, she's a 21-year-old Argentinian model and actress. Yes, you read that correctly, she is 21. Half his age. Actually, NOT EVEN HALF. The two have been dating since her high school graduation December 2017, and have been photographed around the world together. It's no surprise Leo fell hard for her since she falls perfectly into his "type" (model, younger than him).
So yeah, it makes sense that Leo is very into Camila, because literally who wouldn't be? I'm happy for Leo, but also some of the details in the Us Weekly report are a little cringey. The source talks about how Leo is finally ready to settle down, which is not that shocking considering that he's been an adult man for a quarter of a century. Apparently Gisele Bündchen, whom Leo dated from 2000 to 2005, wanted to get engaged, but Leo thought he was too young. Okay, first of all, if you're dating someone for five years and not willing to discuss marriage, what are you doing? Second, Leo was 31 in 2005. If 31 is "too young" for men to get married now, just throw me in front of a moving train.

In the Us Weekly article, the source also says that Leo is "ready to have kids," and that " loves having little kids around and wants to have kids with Leo." She also apparently wants to get married first because she's "very traditional in that way." I believe that all of this is true, but I'm still not sure I can imagine Leonardo DiCaprio having children. Whatever, I guess anything can happen.
Will Camila Morrone be Leo's lasting love? Maybe! To date, neither of them have ever confirmed or commented publicly on their relationship, but time will tell. Soon, we might get some sort of announcement, or see Camila in public rocking the largest ring we've ever seen. Sorry ladies, but the chance to get with Leo might be gone. I'm not crying, you're crying.
Image: Giphy (1)
Who Is Camila Morrone, Leo DiCaprio's New Girlfriend?
In all the news of celebrities getting engaged after .25 seconds of dating, you might have missed that Leonardo DiCaprio has a new girlfriend. And yes, before you even ask, she is a model. She and Leo DiCaprio have actually been dating for almost a year now, so we decided that it was finally time to do a little investigating and actually get to know this lucky b*tch. Her name is Camila Morrone, and before you go typing who is Camila Morrone into Google, we did some digging. We discovered everything there is to know about the stunning 21-year-old, so you don't have to do your own research. You're welcome.
#LeonardoDiCaprio y #CamilaMorrone, enamorados en #SaintTropez: paseo en yate y lomazo https://t.co/dP7vJjhyZX #fielinks

— mabgia (@mabgia) July 30, 2018
Who Is Camila Morrone?
Needless to say, Camila Morrone is an actress and model. She's obviously gorgeous and slightly age-inappropriate for the 43-year-old Leo, but at least she can legally drink. Camila is starring in campaigns for Topshop, Desigual, and Ay Not Dead jeans. Naturally, she's besties with some other famous models like Hailey Baldwin, Kendall Jenner, Bella Hadid, and Kaia Gerber, to name a few. So basically, she's not that different from Leo's other model ex-girlfriends.
Morrone is currently making the segue from model to actress (eye roll). Even though she never took an acting class in her life, she was cast in the action movie Death Wish starring Bruce Willis and made her starring debut in the comedy-drama Never Goin' Back alongside Maia Mitchell, which premiered at the Sundance Film Festival. I haven't seen either movie, so I can't determine if she's any good at acting, but hopefully she's better than Cara Delevingne.
Who Is Her Family?
This is not Camila Morrone's first brush with Hollywood royalty. Her mom, Lucila Solá, is a former model and romantically linked to an actor you may have heard of… Al Pacino. In fact, Pacino is credited with introducing Morrone to DiCaprio. The guys my parents' friends introduce me to are all ugly with emotional intimacy issues, so I'm impressed with Al for this. Camila's dad was also a model, starring in ad campaigns for Dolce and Gabbana in the 90s, which explains her perfect appearance. Is it too late for me to get adopted by them, and will it make me better looking by association? 
When Did Camila Morrone Start Dating Leonardo DiCaprio?
The two were first reported as romantically linked when Leo was spotted leaving her house in mid December. I know, you've been out of the loop for a long time! It's okay, we all are. After that, Camila and Leo spent the holidays together in Aspen and were seen getting off his private plane together in LA. The following month, they were together again, celebrating Ellen Degeneres' birthday. This summer they've been spending time together on a yacht in the South of France and around the Italian Riviera, sometimes with her mom, which is the only possible buzzkill we could find in this whole scenario.
Is There A Future?
I mean, who really knows. On the one hand, just yesterday, Camila and Leo were spotted snorkeling together in Italy. On the other hand, this is Leo DiCaprio. The dude goes through ex-girlfriends like I go through shampoo. I would honestly be shocked if Camila was Leo's last much younger gorgeous girlfriend. But then again, given what's been going on in Hollywood lately, maybe they'll get engaged two days from now. It's anybody's guess.
Images: camilamorrone / Instagram
The Oscar Nominated Movies You Need To See & Where To Watch Them
The 90th Academy Awards are coming up, and unless you want to spend the entire night refreshing Instagram and wondering WTF Jimmy Kimmel is talking about, you're gonna need to watch some movies. This year's Oscars is gonna be good, and not just because of the endless shade-throwing at Harvey Weinstein. It's been a weird year for Hollywood, but the films have been great, so if you don't see some of the nominated movies beforehand, you're missing out on good movies and a ton of cultural references.  I've basically spent the past two months generously donating my paycheck to AMC Theaters, so I've seen like, every Oscar nominated movie. Here are seven Oscar movies you should watch ASAP, and some tips about where you can still find them.
1. Lady Bird
Lady Bird has been out for a while, so if you haven't seen it yet, I'm just really impressed that you've literally had social plans since Thanksgiving and haven't caved for a good movie night. I personally saw Lady Bird as soon as it came out, and I knew it would be nominated. It's like I have ESPN or something. It's nominated for best picture and four other categories too, so it's v relevant. Plus, Saoirse Ronan kills it as the lead and Greta Gerwig is the film's badass female director, so yeah, the future is fucking female. Unfortunately, the movie isn't in many theaters anymore, but it's being released on iTunes and Amazon on February 13th, so you have no excuse.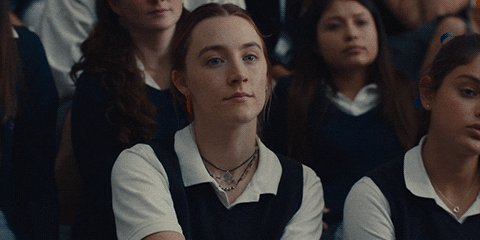 2. Three Billboards Outside Ebbing, Missouri
Also nominated for best picture, also amazing. If you're not familiar with Frances McDormand, she's the one who was cursing at the Golden Globes and accidentally wore navy when everyone else wore black. She DGAF and I'm kind of obsessed with her. This is one of those movies that you're literally passionate about after it's over. Go see it. It's still playing in a few theaters, but in case you can't find it, it'll be available on Redbox on February 27th.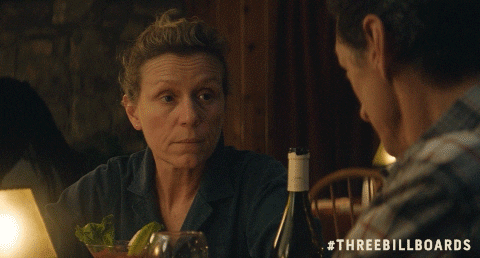 3. The Post
Some people told me they thought The Post seemed slow, but honestly I loved it, and it's not just because I have an actual crush on Meryl Streep. Tom Hanks kills it too. Have I mentioned Meryl Streep? The whole movie is about the Pentagon Papers being published in the Washington Post, and even if you don't care about journalism or politics, you'll love the story because Katharine Graham is literally an American icon. Oh yeah, and it's a true story. The Post is still playing in most theaters, so cancel your plans this weekend and go see it. Sorry, you're gonna have to leave the house. That's all.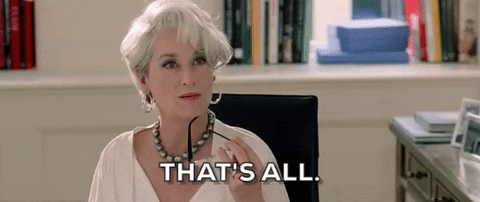 4. I, Tonya
Another American classic. I, Tonya is incredible because you basically follow a true story without really knowing what happened or who's telling the truth, even after the movie's over. The skating is sick, the costumes are great, and Margot Robbie might actually beat Nicole Kidman for my favorite Australian. Critics are saying the film is being snubbed this year because it only has three nominations, but, like, that's enough to see it. This one's also still in theaters. Go.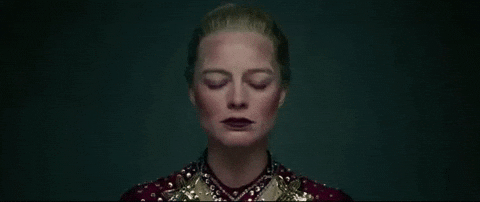 5. Dunkirk
Dunkirk is one of those movies that you hear about it and immediately dismiss it to go see Kate McKinnon in Rough Night, but then you hear everyone talking about it and reconsider your decision. Dunkirk is basically nominated for every category—best picture, director, cinematography, film editing, sound editing, production design—you name it. Again, even if you don't care about politics or war movies, it's worth seeing, because it's literally mind-blowing. It's also just a really important part of history, so like, it doesn't hurt to educate yourself a bit. The best part is that it came out in the summer, so it's already available for streaming on Amazon, YouTube, Google Play, and Blu-Ray. Blessings.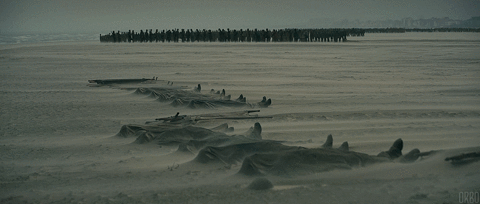 6. The Shape of Water
Okay, HEAR ME OUT on this one. When I first saw The Shape of Water, I was kind of weirded out by the whole girl/merman romance plot, and couldn't really get past that. But honestly, this movie has 13 nominations and it is sweeping every category. It's breaking records in film history, and for that reason alone it's worth seeing. Plus, the special effects and cinematography are actually really cool, if you're into that stuff. It's also v dramatic, so you're kind of on the edge of your seat the whole time. You know, once you get past the whole underwater sci-fi storyline. You'll be able to watch this on Amazon starting on February 27th, which gives you just enough time to squeeze it in before the Oscars.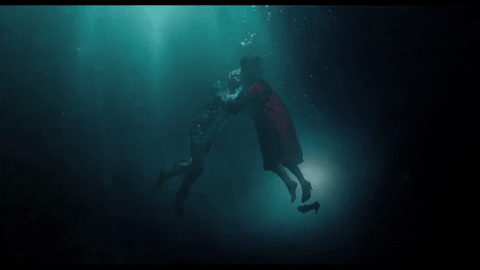 7. Molly's Game
People might hate me for this one because Molly's Game only got one nomination, and films like Get Out and Call Me By Your Name might be way more important. Those movies are good too, HOWEVER, I'm recommending Molly's Game because it totally deserved more than it got. I mean, aside from the fact that Jessica Chastain was literally at her all-time prime, the actual story is fascinating, and personally I'd like to meet the real Molly Bloom and ask her like, a million questions. It's a true story and it's fast-paced and super interesting. Even if you know nothing about poker you'll still love it. You just might need to Google a couple things afterwards. You'll also have to get your ass to a movie theater to catch this, but did I mention Idris Elba is in it? Yeah.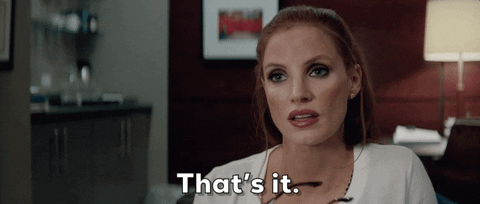 Images: Courtesy of NEON and 30WEST; Giphy (7)
The Definitive Ranking Of Reese Witherspoon's 10 Best Movies
In honor of the glory that was Big Little Lies, we need to just take a moment to appreciate the queen that is Reese Witherspoon. You may be asking, like, wait, is Reese even a betch? She seems kind of nice girl-ish to me. But while Reese may be super nice, she's no basic nice girl. She gave us Legally Blonde so she's grandfathered—er grandmothered?—in to the group. Kind of like how Rachel McAdams seems like she is mostly a narc in real life but she played Regina George so she is automatically betchy forever. It's like, a betchiness lifetime acheivement award or something. Reese's contributions to the genre just cannot be ignored. So, in honor of all of the acheivements Reese has made to amplify the voices of betches everywhere (not that we really need it but whatever) we've conveniently ranked her best work.
What, like it's hard?
10. 'Hot Pursuit'
You probably forgot that this movie even exists or just had it really confused with another female buddy-cop movie like The Heat or that one with Melissa McCarthy and the guy from Arrested Development. But this is an actual movie starring Reese Witherspoon and Sophia Vergara and it came out in 2015. Let's just say, the reviews were not great. It scored a whopping 7 percent on Rotten Tomatoes. Not your best work, girl. 
9. 'Pleasantville'
Tobey Maguire plays Reese's weird brother who is obsessed with a TV show from the 50s, so much so that he gets them both trapped in the black-and-white world of the show. Tobey's character was definitely one of those Make America Great Again types who, when actually sent back in time, realized that despite being straight white male, the 1950s fucking sucked. Maybe we can do this for the Trump supporters?? Somebody get to work on this. Anyway, Reese played Tobey's slutty sister who fucked shit up by opening these 1950s dudes' eyes to the wonders of sex. But then in some Freaky Friday-esque twist, Tobey ends up realizing modern times are better and Reese realizes she'd rather be stuck in the 50s. Pleasantville was an enjoyable movie and I've seen it like six times with my family, so it's not Reese's worst movie, but her character actually does a reverse transformation from a betch into a nice girl which I do not appreciate in any way. Ninth place.
8. 'Election'
Reese stars as the iconic Tracey Flick who, though she was a dork, was kind of a ruthless betch who stopped at nothing to achieve her goal of becoming student body president. It's basically 90s movie gold. That hot-ish guy from the American Pie movies is in it too. Anyway, Tracey is so driven and empowered that she drives one of her teachers literally insane, a sentence that could also describe my high school experience. Reese might be annoying AF in this movie, but in true betch fashion, she gets her way in the end. Still, I don't think anybody saw this movie, and I had to Google it to make sure this wasn't the one where Will Ferrell and Zack Galifinakis are running for political office against each other, which says a lot about the lasting power of the film IMO.
7. 'Wild'
Sure, Wild is a movie about hiking, which I mean, gross, but anyway, it's still watchable. And it was maybe nominated for an Oscar, unless I'm just making that up? Based on Cheryl Strayed's book of the same name, we follow Reese on the mission of an independent-woman-who-don't-need-no-man hiking the Pacific Coast Trail. And now I'm getting Eat, Pray Love PTSD flashbacks, ugh. Where this movie beats out Julia Roberts' self-indulgent pasta-fest, though, is that Reese's character swears a lot and ends up throwing a pair of ugly boots off a cliff. I mean, if I was forced to hike for more than three minutes I would do the exact same thing. Don't put me down for hiking, I'd legit rather be eaten by a bear. 

6. 'This Means War'
Was this her best work? Of course not, but I had to include it on the list because what isn't betchy about two really fucking hot CIA agents fighting over you? Especially if one of those dudes is Chris Pine. I mean, really. Also, Chelsea Handler played her best friend in this movie. Every betch should have Chelsea Handler as a best friend. Not a great film, but something you could definitely watch on a hungover Sunday morning, meaning it passes the Betchdel test. 
5. 'American Psycho'
Did you forget Reese is in this movie? Yeah, probs. DW about it, Reese probably forgot she was in this movie, too. She has a minor role as one of Patrick Bateman's posh Manhattanite girlfriends, which we obviously connect with on a personal level. Spoiler alert, she doesn't get murdered in the movie—another plus. In fact, I think she might be in maybe two scenes. Nonetheless, American Psycho has had kind of a resurgence lately—possibly because of Scott Disick's physical and mental resemblance to Patrick Bateman, or the fact that the title can also serve as a two-word biography of our current president—so this seems like a good time to mention that Reese was not only in it, but seemed like a pretty decent match for Christian Bale in that role.
4. 'Walk The Line'
The role of June Carter earned Reese an Oscar. That's right, her portrayal of Elle Woods wasn't the role that won her the hardware. Shame. Anyway, props to her for winning an award and getting to hang out with Joaquin Phoenix before he got all weird. Even as a brunette, we can still get behind her being the apple of a fake Johnny Cash's eye. Like, also, of course she can sing. Because Reese Witherspoon is basically perfect, and why would you think otherwise?

3. 'Cruel Intentions'
This was probably one of the first rated R movies you wanted to see. Sure, you could watch an edited version on TV, but it really leaves out some of the good stuff, including the insane amount of swearing these supposed high schoolers do. If you didn't think Ryan Phillipe was hot as shit in this movie, who even are you? He was the king of fuckboys, but still hot. Aparently Reese thought he was alright too because they ended up getting married. Also, that kiss between Sarah Michelle Gellar and Selma Blair was iconic. So yeah, even though Reese is kind of the designated "nice girl" of this movie, Reese had to selflessly assume that role so that all of SMG's betchiness could be truly appreciated. It's like how only once you know darkness can you truly appreciate the light, or some shit. 

2. 'Sweet Home Alabama'
Once again, Reese finds herself in a love triangle between two really hot dudes, one of which is McDreamy himself. I recently watched this movie because it was on, and let me just tell you, the plot holes are pretty glaring—but, for some reason, it's still good. Reese plays an up-and-coming fashion designer in New York City (because that's an easy enough job to get) who gets engaged and is forced to go back to her hometown in Alabama to finalize a divorce with her high school BF and explain to her family why she hasn't been answering any of their calls for a decade. But, plot twist, her family still loves her and her ex husband has become both hot and wealthy. Then Reese is faced with the classic dilemma: Can a woman be hot, rich, and southern all at once? (SPOILER ALERT: she can).
1. 'Legally Blonde'
This is in the betch cannon of classic films so is it even any fucking surprise that this is Reese's best work? Let's pretend like all of those shitty sequels didn't exist so we can just focus on the real story of Bruiser and Elle Woods. In case you forgot, they're both gemini vegetarians and probably the two betchiest to ever attend Harvard. Who among us hasn't been motivated to do something crazy after a breakup? Given, going to law school isn't necessarily as self-destructive as chopping all your hair off, but still. This movie is responsible for so many amazing lines that can be quoted in almost all curcumstances that it's difficult to even pick just one, and there is no way Elle wasn't directly responsible for Harvard being flooded with scented resume and poolside video applications. Like I said, it's hard to nail down just one moment from this movie to leave you with. The bend and snap? The playboy bunny Gloria Steinem costume? The moment when she saves Paulette's dog using legal jargon? No. Instead i'll leave you with one of the film's most iconic lines, which will be used as an example of rock solid logic for years to come: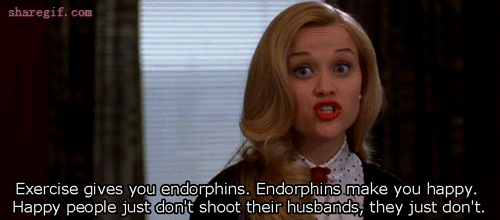 Read: A Definitive Ranking Of The 'Big Little Lies' Charactershttp://www.betches.com/big-little-lies-characters-ranked
5 Beauty Tips We Learned From Emma Watson
In a definitive ranking of Hollywood transformations, I'm putting Emma Watson at #2, right under Michael Jackson and right before Caitlyn Jenner. Change your race, change your gender, IDGAF, nothing hits me quite like a vintage Emma circa Harry Potter and the Sorcerer's Stone. When we first met Em, she was a try-hard who pissed the whole classroom off and acted super desp over a scrawny ginger I would've ghosted before we even met. Level of betchiness: Anne Hathaway and Taylor Swift's love child.
Now she's a real life princess and the literal embodiment of the concept of "beauty," which was my actual dream career/theme of every birthday party I ever had until my mom sobered up and realized I was turning 13 and something should prob change. She's also queen feminist and a UN Women Global Goodwill Ambassador. If you don't know what that is exactly, know it's important AF. Remember how "important" you felt when you ran your sorority's Tumblr?? Multiply that by 8,000,000 and you might be halfway there.
If I knew exactly what Emma did to go from "No, I didn't just get electrocuted" to now, I wouldn't be texting my grandma taking her up on her blind date offer, now would I?? But I have noticed a couple important beauty tips we could all use to transform ourselves into more attractive people, much like The Beast at the end of Beauty and The Beast. 
1. The Importance Of Keratin
Did Emma Watson have frizzy-ass hair because she played Hermione, or did Emma Watson play Hermione because she had frizzy-ass hair? We may never know, but what we do know is that once Emma tamed the mane (shout out to Keratin), we started playing by her rules. And since then, Emma's rocked short, blonde spikes to long, dark longs. Along the way, she's taught us that our hair can be our best accessory if you pay enough attention to it and keep things interesting. Sounds like me as a girlfriend—needy AF. Thanks for reminding America not to sleep on the pixie cut, Em.


2. Keep The Male:Female Ratio In Your Favor
Emma's queen at rolling up with a (below-average looking) man on each arm. Not only does she automatically look way out of their leagues, arriving as the sole female eliminates possible competition from anyone else looking better than you. A strategy I plan to implement this coming weekend—stay tuned.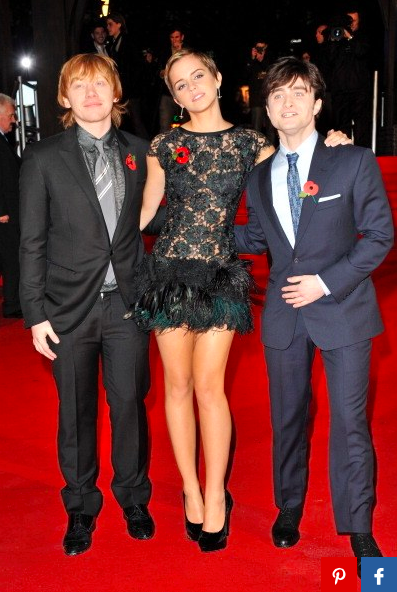 3. When In Doubt, Red Lip
A signature makeup trend of Emma's is a bold yet classy red lip. The statement color dresses up any look, makes lips look fuller and brightens your whole face. Pair this look with neutral colors or a cap and gown—you know, if you're also an Ivy League grad.

4. Knowledge Is Always A Good Look
Emma's confidence, intelligence, and well-tailored pantsuits are what make her actual #goals. Like, sure, we all think #goals when we see Kendall Jenner casually sporting Victoria's Secret Angel Wings in Paris, but let's sit back and reflect on the fact that she can't read. So who's actually taking the bigger L here, Kendall or you and your glass of wine that turned into a bottle and a half? Emma, on the other hand, uses her platform to set a good example and make a difference. Girl power and shit.

5. Own Your Cleavage
We need to talk about all the sad, old men yelling at Emma for innocently showing some cleav at a Vanity Fair shoot. To everyone who's saying she's hypocritical and actually anti-feminist because she posed semi-topless, I practically wear that amount of clothing on a given Saturday night. I mean A) this is hardly scandalous in Vanity Fair terms (I'm STILL haunted from the pics of daughter Miley and daddy Billy Ray) and B) If you don't think you can have tits and be feminist at the same time, than there's a bigger issue going on here. Emma, if you're up there, know you set an example for females everywhere and remind us of the importance in tasteful underboob. You recognize that cleavage can be a woman's best friend, and you do so with class. Slay.

Basically, if you want to live your dream life, model it after Emma Watson. I mean, who else can go from playing a fugly beloved children's character who reads books to playing a beautiful beloved children's character who loves to read books within just the span of a decade? It's truly inspiring. Like, for real. Can't wait to see what Emma does next.