The Cutest Workout Outfits To Motivate You To Get Off The Couch
Admit it. Working from home sounded fun, at first. We were going to have so much time for self-improvement. There was no doubt we were going to work out daily, get that killer summer body, focus on skincare, get dressed, the whole nine yards. 
But, here we are on what feels like day 500 of social distancing. Hair has not been brushed, pajamas have been on for three weeks straight, and working out has been replaced with "how many cookies can I eat before I pass out".
Given that here in NY, the stay-at-home orders have been extended for another month, I decided it was extremely important I find new motivations to work out and give a sh*t about my health and wellness. How does one get motivated to workout aside from the obvious end goal and results? 
Two words: cute clothes.
If you're feeling uninspired, take a peek below at my current favorite workout brands and the pieces that motivate me the most. If these don't get you off the couch, godspeed. 
Gigi C Sport
I've always had a thing for pastel colors, because they compliment everyone. I mean it when I say there isn't a single person that looks bad in a pale pink or soft blue. Gigi C Sport just launched their Spring 20 Active Collection, and I'm obsessed. If I was rich and fabulous, I would honestly purchase the entire collection, because that is how much I like it. I DO own the Eden top + Katrina legging set in Sky Blue (pastels, FTW), and I am proud to say I actively searched for online workout classes to put this look to use. I must also mention the Maxine Romper, which is like an 80s workout dream done right in 2020. I'll stop rambling on, but yeah, this is currently my favorite activewear brand. 

Gigi C Eden Top & Katrina Legging
BrownDyedGirl
If you're like me, the thought of wearing a sports bra and leggings to a public gym is more terrifying than going on a date with Joe Exotic. That being said, I've always turned to sweatshirts and sweatpants for a workout. They need to be cute, obv, and although we are now working out in the comfort of our homes, I'm still rocking my sets from BrownDyedGirl. My absolute favorite is the Pastel Crew Set (pastels, FTW, again!), but they're honestly all cute AF if you're into tie-dye. Some noteworthy names can often be found rocking the sets, including Hannah B + Hannah G of Bachelor Nation, Danielle Bernstein of @weworewhat, and model Camille Kostek, just to name a few. If you prefer hoodies over crewnecks, my favorite is this grey set. A little birdie (aka Jordan Baker, the founder of BrownDyedGirl) also told me that a T-shirt and biker short sets are coming soon, SO I'll definitely be snagging those to work out in.

Yummie
Aside from looking cute, I want to be the MOST comfortable when WOFH (not sure if this is a thing, but I'm making it a thing). Yummie leggings are great, because I can lounge in them for an hour while avoiding the workout, but also feel cozy once the workout commences. The Seamless Shaping Legging comes in five colors, and are my personal favorites (Grape Leaf is my color of choice), but browsing the site there are a ton of cute options, including a 4-Piece Legging Kit which covers all the bases and is a major bang for your buck. 

Yummie Seamless Shaping Legging
Terez
Calling all the girls who take the front and center spot at every workout class: Terez is the brand for you. All of their matching sets are really cute, fit well, and come in the most fun colors and prints that are going to make you stand out, no matter where you position yourself. But during these times, since we obviously don't have the people around us to motivate us in a class, putting on a brightly colored sports bra and legging set will give you the kick you need to get off the couch. I'm obsessed with literally all the active sets, but especially love Rainbow Haze Balayage Reversible Sports Bra and matching Tall Band Leggings because they make me feel like I'm at a rave, so like, perfect motivation to do that at-home dance cardio class.

Terez Rainbow Haze Balayage Reversible Sports Bra & Rainbow Haze Balayage Tall Band Leggings
Alo
If you're channeling your inner zen during this time, I give you all the credit. I have been trying to do yoga daily, in hopes of feeling calm for at least 30 minutes of the day (yes, dramatic, I know). I turn to my Vapor Snakeskin Set for yoga because it still makes me feel like *that bitch* while shuffling between a mental breakdown and mountain pose. It's all about balance, amiright? Alo also has THE coziest half zip hoodies, which I've been wearing during walks around the block (please practice safe social distancing when exiting the home!). 

Alo Vapor Snakeskin Bra & High-Waist Short Set
All Access
I like All Access for a few reasons. One, the brand was founded in NYC, so it's fun to support a local brand. Two, they allow me to channel my inner 80s workout video (I'm sensing a theme here). The Front Row Bra + Center Stage Leggings in Hot Coral are so funky and are sure to catch your neighbors' attention (whether you want it or not). When I open my drawers, I'm instantly drawn to this set and it reminds me to put down the Kinder Bar (these have been my weird weakness throughout quarantine and I honestly can't be stopped) and start the cardio. 

All Access Front Row Bra & Center Stage Leggings
Year of Ours
I'm hot and cold with paisley print, but I am o b s e s s e d with this set from Year of Ours. The Bandana Bra + Leggings are so dang cute. I ordered the blue set, which is exclusive to Bandier, but they also have a red/white and black/white set on their own site here. I choose this set when I want to do cardio or something more active (not because it's specifically designed for that, just because this print excites me). 

Year of Ours Banana Bra & Leggings
Girlfriend Collective
Girlfriend Collective is a f*cking awesome brand who focuses on ethical manufacturing, celebrating diversity and beauty in all its forms, and sustainability—their clothing is made out of recycled materials. Don't ask me how, but it works. And the result is simple, comfortable activewear you can feel good about buying. I'm looking to their high-rise bike shorts and accompanying sports bras, hoping that when the weather is warm enough to wear them, we will finally be allowed outside.

Girlfriend Collective Saguaro High-Rise Bike Shorts & Saguaro Paloma Bra
Outdoor Voices
If you, like me, do a 40-minute workout and sweat so much that you are convinced you have some sort of disorder, Outdoor Voice's TechSweat leggings are for you. The fabric is light and breathable and the waistband won't slide down. Also the color blocking is so chic. Pair them with the Doing Things Bra, also made with TeachSweat™ fabric, and get ready to get gross.

Outdoor Voices Techsweat 7/8 Zoom Leggings & Doing Things Bra
Koral
Once I discovered Bandier, it was over for my wallet. They are not a designer, but a retailer that has tons of activewear brands, among them, Koral. From leggings to sweatshirts, tanks to sports bras, they have fashionable pieces that you can wear during the day on your Zoom calls to make your coworkers think you got dressed, and then during your workout.

Proud
This ethically-sourced activewear newcomer donates 10% of proceeds from every sale to charity—and you get to choose the charity (St. Jude Children's Research Hospital, Pink Ribbon Girls, Baby2Baby, Homes for Our Troops, Off The Street Club, or the Rezvan Foundation) when you check out. With a completely neutral color palette, those of you who wear all black will want to buy everything. Their hoodies and zip-ups look bad-ass, and I love the ballerina leggings, which have a chic tie detail at the bottom, are super comfortable, and won't slide down during your HIIT live stream.

Proud Be Passionate Asymmetrical Tank
And with that being said, I wish us all luck. Let us have strength to say yes to Instagram live workout classes. We can get through this!
Betches may receive a portion of revenue if you click a link and purchase a product or service. The links are independently placed and do not influence editorial content.
Image: Form / Unsplash
The 5 Best Leggings You Can Wear As Pants That Don't Cost A Million Dollars
I know I'm not a typical fashion writer here at Betches—I tend to save my talents for Bravo recaps and the occasional hate piece—but I'm willing to branch out for something I'm extremely passionate about: wearing leggings as pants. It is an important cause I support wholeheartedly. Really, I think that the woman who lobbied for women to wear pants fucked us all up, because pants are only a viable and comfortable option if you have all of the following: perfectly proportionate legs (i.e. not too long or too short), no muffin top to speak of, and nothing weird going on in the butt area—a set of criteria that basically only applies to models and nobody else. And that is why, despite the protests of my friends, my dad, and probably everyone who's seen me walking down the street minus a few mouthy construction workers, I continue to wear leggings as pants. No matter the season. No matter if my shirt covers my butt. But here's the thing: You can't do it with just any old pair of leggings. They've got to be opaque enough that you can get away with it, yet still comfortable. So I've gathered my the 5 best leggings to wear as pants (from my closet). You are welcome in advance. Also full disclosure, you will not see super expensive leggings on here because I'm cheap and can't justify spending more than like, $45 on some spandex.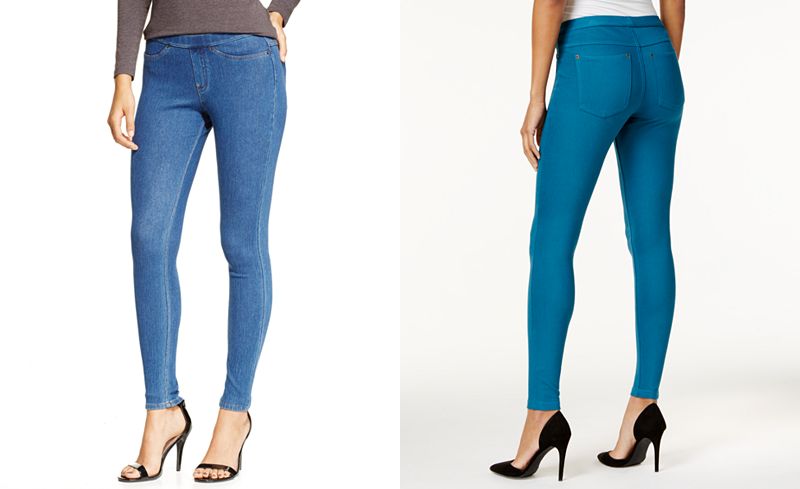 These things are the shit. I literally have three pairs and am soon going to acquire a fourth. They are a jegging and priced as such, but they behave like a jean except there's no fly digging into your stomach or weird, small front pocket that nobody uses. They do have back pockets (I repeat: pockets!) and they look so much like jeans you'll confuse everyone. Just ask the fuckboy I'm hooking up with who told me "I love when you wear these jeans." Guys are idiots, am I right? And before you ask, no, I'm not hooking up with Ginuwine. Yet.

Okay, these aren't the exact leggings I have, but if you go to Target, hit up the workout section and go to the rack of Champion leggings—any of those will do. They're not super thick but they are opaque and they fit super well. No muffin top to speak of and I know you all don't know me or my body type, but trust me when I say that's saying a lot. There's no uncomfortable horizontal line across your stomach when you take them off. And they're like $20, so they're probably the cheapest thing you'll buy in Target. They come in a bunch of patterns so you can buy all 67 pairs—speaking hypothetically, of course. That's definitely not something I've done before.

I'm not going to lie to you all, this one's a risky choice, but I just did a few leg presses yesterday so I stand by it. I have the "seamless" kind so I can only speak to those, and I have them in the camo print—I just didn't use that picture because I didn't want you guys to judge me. They're probs not leggings you want to work out in (but they have an "active" kind you can take to the gym) because they feel a little like tights because they have a horizontal seam along the crotch instead of the vertical seam you see on most leggings, nahmean? I'll be real, it's a little bit of a stretch wearing these with a crop top (as I am right now), and I'll update you on how many moms yell at me for exposing their kids to lewd content in public later. But again, they are super comfortable and as someone who's prone to a muffin top, I personally appreciate how high-waisted they are. Would def try their other leggings and report back.

Yeah I know these aren't cheap per se, but I chose a style that was on sale so you're fucking welcome. Really any Splits59 leggings will be extremely comfy—I'm extrapolating based on how many pairs I tried on at a Bandier sample sale yesterday—but I know we're not all Kendall Jenner and spending upwards of $100 on a pair of leggings is a little ridiculous when you have like, rent to pay and shit. I'm personally a fan of the mesh leggings because anything that appears slutty but is also technically covered by fabric so nobody can say shit—even if it is see-through fabric—really highlights my personal aesthetic, which is slutty. Sorry, dad. Anyway, these things are comfortable, not restrictive, blah blah blah. I think we can all agree the qualities that make for good leggings are universal.

These are really the ideal leggings if you want to give off the "Did I just come from yoga or do I go grocery shopping like this?" vibe. They're sporty-looking and they're the shiny-looking leggings, if you are into that and know WTF I'm talking about. They're pretty thick and opaque and easy to move around in. They are a little tight around the waist if you don't get the right size, though, so my best advice is: Don't let the size chart flatter you (it told me I was a small—mistake) and order the size you normally wear and you'll be Gucci.