The Best Exercises To Tone Every Part Of Your Body
Bikini szn is fast approaching, and you know what that means: Time to try on bathing suits, wonder what the hell happened to the ab crack you totally had last summer, remember that you spent the whole winter eating mozzarella sticks, and then look up where your gym is actually located so you can use that membership you forgot about once August hit. So I did some research and compiled a list of some of the best workouts to tone different parts of your body. Let this list guide you the next time you're too broke to pay for another SoulCycle class or you're feeling lost at the gym. Bonus, a lot of these exercises can be done from the comfort of your own home, and we all know not leaving your house always beats actually going outside.
Abs
For some people, having abs is way easier than others (thank you, genetics). I personally have abs, they just so happen to be hiding behind a layer of fat. But before you start doing a million crunches, there are a ton of ab exercises that are way better than traditional crunches. For instance, doing Pilates is a killer way to get abs. If you've never tried it, it's super hard but effective, since it incorporates a ton of ab-targeted exercises. The plank is another of the best workouts to tone your abs, but it can get boring. These exercises below are a little more complex than simple crunches or planks, yet still effective in toning your abs.
Double Dumbbell Drag: Start in a plank position with a dumbbell or kettlebell on the outside of your right arm. While engaging your core and ensuring you don't move your hips, take your left arm under your right and move the dumbbell/kettlebell to the outside of your left arm. Repeat with the right arm. Make sure to keep your wrist beneath your shoulders. Add a push-up if you're fancy.

Plank Hand Taps: If someone is hogging the dumbbells, this one is perfect for you. Start in a plank position and lift your left hand to tap your right shoulder. Repeat on the other side.

Alternating Toe Reach: Lie on your back with your legs straight on the ground and arms straight above your head. Raise your right hand to meet your left leg in the air above your body. Make sure to engage your abs with each move. Repeat with your left hand and right leg.

Arms
A fear of mine is to have the dreaded chicken wing arms, but toning your arms takes a lot of commitment. That means when I don't want to work out, I Google images of Michelle Obama's arms and that motivates me real quick. Here are some of the best arm toning exercises I found.
Upright Row: Stand straight with a dumbbell in each hand, in front of your legs. Raise your arms until they reach your chest, keeping the front of your hands straight in front of you. Lower your arms back down. Repeat.

Tricep Kickbacks: Stand with your legs hip-width apart and your upper body slightly leaning forward from your hips. With a dumbbell in each hand, bend your arm from your elbow towards your chest, then back behind you.

Dumbbell Punch: Standing hip-width apart and with a dumbbell in each hand, pretend you are punching your ex in the face, alternating between each hand.
Glutes
We all like nice butts, and we cannot lie, and sometimes traditional squats won't cut it. If you're tired of people telling you to do squats, here are some more interesting exercises.
Plie Squat: If you speak in ballet talk, start in second position with your feet turned out. If you don't, click here. Go into a plie (aka a squat). Keep your core engaged and each time you recover from the squat, squeeze your butt.

Split Squat Jump: Start with your feet together, and jump up, landing with your legs split in a plie squat until your thighs are parallel to the ground. Push up from the squat and jump your legs back together.

Fire Hydrant: Get on all fours, and lift your left leg up like you are a dog peeing on a fire hydrant. Keep your back flat by engaging your core. Do 15 reps and repeat on the right side.

Legs
If Beyoncé has taught me one thing, it's that toned legs make all the difference.
Reverse Lunge: Start with your legs together. Lift your right leg and bend into a lunge. Bring your feet back together. Repeat with your left leg.

Pistol Squat: Balance on your right leg with your left leg lifted just above the ground. With your arms straight in front of you, lower yourself to the ground and then back up. Repeat with your right leg extended in front of you.

Lateral (Band) Walk: Stand with your legs together. If you want extra resistance, place a resistance band around your knees. Open your right leg to be about hip-width apart and then bring your left leg to meet your right. Repeat starting with your left leg.

Back
Rocking a backless top and showcasing a toned af back would be amazing. Other than the fact that I always need to wear a bra (thanks DDD), my back isn't as toned, tanned, fit, and ready as I'd like it to be. Basically, I should take my own advice and do these workouts more often.
Reverse Fly: Leaning forward from your hips, place your arms straight below you with a dumbbell in each hand. Open your arms to each side, keeping them straight. Squeeze your shoulder blades and then release your arms back in front of you.

Forward Raise: Keeping your legs hip-width apart, back straight, and a dumbbell in each hand, extend your arms straight in front of you. Once they are in line with your shoulders, lower them back to your legs.

Lateral Raise: Repeat the above exercise, but instead of raising your arms in front of you, raise them to either side of you.

Chest
Some people believe working out your chest will give your boobs a perky boost. I've never stuck to an exercise long enough to see any results, but lmk in the comments if you have.
Medicine Ball Push-Up: Do a traditional push-up, but place a medicine ball under your right hand so your back is on a slant. Repeat with the medicine ball under your left hand.

Chest Fly: Lie on your back with your legs bent in an L shape. With a dumbbell in each hand, hold them straight above your chest toward the ceiling. Open your arms until your elbows hover over the ground, but keep your forearms towards the ceiling. Engage your abs to keep your legs supported.

Dumbbell Pullover: Lie on your back with your legs bent, like you are about to do a crunch. Hold a dumbbell in each hand. Raise your arms above your head towards the back of the room, then raise them towards the ceiling until they are directly over your shoulders. Repeat.

Images: Luis Quintero / Unsplash, Giphy (16), Tenor (1) Gfycat (1)
8 Pilates Exercises To Tone Your Abs
As soon as the weather hits 60 degrees, all I want to do is wear a bikini, sip on prosecco, and eat some watermelon as I scroll through Instagram, poolside. Even if swimsuit weather is still a whopping three(ish) months away, it's the time of year where we all start to evaluate juuuuuust how confident we feel strapping on our most revealing attire and showing off our beach bodies.
As a Pilates instructor, I frequently get requests for stronger, more toned abs, especially the obliques. Since Pilates was created specifically with the idea that your core is the powerhouse of the body, almost every exercise in mat or reformer Pilates will get your abdominals fired up. And while a lot of us want toned abs to show off in a strategically taken thirst trap for our followers, a strong core is more important to help our bodies function properly, improve posture, and stop low back pain as we sit at our desks all day. If you're looking to get as strong as possible before Memorial Day weekend hits, here are the best eight ab exercises to try without leaving your apartment:
The Plank

Your basic plank is one of the best exercises ever invented, IMO. You'll work your full body when you're correctly executing a plank. Keep your hands stacked right underneath your shoulders, keeping palms (or forearms) pressing down into the floor to help stabilize your shoulder girdle. Pull your belly button into your spine and think about lengthening your body from the backs of the heels through the crown of the head. This will help find your glutes while finding the isometric contraction of the muscles.
Hold your plank for as long as you can! If you're new to planks, start by holding this position for 30 seconds (remember to continuously breathe!) and then work up to one or two minute intervals.
The Plank Plus Mountain Climbers

Once you've mastered just holding your basic plank, it's time to up the ante. While a basic plank will definitely help you strengthen your transverse abdominals (the corset-like muscles that wrap around your middle), adding mountain climbers will challenge and tone your obliques (the "side" abdominals the Dua Lipa flaunts in every single crop top).
Add mountain climber variations by bringing your knee to your elbow. Bringing your knee inside of your elbow will work your internal obliques, bringing it outside of your elbow will work your external obliques, and bringing it diagonally to your opposite elbow will help your oblique slings work congruently.
As you get fancy with your footwork, don't lose shoulder stability and let your chest collapse. This can result in dumping the work of the exercise into your lower back, causing pain. Think about pressing into your palms and pushing into the floor to help keep your scapula (the "chicken wing" part of your shoulder blades) secure.
If you feel yourself arching your low back or if you feel a pinching sensation, work on your basic plank form until you feel confident enough to add the mountain climbers back in.
See if you can challenge yourself to hold your plank for at least one minute as you add your mountain climbers.
Bird Dog Plus Windshield Wipers

This exercise seems innocent enough, but be prepared to fall over on your first attempt. You can start by getting into an all fours position, knees stacked underneath hips, hands underneath shoulders.
Next, lift opposite arm and opposite leg off of the floor. Think about reaching both limbs as far as possible in opposite directions. Press your supporting hand down into the ground to help keep your shoulder supported. Hips should be level (you can place a book on your low back to see if your hips are squared. If it falls off, you'll need to adjust). To finish the movement, move each limb to their respective sides 2-3 inches like a windshield wiper. You'll want to keep it small. Pull it back into your starting position. That's one rep. You should feel your obliques and transverse abdominals fire on to help maintain stability and balance. Aim for 8-10 reps per side.
Crisscross

You've probably done "bicycles" before, but chances are, your form is incorrect. The objective of Crisscross—the official term for the exercise in Pilates—is to find your oblique slings. When done too quickly or with poor form, you're not squeezing the most you can out of the exercise.
First, move slowly. A lot of times I see clients whip these out as fast as they can, but moving with purpose will actually help you find more work in the exercise, which means efficiency! Pretend you're moving through peanut butter as you start by coming up into a mini ab curl. Then think about twisting your armpit over to your opposite hip point while simultaneously extending the leg on the same side you're twisting from.  
Instead of pulling your knee closer into your face, think of it staying in space while twisting your upper body to it. You want your pelvis and lower body to stay as still as possible. Imagine your upper body ringing out like a wet towel, finding every inch of rotation through your thoracic spine.
See if you can work continuously for 30 seconds, alternating sides.
The Side Plank Plus Mountain Climbers

In case you didn't notice, I LOVE planks. Side planks are even better because they're super hard and super humbling, even if you work out a ton.
Before you add mountain climbers, make sure you can maintain a strong side plank. Similarly to a regular plank, you should feel like your bottom shoulder is stable as it bears the weight of your upper body. Your elbow (or hand) should be directly underneath your shoulder, and as you press into your forearm, avoid keeping all of your weight in the elbow—I know it's tempting. Think of the bottom waist lifting up to help recruit your obliques into the exercise. This will help take some of the workload off from your shoulder. Keep your feet flexed. You can have them stacked ankle over ankle or scissored, totally your preference.
If a side plank is super challenging for you, you can also leave your top hand (or fingertips for lighter support) on the ground to help stabilize. Just make sure you're not rounding your top shoulder too much. Your chest should be squared to the side of the room.
Once you feel confident with your plank form, take your top hand behind your head and lift your top leg into a tabletop position. Think of it "crunching" into your waist to fire up your top oblique. You might feel the outside of your butt/hip area start to work. Totally normal! That's where your gluteus medius and gluteus minimus are—two helper muscles for your gluteus maximus, aka your booty! They're jumping in to help bear the support of the side plank.
Try holding your side plank for 30 seconds and fit in as many mountain climbers as you can.
Double Leg Stretch

The double leg stretch is a great way to find the hard-to-reach low abs. This will challenge your entire core while also feeling fun. (OK, maybe it's just me who thinks chillin' in a little ball is fun…)
To begin, lie down on your back and curl up into the tiniest little fetal position you can. Let your knees come into your chest and think of your tailbone tucking under (this will protect your low back) and place your hands lightly on your shins. Take an inhale to prepare and as you exhale, shoot both arms and legs out in opposite directions. Circle your arms back to your shins. That's one rep. The lower you aim your legs, the harder it'll be for your abdominals. Pick what feels most challenging to your body, but if you feel a pinch in your low back, aim your legs higher toward the ceiling.
Repeat for 10-12 reps.
Scissors

The Scissors move is a little twist on the crisscross. Instead of staying up into an ab curl, let your upper body stay down and place your hands on either side of your body in a low "V" shape. Spread out your fingertips and make sure you're pressing into the ground (this will help give you more support from your triceps). Take your legs up toward the ceiling and begin by alternating the legs like a pair of scissors—oooh, see what we did there?—on a 45-degree angle. Again, the lower you go with your legs, the more challenging it'll be for your abdominals.
If you feel a pinch in your low back at any point for this exercise, make a diamond shape with your hands and place them underneath your sacrum (right between your low back and your tailbone). This will help keep your pelvis supported and make you're working safely.
Try to work continuously for 30 seconds.
The Rollup

Last but not least, the roll up! The next time you find yourself lying on the floor hungover, trying to find the meaning of life, try getting up using only your abdominals.
Start by lying flat on your back and place a little pressure into your heels. This will help you "push" against gravity. Bring your arms above your shoulders, palms facing in. Inhale to prepare, exhale to begin, nodding the chin toward your chest as you roll up through your spine, pulling your belly button in toward your middle like you're trying to zip your tightest pair of jeans. Arrive seated on your sitz bones, the bony parts of your butt. Inhale again, and exhale as you reverse the direction, returning to the starting position. That's one rep.
Go for 8-10 reps.
Images: Emi Gutgold
The Best Instagram Trainers For Quick At-Home Workouts
Don't get me wrong—I have nothing but
deep-seated disgust
respect for all the SoulCycling betches out there. But for me, paying $40 to feel bad about my Target sports bra and distinct lack of abs is not really something I'm willing to do. In my very busy, #adulting life, I have specific requirements for my workouts. They should be free, doable from home, and under 30 minutes. Oh, and actually feel like a workout—aka I should break a sweat and/or actively find it difficult. As it turns out, not everyone is as
lazy
innovative as me, so finding workouts that met all these criteria actually took a while. We all know the queen of quick at-home workouts,
Kayla Itsines
, but here are a few others for when you want to mix it up/be able to walk the next day. Without further ado, here are my favorite trainers with quick at-home workouts that actually work. You're so welcome.
Pamela Reif
I don't remember how or where I came across
Pamela Reif
, but she now plays an alarmingly large role in my life. Like, my boyfriend knows her name because I show him her Instagram so often. It's weird. Anyway, a quick scroll through her IG will reveal that her fitness routine is no joke—and neither are her abs. While she does legit gym sessions too, she's also the creator of several 10- and 20-minute
no-equipment workouts
that will leave you feeling like you just got out of Barry's in one-third of the time. She also reposts pictures on her story of ~regular people~ who do her YouTube workouts and tag her, and no lie, over half have mini six packs. My favorite videos are the 10-min "
Booty Burn
," 10-min "
Sixpack Workout
," and 20-min "
Flat Belly & Round Booty
". (Leg day freaks, don't @ me). If you only have 10 minutes to work out but want to be sore for three days, I can't recommend her ab workouts enough. Oh, and here's what HER abs look like, if you needed more convincing:
Gina M. Florio
I came across Gina Florio for the first time through
Popsugar Fitness
, which posted
this kettlebell workout
. Yes, the fact that it requires equipment is a little more high-maintenance than I care to get, but if you don't own two kettlebells (pro tip, dumbbells will work too), you should seriously consider investing. It'll cost less than a month's access to a very cheap gym, and you can do SO MUCH with them.
Gina's Instagram
is filled with quick at-home workouts with kettlebells, and every one I've tried so far is brutal in the best way. She breaks her workouts down so you're only doing 2-4 reps at a time, but you'll do 4-5 sets total. Personally, I love this system because it's much easier to trick your body into doing just 2 more than it is to do just 25 more. You'll definitely feel like you're dying between rounds, but you'll be done in 20 minutes and feel like a badass now that you know how to do things like snatches and dead cleans.
Fiji McAlpine
Some days, any kind of jumping/lifting seems like too much—even if it's only 20 minutes. When I really can't stomach HIIT-type action but want to justify the cookie I ate a lunch, I turn to my all time favorite yogi: Fiji McAlpine. You'll note that I did not link to an Instagram there. In demonstration of what a pure and legit yoga-teaching soul she is, she doesn't have one. Instead, you can find her workouts on
DoYogaWithMe
, an amazing website that shares a ton of free yoga videos for all lengths/focuses/levels. I discovered Fiji in particular early on through a friend's recommendation, and I'm obsessed with all the videos in her
14-Day Challenge
. Especially, as I'm sure you guessed, the ones that are
20
or
25 minutes
. Her classes are labeled as Intermediate, but I am by all accounts a Beginner and really didn't struggle with her classes. I just had to work my way up to certain poses, which she assures you in her very soothing voice is normal and ok. Fiji's approach to yoga is a perfect combination of deep stretches and active movement, so you don't get burnt out on either way but you never feel like you're wasting your time. If you're up for some light core work and can't remember the last time you stretched, Fiji's yoga classes will feel amazing. Just trust me.
There you have it! My fave ab/butt-focused, full body, and yoga workouts. All free, all minimal equipment, and all under 30 minutes. So next time your flaky friend pulls a bad sushi excuse and bails on SoulCycle, maybe put the $40 toward a new pair of shoes and try one of these instead.
The Full-Body Workout You Can Do In A Corner Of The Gym
If you go to the gym right before 9am or right after 6pm, you know how annoying it can be to get around the place during workout rush hour. As much as we'd all love to work out in an empty gym with the whole place to ourselves, it's v unrealistic unless you're like, a psychotic morning person or like, super rich. Luckily for you, we've put together a workout can literally be done with one mat in a tiny corner of the gym, so you don't have to bother waiting for a machine to become available or for people to step away from the dumbbell racks. Here's a quick workout that will tone your whole body and burn a ton of calories while staying in one space the whole time.  
1. Walkout Push-Ups
The walkout push-up is a great warm-up move because it gets your lower and upper body working without diving right into a cardio or strength move. The idea here is to first warm up your hamstrings by starting in a standing position and folding your arms and head forward, and then get your upper body warmed up by crawling your hands out to a plank position. Once you're in your plank, perform one push-up (drop to your knees if you have to) and then crawl your hands back to your ankles to stand back up, engaging your core at the top each time. Start off slow, and then try to speed up on your last few reps. Do 10 of these in total.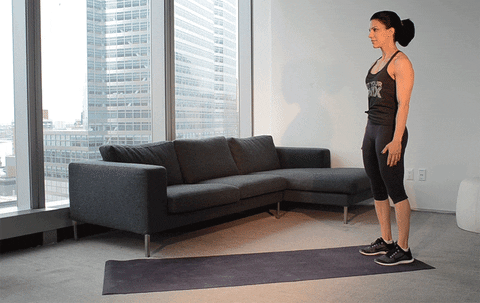 2. Glute Bridge To Oblique Reach
This is another lower and upper body movement, but this time you're working your butt and your obliques, aka your side abs and love handle region. Start by lying on your back with your knees bent and your feet on the ground. Then, extend one leg straight out and lift your hips into a bridge, squeezing your glutes and specifically feeling the burn on that same side. After the bridge, lower your hips back to the ground and reach your arms toward the straight leg while extending the leg upwards. Remember that you're crunching with your abs, so don't just use your arms to swing your body up. This combo is slightly complicated since it's technically two moves in one, so you can take your time on these until you get the hang of it. Do eight reps on each side.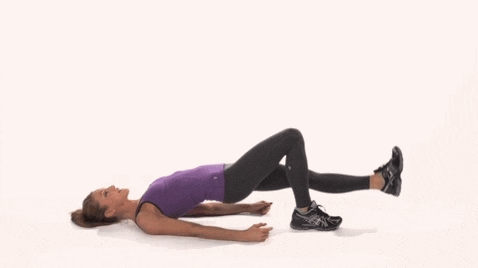 3. Tricep Extensions
You'll need a weight for tricep extensions, but it shouldn't be too hard to find because you can literally use whatever you want—a dumbbell, a weighted medicine ball, or a kettlebell. If you have a kettlebell available to you, you're gonna hold it by its horns (AKA the non-bell part) and lift it up over your head, keeping your elbows straight forward and your arms tight. Then, extend the bell toward the back of your neck, using your triceps to bring the weight up and down each time. If you feel like your elbows are widening out to the side, take a break and reposition yourself. The tricep muscles are really what give your arm that toned, sculpted look, so go heavy on these and take your time. Aim for 10-12 reps.

4. Deadlift To High Pull
The good news with this move is that you can use the same weight you were just using. Again, this is a combo move, so you're totally killing two birds with one stone by working your legs and your arms in one exercise. Place your kettlebell on the ground in front of you, and make sure it's between your legs, but like an inch or two forward. Then, bending your knees slightly, you're going to hinge your hips backward and lift the kettlebell keeping your arms straight, bringing it to your waist as you hinge the hips forward. That's the deadlift part. Then, you're gonna pull the kettlebell up to your chin, using your shoulders to row upright, with your elbows wide towards the sides. Once you complete one rep, bring the kettlebell down to the ground and do five more.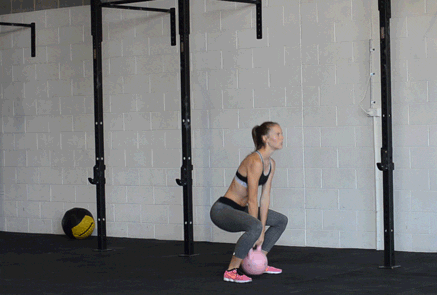 5. Squat Jumps
Now that we've done a bunch of strength work, it's time for some cardio. Your legs burn the most calories out of all the muscles in your body, so doing jumping exercises while combining squats or lunges is super effective. It's also really hard, so pace yourself. Start in a squat position, making sure your knees are behind your feet so you don't hurt yourself. Get super low, and then jump up explosively while straightening out your legs and arms. Aim for 20 reps here, but you might want to die by the time you get to 15. Try to fight through it.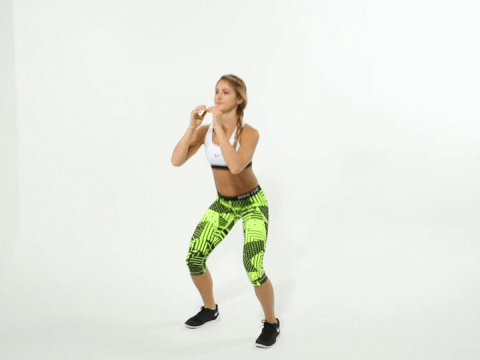 6. Burpees
Burpees are annoying and difficult, but there's a reason you see them in every fitness magazine and at every workout class—they WORK. Start by standing with your feet shoulder-width apart and your arms at your sides. Then, lower your body into a squat and place your hands on the floor in front of you, jumping your feet back so that you're in a plank position. Once your body is in a straight line, lower your chest to the floor and then bring it back up as quickly as you can. Then, jump your feet forward, outside of your hands, and jump up with your arms in the air. Do 8-10 of these, depending on your energy at this point in the workout. Also, keep in mind this is a full-body move, so make sure you follow the motions without just slamming your body down to the ground in the sloppiest way possible.

Images: Trust Tru Katsande; Unsplash, Giphy (5), Pinterest (1)
6 Foods You Think Are Helping Your Summer Body But Aren't
I once learned in AP European History that the first king of England was too fat to get on his horse, so he decided to eliminate all food from his diet and only drink alcohol in the hopes of shedding a few pounds. A thousand years have gone by, and it feels like our diets haven't really progressed (and tbh his sounds pretty logical). We're constantly being harassed by new diets and healthy foods, and some of the facts can get confusing, mostly because it all comes down to your own individual body. Although there aren't specific foods that will straight-up make you fat, there are some foods that are marketed as super healthy, but they aren't really doing you any favors. Here are some of health foods that are not so healthy.
1. Gluten-Free Bread
The "gluten-free" buzzword is often written on food items, but unless you're actually gluten intolerant or have Celiac disease, these products aren't necessarily healthier for you. In fact, gluten-free bread is usually packed with so many artificial ingredients and sugars to make up for the lack of gluten. You're honestly better off eating regular bread.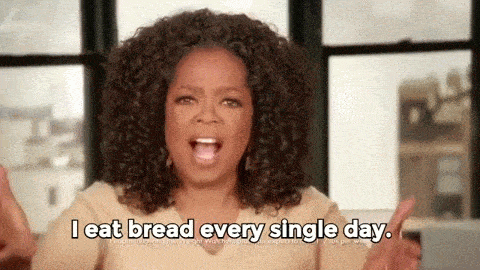 2. Orange Juice
The whole "fresh orange juice" health fad started like, 60 years ago, but let's keep in mind that women were still smoking while pregnant at the time. AKA, it's outdated. I mean, I'm not saying orange juice made with minimal ingredients is at all dangerous for you, but if you think you're drinking a glass of health with your oatmeal in the morning, you're wrong. Orange juice is basically a cup of sugar, and even if it's just made with oranges, which have a ton of vitamins, it's a lot of sugar to gulp down at once. Plus, lower sugar fruits like strawberries and papaya have more vitamin C than oranges do, so there goes that excuse.

3. Granola
Granola is one of those foods that really isn't terrible for you, but it's marketed as this magic bag of health and wellness, and honestly, nobody takes the serving size into account. Most granola companies, even the ones that use "clean" ingredients, don't make it clear that the serving size is usually 1/4 cup. Anyone who's ever looked at a measuring cup knows that is tiny. Many people (hi) end up eating entire bowls of granola, ingesting like, 600 calories in one snack. Granola is meant to be sprinkled on top of Greek yogurt or snacked on in small doses, so keep that in mind when eating half the bag before lunch.
4. Restaurant Veggie Sides
I'm one of those people who are guilty of going out to dinner and ordering a bunch of vegetable sides, thinking that it's the healthiest option on the menu. Honestly, they're usually not that healthy. It's pretty much known that vegetables suck, taste-wise, so these restaurants often douse them in oils and sauces and butter to make people want to order them. Like, if you're wondering why your Brussels sprouts appetizer tastes like french fries, maybe it's born with it, maybe it's tons of added fat. You're better off ordering a lean protein, like fish or grilled chicken. You don't have to avoid vegetables completely, but just be wary of what you're actually ordering when you're out to eat.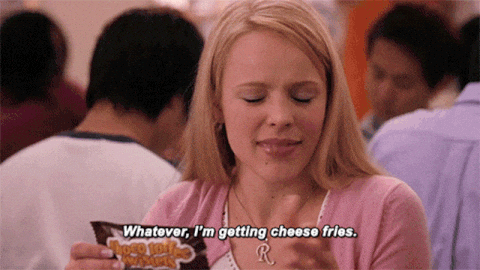 5. Agave Nectar
Ever since Miley went vegan and açai bowls became trendier than Momofuku cake, agave nectar is trending in the wellness world—but unless you're vegan, it's not that healthy for you. Like, agave is supposed to be the "healthy" sugar substitute, but the reason it has a low glycemic index is because it's filled with fructose, which, when ingested in large quantities, turns to fat because your liver can't turn it into energy. Instead of demonizing sugar and turning to agave as an alternative, just add sugar in moderation and realize what you're actually putting into your body when you buy these alternatives.
6. Dried Fruit
Ugh, this one makes me so sad because dried mango is actually the best thing since watermelon Sour Patch Kids. Dried fruit is similar to granola in the sense that it's really not harmful for you, but nobody talks about serving sizes, and they're SO sad. Dried fruit is all carbs and sugar, and often companies add even more sugar to them. Like, have you ever realized why Craisins are so much sweeter than actual cranberries? Spoiler: it's sugar. If you're eating dried fruit, find a brand that has no added sugar, and try not to eat the whole bag in one sitting. You can do this.

Images: Jannis Brandt / Unsplash; Giphy (4)
The Worst Mistakes You're Making On Gym Machines
As much as I love bodyweight movements and at-home workouts, using machines at the gym is a good option if you know what you're doing. The gym is filled with intimidating equipment, and it usually takes a few tries to figure out how to use some of it. In fact, even some of the most simple machines are confusing, and you end up using them wrong, which ruins your workout and could cause you an injury down the line. Here are the workout mistakes you're making on six basic machines and how to fix your form. 
The Treadmill
The treadmill seems super intuitive, but people still screw up their form all the time, and it can sabotage your workout and lead to serious injuries. For example, a lot of people look down when they're on the treadmill, and that's a recipe for disaster. Not only can you lose your balance and eat shit on the Equinox floor, but you can also strain the back of your neck and misalign the rest of your body. To run on the treadmill properly, keep your gaze straight and your chest open. You'll be able to run for a longer amount of time and you'll probably be less sore the next day.

Elliptical & StairMaster
The Elliptical and the StairMaster are both go-to cardio machines, but they're only effective if you're positioned in the right way. Instead of hunching over and holding onto the side handlebars like your life depends on it, keep your hands to yourself and keep your posture straight the entire time. You're supposed to feel a burning sensation in your legs on these machines, so if you're death-gripping the rails to take the pressure off your legs, you're not doing yourself any favors. The machine is just there to support you, so you don't have to clutch the handles like you're gonna fall over. Plus, when you're hunched over, you're taking the exercise away from your legs, so you just end up burning less calories than you could have if your form was right.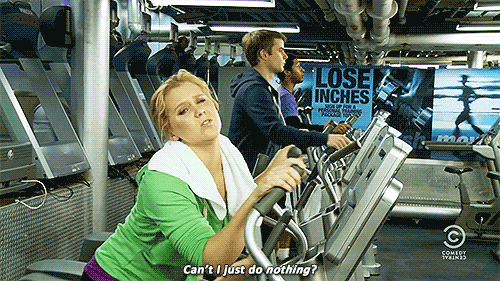 The Rower
The rowing machine is an even better workout than the electronic cardio machines, because you literally have to use your entire body to operate it. This includes your legs, arms, back, and abs. So, if you feel like you're just pulling in the bar with your arms, you're not using the machine correctly. Instead, think about pressing down with your heels and pushing outward, like you're standing up from a deadlift. The idea is to use momentum from your legs to generate the pull, and then use your back and arms on the second part to finish the pull. And again, if your posture sucks here, you'll probably injure yourself, so remember to keep your core engaged and your shoulders pulled back.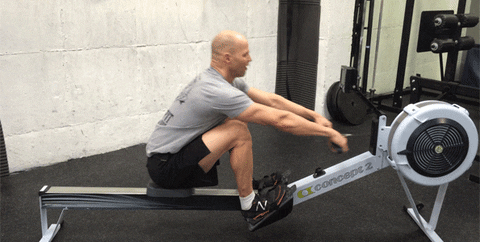 Lat Pulldown Bar
The lat pulldown bar can be difficult to use because it's hard to engage your lats. In fact, most people don't even know what their lats are, so that's problem number one. The lat muscle, aka the latissimus dorsi, is the huge muscle on your back that goes all the way behind your arms. If you strengthen this muscle, your back will look toned and tight, and your waist will end up looking more narrow in result. So, in order to pull down this bar using only your lats and not your shoulders, you need to really think about squeezing your back and engaging the muscle before you pull down. If you're leaning back too far or bringing the bar to your waist, you're overextending. Focus on bringing the bar to chest height and on keeping tension away from your neck and shoulders.

Hanging Leg Raise
This is a great piece of equipment for ab exercises, and it's super effective for leg raises, knee-tucks, and holds. It's also a tricky one because people tend to start doing leg raises before their core is engaged, so only the hip flexors are being worked. Instead, prop yourself up and get comfortable first. Engage your core by pulling your belly button in toward your spine, and then start the exercise. Another mistake people make is by keeping their shoulders too close to their ears. Instead, draw your shoulders down and think about pulling them away from your neck. This will help prevent tightness and injuries that are caused by locking out your shoulder and neck muscles.

Leg Press Machine
The leg press machine is basically a squat variation in a different position, so you need to make sure you're not just bouncing up and down and screwing up your back. A lot of people accidentally do partial reps on this machine, so they're not getting the full range of motion that they would in a standing squat. Position the seat so that when your knees come in, they come close to your chest, so you can target your glute muscles. Also, avoid locking your knees when you straighten out your legs. It's bad for your knees and you could really hurt yourself, so remember to keep a slight bend even while extending. There's no need to get injured at the gym if you just take your time to make sure you're not zooming through every movement.

Images: Giphy (6)
6 Exercises To Improve Your Balance And Flexibility
I follow a lot of #fitspo type of social media accounts, and every now and then I'll watch a workout clip on Instagram and literally bug out seeing what some of these girls can do with their bodies. I mean, no, I'm not talking about how cute their sponsored shaker cups look next to their butt-facing-forward mirror selfies. I'm talking about these crazy moves that require more balance and coordination than 99% of America can handle. Like, I work out regularly,  but honestly my flexibility and balance are pretty shitty, and it's something I'm trying to work on. Here are six exercises to improve balance and flexibility that I'm incorporating into my own routine . Please join me so I'm not the only one struggling through pistol squats at the gym.
1. Bosu Ball Split Squats
The bosu ball is meant to make any exercise harder, and that's because it screws with your balance, making you use your own body to stay aligned throughout the movement. If you do split squats regularly, try adding the bosu and it'll really help any imbalances you have in either leg. The idea is to prop one leg in a lunge on the bosu behind you, and then use your front leg to move up and down, pushing with your glutes throughout the movement. If you're a newbie, you'll probably start tipping over when you start, so just take your time and focus on grounding yourself with your front leg. If you feel like one side is easier than the other, that's completely normal and it's because we're usually stronger on one side. That's why we're doing this. Once you master this, try putting the front leg on the bosu, because variety is the spice of pulled muscles life.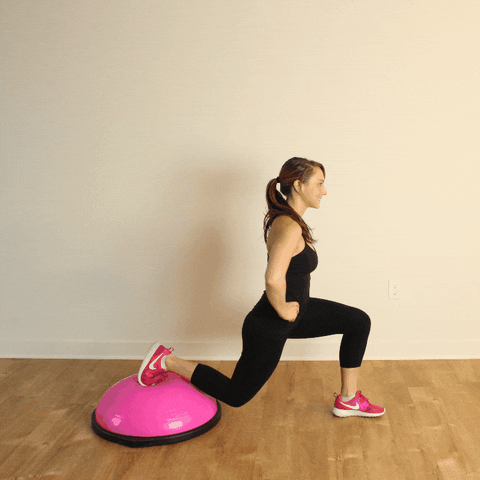 2. Lunge Hip Flexor Stretch
This move looks like more of a stretch than a real exercise, but honestly it's a must and it'll help with other exercises. It helps with mobility, flexibility, and coordination, so you'd be missing out just by skipping it. Especially if you sit at a desk all day, this move is amazing for opening up your hips and relieving any tightness from sitting for so many hours. Start by placing your hands on the ground and stepping back with your right leg, like you're stepping into a reverse lunge. Then, straighten out the back leg and feel the stretch in your hip flexors as your front leg bends in front of you. Hold for a few seconds before switching to the other leg.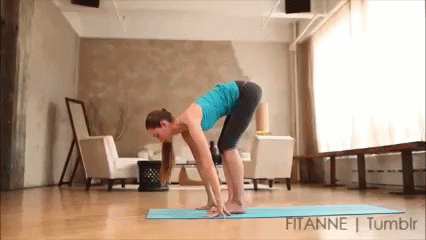 3. Alternating Arm Plank
This one is harder than it looks, so again, TAKE YOUR TIME. No one has ever rushed you through a plank, and the stability aspect here is key. The idea is to hold a regular high plank, but alternate arms so that you only have one hand on the ground at a time. This move hits your shoulders, abs, and arms all at once, and it also ensures you're not relying on one side of your body during other ab exercises. Remember to keep your hips as square as possible without swaying or lifting to one side. If this starts to feel like a side plank, take a break and start again.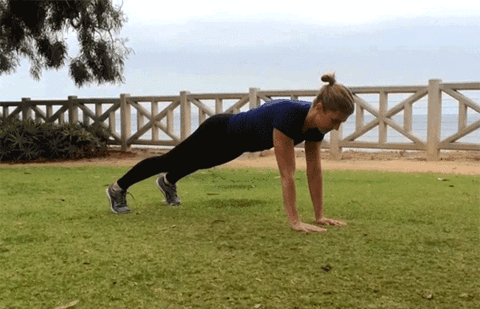 4. Pistol Squat
Ugh, pistol squats. Ask any trainer and they'll tell you this exercise is QUEEN of one-legged training. You're basically putting all your bodyweight on one leg at a time and squatting with only that leg, so yeah, it's hard. If you need to hold onto a bench or TRX straps at first, do it. In a standing position, raise one foot off the floor and descend into a squat. As you squat, try to extend your front leg forward without losing your balance. Then, get as low as you can before slowly rising up, straightening out your knee and driving through your heel. You should feel this in your glutes on the working side. Again, take your time and just focus on the balance part. The rep count doesn't really matter here, so just try to do a few without falling over. You'll go deeper, do more, and need less assistance as you get stronger.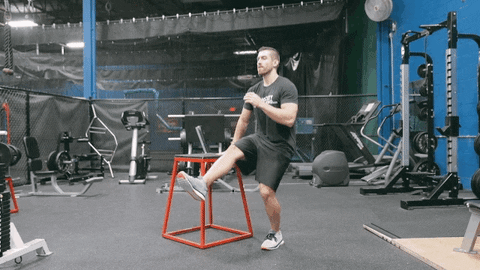 5. Opposite Arm & Leg Raises
Contrary to its name, the opposite arm and leg raise is actually more about your core and torso region. You're basically raising your right arm and your left leg at the same time while on all fours, so the goal is to keep the rest of your body as still as possible. You'll need to keep your back flat and engage your core. Squeeze your abs while you slowly extend your arm and leg, and then take a second to look forward at your reaching arm before lowering down and switching sides. This should also help strengthen your back, so make sure not to arch your spine and ruin your form. Think about pulling your abs in before lifting, and then when you reach out, keep your arms and legs parallel to the floor. For extra credit, get off your knees and do this from a full plank. Good luck in advance, is all I have to say.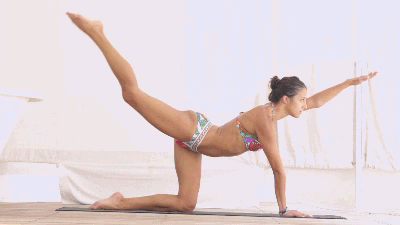 6. Standing Crunch With Clap
Balancing on one leg is already difficult AF, so adding in a crunch and an under-the-leg clap may take some patience. This move has two parts, so let's discuss both. It's kind of like tapping your stomach while rubbing your head. Takes a shit ton of coordination, is what I mean. Balance on one leg, keeping your other knee 90 degrees with your hands over your head. Then, crunch forward, bringing your hands under the raised leg for a little clap underneath. Bring your hands up and then back down for a few reps, and then switch to the other side. Also, try looking as happy as the girl in this GIF.

Images: Squarespace / Pexels; Giphy (5); Pinterest 
6 Ab Exercises To Tone Your Obliques
Let's talk about obliques, or as we like to call them, the "crop top muscles." Known in the scientific world as the external abdominal obliques, your oblique muscles are one of three muscles that make up your lateral anterior abdomen. AKA, your side abs. As much as we love crunches and leg raises, those exercises don't really isolate the sides of your abs, which you need to do in order to see your obliques (obviously in addition to a healthy diet). If you're looking for an workout to specifically target your obliques, try doing these six ab exercises.
1. Bicycle Crunches
Bicycle crunches can be one of the best ab exercises for your obliques, but people usually do them so fast that they're not actually activating the ab muscles at all. Take your time on these and think about crunching the muscles instead of cheating your way through it and just relying on momentum. Lying flat on the floor with your lower back against the ground, put your hands behind your head and lift your left shoulder off the ground while bringing your right knee to touch that left elbow. Alternate sides for 30 seconds. If you're feeling this in your neck at all, slow down and try to think of reaching your shoulder to your knee instead of your elbow to your knee.

2. Side Plank With Reach
This exercise should be called the muffin top remover. It's super simple, but it's amazing for getting rid of love handles and toning up the sides of your stomach. Start off in a side plank with your hand on the ground, your feet stacked, and your body in a line facing one side. Remember to keep both of your hips facing the side you're looking at. Then, once you're in a stable side plank, lift the top leg and bend the knee, bringing it up to your waist, and bring the same arm to meet it, crunching inwards on that side. If your balance sucks, just do the leg part, but try for your leg and your arm. Do 10 reps and then switch to the other side.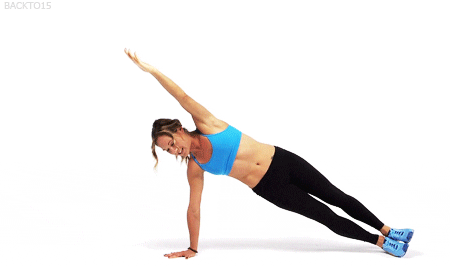 3, Downward Dog Cross Reaches
People don't usually think of downward dogs as ab exercises, but in addition to being a great calf stretch, it can be super effective for your obliques if you add a reach at the top. Start in a high plank position with your hands on the ground and your feet about hip-distance apart. Then, raise your hips, bringing your body in a V-shape downward dog. Once you're in downward dog, take your right arm and tap your left calf or ankle, using your abs to crunch diagonally. Then, do the same with your left arm and right leg. Keep alternating sides for a minute.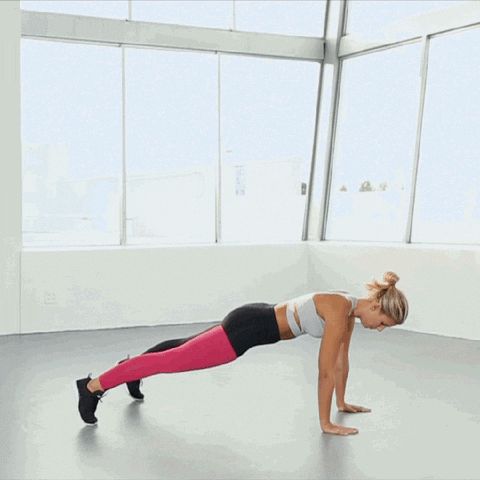 4. Hip Dip Side Plank
I know this one looks similar to the other side plank we did, but the hip dip is a game-changer, so doing both ab exercises is a must. The idea here is to hold the same basic side plank as before, but you're going to dip your hip downwards, slightly tapping the ground on one side and coming back up. You should feel a slight stretch in the side of your body that's closer to the ground. Keep your hips square the whole time. Do 10 reps on the right side and then switch to your left. You can also hold at the top for a few seconds after each rep to feel the burn even more.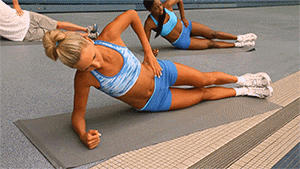 5. Russian Twists
Russian twists can be KILLER for your obliques if you take your time and challenge yourself with the weight. (And no, the name has nothing to do with current events.) Grab a dumbbell or kettlebell, and keep it hovering over your chest, but not pressing into your body. Start by sitting down on the floor and placing your feet out in front of you, raised a few inches above the ground. Your knees should be slightly bent and your torso should be elevated off the ground, making a V-shape with your thighs. Holding the weight with both hands, move it from one side of you to the other, tapping the ground on your right and left sides each time. Do 10 reps on each side, and remember to engage your ab muscles with each rep to avoid carelessly swinging the weight from side to side.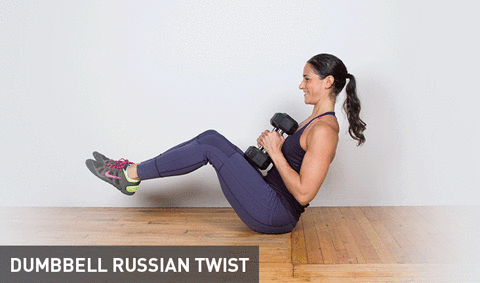 6. Kettlebell Windmills
Windmills are a little more advanced as far as ab exercises go, so if you feel like these seem easy, you need to SLOW DOWN and think about the muscles you're using. To start, take a light kettlebell in one hand and hold it overhead with your palm facing forward.  Keeping the kettlebell locked out the whole time, push your butt outward in the same direction as the kettlebell, and bend your hip, so that you can slowly lean down in the other direction to touch the floor with your free hand. Then, return to starting position, keeping your arm straight before you do another few reps. After about 6-7 reps on your right side, move your kettlebell to the other hand and do the same thing on the left. I know you'll feel these like crazy tomorrow if you're doing them right. I mean, it's like I have ESPN or something.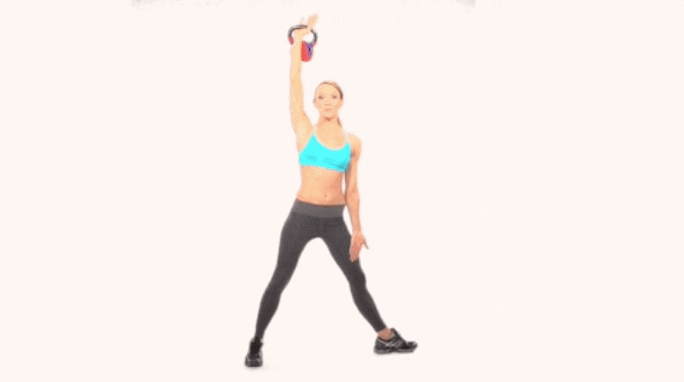 Images: Giphy (6)