Is Katie The Most Relatable Bachelorette Ever?
I've been a reluctant member of Bachelor Nation for close to seven years now. And while I have almost always wanted to be friends with the franchise's female leads, Katie is the first Bachelorette that I could actually see myself getting a drink with. For the first time in recent Bachelorette history, I am not intimidated by its leading lady. And since I am an average-looking, single female in her 30s who sees almost all other single women as a threat to my chances of ever landing a boyfriend, that's f*cking saying something. 
It's not that Katie isn't absolutely gorgeous, because she is. And it's not just that she's, as they keep saying over and over again, "sex positive"—or because she uses a vibrator, because literally every woman does (if you think we are having better orgasms with men than with our toys,  you are delusional). It's that she—and I absolutely mean this in the best way possible—just doesn't seem like one of those cool girls. Katie Thurston is not the Regina George of the Bachelor franchise (she would probably find the whole concept of The Plastics to be sexist and limiting), and I am absolutely here for it. And while some viewers may have jumped off the Katie train when she got into it with some of her castmates on ATFR last season, her not being friends with the Kits, Chelseas, and Abigails of Matt's season (who all star in each other's Instagram stories in NYC now) only made me love her more. Because, same girl, the cool girls wouldn't like me that much either. 
For years, I've watched this "reality" show in the same way I watch Grey's Anatomy or, more recently, Bridgerton: to see gorgeous, unattainable, unrealistic characters and storylines play out on my TV. The line between celebrity and Bachelor contestant is so blurred that I'd have the same reaction to running into Rachel Lindsay on the street as I would Regé-Jean Page. Okay, well maybe not the exact same…but you get it. And as that line blurred, the pressure on franchise contestants, especially leads, grew. They felt the need to be polished, to give off an "aspirational" vibe that women would see and think, "damn I want to be like her." But we don't see that as much with Katie; instead, we see her and think, "damn, I am like her." And wasn't that the point of reality TV to begin with?
So, clearly I was primed to love Katie as the Bachelorette from the moment her first season promo came out with her looking truly uncomfortable in a bright purple zip-up skirt. Like, yes please, I would also try to wear that piece of "fashion" and not know how to hold a rose. And the fact that Chris Harrison was going to be nowhere near our television screens had me all the more excited. Katie, quite simply, did not disappoint. She swooned over every attractive man like she was watching a Marvel movie in the comfort of her own home, prepping her vibrator for a post-viewing masturbation sesh starring Chris Evans, Tom Hiddleston, and Mark Ruffalo as The Hulk (yes, I said what I said). She struggled to walk in her heels, couldn't pretend to not be creeped out by the skin salesman, and had multiple uncomfortably open-mouthed makeout sessions in true awkward "what do I do with my tongue?" fashion. She also fangirled over Kaitlyn and Tayshia because let's admit it—they are the cool girls, and what not-cool girl doesn't still secretly (or not so secretly) want the cool girls to like her? 
We also learned a bit more about Katie's background during the premiere: that her parents got divorced when she was young, she grew up poor, and isn't sure if she wants children. What a trifecta of relatability, amiright? The show still only represents the top 1% of attractive people, but hats off to ABC for opening up the leading role to someone from a lower tax bracket! And finally, some representation for the women of the world that don't see their bodies solely as vehicles for the creation of other bodies! Finally, some normalization that first can come love, then comes marriage (if you want, also cool if you don't), then comes a long happy life of travel, leisure, and never having to worry about passing on generational trauma! 
I know we are talking about a franchise that is rooted in patriarchal norms, has a large conservative fan base, and is still SUPER problematic, but boy does this awkward girl finally see a bit of herself in the Bachelorette. And not only is that refreshing, but it's also going to be a hell of a lot of fun to watch an outspoken, kinda weird, not conventionally Instagram model-y woman fumble her way around a cocktail party and into the fantasy suites. 
Image: ABC/Craig Sjodin
The Best 'Bachelor' Recap You'll Ever Read: Hometown Head Injuries
Hometowns are hereeeeee, and boy, has it been a journey. Is it just me, or has watching Matt whittle down his group of ladies to the final four felt a little like surviving a middle school locker room during the height of puberty? Michelle and those arms definitely look like the type who could give me a wedgie, and Rachael has a face that says "I would start a rumor about you using super jumbo tampons." But, you know, I'm sure Matt's wife is in there somewhere!
As I've mentioned, this week is Hometowns, where we'll get to meet the families of Matt's final four women: Michelle, Rachael, Bri, and Serena P. The theme of this year's Hometowns is "you can never go home again," mostly because it would take too many COVID rapid tests, and production already wasted their emergency stash on Heather. Shame. If you'll recall, last season's quarantine hometowns were… something. For those of you who missed it, just imagine the production value of a high school's performance of Mamma Mia! but, like, without the pride of a bunch of art geeks hoping to use the set design on their college applications and more just Chris Harrison's least favorite ABC intern cobbling something together with rubber cement and a sharpie. So, this week should be fun!
Michelle's Hometown

We're first whisked off to Michelle's hometown of "Minnesota." Minnesota is in air quotes here because I'm assuming we will see nothing of the actual state during this date. If anything, I imagine ABC will project a Pinterest mood board of "cold stuff" on a green screen and hope we just get it.
Okay, this is kind of cute. Michelle introduces Matt to her alter ego: "Miss Young." Miss Young is her teacher personality whose kink is apparently having her third graders grill Matt about how many kids he wants and if he uses his hands enough during foreplay. Seriously, these questions are so invasive! Especially Ethan's. That kid has no chill. 
Also, be real, Michelle. Did you make attendance mandatory here? I can only assume permission slips must have signed for this as well? And can I just say, Matt's pants are VERY tight. I almost need parental controls on my TV to endure seeing those thighs, I can't imagine the effect of seeing those bad boys live and on Zoom. 
My first impression of Michelle's family is this: they're HUGE. Are we sure she's actually from Minnesota and not from whatever place birthed Hagrid? They're SO tall, it's insane. My second impression of the family is that they need to be protected from the franchise at all costs. They are too precious for this Earth. Her dad has a voice that could soothe my anxious dog during a thunderstorm, and her mom is wearing head-to-toe Costco in the most endearing of ways. They both seem deeply concerned that their daughter would accept a marriage proposal from a man in a tweed bomber. They're not wrong. 
The date culminates in the most wholesome display of family dynamics I've seen on my screen since Boy Meets World went off the air: a family game of basketball. Excuse me, but what?? Like, I did not know that a Bachelor date would be my inspo for setting my dating standards in 2021. Brb, just going to update my Ship profile to say "If you want to be my lover, you gotta get with my entire family and play a low-stakes game of pickup basketball."
MICHELLE: I told Matt I loved him and he gave me a positive smile in return.
ME BOOKING THE NEXT FLIGHT TO PA: 

A positive smile? That's it?! He just had a hot, confident woman with legs the length of my entire body tell him she loves him even with his turtleneck fetish, and the most feeling he can muster up is a lukewarm smile? Are you kidding me with this, Matthew? Are you into any of the women? Because right now I really couldn't say! Do you even want a wife? Or just a roommate whose pants you can borrow? Someone make it make sense. 
Rachael's Hometown
The racist is up next! Oops sorry, I meant Rachael is up next. She wants to show Matt what life in Georgia is like, and it all just hits a little differently now that we know her TimeHop is full of "Old South" throwbacks.
RACHAEL: *blindfolds Matt* I can't wait to show you Georgia! Do you trust me?
ALSO RACHAEL: We're here!!

Oh, no it's cool, guys, she's just going to shove him out of a plane! Luckily for her, Matt considers near death experiences to be foreplay, so he's really into it. 
Holy sh*t. Rachael lands like a cracked egg on the pavement. Okay, why was that landing so bad? What kind of janky skydiving place did she book for this? Also, I love that they make her finish out this date even with whiplash. Matt's like, trying to make out with her while she's still peeling astroturf out of her hair extensions. She just face-planted, full speed from the sky, into the earth. At least wait for her concussion to subside. 
We finally meet the family and they're… ambivalent about Matt. Honestly, there's not much more I can say about this date. Rachael seems really into him even with her parents voicing concerns. She even wanted Matt to ask her dad for his blessing to get married. You can tell when she asked Matt about it he was like "oh right, we're supposed to get engaged at the end of all of this." Yes, you are buddy! Better start acting like it. 
Bri's Hometown
I love that these are not Hometown dates as much as elaborate ways to maim Matt. Michelle was the nicest about it with that bike riding excursion, but Rachael was hoping he'd get the shoddy landing, and Bri is actively trying to crash him into a tree while they're off-roading in that Jeep. 
BRI: Do you remember that one time you almost killed me?
ALSO BRI: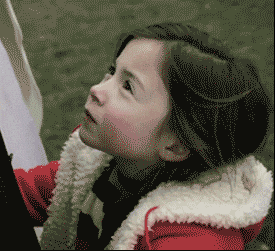 AHAHAHAHA. I love that Bri has been holding this huge grudge since week three. God, I hope she kills him. 
Also, as hot as murder is ladies, where are the real hometown dates? If I don't see at least one high school yearbook photo from the 2000s complete with crimped hair and Hollister tees, I swear to god I'm going to lose it. 
Bri's family consists of her mom, BFF (who's also named Bri), and baby sister. Okay, wow her "baby sister" is a literal baby. I was expecting to meet some Gen Z-er in mom jeans ready to fire off some scathing critiques of Matt's TikTok, not this squishy bundle of cute. 
I cannot get over how gorgeous Bri's mom is, and also how young she is. She could be a contestant! They could have gone on this show together and rivaled The Twins™ for most outrageous professional description. 
Also, I don't think Bri's mom likes Matt very much. First off, Matt dodged almost all of her questions about how he sees the future with her daughter. Second of all, she keeps saying "we can mend your heart together" as if she's already has pints of Ben & Jerry's on deck in the hotel room should her daughter blink twice for help. 
Bri thinks that the reason she hasn't said she's falling for Matt yet is because she has trouble being vulnerable, but I think it has more to do with the fact that she knows nothing about this guy other than the fact that he has a penchant for skinny jeans and turtlenecks. Even so, she blurts out an "I love you" before the end of the date. Matt takes this as an encouraging sign for their relationship, but pointedly ignores that fact that when she said the L word it was accompanied by the facial expression of swallowing glass. Yeah, I think these two will go far. 
Serena's Hometown

Last but not least, we have Serena's hometown. Serena appears to be the only one who didn't get the memo that "hometowns" is actually code for "create an elaborate death trap for Matt," so she sends him to Canadian bootcamp instead. Also, I love that Serena's hometown is just the entire country of Canada ,and that apparently the most defining moments of her childhood involve the Canadian national anthem and eating the most disgusting looking poutine I've ever seen in my life. 
SERENA ON THIS DATE RN:

Okay, Matt's pants are out of control. Those jeans are practically painted onto his body! I'm shielding my eyes watching this hockey game for fear a g-string might pop out of those jeans when he leans over to hit the puck. 
Okay, Serena is soooo normal. She's giving me huge Hannah B vibes, and by that I mean she's relatable AF. Matt says as much when he meets her parents. He's like "she was so normal" which sounds like an insult, but I get it. That said, I don't think Serena is that into him. Her sister even says she doesn't look "smitten" with him, and I would have to agree. 
SERENA'S SISTER: Do you love him?
SERENA: ….yes?
SERENA'S SISTER: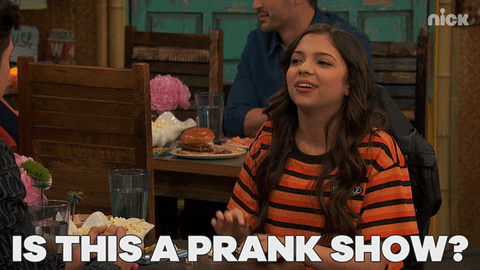 AHAHAHA. This sister is savage. I love it. 
I do think Serena is talking herself into this relationship. I'm sure she'd be into dating Matt, but marriage? Eh, not so much. The end of the date is pretty bleak. She tells Matt she's having doubts about their relationship and he reacts with all of the emotion of a toaster. I know I used to give Lauren B a lot of sh*t for maybe being an animatronic fembot crafted in the bowels of ABC studies for the sole purpose of being Arie's dream girl, but now I'm starting to wonder if they manufactured Matt too. He's just way too cool under pressure. 
The Rose Ceremony

Before the rose ceremony begins, Matt tells Chris Harrison that he got a bad feeling from his hometown date with Serena. In what I'm sure is truly altruistic in motive and has nothing at all to do with manipulating a grown man into crying for ratings, Chris encourages Matt to talk to her right now. What's the worst that could happen! 
Matt's like, "I need answers, she needs to talk to me" and BOY does he get them. Serena says Matt's just not her person and essentially sends herself home before the rose ceremony. To her credit, she did find a very nice way to say "it's not you, it's me." 
SERENA: *dumps him*
MATT:

I am dead that he just asked her to walk him out and then proceeded to have his own sad limo exit. Like, Matt there's no need to have this tear-stained confessional. You're already the bachelorette, buddy. 
Matt is visibly shaken by his encounter with Serena. He hasn't felt this betrayed since his trainer left him for a different CrossFit. Luckily, we have Chris Harrison here to offer warm words of encouragement in the form of fearmongering. He's like, "and are you worried no one else likes you, because I would be." You're ruthless, Chris. This is not the time!
At the rose ceremony, Matt tells the ladies that although he's given off tepid expressions of feeling at best and has promised nothing of an engagement at the end of this other than "we'll just have to see where we're at," that they better step tf up and fulfill their contractual obligation to make him look good. Jumping ship so late in the game is a bad look for his brand. He tells them to think long and hard before accepting any of his roses and then immediately calls Michelle's name before finishing his last sentence. The scared straight tactics work because all of the women accept his roses. 
That's it for this week, freaks! Start psyching yourselves up for next week's "Women Tell All", because Queen V and her under-eye bags are coming back, and I could not be more thrilled. Until then!
Images: ABC/Craig Sjodin (3); Giphy (6)
The Best 'Bachelor' Recap You'll Ever Read: 50 Shades Of Please Stop Talking
I think I speak for all of us when I start this recap off by saying: OFF WITH HER HEAD!!! I am, of course, referring to Queen Victoria. (Not the matriarch of the most famous royal bloodline in history, but the matriarch of slob kabobs. You get it.) Thus far on The Bachelor we've been treated, and what a treat, to two episodes that are entirely too Victoria-content-heavy. Normally, I quite enjoy a villain. The manipulation, the pettiness, the drunkenly slurred insults—you could say that I see something of myself in them. But it's almost insulting to suggest that Victoria, of the black bra straps and smudgy eyeliner and puffy under eyes—that Victoria—is a threat to anything other than the tenuous grasp I have on my sanity. But alas, I saw production put a wig on a mop and call it a "ghost" on a haunted group date last season, so there's really no limit to how far they'll bend reality for the success of a plot line. 
Which brings us back to the rose ceremony! When last we left off, Queen V had set her sights on annihilating the weakest link in the group: Marylynn. To be fair, she did choose her mark well. Marylynn seems like the kind of girl who apologizes if a stranger sneezes across the street. Victoria, meanwhile, is the kind of girl who would cut a girl's brakes if she were running against her for Alpha Delta Pi social chair. Mar Mar really didn't stand a chance. 
Okay, I forgot about the Sarah fainting thing. It seems the girl has been watching a little too much Bridgerton. That's a total Lady Cowper move. I love how the medic is all "do you need oxygen?? A hospital??" and she waves him off like she's good with just a few hits of Matt's cologne. Yeahhh, I'm starting to think this was less about Sarah feeling a little lightheaded and more about Sarah feeling a little manipulative. 
Honestly, I've never seen a room so quickly and thoroughly decide to forgive one villain and revile another. I guess all the prayer circle Jesus talk is reserved for asking God to forgive your sin of eating carbs before 11am, not wishing a girl who's already face-planted once this evening extensive bodily harm. Got it. 
KHAYLAH: Do I feel bad for Sarah? Yes. Of course. But also…

WHAT. HE GIVES VICTORIA THE ROSE?! She legit looks like she showed up to the rose ceremony hungover after a 10-day bender that involved several bar fights and zero sleep. How could he pick her!! I would love to hear Marylynn's take on all of this. No, seriously. I've heard leaves rustle at a higher decibel than how she's talking directly into a mic rn. 
The Group Date
Today's group date theme is "get uncomfortable",  which is funny because is that not also the tagline of this franchise? I mean honestly, what's more uncomfortable than the entire premise of this show? I'm sorry, but a man dating 30 women at once? And each "date" involves a scenario that is either mildly pornographic or offensive to some cultures/religions/etc.? In any other world this would be grounds for a Special Victims Unit investigation at the very least. 
Ah, I see the real reason for this date. It's a shameless plug for Chris Harrison's "erotic" romance novel! I love how Matt asked for "uncomfortable" and Chris Harrison immediately thought of the content of his book. At least he understands his own writing! 
The ladies are told to write an erotic next chapter featuring themselves and Matt James. Not only will this be an exercise in creative writing, but they will also be doing a public reading of their work just in case physically writing the words "moist for you" wasn't punishment enough. Tbh, I truly can't wait to hear these girls (who were saying the Lord's Prayer but a week ago!) now go into public and excruciating detail about all the things they'd like to do with Matt James' penis. It's about to go from "our father who art in heaven" to "daddy can I" real f*cking quick.

As I anticipated, this is a train wreck. I've never felt more uncomfortable in my life. Matt keeps saying how proud he is of the vulnerability these girls are displaying, but my idea of vulnerability does not involve turning the comments section of an OnlyFans post into a seductive Haiku. It just doesn't. Kit starts talking about fingertips down her spine, Dildo Girl looks like she's a minute away from busting out her X-rated Harry Potter fanfic for the occasion (she totally looks the type, don't lie!), and Victoria's has more redactions than one of Trump's tweets. I'm pretty sure the college creative writing degree in me just shuddered in disgust. 
No one walks away from that date feeling more confident than Dildo Girl. A sex positive date that involves honest conversations with your partner (and the 29 other authors of his "special stories") about sexual pleasure? If she doesn't shine on this date, then there's truly no hope for her. 

Dildo Girl, riding off a high from saying the word "pussy" on stage and not even giggling a little, gets about three minutes to bask in Matt's praise before Sarah shows up to crash the group date. GOD, SARAH, CAN YOU LET THE GIRL HAVE HER MOMENT? She doesn't even have a name on this franchise yet! Her face is still synonymous with a Spencer's gag gift! Poor Dildo Girl. This all just feels needlessly cruel. 
All right, I don't love that Matt is entertaining this. As far as I can tell, Sarah crashed the group date because she was feeling anxious… that he was dating other girls… on The Bachelor? 
SARAH: It's just that you're dating all of these other girls at the same time as me…
MATT AND ALL OF AMERICA RN:


Don't act like you've never watched The Bachelor before, Sarah! This isn't some newfangled plot line shocking the nation. Mike Fleiss has been peddling this show's demented format since before you were born. Seriously, you're killing my vibe. Go home. 
Sarah leaves the group date and is only just able to narrowly escape being sacrificed on an altar by Victoria and her mob rule. The ladies are not happy. I'm sorry, but what did Sarah expect? Girls get mad when you use the same IG caption as them, let alone steal their five minutes of allotted alone time with their boyfriend. 
With that in mind, I now declare the winner of this group date to be Dildo Girl. I mean, she's not technically the winner, Matt ends up giving the group date rose to Rachael, but in my eyes she deserves a standing f*cking ovation. Not only did she stand up to Sarah, but she also made sure the time she managed to wheedle out of Matt was as awful and awkward as possible. I genuinely didn't think she had the balls. I'm so proud of her I might even start using her real name in these recaps! Lol, I know. I shouldn't get too carried away. 
View this post on Instagram
Serena P's One-On-One Date
Serena P gets the one-on-one date this week, and I can't believe there are so many Serenas on this season that production needed to differentiate them by using the first letter of each of their last names. Are the girls so young now that their moms were big Gossip Girl fans or something? Where is this coming from? 
For their date they go on a romantic horseback ride. It's all very Sandals honeymoon meets PA quarantine. I guess I'm just impressed that this season ABC has been able to come up with dates that don't involve the camera crew papier-mâché-ing background sets together before the couple shows up. The bar is so low. 
Serena P seems like a real human being. She's being flirty but in a way that doesn't feel airbrushed or like she's reenacting jokes she saw on TikTok first. Do I think they like each other? Eh, I wouldn't go that far. I can't say I'm really sensing any chemistry. Like, if this were the real world he would probably bring her as a date to company happy hours or text her during daylight hours, but would definitely ghost her the first time she asked "what are we?" Ya know? These are the vibes he's giving off.

Their future is so bright.  
Okay, Matt talking about his spinster mother feels like a personal attack to my character. He's like, "I worry she's going to grow old and die alone." Well what would you have her do, Matthew? She's already a single mom and now she's got to explain to future dates that, no, her son doesn't have a sex tape per se. He just had fantasy suite dates. THE WORLD IS TRASH, MATT. LEAVE HER BE. 
Matt gives Serena the date rose, which isn't really surprising. What is surprising is that Sarah didn't manage to infiltrate their date somehow by pretending to be a piece of shrubbery in the background. 
View this post on Instagram
The Sarah Show
Sarah has had quite the storyline this week. Here I was thinking that last week's rose ceremony would go down like Scar's last stand in The Lion King with Queen V and her exposed bra straps going down in a fiery blaze after being devoured alive by the hyenas she thought she'd had in line. And yet! She still lives! Not only is she still on this show, but Sarah—fashionable, heartbreaking sob story Sarah—has taken on the role of being the f*cking worst. 
After crashing the group date, Sarah puts herself on a 14-day quarantine. Not like a CDC-recommended quarantine, she's still going to dress cute and see people, just if anyone she doesn't like asks, she's going to say she's not feeling well and it's best to stay away for safety reasons. You know, like how they do it in LA.
Meanwhile, sensing he has a mutiny on his hands, Matt tries to apologize to the women for Sarah's antics at the group date before his one-on-one with Serena P. He isn't even able to get out an "I'm sorry" before asking where Sarah is AND THEN GOES TO TALK TO HER INSTEAD OF FINISHING HIS APOLOGY. This is a straight-up Clare move and I'm disappointed in him. 
The women are PISSED. They're starting to question if they can trust Matt with their hearts (lol they can't) and Matt's only excuse is that he doesn't "know how this all works." Nope. Not good enough. You absolutely know how this works. If you have working eyes and ears and were born after the year 1975, you know how this works. Not to mention, you were sharing masks and exchanging bodily fluids all over Florida with your Bachelor pals this past spring. Please. 
Cut to the end of the episode and the producers have finally lured Sarah out of her cage. I'm imagining they used some sort of electric rod to prod her into that lounge area the same way zoo handlers get the monkeys to dance. Her entrance is greeted by disdainful silence and Victoria's verbal shredding of the last remnants of her reputation. 
QUEEN V: You don't need Matt, you need Xanax. 
AHAHAHAHAHAHAHAHAHA. Guys, I think I like… Victoria?!
You can't live with us. #TheBachelor pic.twitter.com/uD2OXJifu2

— Nick Viall (@viallnicholas28) January 19, 2021
After the ladies finish verbally roasting Sarah on a spit over the unending flames of their hatred for her, she decides it might be best if she leaves the show. And perhaps joins the witness protection program. Totally unrelated, of course. 
Once again, Dildo Girl is too pure for this earth. She does something I've never seen before on this franchise: shows genuine human empathy at no personal gain to herself. She tries to apologize for all the yelling just now and also the witch's curse they placed on Sarah the night before. She just wants everyone to "stay classy" during this process, you know, like when she poked that girl with her 9-inch vibrator and then asked to steal Matt for a sec. Like that. 
View this post on Instagram
Jokes aside, Katie is a QUEEN, and she deserves Matt's full attention. He better f*cking deliver next week. 
Sarah tells Matt she's leaving, but instead of the sad story she gave Katie about missing out on time with her terminally ill father and this environment bringing up toxic feelings from past relationships, she tells him it's because she was bullied. Woooow. I also love that when Matt begs her to stay, she drops the "I've been praying over this" line. Like, bitch just say you're not that into him, you're into G-Eazy!!
Annnnd that's a wrap, kids! See you hoes next Monday!
Images: ABC/Craig Sjodin; ABC (2); Giphy (4); @viallnicholas28 /Twitter (1); @bachelorettewindmill /Instagram (2)
The Best 'Bachelor' Recap You'll Ever Read: The Queen's Gambit
Welcome back, friends, to your regularly scheduled Bachelor recap! I wish I could say that the most outrageous thing to happen over the last seven days was a sexually liberated millennial brandishing a giant sparkly dildo within 20 feet of Chris Harrison, but, you know, the coup. Despite the chaos our world is falling into, I'm still here, I'm still persisting. By "persisting" I of course mean that I'm half a bottle of Charles Shaw deep and have spent the last seven days Googling pictures of Matt James' abs to keep up morale. We all do what we can. 
Last week The Bachelor started off with a bang, and I do mean that literally. Matt James spent his first two hours as ABC's leading man being utterly delightful and setting off a chain reaction of female orgasms across the country after his rose ceremony prayer. Two seconds into this week's episode and I can already tell that ABC is going to be capitalizing on that energy for this week. Before we can even transition into any dates we're treated to at least five minutes of b-roll of Matt James reenacting every hot guy dating app profile pic in one morning. He's on the Peloton, he's doing sit-ups, he's caressing his happy trail in the shower, he's walking through fall foliage, he's trying out some knits. I can only assume that a shot of him reading a devotional in only a towel will be on the agenda for next week. 
Bri's One-On-One Date

The first one-on-one date is awarded to Bri, and is it just me or do they already look like a couple? Or at least like two people who would look great together doing an unboxing video. Matt says he hasn't gone on a date in "forever" and I guess we're just not counting the month-long bacchanalian orgy that was the Quarantine Crew? Come talk to me when your last interaction with the opposite sex involves thanking your local grocery store cashier as he reaches around the plexiglass to put your change in your double-gloved hand, mmkay?
Oh, good. It seems Victoria is going to continue with this persona of a 13-year-old girl whose mother has the audacity to breathe near her in public. Carry on. 
QUEEN V:  I'm not jealous! I just, like, want that. 
YOU JUST DEFINED THE WORD "JEALOUSY", YOU IMBECILE!!! I feel as if Victoria is the kind of girl who thinks Instagram captions count as "reading." I tremble for the youth of America. 
Back to Matt and Bri's date. Matt decides to take her ATVing through Pennsylvania forestry. I'm not sure what kind of girl he thought Bri was when he was planning this date, but the head-to-toe Revolve outfit she's wearing should have been a huge indicator. Lol, Bri is equally skeptical. She's like, "I'm glad I was able to leave an impression on him after the last rose ceremony but how was that impression… mudding??" You're right, it doesn't make sense!! 
BRI PRETENDING TO LOVE THIS DATE RN: 

Okay, this date is the stuff of nightmares. Not only will she be soaking that outfit with off-brand Dawn in her hotel room's sink from now until the final rose ceremony, but he's got to ruin her hair too?? Did anyone else see him practically give her a nuggie with his muddy fist after they took a tumble on that ATV? MATT, DO YOU UNDERSTAND THE FINITE RULES OF HAIR CARE?! DO YOU?? Honestly, I feel for this girl. 
Production must have decided that was enough emotional waterboarding of the influencer for this date, because they reward her with a Matt James hot tub soak. I love when they pretend these dates are about "making connections" rather than the thinly veiled excuse to have Matt disrobe on camera that they are.
View this post on Instagram
Originally, Bri and Matt had bonded over both being raised by single mothers. Tonight, we learn that Bri's mother was actually 13 when she had her and, despite their close relationship growing up, their relationship is more tenuous now as her mother is pregnant and starting a family with someone new. This is so personal, I don't even know what to do with this information. I'm pretty sure the most vulnerable I've ever been with a guy was when I told him my favorite book was a YA romantic fantasy and didn't immediately backpedal the statement after he laughed in my face and said "no, seriously, what's your favorite book?" Damn, this girl is BRAVE. 
Okay, I do actually really like Bri. She seems super chill and like she might actually be able to articulate her thoughts in an argument. I'm impressed with how well she carries herself, especially at her age. I'm pretty sure when I was 24 I was still blacking out at bottomless brunch and letting guys feel me up in random clubs in the Lower East Side. 
The Group Date

This week 18 girls—18!!!—are on deck for the group date. I'm sorry, but that's a ridiculous amount of people for a group date. I've seen fewer girls getting packed in on a tractor for a Nashville bachelorette party. These girls are going to be lucky if Matt even says their name during roll call, let alone if they get any alone time with him! 
The women are asked to don wedding dresses for a wedding themed photo shoot, but before even half them can make it through their shoots, Chris Harrison decides to put a little twist on things. You know, if a casual fight to the death can be considered a "twist." I guess nothing says "romance" and "happiest day of your life" like gladiatorial games.

QUEEN V: I think my team is a bunch of queens and their team is a bunch of gestures.
Yeah, and that "gesture" is the middle finger, Victoria. 
They begin this demented game of capture the flag, and I've seen cleaner prison riots. MJ is over there practically sharpening her shiv, Queen V is snapping wet rags in people's faces with the full extent of her rage, and Rachael looks like she would rather die on that muddy field than lose out on any alone time with Matt. 
RACHAEL DURING THIS DATE RN: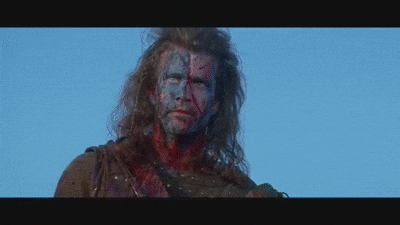 Honestly, it's hard to tell what exactly the objective of the game is, because it just looks like full-on mayhem. At some point Chris announces that the red team "wins" and we all just accept this to be true even though I could not tell you how that outcome was determined. Anything to stop Victoria's blood-curdling battle cries from rupturing my eardrums through this screen. 
The rest of the group date progresses pretty uneventfully. The high points of the evening include a sweet moment between Lauren and Matt. She tells him that she's looking for a "man of God" when it comes to her future husband. Funny, I didn't realize men of God are usually so chill with practically flashing their pubic hair every week on national television. Low points of the evening include literally any frame with Queen V in it. At one point she calls Matt a "prize" and then looks at him like he's a tiger she considered bidding on from the Tiger King park's eBay page. 
QUEEN V: *opens her mouth once*
MATT: Can I take you back upstairs?
AHAHAHAHAHA. Honestly, never in Bachelor history have I seen the lead escort one of the girls out without being interrupted first. Conversation with her must feel like it's own ring of Hell. 
View this post on Instagram
I mean, his eyes say it all. 
Sarah's One-On-One Date

Sarah gets the second one-on-one date of the week, and I'm a little shocked there's not a second group date. I guess after watching an angry mob of his would-be-wives perform illegal wrestling moves in a mud pit, Matt had seen enough. 
Here's another date that's straight out of one of my anxiety-riddled nightmares. Matt decides to test Sarah's trust in "the process" by seeing if she'd willingly climb into the world's jankiest airplane. They aren't even properly shut in! It's all open air! I've seen rural carnival ferris wheels that have more safety precautions than this contraption! 
Sarah's like, "this is a first date for the books!" and something tells me that the craziest date she'd ever been on prior to this involved half-priced fondue night at The Melting Pot.
Okay, can we stop labeling people a "slow start" just because they don't want to go public with their deeply personal sh*t? I'm all for people being vulnerable, but you shouldn't be penalized for not baring your entire f*cking soul to a person you've known for all of three hours on national television. I barely want to give a guy my last name after a first date, let alone launch into a detailed account of my intimacy issues. 
MY ROOMMATE: Is he wearing another turtleneck?
ME: He loves a turtleneck.
MY ROOMMATE: I wish he would unzip it a little bit… 
Don't we all!!
And as it turns out, Sarah does have some deeply personal sh*t that she seems less than forthcoming about sharing on national television. We learn that Sarah's dad was diagnosed with ALS a few years back and his health has been progressively declining ever since. She even quit her job as a broadcast journalist to be his caretaker. Considering I still throw a fit when my dad suggests I pay for my car insurance, I can't imagine what she's going through. Matt takes all of this news in stride and asks what he can do to be a better partner for her. I'd say for starters he could get rid of the 25+ other women he's dating, but it was sweet of him to ask all the same!
For her honesty, Matt rewards Sarah with the date rose. Honestly… I don't see any sparks between the two of them, but it's not like he could send her home after an admission like that. I'm interested to see how long she stays in this game. 
The Rose Ceremony
Going into the rose ceremony tonight, there are still half a dozen girls who didn't get any date time with Matt this week. Oooh. While I'd love to spend an appropriate amount of time talking about this or even swooning over Abigail and Matt coming up with their own secret code signals, I think we have to talk about the main event of the evening: the showdown between Queen V and Marylynn. 
First, I'd like to say that Marylynn is an easy target. You don't have to be an "empath" to see that she's the weak one in the pack. She starts off the cocktail hour by crying to Matt about her insecurities. He does his best to placate her. And by that I mean he picked a random decorative flower off the nearest coffee table and said it was for her. Smooth. 
Victoria sees Marylynn experiencing an ounce of happiness and does a truly amazing job at sabotaging it. She tells Matt that Marylynn was "bullying" her, so much so that she was forced to sleep on the couch. Technically she did sleep on the couch, but it was less because of any sort of altercation and more because she got too drunk and wanted to give her roommate the cold shoulder, much like my dog does after I watch this show every Monday night. 
I think her story would be more believable if she didn't show up to the rose ceremony looking like she shot herself with a tranquilizer gun first. Girl, you look a MESS. Not only is her eye makeup a straight-up crime, but TSA would flag her for those bags under her eyes.
View this post on Instagram
Okay, Queen V is UNHINGED. Like, what deserted island did ABC find her on? Marylynn attempts to apologize to Victoria, only to be SHUT DOWN by a woman with half her bra falling out of her dress. Can you imagine? I think if I were Marylynn and someone asked me how this feud started I would just gesture wildly to Victoria. I mean, whose account of events seems more trustworthy? Marylynn's or a girl who looks like she was the result of a SheShed seance gone terribly wrong?
Before we can find out who will be the last girl standing at the rose ceremony (spoiler: it has to be Victoria, sorry but she's contractually obligated to be in at least five episodes, mark my words), things come to a sudden halt when Sarah stumbles off stage. She dramatically whispers "I'm seeing stars" before a production intern screams to get a medic. Did she have one too many vodka crans during the cocktail hour? Did Queen V discreetly shoot her with that tranquilizer gun? Only time will tell, my friends! Until next time!
Images: ABC / Craig Sjodin; ABC (2); giphy (3); @shesallbach, @bachelornation, @tvgoldtweets /Instagram (3)
The Best 'Bachelorette' Recap You'll Ever Read: Blink Twice If You Need Help, Brendan
Well, everybody, we've made it to the final week of The Bachelorette. In keeping with the "unprecedented times", ABC is breaking protocol and giving us fantasy suites and the finale in the same week. I'd like to think this is a gift to us for having to put up with Clare's therapy sessions masquerading as dates, but we know better: they have to keep things moving in time for the premiere of Matt's season. I'll be filling in for my esteemed colleague Ryanne this week, so please be gentle in the comments. Let's get to it!
We begin with Tayshia discussing the importance of the fantasy suite dates and her confidence in the final three. We then cut to Ivan, Brendan, and Zac being forced to sit together and allude to their potential future as eskimo brothers. It's awkward AF and will be a running theme throughout the episode. Meanwhile, Tayshia has a forced Bachelorette synergy "girl chat" with JoJo. They're really trying to make JoJo happen, huh? Despite Ed's notes, Chris Harrison continues his practice of barging in on the men without even a courtesy knock. This time he tells them that they better be prepared to get down on one knee and propose.
Chris: If you're not ready for an engagement, GTFO!
Brendan: 

And so begins Brendan's mental spiral.
To my surprise, Ivan gets the first fantasy suite date. I personally love Ivan. He's far and away my favorite of the three men, but he's too pure for Tayshia and, arguably, this world. However, he tells us he did The Secret and manifested the first date. You go, Glen Coco Ivan! Zac is visibly pissed and Brendan looks like someone told him that it's now a federal offense to wear turtlenecks. Zac reminds us that regardless of the men's feelings about the other men, this is about Tayshia. Finally, a man who understands the concept of The Bachelorette!
Ivan's Date

Just watching the way that Tayshia interacts with Ivan, it's clear that he's not the frontrunner in her mind. As if the lukewarm peck she gave him weren't proof enough, we find out that their date is a f*cking ice bath. Now if that's not a metaphor for her feelings for Ivan, I don't know what is. "Are you excited?" she asks, with that pseudo British inflection she adopts when asking questions. Ivan smiles through the pain. This is the most unromantic concept for a date that I can possibly think of, especially one that's designed to precede sex. The shrinkage alone! Rude, Tayshia. Rude. Even Big Paulie, who according to Chris Harrison is a "Bachelor Nation favorite" (sure, Jan), deems the effects of this date on Ivan's prospects later on "devastating". Slapping a potential "world record" on this turd of a date isn't fooling anyone, Tayshia! You may as well have had an intern spray paint a football field on some cardboard with "Friend Zone" at either end.
Meanwhile, back at the house:
Brendan:

Zac seems to be handling things a little better. He gets the second date card and gives us his best Matthew McConaughey.
During the evening portion of Ivan's date, he tells Tayshia he's falling in love with her. She says she's been falling for him too, but I'm just not feeling the sparks between these two. Their conversation doesn't have much substance and basically consists of them parroting things back to each other. "I cried in front of you!" "I cried in front of you!" Apparently this is enough to take things to the fantasy suite, which in this case is an Airstream trailer that inside looks like it was designed by 2009 me after winning an Urban Outfitters shopping spree. I love a boho-chic moment, but this is not the mood for fantasy suites. This looks like it would be better for a Real Housewives girls' trip (OC, obv). Apparently it had the desired effect, though, because they stayed up all night talking, according to Ivan. I don't get the feeling they had sex. Maybe a little over-the-pants action, but nothing more.
Ivan returns to the house and recaps the date. Unsurprisingly, Zac and Brendan look pissed. Brendan, clearly a masochist, asks if they got any sleep. Don't ask questions you don't want the answer to, Brendan! Ivan is apparently an emotional cutter as well because a producer told him to ask he asks what Zac's date card said. Yikes.
Zac's Date

The vibe on this date is completely different than the date with Ivan. Tayshia is straight-up giddy. The feeling is mutual for Zac and he tells us no less than 14 times that he can't wait to EXPLORE Tayshia. Vom. That's exactly what the guy you go on one Hinge date with tells you right before he never calls you again. Their date is body painting, which may as well be the polar (see what I did there) opposite of Ivan's date. This date is essentially foreplay with colors. They slap on some paint and proceed to aggressively make out in front of the camera crew. Do they have no shame??
During the evening portion, they get into deeper topics, specifically, Zac's stance on having kids. Zac says he realizes now that he does want to be a dad and he then proceeds to tell Tayshia that he loves her. The moment was really genuine, so much so that it moves Tayshia to tears and she says she loves him back. I can't even be snarky, it was a lovely moment. This is what happens when you put age-appropriate men on this show!
They move on to the fantasy suite, and the set-up alone is another personal affront to Ivan. Zac and Tayshia get a whole-ass suite that looks much nicer than the "El Presidente" suite Tayshia's been living in all season. The unmitigated gall of these producers to do Ivan so dirty!
Ivan watching this back:

The next morning, Tayshia and Zac are jumping on the bed like two toddlers hopped up on pixie sticks. Interestingly, Tayshia says in a confessional that Brendan has had her heart since day one. This should be interesting given Brendan's sheer terror all episode. Zac returns to the house with a sh*t-eating grin on his face. Ivan remains mostly calm. Brendan looks…constipated.
Brendan's Date

Brendan tells us that he's worried about the prospect of getting engaged again so quickly after getting divorced. Brendan clearly didn't get the memo on not telling producers about your biggest fears, lest they be exploited to the high heavens, and so his fate is sealed. The date is hosted by F*CKING NEIL LANE! Neil, apparently pissed he had to cobble together a ring for Clare with barely 24 hours' notice, negotiated some more airtime for his tacky wares and so we need to endure this product placement we're calling a "date". A date like this would be torture for just about any straight male who's been dating a woman for a matter of weeks, but for Brendan, it is hell on earth, and it shows.
Neil keeps telling Brendan not to get nervous, then proceeds to talk endlessly about engagements and weddings. As if this wasn't anxiety-producing enough, they then FORCE BRENDAN TO TRY ON WEDDING BANDS! I swear his hands were shaking. These producers are laying it on thick. They've even got Neil Lane waxing poetic about how rings are circular (no sh*t) and that marriage is FOREVER, as if Brendan, who has been married before, doesn't already know this. Is Robert De Niro going to pop out and tell Brendan he's been admitted into Tayshia's circle of trust, too?
This date is messy AF. I guess this is one way to test his appetite for a proposal at the end.
Brendan:

The night portion of the date doesn't get any better. Unfortunately, Tayshia saved her best dress for this date. Brendan is…wearing a black T-shirt. Not a good sign. Tayshia brings up Brendan's distance and he admits he's been struggling with the idea of an engagement. He confesses that he's still broken. It was raw and honestly heartbreaking. Tayshia doesn't put up a fight and sends him home. She says he's the one she pictured herself with at the end. I'm sure whoever she chooses will be thrilled to watch that back.
Tayshia and Rachel

We get a surprise appearance from Rachel, who looks stunning. As happy as I was to see Rachel again, I didn't really understand why she was there. The conversation was pretty superficial at the beginning, until Rachel asks Tayshia about any regrets she might have. Then it became very clear why she was invited: to create an opening to talk about Ben, who is obviously going to pull a Bennett and come back to ask for another chance. To which I say:

The Rose Ceremony Ben's Mea Culpa
The men are getting ready for the rose ceremony and Ivan's look here was giving me major Drake vibes. I'm not mad about it. We then see a shot from the waist down of some bulging thighs in capri pants making their way up the path of the La Quinta, and it's immediately clear that Ben has returned. He tells Chris Harrison that he shuts down when things are tough and he wants to resolve things with Tayshia.
Tayshia, meanwhile, has two roses left, and to symbolize this she has brought the girls out for the night. She looks gorgeous and is feeling good about her final two, so of course Ben has to swoop in and f*ck it all up! He knocks on Tayshia's door and she looks THRILLED to see him. He confesses his love for her, admits that he blew it in the moment, and tells her he sees a life with her. Tayshia's immediate response is to freak the f*ck out and run to her producer. Not a great sign, buddy! All I know is if she cuts Ivan for this clown I will have ABC's head continue to loyally watch this train wreck. See you tomorrow!
Images: ABC/Craig Sjodin; Giphy (3)
The Best 'Bachelorette' Recap You'll Ever Read: Don't Listen To The Bargain Bin Lie Detector Test

Welcome back, Bachelor fans, to another Tuesday where we get to watch men who have at one point in their lives most definitely measured their penises with a ruler argue about who has more emotional maturity. I'm going to skip all the bullsh*t and just jump right into this week's recap because, and I say this begrudgingly, this week was actually pretty dramatic. I'll give you this one, Chris Harrison JoJo Fletcher! Just the one!
When we last left off, Bennett and Noah were facing off on the two-on-one date. Bennett had just gifted Noah with the equivalent of a humble pie straight out of The Help and was in the process of explaining to Tayshia how this elaborate insult wrapped in Anthropologie wrapping paper was actually a sign of his emotional maturity. *turns up volume* 

Look, all I'm going to say is this: If Tayshia sends Noah home I will riot. Then again, I would like for her to send SOMEONE home at this point since that rose ceremony looks more crowded than an American Idol audition auditorium. 
BENNETT: I'm not a mean guy, it's so easy to be misunderstood in this house.
TAYSHIA: So, what's in the box?
BENNETT: Um
HAHA. Yes, Bennett, I would love to hear you explain how just because you were the mastermind behind this grand gesture of pettiness, it doesn't actually make you petty. Tayshia asks Bennett if he's ever questioned her integrity on this show and he says he hasn't, he just doesn't trust Tayshia's judgment when it comes to Noah. Ummm, that's kind of the same thing, bro! 
Throughout this whole conversation I can't stop staring at Bennett's shoes. He's wearing white sneaks with this suit. Is that emotionally mature? Because it sure ain't age mature. Once you hit 35, the milky white skin of your ankles is officially something I never want to see on my television screen again. 
Noah is up next. If Bennett took the offensive route, Noah takes the defensive. He launches into an attack on Bennett's character, which will probably be the kiss of death for him. She just said she didn't want her time dominated by sh*t talking and drama. He says that Bennett is condescending and speaks to people like they're less than him. All valid points, and something I think they all should have foreseen after the 10th time Bennett name-dropped Harvard into casual conversation. 
Honestly, send them both home. I do not care about this fight. Send them both home and take me to some footage of Chris Harrison dropping his son off at college. Did he get the right Twin XL sheets at Bed Bath & Beyond? Tell me!!
It's time for Tayshia to make her choice, and she's still torn. On the one hand, she's really falling for Bennett and the bougie aesthetic he'll bring to her Instagram feed. On the other hand, she did already force Noah to shave his mustache and can that really be for naught? 
WHAT. SHE SENDS BENNETT HOME?! I was hoping for that, but still. Wow wow wow. I can't wait to hear how he spins this at the next alumni Zoom happy hour. 
View this post on Instagram
Even though Bennett is sent home, she still won't give Noah a rose. He'll have to wait for his dumping at the next rose ceremony just like everyone else. Well, I think she said something like, "I guess I'll see you later" which is the equivalent of "if you f*ck up this rose ceremony for me, you'll wish your mustache was the only thing I took from you." Good luck with that, Noah!
The Rose Ceremony
Noah explains to the men that, like my sanity this season, he is hanging on to Tayshia's good graces by a thread. You can tell the guys are suppressing their disgust with Tayshia's decision one passive-aggressive sip of their whiskey at a time. 
Tayshia tells us that Hometowns are around the corner and that's why she's done with all of this drama. Hold up, what? HOMETOWNS ARE AROUND THE CORNER?! She has 30 men left!! Is she massacring 15 of them tonight at the rose ceremony or something? Is this going to turn into The Purge? 
Okay, wow. The men are pulling out ALL the stops tonight. They're lavishing Tayshia with cutesy gifts straight-up bribes to up their chances for Hometowns: Riley bakes her a cake, Zac hands her a framed picture, Ben gives her a tour of the back of his throat. It's really sweet. 
Wait, there are only five roses up for grabs?! Damn, I was joking before but this really is turning into The Purge now. 
Here's who goes home: Ed, Damar, and Spencer, which means Noah somehow survived another rose ceremony by the budding hairs on his chinny chin chin. I swear this guy is like a cockroach. I wouldn't be surprised if at the final rose ceremony he walks out from stage left to propose and Tayshia is like "damn, I knew I meant to send him home before this."
Ben's One-On-One Date
Tayshia chooses Ben for the first one-on-one date of the week, and in theory I have nothing against this choice. He does touch his hair far too much for my liking, but fine. 
Okay, I would be pissed if JoJo was hosting my date. Chris Harrison is like the botoxed drunk uncle at Christmas who eviscerates your outfit and your life choices in between bottles of wine, but ultimately means well. JoJo is the competition. You don't see Chris Harrison running around in hot little crop tops with perfectly curled hair. What's your angle, JoJo??
JoJo sends them on an elaborate scavenger hunt that's not so elaborate because they're confined to the square footage of the La Quinta Inn. There are a confusing amount of piñatas that hold a singular clue and that concludes the date "activity." I think Ed might have searched harder to find Tayshia's rooms than the production team did in making this date. 
TAYSHIA: You seem too perfect
BEN: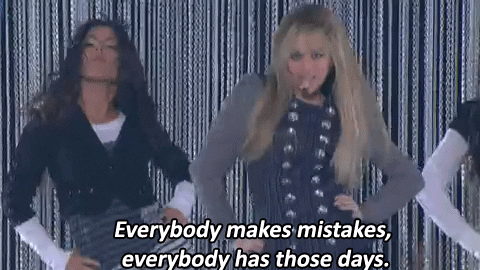 Okay, Ben. I'd take you more seriously if you didn't look like a freaking Ralph Lauren model. 
During the cocktail portion of the evening, Ben elaborates more on his past. He gives a harrowing account of failed suicide attempts in the past few years and his emotional struggles after leaving the military. I'm glad he's still here and is willing to tell his story on national television. That takes guts, and I know the audience back home appreciated his candidness. Tayshia seems to agree and gives Ben the date rose. 
View this post on Instagram
Sidenote: I think it's interesting that ABC keeps giving us these "real" moments from the contestants. ABC came under fire in recent years for being tone-deaf and glossing over traumatic backstories in favor of meaningless drama that upped ratings. I was actually one of those critics, but now I'm not sure I like this new format. 
For a while now I've wanted to see more realness in my reality TV: more diverse cast members, more bodies that aren't size two, more people with Instagram followings below 1k. And ABC has made great steps, don't get me wrong, but the heaviness of these contestants' stories feels strange and a little unsettling when juxtaposed with dates that involve the men fake orgasming over a microphone. I think for me it takes away from the authenticity of these guys and their stories. I know you can be both silly and have had traumatic things happen to you in your life, people are multifaceted after all, but the way ABC flip-flops between the two makes their pain seem gimmicky when I know it's not. If ABC is going to shake the show's foundation by bringing in more diverse contestants, then they need to change up the formatting too to match this new tone. IDK, maybe this is just a transition season and Matt James' season will feel more ironed out, but right now it's not working for me. 
The Group Date
This week, the guys are going to participate in a fun game of truth or dare, but minus the dare and with a lie detector test where their answers may or may not be presented in a court of law. See? Fun!!
Okay, they definitely got this lie detector at the clown store. Like, someone is for sure behind a curtain pressing red or green. Maybe not even a person, just ABC's least favorite intern. Or a monkey throwing feces at a color. Who can say!!
We learn some valuable intel from the Costco brand lie detector test. Things like Noah really misses his mustache and Brendan doesn't want to be within 10 feet of Tayshia's family and—this is just so casual—Riley's name isn't actually his name! I'm loving how shocked and upset Tayshia looks over what is obviously a fake lie detector test. Anyone who has listened to, like, one episode of any true crime podcast can tell you that lie detectors mean nothing. Especially not ones that ABC bought at the mall. 
Dear god, what is Tayshia wearing? Whatever it is, I think they sell it as a duvet cover at Anthropologie.
View this post on Instagram
If there's one thing this fake lie detector test has done, it's forced the men into being honest about their pasts with Tayshia. Ladies, take note. This is the dating version of Scared Straight. All of the men seem to be opening up about their past relationships. Zac talks about his promiscuous days at the Bowl-A-Rama, Riley admits that he changed his name because of its ties to some painful family history, and Noah gets to the bottom of his facial hair issues. Yeah, that seems like an even playing field for sure. 
View this post on Instagram
Like the ulcer I've been living with since the start of this pandemic, who should pop up when you least expect it but Bennett!! He's like "wow… that dress" and I can already tell he's regretting coming here. 
Bennett tells Tayshia he loves her and it's like, ooooh, buddy, this was a bad idea. Whichever producer convinced you to do this is a sadist. I love it. And on that note, I'm outtie! We'll have to wait until next week to see if Bennett can con his way back into Tayshia's heart the same way his parents conned his spot onto Harvard's "rowing team." Until then!
If you're someone who gets emotionally invested in the journey of The Bachelorette, you may also be sensitive to all the #hairbreak moments happening this season. We get it, it's stressful watching the lead get more split ends each week. But it's not as painful as your own hair suffering from heat damage, stress, and other causes of #hairbreak. Pantene's Daily Moisture, Repair & Protect, and Sheer Volume Collections will bring softness, hydration, body, strength, and overall health to your hair. So even though you can't keep Tayshia from giving the Final Rose to the wrong guy, you can stop #hairbreak. Click here to get the Pantene core collection and prevent up to 90% of future damage.
Images: ABC/Craig Sjodin; ABC; Giphy; @its_thesnatchelor, tvgoldtweets ,ginamodicamakeup / Instagram
The Best 'Bachelorette' Recap You'll Ever Read: Why Is It Always Nudity With These People?
Welcome back, friends, to another riveting week of watching Instagram's thirstiest talent gallivant around a La Quinta Inn & Suites! Serious question, guys: is this season ever going to end? We're now eight weeks into this hellscape built from Mike Fleiss's dark quarantine imagination, and Tayshia still has a small football field full of guys left. I worry that Chris Harrison's son will have graduated from college before this godforsaken season ends. *Heavy, dramatic sigh* I suppose that's why there's boxed wine. 
This week, Tayshia seems a little down, which is understandable, because at the end of all this she's supposed to choose one of these losers as a life companion. Lol. Good luck, girl! ABC decides to put some pep in Tayshia's step by setting up the world's saddest brunch and a visit from former Bachelorette JoJo Fletcher. Woooow, pulling out the big guns here. I guess they can't afford to have one more Bachelorette quit on them this season. 
I love that ABC is trying to pass off JoJo as a success story. Sure, she met a man through this show, but that man was also Jordan Rodgers and she's been engaged to him for longer than some of Gen-Z has been alive. So, should we really be taking her advice on love?
We learn that JoJo is not just here to sip on off-brand OJ and the Eggo waffles production stole from the hotel breakfast bar—she'll be playing Bachelorette host while Chris Harrison is moving his kid into college. This explains so much about Chris's sudden work ethic on this show. Mainly that he has one at all these days. He needs to earn that Christmas bonus if he wants to pay for college and keep his kid on the the "rowing team." 
JOJO WALKING ONTO SET LIKE: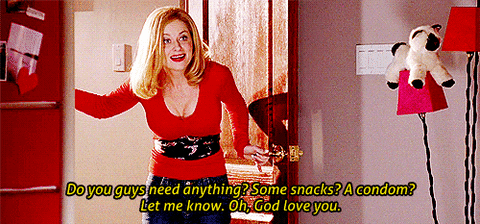 Zac's One-On-One Date
Zac gets the first one-on-one date of the week, and I wish I could be excited for this. It's not that I don't like Zac per se, but he's just so… delicate looking. It's off-putting for me. During their date, Tayshia and Zac must participate in a wedding photoshoot, which is fun because I only have to scroll through 1,000 of these on my IG feed daily. I can barely muster up some semblance of human emotion when it's my closest friends posting their third #tbt of the week of them nuzzling noses with their husbands. Must the insanity continue on my television screen??   
Okay, this just feels cruel. Tayshia just said she's having PTSD flashbacks from her first marriage, and ABC does this to her! What's next? Are they going to make them sit through a faux divorce hearing for funsies?
Zac says that Tayshia is "acting weird." Oh really? What threw you off, Zac? That she looks like she'd like rather chew off her own arm than be in this room right now? Your observational skills are astounding, buddy.
Okay, who is the creative director behind these outfits? Because they should be burned at the stake. If this is some sort of comeback for my arch nemesis and Bachelorette stylist Cary Fetmen, then I should go ahead and just blind myself now. 
View this post on Instagram
TAYSHIA: You were married for less than two years? I was married for less than two years!
ZAC: I love that we can share things like that!
Yes, because nothing says budding romantic future like "I know how to get the dog and the house in a divorce." Also, there are A LOT of divorcees in this group. I know ABC was looking for older, "more mature" men this season, but I didn't realize that every single guy over 30 is also divorced. The future is bleak, ladies. 
Later on in the date, Zac dives into some deep sh*t. He talks about how he had a brain tumor and how that experience messed him up, which led him to substance abuse, getting arrested, and eventually breaking up his first marriage. Once again, ABC is presenting us with fully formed people and their real-life struggles, not manufactured sob stories that are mostly aired to drum up ratings. I mean this is very dark, and ABC could have easily cut this stuff out or whittled it down to just the juiciest sound bites, but instead gave us the full thing. Again, is this progress?
Also, while I'm glad Zac feels brave enough to tell his story on national television, Tayshia did ask him why he was single earlier in the season and I think he gave some variation of a shrug, when actually THIS is why he's still single. The man has seen some sh*t. 
After a night full of soul baring, the two go on a romantic ferris wheel ride, a ride that I'm sure wasn't at all cobbled together by Chris Harrison before taking his leave earlier that day. Their date ends with Zac getting the date rose and (probably) Tayshia giving him an over-the-pants handie for his efforts.
The Group Date
The boys walk into the next group date and the first thing they see is an aging couple embracing in the nude. So… the group date is porn? Because that feels like the natural trajectory of this season.
We learn that the boys are going to be participating in a nude art class, which should be interesting because I'm pretty sure half these guys still openly giggle when they hear the word "penis." *cough* Blake *cough, cough* 
THE GUYS RN DRAWING THEIR FAMILY TRAUMAS: 

Christ. 
Next up on the art class agenda: the men have to create something out of clay that represents "their time with Tayshia." Oh, and they have to do it blindfolded. Considering the only creative bone in these guys' bodies is the linguistic gymnastics they perform when they get caught by a girlfriend for liking a Fashion Nova model's bikini pic on Instagram and need to avoid her wrath, this clay business should be fun.
I see that I'm proven right. Blake just sculpts a massive dick. Bennett uses his clay creation as a thinly veiled excuse to talk about his extravagant number of houses. Speaking of which, did y'all just hear that? I think at the mention of "Hamptons" you could almost hear the sound of his DMs exploding. 

Finally, the men are to create a self portrait. Ah, I see they're going to use the term "self portrait" here loosely. One guy just holds up an empty picture frame, Blake paints a turtledove, and Ivan crafts a makeshift puzzle. Meanwhile, Ben's face every time one of them bares their soul is absolutely priceless. Ben definitely just drew a stick figure and that's it.
He's watching these guys pull out these high-concept art pieces (seemingly out of their asses!!) based on their various childhood traumas, and I have a feeling that the worst thing that's ever happened to Ben was that one time he got turned away from Raya. I wonder how he'll translate "not famous-adjacent enough" into picture form?
Oh my god. What is he doing. OH MY GOD. WHAT IS HE DOING!!! Ben decides to take the self portrait thing literally by presenting himself! In the nude!!!! MY GOD, SHE SAID EXPRESS YOUR EMOTIONS, NOT TAKE YOUR CLOTHES OFF. 
BEN: This is only a small part of me.
Is that his trauma? That he has average dick?!

Even though Tayshia looks like she'd rather spend an evening in a padded cell than listen to one more second of this soul baring, there's still more to this date! We learn that Ben's getting naked was about more than just swinging his dick around. It's a symbolic gesture of body positivity since he's struggled with bulimia. I'm glad he's sharing his story since male eating disorders are hardly ever publicized, I'm just not used to The Bachelorette being so, like, real. 
Eazy's One-On-One Date
Eazy gets the second one-on-one date of the week, and I'm interested to see more of him. All I know is that he's beautiful and an alleged predator and that ABC has declined to comment about it. For the date, the two of them are going ghost hunting for everything but apparently the ghosts in Eazy's past. So, let me get this straight. In addition to being a Fear Factor set, an underground cage fighting ring, and the birth place of the esteemed Grown-Ass Man awards, La Quinta is also the grounds for supernatural energy? Wow, the branding here is all over the place. 
We learn that somewhere on hotel property, a lunatic billionaire died of mysterious circumstances. I'm pretty sure the only historic character this hotel actually has is those two aging nudists on their vacation, but sure, tell me more about this supposed ghost story. 
They go explore all of the "haunted" attractions, and I simply cannot take this date seriously. I think at one point Tayshia turns off a light and an ABC intern throws a doll on a chair. Oooh, scary. Tayshia, of course, lets out a horrific scream and it's like, please. I've seen scarier sh*t in my DMs. What's next? Juan Pablo popping out in a bedsheet as a ghost of Bachelors past?
The ghost storyline proves to be the least shocking part of this entire date, because Tayshia actually sends Eazy home after dinner. To be fair, Eazy did come out of left f*cking field with that love talk. He says that he's falling for Tayshia and that sometimes you can just feel these things in your bones. At the use of the "L" word, Tayshia sends Eazy home on the spot. So, somehow Ed is still on this show but Eazy is gone? Make it make sense. 
The La Quinta ghosts watching Tayshia's choice to send Eazy home #TheBachelorette pic.twitter.com/kAv69SiHxp

— Niki Bell (@nicoletteholly) December 2, 2020
The Two-On-One Date
Noah and Bennett are sent on the dreaded two-on-one date before tonight's rose ceremony. It's interesting that these two are the guys going head-to-head. On the one hand we have Bennett, who has multiple estates in tropical locales. On the other hand, we have Noah, a man who will at one point tonight try and give someone a wet willy. I can see how this choice could be debilitating for Tayshia. 
While waiting for Tayshia, you know, the whole reason these two are even allowed to breathe on our television screens, they exchange barbs that are surely making Harvard reevaluate its admission process. Bennett, being the egotistical dick that he is, decides to gift Noah with a little going away present:
View this post on Instagram
God, I can't wait for Taysha to find out what's in that box. Until next week, kids!
Don't miss out on anything happening in Bachelor Nation. Subscribe to our weekly newsletter here. 
Images: ABC/Craig Sjodin; @bachelorettewindmill /Instagram (1); @nicoletteholly /Twitter (1); ABC (3); Giphy (2); @bacheloretteabc /Instagram (1); @brettsvergara /Twitter (1)
The Best 'Bachelorette' Recap You'll Ever Read: Chris Harrison Deserves A Raise
Welcome back to your regularly scheduled Bachelorette recap! As weird as it's been watching Chris Harrison on my screen on Tuesday nights instead of Monday nights, it's even weirder that we'll be watching grown men throw temper tantrums before being ejected from a hotel lobby during a week that's traditionally been reserved for humbleness and gratefulness. But I suppose since Thanksgiving is cancelled and I'll be spared from drunk relatives making passive aggressive comments about how many crop top pictures I have on Instagram, watching The Bachelorette is the closest I'll get to experiencing that particular holiday spirit. Carry on. 
Last week, my world was rocked when a man whose entire personality is a mustache somehow managed to steal my heart a group date rose on a group date he was not even invited on! Look, I've spent the last week trying to understand the power of the 'stache and I think for me there's a nostalgic factor to it. It reminds me of high school when I crushed on a member of the Young Republicans (back in those days all it took was a frocket and Vineyard Vines croakies to get ya girl going). We were star-crossed because I was (and he used to whisper this part) a liberal and he told me it could never work (he was right). Anyways, now he lives with his parents and works at his daddy's dealership and that feels like the appropriate life cycle for someone who used to show up to Algebra II with the facial hair of a 1970s porn star. 
Moving on. Chris Harrison declares that "Tayshia likes bold," which is an interesting sentiment to say about a woman who continues to choose bland white guys. 
CHRIS HARRISON: I know you all have a lot of strong feelings for Tayshia, now put it in a song!
ME: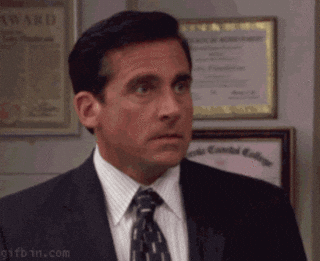 Well, now I know what I'll say I'm not grateful for at the virtual Thanksgiving dinner table. 
Chris tells the guys that they will be competing in a songwriting competition even though literally nobody asked for this. It's unclear as to if this is an official group date or if the men now have to compete to be on a date in general. The winner of this "date" will get to spend the rest of the evening with Tayshia. 
The men go off to write their sonnets and it's… not going well. I have a feeling the last time these guys wrote anything it was a DM to a Russian bot disguised as a Fashion Nova Instagram model.   
BENNETT: I've spit some flow in my time.
ALSO BENNETT: 

Dear god, Bennett is rapping about brie. OF COURSE he's rapping about the contents of the cheeseboard at his last alumni get together.
The rest of the guys' performances range from "slightly cringe" to "I wish I was dead I'm so uncomfortable." Honestly, Ivan and Demar put on decent performances and by "decent" I mean my ears didn't completely bleed. In the end, Ivan wins the one-on-one time with Tayshia.
Ivan's One-On-One
Back at the hotel, the other guys question Tayshia's choice for the one-on-one date. Noah is acting far too confident for a man who is a walking punchline, and I love it. Say what you want, but the man makes for good TV! I also love that he's now decided to brand himself as "bold." Chris Harrison used that word one time and looked in Noah's general direction while he said it, and now Noah is about to change his Instagram bio to "the BOLD guy from The Bachelorette." I swear, you give these contestants an inch, and they turn it into a marketing ploy for a FabFitFun deal. 
Meanwhile, on Ivan and Tayshia's date, their alone time starts off rocky at best. Tayshia comes up with a "game" to pass the time which involves walking on furniture and an uncomfortable amount of giggling. Oh, Tayshia. This is not a game, this is a psychotic break!! How bored are you?? A sh*tty sober version of True American is actually the saddest date I can think of. 
Even though I just mercilessly mocked this date, know that it's only because I'm 100% dead inside. But if I did have a heart that wasn't a charred, shriveled tumor of a thing, I would admit that actually Ivan is a real treat. It's funny because if this were a normal season of The Bachelorette and the cast wasn't shackled to the property line of La Quinta, I don't think he would have gone as far on this show. He's quiet and thoughtful and just a little bit awkward, which usually makes for a three-episode character arc MAX. He's honestly too good for this show, but I'm glad he's still here. Congratulations kids, you have my blessing!

In a rare show of authenticity, ABC doesn't cut the part of the episode where Tayshia and Ivan discuss the Black Lives Matter movement and their feelings about growing up biracial in America (Tayshia is part Mexican and Ivan is part Filipino). Normally, this is the part where I'd make a snarky comment about ABC capitalizing off of genuine human pain, but honestly I'm just glad they're giving this issue the time and attention it deserves. I'm used to them producing content that involves a soundbite of something real sandwiched between shots of contestants engaging in activities that would likely bring dishonor to their family names. Is this what progress looks like?
Unsurprisingly, Ivan gets the date rose and probably every single woman in America (myself included) will be sending him nudes in his DMs. I still think he's way too good for this show. He's attractive, emotionally available, and has a job that doesn't require a swipe up code. Tayshia, I beg of you, don't f*ck this one up!
The 'Fear Factor' Group Date
The losers of the song writing contest get to go on a second group date, and ABC doesn't even try to explain the reasoning behind this. This isn't the live audience on Ellen where everyone gets to be a winner! 
I love that even when the contestants are allowed a second chance to impress Tayshia, they're still on a date where the sole purpose is to humiliate them. It appears that watching Blake struggle with an accordion just scratches the surface for what ABC has in store for them. Now, the guys are tasked with participating in an elaborate version of "truth or dare." The dare portion will take place during broad daylight (all the better to watch the monkeys dance), while the truth portion will take place at night during the cocktail hour. I'm sure plying the guys with alcohol from the hotel's bottom-shelf liquor supply will play no role in dispensing these "truths." Carry on. 
It turns out by "truth or dare," ABC was really going for a demented version of Fear Factor. The guys are tasked with a number of zany dares, like exposing themselves to Chris Harrison, pretending to cum over a loudspeaker, and downing ghost peppers before delivering a fake proposal. Classic. 
Hot takes from the dare date:
1. I love that the guys manage to catch Chris Harrison between bites of lobster on his casual lunch break. My breaks from work usually involve me crying softly on the floor of my living room while my dog looks on uninterestedly, but different strokes and all that. 

2. These "cum cries" are crimes against humanity and should be prosecuted as such. Have these guys never watched porn before? Where are these sounds coming from?? No one's has a more unsettling performative orgasm than Blake, who decides to hump the podium and jizz a little bit—but only for authenticity's sake!! I think at one point Eazy says that Blake needs Jesus, and I would add maybe an exorcist as well.  
Nothing of real interest happens during the truth portion of the game. I was ready for one of the guys to admit his first sexual experience was with a random cousin, or he has a finsta, or literally anything that could be defined as "interesting" or "shocking" but alas here we are. Bennett reveals he was engaged once before but broke it off for reasons that are mumbled under his breath, and are so garbled that not even production could decipher it for the subtitles. He admits that he feels strongly for Tayshia and I love how shocked he is at having genuine human emotions for another person. He usually reserves those kinds of sentiments for occasions where he gets to name drop his alma mater. 
Zac and Tayshia also have a moment in the hot tub that feels weirdly intimate for two strangers hanging out on public hotel grounds. They cap off their time together by testing how chlorinated that hot tub truly is. For the hotel's sake, I hope there are toxic levels in there, judging by all the groin rubbing happening on my screen. This display of slap and tickle adoration wins Zac the group date rose (and probably a staph infection). 
The One-On-One Dates No One Asked For
Ben and Ed are the only guys feeling uneasy about their time with Tayshia this week. If you'll recall, last week Ben was scolded on the group date for not making time to talk to Tayshia during the cocktail hour, and Ed… well he just has a lot of ground to make up for having a neck like his.
They both have the grand idea to sneak off to Tayshia's room because nothing says thoughtful, romantic grand gesture like knocking on a woman's door on her goddamn day off. I can't wait to see how this strategy plays out for them. 
HAHAHAHA. I guess Ed's producer hates him, because he ends up at Chris Harrison's door instead of Tayshia's. I love that even though this is clearly the wrong room, Ed still  thinks Tayshia must be in the room somewhere. The budget isn't that tapped, Ed! They are allowed separate rooms!
Also, let's all take a moment to process that it's 2:30 in the morning and not only is Chris Harrison awake, but he's got a fresh bottle of white on ice. 
View this post on Instagram
Okay, is it just me or does Chris Harrison look fuuuucked up tonight? Like, Ed caught him right as the chardonnay hit the sweet spot with his Xanax? 
Meanwhile, Ben does find the correct room, proving that his producer has an ounce of human kindness. He apologizes to Tayshia for not speaking to her during the group date and because it's 2am and she's sleep deprived she accepts his apology. 
The Rose Ceremony
Going into the rose ceremony tonight, patience is stretched thin: the men's with Noah and mine with this plot line. As if sensing he's not been given nearly enough screen time to warrant him having to shave off his mustache, he rolls up his sleeves and gets to stirring the f*cking pot. 
NOAH: I thought what we had was electric, Tayshia.
ME: Please never use the word electric again.
His first move is to bring up his grievances to Tayshia. Normally, I'd say this is the kiss of death for any contestant but Noah is masterful in his manipulation. He doesn't say "mommy the other guys are picking on me." No, instead he says "mommy the other guys don't respect your integrity" and all but lights a match to their reputations. *slow clasps* You gotta admire his ingenuity! 
After this conversation, Tayshia hauls ass back to the rose ceremony to give the guys a verbal spanking they don't really deserve. Honestly, I think this is the most I've lived this entire pandemic. *turns up volume*
Okay, Taysha is actually a very tame angry. Booooooo. Where are the tears? The huge, hiccuping sobs and mascara-running money shots? If I wanted to hear someone say "I'm not mad, I'm just disappointed" I would pick up my mom's FaceTimes. 
TAYSHIA: If any of you have an issue with my judgement then there's the door, bitches.
NOAH:

Tayshia decides she's heard enough from these losers and wants to start the rose ceremony immediately. I don't blame her, I've had enough of their sh*t and I only have to spend two hours a week with them. Tayshia sends Chasen, Kenny, Jordan, and precious angel Joe home because I guess we aren't allowed nice things. Joe, buddy, call me!
And that's a wrap, y'all! See you hoes next week!
Images: ABC/Craig Sjodin; Giphy (2); ABC (3); @tvgoldtweets /Instagram (1); @tenor (1)