The Full Body Workout You Can Do From Your Couch
Summer goes by pretty fast, so you want to spend your time wisely. I mean, on one hand, it's bikini season and we're drinking martinis all day, so it's probably a good idea to like, work out a bit. On the other hand, my poolside lounge chair is the literally the best place in the world and the idea of going on a run makes me want to die right now. That's why we developed a quick workout routine that you can do on your lounge chair or even from your couch, so you're like, kind of moving, but you also don't feel like death. Here's the workout:
1. Bicycle Crunches
Bicycle crunches are one of the most effective moves for your abs, and they specifically target your obliques, which are those side lines that will look so good when you're wearing your swimsuit. Lie flat on your back with your hands behind your head and your knees bent inward toward your chest. Try to lift your shoulder blades off the lounge chair to activate your core, and then straighten your right leg out in front of you while bringing your right elbow to your left knee. Alternate legs for 45 seconds and keep your abs engaged the whole time. As we've said before, do this shit S-L-O-W-L-Y or else you're wasting your time.

2. Hip Bridges
This move looks like you're aimlessly thrusting your pelvis into the air so it might be awkward if other people are around, but it also makes your butt look amazing so it's worth it. Lie on your back with your legs bent in front of you and your feet on the lounge chair. Then, squeeze your butt and pull your hips into the air, making sure your glutes are fully engaged. Bring your butt down to the bench, and keep going up and down for a minute. Try taking a few seconds at the top to pulse your hips upward for an extra burn. It hurts, but you'll thank us when your butt looks unreal in your new denim shorts all summer.

3. Scissor Kicks
This is another ab exercise, but instead of targeting the obliques, it hits the middle of your abs, where you want that perfect line that literally looks like you've been doing hardcore Pilates for years. Lie on your back with your arms out to the side. You can also hold onto the sides of your lounge chair for more support. With a slight bend in your knees, lift your legs up so that your heels are a few inches off the chair, then lift one leg up and slowly lower it back down without your heel touching the chair. Alternate between right and left for 45 seconds and remember to breathe. Holding your breath makes it harder, not easier.

4. Mountain Climbers
We've burned out our abs and ass already, so it's time for a cardio burst. The point of mountain climbers is to keep your abs and legs working while bringing your heart rate up through a cardio interval. Start with your hands on the lounge chair and your body in a plank position. Then, jog each knee into your chest as fast as you can while keeping your spine and hips as straight as you can. You want to work as hard as you can for about 30 seconds, so you can keep burning calories when you're doing jack shit the rest of the day. Yay!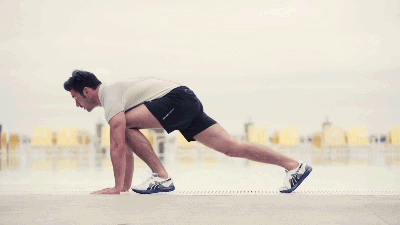 5. Shoulder Taps
Shoulder taps work your core and the upper part of your arms, so you're basically killing two birds with one stone. Start in a plank position with your feet hip width apart. You can bring them closer together to make it harder, but try to keep your hips square the entire time. Lift your left hand off the lounge chair to tap your right shoulder, then bring it back down, and do the same on the other side. Alternate sides for one minute without swaying your hips or lifting your butt too high.

6. Backward Kicks
We're not gonna make you get up and do lunges or squats, but it wouldn't be a full body workout without burning out your legs and butt, so let's do some kicks to get those muscles activated. Start on all fours with your knees on the lounge chair. Then, kick your right leg straight behind you and lift it a few inches higher, pulsing for a few seconds at the top. Bring the leg back down and switch sides, doing the same on the left. Also, make sure you're not kicking too aggressively. You want to slowly extend the leg and pulse the muscle to feel the burn in your butt.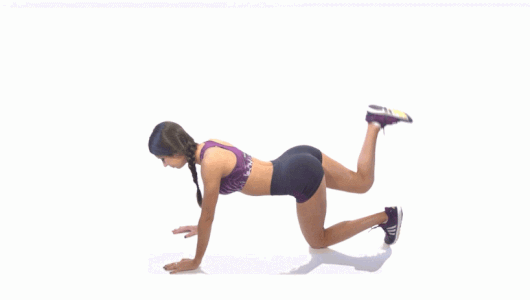 7. Tricep Dips
For the last move, you're gonna have to (kind of) leave your lounge chair, but you're still technically holding on, so it counts. Tricep dips are super effective for toning your arms, so you don't want to skip this one. Start sitting on the edge of the lounge chair with your hands on the chair behind you, facing forwards. Slide your butt a few inches away from the edge of the chair and extend your legs outwards. Bend your elbows to lower your butt down to the floor until your elbows are at a 90 degree angle, then press down to straighten out your elbows and lift yourself up to the starting position. Keeping dipping up and down for 45 seconds.

The 8 Ab Exercises To Get Rid Of Your Love Handles Once And For All
We've already established that getting rock hard abs comes down to diet and discipline, but some toning exercises will def help when it comes to getting rid of your love handles and defining your tummy area. Most people think the only ways to tone your abs are by doing a million crunches and holding a plank for as long as possible, but those exercises don't hit your obliques—the side edges of your abs that give you that amazing slimming shape when you're wearing a crop top. Don't lie. You know you want those side lines. Here are 8 exercises that will help you get them:
1. Russian Twists
Sorry, the Russian Twist isn't the name of some cocktail with four shots of Smirnoff and a gross amount of syrup. It's actually a killer ab exercise, and if you do it right, your obliques should be sore as fuck tomorrow. You'll need some sort of weight, kettlebell, or ball for this, but don't go crazy on the weight. Start by lying down on the floor and placing your feet out in front of you, raised a few inches above the ground. Your knees should be slightly bent and your torso should be elevated off the group, making a V-shape with your thighs. Holding the weight with both hands, move it from one side of you to the other, tapping the ground on your right and left sides each time. Do at least 10 reps on each side.

2. Side Planks
Side planks are a static move, so it might look easy because you're staying still, but try to hold for 30 seconds to a minute on each side and you'll shut up about how easy it looks. Turn onto your right side with your legs extended and your feet and hips resting on the ground and stacked on top of each other. You'll want your right elbow directly under your shoulder to hold up your torso and to protect your shoulder joint. Hold for as long as you can, then switch to the left side. Repeat 2-3 times on each side.

3. Bicycle Crunches
People usually miss the point with bicycle crunches because they're doing them so fast that they're not actually activating the ab muscles at all. This isn't a spin class, so take your fucking time with these. Lying flat on the floor with your lower back against the ground, put your hands behind your head and lift your left shoulder off the ground while bringing your right knee to touch that left elbow. Then, do the same on the other side. Repeat for at least 45 seconds, and make sure you're not pulling on your neck. You really should be thinking of reaching your shoulder to your knee and less about the elbow to the knee.

4. Wood Choppers
Just when you thought shit was getting easier, we're making you chop wood. Okay, not really, but this exercise makes you look like a wood chopper so let's go with it. You're gonna need a kettlebell or weighted ball again here, so choose something around 10-20 pounds. Standing with your feet shoulder width apart, hold the ball at one hip and explosively carry it over your opposite shoulder, completely twisting your core as you move. Do ten reps on the right side, then the same on the left. The key here is to keep your hips square but twist your torso. Also, try not to throw the ball behind you and hit some guy in the head. It's not cute.

5. Alternating Toe Touches
This move will burn pretty fast, but it's amazing for getting rid of love handles, so let's get it over with. The idea is similar to the bicycle crunch, but it's even slower and more controlled, so you're really activating each oblique. Lie on the floor with your legs out in front of you and your arms straight behind your head. Then, lift your right leg straight up in the air at the same time as your left arm, touching your left hand to your right foot (or knee if you can't make it that far.) Alternate sides for 20-30 reps.

6. Dumbbell Side Bends
This is the one move where you're gonna have to go pretty heavy in your weight choice if you want to see real results. Drop the 7.5lb dumbbell and grab something substantial (think 17-25 pounds). This is a sculpting move, so you're gonna hold the dumbbell in one hand and bend over sideways, getting the dumbbell to the height of your knees, then stand straight again. Go up and down on each side for about 20 reps to feel the burn.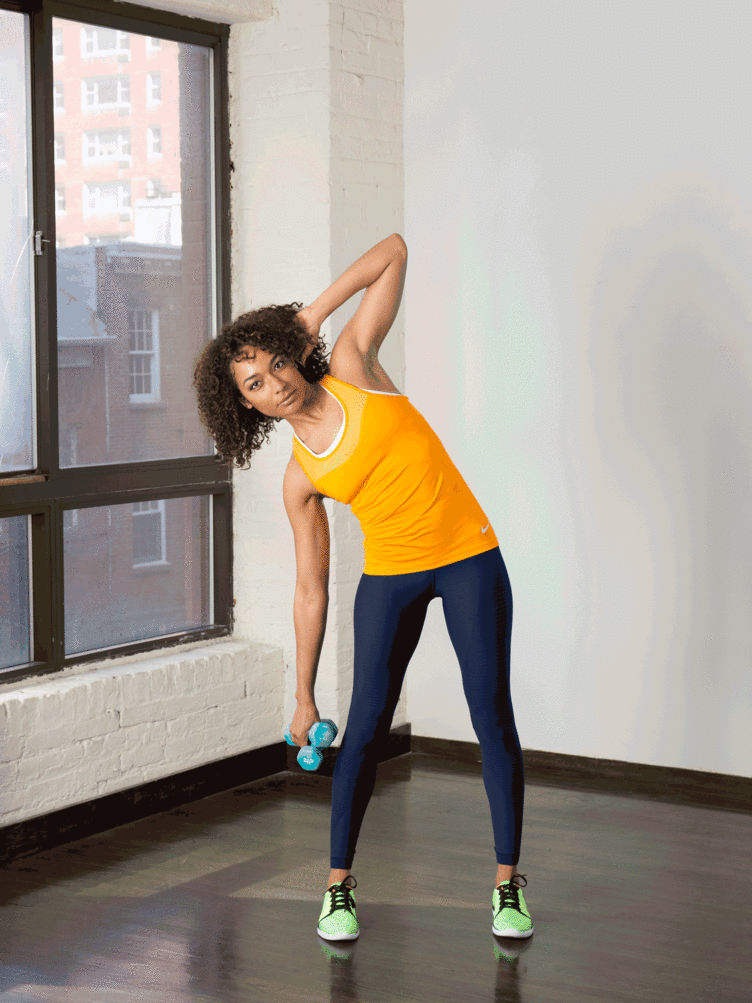 7. Sit Up With Side Twist
Sit ups are SO three years ago, but sit ups with a twist will literally carve lines in your abs, so we're all about them. Lying down with your back flat on the ground and your hands behind your head, bend your knees and keep your feet planted on the ground. If you have a friend around to hold down your feet, that shit is super helpful, but if not, that's fine too. In one controlled motion, bring your torso up off the floor so that your elbow is touching your knee as you twist with your waist toward one side. Then, slowly lower back down and keep going, alternating sides each time. Do 10-15 reps on each side.

8. Windshield Wipers
We're guessing you've never actually wiped off a windshield in your life so you might not even understand the mental image, but that's why we're explaining it to you. The idea here is to move your legs from one side of your body to the other while lying down, only using the twisting of your torso to do so. Bend your knees slightly and start in a fetal position with your legs to the right side of your body. Keeping your hands on the floor next to you, use your abs to twist your legs over to the other side of you, landing them on the floor next to you. Keep repeating for 45 seconds to a minute.

Read: How To Get Amazing Abs In Time For Summer
How To Get Amazing Abs In Time For Summer
Abs have been a hot topic for a while now, so let's talk about them: what they are, how to get them, and like, if we even want them. (The answer to that last question is an obvious yes.) Getting abs became trendy in the early 2000's around the time when people started to realize they wanted J.Lo's six pack instead of Mary-Kate Olsen's emaciated rib cage. Then, the ab crack suddenly became the new thigh gap of the internet and we started Googling shit like "Khloé Kardashian workout routine." All of this important history brings us to today, where we're left staring at our SoulCycle instructor's chiseled stomach and wondering how many calories were in that bagel we ate earlier. If you're looking for some real info, it's time to get some facts straight. Having good abs is more than just a flat tummy—as Meek Mill once said, there's levels to this shit. Meaning, there are a lot of different parts of your abs and you can't just do one exercise to tone all of them. So here's the deal with all your various ab muscles and what exercises you need to do to get amazing abs all over.
That Line Down the Middle
What is it? You may know this line down the middle of the stomach area as an ab crack, which is unfortunately not a drug you can take to get abs. But if our dealer was selling that, we'd save so much on groceries. Anyway. The ab crack isn't actually a muscle and so it doesn't get a real name, but the best way to get it is by having good genes and doing basic toning exercises. Genes are a huge part of it, and some people can have like, no body fat and a strong core, and still not have that line. We're all built differently, so let's work with what we've got.
How do I get it? Planks. It may sound basic AF, but planks are an amazing way to target the entire front of your core, so stop overthinking fancy and complex exercises and start planking. If you're a beginner, start on your hands, but starting on your elbows really targets the muscles better. Basically, you want to start face down with your forearms on the floor and your knees raised up so that only your toes and arms are touching the ground. Make sure you're contracting your abs and not sticking your butt in the air, or else you're literally doing nothing. Also, make sure to keep your back as flat as possible the whole time. Hold for anywhere from 30 seconds to two full minutes. If you're respectively psychotic and you're looking for an added challenge, try doing your plank in a TRX suspension trainer at your gym—if you don't even know what that is, it's best to stick to the regular planks for now.

Those Side Lines
What are they? The "side lines" you see all over Instagram during bikini season (probably while fake laughing on an inflatable swan in East Hampton), are actually called your obliques. Obliques are the most superficial muscle out of the muscles in your abdomen, which means they look hot but actually don't help you that much in terms of being strong as fuck. But who cares about strength? They'll look hot in your Instagram pics.
How do I get them? Russian Twists. There are tons of exercises that target your obliques (others include bicycles and side planks), but Russian twists are really the most effective way to tone those side muscles that look so good in a crop top or one of those slutty cut-out one pieces. Start by sitting on the floor with a weight in your hand (think anything from 8 lb to 15) and your feet slightly raised off the ground. Your legs should be bent at your knees and your upper body should be elevated to create a folding V shape with your legs. Move the weight from one side of your body to the other, ideally touching the weight to the ground on each side of you during every rep. Do this for 30 seconds to a minute, then rest for a few seconds and repeat again. It might hurt when you laugh tomorrow, but in that case I guess it's a good thing we have permanent RBF.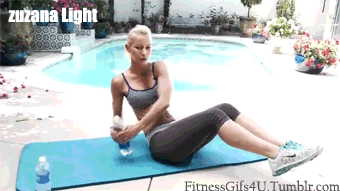 That V-Shape At The Bottom
What is it? No one would ever comment on an Instagram pic to compliment someone's lower abs, but like, why not? That shit is really hard to achieve and honestly I could use a post-workout snack just thinking about all that work. Working your lower abs is super important even if you don't necessarily want chiseled abs because it will help eliminate love handles in the process (but obviously stop eating those double-stuffed Oreos first.)
How do I get it? Well first before anybody asks, you do NOT need to become a man (or Terry Crews) to get the V-cut thing; that was just the best (read: hottest) picture I could find. Anywho. Leg raises. This move looks super easy when you see someone doing it, but once you start, you'll be crying pretty fast. Lying on the floor, place your legs straight out in front of you and your hands on the ground or under your lower back if you're prone to lower back pain. Lift your legs up, keeping them as straight as possible with your knees slightly bent until they make a 90-degree angle with the floor. Hold the contraction at the top for the second, then SLOWLY lower your legs down to the floor in front of you. You'll want to make sure you use a mat to protect your tailbone and stop fucking holding your breath. Seriously, what is it with people not breathing while working their abs? You're not underwater and people around you are starting to get worried.

Inner Core Muscles
What are they? The workouts we've discussed so far will all help tone your abs, but as we mentioned earlier, your core muscles go much deeper than you realize, so you should prob be working those inner layers too. A lot of people get caught up in working the area around their stomachs, but they don't realize that most of your core stability comes from your lumbar spine and lower back area, so try hitting those muscles too if you care about really strengthening your entire core area.
How do I get them? Superman lifts. Everyone has these inner core muscles, but they're pretty weak if you don't work to strengthen them, and Superman lifts are the best way. Lie face down on your stomach with your arms and legs extended and keep your neck in a neutral position. Then, keeping them straight and your torso tight, lift your arms and legs toward the ceiling, arching your back and getting your hands and feet like, five inches off the floor. Hold for a couple seconds at the top and then lower back down. If you're doing it right, you'll feel like an idiot. Try doing 10-15 reps before the embarrassment takes over resting and then repeating again.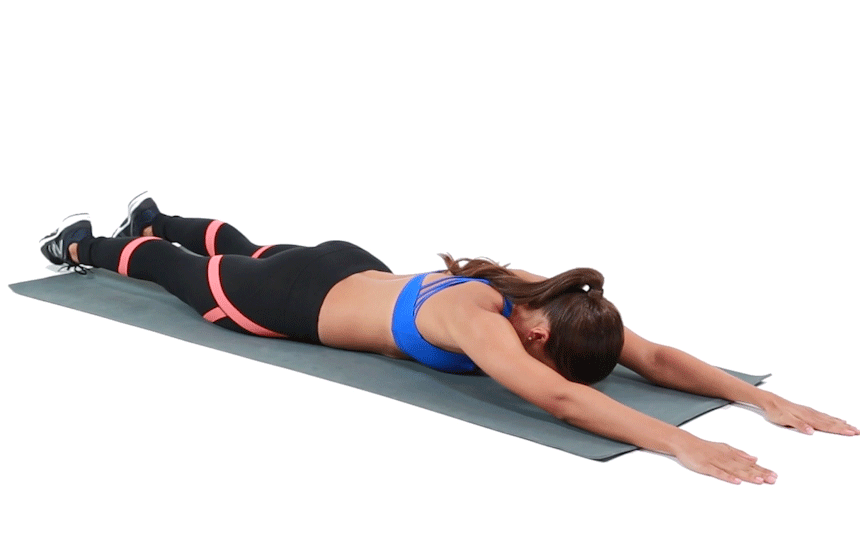 I know it sucks to spend extra time at the gym to do some work that's low-key good for you, but you stuck around last week for like, 15 minutes to find good selfie lighting, so we're gonna assume you have the time.