6 Ab Exercises To Tone Your Obliques
Let's talk about obliques, or as we like to call them, the "crop top muscles." Known in the scientific world as the external abdominal obliques, your oblique muscles are one of three muscles that make up your lateral anterior abdomen. AKA, your side abs. As much as we love crunches and leg raises, those exercises don't really isolate the sides of your abs, which you need to do in order to see your obliques (obviously in addition to a healthy diet). If you're looking for an workout to specifically target your obliques, try doing these six ab exercises.
1. Bicycle Crunches
Bicycle crunches can be one of the best ab exercises for your obliques, but people usually do them so fast that they're not actually activating the ab muscles at all. Take your time on these and think about crunching the muscles instead of cheating your way through it and just relying on momentum. Lying flat on the floor with your lower back against the ground, put your hands behind your head and lift your left shoulder off the ground while bringing your right knee to touch that left elbow. Alternate sides for 30 seconds. If you're feeling this in your neck at all, slow down and try to think of reaching your shoulder to your knee instead of your elbow to your knee.

2. Side Plank With Reach
This exercise should be called the muffin top remover. It's super simple, but it's amazing for getting rid of love handles and toning up the sides of your stomach. Start off in a side plank with your hand on the ground, your feet stacked, and your body in a line facing one side. Remember to keep both of your hips facing the side you're looking at. Then, once you're in a stable side plank, lift the top leg and bend the knee, bringing it up to your waist, and bring the same arm to meet it, crunching inwards on that side. If your balance sucks, just do the leg part, but try for your leg and your arm. Do 10 reps and then switch to the other side.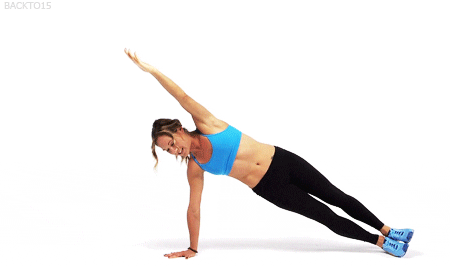 3, Downward Dog Cross Reaches
People don't usually think of downward dogs as ab exercises, but in addition to being a great calf stretch, it can be super effective for your obliques if you add a reach at the top. Start in a high plank position with your hands on the ground and your feet about hip-distance apart. Then, raise your hips, bringing your body in a V-shape downward dog. Once you're in downward dog, take your right arm and tap your left calf or ankle, using your abs to crunch diagonally. Then, do the same with your left arm and right leg. Keep alternating sides for a minute.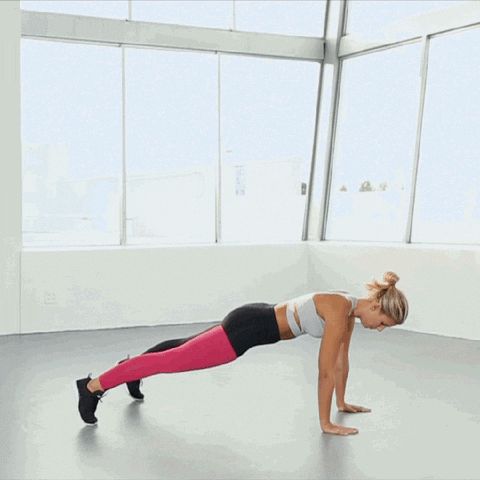 4. Hip Dip Side Plank
I know this one looks similar to the other side plank we did, but the hip dip is a game-changer, so doing both ab exercises is a must. The idea here is to hold the same basic side plank as before, but you're going to dip your hip downwards, slightly tapping the ground on one side and coming back up. You should feel a slight stretch in the side of your body that's closer to the ground. Keep your hips square the whole time. Do 10 reps on the right side and then switch to your left. You can also hold at the top for a few seconds after each rep to feel the burn even more.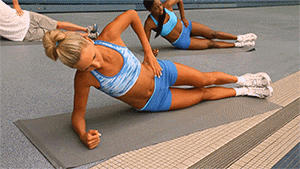 5. Russian Twists
Russian twists can be KILLER for your obliques if you take your time and challenge yourself with the weight. (And no, the name has nothing to do with current events.) Grab a dumbbell or kettlebell, and keep it hovering over your chest, but not pressing into your body. Start by sitting down on the floor and placing your feet out in front of you, raised a few inches above the ground. Your knees should be slightly bent and your torso should be elevated off the ground, making a V-shape with your thighs. Holding the weight with both hands, move it from one side of you to the other, tapping the ground on your right and left sides each time. Do 10 reps on each side, and remember to engage your ab muscles with each rep to avoid carelessly swinging the weight from side to side.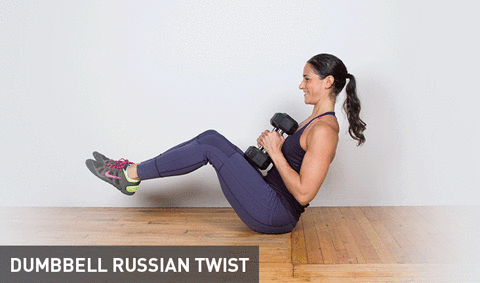 6. Kettlebell Windmills
Windmills are a little more advanced as far as ab exercises go, so if you feel like these seem easy, you need to SLOW DOWN and think about the muscles you're using. To start, take a light kettlebell in one hand and hold it overhead with your palm facing forward.  Keeping the kettlebell locked out the whole time, push your butt outward in the same direction as the kettlebell, and bend your hip, so that you can slowly lean down in the other direction to touch the floor with your free hand. Then, return to starting position, keeping your arm straight before you do another few reps. After about 6-7 reps on your right side, move your kettlebell to the other hand and do the same thing on the left. I know you'll feel these like crazy tomorrow if you're doing them right. I mean, it's like I have ESPN or something.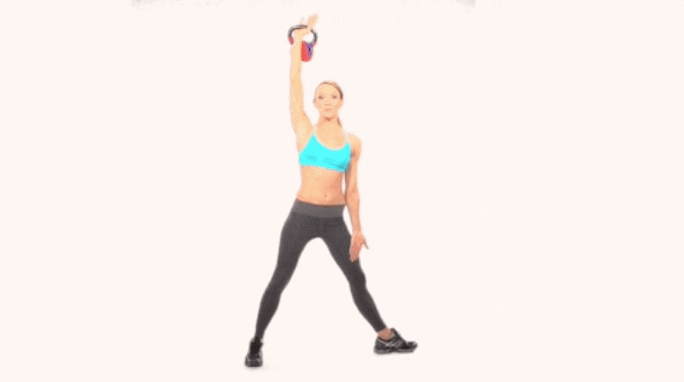 Images: Giphy (6)
How To Get That Line Down The Middle Of Your Abs, The Side Lines & More
Abs have been a hot topic for a while now, so let's talk about them: what they are, how to get them, and like, if we even want them. (The answer to that last question is an obvious yes.) Getting abs became trendy in the early 2000's around the time when people started to realize they wanted J.Lo's six pack. Then, the ab crack suddenly became the new thigh gap of the internet and we started Googling shit like "Khloé Kardashian workout routine." All of this important history brings us to today, where we're left staring at our SoulCycle instructor's chiseled stomach and wondering how we can look like that before our vacation in 2 weeks. If you're looking for some real info, it's time to get some facts straight. Having good abs is more than just a flat tummy—as Meek Mill once said, there's levels to this shit. Meaning, there are a lot of different parts of your abs and you can't just do one exercise to tone all of them. So here's the deal with all your various ab muscles and what exercises you need to do to get amazing abs all over.
That Line Down the Middle
What is it? You may know this line down the middle of the stomach area as an ab crack, which is unfortunately not a drug you can take to get abs. But if our dealer was selling that, we'd save so much on workout classes. Anyway. The ab crack isn't actually a muscle and so it doesn't get a real name, but the best way to get it is by having good genes and doing basic toning exercises. Genes are a huge part of it, and some people can have like, no body fat and a strong core, and still not have that line. We're all built differently, so let's work with what we've got.
How do I get it? Planks. It may sound basic AF, but planks are an amazing way to target the entire front of your core, so stop overthinking fancy and complex exercises and start planking. If you're a beginner, start on your hands, but starting on your elbows really targets the muscles better. Basically, you want to start facedown with your forearms on the floor and your knees raised up so that only your toes and arms are touching the ground. Make sure you're contracting your abs and not sticking your butt in the air, or else you're literally doing nothing. Also, make sure to keep your back as flat as possible the whole time. Hold for anywhere from 30 seconds to two full minutes. If you're looking for an added challenge, try doing your plank in a TRX suspension trainer at your gym—if you don't even know what that is, it's best to stick to the regular planks for now.

Those Side Lines
What are they? The "side lines" you see all over Instagram, especially during bikini season (probably while fake laughing on an inflatable swan in East Hampton), are actually called your obliques. Obliques are the most superficial muscle out of the muscles in your abdomen, which means they look hot but actually don't help you that much in terms of being strong. But who cares about strength? They'll look amaze in your Instagram pics.
How do I get them? Russian Twists. There are tons of exercises that target your obliques (others include bicycles and side planks), but Russian twists are really the most effective way to tone those side muscles. Start by sitting on the floor with a weight in your hand (think anything from 8 to 15 pounds) and your feet slightly raised off the ground. Your legs should be bent at your knees and your upper body should be elevated to create a folding V shape with your legs. Move the weight from one side of your body to the other, ideally touching the weight to the ground on each side of you during every rep. Do this for 30 seconds to a minute, then rest for a few seconds and repeat again. It might hurt when you laugh tomorrow, but in that case I guess it's a good thing we have permanent RBF.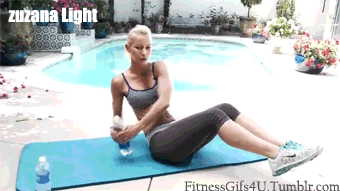 That V-Shape At The Bottom
What is it? No one would ever comment on an Instagram pic to compliment someone's lower abs, but like, why not? That shit is really hard to achieve and honestly I could use a post-workout snack just thinking about all that work. Even if you don't necessarily want chiseled abs, working your lower abs can help eliminate love handles in the process.
How do I get it? Well first before anybody asks, you do NOT need to become Terry Crews to get the V-cut thing; that was just the best (read: hottest) picture I could find. Anywho. Leg raises. This move looks super easy when you see someone doing it, but once you start, you'll be crying pretty fast. Lying on the floor, place your legs straight out in front of you and your hands on the ground or under your lower back if you're prone to lower back pain. Lift your legs up, keeping them as straight as possible with your knees slightly bent until they make a 90-degree angle with the floor. Hold the contraction at the top for the second, then SLOWLY lower your legs down to the floor in front of you. You'll want to make sure you use a mat to protect your tailbone and stop fucking holding your breath. Seriously, what is it with people not breathing while working their abs? You're not underwater and people around you are starting to get worried.

Inner Core Muscles
What are they? The workouts we've discussed so far will all help tone your abs, but as we mentioned earlier, your core muscles go much deeper than you realize, so you should prob be working those inner layers too. A lot of people get caught up in working the area around their stomachs, but they don't realize that most of your core stability comes from your lumbar spine and lower back area, so try hitting those muscles too if you care about really strengthening your entire core area.
How do I get them? Superman lifts. Everyone has these inner core muscles, but they're pretty weak if you don't work to strengthen them, and Superman lifts are the best way. Lie facedown on your stomach with your arms and legs extended and keep your neck in a neutral position. Then, keeping them straight and your torso tight, lift your arms and legs toward the ceiling, arching your back and getting your hands and feet like, five inches off the floor. Hold for a couple seconds at the top and then lower back down. If you're doing it right, you'll feel like an idiot. Try doing 10-15 reps before the embarrassment takes over resting and then repeating again.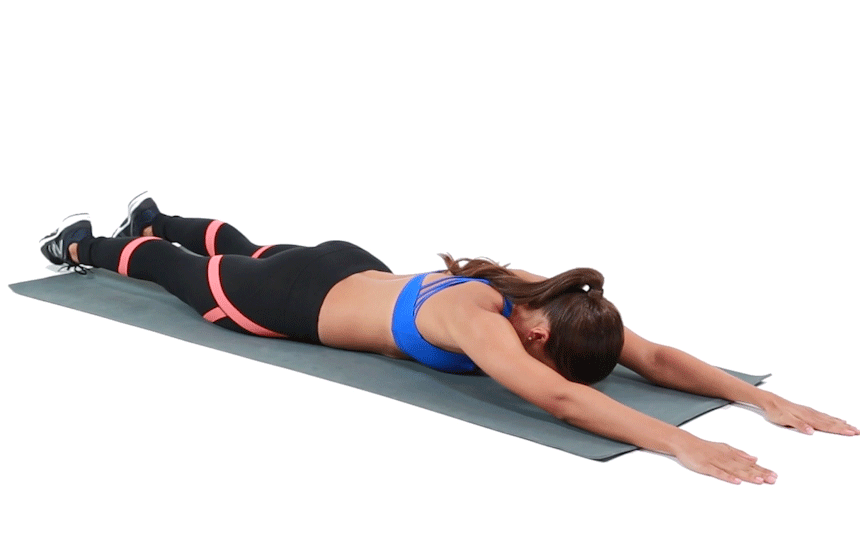 I know it sucks to spend extra time at the gym to do some work that's low-key good for you, but you stuck around last week for like, 15 minutes to find good selfie lighting, so we're gonna assume you have the time.
Images: Christopher Campbell / Unsplash; Giphy (4); Emily Ratajkowski, Kayla Itsines, Terry Crews / Instagram
5 Moves To Tone Every Part Of Your Abs, Even The Ones You Didn't Know Existed
Have you ever scrolled through Instagram, found a picture of some fitness model's ridiculously chiseled six-pack, and wondered how the hell her body looks like that? So like, same. You've probably been told that "abs are made in the kitchen," and while that's depressingly true, doing the right core exercises makes a huge difference when it comes to seeing ab definition. Like, if you've been doing 50 sit-ups a day and wondering why your abs don't exist yet, it's time to rethink your core routine. All of the following moves target different sections of your abs, so do each one for 45 seconds and repeat the circuit 2-3 times, or just like, until your abs feel like they're literally on fire.
1. Entire Core: Bodyweight Plank
Regular bodyweight planks get a lot of hate because they look pretty easy, but if you feel that way 45 seconds in, your form is probably wrong. When done right, planks activate your entire core from top to bottom, so you need to make sure you're doing it correctly if you want to feel the burn in the right places. Start on your hands or your forearms with your elbows below your shoulders and your arms parallel to your body. Make sure you feel like you're pulling your belly button in toward your spine and activating your back muscles under your armpits. Your spine should be straight, but make sure your hips aren't sagging downward and your butt isn't lifting upwards. Your back should be straight enough for someone to balance a glass of wine on top of it. I wouldn't recommend trying it, though.

2. Lower Abs: Lying Leg Raises
Leg raises are ideal for your lower abs. If you're not sure what that means, here's five seconds of science for you: you have your first cousins, then you have your second cousins transverse abdominus, your rectus abdominus, and your external obliques. Those muscles make up your core, and leg raises tone the bottom half of them, which people tend to neglect. Lying flat on your back with your legs straight out in front of you, keep your feet touching while you slowly lift your legs up to the ceiling until your butt is slightly off the floor. Then, lower them back down until they're a few inches off the floor. Do as many reps as you can, and remember to breathe in between the lifts.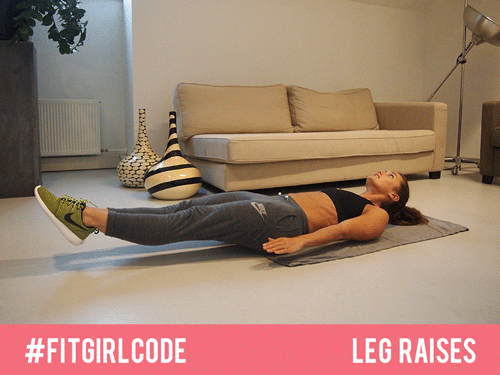 3. Obliques: Bicycle Crunches
Bicycle crunches target your oblique muscles, which are the sides of your abs that pop out when you're wearing a crop top. Basically, your stomach will look toned as fuck if you do enough of these. Lie on the floor with your hands behind your head and reach your right leg out as far as possible while crunching your left elbow to your right knee. You should feel like you're twisting through your core, so the goal is really to get your shoulder off the ground as close to the knee as possible. Alternate from right to left, starting off SLOWLY and getting faster toward the end. But not super fast, otherwise you're just using momentum and not your abs and this move will do nothing for you.

4. All Over Core Strength: Opposite Arm & Leg Extensions
You can do crunches and oblique bends all day long, but in order to tone the deeper muscles in your core, you need to do some stability work. Opposite arm and leg extensions might not feel like you're working your abs at first, but with the right amount of control and balance, you'll gain a ton of core strength, which will help all the other ab exercises seem a lot easier. Start on all fours with your hands under your shoulders and your knees under your hips. Then, engage your core while extending your left arm out in front of you and reaching your right leg behind you until both are parallel to the floor. Slowly bring them back to center and do the same to the other side. This move should be done slower than the rest, so don't worry if you only get a few reps in 45 seconds.

5. Obliques, Upper & Lower Abs: Scissor Kicks
Scissor kicks are named appropriately considering the fact that you'll probably want to stab yourself with a pair of scissors once you start doing these. With that being said, the pain is worth it because this move targets your obliques, your upper abs, and your lower abs at the same time. Start lying on your back, similar to your leg lifts position. But this time, alternate kicking each leg out in front of you, keeping your legs off the ground the entire time. Keep your core engaged and your back on the ground the entire time as you kick your feet like a 6-year-old at her first swimming lesson. You'll feel the burn pretty fast, but try not to let your feet hit the ground so you can really burn out the muscle. Oh, and heads up: simple instincts like sneezing and laughing are gonna hurt like a bitch tomorrow. I mean, there's a reason you've never seen Jillian Michaels crack a smile.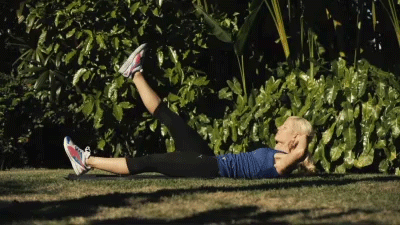 The 5 Best Ab Exercises & The 5 That Are Wasting Your Time
If you're one of those people who clicks on any article called "7 Foods To Eat For A Six-Pack" or "Drink This Tea To Get You a Flat Tummy Tomorrow," you're gonna want to keep reading. That's because Fit Tea doesn't work (and you should know that by now), but ab exercises do work. So we've done a thorough investigation(ish) of the 5 best ab exercises to get your abs in shape for your bikini. And, because we're psychic, we also know what you're doing wrong. So to shatter all your illusions and make you feel like a failure for your benefit we're also here to tell you the five ab exercises you think are working, but really aren't doing shit.
The first thing you need to know about getting abs is that core exercises are important, but they're not everything. That annoying phrase "abs are made in the kitchen" is sadly true. By definition, you have to have a pretty low body fat percentage to see abdominal definition, so if you're not eating right, fix that shit, then come back to this article. If you're pretty good on the nutrition and you're looking for the right exercises to shape your core and tone your tummy, here's what you should and shouldn't be doing in the gym: 
5 Exercises That Work…
1. Weighted Russian Twist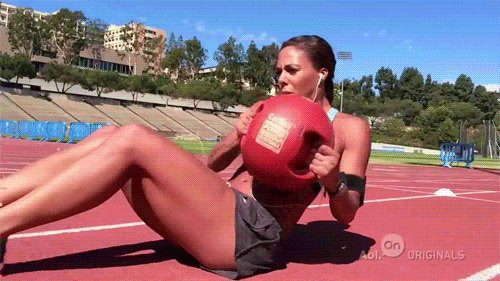 This move is great for toning the sides of your abs because it targets your oblique muscles. Start by holding a 12-15lb weight or weighted ball and sit on the floor with your knees bent. Ideally, your feet shouldn't be touching the floor, but if you're a beginner, you get a pass. For now. Lean back so your torso is at an angle, but keep your spine straight. Touch the weight to the floor from one side to the other while keeping your arms in front of your chest. Make sure you twist your core completely or else the whole move is pointless and you're playing yourself.
2. Plank

People tend to hate on planks because it looks like you're not doing much and because we're all still scarred from the planking craze of 2009, but if you're doing them right, you should feel the burn and see results pretty fast. Planks are amazing for your core, back, legs, and arm muscles, so stop talking shit and start planking. Whether you're doing a forearm hold or starting on your hands, keep your core tight and hold a stable position for a minute. As your core gets stronger over time, try holding for longer and longer. Separate your feet if you're just starting out, then move them closer together once you start getting stronger.
3. Side Jackknives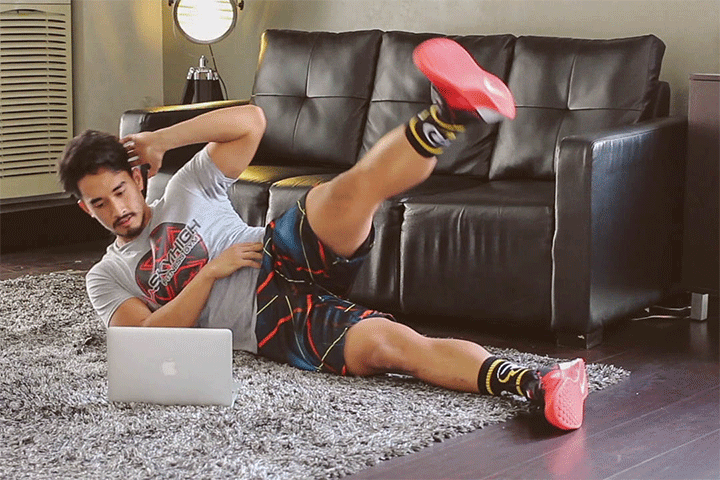 This move is another great one for the sides of your core, and if you do them enough, you'll start developing that hourglass shape around your waist that guys post about on Instagram all the time. Lying on your right side and keeping your left leg over your right one, place your left hand behind your head and bring your torso and left leg toward each other as you pull with your obliques. Squeeze for a couple seconds and then release your leg and hand. The key here is to go slow and feel every rep, so no cheating.
4. TRX Pikes + Knee Tucks

This move is def more advanced, but like, stop crying and put your feet in the TRX straps. The TRX is that yellow and black suspension trainer at your gym, and it's time to start using it. Get in a plank position with your feet in the straps and pull your knees into your chest, engaging your core on every rep. If you're up for the challenge, pike your feet forward, creating a V-shape with your body. You'll feel the burn immediately, but do as many reps as you can without collapsing.
5. V-Ups

V-Ups are not, as the name may lead you to believe, a form of Kegel exercises. They actually target the lower part of your abs that gives your body that V-shape you thought only J. Lo was blessed with. Keep your feet together with your toes pointed at the ceiling, and slowly lift your legs up while bringing your upper body off the floor and touching your toes. Try to keep your legs as straight as possible. Squeeze your core for a second and then slowly lower your legs and back down to the floor. It burns pretty bad, but you'll be thankful when you look unreal in your next bikini pic.
…And 5 Exercises That Are Wasting Your Time:
1. Fast Bicycles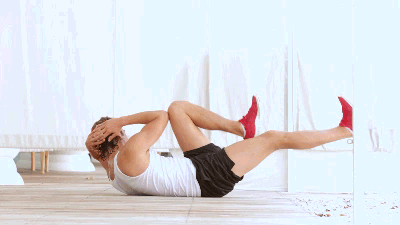 So many girls think that doing fast bicycle crunches will get you a six-pack, and it's honestly sad to watch. This isn't SoulCycle, so stop going so fucking fast without using a single muscle in your core. SLOW bicycles, on the other hand, are actually super effective because you're bringing your shoulder to your knee and isolating your core muscles enough to actually do something. Girls who do fast bicycle crunches and think they're getting abs are like guys who jackhammer away at your cervix and think they've given you an orgasm (ahem, Raven's ex).
2. Crunches

Again, sorry to burst your Shape Magazine bubble, but regular crunches or bodyweight sit-ups are probably wasting your time. Doing 100 baby crunches isn't impressive, and it's not going to do shit to your body. Add some weight to your crunches by holding a dumbbell at your chest, or get your feet off the ground to really challenge your core.
3. Leg Lifts

TBH, leg lifts can actually be a good core exercise if you're doing them slowly and only using your core muscles, but most people just use their hands for assistance and go way too fast to actually get an effective ab workout. This move is more advanced than most people think, so if you're not that strong yet, you're way better off starting out with V-ups or planks. Going straight to leg lifts is like skipping cocaine and going directly to crystal meth. Slow the fuck down. And stay away from crystal meth in general.
4. Static Side Planks

People tend to think holding a side plank for 30 seconds will shape the sides of your torso, but those people are what we in the fitness community like to call "idiots". There are so many better oblique exercises that are way more effective than a static side plank. If you really want to feel the burn in a side plank, try dipping your hip up and down (like Leo does in the above gif) or holding a dumbbell with your arm straight in the air. Otherwise, you're prob wasting everyone's time. Mostly your own, but also the people waiting to use your mat while you do the exercise equivalent of sitting there and looking pretty. We're not saying everyone will hate you if you do a static side plank, but we're not not saying that. The more you know.
5. Most Ab Machines

This might be controversial since so many people swear by the cable crunch machine or the hanging leg raise bar, but most ab machines at the gym are probably wasting your time if you want a good core workout. It's not that the machines don't work, but doing floor exercises are just as effective and are easier to scale to your own level, so don't waste your time trying to figure out how the machines work. We're also saving you from some annoying dude coming up to you and offering tips and telling you that you should smile more, so like, you're welcome.