7 At-Home Cardio Moves That Tone Your Abs
If you're smart, you're spending your time at home, interacting with people as seldom as possible. I know that sounds a little dramatic… but like… it's true. The only downside of sitting on your couch and not talking to people for days on end is that you might start to feel like if you don't move your legs soon, they could fall off. But how are you supposed to get a workout in if your gym is closed and it's too cold to run outside? (Or you just hate running, no matter how hard you try?) The answer is at-home workouts. If you're itching for a way to move, now is the time to get into exercises you can do from your living room. So we linked with Katie Austin, the daughter of fitness legend Denise Austin and fitness influencer in her own right, who has worked on Amazon Live's new fitness initiative "Get Fit" and appeared on Dr. Oz, The Today Show, and more. She's given us her top 7 cardio ab moves that tone your abs while burning fat. This way, you get two workouts in one—toning and cardio. We love a workout that can do both.
Crunch To Straight Leg Toe Tap
This one's a double move! Only one side at a time, bring your opposite elbow to knee, and then lower your leg. Before your leg hits the ground, bring it straight back up for an opposite hand to toe tap. Continue on one side for 30 seconds, then switch sides.
High Knee To Back Kick
In a ready stance position with your hands held up towards your face, bring your knee up towards your chest. As you lower it back down, balance through your core, and kick back with the same leg right behind you. Continue these two moves on one side for 30 seconds, then switch sides. 
Jumping Jack Crunches
Standing with your hands straight in the air, bounce to bring one elbow in toward your opposite knee. Shoot your arms straight back up, and bring the opposite elbow to the other knee. Keep repeating this in a fast-paced manner, like jumping jacks. Do this cardio move for 30 seconds. 
Side Lunge With Cross Crunch
First, complete a side lunge with your hands behind your head. Make sure you are sitting back with that side lunge, and pushing off through your heel and glutes. As you push away out of the side lunge, bring that knee to your opposite elbow. Repeat this on one side for 30 seconds before switching sides. 
Bicycles
I'm sure you've done bicycles before! But just in case you need a refresher, here's what ya do: Lying on your back with your head and shoulders raised off the floor, bring each knee toward your chest, as you rotate your torso to bring your opposite elbow to tap your knee. You know what to do: continue for 30 seconds.
Squat and Box
Come into a squat position with your hands protecting your face. As you come up from the squat, punch across your body with force. Go back into a squat, and repeat boxing but with other arm. Continue for 30 seconds! 
T-Stand Crunches
Start with your hand behind your head in side plank position, but with the knee closest to the floor resting on the ground. Bring your straight leg toward your same elbow, for a crunch. Continue on the same side for 30 seconds before switching. 
Do the circuit as many times through as you can until laughing causes you extreme agony. 
If you need more at-home cardio and ab workouts, head to KatieAustin.tv/videos for over 120 at-home workout videos, and follow Katie on Instagram for more tips.
Katie Austin is a fitness personality, entrepreneur, and sports host. After being a Division I lacrosse player at USC, she decided to follow in her mom, Denise Austin's fitness footsteps. Katie's grown her workout brand to over half a million social media followers, an app, online program, and more.  
She has been featured on shows such as the Today Show, Rachael Ray, The Doctors, On Air with Ryan Seacrest and more. She was named one of the top ten Instagram's to follow by Seventeen Magazine. 
On top of her fitness brand, she co-hosted a show on Fox Sports West for 2 years, hosted at the Super Bowl, NBA awards, and more. She was just honored on Create + Cultivate's Top 100 Women in Digital List.
Images: fizkes / Shutterstock.com; Courtesy of Katie Austin (7)
The Best Exercises To Tone Every Part Of Your Body
Bikini szn is fast approaching, and you know what that means: Time to try on bathing suits, wonder what the hell happened to the ab crack you totally had last summer, remember that you spent the whole winter eating mozzarella sticks, and then look up where your gym is actually located so you can use that membership you forgot about once August hit. So I did some research and compiled a list of some of the best workouts to tone different parts of your body. Let this list guide you the next time you're too broke to pay for another SoulCycle class or you're feeling lost at the gym. Bonus, a lot of these exercises can be done from the comfort of your own home, and we all know not leaving your house always beats actually going outside.
Abs
For some people, having abs is way easier than others (thank you, genetics). I personally have abs, they just so happen to be hiding behind a layer of fat. But before you start doing a million crunches, there are a ton of ab exercises that are way better than traditional crunches. For instance, doing Pilates is a killer way to get abs. If you've never tried it, it's super hard but effective, since it incorporates a ton of ab-targeted exercises. The plank is another of the best workouts to tone your abs, but it can get boring. These exercises below are a little more complex than simple crunches or planks, yet still effective in toning your abs.
Double Dumbbell Drag: Start in a plank position with a dumbbell or kettlebell on the outside of your right arm. While engaging your core and ensuring you don't move your hips, take your left arm under your right and move the dumbbell/kettlebell to the outside of your left arm. Repeat with the right arm. Make sure to keep your wrist beneath your shoulders. Add a push-up if you're fancy.

Plank Hand Taps: If someone is hogging the dumbbells, this one is perfect for you. Start in a plank position and lift your left hand to tap your right shoulder. Repeat on the other side.

Alternating Toe Reach: Lie on your back with your legs straight on the ground and arms straight above your head. Raise your right hand to meet your left leg in the air above your body. Make sure to engage your abs with each move. Repeat with your left hand and right leg.

Arms
A fear of mine is to have the dreaded chicken wing arms, but toning your arms takes a lot of commitment. That means when I don't want to work out, I Google images of Michelle Obama's arms and that motivates me real quick. Here are some of the best arm toning exercises I found.
Upright Row: Stand straight with a dumbbell in each hand, in front of your legs. Raise your arms until they reach your chest, keeping the front of your hands straight in front of you. Lower your arms back down. Repeat.

Tricep Kickbacks: Stand with your legs hip-width apart and your upper body slightly leaning forward from your hips. With a dumbbell in each hand, bend your arm from your elbow towards your chest, then back behind you.

Dumbbell Punch: Standing hip-width apart and with a dumbbell in each hand, pretend you are punching your ex in the face, alternating between each hand.
Glutes
We all like nice butts, and we cannot lie, and sometimes traditional squats won't cut it. If you're tired of people telling you to do squats, here are some more interesting exercises.
Plie Squat: If you speak in ballet talk, start in second position with your feet turned out. If you don't, click here. Go into a plie (aka a squat). Keep your core engaged and each time you recover from the squat, squeeze your butt.

Split Squat Jump: Start with your feet together, and jump up, landing with your legs split in a plie squat until your thighs are parallel to the ground. Push up from the squat and jump your legs back together.

Fire Hydrant: Get on all fours, and lift your left leg up like you are a dog peeing on a fire hydrant. Keep your back flat by engaging your core. Do 15 reps and repeat on the right side.

Legs
If Beyoncé has taught me one thing, it's that toned legs make all the difference.
Reverse Lunge: Start with your legs together. Lift your right leg and bend into a lunge. Bring your feet back together. Repeat with your left leg.

Pistol Squat: Balance on your right leg with your left leg lifted just above the ground. With your arms straight in front of you, lower yourself to the ground and then back up. Repeat with your right leg extended in front of you.

Lateral (Band) Walk: Stand with your legs together. If you want extra resistance, place a resistance band around your knees. Open your right leg to be about hip-width apart and then bring your left leg to meet your right. Repeat starting with your left leg.

Back
Rocking a backless top and showcasing a toned af back would be amazing. Other than the fact that I always need to wear a bra (thanks DDD), my back isn't as toned, tanned, fit, and ready as I'd like it to be. Basically, I should take my own advice and do these workouts more often.
Reverse Fly: Leaning forward from your hips, place your arms straight below you with a dumbbell in each hand. Open your arms to each side, keeping them straight. Squeeze your shoulder blades and then release your arms back in front of you.

Forward Raise: Keeping your legs hip-width apart, back straight, and a dumbbell in each hand, extend your arms straight in front of you. Once they are in line with your shoulders, lower them back to your legs.

Lateral Raise: Repeat the above exercise, but instead of raising your arms in front of you, raise them to either side of you.

Chest
Some people believe working out your chest will give your boobs a perky boost. I've never stuck to an exercise long enough to see any results, but lmk in the comments if you have.
Medicine Ball Push-Up: Do a traditional push-up, but place a medicine ball under your right hand so your back is on a slant. Repeat with the medicine ball under your left hand.

Chest Fly: Lie on your back with your legs bent in an L shape. With a dumbbell in each hand, hold them straight above your chest toward the ceiling. Open your arms until your elbows hover over the ground, but keep your forearms towards the ceiling. Engage your abs to keep your legs supported.

Dumbbell Pullover: Lie on your back with your legs bent, like you are about to do a crunch. Hold a dumbbell in each hand. Raise your arms above your head towards the back of the room, then raise them towards the ceiling until they are directly over your shoulders. Repeat.

Images: Luis Quintero / Unsplash, Giphy (16), Tenor (1) Gfycat (1)
Khloé Kardashian's 'Revenge Body' Trainer's 5 Moves For Toned Abs & Glutes
I don't know about you, but my favorite moment in television history was when Bella Hadid strutted past The Weeknd on stage during the Victoria's Secret Fashion Show, looking hot as hell, while he just stood there looking mad regretful. Honestly, I would do just about anything for that kind of high, because I can't imagine that anything feels quite as good as reminding a guy who didn't want to be with you just how hot you are. If you are feeling a little meh and want to change that, getting in shape is a good way to start. To quote the great Elle Woods, "exercise gives you endorphins; endorphins make you happy…" The rest isn't really relevant to my point, so I'll just stop there. So if any of this sounds appealing to you, you'll love what's to come!  Trainer to the stars Autumn Calabrese—you probably know her from Khloé Kardashian's Revenge Body—created a special ab and glute workout just for Betches readers! What's more, Khloé's revenge-seekers aren't the only people Calabrese has whipped into shape. She used to be Kendall Jenner's personal trainer, too. Tbh, this workout is not for the meek. It's hard af, but so is life, so get to work.
Weighted Side Bend
This one is pretty straightforward, so I won't spend too much time explaining it, but I will take a second to tell you why it's amazing. Ok, so you know how Jennifer Grey in Dirty Dancing has those really subtle yet very enviable ab dimples on either side of her torso? That's probably because she was doing weighted side planks all damn day! 
Even though it does a lot, the actual movements aren't super challenging. To start, grab a weight that feels heavy, but not so heavy that you might drop it. Stand with your feet parallel and about hips-width apart. Place the hand that isn't holding the weight behind your head like you would for crunches, and then, without breaking your posture, lean sideways toward whichever side the weight is on. So your upper body bends sideways at the waist and your lower body doesn't move at all. Calabrese says, "I love this move for sculpting the obliques. Perform two sets of 15-20 reps on each side." You'll def feel this one the next day. 
Dumbbell Hip Hinge
Or as I like to call it, the weighted bend-and-snap. Grab two weights and stand with your feet hip-distance apart. Hold the weights in front of your body (as opposed to down at your sides) with the backs of your hands facing forward. Now, without curving your back, slowly bend your body forward at the waist. Your legs should also bend as your upper body hinges forward about 45 degrees. Then, snap back up. Don't lift slowly; you want that part to be pretty fast. Calabrese says, "This move is great for lifting your butt. It works the hamstrings and the gluteus maximus. To build your butt, you need to lift heavy, so pick a weight that allows you to perform 10-12 reps where you can't do any more with proper form by rep 12." And then you will probably keel over and need a nap, but you'll get results. 
Single Leg Tap Back
Hearing the phrase "tap back" is giving me major SoulCycle PTSD, but I'll pull it together. Doing single leg tap backs every day will give you a Kardashian butt…in that it will be round and shapely, not full of silicone. For this one, start with your feet touching and a weight in one hand. Just for simplicity's sake, let's say the weight is in your right hand. Bend your left leg and step your right foot all the way back so that your toes are touching the ground. It's kind of like you're in a modified runner's lunge. Now, the hard part! Without sacrificing your flat back, lift your right leg up slowly so that it's at the same height as your hips. Do not, I repeat, do not let your upper body dip down. Keeping that weighted balance is what strengthens your butt and will ultimately make it look like a peach emoji. Calabrese says, "This move is great for working the gluteus maximus and helping lift the butt. It's also going to help you build your backside. You want to pick a weight that allows you to perform 10-12 reps and  you'll want to do three to four sets of the move." Ugh, ok fine. 
Plank Triple Knee Tuck
Luckily, there are no weights involved in this ab exercise, so if your hands were starting to develop calluses, congrats, you're done with the weighted portion of the program. You do, however, need two gliders, which are cheap af on Amazon. To start, get in plank position with your arms extended, and place the gliders under your toes. Then, glide your knee to the opposite elbow and then extend back to plank position. You're going to alternate each knee and do both knees toward their same-side elbows at the same time. This kind of looks like the position you do in leapfrog right before you leap. Good visual, or did I just make that more confusing? You decide. Calabrese says, "This move works the whole body with a strong emphasis on the core. It will help tone your obliques as well as your lower abs." I like the sound of that. 
Glute Bridge With Knee Opener
Get a mat for this one if you don't want a bruised tailbone. Lay on your back with your knees bent and feet together on the floor. Cool, you're done! Kidding. Place a resistance band around both legs right above the knee, slowly lift your hips up and then spread your knees, but keep your feet together. Move your knees back together and then slowly lower your hips. This may sound easy because you're lying down, but don't be fooled. Your butt will feel like it's falling off the next day. Calabrese says, "This move is great for shaping and toning the sides of the glutes or the gluteus medius.  You want to use a heavy resistance loop for this. Perform two sets of 15-20 reps." 
I did this on a Sunday morning and seriously considered working from home the next day so that I could take an ice bath every few hours. It hurt so good. I fully trust Autumn Calabrese because I've seen her magic unfold on Revenge Body, so if you need an at-home workout that will actually challenge you, you're welcome. 
Images: Courtesy of Per Bernal, Autumn Calabrese (5)
3 Signs You Need A New Workout Routine
When you're already going to the trouble of working out, it can feel like unfathomable betrayal to hear that you should, in fact, be doing a completely different workout. Or at least, that's the logic I once used to justify doing nothing but yoga for six months, while slowly ceasing to fit into my pants. As someone who really wants to be fit but is decidedly not an athlete, I've spent a of time and energy on different gyms, classes, and even trainers and physical therapists over the years, trying to find the perfect workout that would turn me into a *fit person* once and for all. As all those professionals have explained to me repeatedly, not all workouts are created equal. What's more, switching up your workout routine has consistently proven to show better results. So, while I reluctantly follow this advice myself, here are my past trainers', physical therapists, and preferred internet authority's tips for knowing when it's time for a new workout routine.
1. You're Not Getting Sore Anymore
Sorry! But also, not really because you should know this. If a workout stops making you sore, it's not a sign that you have ascended to a new level of athleticism in which your muscles are no longer capable of strain. It does probably mean that you have strengthened the specific muscles involved in this particular workout (congrats!). But if you don't up the difficulty of the workout, or switch out the muscles you're working on, you won't keep seeing results. At best, you'll maintain the very specific strength you've gained. But even that isn't a guarantee, since you're continuing to do a workout that was appropriate (and difficult!) for you in a less fit state. Trainer Faheem Mujahid explains it as your body realizing "it doesn't need to expend as much energy anymore:" meaning you burn fewer calories, get less tired, and are less likely to feel sore. Time to level up, b*tch!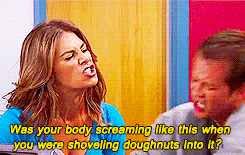 2. You're Getting *Too* Sore
The flip side of the whole soreness thing is that you have to be careful not to overdo it. There's a difference between it hurting when you laugh the day after an ab routine and needing to strap on a knee brace every time you leave the gym. Fitness instructor Trish DaCosta puts it plainly: "A reoccurring injury or too many injuries is often a sign we're doing too much of an exercise program." Pulled muscles, joint pain, or persistent aches are clear signs that your body needs a break. Injuries aside, extreme soreness—or persistent soreness in only a few, select places—also mean you should switch out your routine, or at least add some variety. Trainer Jessica Thiefels stresses the importance of making sure your body feels "balanced in strength," and adds that "working the same muscles, time and time again" is a bad idea. Muscles need rest periods in order to get stronger; so you're really just robbing yourself of #gainz if every day is focused on the same body part.
Obvs, if you're repeating the same workout over and over it's because you like it, and I get that it's tough to motivate yourself to make the switch. I once spent two weeks obsessed with barre and loving my life. Then I promptly re-pulled an old thigh injury, and my physical therapist at the time told me that barre was "the worst thing" I could do for my body.  The fact that I had just purchased both a "barre so hard" tank and a month-long barre studio membership apparently meant nothing to her. As much as I was dying to be a fancy barre girl, I had to accept that my body just wasn't built to benefit most from that particular workout.
Me to my useless barre studio membership: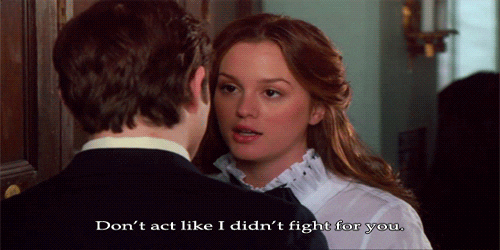 3. You're Not Getting The Results You Want
So, this goes back to my whole "only doing yoga" period in time—despite feeling like I was gaining weight, or at least sort of…spreading out. Before my yoga phase, I'd been getting most of my workouts in at the gym, where I lifted weights and ran intervals on the treadmill. Then, I moved to NYC and decided a gym was a luxury I could no longer afford. Even though I'd read countless times that yoga is not the most effective calorie-torching workout out there (particularly not when done for 15 minutes at a time in one's living room), I hated the idea that completing any workout wasn't enough for my stupid body. I felt more flexible and balanced for sure—but I felt like I was losing muscle, and my clothes weren't fitting as well.
The point here? Don't be like me! Yes, some exercise is better than no exercise at all. But that doesn't mean you can go on a jog and expect your triceps to be more defined after. DaCosta notes the importance of seeing "continued progress" from your workouts, which could come in any of the following forms: "more muscle definition, decreased body fat, more energy, stronger lifts, faster recovery times, weight loss, faster pace, etc." While yoga was pushing me on some of those fronts, it wasn't satisfying others. For a fully varied workout routine that pushes you on all these fronts, Mujahid recommends trying for a mix of "cardiovascular, strength, agility and flexibility sessions," making sure you're "hitting every muscle group" in a week's worth of workouts.
If that sounds totally unattainable to you (same girl), take some comfort in knowing a lot of these categories overlap. For example, a HIIT workout could be your lower body workout, and combines a cardiovascular and strength workout. Then you could work your upper body with yoga on alternate days, which would count as your agility and flexibility sessions. Throw in an ab day and you're done for the week. (And if that sounds like a month's worth of workouts to you, once again I say SAME GIRL. I'm just the messenger for what the pros are recommending.)
Me during my yoga phase:*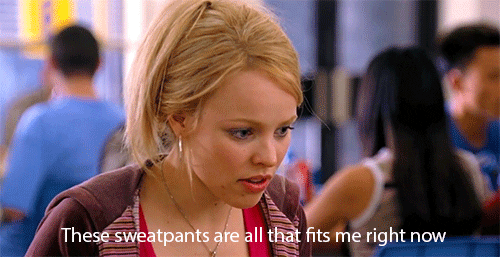 *To be clear, yoga absolutely can and does help people with all kinds of body goals. But my refusal to do any other workout meant I really hit a wall.
This article is not meant to shame anyone out of the workout routine that they're doing. Everyone who has broken a sweat (on purpose) in the past week: I am proud of you. But I also know firsthand how frustrating it can be to feel like you're making a huge effort and not getting anything for it. If anything, this article will hopefully inspire you to make a change and find the workout that leaves you sore, satisfied, and not feeling like you need a wheelchair. Everyone's body is different, and once you find the (healthily varied & not at all overwhelming) routine that works for you, working out will feel 1000% more worth it. I promise.
Images: Giphy (3); Pexels / bruce mars
Upper Body Exercises To Target The Muscles You're Ignoring
When it comes to choosing workouts, some exercises just seem obvious, like doing squats for a perky butt or planks for rock-hard abs. And don't get me wrong, I'll do squats and planks until they're out of style. *BUT* I think it's also important to work on the muscles we don't often think about, especially as girls. We tend to think we just need a little toning and cardio here and there, but there are a lot of important muscles that we neglect at the gym, especially our upper body muscles. It's time to address WTF to do about them. Here are some underrated upper body exercises and why you should be working them.
1. Chest Presses
Aside from a few modified push-ups as a warmup, most girls never think about working their chest muscles. I mean, the chest press seems like a guy's exercise, and it can be super intimidating. What many women don't realize is that your chest muscles just create a stronger upper body in general, which literally makes it easier to do basic activities, like opening doors and holding heavy bags. People also find that chest presses can even give yourself a little chest lift, so you can stop buying push-up bras. So start your upper body exercises with chest presses. Grab two dumbbells and lie flat on a bench with the weights at chest height and your elbows out toward your sides. Then, press the weights upward, keeping them over your chest the entire time, and bringing them back down after every rep and avoiding pushing with your shoulders.
2. Lying Back Extensions
People tend to do a lot of rowing and lat pulldowns to target back muscles, and these exercises are great, but we tend to forget about our back extensor muscles, which are located at the lower back. They're super important for core engagement, stability, and avoiding injury. Doing lying back extensions will help you avoid hurting yourself at the gym, considering you basically use your back in any exercise, like even running or spinning. Lay out a mat and then lie on your stomach with your head facing the floor and your arms out over your head in a "Y" shape. Then, slowly lift your legs and arms off the floor, keeping only the area from your stomach to your thighs on the mat (if that's too hard, leave your legs alone and just lift your upper body). Lower back down and then lift back up, feeling the tension in your lower back.

3. Inner Core Leg Lifts
We do a lot of ab movements around here, but there's a major difference between your ab muscles and your core muscles. Most ab workouts, like bicycles and Russian twists, don't target the transversus abdominis, which is the muscle that connects to our pelvic floor and internal organs. In order to strengthen these inner muscles, do inner core leg lifts. Start by lying on your back with your knees bent, and slowly lift your right foot off the floor, keeping your core engaged as you lower it back down. Then, do the same on the left, and switch back and forth, exhaling with each rep. These are supposed to be slow and controlled movements, so don't worry if you're not getting your heart rate up or sweating, but DO worry if you're just kicking the ground without feeling it in your abs. Then you're probs doing it wrong.

4. Lateral Raises
Toning your shoulder muscles will make your whole arm look more defined and just so much better, and the most ideal way is to work the front of the muscle and the side of it in one workout to tone every angle. The lateral deltoid, aka the side of your shoulder, is really what gives your arms a toned look, and it's often neglected because people just don't realize what a difference it makes. Standing up with a dumbbell in each with your palms facing your thighs, keep your elbows slightly bent and raise your arms to the side until the weight reaches shoulder height. Then, slowly lower the dumbbell back down to your thigh. Keep raising them up and down, and try not to bounce your legs to use momentum to lift them. The goal is to keep tension in your shoulders the whole time and not get any help from your lower body.

5. Single-Arm Planks
Obviously your abs aren't a "forgotten about" muscle, but we often overlook the most basic functions of our core muscles, which include stability and balance. Upper body exercises like single-arm planks strengthen the core while testing your stability. By doing moves like these, you'll notice that yoga poses get easier to hold, being in third position on a spin bike feels more natural, and other ab movements are just less painful. So basically, the single-arm plank is essentially a regular plank, but you only use one hand at a time. Duh. It's easier to start with your hand centered in front of your chest, but try to work it back out to under your shoulder as you get stronger. The idea is to keep your body square to the ground without raising your hips on one side, and keep your core tight the entire time.

Images: Ayo Ogunseinde /Unsplash; Giphy (4), Pinterest (1), 
The Worst Mistakes You're Making On Gym Machines
As much as I love bodyweight movements and at-home workouts, using machines at the gym is a good option if you know what you're doing. The gym is filled with intimidating equipment, and it usually takes a few tries to figure out how to use some of it. In fact, even some of the most simple machines are confusing, and you end up using them wrong, which ruins your workout and could cause you an injury down the line. Here are the workout mistakes you're making on six basic machines and how to fix your form. 
The Treadmill
The treadmill seems super intuitive, but people still screw up their form all the time, and it can sabotage your workout and lead to serious injuries. For example, a lot of people look down when they're on the treadmill, and that's a recipe for disaster. Not only can you lose your balance and eat shit on the Equinox floor, but you can also strain the back of your neck and misalign the rest of your body. To run on the treadmill properly, keep your gaze straight and your chest open. You'll be able to run for a longer amount of time and you'll probably be less sore the next day.

Elliptical & StairMaster
The Elliptical and the StairMaster are both go-to cardio machines, but they're only effective if you're positioned in the right way. Instead of hunching over and holding onto the side handlebars like your life depends on it, keep your hands to yourself and keep your posture straight the entire time. You're supposed to feel a burning sensation in your legs on these machines, so if you're death-gripping the rails to take the pressure off your legs, you're not doing yourself any favors. The machine is just there to support you, so you don't have to clutch the handles like you're gonna fall over. Plus, when you're hunched over, you're taking the exercise away from your legs, so you just end up burning less calories than you could have if your form was right.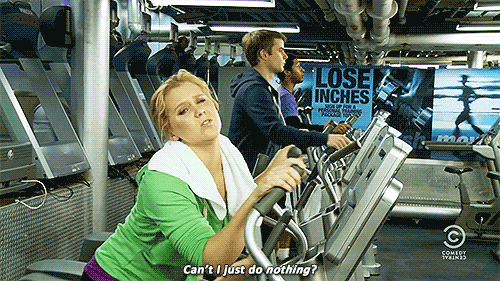 The Rower
The rowing machine is an even better workout than the electronic cardio machines, because you literally have to use your entire body to operate it. This includes your legs, arms, back, and abs. So, if you feel like you're just pulling in the bar with your arms, you're not using the machine correctly. Instead, think about pressing down with your heels and pushing outward, like you're standing up from a deadlift. The idea is to use momentum from your legs to generate the pull, and then use your back and arms on the second part to finish the pull. And again, if your posture sucks here, you'll probably injure yourself, so remember to keep your core engaged and your shoulders pulled back.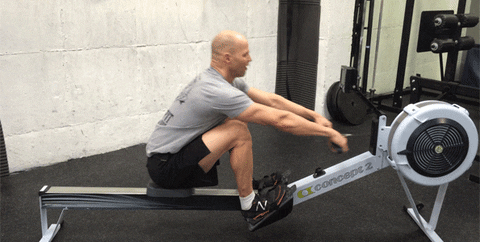 Lat Pulldown Bar
The lat pulldown bar can be difficult to use because it's hard to engage your lats. In fact, most people don't even know what their lats are, so that's problem number one. The lat muscle, aka the latissimus dorsi, is the huge muscle on your back that goes all the way behind your arms. If you strengthen this muscle, your back will look toned and tight, and your waist will end up looking more narrow in result. So, in order to pull down this bar using only your lats and not your shoulders, you need to really think about squeezing your back and engaging the muscle before you pull down. If you're leaning back too far or bringing the bar to your waist, you're overextending. Focus on bringing the bar to chest height and on keeping tension away from your neck and shoulders.

Hanging Leg Raise
This is a great piece of equipment for ab exercises, and it's super effective for leg raises, knee-tucks, and holds. It's also a tricky one because people tend to start doing leg raises before their core is engaged, so only the hip flexors are being worked. Instead, prop yourself up and get comfortable first. Engage your core by pulling your belly button in toward your spine, and then start the exercise. Another mistake people make is by keeping their shoulders too close to their ears. Instead, draw your shoulders down and think about pulling them away from your neck. This will help prevent tightness and injuries that are caused by locking out your shoulder and neck muscles.

Leg Press Machine
The leg press machine is basically a squat variation in a different position, so you need to make sure you're not just bouncing up and down and screwing up your back. A lot of people accidentally do partial reps on this machine, so they're not getting the full range of motion that they would in a standing squat. Position the seat so that when your knees come in, they come close to your chest, so you can target your glute muscles. Also, avoid locking your knees when you straighten out your legs. It's bad for your knees and you could really hurt yourself, so remember to keep a slight bend even while extending. There's no need to get injured at the gym if you just take your time to make sure you're not zooming through every movement.

Images: Giphy (6)
6 Exercises To Improve Your Balance And Flexibility
I follow a lot of #fitspo type of social media accounts, and every now and then I'll watch a workout clip on Instagram and literally bug out seeing what some of these girls can do with their bodies. I mean, no, I'm not talking about how cute their sponsored shaker cups look next to their butt-facing-forward mirror selfies. I'm talking about these crazy moves that require more balance and coordination than 99% of America can handle. Like, I work out regularly,  but honestly my flexibility and balance are pretty shitty, and it's something I'm trying to work on. Here are six exercises to improve balance and flexibility that I'm incorporating into my own routine . Please join me so I'm not the only one struggling through pistol squats at the gym.
1. Bosu Ball Split Squats
The bosu ball is meant to make any exercise harder, and that's because it screws with your balance, making you use your own body to stay aligned throughout the movement. If you do split squats regularly, try adding the bosu and it'll really help any imbalances you have in either leg. The idea is to prop one leg in a lunge on the bosu behind you, and then use your front leg to move up and down, pushing with your glutes throughout the movement. If you're a newbie, you'll probably start tipping over when you start, so just take your time and focus on grounding yourself with your front leg. If you feel like one side is easier than the other, that's completely normal and it's because we're usually stronger on one side. That's why we're doing this. Once you master this, try putting the front leg on the bosu, because variety is the spice of pulled muscles life.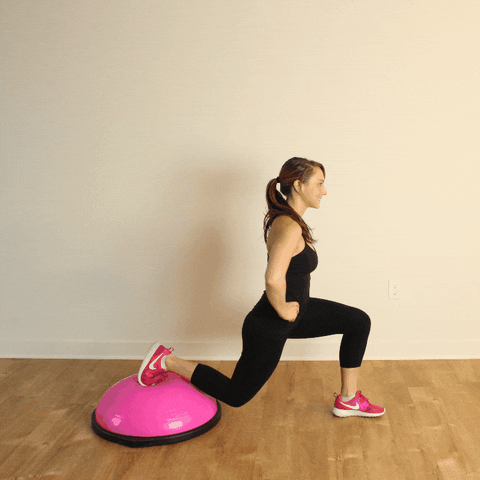 2. Lunge Hip Flexor Stretch
This move looks like more of a stretch than a real exercise, but honestly it's a must and it'll help with other exercises. It helps with mobility, flexibility, and coordination, so you'd be missing out just by skipping it. Especially if you sit at a desk all day, this move is amazing for opening up your hips and relieving any tightness from sitting for so many hours. Start by placing your hands on the ground and stepping back with your right leg, like you're stepping into a reverse lunge. Then, straighten out the back leg and feel the stretch in your hip flexors as your front leg bends in front of you. Hold for a few seconds before switching to the other leg.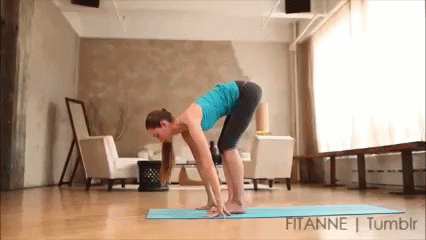 3. Alternating Arm Plank
This one is harder than it looks, so again, TAKE YOUR TIME. No one has ever rushed you through a plank, and the stability aspect here is key. The idea is to hold a regular high plank, but alternate arms so that you only have one hand on the ground at a time. This move hits your shoulders, abs, and arms all at once, and it also ensures you're not relying on one side of your body during other ab exercises. Remember to keep your hips as square as possible without swaying or lifting to one side. If this starts to feel like a side plank, take a break and start again.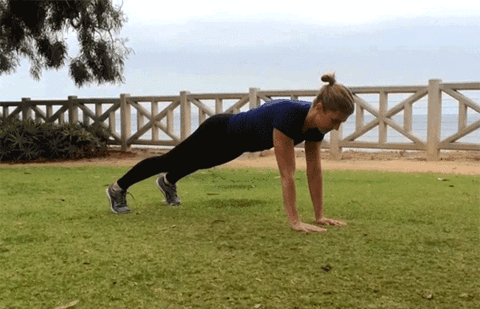 4. Pistol Squat
Ugh, pistol squats. Ask any trainer and they'll tell you this exercise is QUEEN of one-legged training. You're basically putting all your bodyweight on one leg at a time and squatting with only that leg, so yeah, it's hard. If you need to hold onto a bench or TRX straps at first, do it. In a standing position, raise one foot off the floor and descend into a squat. As you squat, try to extend your front leg forward without losing your balance. Then, get as low as you can before slowly rising up, straightening out your knee and driving through your heel. You should feel this in your glutes on the working side. Again, take your time and just focus on the balance part. The rep count doesn't really matter here, so just try to do a few without falling over. You'll go deeper, do more, and need less assistance as you get stronger.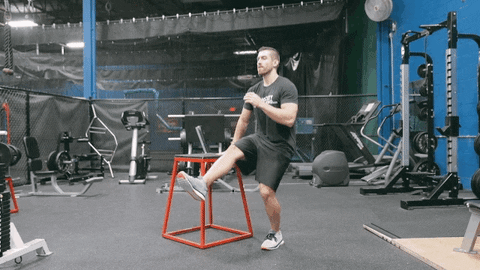 5. Opposite Arm & Leg Raises
Contrary to its name, the opposite arm and leg raise is actually more about your core and torso region. You're basically raising your right arm and your left leg at the same time while on all fours, so the goal is to keep the rest of your body as still as possible. You'll need to keep your back flat and engage your core. Squeeze your abs while you slowly extend your arm and leg, and then take a second to look forward at your reaching arm before lowering down and switching sides. This should also help strengthen your back, so make sure not to arch your spine and ruin your form. Think about pulling your abs in before lifting, and then when you reach out, keep your arms and legs parallel to the floor. For extra credit, get off your knees and do this from a full plank. Good luck in advance, is all I have to say.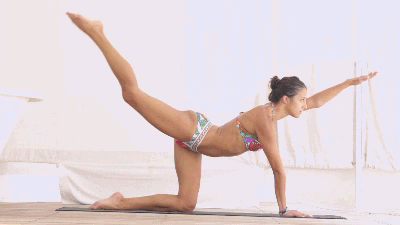 6. Standing Crunch With Clap
Balancing on one leg is already difficult AF, so adding in a crunch and an under-the-leg clap may take some patience. This move has two parts, so let's discuss both. It's kind of like tapping your stomach while rubbing your head. Takes a shit ton of coordination, is what I mean. Balance on one leg, keeping your other knee 90 degrees with your hands over your head. Then, crunch forward, bringing your hands under the raised leg for a little clap underneath. Bring your hands up and then back down for a few reps, and then switch to the other side. Also, try looking as happy as the girl in this GIF.

Images: Squarespace / Pexels; Giphy (5); Pinterest 
6 Pilates Exercises That Will Tone Your Butt And Abs
I love spending $34 on a workout class as much as the next financially careless millennial, but honestly, you can get just as good of a workout by yourself in the gym or at home if you want to. Pilates classes are amazing because you have the help of a certified instructor, but if you know some of the basic moves, you can do them on your own without a room full of toned women in matching Outdoor Voices leggings. These six Pilates exercises are simple enough to do on your own, and you don't need any fancy equipment to get a good workout. Add these moves into your regular workout routine to switch it up, or do all six together as a total Pilates circuit. Here are the moves for the Pilates bod you've always wanted.
1. Plank Rocks
Plank rocks are exactly what they sound like, but for some reason, they're so much harder than holding a regular plank. The idea here is to start in a high plank position with your shoulders stacked over your wrists and your core engaged. Then, using the tiniest motion from your toes to your shoulders, rock your body back and forth, feeling the burn in your abs the whole time. This is a small, controlled movement, so your body should only be moving a couple inches toward your hands, and then a couple inches back toward your heels. Think about drawing your belly button in toward your spine and keeping your butt low the whole time. Don't cheat yourself.

2. Glute Bridges
This is one of those Pilates exercises that you probably didn't even know was from Pilates. The glute bride is a simple move, but if you're doing it right, you'll feel the burn in your butt and hamstrings pretty quickly. Start lying on your back with your legs hip-width apart, your knees bent, and your feet flat on the floor. You can keep your hands on the floor next to you, or raise them toward the sky to make it harder. Then, keeping your feet on the ground, lift your pelvis off the floor and squeeze your butt at the top, holding for a second before lowering down to the ground. If you're advanced, you can also do this with one leg off the floor to really target each part of your butt separately.

3. The Hundred
This looks like a standard boat pose, but it's actually so much harder because the idea is to pulse your hands, literally, a hundred times. Hence the name. This move is a Pilates staple because it works your abs and tests your stability and endurance at the same time. The Hundred refers to the 100 beats you hold the pose for, but if you're a beginner, start with 50 and we won't tell on you. Start in a boat pose with your tail bone and lower back on the floor and your legs and upper body elevated. Then, keep your arms out toward your sides and pulse up and down, feeling it in your core. FYI: be careful with your head placement on this one. You want to keep your chin slightly tucked, as if you're holding a tennis ball on your chest. Don't start looking up and taking the pressure off of your core.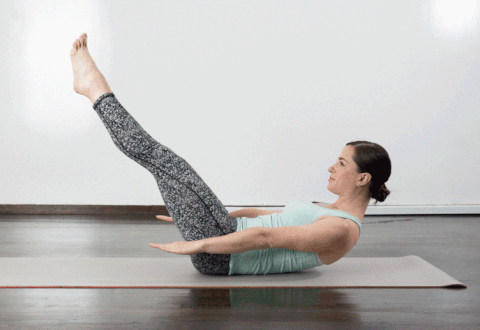 4. Kneeling Leg Lifts
This exercise is literally the reason Pilates instructors have the perkiest butts ever. Well, maybe also genetics and years of experience, but you get the point. It works. Kneeling leg lifts are one of the only lower body moves that are just as effective without any weights, so the key is to think about activating your glutes and squeezing on each rep instead of just kicking around by using momentum. Keeping your weight on your forearms and knees, lift one leg straight up behind you in a 90-degree angle so your heel is facing towards the ceiling. Squeeze your butt cheek at the top each time, and then switch to the other leg after 10 reps. You can also hold for a few seconds at the end or add a pulse.

5. Kneeling Side Leg Twists
The kneeling side leg twist sounds complicated, but you're basically working three muscle groups in one movement: abs, arms, and legs. AKA, it's a winner. Kneel on the right leg with your left leg extended out to the side, and keep your right arm supporting you with your palm on the floor under your right shoulder. Lift your leg and your left arm up to the sky, and then, as you lower your leg back to the mat, thread your left arm under your waist to twist toward the floor. You want to make sure that when you twist your torso, you're essentially crunching your oblique with the help of your arm. After 30 seconds to a minute, switch to the other side.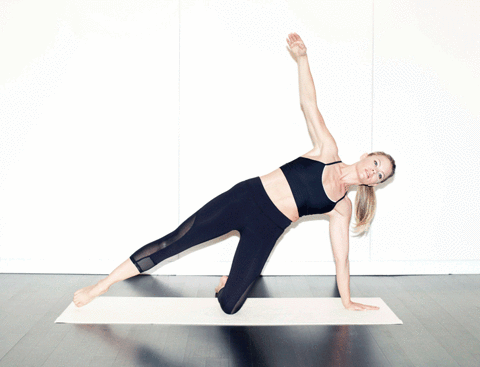 6. The Teaser
IDK why this is called the teaser, but Pilates teachers love it, and it's because it literally annihilates your core. Doesn't sound like a tease to me. Start by lying on the ground with your knees bent and your feet on the floor. Then, reach out your arms and lift your legs off the floor in a 90-degree angle. Lift your upper body off of the floor using your abs, and then straighten out your legs at the top. Think about lifting your head and shoulders up in one movement, trying to create a V-shape with your torso and legs. Then, roll back onto your back and bend your knees again. Aim for 15 reps.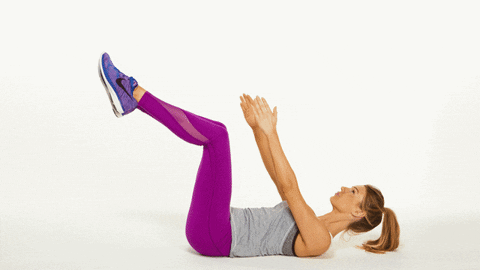 Images: Form, Unsplash (1), Giphy (5), Pinterest (1)