Upper Body Exercises To Target The Muscles You're Ignoring
When it comes to choosing workouts, some exercises just seem obvious, like doing squats for a perky butt or planks for rock-hard abs. And don't get me wrong, I'll do squats and planks until they're out of style. *BUT* I think it's also important to work on the muscles we don't often think about, especially as girls. We tend to think we just need a little toning and cardio here and there, but there are a lot of important muscles that we neglect at the gym, especially our upper body muscles. It's time to address WTF to do about them. Here are some underrated upper body exercises and why you should be working them.
1. Chest Presses
Aside from a few modified push-ups as a warmup, most girls never think about working their chest muscles. I mean, the chest press seems like a guy's exercise, and it can be super intimidating. What many women don't realize is that your chest muscles just create a stronger upper body in general, which literally makes it easier to do basic activities, like opening doors and holding heavy bags. People also find that chest presses can even give yourself a little chest lift, so you can stop buying push-up bras. So start your upper body exercises with chest presses. Grab two dumbbells and lie flat on a bench with the weights at chest height and your elbows out toward your sides. Then, press the weights upward, keeping them over your chest the entire time, and bringing them back down after every rep and avoiding pushing with your shoulders.
2. Lying Back Extensions
People tend to do a lot of rowing and lat pulldowns to target back muscles, and these exercises are great, but we tend to forget about our back extensor muscles, which are located at the lower back. They're super important for core engagement, stability, and avoiding injury. Doing lying back extensions will help you avoid hurting yourself at the gym, considering you basically use your back in any exercise, like even running or spinning. Lay out a mat and then lie on your stomach with your head facing the floor and your arms out over your head in a "Y" shape. Then, slowly lift your legs and arms off the floor, keeping only the area from your stomach to your thighs on the mat (if that's too hard, leave your legs alone and just lift your upper body). Lower back down and then lift back up, feeling the tension in your lower back.

3. Inner Core Leg Lifts
We do a lot of ab movements around here, but there's a major difference between your ab muscles and your core muscles. Most ab workouts, like bicycles and Russian twists, don't target the transversus abdominis, which is the muscle that connects to our pelvic floor and internal organs. In order to strengthen these inner muscles, do inner core leg lifts. Start by lying on your back with your knees bent, and slowly lift your right foot off the floor, keeping your core engaged as you lower it back down. Then, do the same on the left, and switch back and forth, exhaling with each rep. These are supposed to be slow and controlled movements, so don't worry if you're not getting your heart rate up or sweating, but DO worry if you're just kicking the ground without feeling it in your abs. Then you're probs doing it wrong.

4. Lateral Raises
Toning your shoulder muscles will make your whole arm look more defined and just so much better, and the most ideal way is to work the front of the muscle and the side of it in one workout to tone every angle. The lateral deltoid, aka the side of your shoulder, is really what gives your arms a toned look, and it's often neglected because people just don't realize what a difference it makes. Standing up with a dumbbell in each with your palms facing your thighs, keep your elbows slightly bent and raise your arms to the side until the weight reaches shoulder height. Then, slowly lower the dumbbell back down to your thigh. Keep raising them up and down, and try not to bounce your legs to use momentum to lift them. The goal is to keep tension in your shoulders the whole time and not get any help from your lower body.

5. Single-Arm Planks
Obviously your abs aren't a "forgotten about" muscle, but we often overlook the most basic functions of our core muscles, which include stability and balance. Upper body exercises like single-arm planks strengthen the core while testing your stability. By doing moves like these, you'll notice that yoga poses get easier to hold, being in third position on a spin bike feels more natural, and other ab movements are just less painful. So basically, the single-arm plank is essentially a regular plank, but you only use one hand at a time. Duh. It's easier to start with your hand centered in front of your chest, but try to work it back out to under your shoulder as you get stronger. The idea is to keep your body square to the ground without raising your hips on one side, and keep your core tight the entire time.

Images: Ayo Ogunseinde /Unsplash; Giphy (4), Pinterest (1), 
6 Pilates Exercises That Will Tone Your Butt And Abs
I love spending $34 on a workout class as much as the next financially careless millennial, but honestly, you can get just as good of a workout by yourself in the gym or at home if you want to. Pilates classes are amazing because you have the help of a certified instructor, but if you know some of the basic moves, you can do them on your own without a room full of toned women in matching Outdoor Voices leggings. These six Pilates exercises are simple enough to do on your own, and you don't need any fancy equipment to get a good workout. Add these moves into your regular workout routine to switch it up, or do all six together as a total Pilates circuit. Here are the moves for the Pilates bod you've always wanted.
1. Plank Rocks
Plank rocks are exactly what they sound like, but for some reason, they're so much harder than holding a regular plank. The idea here is to start in a high plank position with your shoulders stacked over your wrists and your core engaged. Then, using the tiniest motion from your toes to your shoulders, rock your body back and forth, feeling the burn in your abs the whole time. This is a small, controlled movement, so your body should only be moving a couple inches toward your hands, and then a couple inches back toward your heels. Think about drawing your belly button in toward your spine and keeping your butt low the whole time. Don't cheat yourself.

2. Glute Bridges
This is one of those Pilates exercises that you probably didn't even know was from Pilates. The glute bride is a simple move, but if you're doing it right, you'll feel the burn in your butt and hamstrings pretty quickly. Start lying on your back with your legs hip-width apart, your knees bent, and your feet flat on the floor. You can keep your hands on the floor next to you, or raise them toward the sky to make it harder. Then, keeping your feet on the ground, lift your pelvis off the floor and squeeze your butt at the top, holding for a second before lowering down to the ground. If you're advanced, you can also do this with one leg off the floor to really target each part of your butt separately.

3. The Hundred
This looks like a standard boat pose, but it's actually so much harder because the idea is to pulse your hands, literally, a hundred times. Hence the name. This move is a Pilates staple because it works your abs and tests your stability and endurance at the same time. The Hundred refers to the 100 beats you hold the pose for, but if you're a beginner, start with 50 and we won't tell on you. Start in a boat pose with your tail bone and lower back on the floor and your legs and upper body elevated. Then, keep your arms out toward your sides and pulse up and down, feeling it in your core. FYI: be careful with your head placement on this one. You want to keep your chin slightly tucked, as if you're holding a tennis ball on your chest. Don't start looking up and taking the pressure off of your core.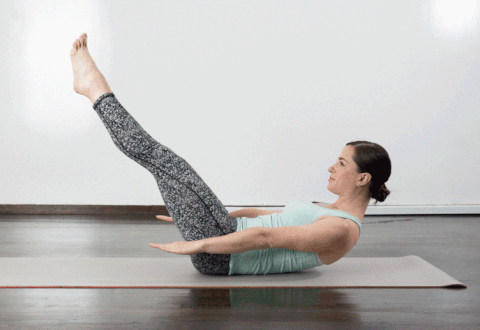 4. Kneeling Leg Lifts
This exercise is literally the reason Pilates instructors have the perkiest butts ever. Well, maybe also genetics and years of experience, but you get the point. It works. Kneeling leg lifts are one of the only lower body moves that are just as effective without any weights, so the key is to think about activating your glutes and squeezing on each rep instead of just kicking around by using momentum. Keeping your weight on your forearms and knees, lift one leg straight up behind you in a 90-degree angle so your heel is facing towards the ceiling. Squeeze your butt cheek at the top each time, and then switch to the other leg after 10 reps. You can also hold for a few seconds at the end or add a pulse.

5. Kneeling Side Leg Twists
The kneeling side leg twist sounds complicated, but you're basically working three muscle groups in one movement: abs, arms, and legs. AKA, it's a winner. Kneel on the right leg with your left leg extended out to the side, and keep your right arm supporting you with your palm on the floor under your right shoulder. Lift your leg and your left arm up to the sky, and then, as you lower your leg back to the mat, thread your left arm under your waist to twist toward the floor. You want to make sure that when you twist your torso, you're essentially crunching your oblique with the help of your arm. After 30 seconds to a minute, switch to the other side.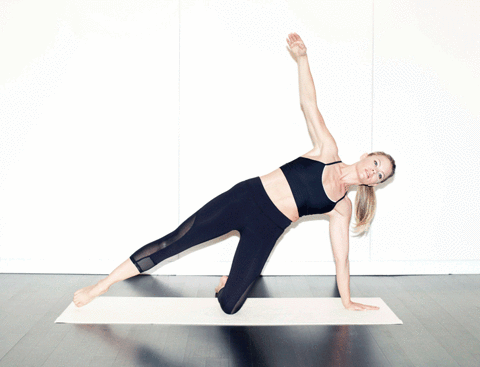 6. The Teaser
IDK why this is called the teaser, but Pilates teachers love it, and it's because it literally annihilates your core. Doesn't sound like a tease to me. Start by lying on the ground with your knees bent and your feet on the floor. Then, reach out your arms and lift your legs off the floor in a 90-degree angle. Lift your upper body off of the floor using your abs, and then straighten out your legs at the top. Think about lifting your head and shoulders up in one movement, trying to create a V-shape with your torso and legs. Then, roll back onto your back and bend your knees again. Aim for 15 reps.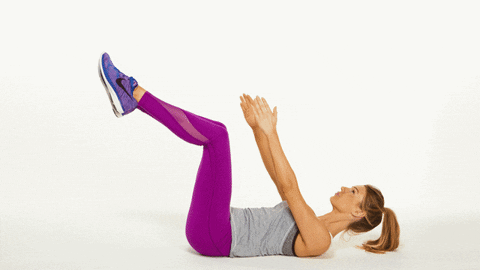 Images: Form, Unsplash (1), Giphy (5), Pinterest (1)
6 Ab Exercises To Tone Your Obliques
Let's talk about obliques, or as we like to call them, the "crop top muscles." Known in the scientific world as the external abdominal obliques, your oblique muscles are one of three muscles that make up your lateral anterior abdomen. AKA, your side abs. As much as we love crunches and leg raises, those exercises don't really isolate the sides of your abs, which you need to do in order to see your obliques (obviously in addition to a healthy diet). If you're looking for an workout to specifically target your obliques, try doing these six ab exercises.
1. Bicycle Crunches
Bicycle crunches can be one of the best ab exercises for your obliques, but people usually do them so fast that they're not actually activating the ab muscles at all. Take your time on these and think about crunching the muscles instead of cheating your way through it and just relying on momentum. Lying flat on the floor with your lower back against the ground, put your hands behind your head and lift your left shoulder off the ground while bringing your right knee to touch that left elbow. Alternate sides for 30 seconds. If you're feeling this in your neck at all, slow down and try to think of reaching your shoulder to your knee instead of your elbow to your knee.

2. Side Plank With Reach
This exercise should be called the muffin top remover. It's super simple, but it's amazing for getting rid of love handles and toning up the sides of your stomach. Start off in a side plank with your hand on the ground, your feet stacked, and your body in a line facing one side. Remember to keep both of your hips facing the side you're looking at. Then, once you're in a stable side plank, lift the top leg and bend the knee, bringing it up to your waist, and bring the same arm to meet it, crunching inwards on that side. If your balance sucks, just do the leg part, but try for your leg and your arm. Do 10 reps and then switch to the other side.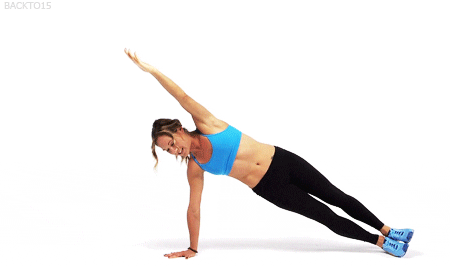 3, Downward Dog Cross Reaches
People don't usually think of downward dogs as ab exercises, but in addition to being a great calf stretch, it can be super effective for your obliques if you add a reach at the top. Start in a high plank position with your hands on the ground and your feet about hip-distance apart. Then, raise your hips, bringing your body in a V-shape downward dog. Once you're in downward dog, take your right arm and tap your left calf or ankle, using your abs to crunch diagonally. Then, do the same with your left arm and right leg. Keep alternating sides for a minute.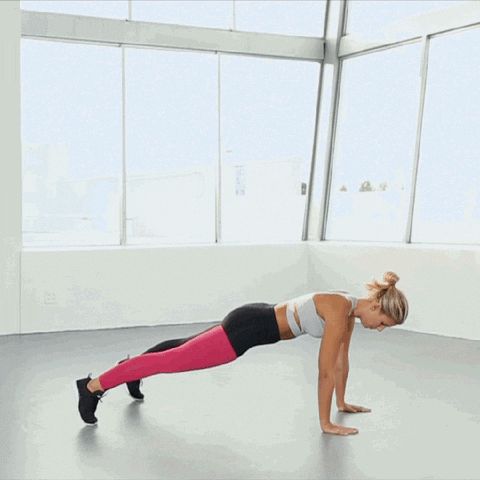 4. Hip Dip Side Plank
I know this one looks similar to the other side plank we did, but the hip dip is a game-changer, so doing both ab exercises is a must. The idea here is to hold the same basic side plank as before, but you're going to dip your hip downwards, slightly tapping the ground on one side and coming back up. You should feel a slight stretch in the side of your body that's closer to the ground. Keep your hips square the whole time. Do 10 reps on the right side and then switch to your left. You can also hold at the top for a few seconds after each rep to feel the burn even more.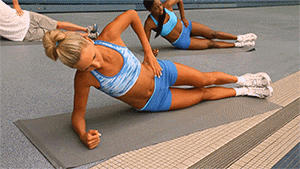 5. Russian Twists
Russian twists can be KILLER for your obliques if you take your time and challenge yourself with the weight. (And no, the name has nothing to do with current events.) Grab a dumbbell or kettlebell, and keep it hovering over your chest, but not pressing into your body. Start by sitting down on the floor and placing your feet out in front of you, raised a few inches above the ground. Your knees should be slightly bent and your torso should be elevated off the ground, making a V-shape with your thighs. Holding the weight with both hands, move it from one side of you to the other, tapping the ground on your right and left sides each time. Do 10 reps on each side, and remember to engage your ab muscles with each rep to avoid carelessly swinging the weight from side to side.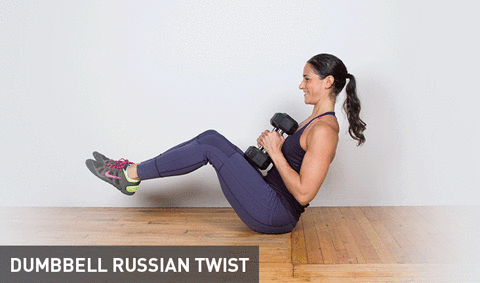 6. Kettlebell Windmills
Windmills are a little more advanced as far as ab exercises go, so if you feel like these seem easy, you need to SLOW DOWN and think about the muscles you're using. To start, take a light kettlebell in one hand and hold it overhead with your palm facing forward.  Keeping the kettlebell locked out the whole time, push your butt outward in the same direction as the kettlebell, and bend your hip, so that you can slowly lean down in the other direction to touch the floor with your free hand. Then, return to starting position, keeping your arm straight before you do another few reps. After about 6-7 reps on your right side, move your kettlebell to the other hand and do the same thing on the left. I know you'll feel these like crazy tomorrow if you're doing them right. I mean, it's like I have ESPN or something.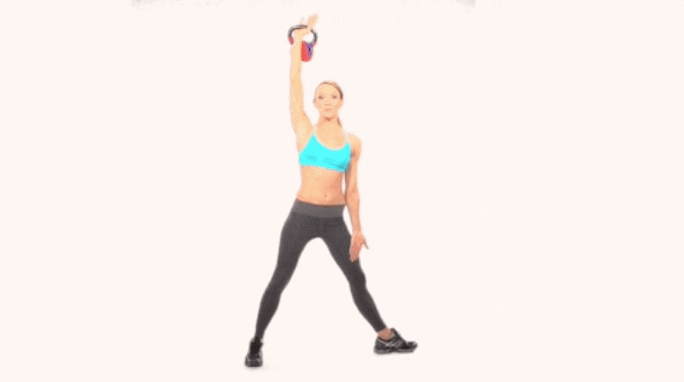 Images: Giphy (6)
6 Lower Ab Exercises That Will Make You Look Amazing In A Crop Top
You may have gotten away with hiding under winter coats and Bachelor episodes for the past few months, but soon it'll be time to step outside in minimal layers, and your bod is nowhere close to being ready. I mean, I don't blame you. The only people who consistently eat salads and go to the gym all winter are like, psychopaths people who bet too much money on their 2018 resolutions. When it's time to put on your new ASOS crop top, you'll want your abs to look amazing, and the lower ab region of your core can be the hardest to target. If you want to define that area and lose your love handles, you'll have to start putting in the work, starting with these lower ab exercises.
1. Leg Lifts
Lying on the floor, place your legs straight out in front of you and your hands on the ground or under your lower back if you're prone to lower back pain. Lift your legs up, keeping them as straight as possible with your knees slightly bent until they make a 90-degree angle with the floor. Hold the contraction at the top for the second, then SLOWLY lower your legs down to the floor in front of you. If you have lower back problems or need a modification, try doing the move with your hands under your tailbone. It sounds ineffective, but it actually makes it so much easier.

2. Flutter Kicks
Flutter kicks are another one of the lower ab exercises that are done lying on your back, but this time you actually need to lift your head and shoulders off of the mat to fully target the lower region of your core. Once again, put your hands under your tailbone if you feel any pain in your lower back. Then, lift your legs up in front of you (they can be slightly bent), and literally kick your feet out in front of you in a little flutter motion. You should feel your lower abs working as you kick, and the movement should be small and controlled. Note that these aren't scissor kicks, so if you feel like you're kicking around like a Rockette, you're doing it wrong.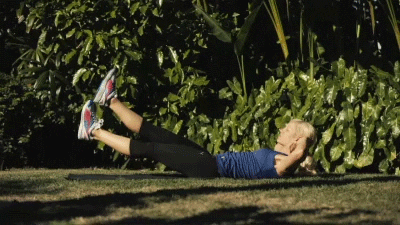 3. TRX Pikes
These can also be done on a rowing machine or gliders if you don't have a TRX in your gym, and if you're doing it at home, you can even use a hand towel on a wooden floor. If you're using the TRX, put your feet into the straps and then turn over, coming into a plank position with your hands on the floor and your feet hanging in the straps. Then, think about pushing your hands into the ground and pulling your legs toward your chest with your hips, keeping your legs as straight as possible. Try to focus on lifting with your abs while preventing your ankles from pointing. Once your head is looking in between your arms, slowly lower your hips back into your starting plank position. These are hard AF, so if you need to just do a couple reps and then hold a plank, go for it.

4. Dead Bugs
IDK who came up with the name for this move, but it'll demolish your entire core so we're gonna go with it. Lie on your back with your arms extended, but bend your knees so that they're creating a 90 degree angle above your hips. Engage your core and press your lower back into the floor as you slowly extend one leg toward the floor, almost hitting your foot to the ground. Then, bring it back to its bent position and do the same on the other side. Keep alternating sides, and if it feels easy, you can even get your arms involved by extending the opposite arm toward your leg each time you bend.

5. Raised Leg Circles
This exercise requires a lot of physical space, so if you're like, two feet away from someone else's mat, you may need to move to a more spacious area of the gym. This is another one of those lower ab exercises where you're lying on your back but raising your neck and shoulders off the floor. To start, extend your legs out in front of you and lift them a couple inches off the ground. The higher you raise them, the easier it'll be. Then, keep your feet and legs together as you literally circle them around you, keeping your hips on the ground as much as you can. Try to aim for six to eight circles in each direction. Make sure your feet don't touch the ground the entire time and that you're using your core instead of using momentum to swing them around.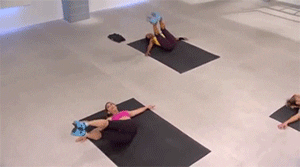 6. Hollow Body Hold
This move is a LOT harder than it looks, so try holding it for 25 seconds, and then slowly work your way up to 35, 45, and eventually a full minute. If you thought time moved slowly when planking, wait until you try this. The hollow body hold is exactly what is sounds like, so you'll be starting lying on the ground. Then, raise your feet off the ground and your arms at the same time, keeping your arms straight behind your head. So basically, only your lower back/ tailbone should be touching the ground, and your abs should be super tight the whole time. If you want to make it easier, put your arms out in front of you or to your sides. If you want to make it harder, hold a weight in your arms and hold it overhead. Just please don't blame me if it hurts to laugh tomorrow.

Images: Matthew Kane / Unsplash; Bionic Body (1); Giphy (5)
The 6 Muscle Groups You're Neglecting & The Best Exercises For Them
91 percent of Americans give up on their New Year's resolutions, and I'm guessing they just got bored on the treadmill and decided to call it a day. Working out is boring, obviously. Every online fitness article shows us the same squat challenges and stupid 10-minute ab routines, but like, how many times can we keep working the same muscles? It's repetitive and annoying, and it's time we start working the muscles that we're not always told to care about on Instagram. Before you dismiss these muscle groups because you're "scared of machines" or "don't wanna get bulky," listen to why you should definitely pay attention to them. I mean, you can do burpees and sit-ups forever, but don't complain when you completely plateau and start Googling Gigi Hadid's workout routine. Here's a breakdown of the muscles you should stop neglecting, and what exercises you should start doing for each one.
1. Deltoids
What Are They?
Your deltoid muscles are basically your shoulder muscles, and there are different parts to the muscle, but the two you should care about are the front delts and the lateral delts. You might be scared that by working your shoulder muscles you'll bulk up like a football player, but realistically, that's not gonna happen unless you're literally lifting your bodyweight and consuming a shit ton of protein. Toning your shoulder muscles will make your whole arm look more defined and just so much better, and the most ideal way is to work the front of the muscle and the side of it in one workout to tone every angle.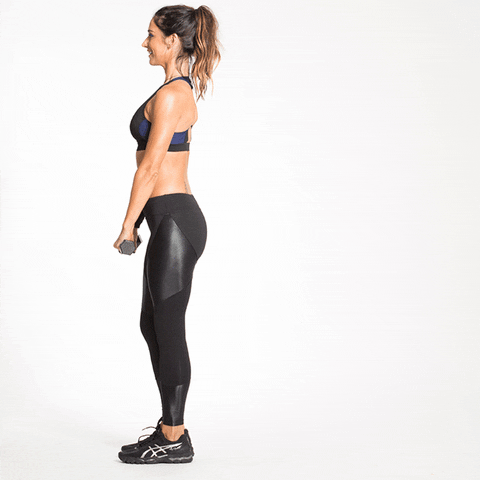 What Exercise Should I Do?
The Lateral Raise to Front Raise. Choose two dumbbells that are lighter than what you'd usually pick up. Your shoulder muscles are strong, but the side and front parts of the muscle can usually only handle very light weight, so think anywhere between three and eight pounds—maybe 10 if you do these regularly. Standing up while holding a dumbbell in each hand and your elbows slightly bent, raise the weights directly in front of you, bringing them to shoulder height with your arms extended. Then, lower them back down, and raise them again, this time laterally to the sides of your body. It should reach shoulder height again, but they're raised out to the sides instead of in front of you. You can even add in a lunge if you want to make this a total body move. Aim for 10 reps total, then rest for a minute and do another 10.
2. Lat Muscles
What are they?
The biggest muscle in your back is called the Latissimus Dorsi, and it basically gives your whole torso its shape. It's technically the muscle that makes up your upper back, which you've probably never even thought about.  When you  work your upper back, you're strengthening the muscles all around your core and back, which will actually help your back get stronger, your posture get better, and your waist look smaller. You've neglected this muscle till now, but it's never too late to start sculpting a sexy back.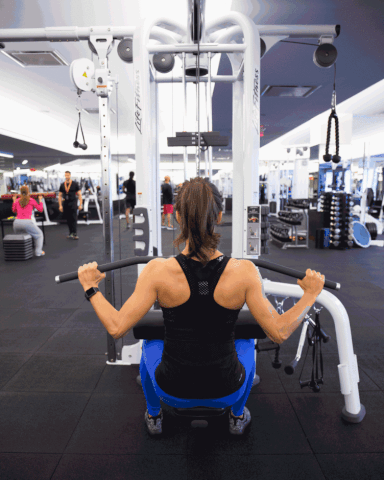 What Exercise Should I Do?
Lat Pulldowns. Find the lat pull-down bar at your gym. You've probably passed this in fear a million times, but it's really not that scary, so it's time to use it. Start by choosing a light weight, and then add weight as you get the hang of it. The idea is to put your hands on both sides of the pull-down bar, sit down on the seat facing the machine, and pull the bar down, squeezing the muscles under your armpits and around your upper back to bring the weights down. If you feel like you're using your shoulders too much, think about keeping your shoulders as far away from your ears as possible. You're using your arms, but the strength should be coming from your back, so it's super important to think about the muscle here.
3. Lower Ab Muscles
What are they?
If you spend your time in the gym doing planks, crunches, and twists, you're doing really good work for the top of your abs and your obliques, but most people tend to neglect the lower muscles in their abs because they're the hardest to hit. Most people's bodies tend to store fat in this region, so it can be hard to picture what I'm even talking about, but think about that V-shape at the bottom of Zac Efron's abs. Those are the lower abs.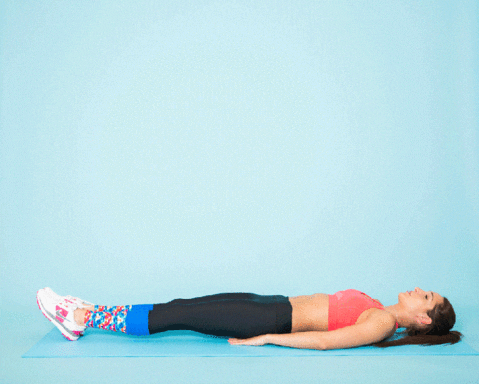 What Exercise Should I Do?
Lying Leg Raises. Start by lying on your back with your hands under your low back/the top of your butt. This will help protect your lower back from getting injured. Then, lift your legs off the ground, keeping them as straight as possible as you bring them up to 90 degrees. Then, SLOWLY lower them back down to the ground. These are meant to be done slowly and carefully, so if you find yourself kicking around and screwing up your form, slow the hell down. Also, a lot of people tend to hold their breath when doing this exercise, but don't. Inhale as you lift your legs up, and exhale as you lower. Your breathing makes a huge difference here, so don't forget about that part.
4. Hamstrings
What are they?
Your hamstring muscles are located on the back of your legs, right under your butt and above your knees. People neglect their hamstrings because we're so into squats and booty donkey kicks, but by strengthening your hamstrings, you'll actually help tone your butt at the same time. Plus, if you're into spinning, you'll get SO much better at it by strengthening your hamstrings. Like, your FlyWheel score will literally double.
What Exercise Should I Do?
Swiss Ball Hamstring Curls. This exercise is based on using a swiss ball or stability ball, but if your gym doesn't have one, this can also work using TRX bands or the rowing machine. Begin on the floor by lying on your back with your feet up on top of the ball. You want your ankles to be on top of the ball when your legs are fully extended. Raise your hips off the ground, keeping your weight in your shoulders and your feet. Then, flex your knees, pulling the ball inward toward your body while squeezing the backs of your legs. Once the ball is "curled" inward, straighten out your legs again, rolling it outwards. Do 10 reps, then take a quick break and do another 10.
5. Inner Core Muscles
What are they?
Let's clear something up.  There's a difference between your ab muscles and your core muscles. You can do a thousand unweighted sit-ups everyday, but that doesn't necessarily mean you're strengthening your core. Your pelvic floor, for example, is part of your inner core, and it's important to strengthen these inner muscles—not only to make us better at planking, but also to pretend our internal organs and actually have better control over our bladder. Most women don't even know about these muscles, but they're super important, especially if you plan on giving birth at some point in your life.
What Exercise Should I Do?
Oppose Arm and Leg Raises. Aside from your gyno-prescribed kegels, it's important to work on core stability to work these inner muscles, and working opposite sides of your body at once is the best way to challenge your core. Starting on your hands and knees, lift your right arm out in front of you and your left leg out behind you. Hold for five seconds, and then return to starting position, preparing to do the same on the other side. Try doing five reps on each side and remember to keep your core tight the entire time.
6. Back Extensor Muscles
What are they?
These muscles make up your lower back, and if you're used to doing ab workouts, squats, deadlifts, or even spinning, you've probably had some pain in your lower back at one point or another. This is because these muscles are easily injured if you don't warm up before exercising. Your extensor muscles are connected to your spine and to your glute muscles, and you'll find that once you get stronger in your lower back region, picking things up and other regular activities will actually get easier.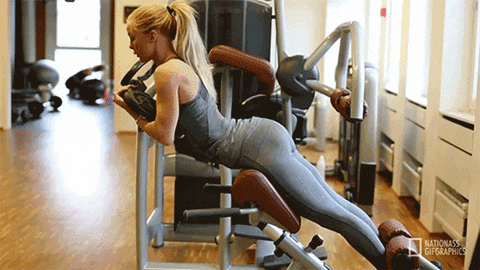 What Exercise Should I Do?
Hyperextensions. Most gyms have a specific bench that these are performed on, but any regular bench will do the trick if you're limited. Lie down with your stomach on the bench and your head facing the floor. If you're on the hyperextension bench, put your feet under the ankle pads. With your body straight, put your arms behind your head or crossed on your chest and bend slowly forward at the waist while keeping your back flat. Then, slowly raise your torso back to your starting position, and remember not to round your spine or swing your torso. If you're advanced, hold a weighted plate at your chest for extra resistance. Either way, remember to go slow and take your time on your way down and up. 
Images:  Geert Pieters / Unsplash. Giphy (5)