8 Pilates Exercises To Tone Your Abs
As soon as the weather hits 60 degrees, all I want to do is wear a bikini, sip on prosecco, and eat some watermelon as I scroll through Instagram, poolside. Even if swimsuit weather is still a whopping three(ish) months away, it's the time of year where we all start to evaluate juuuuuust how confident we feel strapping on our most revealing attire and showing off our beach bodies.
As a Pilates instructor, I frequently get requests for stronger, more toned abs, especially the obliques. Since Pilates was created specifically with the idea that your core is the powerhouse of the body, almost every exercise in mat or reformer Pilates will get your abdominals fired up. And while a lot of us want toned abs to show off in a strategically taken thirst trap for our followers, a strong core is more important to help our bodies function properly, improve posture, and stop low back pain as we sit at our desks all day. If you're looking to get as strong as possible before Memorial Day weekend hits, here are the best eight ab exercises to try without leaving your apartment:
The Plank

Your basic plank is one of the best exercises ever invented, IMO. You'll work your full body when you're correctly executing a plank. Keep your hands stacked right underneath your shoulders, keeping palms (or forearms) pressing down into the floor to help stabilize your shoulder girdle. Pull your belly button into your spine and think about lengthening your body from the backs of the heels through the crown of the head. This will help find your glutes while finding the isometric contraction of the muscles.
Hold your plank for as long as you can! If you're new to planks, start by holding this position for 30 seconds (remember to continuously breathe!) and then work up to one or two minute intervals.
The Plank Plus Mountain Climbers

Once you've mastered just holding your basic plank, it's time to up the ante. While a basic plank will definitely help you strengthen your transverse abdominals (the corset-like muscles that wrap around your middle), adding mountain climbers will challenge and tone your obliques (the "side" abdominals the Dua Lipa flaunts in every single crop top).
Add mountain climber variations by bringing your knee to your elbow. Bringing your knee inside of your elbow will work your internal obliques, bringing it outside of your elbow will work your external obliques, and bringing it diagonally to your opposite elbow will help your oblique slings work congruently.
As you get fancy with your footwork, don't lose shoulder stability and let your chest collapse. This can result in dumping the work of the exercise into your lower back, causing pain. Think about pressing into your palms and pushing into the floor to help keep your scapula (the "chicken wing" part of your shoulder blades) secure.
If you feel yourself arching your low back or if you feel a pinching sensation, work on your basic plank form until you feel confident enough to add the mountain climbers back in.
See if you can challenge yourself to hold your plank for at least one minute as you add your mountain climbers.
Bird Dog Plus Windshield Wipers

This exercise seems innocent enough, but be prepared to fall over on your first attempt. You can start by getting into an all fours position, knees stacked underneath hips, hands underneath shoulders.
Next, lift opposite arm and opposite leg off of the floor. Think about reaching both limbs as far as possible in opposite directions. Press your supporting hand down into the ground to help keep your shoulder supported. Hips should be level (you can place a book on your low back to see if your hips are squared. If it falls off, you'll need to adjust). To finish the movement, move each limb to their respective sides 2-3 inches like a windshield wiper. You'll want to keep it small. Pull it back into your starting position. That's one rep. You should feel your obliques and transverse abdominals fire on to help maintain stability and balance. Aim for 8-10 reps per side.
Crisscross

You've probably done "bicycles" before, but chances are, your form is incorrect. The objective of Crisscross—the official term for the exercise in Pilates—is to find your oblique slings. When done too quickly or with poor form, you're not squeezing the most you can out of the exercise.
First, move slowly. A lot of times I see clients whip these out as fast as they can, but moving with purpose will actually help you find more work in the exercise, which means efficiency! Pretend you're moving through peanut butter as you start by coming up into a mini ab curl. Then think about twisting your armpit over to your opposite hip point while simultaneously extending the leg on the same side you're twisting from.  
Instead of pulling your knee closer into your face, think of it staying in space while twisting your upper body to it. You want your pelvis and lower body to stay as still as possible. Imagine your upper body ringing out like a wet towel, finding every inch of rotation through your thoracic spine.
See if you can work continuously for 30 seconds, alternating sides.
The Side Plank Plus Mountain Climbers

In case you didn't notice, I LOVE planks. Side planks are even better because they're super hard and super humbling, even if you work out a ton.
Before you add mountain climbers, make sure you can maintain a strong side plank. Similarly to a regular plank, you should feel like your bottom shoulder is stable as it bears the weight of your upper body. Your elbow (or hand) should be directly underneath your shoulder, and as you press into your forearm, avoid keeping all of your weight in the elbow—I know it's tempting. Think of the bottom waist lifting up to help recruit your obliques into the exercise. This will help take some of the workload off from your shoulder. Keep your feet flexed. You can have them stacked ankle over ankle or scissored, totally your preference.
If a side plank is super challenging for you, you can also leave your top hand (or fingertips for lighter support) on the ground to help stabilize. Just make sure you're not rounding your top shoulder too much. Your chest should be squared to the side of the room.
Once you feel confident with your plank form, take your top hand behind your head and lift your top leg into a tabletop position. Think of it "crunching" into your waist to fire up your top oblique. You might feel the outside of your butt/hip area start to work. Totally normal! That's where your gluteus medius and gluteus minimus are—two helper muscles for your gluteus maximus, aka your booty! They're jumping in to help bear the support of the side plank.
Try holding your side plank for 30 seconds and fit in as many mountain climbers as you can.
Double Leg Stretch

The double leg stretch is a great way to find the hard-to-reach low abs. This will challenge your entire core while also feeling fun. (OK, maybe it's just me who thinks chillin' in a little ball is fun…)
To begin, lie down on your back and curl up into the tiniest little fetal position you can. Let your knees come into your chest and think of your tailbone tucking under (this will protect your low back) and place your hands lightly on your shins. Take an inhale to prepare and as you exhale, shoot both arms and legs out in opposite directions. Circle your arms back to your shins. That's one rep. The lower you aim your legs, the harder it'll be for your abdominals. Pick what feels most challenging to your body, but if you feel a pinch in your low back, aim your legs higher toward the ceiling.
Repeat for 10-12 reps.
Scissors

The Scissors move is a little twist on the crisscross. Instead of staying up into an ab curl, let your upper body stay down and place your hands on either side of your body in a low "V" shape. Spread out your fingertips and make sure you're pressing into the ground (this will help give you more support from your triceps). Take your legs up toward the ceiling and begin by alternating the legs like a pair of scissors—oooh, see what we did there?—on a 45-degree angle. Again, the lower you go with your legs, the more challenging it'll be for your abdominals.
If you feel a pinch in your low back at any point for this exercise, make a diamond shape with your hands and place them underneath your sacrum (right between your low back and your tailbone). This will help keep your pelvis supported and make you're working safely.
Try to work continuously for 30 seconds.
The Rollup

Last but not least, the roll up! The next time you find yourself lying on the floor hungover, trying to find the meaning of life, try getting up using only your abdominals.
Start by lying flat on your back and place a little pressure into your heels. This will help you "push" against gravity. Bring your arms above your shoulders, palms facing in. Inhale to prepare, exhale to begin, nodding the chin toward your chest as you roll up through your spine, pulling your belly button in toward your middle like you're trying to zip your tightest pair of jeans. Arrive seated on your sitz bones, the bony parts of your butt. Inhale again, and exhale as you reverse the direction, returning to the starting position. That's one rep.
Go for 8-10 reps.
Images: Emi Gutgold
6 Ab Exercises To Tone Your Obliques
Let's talk about obliques, or as we like to call them, the "crop top muscles." Known in the scientific world as the external abdominal obliques, your oblique muscles are one of three muscles that make up your lateral anterior abdomen. AKA, your side abs. As much as we love crunches and leg raises, those exercises don't really isolate the sides of your abs, which you need to do in order to see your obliques (obviously in addition to a healthy diet). If you're looking for an workout to specifically target your obliques, try doing these six ab exercises.
1. Bicycle Crunches
Bicycle crunches can be one of the best ab exercises for your obliques, but people usually do them so fast that they're not actually activating the ab muscles at all. Take your time on these and think about crunching the muscles instead of cheating your way through it and just relying on momentum. Lying flat on the floor with your lower back against the ground, put your hands behind your head and lift your left shoulder off the ground while bringing your right knee to touch that left elbow. Alternate sides for 30 seconds. If you're feeling this in your neck at all, slow down and try to think of reaching your shoulder to your knee instead of your elbow to your knee.

2. Side Plank With Reach
This exercise should be called the muffin top remover. It's super simple, but it's amazing for getting rid of love handles and toning up the sides of your stomach. Start off in a side plank with your hand on the ground, your feet stacked, and your body in a line facing one side. Remember to keep both of your hips facing the side you're looking at. Then, once you're in a stable side plank, lift the top leg and bend the knee, bringing it up to your waist, and bring the same arm to meet it, crunching inwards on that side. If your balance sucks, just do the leg part, but try for your leg and your arm. Do 10 reps and then switch to the other side.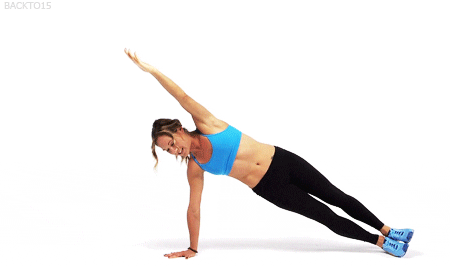 3, Downward Dog Cross Reaches
People don't usually think of downward dogs as ab exercises, but in addition to being a great calf stretch, it can be super effective for your obliques if you add a reach at the top. Start in a high plank position with your hands on the ground and your feet about hip-distance apart. Then, raise your hips, bringing your body in a V-shape downward dog. Once you're in downward dog, take your right arm and tap your left calf or ankle, using your abs to crunch diagonally. Then, do the same with your left arm and right leg. Keep alternating sides for a minute.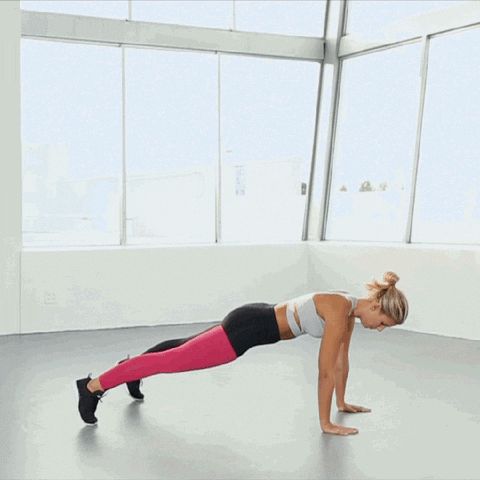 4. Hip Dip Side Plank
I know this one looks similar to the other side plank we did, but the hip dip is a game-changer, so doing both ab exercises is a must. The idea here is to hold the same basic side plank as before, but you're going to dip your hip downwards, slightly tapping the ground on one side and coming back up. You should feel a slight stretch in the side of your body that's closer to the ground. Keep your hips square the whole time. Do 10 reps on the right side and then switch to your left. You can also hold at the top for a few seconds after each rep to feel the burn even more.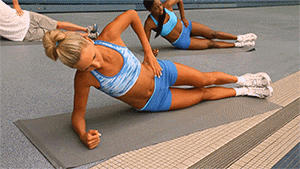 5. Russian Twists
Russian twists can be KILLER for your obliques if you take your time and challenge yourself with the weight. (And no, the name has nothing to do with current events.) Grab a dumbbell or kettlebell, and keep it hovering over your chest, but not pressing into your body. Start by sitting down on the floor and placing your feet out in front of you, raised a few inches above the ground. Your knees should be slightly bent and your torso should be elevated off the ground, making a V-shape with your thighs. Holding the weight with both hands, move it from one side of you to the other, tapping the ground on your right and left sides each time. Do 10 reps on each side, and remember to engage your ab muscles with each rep to avoid carelessly swinging the weight from side to side.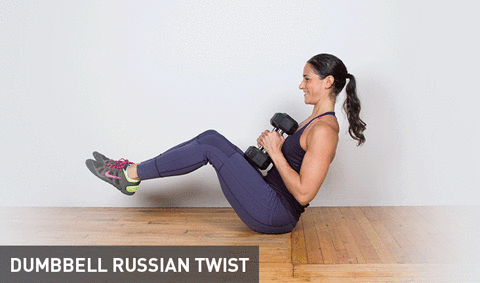 6. Kettlebell Windmills
Windmills are a little more advanced as far as ab exercises go, so if you feel like these seem easy, you need to SLOW DOWN and think about the muscles you're using. To start, take a light kettlebell in one hand and hold it overhead with your palm facing forward.  Keeping the kettlebell locked out the whole time, push your butt outward in the same direction as the kettlebell, and bend your hip, so that you can slowly lean down in the other direction to touch the floor with your free hand. Then, return to starting position, keeping your arm straight before you do another few reps. After about 6-7 reps on your right side, move your kettlebell to the other hand and do the same thing on the left. I know you'll feel these like crazy tomorrow if you're doing them right. I mean, it's like I have ESPN or something.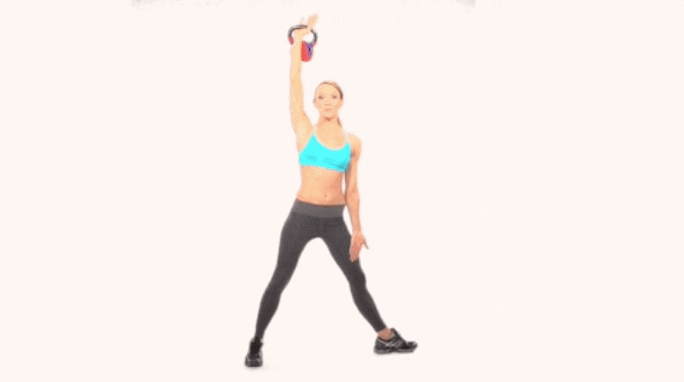 Images: Giphy (6)
How To Get That Line Down The Middle Of Your Abs, The Side Lines & More
Abs have been a hot topic for a while now, so let's talk about them: what they are, how to get them, and like, if we even want them. (The answer to that last question is an obvious yes.) Getting abs became trendy in the early 2000's around the time when people started to realize they wanted J.Lo's six pack. Then, the ab crack suddenly became the new thigh gap of the internet and we started Googling shit like "Khloé Kardashian workout routine." All of this important history brings us to today, where we're left staring at our SoulCycle instructor's chiseled stomach and wondering how we can look like that before our vacation in 2 weeks. If you're looking for some real info, it's time to get some facts straight. Having good abs is more than just a flat tummy—as Meek Mill once said, there's levels to this shit. Meaning, there are a lot of different parts of your abs and you can't just do one exercise to tone all of them. So here's the deal with all your various ab muscles and what exercises you need to do to get amazing abs all over.
That Line Down the Middle
What is it? You may know this line down the middle of the stomach area as an ab crack, which is unfortunately not a drug you can take to get abs. But if our dealer was selling that, we'd save so much on workout classes. Anyway. The ab crack isn't actually a muscle and so it doesn't get a real name, but the best way to get it is by having good genes and doing basic toning exercises. Genes are a huge part of it, and some people can have like, no body fat and a strong core, and still not have that line. We're all built differently, so let's work with what we've got.
How do I get it? Planks. It may sound basic AF, but planks are an amazing way to target the entire front of your core, so stop overthinking fancy and complex exercises and start planking. If you're a beginner, start on your hands, but starting on your elbows really targets the muscles better. Basically, you want to start facedown with your forearms on the floor and your knees raised up so that only your toes and arms are touching the ground. Make sure you're contracting your abs and not sticking your butt in the air, or else you're literally doing nothing. Also, make sure to keep your back as flat as possible the whole time. Hold for anywhere from 30 seconds to two full minutes. If you're looking for an added challenge, try doing your plank in a TRX suspension trainer at your gym—if you don't even know what that is, it's best to stick to the regular planks for now.

Those Side Lines
What are they? The "side lines" you see all over Instagram, especially during bikini season (probably while fake laughing on an inflatable swan in East Hampton), are actually called your obliques. Obliques are the most superficial muscle out of the muscles in your abdomen, which means they look hot but actually don't help you that much in terms of being strong. But who cares about strength? They'll look amaze in your Instagram pics.
How do I get them? Russian Twists. There are tons of exercises that target your obliques (others include bicycles and side planks), but Russian twists are really the most effective way to tone those side muscles. Start by sitting on the floor with a weight in your hand (think anything from 8 to 15 pounds) and your feet slightly raised off the ground. Your legs should be bent at your knees and your upper body should be elevated to create a folding V shape with your legs. Move the weight from one side of your body to the other, ideally touching the weight to the ground on each side of you during every rep. Do this for 30 seconds to a minute, then rest for a few seconds and repeat again. It might hurt when you laugh tomorrow, but in that case I guess it's a good thing we have permanent RBF.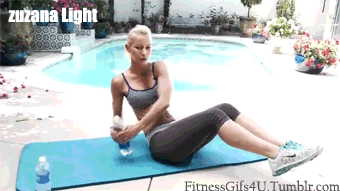 That V-Shape At The Bottom
What is it? No one would ever comment on an Instagram pic to compliment someone's lower abs, but like, why not? That shit is really hard to achieve and honestly I could use a post-workout snack just thinking about all that work. Even if you don't necessarily want chiseled abs, working your lower abs can help eliminate love handles in the process.
How do I get it? Well first before anybody asks, you do NOT need to become Terry Crews to get the V-cut thing; that was just the best (read: hottest) picture I could find. Anywho. Leg raises. This move looks super easy when you see someone doing it, but once you start, you'll be crying pretty fast. Lying on the floor, place your legs straight out in front of you and your hands on the ground or under your lower back if you're prone to lower back pain. Lift your legs up, keeping them as straight as possible with your knees slightly bent until they make a 90-degree angle with the floor. Hold the contraction at the top for the second, then SLOWLY lower your legs down to the floor in front of you. You'll want to make sure you use a mat to protect your tailbone and stop fucking holding your breath. Seriously, what is it with people not breathing while working their abs? You're not underwater and people around you are starting to get worried.

Inner Core Muscles
What are they? The workouts we've discussed so far will all help tone your abs, but as we mentioned earlier, your core muscles go much deeper than you realize, so you should prob be working those inner layers too. A lot of people get caught up in working the area around their stomachs, but they don't realize that most of your core stability comes from your lumbar spine and lower back area, so try hitting those muscles too if you care about really strengthening your entire core area.
How do I get them? Superman lifts. Everyone has these inner core muscles, but they're pretty weak if you don't work to strengthen them, and Superman lifts are the best way. Lie facedown on your stomach with your arms and legs extended and keep your neck in a neutral position. Then, keeping them straight and your torso tight, lift your arms and legs toward the ceiling, arching your back and getting your hands and feet like, five inches off the floor. Hold for a couple seconds at the top and then lower back down. If you're doing it right, you'll feel like an idiot. Try doing 10-15 reps before the embarrassment takes over resting and then repeating again.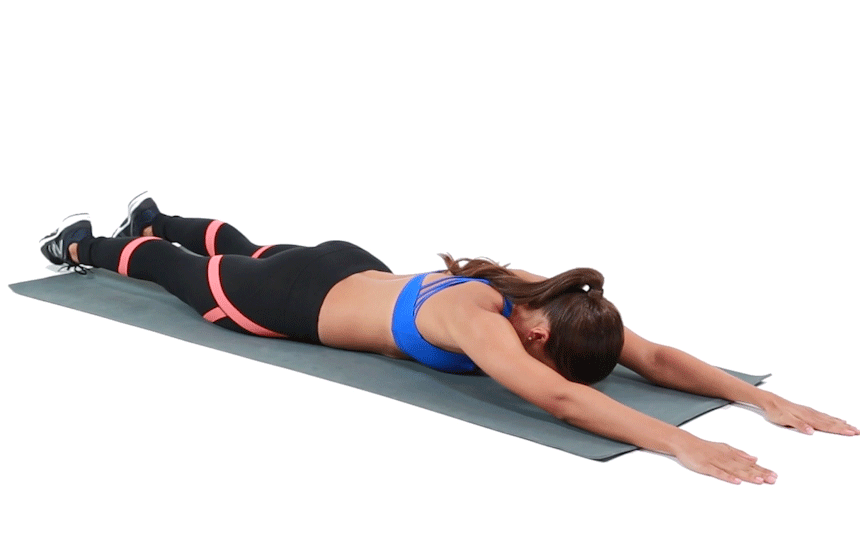 I know it sucks to spend extra time at the gym to do some work that's low-key good for you, but you stuck around last week for like, 15 minutes to find good selfie lighting, so we're gonna assume you have the time.
Images: Christopher Campbell / Unsplash; Giphy (4); Emily Ratajkowski, Kayla Itsines, Terry Crews / Instagram
6 Yoga Poses That Are Better For Your Abs Than Crunches
Yoga tends to get a bad reputation because people think it's all about shit like finding your breath and inhaling good vibes. While many types of traditional yoga practices are based on mindfulness and spiritual mantras, yoga is also a killer ab workout if you're doing it right. These poses are legit and offer a ton of core strength. I mean, there's a reason you can't hold them for long before collapsing onto your mat. Start with these six moves if you want to strengthen your core and tone your abs without doing any bullshit crunches.
1. Boat Pose
Boat pose is amazing for your entire core because it works the muscles in your upper and lower abs at the same time. Start by sitting on the floor with your legs straight in front of you. Then, press your hands on the floor behind your hips and lift your legs off the floor, leaning back slightly and lifting your hands in front of you. Your tailbone should now be on the ground with your legs and arms forward in the same direction. You can either hold it there for maximum time, or hold it for a few beats, release, and then repeat for reps (10-12 should do it).

Feel free to bend your knees at first if you're not able to extend them fully.
2. Warrior Three
It might sound weird to do an ab exercise while standing up, but the whole point of the warrior three is to mess with your balance by standing on one foot, and then stabilize yourself using your core. Start standing up with your feet hip-distance apart and your arms at your sides. Then, turn to your left and step your feet wide, bending your right knee over your right ankle. Then, press your weight into your right foot and lift your left leg out behind you while your arms extend out in front of you. If it feels wobbly or awkward to be on one foot, that's the point. Engage your abs and squeeze tight to stabilize yourself for as long as you can—at least 30 seconds before switching legs. If you're feeling really saucy, throw in some one-legged squats with the supporting leg.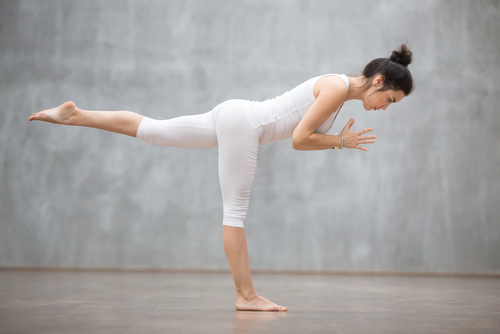 Keeping your arms in tight is a (slightly) easier modification.
3. Side Plank
Side planks are super basic, but there's a reason you do them in every yoga, pilates, and bootcamp class: they do the trick. The idea of the side plank is to stack your feet on one side of you while your forearm is on the ground and your hips are lifted. You want to engage your oblique muscles, which are the sides of your abs that give your tummy that toned shape when you wear a crop top. Hold the pose on each side of your body for 30 seconds and remember to keep your hips square and lifted the whole time. The other option is to support yourself with a fully-extended arm, which takes a little heat off your abs but adds an additional balance component—so, still good for your core.

Stacking your feet is standard, but staggering them like this is a less-difficult modifier.
4. Chair Pose
Chair pose tends to feel like a leg workout (and it def is), but if you're doing it right and taking your time, you can majorly feel this in your core too and it's great for your abs. Standing hip-distance apart with your arms straight over your head, sit down into a mini squat without moving your arms at all. Bring your hips as low as you can and engage your core muscles so that you don't lean too far forward. Take deep breaths and hold the pose for a minute if you can. If you feel it more in your back than your abs, it's ok—no one will know that you had temporary amnesisa and forgot that the core means more than just your abs.

Keep your weight in your heels, even lifting your toes to remind yourself if need be.
5. One-Legged Downward Dog
Most people think downward dog is just a stretch for your calves and shoulders, but by adding a variation of standing on one leg, you need to work to stabilize your body by engaging your abs. Starting on your hands and knees, stretch your elbows and relax your upper back. Put your hands down on the mat and tuck your toes, lifting your knees off the floor. Press the floor away from you as you lift your butt toward the ceiling, and then lift one leg off the floor, keeping tension in your abs the whole time. Hold for 30 seconds on one leg and then switch to the other. Ideally you get your leg up and in-line with your body, but baby steps.

The more you practice, the higher you'll be able to reach.
6. Elevated Plank
Planks are basic af and sound boring, but by elevating your feet onto a higher surface, (like a yoga block or a bench) you can get a deeper burn in your abs and really engage all your muscles at once. You can also use a bosu ball or a medicine ball if you really know what you're doing and want the extra challenge. The idea is to have your feet elevated behind you and your body in one straight line. Try to think about pulling your belly button toward your spine and slightly lifting your butt, making sure your spine stays straight the entire time. The burn will kick in pretty quickly but that just means you're doing it right, so stop whining. Start with 30 seconds and work up to a minute+.

Just like with side planks, dropping to your forearms puts more stress on your abs, but is also more stable.
An Ab Toning Workout You Can Do At Your Desk Without Freaking Out Your Coworkers
As much as we respect the girl who gets up at the crack of dawn to make her 6am SoulCycle class, not everyone can do that, and not everyone wants to do that. I mean, being fit is important, but so is an extra 2 hours of sleep, so like, one has to take priority. If you spend all day sitting in a desk and are too lazy don't have time to squeeze in a workout before or after work, it's still possible to get a legit ab workout while sitting at your desk. No one even has to know you're doing it, so like, you're basically getting paid to get a six-pack. Do each of these moves for 45 seconds, and then repeat the circuit for 2-3 times total:
1. Leg Lifts
This move is exactly what it sounds like, but the key is to lift your legs up while engaging your core, so you're actually using your abs for the movement and not your legs. When sitting at your desk, keep your legs relatively straight and slowly lift them off the ground and then back down. The trick is to go as slow as possible with these, so if you're getting like 20 reps in without feeling the burn, you're not doing it right. Make sure to lose the momentum in your legs and to focus on squeezing your abs with each lift.

2. Torso Twists
Torso twists are the seated version of the Russian Twist, so if you can add some sort of weight to this move, it would be ideal, but if not, don't start searching around the office for a dumbbell. You're not going to find one. While seated, twist your torso to the right while engaging your core, and touch the right side of your chair. Then, alternate to the left side without swaying your hips. The key is to keep your upper body still. Make sure you're twisting with the movement and not just turning from side to side.

3. Side To Side Sweeps
This move is based on the same movement as the leg lifts, but instead of keeping your legs straight in front of you, you're going to bring them from one side to the other when raising them. This move engages your oblique muscles, which are the defined lines you'll have on your upper abs if you keep this up. Lift your legs on the right side of your body, then literally sweep them over to the left side and lower. Alternate from side to side and you'll feel the burn pretty quick.

4. Flutter Kicks
Flutter kicks are hard enough to do when lying down on a mat, so sitting in a chair without your back supporting you doesn't make them any easier. However, they're amazing for your lower abs, so it's time to kick. Lift your legs up in front of you (they can be slightly bent), and literally kick your feet out in front of you in a little flutter motion. You should feel your lower abs working as you kick, and the movement should be small and controlled. Just make sure you don't have random wires or a printer under your desk that could be broken. Like, we want abs, but not enough to get fired over them.

5. Elbow Side Crunches
This last move works the sides and middle of your abs, so make sure you don't half-ass these just because you're getting lazy and your co-workers are all leaving for lunch. Put your hands behind your head or your hips, and lean all the way to the right side, crunching your torso on the right and feeling the stretch on your left side. Then, switch sides and do the same thing. If you have a stronger core, you can keep your legs elevated the whole time to make it harder. It might hurt when you laugh tomorrow, but then you'll remember it's only Tuesday and you'll stop laughing anyway.

How To Tone Your Arms & Abs Without Any Weights Or Machines
It feels like ever since Khloé Kardashian began Snapchatting her workouts and girls everywhere started doing squat challenges in their living rooms, butt and leg workouts have been trendy AF. And while we're totally on board with lower body workouts, betches tend to neglect upper body exercises, and that needs to be fixed. These six moves will work your arms and abs with no equipment necessary, so you can avoid creeps at the gym watching you pick out dumbbells. Go through the circuit 3-4 times in a row for a v effective at-home workout. Oh, and good luck lifting your arms to blow dry your hair tomorrow.
1. Plank Ups
It's important to start out any ab workout with some plank variation to get your core muscles fired up, and we love plank ups because they get your arms involved too. Start in a high plank with your arms on the floor directly under your shoulders. Then, bend one arm to bring your elbow to the floor, and then the other arm, ending up in a forearm plank. Then, push each arm up to the starting position, and continue going up and down from hand to forearm for 45 seconds.

2. Diamond Push-Ups
Diamond push-ups are basically regular push-ups, but instead of placing your hands wide under your chest, you place your hands together, forming a triangle (or a sort of diamond…get it?) with your thumbs and fingers. Bend your elbows and bring your chest all the way to the ground, feeling the burn in your tricep muscles. If you can't get full range of motion while in a high plank, drop to your knees. Aim for 10-15 reps without stopping.

3. Standing Jab Cross
If you've ever gone through the 2-minute arm portion of a spin class wondering why your arms burn so much from throwing a few punches, try doing these jab crosses for one minute straight. Stand up and punch with each hand in a diagonal direction, keeping your core engaged and preventing your waist from moving from side to side. The idea is to burn out your arms while twisting your torso to work your obliques, so keep your core as tight as possible.

4. Plank Shoulder Taps
This is another move that is based in a plank position, but by tapping each shoulder, you're challenging your stability and getting your arm muscles involved in the movement. Start in a high plank and keep your feet about hip-distance apart. During regular planks, it's better to keep your feet closer together, but for this move, you want your hips to stay as square and still as possible, so the extra distance will help. Tap your left hand to your right shoulder, and then do the same on the other side, alternating for 45 seconds. Also, it helps to squeeze your butt and keep your head as straight as possible the whole time.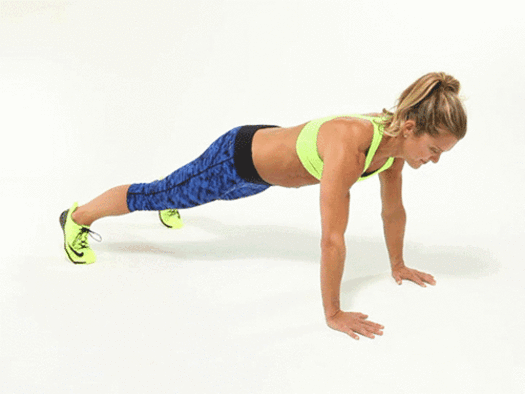 5. Tricep Dips
You don't need a piece of equipment for this one, but having a bench or chair nearby will help. You could also just stack up a bunch of books or shoeboxes. Whatever works. Sit on the ground with your legs in front of you in front of your bench and place your hands on the bench behind you with your fingers facing forward. Dip up and down with your arms, lifting your butt off the ground but keeping your heels planted. Do 15 reps, keeping your elbows tight to your body and directly behind you the entire time.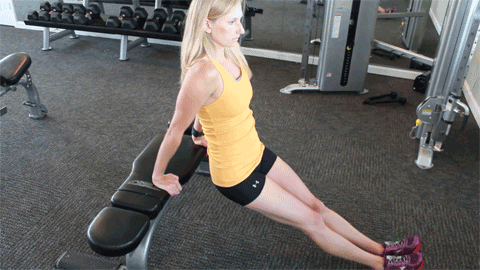 6. Bicycle Crunches
Crunches are like, the OG ab move, so we're taking it up a notch by ending the circuit with bicycle crunches, which basically keep your legs and arms moving while targeting the sides of your abs. Lie on the floor with your lower back pressed to the ground and your hands behind your head. Lift your feet off the ground and bring one knee in towards your chest, lifting your shoulder blades off the ground to touch your elbow to the opposite knee. Straighten out the leg and bring the other knee into your chest, doing the same with the other elbow. Try doing 30 seconds of slower crunches, then do 30 seconds as fast as you can.

The Full Body Workout You Can Do From Your Couch
Summer goes by pretty fast, so you want to spend your time wisely. I mean, on one hand, it's bikini season and we're drinking martinis all day, so it's probably a good idea to like, work out a bit. On the other hand, my poolside lounge chair is the literally the best place in the world and the idea of going on a run makes me want to die right now. That's why we developed a quick workout routine that you can do on your lounge chair or even from your couch, so you're like, kind of moving, but you also don't feel like death. Here's the workout:
1. Bicycle Crunches
Bicycle crunches are one of the most effective moves for your abs, and they specifically target your obliques, which are those side lines that will look so good when you're wearing your swimsuit. Lie flat on your back with your hands behind your head and your knees bent inward toward your chest. Try to lift your shoulder blades off the lounge chair to activate your core, and then straighten your right leg out in front of you while bringing your right elbow to your left knee. Alternate legs for 45 seconds and keep your abs engaged the whole time. As we've said before, do this shit S-L-O-W-L-Y or else you're wasting your time.

2. Hip Bridges
This move looks like you're aimlessly thrusting your pelvis into the air so it might be awkward if other people are around, but it also makes your butt look amazing so it's worth it. Lie on your back with your legs bent in front of you and your feet on the lounge chair. Then, squeeze your butt and pull your hips into the air, making sure your glutes are fully engaged. Bring your butt down to the bench, and keep going up and down for a minute. Try taking a few seconds at the top to pulse your hips upward for an extra burn. It hurts, but you'll thank us when your butt looks unreal in your new denim shorts all summer.

3. Scissor Kicks
This is another ab exercise, but instead of targeting the obliques, it hits the middle of your abs, where you want that perfect line that literally looks like you've been doing hardcore Pilates for years. Lie on your back with your arms out to the side. You can also hold onto the sides of your lounge chair for more support. With a slight bend in your knees, lift your legs up so that your heels are a few inches off the chair, then lift one leg up and slowly lower it back down without your heel touching the chair. Alternate between right and left for 45 seconds and remember to breathe. Holding your breath makes it harder, not easier.

4. Mountain Climbers
We've burned out our abs and ass already, so it's time for a cardio burst. The point of mountain climbers is to keep your abs and legs working while bringing your heart rate up through a cardio interval. Start with your hands on the lounge chair and your body in a plank position. Then, jog each knee into your chest as fast as you can while keeping your spine and hips as straight as you can. You want to work as hard as you can for about 30 seconds, so you can keep burning calories when you're doing jack shit the rest of the day. Yay!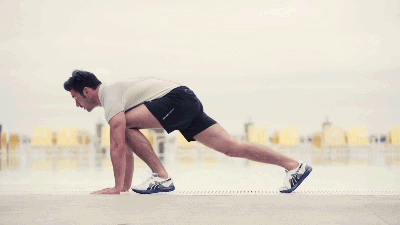 5. Shoulder Taps
Shoulder taps work your core and the upper part of your arms, so you're basically killing two birds with one stone. Start in a plank position with your feet hip width apart. You can bring them closer together to make it harder, but try to keep your hips square the entire time. Lift your left hand off the lounge chair to tap your right shoulder, then bring it back down, and do the same on the other side. Alternate sides for one minute without swaying your hips or lifting your butt too high.

6. Backward Kicks
We're not gonna make you get up and do lunges or squats, but it wouldn't be a full body workout without burning out your legs and butt, so let's do some kicks to get those muscles activated. Start on all fours with your knees on the lounge chair. Then, kick your right leg straight behind you and lift it a few inches higher, pulsing for a few seconds at the top. Bring the leg back down and switch sides, doing the same on the left. Also, make sure you're not kicking too aggressively. You want to slowly extend the leg and pulse the muscle to feel the burn in your butt.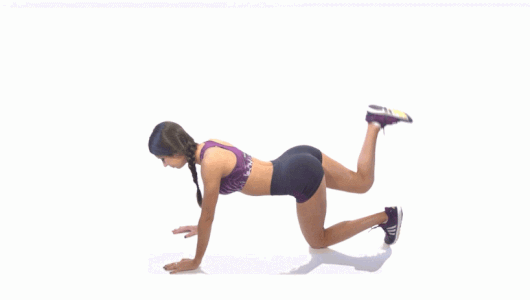 7. Tricep Dips
For the last move, you're gonna have to (kind of) leave your lounge chair, but you're still technically holding on, so it counts. Tricep dips are super effective for toning your arms, so you don't want to skip this one. Start sitting on the edge of the lounge chair with your hands on the chair behind you, facing forwards. Slide your butt a few inches away from the edge of the chair and extend your legs outwards. Bend your elbows to lower your butt down to the floor until your elbows are at a 90 degree angle, then press down to straighten out your elbows and lift yourself up to the starting position. Keeping dipping up and down for 45 seconds.

The 8 Ab Exercises To Get Rid Of Your Love Handles Once And For All
We've already established that getting rock hard abs comes down to diet and discipline, but some toning exercises will def help when it comes to getting rid of your love handles and defining your tummy area. Most people think the only ways to tone your abs are by doing a million crunches and holding a plank for as long as possible, but those exercises don't hit your obliques—the side edges of your abs that give you that amazing slimming shape when you're wearing a crop top. Don't lie. You know you want those side lines. Here are 8 exercises that will help you get them:
1. Russian Twists
Sorry, the Russian Twist isn't the name of some cocktail with four shots of Smirnoff and a gross amount of syrup. It's actually a killer ab exercise, and if you do it right, your obliques should be sore as fuck tomorrow. You'll need some sort of weight, kettlebell, or ball for this, but don't go crazy on the weight. Start by lying down on the floor and placing your feet out in front of you, raised a few inches above the ground. Your knees should be slightly bent and your torso should be elevated off the group, making a V-shape with your thighs. Holding the weight with both hands, move it from one side of you to the other, tapping the ground on your right and left sides each time. Do at least 10 reps on each side.

2. Side Planks
Side planks are a static move, so it might look easy because you're staying still, but try to hold for 30 seconds to a minute on each side and you'll shut up about how easy it looks. Turn onto your right side with your legs extended and your feet and hips resting on the ground and stacked on top of each other. You'll want your right elbow directly under your shoulder to hold up your torso and to protect your shoulder joint. Hold for as long as you can, then switch to the left side. Repeat 2-3 times on each side.

3. Bicycle Crunches
People usually miss the point with bicycle crunches because they're doing them so fast that they're not actually activating the ab muscles at all. This isn't a spin class, so take your fucking time with these. Lying flat on the floor with your lower back against the ground, put your hands behind your head and lift your left shoulder off the ground while bringing your right knee to touch that left elbow. Then, do the same on the other side. Repeat for at least 45 seconds, and make sure you're not pulling on your neck. You really should be thinking of reaching your shoulder to your knee and less about the elbow to the knee.

4. Wood Choppers
Just when you thought shit was getting easier, we're making you chop wood. Okay, not really, but this exercise makes you look like a wood chopper so let's go with it. You're gonna need a kettlebell or weighted ball again here, so choose something around 10-20 pounds. Standing with your feet shoulder width apart, hold the ball at one hip and explosively carry it over your opposite shoulder, completely twisting your core as you move. Do ten reps on the right side, then the same on the left. The key here is to keep your hips square but twist your torso. Also, try not to throw the ball behind you and hit some guy in the head. It's not cute.

5. Alternating Toe Touches
This move will burn pretty fast, but it's amazing for getting rid of love handles, so let's get it over with. The idea is similar to the bicycle crunch, but it's even slower and more controlled, so you're really activating each oblique. Lie on the floor with your legs out in front of you and your arms straight behind your head. Then, lift your right leg straight up in the air at the same time as your left arm, touching your left hand to your right foot (or knee if you can't make it that far.) Alternate sides for 20-30 reps.

6. Dumbbell Side Bends
This is the one move where you're gonna have to go pretty heavy in your weight choice if you want to see real results. Drop the 7.5lb dumbbell and grab something substantial (think 17-25 pounds). This is a sculpting move, so you're gonna hold the dumbbell in one hand and bend over sideways, getting the dumbbell to the height of your knees, then stand straight again. Go up and down on each side for about 20 reps to feel the burn.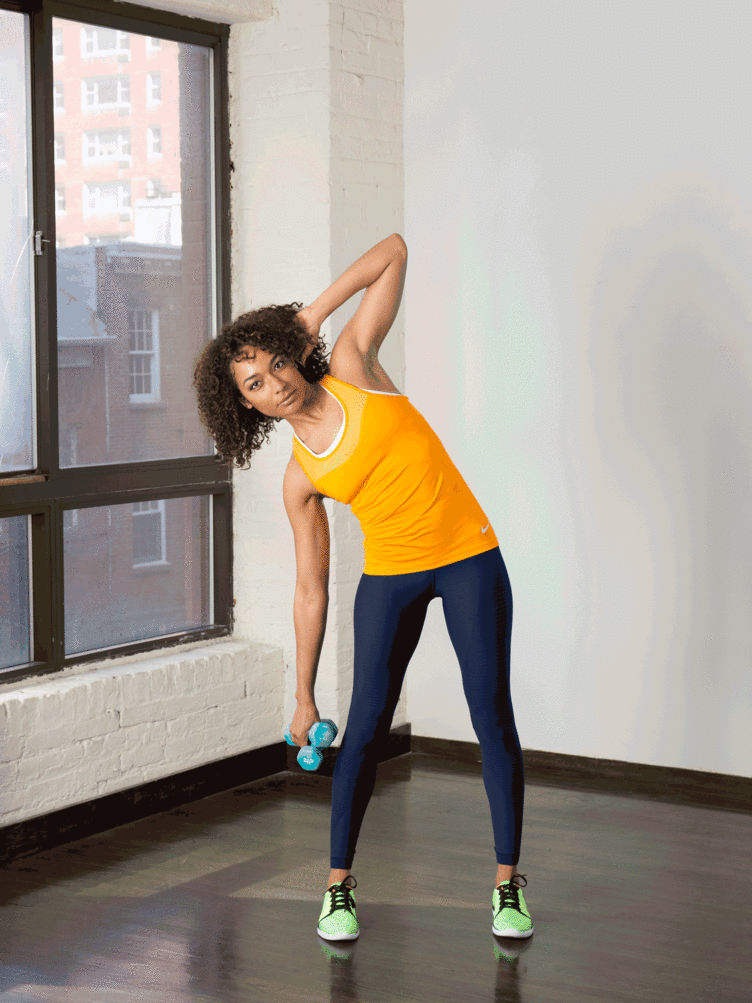 7. Sit Up With Side Twist
Sit ups are SO three years ago, but sit ups with a twist will literally carve lines in your abs, so we're all about them. Lying down with your back flat on the ground and your hands behind your head, bend your knees and keep your feet planted on the ground. If you have a friend around to hold down your feet, that shit is super helpful, but if not, that's fine too. In one controlled motion, bring your torso up off the floor so that your elbow is touching your knee as you twist with your waist toward one side. Then, slowly lower back down and keep going, alternating sides each time. Do 10-15 reps on each side.

8. Windshield Wipers
We're guessing you've never actually wiped off a windshield in your life so you might not even understand the mental image, but that's why we're explaining it to you. The idea here is to move your legs from one side of your body to the other while lying down, only using the twisting of your torso to do so. Bend your knees slightly and start in a fetal position with your legs to the right side of your body. Keeping your hands on the floor next to you, use your abs to twist your legs over to the other side of you, landing them on the floor next to you. Keep repeating for 45 seconds to a minute.