Aaron Carter Is Going To Be A Dad
Due to the ongoing coronavirus pandemic, most of our lives aren't exactly going according to plan right now. Weddings have been postponed, trips have been canceled, and everything is generally on pause for now. Pretty much everything is chaotic at the moment, but somehow, Aaron Carter's personal life is still the most chaotic of all. On Tuesday, he announced that he and his girlfriend Melanie Martin are expecting their first child together, and reader, I have whiplash.
Aaron Carter and Melanie Martin have only been publicly together for a few months, but their relationship certainly hasn't been smooth sailing. At the end of March, Melanie was arrested for felony domestic violence, after an alleged incident between her and Aaron. At the time, Aaron leveled many accusations at Melanie, including that she choked him, and broke her dog's leg.
Between his tweets and her emo Instagram posts after getting released from jail (sadly now deleted), it definitely seemed like they were broken up after the incident. But as of this week, things have taken an abrupt turn. All of a sudden, it looks like Aaron and Melanie are back together, and they've got a baby on the way. On Tuesday, Melanie posted a photo of them kissing, with the caption "love wins." I don't think that means what she thinks it means, but sure, why not.
View this post on Instagram
Then, Aaron dropped the baby news in an Instagram Live. After playing some new music (which is actually super catchy) and teasing his upcoming tour, he casually made the big announcement. He flipped the camera around to show a positive pregnancy test, and then said "Obviously I have a baby on the way," adding "this is the official announcement, we're pregnant."
Well, there you have it, Aaron and Melanie are going to be parents. While taking drags on a cigarette, he went on to argue with viewers who said he wouldn't be a good dad. I won't make any guesses about Aaron's future parenting skills, because I certainly wouldn't be prepared to raise a child right now either, but I do feel like maybe he should read some books before the baby gets here.
2020 predictions: it's gonna be a great year! lots of success! let's get this!

2020 reality: Aaron Carter chain smoking on IG Live announcing he's gonna be a father pic.twitter.com/Q2LdxyvINe

— Betches (@betchesluvthis) April 22, 2020
I'm not sure what I thought 2020 would bring, but I for sure didn't expect to be watching Aaron Carter suck on a cigarette on Instagram Live, announcing that he's having a baby with a woman whom he had arrested just three weeks ago. But hey, life comes at you fast, and at least this is one piece of messy celebrity news that has absolutely nothing to do with coronavirus.
Aaron and Melanie haven't posted any official announcements on their Instagram feeds yet—Melanie is probably still Facetuning hers—but Aaron did reference the news with this mirror selfie from last night, which he captioned "Dad bod." Lol, see what he did there?
View this post on Instagram
So for now, it looks like Aaron Carter and Melanie Martin are back together, and they're probably trying to make things work for the baby, if nothing else. Based on the timing, she was obviously already pregnant before the whole jail situation, but it's unclear when they found out. Maybe their relationship is on a better track now, but if things go wrong again, hopefully they can just focus on co-parenting.
Interestingly, Aaron has also yet to tweet anything about the pregnancy. He's usually pretty outspoken on Twitter, but I did notice that it's been a few weeks since he posted about his OnlyFans page. As much as I hate to admit it, I'm still a little tempted to subscribe. But maybe he and Melanie are more focused on reconnecting with each other right now, instead of posting cryptic tweets and porn videos? A true modern love story.
Images: Kathy Hutchins / Shutterstock.com; missmelaniemartin, aaroncarter / Instagram; betchesluvthis / Twitter
Aaron Carter's Girlfriend Was Arrested For Domestic Violence
It's been a while since we last checked in on Aaron Carter, but it looks like things in his life have not gotten any easier since last year. As a refresher, in September, Aaron's siblings took out restraining orders against him after he allegedly threatened to kill them, and a judge ruled that he had to give up his firearm collection due to mental instability. Simpler times. Well, nothing good has happened yet in 2020, and that trend is continuing here. On Sunday night, Aaron's girlfriend, Melanie Martin, was arrested for felony domestic violence, and now Aaron is popping off on Twitter about what allegedly went down.
Back in January, Aaron Carter went public with his new girlfriend Melanie Martin, and no one seems to know much about her. Basically every article about the couple just calls her an Instagram model (she has 167k Instagram followers, so this seems like an accurate assessment), and the one notable fun fact about her seems to be that she's Bulgarian.
Shortly after taking the relationship public, Aaron started teasing that they would be launching an Onlyfans account together, because what is 2020 missing? Ah yes, Aaron Carter porn. That'll fix everything. (Since then, the OnlyFans has launched, and the reviews are not good.)
So anyway, moving past the porn stuff, let's fast forward to this weekend, when something went wrong between Aaron Carter and Melanie Martin. According to TMZ's report on the incident, the police were called to Carter's house in Lancaster, CA around 11pm on Sunday, in response to a domestic dispute between the couple. It reportedly began with a verbal argument, which then became physical. TMZ has photos of what look like cuts or scratches on Aaron's arms. The police determined Martin to be at fault, and she was arrested for felony domestic violence. According to the report, she's still in police custody as of Monday afternoon, and is being held on $50,000 bail.
On Monday, after TMZ published their story, Aaron fired up his Twitter account to respond to the incident, and later, shared some truly disturbing allegations about Melanie.
In the first tweet, he said that he hopes Melanie "gets the help she needs", and that "no one deserves domestic abuse female OR MALE." Before I say anything else: it's an important message that men can also be on the receiving end of domestic abuse. Whatever happened in this specific situation, that's something everyone should understand. Then, Aaron hashtagged #Cheater and said "she literally chocked me out."
so sad, ;( I hope she gets the help she needs. no one deserves domestic abuse female OR MALE #DomesticAbuse #Cheater she literally chocked me out…. i'm devastated https://t.co/Zaxo7zgPbt

— Aaroncarter (@aaroncarter) March 30, 2020
In the next tweet, Aaron seemed to explain his reasoning for calling the cops on Melanie, saying that with domestic violence, "all it takes is once" to establish a pattern of abusive behavior.
you don't have to wait for someone to treat you bad repeatedly. All it takes is once, and if they get away with it that once, if they know they can treat you like that, then it sets the pattern for the future."

— Aaroncarter (@aaroncarter) March 30, 2020
But after those first tweets, in which he espoused some important wisdom about domestic violence, Aaron's tweets shifted in tone. He referenced his past issues with his brother and sister, claiming that he's the one who is "accused of being a pedophile animal abuser racist", while his family is busy "making up horrendous lies about me and contacting me knowing if I respond I go to jail." Basically, he's accusing his siblings of contacting him specifically to make him violate their restraining orders against him—something which would land Aaron in jail.
and here I am always the one being accused of being a pedophile animal abuser racists told to kill myself everyday family making up horrendous lies about me and contacting me knowing if I respond I go to jail trying to set me up sister husband its all really sad to see im devasta

— Aaroncarter (@aaroncarter) March 30, 2020
After that, he used the hashtag #ScornedWomen, which I don't know the exact context of, but it doesn't seem like a flattering way to refer to someone. After reiterating that he hopes she gets help, he then claimed that he "tried to give her a new life," but obviously things haven't worked out the way he envisioned them.
#ScornedWomen I hope she gets the help she deserves. I tried to give her a new life.

— Aaroncarter (@aaroncarter) March 30, 2020
Rounding out the bizarre series of tweets, he threw out a new accusation against his girlfriend Melanie: that she broke her dog's leg and didn't take it to the hospital. Pardon me? He actually tweeted about this a few times, and in the most recent message, he tagged PETA, telling them they "should look into Melanie Ann Martin abusing and breaking her mini poodles leg and not taking it to the hospital." There's a lot going on in this situation, and I really hope a dog isn't suffering because of it.
#DomesticAssault #Felony #DogAbuse she didn't pay anything. balls sugar daddies did. @peta you should look into Melanie Ann Martin abusing and breaking her mini poodles leg and not taking it to the hospital https://t.co/f4fEzh1weG

— Aaroncarter (@aaroncarter) March 30, 2020
This afternoon, Aaron spoke to TMZ, saying that Melanie told him she was pregnant right before the argument that led to the alleged assault. He accused her of lying and asserted to TMZ that they would not be getting back together.
If you or someone you love is involved in a potentially violent domestic situation contact the National Domestic Violence Hotline at 1-800-799-7233 or online here.
Images: Kathy Hutchins / Shutterstock.com; aaroncarter / Twitter; aaroncarter / Instagram
UPDATED: WTF Is Going On With Nick & Aaron Carter?
UPDATE TO THE UPDATE: It's been a minute since we've caught up on the drama in the Carter family, and well, things are still dramatic. This week, there have been a few important courtroom developments in the ongoing saga between Aaron Carter and the rest of his family, so let's break it all down. On Tuesday, a judge ruled in favor of Aaron's twin sister Angel, extending her temporary restraining order against him. Now, Aaron will be prohibited from contacting Angel, her husband, or their child for the next year. Then, on Wednesday, Aaron also lost his restraining order hearing with his brother Nick, who was also granted a one-year extension. Aaron didn't even show up for the hearing with Nick, so he didn't even really try to fight the restraining order.
Really, those decisions weren't surprising, especially considering Aaron Carter's erratic behavior on social media and alleged threats to kill Nick's pregnant wife. In court, Angel also claimed that Aaron threatened to sent hitmen after her, which is really wild. Not to be rude, but can Aaron Carter even afford a hitman? Where is his money coming from these days?
But in addition to the restraining orders, the judge also ruled on Tuesday that Aaron Carter is too dangerous to possess firearms, which like, thank god. Based on the ruling, Aaron must surrender all his guns, and won't be able to purchase firearms in the state of California. Upon hearing this, Aaron apparently lost his sh*t, yelling that he'll just go to another state to buy guns and threatening to leave the courtroom. The judge told him to sit down, but Aaron was still mad when he talked to TMZ outside the courthouse, telling them "I'm not playing your game, you're playing my game, and it's not over." He sounds like he's in a good place!
Aaron said back in September that he was going to sell his gun collection, but based on what he said in court this week, I'm not so sure that ever happened. If he keeps his guns, he could be held in contempt and end up in jail. We know Aaron Carter loves his guns, but I have a feeling he also loves not being in jail. Hopefully he gives up the guns, stays away from his siblings, and like, chills the f*ck out for a minute.
UPDATE: Well, this sh*t was dark to begin with, but it's somehow gotten even more f*cked up since last week. Things have only gotten worse between Nick and Aaron Carter, and Aaron's social media is probably the messiest place on the internet right now. Things really escalated a few days ago when Aaron went on Instagram live, where he said he felt "imprisoned" by his family, and threatened to "kill everybody." Yeah, deeply troubling stuff, especially when you consider that Aaron has a whole gun collection.
Perez Hilton retweeted a video of Aaron saying this stuff (don't ask me why Perez is getting involved), and Nick Carter responded, saying he's really scared for his family's safety now. Nick has only made a few public statements compared to Aaron's barrage of tweets and Insta posts, but I don't really understand why he's saying anything. Aaron already looks crazy in his posts, so Nick responding is only going to add fuel to the fire.
I am am truly now afraid for my family's safety. 🥺 #Help https://t.co/oLpTFxwEvU

— Nick Carter (@nickcarter) September 21, 2019
The whole "threat of violence" thing is bad, but yesterday Aaron took this feud to a whole new level. On Instagram, he posted a lengthy caption alleging that Nick raped a 91-year-0ld woman, whom their mother was taking care of. Aaron also tagged @fbi several times in the post, because apparently that's a thing that you can do. If this actually happened, it's obviously a heinous crime, but Aaron certainly isn't the most credible person right now.
The thing is, both of them really need to just get off of social media. Seriously, why hasn't someone taken Aaron's phone away? Last night, he posted a super long Notes App statement (my favorite form of communication), where he rambled about fearing God, his nieces and nephews, and how love don't cost a thing (which is also the best J.Lo song).
Please READ. pic.twitter.com/d8wBiTwfIK

— Aaroncarter (@aaroncarter) September 22, 2019
The statement is really a lot to get through, but he finishes it off by asking everyone to leave him alone so the legal system can "do their thing." I'm not sure that doing their thing is a technical legal term, but it's pretty hilarious for Aaron to ask people to leave him alone after he's made this whole ordeal insanely public. Like, Aaron Carter has literally tweeted about this hundreds of times in the last week. It's unclear what, if anything, is actually happening here in terms of the legal system, but maybe the courts can take away his Instagram password.
If you're reading this, you're probably old enough to remember a golden era of Nick and Aaron Carter. Nick was obviously a member of the Backstreet Boys, who released their first album in 1996. Aaron Carter came on the scene a year later, releasing his first album when he was just nine years old. Aaron Carter was one of the biggest heartthrobs of the late '90s/early 2000s, and the Backstreet Boys are still one of the most iconic boy bands of all time. Those were good times, but things have been pretty dramatic in the Carter family lately. Just yesterday, news broke that Nick and his sister are seeking a restraining order against Aaron, and the details are a major yikes.
First, let's do a little catching up on what Aaron Carter has been up to since the "I Want Candy" days, because it's a doozy. Aaron has had several issues with the law in the last several years, including a couple of marijuana and driving-related arrests, and a 2013 bankruptcy filing that had a lot to do with not paying taxes. In 2017, he went on a show called The Doctors to discuss his health situation, namely the fact that he was scary skinny, and everyone thought he was doing meth. He tested negative for any illegal drugs, but was taking a lot of pills for anxiety and sleeping, and he also said he had an eating disorder. He entered rehab, but it's unclear if anything really came of it.
That's a very abridged rundown of what Aaron Carter has been up to, but 2019 has been an action-packed year. His mental health issues have been flaring up recently, and in a reported police "welfare check" recently, they tried to place him under a 5150 psychiatric hold. Unclear what happened with that, but it clearly didn't work. Aaron has also been flaunting his gun collection lately, which seems especially problematic given the aforementioned mental health issues.
The current drama started when Nick filed for the restraining order, claiming that Aaron Carter threatened to kill his pregnant wife. According to Nick, the order was necessary "In light of Aaron's increasingly alarming behavior and his recent confession that he harbors thoughts and intentions of killing my pregnant wife and unborn child." In his post on Twitter, he also hashtagged #GunControl, which presumably refers to Aaron's collection of weapons. I mean…Jesus Christ. This is some dark shit, whether or not Nick is telling the truth.
According to Aaron, he hasn't seen Nick in four years, but they clearly have a lot of thoughts about each other. Since news of the restraining order came out, Aaron Carter has been absolutely on fire on Twitter, spreading allegations that Nick had sex with a minor, and stirring up old rumors that he assaulted Paris Hilton. He's also accused Nick of being jealous that he's doing well, which is news to me, but good for him I guess.
Anybody who knows me knows I wouldn't hurt a fly I've never been accused of rape I've never been accused of beating @ParisHilton how am I the violent one.

— Aaroncarter (@aaroncarter) September 18, 2019
Going even further, he accused Nick of trying to get him placed under a psychiatric hold, which would be pretty wild. Whether or not Aaron is in a good place right now, if Nick hasn't seen him for four years, I'm not sure why it would be his place to decide what he should do. Clearly, there is way too history in this family for anyone to be making decisions for anyone else. Either way, Aaron doesn't want anything from Nick, and he made that clear by tweeting that they're "done for life." Harsh, but so is a restraining order.
Take care. @nickcarter we're done for life.

— Aaroncarter (@aaroncarter) September 17, 2019
Aaron Carter hasn't tweeted anything in seven hours, presumably because he's been asleep, but I'm sure he's not done sharing his thoughts on the current situation. I'm not really sure whose team we're supposed to be on here, but I have a feeling that neither Nick nor Aaron Carter are completely reliable narrators. They're literally dealing with decades of issues, and we all know that there are three sides to every story. Mostly, I just hope no one gets hurt, and that anyone who needs treatment for anything gets that treatment. Sorry if that sounds vague, but I'm not tryna get sued here.
Images: Shutterstock; nickcarter, aaroncarter (2) / Twitter
Aaron Carter Got A DUI So Our Childhood Is Officially Ruined
If you feel like you had a rough weekend, this story will 100% make you feel better about your life and choices. Aaron Carter, our first major childhood crush and bonafide has-been, was arrested for a DUI on Saturday night, and it's not pretty. He was supposed to be doing a concert in Kansas City that night, but his team had tweeted earlier in the day that he wouldn't make it due to "transportation issues." We have some questions. First of all, Aaron Carter still does concerts?? Like sorry bro, but we're not spending our hard-earned/parent-given money on tickets to an Aaron Carter show.
The transportation issues are even more questionable, considering he got arrested in Georgia, which is….fucking far from Kansas City. He and his girlfriend were apparently driving from Florida to North Carolina, neither of which are remotely close to Kansas. His girlfriend was arrested and they were both charged with marijuana possession, but they'll probably get that to go away. Man, this is just so sad. AC used to be on top of the world, playing little bro to one of the hottest Backstreet Boys and beating Shaq at one-on-one games of basketball. Now look at him:

Can you believe we ever let this man anywhere near Hilary Duff? I can't. She's far too precious.
Aaron has struggled publicly with addiction in the past, spending time at the Betty Ford Center a few years back for a drug and alcohol problem. Apparently things aren't going so hot, considering his mugshot looks like the after photo in a PSA about meth. The road from teen superstar to weird, maybe Trump supporter with a neck tattoo is paved with bad decisions.Aaron turns 30 later this year, but he looks like a 100 year old zombie.
10 Iconic 90s Music Video Outfits That Inspired Your Slutty Middle School Wardrobe
Before style trends were dependent on the Kardashians, CW teen dramas, or even our Cheeto president there was the 1990s. Ah, the 90s. A simpler time, a time when Britney Spears was still a "virgin" and boys in matching denim ensembles were considered sex symbols. What a time to be alive.
It could be nostalgia kicking in or it could be this $8 bottle of red wine that's mostly empty, but either way I'm about to revisit some of my favorite shit shows fashion choices and beauty looks from the best 1990s music videos.
1. "JUST A GIRL" — GWEN STEFANI (1995)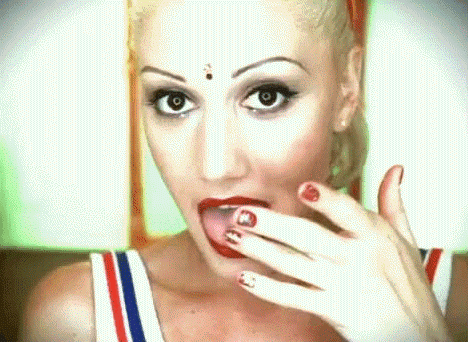 Oh, Gwen. Where do I even begin with you? Perhaps with the semi-culturally offensive red jewelry in the middle of your forehead? The fugly giant hair barrettes? Or the men's track pants you're wearing? Please also keep in mind that this person has a very successful FASHION LINE today, which I can only imagine Twitter is responsible for. Gwen's style is something I'll understand about as much as I understand clear plastic boots, which is to say I don't fucking get it. Let's also not let this moment pass without discussing how Gwen's eyebrows are thinner than my will to live. They are actually making me so uncomfortable. I need an adult.
2. "MMMBOP" — HANSON (1997)

Seeing prepubescent boys with better hair than me makes me want to heavily drink. Seriously, shouldn't you be getting head lice from kids on the playground, not giving a grown woman hair envy?
3. "I WANT YOU BACK" — N*SYNC (1997)

I mean seriously wtf were we thinking? To be fair, this music video actually features some of the less offensive fashion choices from their time in the spotlight. Shocking, I know.

Also #neverforget JT's ramen noodle hair. I love that since Justin went solo and didn't become a has-been like the rest of the band, he thinks he's better than everyone. Like, you might be married and successful and actually pretty funny anytime you appear on SNL, but you still wore a JEAN SUIT to the American Music Awards. Know yourself.
4. "(HIT ME )…BABY ONE MORE TIME" — BRITNEY SPEARS (1999)

An iconic Britney moment that forever made me want to dress like a baby prostitute. Thanks for giving us years of slutty Halloween costumes. You the real MVP, Brit.
5. "SAY MY NAME" — DESTINY'S CHILD (1999)

You know I had to add in the Queen here. And I guess I have to mention her backup singers band mates too. Aside from the fact that the lyrics in this song are fire and I use them in daily in my life, Beyoncé also looks like a fucking goddess in this music video. Groundbreaking, I know. I'll even forgive her for those gold hoops because we all know hoops are Regina's thing. An important note, though: If your skin burns in the sun, you should absolutely, under no circumstances, attempt her hairstyle at home.
6. "GOOD VIBRATIONS" — MARKY MARK AND THE FUNKY BUNCH (1991)

Fuck, this boy is ripped talented. The original fuckboy, his signature look was not wearing a shirt, touching himself, and giving white people hope of becoming a rapper. 10/10 would hit that.
7. "DIRRTY" — CHRISTINA AGUILERA (2002)

While not *technically* a 90s song, I'm still including it because Kylie Jenner made this video relevant again. Those dirty AF blue hair extensions, the assless chaps, THE BODY JEWELRY—she made slutty chic. Not all heroes wear capes, people. She was also single-handedly responsible for every dress code violation phone call my mother received about me from grades 8-12. *starts a slow clap*
8. "ALWAYS BE MY BABY" — MARIAH CAREY (1995)

Aka the reason I thought butterfly hair clips were a statement piece. She spends this entire music video swinging over a lake in a classic jean-on-jean ensemble, looking as angelic as her voice sounds.
9. "WANNABE" — THE SPICE GIRLS (1996)

The original Plastics, these girls are responsible for stereotypes in cliques and my hideous metallic mini dress in middle school. Also for giving my boyfriend an excuse to "get with my friends."
10. "AARON'S PARTY (COME GET IT)" — AARON CARTER (2000)

Again, not exactly a 90s song but I couldn't not include this one. First of all, Aaron Carter is, what, 9 in this music video? Maybe? And he's throwing fucking ragers while his parents are out to dinner? I applaud you, son. Also the fact that a third grader is rapping on a bicycle in a fur coat while middle school girls grind up on him. I'd be lying if I said I didn't want to be one of those middle school hoes. And you'd be lying too.
Anddd now I have "Aaron's Party" stuck in my head. Brb I'm just going to do something productive bang my head against a wall until I stop singing rap lyrics written by and for a 12-year-old.