The Best And Worst Dressed Celebrities At The 2018 Oscars
Listen, I'm pretty disappointed with this year's Oscars red carpet. Normally, the E! preshow is decent enough to make up for having to watch three hours of producers and directors get passive-aggressively rushed off stage with that annoying music while they desperately try to thank their moms, but this year was a shit show of epic proportions. If you're out of the loop, you basically just need to know that nobody wanted to stop to talk to Ryan Seacrest because of the sexual assault allegations against him. At the culmination of an award show season that's been all about holding shitty dudes accountable, I don't really understand why E! couldn't just like… let a woman do it. We all know chicks on their payroll don't make as much as men so they probably could have saved a few dollars, but hey what do I know? I'm just here to talk shit about celebrity style, so let's get to that. Here's the best and worst dressed 2018 Oscars edition.
Best Dressed 2018 Oscars
Tiffany Haddish
Tiffany Haddish is hands down the best dressed at the Oscars this year because she's openly like, "fuck it, this dress was expensive and I'm going to Febreeze it and wear it again." This is the positive Hollywood influence I'm looking for. Except, when I do it, it's less like a $4,000 Alexander McQueen gown and more like, a $60 pleather Topshop miniskirt. Whatever, the sentiment still stands. I'm also very down with Tiffany's UGG slippers. I'm so glad we finally have a celebrity who's actually relatable, and not just pretending to love pizza and fall down a lot because her publicist told her it could be a good gag. Her red carpet look was not the same dress, but it was equally memorable, and I hope served as her audition for Black Panther 2 because she looks regal. I'd give her the role, I'm just saying. 

Margot Robbie
I'm usually not one for random off-the-shoulder embellishments, but Margot Robbie's white Chanel gown is actually changing my mind. I'm pretty sure she'd still look perfect in this even if she styled it with a fried, frizzy Tonya Harding ponytail and a Marlboro Light. Every wedding gown on the next season of Say Yes to the Dress will be a knock-off of this, I'm calling it now.

Lupita Nyong'o
Lupita absolutely stunned in this Versace gown that would probably look a little bit like most of the dresses worn to a Staten Island prom in the 1980s if she wasn't like, the most flawless person in Hollywood right now. The asymmetrical neckline, the slit—it all works.

Taraji P. Henson
Taraji P. Henson is one of the few celebrities left in this godforsaken world who still knows how to look classy with a super high leg slit and a shit ton of cleavage. Oscar looks can get boring easily because it's kind of the stuffiest award show, but Taraji's Vera Wang look is perfect, and it looked even better paired with the shade she threw at Ryan Seacrest.

Jennifer Garner
I really hope Jennifer Garner's former nanny who fucked Ben Affleck is crying into a tub of ice cream right now. I mean, I'm doing it, and I didn't even break up a marriage.

Worst Dressed 2018 Oscars
Salma Hayek
I kind of feel like I've seen Salma Hayek's dress before, but that might just be due to the fact that I spent my last hangover watching JonBenet Ramsey documentaries for seven hours, and this blinged-out Gucci gown looks like it previously belonged to a child pageant star. I may or may not be temporarily blind now.

Emma Stone
Emma Stone decided to completely ignore the "it's the Oscars, wear a gown" memo, I guess because she won last year so she doesn't need to try this time around. It's kind of like when you get a boyfriend and you start going out to the bar in flats because you "don't have anyone to impress." How come when I showed up to work in this exact outfit it was "you can't come to work in your pajamas" and when Emma Stone did it, it was fashion?

Saoirse Ronan
Saoirse usually totally slays, but this Calvin Klein gown is giving me a dull headache. It's what I would imagine Regina George would have worn to the spring fling if she had a regular mom who was like, "aw honey, don't try Sears, let's have my tailor let this out so it fits you better."

Andra Day
Listen, mad respect to Andra Day for saying fuck it and literally just laying down on the red carpet, but this Zac Posen gown is bad news. Every award show red carpet has at least one woman who is the butt of the guaranteed "this is made out of a fugly tablecloth from my grandma's house" joke (we will have two), and not only does this look like an elderly woman's tapestry, it also looks like its original purpose was for a Renaissance Fair.


St. Vincent
I saw a lot of tweets praising St. Vincent for whatever it is she's trying to wear here, which has led me to the conclusion that it's probably time for me to stop chasing retweets and put my efforts into selling flat tummy tea, because obviously everyone on Twitter is fucking insane. This look reminds me of something a sorority girl would craft out a trash bag for an Anything But Clothes mixer. Or like, maybe the aesthetic is slutty funeral? Much like this outfit, I can't decide what I'm going for.

Zendaya
It physically pains me to put Zendaya on any kind of worst dressed list, but this flappy brown chiffon Giambattista Valli gown does not make her exempt from a good shit-talking. This list isn't personal, it's just that I hate your fashion choices and am now questioning your judgment and taste. Sure, I might just be biased on this dress because I spent 2005 wearing a lot of brown gauchos and Limited Too graphic tees with slogans like, "I'm adorable, DEAL WITH IT," but chocolate brown is a color that will never work unless you are a hot UPS delivery guy who's very receptive to the Bend and Snap.

Kelly Ripa
I just have two quick questions for Kelly Ripa. The first is, what are you on that made you think wearing a massive pink and neon green bow on your butt would be a good idea? This dress is the definition of a mullet. The second question is, can you hook me up with your plug?

Whoopi Goldberg
Whoopi's dress was made for her by Project Runway winner Christian Siriano—apparently this week's challenge was to make a dress out of your grandmother's shower curtains.

Adam Rippon
Adam Rippon is 28, but he looks like a high schooler who found his parents' stash of bondage gear. He definitely still gets carded at the leather bar. This is why they need to stop making 50 Shades movies.

Can't get enough of our shit-talking? Read the full 2018 Oscars recap. We promise it's wayyyy more entertaining (and shorter) than the actual show.
The Oscar Nominated Movies You Need To See & Where To Watch Them
The 90th Academy Awards are coming up, and unless you want to spend the entire night refreshing Instagram and wondering WTF Jimmy Kimmel is talking about, you're gonna need to watch some movies. This year's Oscars is gonna be good, and not just because of the endless shade-throwing at Harvey Weinstein. It's been a weird year for Hollywood, but the films have been great, so if you don't see some of the nominated movies beforehand, you're missing out on good movies and a ton of cultural references.  I've basically spent the past two months generously donating my paycheck to AMC Theaters, so I've seen like, every Oscar nominated movie. Here are seven Oscar movies you should watch ASAP, and some tips about where you can still find them.
1. Lady Bird
Lady Bird has been out for a while, so if you haven't seen it yet, I'm just really impressed that you've literally had social plans since Thanksgiving and haven't caved for a good movie night. I personally saw Lady Bird as soon as it came out, and I knew it would be nominated. It's like I have ESPN or something. It's nominated for best picture and four other categories too, so it's v relevant. Plus, Saoirse Ronan kills it as the lead and Greta Gerwig is the film's badass female director, so yeah, the future is fucking female. Unfortunately, the movie isn't in many theaters anymore, but it's being released on iTunes and Amazon on February 13th, so you have no excuse.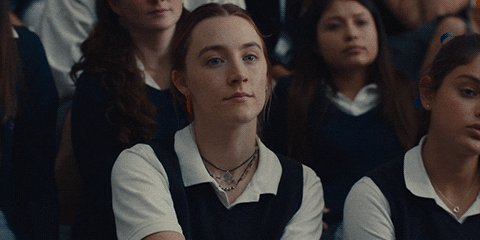 2. Three Billboards Outside Ebbing, Missouri
Also nominated for best picture, also amazing. If you're not familiar with Frances McDormand, she's the one who was cursing at the Golden Globes and accidentally wore navy when everyone else wore black. She DGAF and I'm kind of obsessed with her. This is one of those movies that you're literally passionate about after it's over. Go see it. It's still playing in a few theaters, but in case you can't find it, it'll be available on Redbox on February 27th.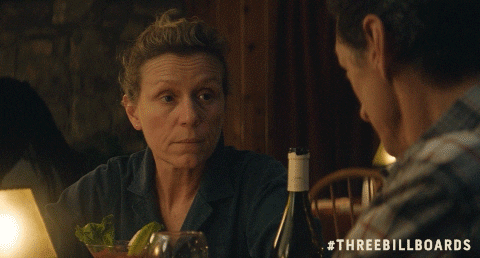 3. The Post
Some people told me they thought The Post seemed slow, but honestly I loved it, and it's not just because I have an actual crush on Meryl Streep. Tom Hanks kills it too. Have I mentioned Meryl Streep? The whole movie is about the Pentagon Papers being published in the Washington Post, and even if you don't care about journalism or politics, you'll love the story because Katharine Graham is literally an American icon. Oh yeah, and it's a true story. The Post is still playing in most theaters, so cancel your plans this weekend and go see it. Sorry, you're gonna have to leave the house. That's all.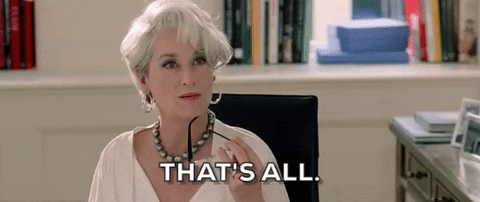 4. I, Tonya
Another American classic. I, Tonya is incredible because you basically follow a true story without really knowing what happened or who's telling the truth, even after the movie's over. The skating is sick, the costumes are great, and Margot Robbie might actually beat Nicole Kidman for my favorite Australian. Critics are saying the film is being snubbed this year because it only has three nominations, but, like, that's enough to see it. This one's also still in theaters. Go.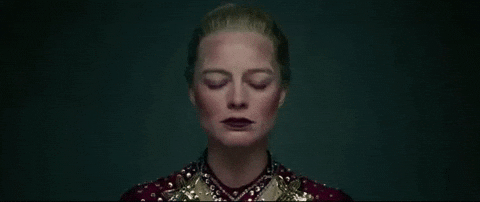 5. Dunkirk
Dunkirk is one of those movies that you hear about it and immediately dismiss it to go see Kate McKinnon in Rough Night, but then you hear everyone talking about it and reconsider your decision. Dunkirk is basically nominated for every category—best picture, director, cinematography, film editing, sound editing, production design—you name it. Again, even if you don't care about politics or war movies, it's worth seeing, because it's literally mind-blowing. It's also just a really important part of history, so like, it doesn't hurt to educate yourself a bit. The best part is that it came out in the summer, so it's already available for streaming on Amazon, YouTube, Google Play, and Blu-Ray. Blessings.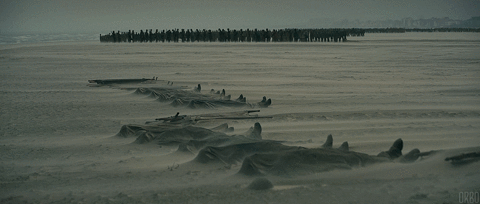 6. The Shape of Water
Okay, HEAR ME OUT on this one. When I first saw The Shape of Water, I was kind of weirded out by the whole girl/merman romance plot, and couldn't really get past that. But honestly, this movie has 13 nominations and it is sweeping every category. It's breaking records in film history, and for that reason alone it's worth seeing. Plus, the special effects and cinematography are actually really cool, if you're into that stuff. It's also v dramatic, so you're kind of on the edge of your seat the whole time. You know, once you get past the whole underwater sci-fi storyline. You'll be able to watch this on Amazon starting on February 27th, which gives you just enough time to squeeze it in before the Oscars.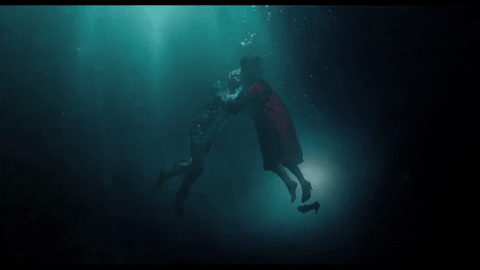 7. Molly's Game
People might hate me for this one because Molly's Game only got one nomination, and films like Get Out and Call Me By Your Name might be way more important. Those movies are good too, HOWEVER, I'm recommending Molly's Game because it totally deserved more than it got. I mean, aside from the fact that Jessica Chastain was literally at her all-time prime, the actual story is fascinating, and personally I'd like to meet the real Molly Bloom and ask her like, a million questions. It's a true story and it's fast-paced and super interesting. Even if you know nothing about poker you'll still love it. You just might need to Google a couple things afterwards. You'll also have to get your ass to a movie theater to catch this, but did I mention Idris Elba is in it? Yeah.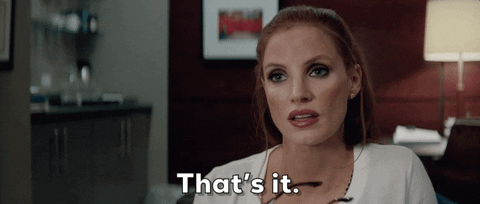 Images: Courtesy of NEON and 30WEST; Giphy (7)