TBT: Sisqo Released A New Version Of 'The Thong Song' And It's Terrible
The late 90s was a weird time. Nobody really had a cell phone. We were all legitimately worried that the world would explode or whatever the fuck when the clock struck midnight on January 1, 2000. Mean Girls didn't exist yet. Weirdest of all was the music at the time, and none of it was weirder than 1999's "The Thong Song" by Sisqo. The music video is, unequivocally, the most 1999 thing to ever exist—the quaint idea that guys secretly talk about underwear, the hotdog-as-a-dick visual metaphor, the vaguely Asian iconography, the censoring of the word "breasts," etc.—and it was all delivered by a strange little man with platinum hair and Air Force Ones doing gymnastics at the beach. And it worked! It was a legitimate, nation-wide phenomenon. Your mom probably hummed it while she folded laundry. I knew every fucking move in that dance break (I was, and remain, almost cripplingly cool).
It's the kind of thing that doesn't age well, and isn't really something you can explain to subsequent generations—it's you, sitting in the backseat while your dad belts out Billy Joel classics, and saying "ew dad, people actually liked this when you were young?" I don't hate it even 18 years later, but it's not a "good" song. It's a relic best left in its era, only to be dusted off for get togethers with my old-ass friends and 90s/2000s-themed frat parties.

That's why it's weird as all hell that, for whatever reason, someone named JCY decided now was the time to "bring back" "The Thong Song," only with a KEWL NEW VIBE for the MILLENNIULZ:
This, objectively, is a piece of shit. It rips out everything that gave the original what modicum of charm it had (the strings, Sisqo's vocals) and kept everything that made it stupid (the verses are still identical, Sisqo is old and can't sing or dance anymore). The women in the video don't even have good thong butts!
As far as the new track, Buzzfeed (because they are and will forever be the most stupid goddamn destination on the internet) says it "feels VERY 2017," which almost made me spit out my cold brew. This is terrible EDM, so bad it makes the Chainsmokers sound like fucking Bob Dylan by comparison. On top of that, I can think of, oh, a dozen songs right now that better exemplify today's sound than this transistor radio recording of wet fart sounds. The only thing that's "VERY 2017" about it is that, versus the 1999 version, everyone in the video is whiter.

Don't let people do this shit. We all have things from our childhoods we remember, probably a little more fondly than they merit—and it's best to keep it that way. I'm gonna go watch those kids dance to "Despacito" for half an hour and pretend this never happened.
10 Iconic 90s Music Video Outfits That Inspired Your Slutty Middle School Wardrobe
Before style trends were dependent on the Kardashians, CW teen dramas, or even our Cheeto president there was the 1990s. Ah, the 90s. A simpler time, a time when Britney Spears was still a "virgin" and boys in matching denim ensembles were considered sex symbols. What a time to be alive.
It could be nostalgia kicking in or it could be this $8 bottle of red wine that's mostly empty, but either way I'm about to revisit some of my favorite shit shows fashion choices and beauty looks from the best 1990s music videos.
1. "JUST A GIRL" — GWEN STEFANI (1995)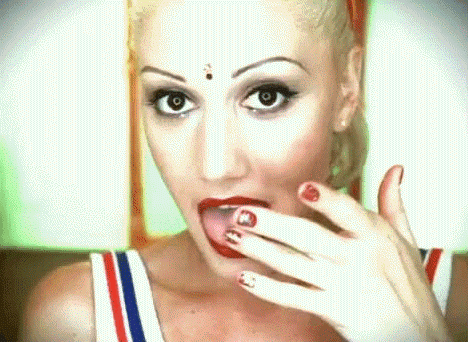 Oh, Gwen. Where do I even begin with you? Perhaps with the semi-culturally offensive red jewelry in the middle of your forehead? The fugly giant hair barrettes? Or the men's track pants you're wearing? Please also keep in mind that this person has a very successful FASHION LINE today, which I can only imagine Twitter is responsible for. Gwen's style is something I'll understand about as much as I understand clear plastic boots, which is to say I don't fucking get it. Let's also not let this moment pass without discussing how Gwen's eyebrows are thinner than my will to live. They are actually making me so uncomfortable. I need an adult.
2. "MMMBOP" — HANSON (1997)

Seeing prepubescent boys with better hair than me makes me want to heavily drink. Seriously, shouldn't you be getting head lice from kids on the playground, not giving a grown woman hair envy?
3. "I WANT YOU BACK" — N*SYNC (1997)

I mean seriously wtf were we thinking? To be fair, this music video actually features some of the less offensive fashion choices from their time in the spotlight. Shocking, I know.

Also #neverforget JT's ramen noodle hair. I love that since Justin went solo and didn't become a has-been like the rest of the band, he thinks he's better than everyone. Like, you might be married and successful and actually pretty funny anytime you appear on SNL, but you still wore a JEAN SUIT to the American Music Awards. Know yourself.
4. "(HIT ME )…BABY ONE MORE TIME" — BRITNEY SPEARS (1999)

An iconic Britney moment that forever made me want to dress like a baby prostitute. Thanks for giving us years of slutty Halloween costumes. You the real MVP, Brit.
5. "SAY MY NAME" — DESTINY'S CHILD (1999)

You know I had to add in the Queen here. And I guess I have to mention her backup singers band mates too. Aside from the fact that the lyrics in this song are fire and I use them in daily in my life, Beyoncé also looks like a fucking goddess in this music video. Groundbreaking, I know. I'll even forgive her for those gold hoops because we all know hoops are Regina's thing. An important note, though: If your skin burns in the sun, you should absolutely, under no circumstances, attempt her hairstyle at home.
6. "GOOD VIBRATIONS" — MARKY MARK AND THE FUNKY BUNCH (1991)

Fuck, this boy is ripped talented. The original fuckboy, his signature look was not wearing a shirt, touching himself, and giving white people hope of becoming a rapper. 10/10 would hit that.
7. "DIRRTY" — CHRISTINA AGUILERA (2002)

While not *technically* a 90s song, I'm still including it because Kylie Jenner made this video relevant again. Those dirty AF blue hair extensions, the assless chaps, THE BODY JEWELRY—she made slutty chic. Not all heroes wear capes, people. She was also single-handedly responsible for every dress code violation phone call my mother received about me from grades 8-12. *starts a slow clap*
8. "ALWAYS BE MY BABY" — MARIAH CAREY (1995)

Aka the reason I thought butterfly hair clips were a statement piece. She spends this entire music video swinging over a lake in a classic jean-on-jean ensemble, looking as angelic as her voice sounds.
9. "WANNABE" — THE SPICE GIRLS (1996)

The original Plastics, these girls are responsible for stereotypes in cliques and my hideous metallic mini dress in middle school. Also for giving my boyfriend an excuse to "get with my friends."
10. "AARON'S PARTY (COME GET IT)" — AARON CARTER (2000)

Again, not exactly a 90s song but I couldn't not include this one. First of all, Aaron Carter is, what, 9 in this music video? Maybe? And he's throwing fucking ragers while his parents are out to dinner? I applaud you, son. Also the fact that a third grader is rapping on a bicycle in a fur coat while middle school girls grind up on him. I'd be lying if I said I didn't want to be one of those middle school hoes. And you'd be lying too.
Anddd now I have "Aaron's Party" stuck in my head. Brb I'm just going to do something productive bang my head against a wall until I stop singing rap lyrics written by and for a 12-year-old.