Grammys 2018 Recap: Justice For 'Despacito'
To call the Grammys an award show is generous. It's an hour of performances from some artists you love, some you hate, and then a couple of ungodly mash-ups of the two, distributed throughout two and a half hours of commercials and a cumulative five minutes of award presentations. Returning to New York for the first time in 15 years, the 60th Annual Grammy Awards were everything we've come to expect from the Recording Academy's biggest night: star-studded, long-winded, and (save a few absolute standout moments) generally lacking in any kind of message. In all honesty, it was a bit of a letdown.
Remember two weeks ago at the Golden Globes when you couldn't go five minutes without a woman standing up and declaring that Time's Up? Remember that time that Oprah started a goddamn revolution on live national television? The Grammy's didn't have that, maybe because women weren't given the opportunity to make a statement. Even Lorde, the only female nominee for Album of the Year, was shut out from performing. Because, you know, we needed multiple showings from Bono and Sting. They really encapsulated music in 2017.
The Host
James Corden hosted the Grammy's for the second year in a row, and it's like someone got the memo that the last thing the world wants to hear right now are the opinions of white men, because his involvement was minimal. His introduction of "the most diverse group of nominees in Grammy history and the least diverse host" really served to highlight that point.
Of his various segments throughout the night (a well-meaning but flat Subway Carpool Karaoke, a cute guest appearance by his parents, a one-sided bit with Jay-Z about Ney York) one stood head and shoulders above the rest. The auditions for the audio recording of Fire and Fury would have been a memorable skit no matter what (Cardi 2020 anyone?), but no one was adequately prepared for the moment that our Lord and Savior Hillary Clinton made an appearance to drag the President to filth.

Listening to her read about Trump's paranoia and love for McDonalds revitalized my cold, dead soul. Our wigs: snatched. Our crops: flourishing. Donald Trump's blood pressure: skyrocketing.
The Awards
Of the nine awards presented on air tonight, few went to the nominees that I thought should have won. Does my opinion matter all that much? Obviously Not really. But the collective opinion of Twitter does, and we happened to be in the same school of thought on this.
Best Rap/Sung Performance: "Loyalty" – Kendrick Lamar featuring Rihanna
I thought Rihanna being on stage this early in the night could only a good sign, a harbinger of things to come. I was wrong.
Best New Artist: Alessia Cara
Okay, I have a lot of feelings about the Best New Artist category as a whole. Namely, that none of the artists actually nominated (with maybe the exception of Khalid) are actually new. As Charlamagne repeated on a constant loop on The Breakfast Club this morning, Alessia Cara's debut album came out in 2015. Anyone who even remotely pays attention to R&B (so like, nobody who works at the Grammys apparently) would be aware that SZA (who should have won) has been on the map since 2015, when she was already selling out 1,000-capacity venues. It's like they choose the Best New Artist by polling the white grandpas at the Recording Academy to see who they've heard of, and the first person to get name recognition wins the Grammy. The one good thing about Alessia Cara taking home the award is that she's literally the only female artist who won a performance award last night, which is cute for an award show that was supposedly about empowering women.
Best Pop Solo Performance: "Shape of You" – Ed Sheeran
Wouldn't it have just been so cool if that, in the year and award season dominated by the conversation around sexual assault and the treatment of women, a song about a woman confronting her longtime sexual abuser took home a Grammy over the song that a man sings about the literal shape of a woman's body? Wow. Could have been a timely message or something. Ed didn't even show up to accept it because he fucking knew.
Best Rap Album: DAMN. – Kendrick Lamar
It doesn't seem like there was a lot of competition here if we're being honest. Jay Z probably could have stood a chance if 4:44 existed anywhere other than Tidal. Then again, you know no one is going to let him win anything for an album written entirely about that time he cheated on Beyoncé. People don't forget, Jay.
Best Comedy Album: The Age of Spin & Deep in The Heart Of Texas – Dave Chappelle
The Grammys decided to broadcast the Best Comedy Album award presentation this year and literally no one understands why. Not even the comedians. Please cut to a baffled Jerry Seinfeld one more time because his reactions to this show are all of us trying to figure out why he's there, sitting front row.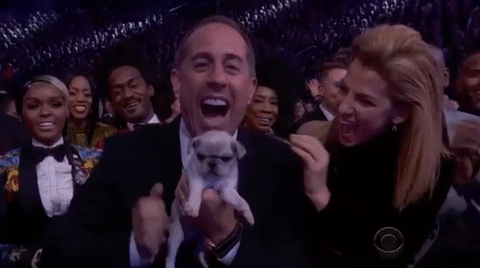 Best Country Album: From A Room: Volume 1 – Chris Stapleton
I know nothing about country music but based off everything that happened tonight, this Chris Stapleton guy is a big deal. Congrats dude. I won't think about you for even a second until this same time next year. Have a nice 2018.
Everything Else: Bruno Mars
Bruno Mars was the big winner of the night, taking home six total Grammys, among them Song of the Year ("That's What I Like"), Record of the Year ("24K Magic"), and Album of the Year (24K Magic). It's crazy, because Childish Gambino was in those same categories, sitting in that same room, and breathing the same air as Bruno, but it's fine.
Let's talk about AOTY for a second. The Grammys always culminates with the Album of the Year, and like many years before, I both could not fathom Kendrick Lamar's album not winning (replace with Beyoncé in 2017 and 2013), and I was simultaneously positive that the Grammys would do some mayonnaise shit like give Lorde Album of the Year. I'm sorry, but I don't even think Lorde listened to Melodrama. 
However, the Recording Academy sort of surprised us by giving Album of the Year to Bruno Mars and 24K Magic. I say "sort of" surprised because a hip-hop album hasn't won this award since 2004—it went to Outkast's Speakerboxxx/The Love Below—but I suppose the Recording Academy could have made a worse choice, like for instance giving the award to Reputation despite the fact that it wasn't even submitted this year. (I really would not have put it past them. Tell me I'm wrong.)
The wildest part? During his acceptance speech for Record of the Year, Bruno Mars gave a shout-out to his band that was watching at home. Excuse me? This man just swept the fucking Grammys and he couldn't swing an invite for his band? Ice cold.
Julio, do not get the stretch. Let Bruno and his awards Uber their asses home.
 The Performances
We started the show off with Kendrick Lamar, who gave us a military-themed police brutality performance of "XXX" and "DNA" off his nominated album, DAMN. Because it's the Grammys, naturally Kendrick couldn't perform alone, so he was joined by Dave Chapelle and Bono, who likely heard something politically charged was happening and just rushed the stage without invitation.
The performance, which would momentarily pause and cut to Dave Chappelle who would say things like "the only thing more frightening than watching a black man be honest in America is being an honest black man in America," ended with every single one of Kendrick's black male backup dancers falling to the sound of a gunshot. The night is off to a subtle and fantastic start.
Lady Gaga gave us the mash-up of "Joanne" and "Million Reasons" that I didn't know I needed but will listen to every single night before I go to bed for the rest of my life. Her performance was toned down by Lady Gaga standards, which means that she sat at a piano covered in gigantic angel wings and ended her performance draped across it.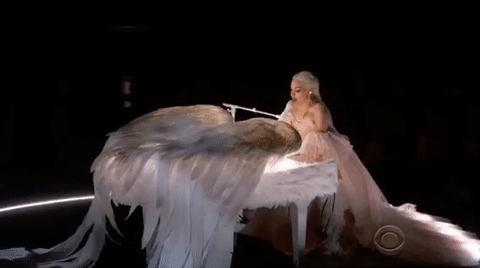 Sam Smith performed "Pray" and while it was lovely I couldn't help but sit and wonder where the hell his adorable 13 Reasons Why boyfriend was and why we were getting no audience shots of him.
Let's take a second to talk about the performance that we have literally all been waiting for:
"Despacito." Don't come at me and tell me this song was overplayed. It was quite literally the only good thing to come out of 2017 and the fact that it didn't walk away with a single Grammy is my supervillain origin story. Justice for "Despacito."
Hot take: Daddy Yankee is the Puerto Rican Vinny Guadagnino. Tell me I'm wrong.
Next up, we were treated to a performance from the only man who could follow "Despacito" and not make me angry: Childish Gambino.
We're going to pause this Grammy coverage just to establish really quick that Donald Glover is the single most underrated part of an already underrated movie: Magic Mike XXL. This has nothing to do with anything that happened last night but somebody had to say it, and it for some reason I've been given a platform to do so.
The only thing that could possibly make this performance of "Terrified" better? The arrival of KD McCrary, aka Young Simba in the new live action Lion King. You know who plays old Simba? Donald Glover. There's just two Simbas up on stage make America weep and it's FINE. We're FINE.

A Pink performance not featuring aerial silks?? Sounds fake.
What's crazy is that Pink and I are wearing near identical outfits as I write this, except I'm on my couch covered in takeout crumbs and she's performing at the Grammys. Also when she opens her mouth, magic and angels fly out and when I open mine, it sounds like a cat is drowning. Otherwise we have much in common.
If you started losing steam by this point, you were not alone. The Grammys are not a sprint, and also not even really a marathon. I'd compare them more to an Iron Man, because at one point you're convinced you'll drop dead. In this case, it's less because of physical activity and more because you have never been exposed to this much Sting in your entire life.
Luckily, Bruno Mars (but more importantly Cardi B.) came out to inject some much-needed energy into the room with their first live performance of "Finesse." Idea for next year: just have Cardi perform everyone's songs. Watch those ratings soar.
DJ Khaled, Rihanna and Bryson Tiller's performance of "Wild Thoughts" was momentous because it gave the world something that we very much needed but definitely don't deserve: dancing Rihanna. Not even DJ Khaled's near-constant and completely unwarranted monologue throughout the song could ruin her.

Maren Morris, Eric Church and the Brothers Osborne perform Eric Clapton's "Tears in Heaven" as a tribute to the victims of the Las Vegas Shooting. You know, that mass shooting that happened at a country concert a couple months ago that Republicans conveniently just forgot about. It was the only country portion of the night I could tolerate. Yeah, I'm talking about you, Little Big Town.
While we're on the topic, let's fucking talk about Little Big Town. This looks less like a band and more like two couples from Tennessee who met at swinger's party one night and then decided to start singing songs written by Taylor Swift. I have no idea where these people came from because in my memory they both never existed and simultaneously have been performing at the Grammy's for as long as I can remember. It's like they get trotted out once a year to remind us all that they exist before heading back into whatever back room the Recording Academy stores them in.
Moving on to the single most important thing to happen all night: Kesha.
After an emotional introduction by Janelle Monae, the first person all night to actually address anything Time's Up-related, Kesha took the stage alongside Cyndi Lauper, Camilla Cabello, Bebe Rexha, Julia Michaels, and Andra Day to perform "Praying," the song in which she addresses the years of (alleged) abuse she suffered at the hands of actual piece of living garbage, Dr. Luke.

There's not a lot to say here other than I am still experiencing full body chills, hours after the performance ended. She looked so good. She sounded so good. I was so outrageously proud of her despite having literally nothing to do with this performance or any personal connection to Kesha IRL.
Getting up on stage and speaking your truth to your peers, colleagues, idols, and the American public is one thing. Getting up on stage and publically addressing your abuser to a room full of people who STILL WORK WITH HIM is another level of brave. At the very least Kesha deserves our respect, and more than that, she deserved to win in every category "Praying" was nominated.
After guest starring in Kesha's ovation-worthy performance of "Praying" (don't worry, we'll get there) Camilla Cabello, a Cuban-Mexican immigrant, comes out with a message about the Dreamers before introducing U2, who performed "Get Out of Your Own Way" on the Hudson River, in front of the statue of liberty. Even Donald Trump, a man lacking any sense of nuance, should be able to pick up on the message here.
Elton John stars in a tribute to himself alongside Miley Cyrus, a natural pairing that nobody questioned. Let it be said that Miley looks so good. Turns out all you need to get your life together is to have constant access to sex with Liam Hemsworth, who knew? Though I will say the longing looks she kept throwing Elton's way made me uncomfortable. Like, she couldn't twerk on Elton John so I guess she had to settle for biting her lip and looking at him with bedroom eyes while he played the piano, completely unfazed.

Beyoncé and Elton John are two of only three people who can get away with wearing sunglasses indoors at the Grammys. The third is obviously Rihanna, who can do literally anything she likes.
After hearing that they were a little out of touch with the times, the Recording Academy thought it was a good idea to throw some Broadway performances into an already staggeringly long broadcast. I would say this failed except that Ben Platt is an absolute gem and I would literally watch Patti Lupone read a grocery list, so I guess it worked. Remember when Ben was just the nerdy magic guy in Pitch Perfect? Wow. What a glow up.
SZA's performance of "Broken Clocks" erred on the side of subdued, probably because she just sat through three hours of being snubbed for every award she was nominated for. I wouldn't really be in the mood to perform either.
The night ended with Alessia Cara, Khalid, and Logic taking the stage, which annoyed me until Logic went off script and started talking about equality and giving a much deserved shout-out to the "shithole countries" out there.
If you made it to the end of the broadcast you deserve an award, like reading this recap that was almost as long as the actual show. Pro-tip for next year Grammys: more Rihanna and Cardi B, less old, white rock stars who haven't released a new song in 20 years. Thanks.
The Full List Of Grammy Award Winners
Record of the Year: 24K Magic by Bruno Mars
Album of the Year: 24K Magic by Bruno Mars
Song of the Year: "That's What I Like" — Christopher Brody Brown, James Fauntleroy, Philip Lawrence, Bruno Mars, Ray Charles McCullough II, Jeremy Reeves, Ray Romulus & Jonathan Yip, songwriters (Bruno Mars)
Best New Artist: Alessia Cara
Best Pop Solo Performance: "Shape Of You" by Ed Sheeran
Best Pop Duo/Group Performance: "Feel It Still" by Portugal. The Man
Best Traditional Pop Vocal Album: Tony Bennett Celebrates 90, (Various Artists) Dae Bennett, Producer
Best Pop Vocal Album: (Divide) by Ed Sheeran
Best Dance Recording: "Tonite" by LCD Soundsystem
Best Dance/Electronic Album: 3-D The Catalogue by Kraftwerk
Best Contemporary Instrumental Album: Prototype by Jeff Lorber Fusion
Best Rock Performance: "You Want It Darker" by Leonard Cohen
Best Metal Performance: "Sultan's Curse" by Mastodon
Best Rock Song: "Run" by Foo Fighters
Best Rock Album: A Deeper Understanding by The War On Drugs
Best Alternative Music Album: Sleep Well Beast by The National
Best R&B Performance: "That's What I Like" by Bruno Mars
Best Traditional R&B Performance: "Redbone" by Childish Gambino
Best R&B Song: "That's What I Like" — Christopher Brody Brown, James Fauntleroy, Philip Lawrence, Bruno Mars, Ray Charles McCullough II, Jeremy Reeves, Ray Romulus & Jonathan Yip, songwriters (Bruno Mars)
Best Urban Contemporary Album: Starboy by The Weeknd
Best R&B Album: 24K Magic by Bruno Mars
Best Rap Performance: "HUMBLE." by Kendrick Lamar
Best Rap/Sung Performance: "LOYALTY." by Kendrick Lamar featuring Rihanna
Best Rap Song: "HUMBLE." — Duckworth, Asheton Hogan & M. Williams II, songwriters (Kendrick Lamar)
Best Rap Album: DAMN. by Kendrick Lamar
Best Country Solo Performance: "Either Way" by Chris Stapleton
Best Country Duo/Group Performance: "Better Man" by Little Big Town
Best Country Song: "Broken Halos" by Mike Henderson & Chris Stapleton, songwriters (Chris Stapleton)
Best Country Album: From a Room: Volume 1 by Chris Stapleton
Best New Age Album: Dancing On Water by Peter Kater
Best Improvised Jazz Solo: "Miles Beyond" by John McLaughlin, soloist
Best Jazz Vocal Album: Dreams and Daggers by Cécile McLorin Salvant
Best Jazz Instrumental Album: Rebirth by Billy Childs
Best Large Jazz Ensemble Album: Bringin' It by Christian McBride Big Band
Best Latin Jazz Album: Jazz Tango by Pablo Ziegler Trio
Best Gospel Performance/Song: "Never Have To Be Alone" by CeCe Winans
Best Contemporary Christian Music Performance/Song: "What A Beautiful Name" by Hillsong Worship
Best Gospel Album: Let Them Fall in Love by CeCe Winans
Best Contemporary Christian Music Album: Chain Breaker by Zach Williams
Best Roots Gospel Album: Sing It Now: Songs of Faith & Hope by Reba McEntire
Best Latin Pop Album: El Dorado by Shakira
Best Latin Rock, Urban or Alternative Album: Residente by Residente
Best Regional Mexican Music Album (Including Tejano): Arriero Somos Versiones Acústicas by Aida Cuevas
Best Tropical Latin Album: Salsa Big Band by Rubén Blades Con Roberto Delgado & Orquesta
Best American Roots Performance: "Killer Diller Blues" by Alabama Shakes
Best American Roots Song: "If We Were Vampires" by Jason Isbell And The 400 Unit
Best Americana Album: The Nashville Sound by Jason Isbell And The 400 Unit
Best Bluegrass Album: Laws Of Gravity by The Infamous Stringdusters tied with All The Rage – In Concert Volume One by Rhonda Vincent And The Rage
Best Traditional Blues Album: Blue & Lonesome by The Rolling Stones
Best Contemporary Blues Album: TajMo by Taj Mahal and Keb' Mo'
Best Folk Album: Mental Illness by Aimee Mann
Best Regional Roots Music Album: Kalenda by Lost Bayou Ramblers
Best Reggae Album: Stony Hill, Damian "Jr. Gong" Marley
Best World Music Album: Shaka Zulu Revisited: 30th Anniversary Celebration by Ladysmith Black Mambazo
Best Children's Album: Feel What U Feel by Lisa Loeb
Best Spoken Word Album (Includes Poetry, Audio Books & Storytelling): The Princess Diarist by Carrie Fisher
Best Comedy Album: The Age Of Spin & Deep In The Heart Of Texas by Dave Chappelle
Best Musical Theater Album: Dear Evan Hansen — Ben Platt, principal soloist; Alex Lacamoire, Stacey Mindich, Benj Pasek & Justin Paul, producers; Benj Pasek & Justin Paul, composers/lyricists (Original Broadway Cast Recording)
Best Compilation Soundtrack For Visual Media: La La Land by Various Artists
Best Score Soundtrack For Visual Media: La La Land by Justin Hurwitz, composer
Best Song Written For Visual Media: "How Far I'll Go" — Lin-Manuel Miranda, songwriter (Auli'i Cravalho)
Best Instrumental Composition: "Three Revolutions" — Arturo O'Farrill, composer (Arturo O'Farrill & Chucho Valdés)
Best Arrangement, Instrumental or A Cappella: "Escapades For Alto Saxophone And Orchestra From Catch Me If You Can" — John Williams, arranger
Best Arrangement, Instruments and Vocals: "Putin" — Randy Newman, arranger
Best Recording Package: El Orisha De La Rosa by Claudio Roncoli & Cactus Taller, art directors (Magín Díaz) tied with Pure Comedy (Deluxe Edition) by Sasha Barr, Ed Steed & Josh Tillman, art directors (Father John Misty)
Best Boxed Or Special Limited Edition Package: The Voyager Golden Record: 40th Anniversary Edition — Lawrence Azerrad, Timothy Daly & David Pescovitz
Best Album Notes: Live At The Whisky A Go Go: The Complete Recordings — Lynell George, album notes writer (Otis Redding)
Best Historical Album: Leonard Bernstein – The Composer — Robert Russ, compilation producer; Martin Kistner & Andreas K. Meyer, mastering engineers
Best Engineered Album, Non-Classical: 24K Magic — Serban Ghenea, John Hanes & Charles Moniz, engineers; Tom Coyne, mastering engineer (Bruno Mars)
Producer Of the Year, Non-Classical: Greg Kurstin
Best Remixed Recording: "You Move (Latroit Remix)" — Dennis White, remixer (Depeche Mode)
Best Surround Sound Album: Early Americans — Jim Anderson, surround mix engineer; Darcy Proper, surround mastering engineer; Jim Anderson & Jane Ira Bloom, surround producers (Jane Ira Bloom)
Best Engineered Album, Classical: Shostakovich: Symphony No. 5; Barber: Adagio — Mark Donahue, engineer (Manfred Honeck & Pittsburgh Symphony Orchestra)
Producer of the Year, Classical: David Frost
Best Orchestral Performance: Shostakovich: Symphony No. 5; Barber: Adagio — Manfred Honeck, conductor (Pittsburgh Symphony Orchestra)
Best Opera Recording: Berg: Wozzeck — Hans Graf, conductor; Anne Schwanewilms & Roman Trekel; Hans Graf, producer (Houston Symphony; Chorus Of Students And Alumni, Shepherd School Of Music, Rice University & Houston Grand Opera Children's Chorus)
Best Choral Performance: Bryars: The Fifth Century — Donald Nally, conductor (PRISM Quartet; The Crossing)
Best Chamber Music/Small Ensemble Performance: Death & The Maiden — Patricia Kopatchinskaja & The Saint Paul Chamber Orchestra
Best Classical Instrumental Solo: Transcendental — Daniil Trifonov
Best Classical Solo Vocal Album: Crazy Girl Crazy – Music By Gershwin, Berg & Berio — Barbara Hannigan (Orchestra Ludwig)
Best Classical Compendium: Higdon: All Things Majestic, Viola Concerto & Oboe Concerto — Giancarlo Guerrero, conductor; Tim Handley, producer
Best Contemporary Classical Composition: Higdon: Viola Concerto — Jennifer Higdon, composer (Roberto Díaz, Giancarlo Guerrero & Nashville Symphony)
Best Music Video: "Humble" by Kendrick Lamar
Best Music Film: The Defiant Ones by (Various Artists)
The Best & Worst Looks At The 60th Annual Grammy Awards
Last night was the 60th Annual Grammy Awards, and the celebrity red carpet looks did not disappoint. Actually, JK. If you were reading a regular fashion roundup, these looks would be considered "non-disappointing." But here, where we live for the opportunity to shit on any and all things fugly, I am disappointed to announce that for the most part, everyone looked pretty good at this year's Grammys. The only person who looked totally awful was that chick who wore the Make America Great Again gown last year. Her name is not even worth Googling, so I'll save you the time and let you know that someone wore a pro-life dress with a fetus design on it. I don't know who keeps inviting this bitch, but it's time they tighten up security at the Grammys. It's just embarrassing at this point. Anyway, here are the celebrities who killed the red carpet… and a few who missed the mark for good measure. Let's be honest, a best dressed list gets boring faster than a Bachelor group date without alcohol.
THE BEST
Cardi B

Cardi B could have rolled up in a Fashion Nova bodycon and Steve Madden heels and we'd all still say she was the best dressed because America is a cult and Belcalis Almanzar is our fearless leader. Obviously, she looked absolutely amazing in an Ashi gown with—you guessed it— Christian Louboutin bloody shoes. She literally looks like an angel with actual wings. *insert Cardi okurrrr chirp here*
Chrissy Teigen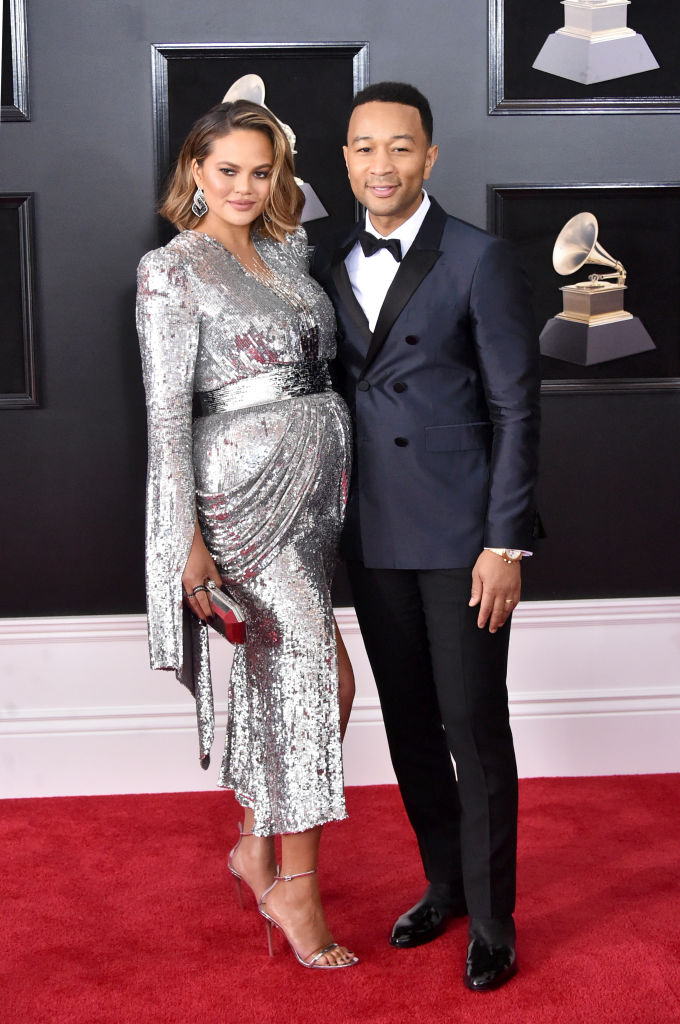 Chrissy Teigen always looks perfect, so seeing her on a best dressed list is as likely as finding an empty bottle of Jergens and a crushed Big Mac box in Trump's bathroom trash can. Her Yanina Couture gown would make anyone else look like a disco ball, but she worked it.
Lady Gaga

Gaga's red carpet style has relatively calmed down (…kind of) recently, but this look is a pretty good happy medium of classic shocking Gaga and some of her more subtle looks. This Armani gown is obv stunning, but she kept it on brand with a Daenerys Targaryen looking braid. She also took off the ball gown skirt, revealing a lace bodysuit for the actual ceremony. Sitting next to Lady Gaga at an award show is apparently no longer a risk for injury.
SZA

First-time Grammy attendee and person-who-definitely-should-have-won-Best-New-Artist, SZA may have just created one of my favorite red carpet looks ever. This Atelier Versace gown is like, the definition of looking effortlessly perfect. She makes the Disney Princesses look like total scrubs.
Eve

I think we're finally past the point where when a female celebrity wears a pantsuit on a red carpet, everyone's like "OMG this is so new and cutting edge!" Like, this isn't 1850. I'm glad we're not shocked by pants anymore. Anyway, Eve's striped sparkled pantsuit is a little Beetlejuice, but overall dope AF.
Maren Morris

Maren Morris's silver cutout dress is like, two cutouts away from looking like a glitter glue snowflake made by a kindergartener, and it kind of reminds me of that dress Ariel Winter wore to the Modern Family premiere, but it still definitely works. It's amazing. She also spoke out about gun control while on the red carpet, which is something country stars with a conservative fan base generally try to avoid. Basically, Maren is a bad betch who DGAF about following rules and I'm kind of obsessed with her now.
Miley Cyrus

*Billy Ray Cyrus voice* My lil' Miley Ray done growed up! Okay, but actually, Miley is giving us serious old Hollywood vibes with this red gown. Her performance was also incred and didn't even involve any uncomfortable licking… even if it did involve a number of uncomfortable flirty looks at Elton John. Baby steps, I guess.
THE WORST
James Corden

You'd think that the host of the fucking Grammys would take the time to make sure his suit was properly fitted, but you'd be wrong. The front was like, not ironed and the proportions of it made him look like this bird:

James changed halfway through the show, probably because somebody fired his stylist on the spot.
Sarah Silverman

Not sure how Sarah Silverman got ahold of Cady Heron's Halloween dress, but it wasn't the best choice for the red carpet.
Lil Uzi Vert

I know being an emo rapper is like, low-key his thing (think about it…), but I feel like with the amount of money Lil Uzi Vert has, he probably could have bought his outfit somewhere a little more upscale than Hot Topic. Maybe I'm just salty because if this look had happened when I was in middle school, I would have been the most trendy girl in 8th grade. And yet, that chain probably cost more than my apartment *Clutches my black pencil eyeliner, whispering "all my friends are dead" and weeping to myself*
Julia Michaels

From far away, Julia's gown is totally fine. However, when you look closer, you'll find that it's bedazzled with butterflies. Fucking butterflies. The skirt of this dress looks like it was made out of curtains from the set of an American Girl Doll catalogue photo shoot. In other words, it's a full-on Monet.
P!nk

P!nk is pretty open about the fact that she literally does not give a shit about what she wears, but like, come the fuck on. There's a difference between showing up in something boring because you can't be bothered to care, and putting on… whatever the fuck this is. It's like, half muppet, half fuzzy flip flops you wore to cheer camp in middle school. How many Truffula Trees had to die for this dress, P!nk?
Jenny McCarthy

Genuinely thought this photo of Jenny McCarthy was of a mannequin of a store called like, "Mystique" or some shit that you can't tell if it's supposed to be trashy club wear or literal S&M stuff. When you add in the outdated Katy Perry hair and the inexplicable sunglasses indoors, I feel like I'm looking at a female police officer character in a video game. I wasn't sure what Jenny McCarthy was doing at the Grammys before, and now I'm even less sure.
The Worst Grammys Fashion Looks Of All Time
Eh, no offense, but the Grammy Awards are kind of the most boring music award show. Besides the Milli Vanilli lip sync scandal of 1990 (which like, doesn't even count because that was basically 100 years ago), the Grammys are usually relatively scandal-free. The VMAs seriously get all the good drama. Anyway, it's still a pretty decent chance to talk shit, because there are always going to be a few guaranteed heinous outfits. In honor of the upcoming 60th Grammy Awards, let's take a stroll down memory lane and rip on some of the ugliest outfits to ever grace the Grammys red carpet.
Katy Perry, 2017
Katy Perry is one of those celebrities that most people dislike, but can't exactly explain why. She was super likable at the beginning of her career when she was wearing cupcakes as clothing, but somewhere along the line, she became totally unbearable. I think this dress may have been that turning point.

Iggy Azalea, 2015
Iggy's dress isn't necessarily horrible, but this hairstyle is another story. As you'll probably remember (if your brain is filled with memes instead of useful information, like mine), this braid sparked tons of memes, comparing Iggy's head to everything from a bird's nest to a loaf of challah. Honestly, I'm craving a Panera broccoli cheddar bread bowl just looking at this.

Nicki Minaj, 2012
In 2012, Nicki Minaj wore a very confusing Versace cape and took a dude dressed as the Pope as her date. I'm assuming she had a reason for dressing like this to the Grammys, but this was six years ago, and if I can't remember it, it's irrelevant by now.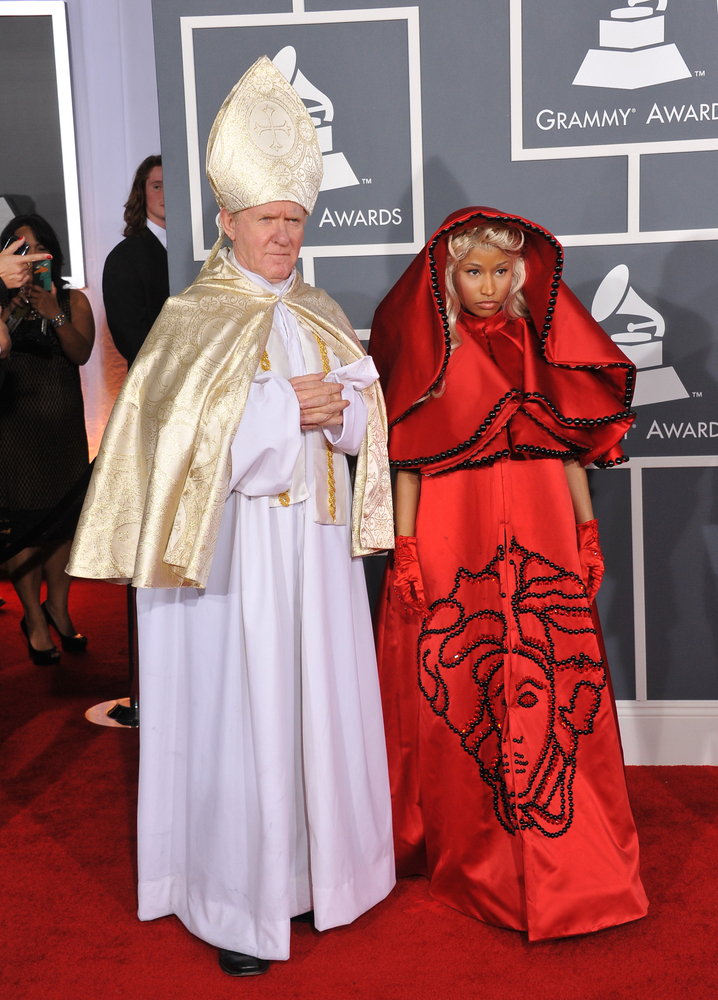 Taylor Swift, 2008
In 2008, the world was a better place. Taylor Swift didn't have bangs yet and was still a sweet little country singer. Although I will cherish this year as the least annoying Swift year since she became famous, this red carpet look is tragic. It really screams "my parents are letting me go to prom with an upperclassmen this year, but my curfew is 9:30."
Taylor attended GRAMMYs for the first time in 2008 at the age of 18! She had 1 nomination! #GRAMMYs #TaylorSwift pic.twitter.com/JUAcSKZwe1

— T (@LegionellaT) February 15, 2016
Dencia, 2016
I have no idea who Dencia is, but when you Google her, her Wikipedia job description is "entrepreneur." Does that mean she sells LipSense on Instagram? Anyway, she wore a onesie with stuffed Hello Kitty dolls hanging from it and bejeweled crotch wings. Goodbye.

Lady Gaga, 2010
I was really trying to avoid including Lady Gaga in this list, because the rules just like, don't apply to her. If she wants to wear a meat dress, we're going to let her wear a meat dress, and we're not going to say anything about it. However, this dress should have been stopped. It's just plain rude to go to a seated event decked out in spikes and hoops.

M.I.A., 2009
This dress is… a lot. It looks like a beach umbrella from CVS. I'm confused as to why M.I.A., who attended the 2009 Grammy Awards on her literal due date, would choose to wear a dress with as much fabric as physically possible while simultaneously trying to show off her baby bump.

Sheryl Crow, 2002
I got a feeling I'm not the only one who effing hates this outfit. Sheryl Crow's 2002 outfit is exhausting to look at, so please just insert your own "Soak Up the Sun" joke in reference to her ugly frameless sunglasses. I'm not even going to dignify that cape or romper with a joke.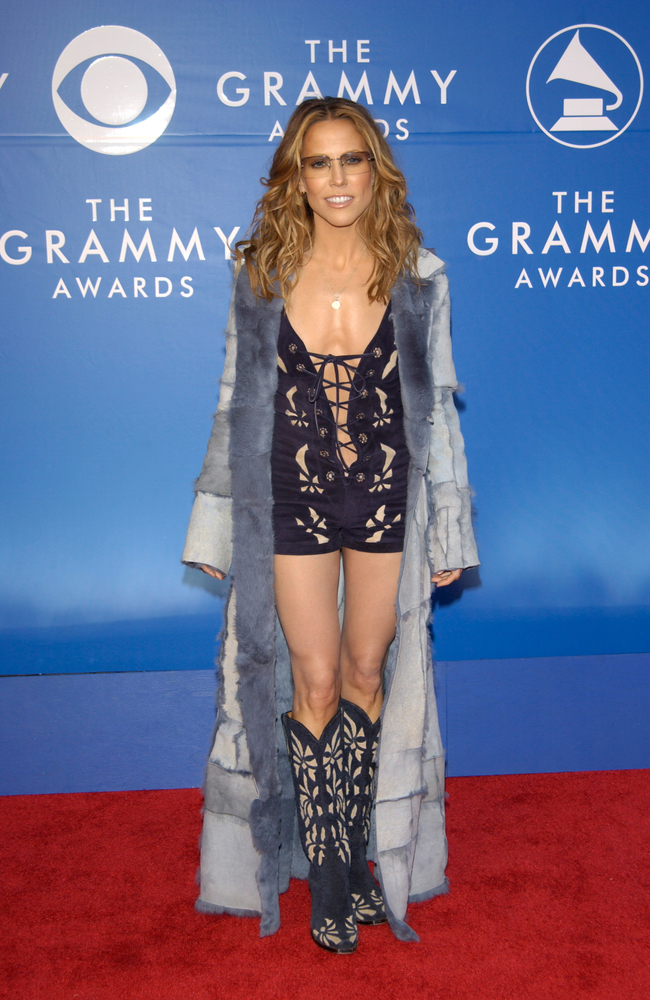 Joy Villa, 2017
At the 2017 Grammys, Joy Villa wore the fugliest dress that has ever graced a red carpet in award show history. Obviously, this was a publicity stunt, because nobody would wear a "Make America Great Again" gown unless they were super desperate for attention. Unfortunately, it didn't work, because I still don't know who the fuck Joy Villa is and needed to Google "Ugly Trump dress Grammys" to find out.