UPDATED: Multiple Insensitive Episodes Of '30 Rock' Are Getting Taken Down
UPDATE: As was expected, more shows are being forced to deal with their use of racially insensitive portrayals. On Wednesday, Variety reported that Hulu took down three episodes of Scrubs due to their use of blackface. This decision reportedly came at the request of ABC Studios and the Bill Lawrence, the show's creator. On Twitter, Lawrence was asked about Scrubs in response to the 30 Rock news, and he agreed that the episodes should be taken down, saying that the move was "already in the works."
Original Article: For many people, the last few weeks have been an important period of reexamining what modern-day racism looks like. Many of us were taught in school that racism is an evil that was mostly extinguished with the Civil Rights movement of the 1960s, but that's just not true. Racism still exists in every corner of society, from governmental systems to workplaces and even to the movies and TV that entertain us.
This week, NBCUniversal decided it would pull four episodes of 30 Rock from streaming services and TV reruns due to racially insensitive content, namely, the use of blackface. The request for the episodes to be removed came from executive producers Tina Fey and Robert Carlock, with Fey writing an open letter to the various platforms that currently distribute 30 Rock. She wrote, "As we strive to do the work and do better in regards to race in America, we believe that these episodes featuring actors in race-changing makeup are best taken out of circulation." She said that she now understands that "'intent' is not a free pass for white people to use these images," and apologized for "pain they have caused." She concluded by saying that "Going forward, no comedy-loving kid needs to stumble on these tropes and be stung by their ugliness."
A source confirmed to Vulture that the episodes have already been taken down from some platforms, and will be completely gone by the end of the week. Of the episodes in question, two feature Jane Krakowski in blackface as Jenna Maroney—one as part of a Halloween costume, and one in a storyline where she and Tracy agree to an "experiment" in which they swap identities to see who has it harder in America, black men or white women. Even one of these instances would have been bad, but NBC had to take down four?
Just think about that. In a critically-acclaimed, award-winning show that premiered less than 15 years ago (in 2006), there were FOUR different episodes deemed problematic enough that they should no longer be shown. The most recent of the episodes, which featured guest star Jon Hamm in blackface, first aired in 2012, just eight years ago. It's alarming that NBC, a network that follows strict guidelines when it comes to language and sexual content, apparently found no red flags with multiple instances of blackface used for comedic effect.
With the renewed focus on racially insensitive material, content distributors are reevaluating problematic material across the board. Earlier this month, HBO Max removed Gone With The Wind from their streaming platform over its depiction of slavery, and announced they will bring it back with content warnings and an introduction from scholar Jacqueline Stewart explaining why the film is problematic. Amazon, meanwhile, is considering removing the classic 70s and 80s show The Dukes of Hazzard from their platforms. The Confederate flag is featured in every single episode of the show, and the car that plays a central role is nicknamed General Lee.
It seems likely that more shows and movies will be reexamined in the coming days and weeks, but racism isn't the only issue at hand. This week, Comedy Central made the decision to pull a 2011 episode of Workaholics, in which Chris D'Elia guest stars as a child molester. Last week, D'Elia was accused of sexual harassment and inappropriate contact with numerous underage girls, but he has denied all the allegations. Ironically, D'Elia also played a pedophile in the most recent season of You, but Netflix hasn't made any comment about that show.
While instances like 30 Rock's blackface depictions are coming up in conversation again, insensitive content in TV and movies is far from an isolated issue. In the past, we've discussed problematic moments in some of our favorite shows like Sex and the City and Friends, both of which are still widely available to binge in 2020. I have a feeling that these 30 Rock episodes are the first of many that will be looked at again with a more critical eye and possibly removed.
Images: Tinseltown / Shutterstock.com
5 Times Our Favorite Shows Tried To Tell Us About Hollywood's Sexual Harassment Problem
In case you've been living under a rock recently, sexual harassment has kind of been having a moment. I mean, if you talked to women ever you'd probably know that sexual harassment's "moment" has lasted throughout all of human history, but whatever. While the rampant sexual abuse in the entertainment industry may have come as a surprise to men some people, for those of us who watch TV like it's our fucking job, *points to self* it's come as less of a surprise.
Some of our favorite TV shows, movies, and award shows were sounding the alarm about creeps like Harvey Weinstein for years, but nobody gave a fuck because like, sexual harassment wasn't having its moment yet. So here's a look back at five times Hollywood literally told us Harvey Weinstein was a fucking creep, and we just totally failed to notice it because we were too busy with other shit.
1. '30 Rock'
30 Rock, aka one of the best, most binge-watchable comedies ever, came for Harvey in both their sixth and seventh seasons, wayyyyy back in 2012. (Ugh, 2012, I miss you. I want to go to there.) And who better to do it than one of the betchiest characters ever created, Jenna Maroney? In season six Jenna says, "I'm not afraid of anyone in show business, I turned down intercourse with Harvey Weinstein on no less than three occasions … out of five." She then comes for Harvey again in season seven, with the fairly disturbing line, "Look, I get it. I know how former lovers can have a hold of you long after they're gone. In some ways, I'm still pinned under a passed-out Harvey Weinstein and it's Thanksgiving."
So, first of all, yikes. Second of all, wow, I can't believe nobody noticed this. In our defense, 30 Rock does have like, 25 jokes per second, so it's hard to zone in on one and decide it's real and not just some crazy shit Tina Fey came up with. Sidenote: Does this mean Mean Girls is real, too?
2. Seth McFarlane At The 2013 Oscars
In case you, like me, blocked out Seth McFarlane's sad 2013 attempt at hosting the Oscars (he literally performed a song called "We Saw Your Boobs" directed at Hollywood actresses, because apparently the Oscars are middle school), you may have missed this joke he made while announcing the nominees for best supporting actress:
"Congratulations. You five ladies no longer have to pretend you're attracted to Harvey Weinstein."
Hmm…well that's…fairly explicit. But again, these are comedians! Are we supposed to take everything this guy says seriously? He created Family Guy, for fuck's sake. According to McFarlane, he wrote the joke after a friend of his confided in him about Weinstein's behavior, and while he didn't want to blow up her spot, he "couldn't help but take a hard swing in direction." He also added, "make no mistake, this joke came from a place of loathing and anger."
Damn Seth, tell us how you really feel tho.
3. 'Entourage'
This one is like, so explicit I'm almost embarrassed for not remembering it—but then again, I kind of turned my brain off any time I was watching Entourage, so who can blame me, really?
Entourage literally featured a character named Harvey Weingard (subtle), who was a giant, fat, mean monster played by Maury Chaykin. It is "widely believed" that this character was inspired by Weinstein. Um…yeah…ya think?
"Do you know who I am? You're gonna beg to get back into the pizza business," Weingard yells in one scene, because like, in addition to being a sexual predator, Harvey Weinstein was also just kind of an asshole.
4 Asia Argento's 'Scarlet Diva'
This one is legit sad and disturbing, so let me issue a trigger warning right here: sad and disturbing shit head. One of Harvey Weinstein's accusers, actress/director/generally brave person Asia Argento, legitimately depicted her encounter with Weinstein in her film Scarlet Diva.
Asia tweeted out the scene (again, there's trigger warning here) shortly after her allegations against Weinstein came to light, proving that this shit has been on the surface all along.
5. 'Girls'
Final shot of @girlsHBO ep "American Bitch" (with Matthew Rhys) that I directed, also entrance to Harvey Weinstein's apartment pic.twitter.com/dwWrc1tzK0

— Richard Shepard (@SaltyShep) October 7, 2017
Lol, y'all didn't think I'd get through this list without a mention of Lena Dunham, did you? In this episode in the last season of Girls, Lena's character meets with a writer she once greatly admired, but now has "disturbing allegations of sexual misconduct" surrounding him.
Disturbing allegations of sexual misconduct, you say? Who does that sound like?
And if you're like, "Eh, that could be about any powerful man," (sad but true, TBH) the director actually hid a clue to the character's inspiration in the final shot. At the end of the episode, Lena (aka Hannah) walks right past Harvey Weinstein's actual NYC apartment, as if to say "I know what you did, and I know where you live." Damn. Savage. Not sure if Harvey Weinstein watches Girls but like, if he does, that must have been pretty shocking.
So there you have it. Turns out half the shit we binge watch while getting stoned on the couch was actually trying to signal very important messages to us.
Here Are The Best Movies And Shows Coming To Netflix In October & What's Leaving
Few things affect our social calendars quite like Netflix these days. Each month, new shows and movies come and go, and we're morally obligated to keep up with them, since we paid so much for our subscriptions still have access to our ex-boyfriend's former roommate's login info. We can't just not take advantage of all this amazing content another reason to cancel plans, so we've mapped out everything that's arriving (and leaving) next month, so you can schedule Netflix and chill the fuck out, accordingly.
First, what's leaving on October 1st, aka what you need to aggressively binge watch RN:
1. '30 Rock' Seasons 1 – 7
One of the greatest shows of all time. For those who haven't seen it, it's like Unbreakable Kimmy Schmidt, except funny.

2. 'Friday Night Lights' Seasons 1-5
Clear eyes, full five seasons in one day, can't lose.
3. 'Love Actually'
Obviously the best (Christmas) movie ever. This better be back before December, WTF?

4. 'One Tree Hill' Seasons 1-9
An angsty teen classic, mostly useful for deciding whether you're more into Nathan or Lucas on any particular day, depending on your mood.
5. 'Titanic'
In case you want to reserve three hours to weep sometime within the next week.

And now what's arriving in October, aka what you have to look forward to next month:
1. 'Blood Diamond'
Featuring Leo DiCaprio, this is a quality action flick that's fast-paced and based on events that happened IRL. It's about conflict diamonds in Sierra Leone (see also: "Diamonds From Sierra Leone" by Kanye West), so it's not exactly a comedy, but well worth a watch if you're down for something intense.

2. 'I Love You, Man'
Aside from the fact that Paul Rudd, in this movie and in perpetuity, is America's spirit animal, I Love You, Man is simply an all-around good time and perfect for any Netflix occasion. The duo of Rudd and Jason Segel is beautifully awkward and v enjoyable to watch, making this a crowd favorite among betches and bros alike.
3. 'Miss Congeniality' (1 & 2)
Sandra Bullock kicks ass in this movie as an FBI agent going undercover in a beauty pageant. It's kind of a staple of being a betch, so you def need to watch it if you haven't already. Like, if it weren't for Miss Rhode Island, how would we know that April 25th is the perfect date, because "it's not too hot, not too cold, all you need is a light jacket"?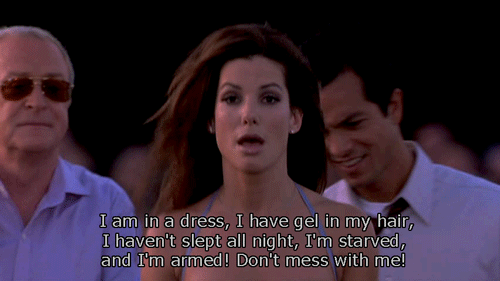 4. 'Made of Honor'
TBCH I've never seen this, but as a C-list rom-com featuring Patrick Dempsey, it feels like a movie I will soon be watching while extremely hungover on a rainy Sunday.
5. 'Stranger Things' Season 2
This is most definitely the highlight, in my professional opinion. It debuts on October 27, just in time for you to buy some discount Halloween candy (after you've already worn your slutty costume, obvi) and crush the entire season in one weekend. The '80s inspired thriller is gripping, funny, and heartwarming at the same time, and it's all anyone's going to be talking about at work. We are so ready to go back to the Upside Down and to witness more Winona Ryder going full cray.