The Most Dramatic Celebrity Breakups Of 2020
I think we can agree that 2020 was the most dramatic season year of all time. But you know who it was especially tough for? Lol no, not your grandma in her nursing home you idiot, I'm talking about celebrity couples. That's right, they were dropping like flies this year, and I can only assume that's because once you strip away the ability to jet off to exotic locations or drink tequila with George Clooney at Soho House and realize you're stuck spending every waking moment on the couch with a fellow narcissist with an eighth grade education, you start to reevaluate your decisions. And reevaluate they did. Some quietly (Olivia Wilde and Jason Sudeikis), and some very, very, messily. And that's who I want to focus on today because, well, it's more fun for me. So now that 2020 is mercifully taking its final breaths, let's look back at the most dramatic celebrity breakups of the year. 
Demi Lovato and Max Ehrich
I mean, yes, anyone with eyes and ears living on this planet saw this breakup coming a mile away. But could we have predicted the drama with which it ended? Fine, probably also yes, but boy has it been a beautiful gift in this bucket full of sewage water masquerading as a year. Let's look at what went wrong here. Back in March, when we were all still naive souls with perfectly maintained gel manicures, Demi and Max got together. She popped up accidentally on his IG live at the end of the month, and that's when it was officially confirmed they were dating. So I guess that means people watch his IG live then? What a sad world we live in. By July they were engaged, and by the end of September it was over. Shocking! And the rumor was his intentions were not genuine and he was using her for PR. Even more shocking! Now this is where it gets good. Max claimed on his Instagram stories that he heard about their breakup through a tabloid, which tbh sounds right about the level of respect this relationship deserved. Demi dropped a song called "Still Have Me" and he dropped an insane IG live comparing himself to Pete Davidson. 
not max ehrich dragging the ariana & pete situation in his mess.. also his acting is so bad pls pic.twitter.com/N3BAHddSRT

— h❀ (@fentgrande) October 2, 2020
Then he called the paparazzi on himself crying on the beach, which for me is just a regular Saturday and not really a photo-worthy event, but sure Max, whatever you need to do for relevance. Rumors were swirling that he wouldn't leave Demi alone, and then we finally made it to the People's Choice Awards, hosted by Miss Demi Lovato herself. She mentioned the engagement and breakup in her monologue, and of course Max jumped on that.
HIM TALKING ABOUT CLOUT? MAX EHRICH? OUT OF ALL PEOPLE? pic.twitter.com/nHESRD4OX2

— ً (@soIoIovato) November 19, 2020
It's like the breakup that never ends. AND THEN, we finally got our punishment for even entertaining this man for one second: his debut single.
View this post on Instagram
As if we haven't all been through enough. 
Megan Fox and Brian Austin Green
I was really rooting for these two. Not that many couples that got together when one was a practically a teenager and one was a grown man really go the distance, but in the 15 years they were together they managed to get married, have three kids, and only cancel one divorce somewhere in the middle. Is that a love story straight from Shakespeare, or what? Sadly, BAG confirmed their split this May, after Megan was spotted hanging out with Machine Gun Kelly. Megan and MGK met on the set of  Midnight in the Grass, a movie produced by MY MAN aka RAND aka Randall Emmett, so I guess it will be as good as Gotti. This split started to get superrrrrr messy over their kids. My apologies for using children as a basis for my story, but their parents did it first.
First, Megan posted this shot with MGK. 
View this post on Instagram
Sweet, I guess. In, like, an Angelina wears a vial of Billy Bob's blood kind of way. 
So naturally, a 47-year old man would respond to that this way. 
Achingly beautiful boys…… My heart is yours pic.twitter.com/eWQwcblhg2

— Brian Austin Green (@withBAGpod) August 5, 2020
I wonder how it feels to be this petty? I imagine exhilarating at first, but then the crushing shame spiral hits. Not speaking from experience, of course. 
Then on Halloween, Brian Austin Green posted a photo with their youngest child Journey in the frame and Megan just DRAGGED him in the comments. 
View this post on Instagram
I honestly have such secondhand embarrassment from their drama. If Megan was any older I'd assume she meant to send a private text but instead accidentally responded in the comments like my grandpa sometimes does, but considering this message isn't in all caps and signed by name like a grandfather would do, I suspect it was on purpose. Why anyone would do this is beyond me.  Maybe to shame her ex, maybe to make herself look better, maybe to use big words to prove my eighth grade education claims wrong? Whatever the reason, y'all are gross. BAG didn't respond, but he did repost the picture with the kid cropped out. How mature of both of them.
Colton Underwood and Cassie Randolph
We all know this story. Boy goes on reality TV show. Boy falls in love with girl. Boy jumps fence for girl. Girl begrudgingly agrees to be with boy for Instagram sponsorships. It's beautiful, it's magical, it ends in a restraining order. Back in May, Cassie and Colton announced their breakup, with Colton saying, "some people are just meant to be friends." I'd imagine that's especially true in cases where one person doesn't really like the other, right Cassie? Things seemed amicable-ish until September, when Cassie filed a restraining order against Colton, accused him of sending unsettling text messages, and placing a tracking device on her car. TBH I think we could have all guessed that a man who would jump a fence for a woman wouldn't be stopped from placing a tracking device on her car because of a pesky little thing called the law. Consider it jumped. Days before the court date in November, Cassie dismissed the order against Colton. Apparently they came to a private agreement. I bet those texts were even more unsettling. 
View this post on Instagram
Yeah, risking arrest. 
Vanessa Morgan and Michael Kopech
Any other Riverdale fans out there? Because I'm worried about Toni Topaz. Vanessa Morgan got married to White Sox pitcher and Brielle Biermann's ex, Michael Kopech, in January of 2020. In April, she posted about his birthday on Instagram. And then in July she announced she was pregnant. 
View this post on Instagram
It seemed a little weird that she referred to the child as "my baby boy" instead of "our baby boy" but hey, she's the one who's going to have to push a living being out of her vagina, so I guess it's really her prerogative to refer to him in whatever way she wants. Then, just three days later it was reported that Michael had filed for divorce in June. WHAT?! Her rep confirmed that Michael is the father of her child and that's literally it. Complete and utter radio silence about the matter. Like, quieter than me during that final court scene in The Undoing quiet.  I think this one is so dramatic because I'm dying for answers and they won't give them to me. Is anyone reading in the confidence of Vanessa Morgan and willing to betray her trust for a curious writer in the tristate area? PLEASE?
Offset and Cardi B
Look, I know these two are back together, but they're on and off so much that maybe by press time they'll be broken up again and I'll be right. I'm taking my chances. In September it was reported that Cardi B and Offset were to divorce after three years of marriage. The rumors were that he was unfaithful, she hit a breaking point, and finally filed for divorce. He had previously been caught cheating three months after they got married, and then in 2018 they welcomed daughter Kulture. Between then and now, A LOT of drama has happened. Bartenders at a strip club claimed that Cardi B ordered an attack on them for allegedly cheating with Offset, Cardi and Offset split in December 2018 with her claiming they grew out of love, Offset begged her to come back on Instagram, and they reunited officially at the 2019 Grammys.
Now, I'm no relationship expert—I share a bed with my dog—BUT I think it's safe to say maybe these two should break up? Personally, I think once hitmen get involved the government should force you to divorce. But apparently these two can't stay apart. In October 2020, one month after filing for divorce, Cardi and Offset got back together, with her sharing on Instagram live "It's really hard to have no dick." Well, can't argue with that logic *shrugs*.
View this post on Instagram
The modern love note.
Armie Hammer and Elizabeth Chambers
Armie Hammer, star of the recently released Rebecca, both twins in The Social Network, but mostly just hot rich person, broke up with his wife Elizabeth Chambers after 10 years of marriage. Considering their love story is about as exciting as soggy white bread, you wouldn't expect their breakup to be that dramatic, right? Well, well, well you'd be wrong, because after wasting his prime sexy years on one lady, Armie is finally free to put his dick in everything he can find. First, he was spotted out with Rumer Willis looking prettyyyyy cozy. Then he was rumored to be dating Josh Lucas's ex-wife, Jessica Ciencin Henriquez, and some app founder named Courtney. Now the word is that Armie is dating an Instagram model named Paige Lorenze. And according to submissions on DeuxMoi, Armie was not with his kids for Thanksgiving, and Elizabeth was caught liking an Armie hate account. EEK. This is a bad look and I love it. Is there anything more satisfying than nearly 40-year-olds acting like drunk, vengeful teens? I think not. 
View this post on Instagram
That's a divorce look if I ever saw one
And those are this year's messiest breakups! Although, with a few days left in 2020, it's anyone's guess what will happen.
Images: Kathy Hutchins / Shutterstock.com; fentgrande, sololovato, withBAGpod/Twitter; maxehrich, meganfox, commentsbycelebs, bachelorabc, vanessamorgan, offsetyrn, armiehammeradoration/Instagram
Were Cole Sprouse And Lili Reinhart Broken Up This Whole Time? An Analysis
This just in, y'all: 2020 might actually be my year after all! Am I saying this because we finally found a vaccine for COVID-19 and can now shed our mole-people skin and live our lives doing truly wild things like breathing indoors amongst other people without covering our mouths and noses? Lol no. Am I saying this because my clip-on bang extensions finally came in the mail and I am about to look fire AF for my next zoom happy hour? Still no (but only because as my mother, hairdresser, the checkout girl at Walgreens, and Sweetest Betch You'll Ever Meet tried to tell me, I look like a prepubescent boy with bangs). I'm saying this because Cole Sprouse is back on the dating market! That's right: #Bughead is dead. In the irreverent words of Dylan O'Brien: 2020 is f*cking relentless. 
2020 is fucking relentless https://t.co/MsUyqHdGfU

— Dylan O'Brien (@dylanobrien) August 19, 2020
After months of speculation, will they/won't they articles, and a thorough breadcrumbing of the general public on their relationship status, we finally have confirmation that Cole Sprouse and Lili Reinhart have broken up. Yesterday Cole took to Instagram to post a picture of what was either a nature candid of Lili or stock image from Taylor Swift's "Cardigan" music video with a caption detailing the circumstances of his breakup. In the post he wrote:
"Lili and I initially separated in January of this year, deciding to more permanently split in March. What an incredible experience I had, I'll always feel lucky and cherish that I had the chance to fall in love. I wish her nothing but the utmost love and happiness moving forward. All I'll say about it, anything else you hear doesn't matter.
Also her movie comes out soon! I'm sure she's just as incredible in it as everything else she does. Thanks guys ❤️" 
Let's take a minute to unpack this. First of all, I love that he took the time to clarify the exact date range of their romantic demise. It's like he knew I was going to research the astrological significance of this time frame so I could use this as a reason to justify why I was ghosted in the spring. Also, the phrasing of a "more permanent split" feels very much like they both felt the weight of COVID and the CDC's wild guidelines for safe sex during a pandemic and decided their relationship wasn't worth salvaging—at least not if it meant f*cking through a sheet. Sad!
I will say, as far as breakup posts go, this is very mature and very sweet. He even took the time to plug her new movie! I can't even get my ex to complete my Venmo request for his last bar tab, let alone get him to do something like encourage people to support my life's work. For shame. 
Cole's post comes after a rocky year for the couple—like, rockier than the G&G plotline during season three of Riverdale. First there was the now infamous W Magazine cover shoot from the summer of 2019 where the two dressed in Twilight cosplay and looked absolutely miserable together, sparking rumors that the two of them were donezo, only for them to take to Instagram posting THE SAME PHOTOS with the captions "you don't know sh*t" and successfully trolling us all. We were then treated to a year of musings about the couple's relationship status, religiously stalking their Instagram feeds looking for any shred of evidence that the two were more than just amicable coworkers.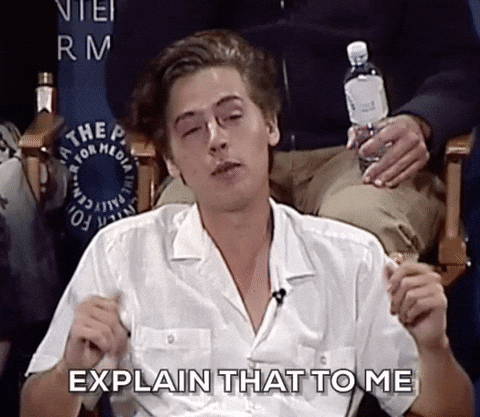 Then, earlier this summer, Cole was accused of sexual assault by an anonymous Twitter account and, despite speculation of a breakup, Lili rushed to his defense on Twitter. It was later discovered that this account had made multiple false claims and there were no charges filed against Cole. 
Which brings us to August 2020. In an interview with Refinery29, Lili talked about upcoming projects and her mental health. She spoke about how the coronavirus has affected her mentally, specifically saying, "The last couple of months have probably the most emotional few months of my entire life and my therapist me, 'Your body's going through withdrawal from love." She went on to say: "You're used to having this exchange of happy chemicals between you and the person that you're with… In moments of my life, I have dropped every ounce of pride that I had just to be like, 'Love me. Please take the pain away for a day, a second, an hour,' just so I can feel that fix again."
The internet, along with every tween Riverdale fan (and myself), took this to mean that the two had finally called it quits. Lili was quick to clarify on Twitter that her comments were taken out of context and she would like us all to kindly back tf out of her business, thx. She clarified that in the interview she was not talking about being depressed over her breakup, but rather the depression she's struggled with over the last few months. 
Quotes taken from my most recent interview are not about a "breakup." They are about the depression I've felt over these last few months. Tired of people taking my words out of context and piecing together their own story for clickbait.

— Lili Reinhart (@lilireinhart) August 18, 2020
A day later, Cole officially confirmed their breakup on Instagram. So, there you have it folks! Cole and Lili are no more. While I'm sad for them, I'm THRILLED for the added angst that's about to go into their characters' Riverdale sex scenes. Now, if you need me, I'll be here googling photography and meadery conversation starters, and other ways in which to slide into Cole's DMs. 
Don't miss out on any pop culture or entertainment news. Subscribe to our weekly newsletter here. 
Images: @colesprouse /Instagram (1); @lilireinhart /Twitter (1); @dylanobrien /Twitter (1); giphy (1)
'Too Hot To Handle' Star Harry Jowsey Told Us About His Dramatic Breakup
First comes Love Is Blind, then comes marriage, then comes yet another f*cking reality dating show. It's 2020, and most of us can relate to being isolated and isolated and sex-starved, but imagine this: you're champagne-wasted on a free beach resort vaca surrounded by super hot people…the catch is, you're literally not allowed to hook up with anyone unless you want to lose money. Harry Jowsey, the Australian hunk from Netflix's reality dating show Too Hot To Handle, has experienced this ~traumatic~ experience firsthand. On the most recent episode of the Let Me Finish podcast, Taylor Jackson and Abby Lloyd sat down with Harry to discuss his recent breakup, sex, and breakup sex. 
Harry and his THTH costar Francesca Farago, a Canadian model and Instagram personality, left the show together, broke up, then got engaged during the reunion special. But, in true influencer fashion, Francesca announced their second split via a YouTube video entitled "Our Break Up." According to Harry, he was totally blindsided by the video, since he and Francesca had actually filmed a joint video explaining their breakup. "Everything was going to be civil, but she posted her video and it kinda just had a whole bunch of fabricated stories to attack me," he said. "And I was like, I've got receipts and everything." (Screenshots, screenshots, screenshots, people.)
The dramatic breakup has, understandably, been pretty tough on Harry's mental health. In addition to anxiety attacks and a loss of appetite, he's been getting attacked by commenters on his Instagram and TikTok accounts. "I don't know what happened with me and Francesca because we had a great relationship, the breakup wasn't bad, we just didn't see eye-to-eye on a whole bunch of stuff," he said. "Then that video got posted and then she just kept sending this tirade of hate toward me and my friends and my family, and I was like, 'I don't know who she's talking to or who's in her corner, because this isn't the girl that I know." As if the heart-wrenching breakup weren't bad enough, Harry now has to call in his lawyers. "It's gotten to a point where it's affecting my brand…so I'm like okay, everything you're saying is a lie, so…" We're here for this passive aggression.
Francesca rebounded quickly, while Harry—who really is too hot to handle IRL, Abby confirms—has been easing back into the dating game. Just this weekend, he took a girl to dinner then to a party with a bunch of Gen Z TikTok stars (seems like a pretty sh*tty date idea, but that's just me). Turns out, his date had ~history~ with one of the other guys there and ended up leaving with him, so Harry ended the night, declaring, "Okay, I'm calling an Uber, I'm going home." I mean, we've all been there. On the bright side, this means that Harry is single….He reports that he's into tattoos, girls that text first, and post-breakup sex, so slide on into those DMs, ladies.
For more on Harry's love and sex life, listen to the full interview on the latest episode of the Let Me Finish podcast.
Images: harryjowsey / Instagram
8 Celebrity Couples We Don't Think Will Make It Through 2020
We're well into 2020 now, which means we can stop bullsh*tting about our New Year's resolutions and start talking about something fun. And by fun, I mean taking a look at which celebrity couples might be at risk of breaking up this year. Every year brings a new cycle of celebrity breakups and new couples, so who knows who might be together by the end of 2020? Will I be dating a Jonas brother? Truly, only time can tell.
Before you come for me in the comments, I'm not coming for anyone or wishing them heartbreak. I'm just using context clues and my powers of intuition to make some guesses about who might be headed for a breakup in 2020.
Channing Tatum & Jessie J
Channing and Jessie have just recently gotten back together, and Channing has already been going hard on Instagram, both flaunting and defending his relationship. I guess this is sweet, but I don't see it as a great sign for long-term success. The lady doth protest too much, ya know? When they were dating before, they always kept things more low-key, so we'll see how this new approach turns out.
Miley Cyrus & Cody Simpson
It seems like it was years ago that we were talking about Miley's sloppy post-divorce social media behavior, but it's actually been less than six months. Time flies when you have Cody Simpson's tongue down your throat. Ew, I'm so sorry I said that. Cody and Miley have chilled out considerably since the first month or two of their relationship, but I still feel like Miley is still figuring her sh*t out and not like, about to go get married again anytime soon. No offense to Cody, but I think he's getting dropped by summer.
Nicki Minaj & Kenneth Petty
Just yesterday, I broke down Nicki Minaj's epic Twitter feud with her ex Meek Mill, and I have a feeling her messy energy is going to be hard to escape in 2020. She basically seems obsessed with her husband Kenneth, but I just have a feeling that things might crash this year. I might be totally wrong, but if these two split up, I called it first.
Shawn Mendes & Camila Cabello
Well, who would've thought? 2019's most talked about PR stunt of a couple is still going strong, so I guess they're just waiting for their relationship contract to expire. I'm surprised there wasn't a clause that they could stop pretending after "Señorita" hit number one!
Gigi Hadid & Zayn Malik
Gigi and Zayn have just been spotted together again in the last month, and it looks like they're dating again. When it comes to their on-again, off-again relationship, I feel like Gigi and Zayn definitely have that ~first love~ pull toward each other. I totally get it, but I also don't feel like they're going to be together in the long run. Call me a pessimist, but I wouldn't still want to be with the dude I dated when I was 20.
Halsey & Evan Peters
Halsey used to rub me the wrong way, but I've really been loving her lately. Still, she has a chaotic energy that seems like it could get exhausting in a relationship. Also, she and Evan Peters still feel like a mismatched couple. He used to be with Emma Roberts, who literally couldn't be more different than Halsey. These two will probably break up sometime in the next few months, but no one will notice until Halsey starts dating someone new six months from now.
Timotheé Chalamet & Lily-Rose Depp
Congrats to Timothee Chalamet and Lily Rose Depp on what appears to be both of their first ever kiss pic.twitter.com/2HvkBQiWat

— na'ama⁷ (@iknownaama) September 8, 2019
These two are so young and so hot, and I just don't think couples like this are meant to last. They met while doing a movie together, but I'm sure their busy schedules will make it tough to keep things going this year. Also, those photos of them making out were rough, so they could both benefit from spending time with partners that are a little more…um… experienced.
Pilot Pete & Whoever He Picks
I'm always skeptical of couples who meet on Bachelor shows, but this trash season of The Bachelor has me feeling even less confident than usual. ABC means to tell me that Peter is really going to spend the rest of his life with one of these baby influencers, when they've been too busy arguing to even get to know him? Nah, I'm not buying it. The second the contract is up, Peter's going to be single again.
Do you think I'm wrong about any of these? I probably am, so let me know in the comments! Also, lmk which other couples you're on high alert for, because 2020 is just getting started, and you know there are lots of breakups to come.
Images: Matt Winkelmeyer/Getty Images; channingtatum, mileycyrus, nickiminaj, camila_cabello, zigiphotos, iamhalsey, pilot_pete / Instagram; iknownaama / Twitter
For more, subscribe to our Betches Newsletter