5 Fashion Trends We Don't Want To See In 2019
Since our last article on this subject just a mere few months ago, 2018 hasn't gotten any better. As if 2018 couldn't kick us in the nuts any harder, Pete and Ariana called off their engagement, the Keto diet has been deemed unhealthy (bye to my excuse for binge eating cheese), and Apple decided to start letting us know exactly how much time we waste per week just staring at our phones. Awesome. As if these tragic events aren't excuse enough to just spend the rest of December blacked out until the new year, fashion trends haven't gotten any less tragic, either. Which is why I'm here writing this article. I'm here to extend our previous list for the worst trends of 2018 and finally put to rest all of 2018's terrible trends that we're ready to say "thank, u next" to come 2019. Alright, let's do this.
1. Tiny Sunglasses
This was a trend that was huge this summer (I mean duh, cause like, sun) but the season has ended and it still hasn't gone away. Look, I was on board for a minute, bought myself a few cheap cute pairs to get some like-worthy Instas, but after that, c'mon, what's the point??? They legit do not even do their only job of keeping the sun out of your eyes. Not to mention that if they're not sitting on the exact right spot on the bridge of your nose then you look like the three blind mice, just like, without your other two blind friends. I'm so done with this impractical trend. Take me back to the early 2000s, the days of Paris and Nicole, and their obnoxiously oversized sunnies. At least with the huge ones I feel glamorous, not like a wannabe Insta model, and I'm actually shielding my eyes from the sun. In fact, with oversized sunnies, I'm shielding like, half of my face from the sun. Uhmmm, who needs expensive eye cream from Sephora when oversized sunnies are #antiaging at its best?
2. Fanny Packs
Now, I don't know that I want to totally deem fanny packs done. But, I do know for certain that I want to go ahead and classify the trend of wearing your fanny pack across your chest as dunzo. Fanny packs in their original form with their intended use actually do make sense, and are in fact quite practical. However, slung across your chest, they become a useless seatbelt-adjacent accessory that pretty much looks stupid on everyone who isn't a celebrity. And, tbh, I don't love it on celebrities, either. Not to mention how extra terrible this trend looks on anyone who is bigger than an A cup. Like, I don't look like a stylish fashion blogger with a huge fanny pack across my chest. I look like your crazy aunt who probs keeps some hard candies, Xanax, a flask, and some Gas-X in her fanny pack. Not cute.
3. Exaggerated Sleeves
If you have tried consuming an actual meal while wearing a trendy exaggerated sleeve then you know exactly why this trend needs to die with 2018. Not only have I officially dipped them in every sauce imaginable, but I've also gotten caught on enough door handles to justify just burning all my big-sleeved tops right now. I'm not going to wait until I dip my sleeve in my festive holiday candle and set my entire being aflame before just deeming this trend done. Over it.
4. Newspaper Boy Hat
If you haven't Insta'd in a newsboy hat, then there's no way you're influencer-level enough to be hawking FabFitFun boxes. I mean, nothing says ~fashion~ like a trendy newsboy hat that everyone and their mom is wearing, right??? Even though I'm deeming this trend over, that's not to say with the potential Lizzie McGuire reboot that everyone's been whispering about that this trend may not come right back to bite Gordo in his brown-nosing ass come 2019. I mean, Lizzie wore a newsboy hat so I did. And like, I bought five. So if this trend does want to come back for 2019,  I'm not going to be mad about it.
5. Aggressive Logos
Wearing a Gucci logo T-shirt when you're a celeb is one thing. But, when everyone including your mailman is wearing one, it's no longer cool. Because, simply put, it's no longer exclusive. Like, it's cool when you're just so rich that even just your T-shirts are designer. However, it's not cool when you're a twentysomething living off of your parents and maxing out your credit cards to do so. Let's leave logo-mania to Kylie and Stormi in their full matching Fendi sweatsuits, shall we?
Unlike a Real Housewife on a reunion show, I'm aware of my own potential hypocrisy. I may easily deem these trends "done" just to be wearing them again come 2019. I know fashion is cyclical and, who knows, come January 1st, as I rise from my blackout coma state, I may be decked out in a Gucci tracksuit with a fanny pack across my chest and tiny sunnies resting on the bridge of my nose. Only time will tell. Here's to 2019, betches!
Images: @aaronburson / Unsplash; @kyliejenner, @bhadidnews, @revolve, @weworewhat, @oliviaculpo / Instagram
Please Let Us Know In The Comments If You'd Wear These LaCroix Swimsuits
2018 is a weird time in the world of fashion. Everyone is wearing the tiny sunglasses from The Matrix, you're expected to wear bike shorts in public, and now some insane person has decided that we should also be incorporating yellow into our wardrobes. Hard pass. But perhaps the strangest fashion development yet this year are these incredibly fugly LaCroix swimsuits. Yes, LaCroix, as in the flavored sparkling water that half of you love to pregame with, and half of you wouldn't drink if your life depended on it. I happen to fall in the latter category, but these suits are disgusting no matter what.
LaCroix started to have a major moment a couple years ago, when people apparently first realized that most mixers are, like, not good for you. LaCroix quickly became one of the biggest basic bitch trends, but no one really cares about it anymore. That didn't stop designer Eric Wu from slapping the LaCroix logo on some swimsuits for summer 2018. I'm not sure this truly counts as being a "designer," because I'm pretty sure I could make these same swimsuits on any website that lets you customize T-shirts.
So yeah, the swimsuits are ugly as fuck, but to each his own I guess. The suits come in five different ~flavors~, which are Pure, Lemon Lime, Passionfruit, Pamplemousse, and Cran-Raspberry. Sorry to all you psychopaths who like the coconut flavor, no swimsuits for you. You'll just have to drink that nasty shit in normal clothes like sad peasants. The Pure swimsuit is probably the least heinous, but also I don't trust anyone who drinks the Pure flavor of LaCroix, so this is really a lose-lose situation.
Luckily, there are LaCroix swimsuits for both men and women, so you can guarantee your place as the most cringeworthy couple on the beach this summer with just one online order. The one-piece is $49.50, and the men's trunks are $39.50, because of course the one for women has to cost more. Further evidence that you should not buy these swimsuits! If you and your boyfriend both want to wear these together, congratulations, you truly deserve each other. Now get out of my face and never speak to me again.

So yeah, if I see anyone at the beach this summer wearing these LaCroix swimsuits, they're cordially invited to not be my friend. Hopping on the fun one-piece trend is great and there's nothing wrong with a fun swimsuit, but the obsession with LaCroix has gone far enough. It's fucking sparkling water, guys, it's not that special.
Images: @publicspace.xyz / Instagram; Giphy
Trends From Last Year That Have No Business Staying In Your Closet
There's something about Spring that gives us a sense of revival—you're stowing away the heavy winter coats, shedding those few extra pounds you packed on during hibernation mode, and dropping those fuckboys that you kept around strictly for "cuffing season." But before you start spending your Saturdays drinking rosé on a rooftop somewhere, you should probably go through your closet and do some spring cleaning in preparation for the warmer months.
To help you purge your closet just like you've purged your life (by leaving last year's bullshit in 2017), we've come up with a list of the dumpster fire trends you need to ditch just in time for beach week.
Unicorn Everything
For whatever reason 2017 was the year of pastel unicorn everything. From hair trends to clothes to makeup, everything looked like a mythical creature threw up on it—especially on the grounds of Coachella. So with festival season quickly approaching, let's make an effort to do away with the unicorn trend and reach for chicer variations of bright colors and bedazzled pieces.

Oversize Sweatshirts With Thigh-high Boots
Like most absurd trends, this impractical look was made famous by the royal family of Calabasas. Let's assess for a second: The Kardashian/Jenner sisters really convinced us to romp around in thigh-high heeled boots paired with large, oversize sweatshirts. And in some cases, even T-shirts. And like, fine. I love a comfy sweatshirt as much as the next betch who spends her Sundays hungover on her couch ordering Domino's. But what were we really trying to accomplish with this look? Was it supposed to be sexy yet comfortable? I mean sure it's sexy when you can afford like $1,500 Balenciaga thigh-highs, but to me, this trend just feels like KKW is Regina George when she rocks the tank with the nipple holes. We're all just her army of hopeless skanks following suit.
Corset Belts
If you wear an Hourglass Gal waist trainer to work out and your waist is like 20 inches, I'm really happy for you and I'm going to let you finish but we don't need to see your fake corset belt OVER your shirt in 2018. This trend is almost as bad as when we thought it was a good idea to wear belts just sitting on our hips on top of our long Abercrombie & Fitch tank tops back in like '06.
Chokers
If you've been patiently waiting for the dog collar choker trend to die, 2018 is the year. We're layering dainty gold and silver necklaces in 2018 and tossing out the black velvet chokers that we've been holding on to for dear life for the past few years.

Millennial Pink
What kind of sign is it that the color chosen to represent millennials is the same color as Pepto Bismol? At any rate, it's out with the diarrhea medicine hue and in with Gen-Z yellow.

Fur Slides
Bad gal RiRi gave us the OG faux fur slides with her Spring 2016 Fenty Puma x Rihanna collection, and ever since we've seen some of the worst knock-offs. We're really ready to retire this trend in 2018. Although the idea of adding fur to a pool slide didn't make much sense, they were fun while they lasted. But thanks to the oversaturated, tacky knock-offs it's finally time to lay this trend to rest.
Cork-Heeled Wedges And Heels
We really hope that you don't still have cork-heeled wedges and heels in your closet, but if you do, throw them out. Now. There's something about the warmer months that make basic bitches want to break out cork-heeled shoes like they're synonymous with summer, but we're asking you to please do away with this heinous look. If you've found yourself shoeless after throwing out corked shoes, see our spring shoe shopping guide here.
Worn-Out Leggings
This may seem like an obvious item to toss during your Spring cleaning purge. But considering it doesn't look like the athleisure trend is going anywhere anytime soon, it's time we get rid of ill-fitting, over-worn leggings. Toss out those leggings with the hole in the crotch that make your butt look saggy and treat yo'self with a brand new pair of leggings or jogger pants—because why not spend money on the item of clothing that you spend the most time in?

Images: Kourtney Kardashian, closet.nia, fentyxpuma, tonybianco / Instagram; Giphy (4)
The 5 Biggest Jewelry Trends You'll See In 2018
I have always been a huge fan of jewelry. All the fake bling and dainty hipster rings make me feel bougie, cultured, and artsy in a weird type of way for someone that has literally never left this country. I know, right? It's so embarrassing. I don't even—whatever. Like dating apps, party clothes, and shitty rap music, jewelry has its own evolving trends to keep us from getting bored. This year's trends include a couple of favorites from iconic decades (the 80s and 90s, obviously), and some I'd call avant garde, simply because I don't know a nicer term to describe the cringeworthy pieces. Here are five of the biggest jewelry trends you'll soon see everywhere.
1. Anklets
I couldn't tell you the last time I wore one, but I do know my mother still sports hers every day. Call her ahead of her time, but honestly, I think we're just running out of places to wear dainty pieces of jewelry. When warmer weather comes back around and we're wearing shorter pants again, you'll find yourself contemplating a simple chain with like, a faux diamond or pearl on it.

Giani Bernini Cubic Zirconia Ankle Bracelet in Sterling Silver
2. Asymmetrical Hoops
This year was the comeback of thick oversized hoop earrings, but 2018 will change things up a bit by making asymmetrical hoops a thing. It kind of looks like you lost an earring and were in a rush to grab any earring, so… you did just that. I guess if this is your thing, you'll be happy to know Zara and every other chain retailer will carry their own versions.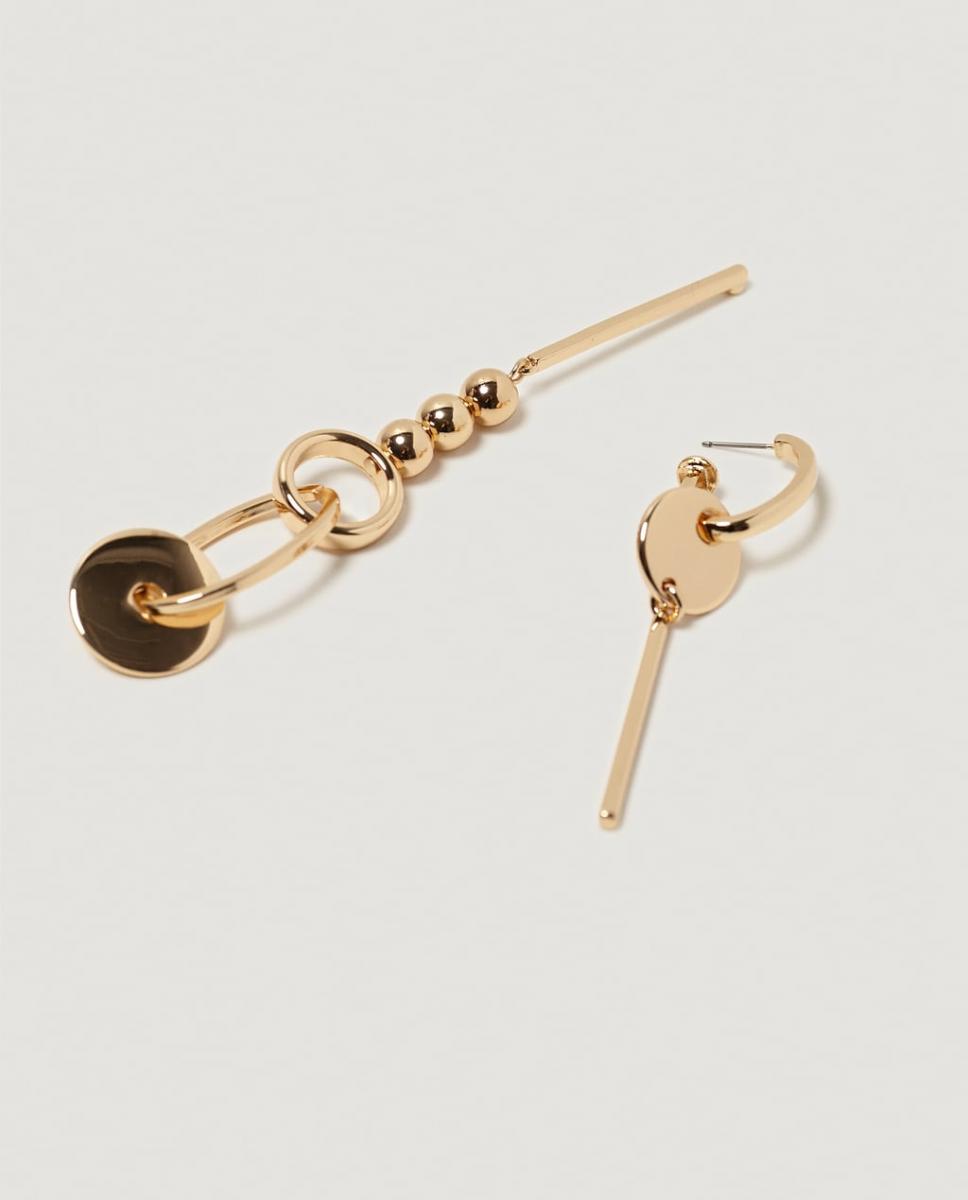 3. Statement Earrings
First, there were statement necklaces, and now, there are statement earrings. These are already popping up on some of our fave celebs, and tbh, they're kind of scary. I mean, they're just so BIG, and like, out there. I feel as though my ear lobe would definitely rip if I ever attempted to wear a pair, but to each their own I suppose. The bigger (and longer) the better will be this year's mantra.

DLNLX BY DYLANLEX Statement Earrings
4. Layered Necklaces
Chokers are sooo 2017, so for your new alternative, opt for a layered necklace. It features a short chain that should fit like a delicate choker, with two longer chains as an added bonus. You'll find yourself collecting different styles covered in the most basic charms, don't say I didn't warn you.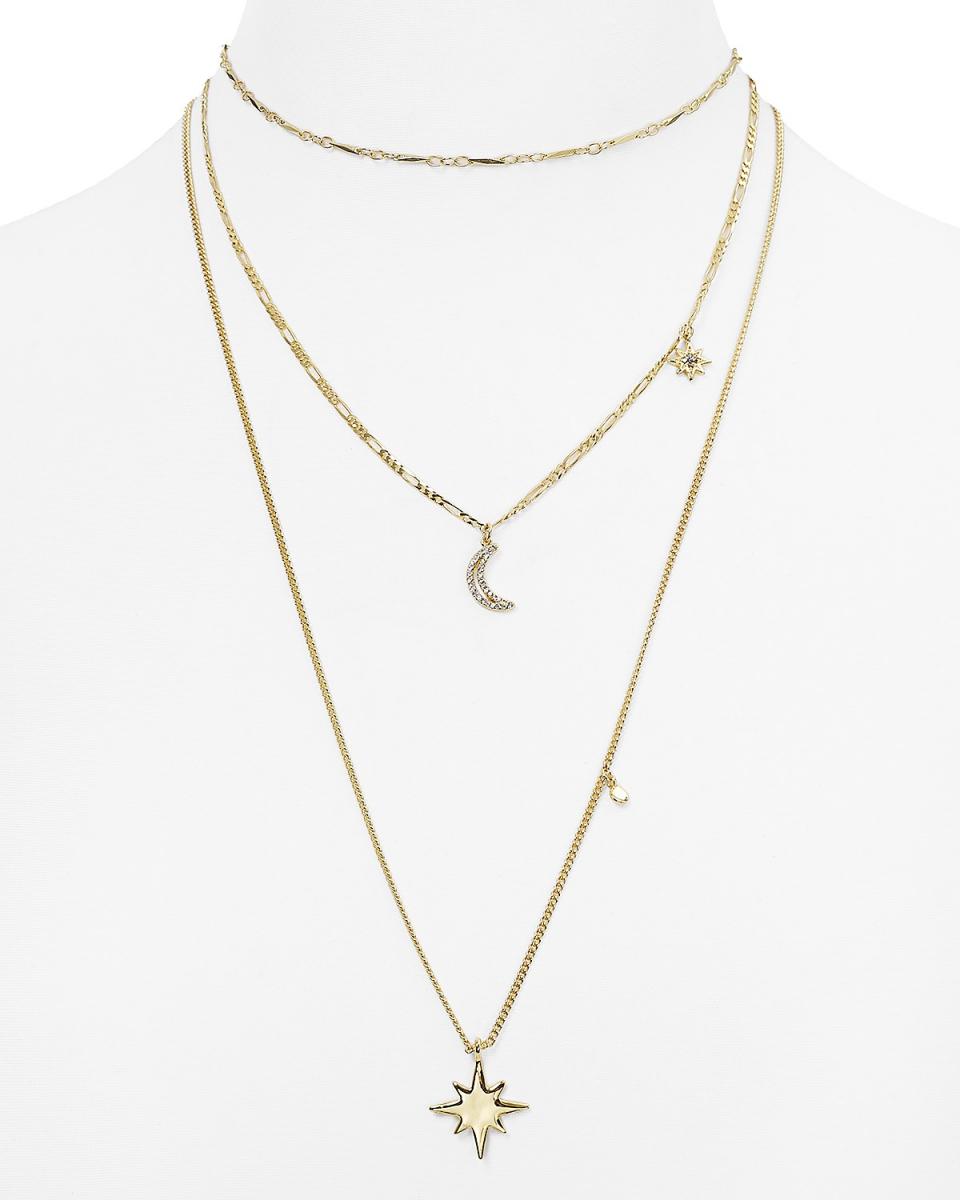 Rebecca Minkoff Layered Necklace
5. Brass Pinky/Midi Rings
A rustic gold touch makes your outfit look like, so vintage. When midi rings aren't enough for one hand, jewelry brands also offer tiny brass additions that look super cute on your pinky. However, if that sounds as ridiculous to you as it does to me, feel free to wear them as midi rings on any desired finger for a v trendy look.

Jennifer Fisher Pipe Pinky Ring
The Weirdest Health & Fitness Trends Of 2018
In case you've been living under a McDonald's-sponsored rock, the predictions for 2018's top health trends were just released and I've been doing an intense investigation into WTF these things are. I've already told you which ones sound somewhat doable, but now I'm gonna talk about the weirdest ones on the list, because there are a lot to choose from. Like, if this shit becomes the new norm, I'm done. I thought the charcoal lemonade at Juice Generation was the weirdest thing for society to accept, but I guess I was wrong. Here are the top 5 most bizarre health trends you'll see in the new year:
1. Eating Weird Shit Like "Moringa"
The health and wellness industry has already convinced people they should be taking ginger shots and drinking turmeric lattes for anti-inflammatory purposes, but now they're springing this new "moringa" product on us. Apparently moringa is some super-green natural supplement found in trees in India, and scientists are trying to convince everyone it's the new kale. Honestly if anyone can try this and get back to me with some real proof I might consider it, but right now I'm okay with all the other supplements I've been convinced to buy over the years. Can we just make up our minds and stick to something?

2. Using Science To "Hack" Our Bodies
I know science is more advanced than ever, but why on earth do we need to start biohacking our bodies? This trend is all about using science to change the things we've been doing that are already healthy, like adding adaptogenic plants to our coffee or using live bacteria to "hack" our skin's microbiome. I understand there are amazing new innovations in the science world, but I don't really get why it has to be a health trend. Like, don't you think we've gone a little too far? Let's let biology do its thing and keep the science out of our cosmetic bags. This trend is bizarre.
3. Making Our Apartments Healthy
Don't get me wrong—I literally swear by my horoscope and I watch Long Island Medium at least twice a week. But like, who actually believes in all these magical crystals and plants to give your home healthy vibes?! It's one thing to invest in a pretty succulent to have on your coffee table, but it's another thing to deck your apartment in Himalayan salt lamps and 50-pound crystals hoping they'll spread positive energy. These things are glorified dream catchers, and I'm not buying it. Save the sketchy incense and essential oils for your yoga class and that stay-at-home mom on your Facebook feed who's clearly involved in an MLM. It's getting weird.

4. At-Home Spin Bikes
Now that you can buy a FlyWheel or Peloton bike for your living room, this trend is blowing up, and frankly I don't really get it. Unless you live in a random town in Bumblefuck, Delaware where there's no SoulCycle within a 50-mile radius, why would you want a spin bike at home?! Aside from the fact that it takes up SO much room and would just end up being used as a towel rack, it's weird. Like, you're gonna have people over for a pregame and just ignore the fact that there's a spin bike in the middle of the room? There's also no chance your workout is as good at home as it is when you have an instructor yelling at you to raise your torque IRL. Just saying.
5. No-WiFi Mental Health Vacations
This trend is actually baffling to me, and I had to reread it about four times to make sure I wasn't hallucinating. People WANT to travel to places without internet? WHY? And please don't give me some crap about being in the moment and enjoying face-to-face company. We've all been on family vacations. Your phone battery usually dies by noon. Like, apparently "super cool phone-free social clubs" are a thing, and hotels are offering digital wellness escapes where you can "disconnect to reconnect." These hotels make you leave your phone at the front desk upon checking in, and allow you to do horrible shit like relax in a tech-free environment and experience the great outdoors. Even the Mandarin in Las Vegas is getting in on this trend. Like, you're really gonna go phoneless in Vegas??? If this is really what people want, I'm genuinely concerned for the direction of society. I thought we were moving in a good direction with in-flight WiFi and internet service in the subway. All these psycho mindfulness-preaching health bloggers are literally ruining it for the rest of us.

Images: Toa Heftiba / Unsplash; Giphy (3)
5 Fashion Trends That Will Be Everywhere In 2018
Obviously, 2017 wasn't anyone's year. It wasn't mine, it probably wasn't yours, and it most definitely wasn't Taylor Swift's. We, as a dysfunctional society, took a hard, violent fall. We hit a lot of railings; we broke a lot of shit… I'm going to say we survived, but I'm not going to say we thrived. Trump is still our president, Kylie Jenner just beat teen pregnancy, and someone *tried* to make designer Crocs a thing, BUT we still have feminism and a decent fashion sense to hang onto—thanks to hangover clothes being labeled as "street style"—so to me, we're fucking thriving. While 2017 may have brought us the good, the bad, and the ugly in more ways than one, it was definitely an eventful year for fashion. From sun's out, nips out to rubber pool slides, we're only getting started. 2018 already has a shit ton of fashion trends prepped for us, so we better start looking ahead. Here are five major fashion trends you're about to start seeing everywhere.
1. Low-Key Chic Hats
I mean, this is news to me, but apparently the effortlessly chic French girl style is very much a thing. Straight from Paris' own streets, the classic beret has taken runways and Instagram by storm. The accessory immediately turns you into the next Coco Chanel who just needs an éclair in her hand, stat. In addition, the long-lost, but definitely not forgotten, basic baseball hat or "dad hat" will soon be worn with going-out skirts and cute shoes. On the bright side, you no longer need the "greasy hair" excuse to wear a hat.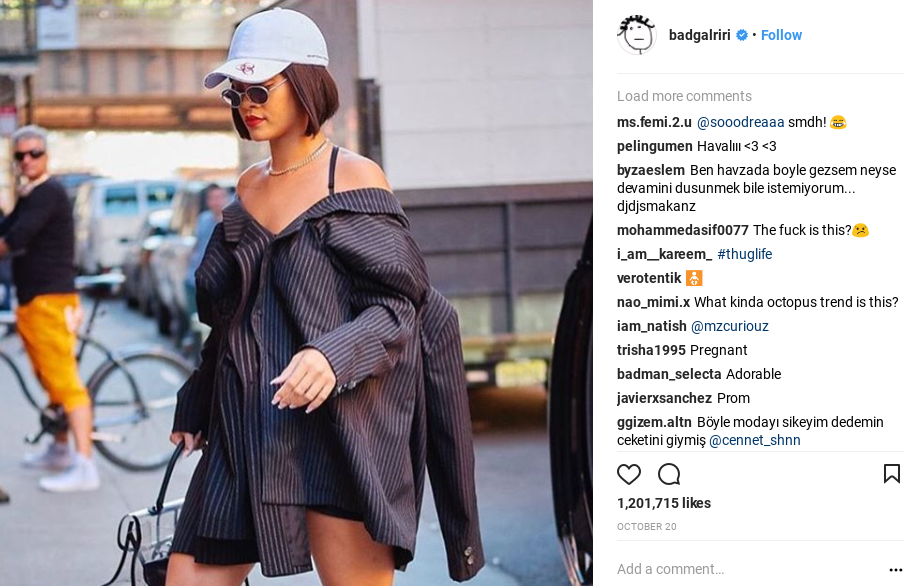 2. Palazzo Pants (Again)
This one is here to stay, but don't go crazy and dig out your summer pairs. What are you, an outfit repeater? Stick to longer, wide-legged styles in neutral prints or solid colors to take this trend in a subtle approach.

3. Plastic And Latex
Just when we thought we'd seen the worst of the worst with see-through Yeezys and half-denim, half-plastic jeans happened. Some freaks are really making this cracked-out trend last. First of all, why? Second of all, WHY? Whether it's a trendy raincoat or a cheap af-looking plastic dress, it looks like we'll be getting an assortment of clothing in tacky plastic. Guess that guy from The Graduate was right? Come spring, we'll probs start to see our fave chain stores carry latex dresses and leggings because honestly, we've run out of ideas at this point.


4. Logo Mania
I guess we're going back to 2001—a time when we felt obligated to wear Hollister or Bebe across our padded bras, just to let everyone know we were cool enough to shop the brands. This next year is apparently full of logo everything, so when you think you left that shit in high school with Abercrombie, American Eagle, or even PINK, think again, and like, this time, make it fashion.

5. All Purple Everything
If you listen to anything I say, ever, or just casually check the internet, you'd know purple is 2018's color. It's specifically Ultra Violet, but even a girly lavender or true purple will still count for something. Expect this trend to be the new millennial pink. From heels to bags to sweaters to the next fucking iPhone XYZ, you'll be wanting everything you see in the bold shade.