Openly Gay Olympian Adam Rippon Won't Meet With Mike Pence Because, Duh
Olympics season is the best because the games are always on at weird hours, which means you get to watch gorgeous, graceful figure skating routines by Adam Rippon on a dive bar TV while you chug vodka cranberries and imagine that the Cardi B song bumping in the background is the actual track he's skating to. No? That's just me? Well, I highly recommend trying it sometime, it's v entertaining.
The most talked about skater on the US team this year is Margot Robbie Adam Rippon, who is competing as the first openly gay American man in the Winter Games. Just this weekend, Skate Bae – as I shall now refer to him – placed third in the Men's Free Skate and helped propel the US Figure Skating Team to a Bronze medal. Rippon is just as popular for his insane skating skills as he is for his hilarious social media presence, and eyebrows that put Cara Delevingne's to shame.

When the White House decided to give possessed-orphan-porcelain-doll Mike Pence the honor of leading the US delegation to the opening ceremony, Rippon threw some major shade at the idea of meeting with him before the Games. "You mean Mike Pence," he scoffed, "the same Mike Pence that funded gay conversion therapy? I'm not buying it."
Conversion therapy is the completely fucked up idea that homosexuality is an "illness" that can be cured with psychological treatment and, in the most extreme cases, electroshock therapy. Pence has been linked to these ideas for years, especially after a statement was posted on his campaign website calling for funding and resources "directed toward those institutions which provide assistance to those seeking to change their sexual behavior." Um, newsflash, there's no such thing as "changing your sexual behavior." Have you never heard Lady Gaga's "Born This Way?" Oh wait, you obviously haven't because you only listen to cassette tapes of Christian Rock until 8pm when Mother* tells you it's time for bed.

*Casual reminder that Mike Pence calls his wife "Mother" and it's fucking weird as shit. 
Last week, USA Today reported that Pence's office was so worried about Rippon's beef with him that they attempted to arrange a private meeting to hash it out. Rippon allegedly kept his word and declined any offer to sit face to face with a man who thinks his gay can be prayed away. Meanwhile, Pence shot down the rumors as "fake news" and said he never reached out to meet with Rippon in the first place.
Pence @ Adam: 

Rippon said he has no interest in meeting with Pence after the Olympics or attending the White House's official celebration for the athletes after they return home, since competing is his top priority, and trying to convince old white men that gay people are people too is not exactly high on the agenda.

In an interview with ABC News, he remarked, "I personally don't have anything to say to Mike Pence. I'm very lucky because legislation that he's pushed hasn't affected my life at all. I spoke out because there are people out there whose lives have been affected by change that he's tried to make. I spoke out for them because right now I have a voice and I think it's really important for me to use it. That's a conversation for them." *Rainbow flags wave dramatically. "Fight Song" plays in the distance. Our new hero rises from the rink like an icy gay phoenix*

In the same interview, when asked how he would celebrate his super impressive performances in Pyeongchang, he responded, "I'm going to go to Target and I'm going to get a bottle of Sauvignon Blanc, Oyster Bay, with the twist top, immediately." He also said that after his routine this weekend, he wanted to ask the judges for a Xanax, so basically this man is all of us, and we must protect him at all costs.

Heads up, you need to keep up with the news. It's not cute anymore. That's why we've created a 5x weekly newsletter called The 'Sup that will explain all the news of the week in a hilarious af way. Because if we weren't laughing, we'd be crying. Sign up for The 'Sup now!
North Korea Brought 230 Cheerleaders To The Olympics And Here's What We Know About Them
The Olympics are in full swing in PyeongChang, South Korea, and tbh North Korea is being supes dramatic at every turn. The most extra move they have made so far is sending a group of cheerleaders to attend the Olympic games. The cheer squad has a  230 women on the team. Casual reminder that North Korea has about 24 competing athletes on their Olympic team. So we have more North Korean Olympic cheerleaders than we do North Korean Olympians. Priorities, I guess. Or Kim Jon Un has something in common with us and watches Bring It On every night before bed.
The girls find out they are stealing their cheers from the South Korean Clovers and have to scramble to put together a new routine before the next military parade. https://t.co/UN5ep4fQJC

— The Betches Sup (@Betches_Sup) February 10, 2018
Anyway, these cheerleaders are making quite a splash. They arrived at the airport wearing matching outfits and carrying matching luggage. Very creepy chic. They really got the people talking when they attended the hockey game between Switzerland and the unified Korean team and showed off their propaganda-style cheers. Their style is overly choreographed to the point where you're like, "Um, are you guys okay? Blink twice if you need help."
Dit is dus echt heel bijzonder. #BNR #pyeongchangOlympics2018 pic.twitter.com/mDha25Px9g

— Thomas Schuurman (@ThomasSchuurman) February 10, 2018
The cheerleaders are picked for their natural beauty and patriotism, and if anyone is suspected of disloyalty at any point, they are kicked tf off the team. They are also required to live on a big-ass ferry – yes, you heard me right, a ferry – called the Mangyongbong-92. Sorry, but Mangyongbong-92 sounds like what I would name my new vape after five thousand hits. Anyway, they're held hostage on this never-ending cruise to make sure they don't experience too much of South Korea. And that is serious stuff, because one time 21 members of the squad were sent to a prison camp because they spilled the tea about what they had seen in South Korea on a university games tour. Way harsh, Tai.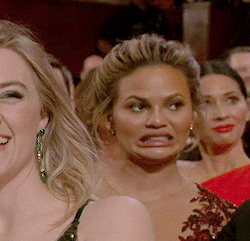 Anyway, the North Korean cheer squad seems to be part of the charm campaign Kim Jon Un is leading in order to drive a wedge between the USA and South Korea, so North Korea can make more nuclear weapons in case our president tries to compare dick sizes with their dear leader again. Incred.
May you one day find something to be as devoted to as these North Korean cheerleaders are to chanting. Or not, because it's creepy af. Okay, bye!
Heads up, you need to keep up with the news. It's not cute anymore. That's why we've created a 5x weekly newsletter called The 'Sup that will explain all the news of the week in a hilarious af way. Because if we weren't laughing, we'd be crying. Sign up for The 'Sup now!
Images: Twitter (2) Giphy (1)
Where To Watch All The Best Events At The 2018 Winter Olympics
Figuring out where to watch all the best events at the 2018 Winter Olympics can actually be an enormous pain in the ass. Thanks to the fact that PyeongChang is a casual 14 hours ahead of the U.S. (I'm usually 14 hours late to things anyway so it's fine), and the literal maze that is the Olympics' website, figuring out when to watch can be difficult. Luckily, NBC has you covered with 176 hours of Olympic coverage, and live streaming on their website for those of you who lost your ex's dad's best friend's cable login prefer to watch online. While there's literally no way to catch all the events (unless you call out sick for a full three weeks, in which case, I salute you), here's how to catch some of the most popular winter sports.
Opening Ceremonies
So like, technically the opening ceremonies already happened, but they don't air on NBC in the U.S. until 8pm on Friday, February 9th, so I guess we're just all going to pretend they didn't already take place. Timezones are fucking weird, man. This year, the ceremonies are even more important than usual because they're going to be a "show of Korean unity." If you don't know why that's important, check out @RealDonaldJTrump's Twitter page and figure it out for yourself.
When to watch: Friday 2/10 at 8pm on NBC.
Who to look out for: Frst of all, hot oiled up Tonga guy will be back serving as his country's flag bearer, so there's that. Second, Kim Jong Un's little sister — Kimberly Jong Unette* — will also be in attendance. Being baby sis to the world's most batshit dictator sure does have it's perks.
*Her name is actually Kim Yo-jong
Women's Halfpipe Finals
I know men's snowboarding is usually the big ticket item (Where else we we get to see a stoned af Shaun White flip through the air a bunch??), but this year's women's halfpipe finals are going to be lit. Besides, if I wanted to watch dudes snowboard, I'd watch Johnny Tsunami again. Wait, actually, I should totally watch Johnny Tsunami again…
When to watch: Monday 2/12 at 8PM on NBC.
Who to look out for: The whole reason I picked the women's halfpipe over the men's (apart from like, feminism and shit) is seventeen-year-old Korean-American snowboarder Chloe Kim. Chloe is second-ever snowboarder (after gold medalist/perpetually high person Shaun White) to score a perfect 100. To win the gold this year she'll have to face off against her bff/childhood idol, 2002 gold medalist Kelly Clark. To add to the drama, this is probably Kelly's last Olympics so like, the frenemy levels are extremely high.
All The Figure Skating
If I,Tonya taught us anything (other than the there is no amount of prosthetics that can make Margot Robbie look ugly), it's that people fucking love figure skating. They love it so much they'll destroy lives over it. It's kind of beautiful. If you, like the rest of the world, have a newly renewed obsession with figure skating then you're in luck. There are a fuckload of figure skating events, and an even larger fuckload of figure skaters for you to pray don't get hit in the back of the leg with a retractable rod watch this year.
When to watch:  Men's Final: Friday 2/16 at 8pm | Ladies' Final: Thursday 2/22 at 8pm | Pairs' final: Wednesday 2/14 8pm on NBC.
Who to look out for: Tonya Harding with a baseball bat? JK JK. Bradie Tennell is basically the Cinderella of the Olympics (in that she's an overnight sensation, is blonde, wears blue, and literally skates to a song called 'Cinderella'). Tennell was the first female skater in 10 years to win a medal on her first try in the Skate America Grand Prix, and earlier this year she won the U.S. national title. She also barely twenty, which is literally rude, but we'll forgive her.
Bobsledding
As far as winter Olympic sports that have movies about them, bobsledding is obviously in every millennials top 8. Bobsledding is one of those sports that is in absolutely no way easy, but when you watch you *kind of* feel like you could do it. Like, I've ridden the Matterhorn at Disneyland which is like basically the same thing, right? (Narrator: It was not the same).
When to watch: Two Man Finals: 2/19 at 8pm | Women's Finals: 2/21 at 8pm | Four-Man Finals: 2/24 at 8pm on NBC.
Who to look out for: Nigeria they got a bobsled team, yeah! This year Nigeria will put forward the first ever Nigerian women's bobsled team. While they're not expected to place, I can think of another underdog bobsled team from a warm-weather country that stole the hearts of the bobsled world not long ago. I guess what I'm saying is, if we don't get an all-female Nigerian reboot of Cool Runnings out of this, I'm gonna be pissed. 
Sooooo Much Skiing
Everybody feels like they're a pretty good skier until they see actually good skiers in the Olympics and are like, "Oh fuck, I'm a joke." Again, there are a *lot* of options for ski fans here, so here are just a few. As for the rest, IDK. Google it.
When to watch (jumping): Women's normal hill: 2/12 at 3pm | Men's large hill: 2/17 at 8pm | Men's team: 2/19 at 3pm on NBC.
When to watch (Alpine): There is literally so much Alpine skiing at the Olympics. Turn on your TV and you will find it. Here are some highlights, but for the ski freaks among us just know there are like 10 other skiing events not listed here:
Men's Downhill 2/10 at 8pm | Women's downhill 2/20 at 8pm | Team event 2/23 at 8pm on NBC. 
Who to watch: Ummm Mikaela Shiffrin anybody? Our girl is the reigning Olympic gold medalist and overall world champion, so I think it's safe to say she's not coming to PyeongChang to fuck around. Mikaela is the youngest woman ever to win Olympic gold in slalom — which is that event where people ski downhill really fast between poles and not, as I'd previously thought, the Yiddish word for penis.
The Definitive Ranking Of 2018 Olympic Uniforms
The PyeongChang Winter Olympics kick off this week and for those of us who can only maintain interest in sports for like 15 minutes tops, we're bringing you something more fun to focus on: the uniforms adorning these spectacularly ripped bodies. You might not be able to judge freestyle skiing, but you can go full on fashion police for these official Olympic uniforms. Here's a look at what the world's hottest bodies are rocking.
France
The team is ready to rock ???????? #PyeongChang #olympicsgames #skijumping @FranceOlympique pic.twitter.com/YeMTx5V9KU

— Léa Lemare (@lealemare) February 8, 2018
Designer: Lacoste
Congrats to the French, once again, for looking chic af. They've really nailed the "richest girl you follow on Instagram" look for which I both applaud and am incredibly jealous of. I wasn't aware Soul Cycle was an event this year. These sleek and sexy uniforms are going to be a hit at the Olympic Fuckfest Village. 
Australia
These legends are ready to shine at #PyeongChang2018 ✨✨✨✨#GoAUS pic.twitter.com/XmPl81poeV

— AUS Olympic Team (@AUSOlympicTeam) February 8, 2018
Designer: Total Image
The only nice thing I can say about these uniforms is that if any of these athletes get seriously injured, they are already dressed for a shitty summer internship at a law firm. Olympians are literally the closest thing we have to gods and Total Image has managed to make them look like down on their luck substitute teachers. This is literally what Jack Black wore to pretend to be a teacher in School of Rock. Not impressed.
USA
The 2018 U.S. Olympic Team has been announced! ???? Follow your favorite athletes as they prepare to compete at the #WinterOlympics ⬇️https://t.co/aEDp87icce

— U.S. Olympic Team (@TeamUSA) January 27, 2018

Designer: Ralph Lauren
Doing anything that isn't 100% enthusiastically patriotic these days is apparently treason according to our president, but at the risk of being locked away forever I"m going to give these uniforms a serious side eye. We have a lot going on here, folks. This is the perfect outfit for the cross country cowboy hanging fireside at a ski lodge. Dare I say, let's minimize the look? It sort of screams, "we're a mess of a country at the moment!"
Germany
Pyeongchang get ready for these guys ???????????????????? #TeamGermany pic.twitter.com/pQ5CiVmutV

— Richard Freitag (@Richard_Freitag) February 5, 2018
Designer: Adidas
Germany looks like they could bust out a breakdancing move at any given moment and I mean that as a complete compliment. It's bordering a little bit on skater fuckboy, but unfortunately, that's the kind of fuckboy I fall for. 10/10. 
Russia
Russia unveiled a new "neutral" Olympic uniform in Moscow for the 2018 games

The country has been denied use of its flag and badges as punishment from the Sochi doping scandal pic.twitter.com/mXFDyLvqtm

— CBS Evening News (@CBSEveningNews) January 22, 2018
Designer: Zasport
So, while we were all busy trying to figure out if the Russians interfered with our elections, the Russians were busy getting in trouble for doping in the last Olympics. The punishment? Make them stay out and have total FOMO. Just kidding. Something worse. The very few individuals who didn't dope can compete independently but they have to wear a boring tacky outfit with literally no flair. The IOC decided to force all Russian athletes to wear bland great tracksuits. BUt in a twist they look like the could easily be part of Yeezy Season 6.
Finland
Suomen #curling -pari Oona ja Tomi lähdössä kisaamaan Olympialaisiin ja maailman kahdeksan parhaan joukkoon! #PyeongChangFi pic.twitter.com/fdvTusqwqL

— Olympic Team Finland (@OlympicTeamFI) January 28, 2018
Designer: Icepeak
Hello? Disney Channel's 2002 aesthetic called and they're gonna need their look back. If you weren't already aware that Finland is white people dancing to EDM, this really lays it out for you. They look like slightly hunkier Sims characters or Abercrombie rave goth. I guess one upside is they can really focus on their sports because no one is going to be hitting on them at the games. Sad!