10 Food Trends That Deserve To Die Slow, Painful Deaths
2017 was a tough year for a lot of us. We had to settle with the fact that a large orange Gremlin that someone fed too much Fox News and Diet Coke became president. We also came to the realization that like, 75% of men think it's cool to rub your shoulders or have lengthy convos about dicks with you at work. We felt a shiver of hope when black women literally saved Alabama. Then immediately fell down a dark hole of sad when net neutrality died.
Regardless, though, of the news both good and bad, we were faced with an alarming number of food trends this year. Some were okay (I see you, queso everything) but some were fucking stupid. Let us now reflect on these, our horrible food trends of 2017.
1. Burgers That Aren't Burgers
"Oh, I really want a burger, but not like, a burger." Oh I totally know what you mean, 2017. Let me fetch you a burger on an avocado bun, or a burger made of sushi, or a burger made of ground-up legumes and beets. If you want a burger, eat a fucking burger. It ceases being a burger when you get rid of one of the two main ingredients—burger and bun. If I see my medium rare beef burger sitting on a "bun" of avocado, I will tell you to go fuck yourself. Then I'll find a bun, sandwich all that shit together, and enjoy it the way it was made to be enjoyed.

2. Activated Charcoal
If you love eating the ingredients of a face mask, this trend is for you. For some reason, activated charcoal had a moment this year—we assume pushed by doctors who concluded that too many people would try to drown their sorrow in alcohol this year and needed a way to soak up the poison. The cool thing is that this turns everything black, but the not cool thing is that it makes birth control less effective, which we basically need to live.
3. Matcha
I know you love your matcha soy latte and your matcha hot chocolate and your matcha colored hair and your matcha matching socks, but fuck off. Do you know what matcha actually is? It's a type of green tea that blah blah can help boost your memory and improve cholesterol, but to most of us, it was just a weirdly sweet, chalky tasting substance that made us look cool at Starbucks. Hard pass.
4. Unicorn And Mermaid Shit
Apparently, 2017 became a 12-year-old girl and everything had to embody a nightmare starring Lisa Frank and pastel Care Bears. That horror bled over into our coffee this year, and I for one hope to never see it again. My hatred also applies to the differently named—but same concept—Mermaid anything. When you crave artificial coloring, lack of flavor, and sugar flavored sugar, this is what happens. This is why we can't have nice things.

5. The Instant Pot
This year, we were faced with what would happen if we fed meth to our slow cookers. The answer was the instant pot, and I think everyone over at Bon Appétit and Food & Wine collectively jizzed themselves over the sponsorship dollars that poured in when they declared this the biggest culinary wonder of 2017. Is it cool to cook eight different things in one vessel? Yah. Is it cool after a week when all I want is some spaghetti and Rao's? Not really. You will use this once, just like the wine aerator you were spurred to buy in 1998 and the spiralizer you scraped dollars together for in 2009.
6. Fucking Stupid Oreo Flavors
You know what ISN'T necessary? Improving on something that literally already makes a billion dollars (I assume) per year. Is it good to expand a little and see what you can convince stupid Americans to buy? Yah, totally. But branching into flavors like FRUITY PEBBLES and COCONUT CRÈME or even fucking JELLY DOUGHNUT are 100% unnecessary and an insult to the very people who inhale sleeves of these chocolatey godsends nightly to take the pain out of everyday life. Leave me my dignity, Nabisco.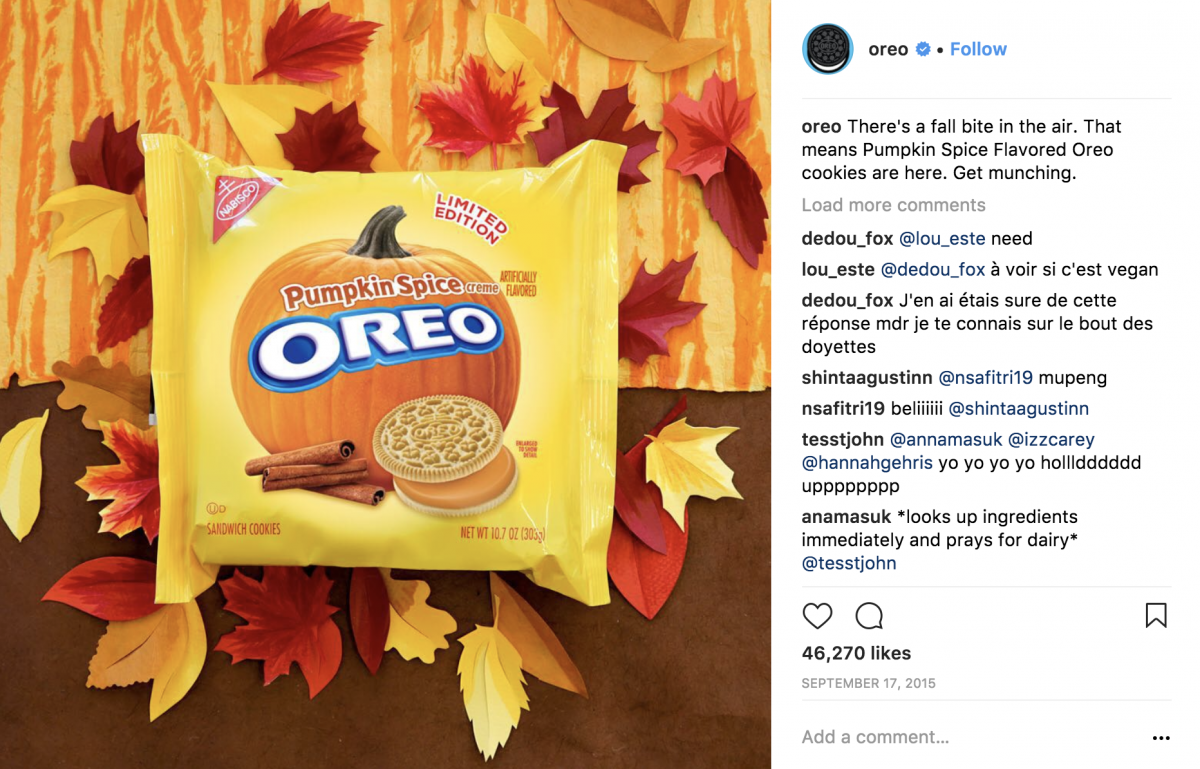 7. Cauliflower
"I LOVE SHITTY PALE BROCCOLI," said no one ever. Can we collectively come to an agreement that cauliflower rice, potatoes, pasta, pizza crust, coffee, chocolate, hope—whatever—needs to stop? I love carbs, and I know you do, too. There's literally no reason to pretend you're enjoying a big bowl of smooshed and sculpted wet vegetable matter over the fettuccini Alfredo you actually wanted. And if you're crazy enough to actually make a time-consuming cauliflower pizza, then you should be committed.
8. Cloud Eggs
Remember this shit? It popped up around January/February of this year, and it's just as stupid now, nearly 11 months later. Cloud eggs are what happens when you have too much time on your hands decide to beat and fluff the whites of an egg without disturbing the yolk. Do you know how time consuming that is? Do you know how not impressive it tastes? Picture an unsweetened meringue with an over easy yolk in the middle. I'll take my avocado toast elsewhere.

9. Ube And Other Purple Shit
If you missed the purple trend, it's okay because I slept my way through most of it. This purple yam from tropical parts of Asia was used in desserts all over my Instagram feed. I won't be sorry to see purple shit go, although Pantone seems to have a different opinion. Sidebar: the color of the year sucks. Nobody likes purple.
10. Avolattes
This one came and went in a flash—and for good fucking reason. It's exactly what it sounds like—a latte served in a fucking avocado. STOP. Put my coffee in and around my mouth and stop trying to combine breakfast trends.

The Worst Fashion Trends Of 2017 That We All Have To Promise To Never Speak Of Again
You know when you look at old photos of yourself and think "ew, why did I wear that?" Normally this occurs a few years after you wear a fugly outfit, but let's be proactive this year. Lots of 2017 trends were totally disgusting, and in the interest of shit talking, I don't think I can wait a few years to talk about it. Here are the absolute worst fashion trends of this year.
1. Clear Boots
Sure, clear boots looked cool when Kim Kardashian rocked them, but have you ever tried these on? Your nasty sweaty feet will fog them up almost immediately. Whoever thought Saran-wrapping your feet and adding a four-inch heel was a good idea is seriously disturbed.

2. Clear Panel Mom Jeans
As if clear boots weren't enough to make you question your personal hygiene, Topshop released a pair of clear panel mom jeans back in the spring. Apparently, sweaty kneecaps are the fashion industry's latest attempt at ruining our lives. The worst part is, these things actually sold out. Judging all of you.

3. Balenciaga Platform Crocs
Balenciaga's take on the already ridiculously heinous Croc design was so bad, I originally assumed they were only created to inspire memes. Maybe they were. IDK. Have fun looking like a redneck Bratz doll.
#Balenciaga X #Crocs? In 2017, the collab lives on. Here's one for the linkers & builders https://t.co/9pdYbWoAix pic.twitter.com/ZUBBDr76zs

— SSENSE (@SSENSE) November 9, 2017
4. The RompHim
I guess douchey frat boys got tired of wearing khaki pants and Vineyard Vines shirts, so they designed this stupid male romper as a desperate cry for attention. It kind of worked, but they look absolutely insane, so I certainly wouldn't consider this a win for them.

RompHim Black Chambray Male Romper
5. Kitten Heels
In the world of fugly shit, kitten heels aren't exactly new. However, I'll never pass up a chance to dump on heels that are two inches and shorter. Lower heels were definitely a thing this year, but a straight-up kitten heel will never be okay. Yuck.

Topshop Abba Pointy Toe Bootie
The Fall Accessory Trends You Need To Stock Up On Now
Well, it's officially August which means we're headed into the dog days of summer—a time when we cram as much day drinking and rooftop bar hopping as possible into the next 4 weeks. Once September hits, we become recluses that live our best lives on the couch and Instagram eat everything that comes in pumpkin. We'll immediately put away the sandals and bring out our over-the-knee boots, and fold away our shorts in hopes that last year's skinny jeans still fit even though we drank our weight in alcohol and didn't go to a gym once this summer. The good part is that a season's beginning = new trends aka more shopping, so you'll handle change the only way you know how: retail therapy, obviously. Whether you're prepping for weekly blackouts at frat parties or planning to be productive (for once) at work, shop these transitional accessories to take your mind from summertime sadness to Uggs, pumpkin spice, and everything BWG (basic white girl, DUH).


Expensive white gold hoops were summer's thing this year (it was so sad) but now that summer is almost over, that shit is (thankfully) being put to a halt. Fall will be about big bold earrings that take up the entire side of your face so opt for a dainty long pair that takes away the attention from your double chin facial imperfections and can be worn down or dressed up to impress.

Burberry and scarves are two things a betch will never leave her house without next season. Since it'll be too warm for cashmere, find a lightweight silk scarf to dress up your blazer with. This one features color block triangles with neutral tones and the bright pop of red we'll be seeing 24/7 soon. If choking yourself wearing scarves isn't your thing, use it as a headband because boho chic isn't over yet, or tie it on your bag, I guess. A for effort!!!

Since colder temps hit the east coast like a fucking brick wall, you probs won't be that try-hard who's still wearing plunging bodysuits come September. Unless you're trying to call into work sick already, that is. Chokers were fun and all but similar to how much basic bitches love "Closer", it's overplayed and I'm sick of seeing them. Swap out shorter styles for long pendant-like necklaces that will go perf with any fall dress or plain button up shirt.

You can still collect stackable rings and look super trendy by wearing multiples, but go for a style that's both semi-elegant and edgy. I like this one because when I'm dealing with one of my bouts of homicidal urges, I can just look at the pointy edges and contemplate the many ways I could inflict bodily harm on my enemies using just the ring on my finger. Just me?

Fall is the best excuse for a new bag to hold all your shit and hide the flask you may need to get you through the day. This large neutral tote has enough room for your laptop, meaningless papers, and everything else you carry with you at all times, but without sideswiping everyone you walk by. It'll go with any outfit and put you in the all-work-no-play mood you wish you could maintain for more than like, two consecutive minutes.

You won't have to hide your v cute pedicure immediately with booties that easily transition your look from summer to autumn vibes. I'm honestly obsessed with these because they're both block heel and open toe like my fave summer heels I ruined stumbling around every weekend. You can never have too many booties, IDC what anyone says. I need them in every color, so this pair is perfect for pairing with the T-shirt dress you're not ready to give up or dark jeans come darker nights.
5 Lip Colors You Should Never Wear
Because it's the year 2017 and people will do literally anything for an Instagram like, I'm being pushed to the fucking edge with makeup trends these days. Fucking barbed wire eyebrows? Glitter butts? Grown women buying Unicorn Snot? No, no, no, no. That's it. Trendsetting is cancelled, it's done. None of you bitches can be trusted.
But if I thought people couldn't be trusted to discern a real beauty trend from a moronic one, then I really shouldn't be surprised that people are fucking up their lip color. Because nothing pisses me off more than seeing people try and be "bold" with their lipstick. I know they say the eyes are the window to the soul, but have you ever seen how good I look in a dark purple lipstick? That says wayyy more about my soul then the cat eye I fucked up this morning. That being said, there are some lip colors you should never wear. Like, ever. So buckle up because I have a feeling this might be a rude awakening for some of you bitches. Here are the 5 lip colors you should never be caught dead in:
1. Baby Blue

Jesus, why do you test my patience like this? I'm a good person. I go to work most days, I never go to the gym, and I only drink on the weekends. So why does my extra AF friend always show up to happy hour looking like she just sucked off a Smurf? I will never understand why beauty companies even thought to manufacture this color. Even Kylie cannot make this color look good, and that should say something to you. Like, pastels barely look good as clothing on my body, much less as the fucking focal point on my face. Avoid this color at all costs lest you end up an Internet meme.
2. Electric Orange

I'm not going to call anyone out here *cough* Selena Gomez *cough* but someone is trying to make orange happen and they are seriously disturbed. Perhaps she's trying to prove that she's just as much of an artist as The Weekend so that's why she's made the color orange her pet project for the summer, but you can give it up, Selena, because over my dead body will I let orange lip color become a trend. Selena isn't the only person who's delusional, though. Several beauty sites are calling orange the "hottest color" of spring 2017 and each and every one of those sites are getting a spot in my personal burn book. Let me just be clear here people: Orange looks good on NO ONE. Only wear this color if you want me to mock write about you in future articles.
3. Any Shade Of Green

I made a case for dark green lip color once upon a time but that was in the name of a V important drinking holiday and you really can't take anything I say seriously when I'm trying to match my outfit to a themed drinking event. Like the above Smurf comment I made, people will sure as hell talk shit about you if you show up to the bar looking like you've got a fungus growing on your lips. Don't fucking do it.
4. Glitter

Yes, this is a real shade of lip color. And, yes I'm feeling personally victimized by it. Like, what is even the appropriate setting for said lip color? I'm assuming it's any sort of music event that involves casual drug use. Though, I'm sure if I wore this lip color for any occasion my mom would probs roast me in a Facebook post. Plus, this has to be some sort of health hazard. Can you imagine drunk eating pizza with this mess on your face? You'd be inhaling glitter chunks to go along with your pepperoni. Nah, sorry. There's a reason I don't drink Goldschläger. It's a no from me.
5. Bubble Gum Pink

I'm not saying this lip color looks bad on anyone per se, but it does send a message, and that message is that you still wear a retainer and a training bra. If you're a grown-ass woman wearing this lip shade then you're either Katy Perry or someone who claims Katy Perry is your style icon and either way you can't be trusted. Stay home and write in your sad handwritten book, because no one wants to see that shit in public.