6 Lies 2000s Rom-Coms Taught Us About Sex
Ah, the rom-com. The classic and predictable formula that consists of meet-cutes, cliches, some goofy sidekicks, and a heart-warming ending that we all saw coming is a tried and true one. Throughout the 2000s, Hollywood churned out rom-coms at a rapid rate, and we don't blame them. These movies are the perfect re-watch, and their predictable endings provide a sense of certainty we could all use right about now. 
While Hollywood may have mastered the rom-com formula in the 2000s, there were some major things they got wrong about sex. Watching these movies growing up, before experiencing sex and relationships for myself, I feel that I was grossly misled. What they show in the movies and what actually happens is like apples and oranges—and it's time we called B.S. Here are some of the most unrealistic expectations rom-coms gave me for sex.
Lie #1: No Foreplay Necessary
An actual quote from the movie The Holiday:

Jude Law: "How do you feel about foreplay?"

Cameron Diaz: "I think it's overrated. Significantly overrated."

Jude Law: "You are quickly becoming one of the most interesting girls I've ever met."

CUT TO: The worst sex ever

— Chloe Dykstra (@skydart) May 19, 2019
If you've ever been asked "are you ready?" 10 seconds into a hookup when you've barely had time to process what's happening, you can thank 2000s rom-coms like The Holiday that teach us that after a mere 20 seconds of making out, you should be ready to have hot sex. Cameron Diaz's character Amanda even told Jude Law's character Graham that foreplay was overrated. I'm sorry, foreplay is never overrated, especially when it's with Jude Law. These depictions of sex with hardly any build-up do women everywhere a disservice. You're supposed to stretch before you run, aren't you? The same is true of sex. Not only is foreplay essential in getting you in the mood, but it also makes sex less painful, according to expert Kiana Reeves, a doula, certified sex educator, Certified Innate Postpartum Care Provider, and Certified STREAM (Scar Tissue Remediation, Education, and Management) Practitioner, who told Betches that pain during sex can actually be caused by a lack of lubrication. Don't sacrifice great sex for speed—take the time to get warmed up, you won't regret it. 
Lie #2: Orgasms Happen Quickly And Are Guaranteed

Not only are the women in these rom-coms having great sex with no foreplay, but they also have an orgasm in the blink of an eye, which couldn't be further from reality. Take the famous "It still isn't over" scene in The Notebook when Noah and Allie finally have sex. While yes, I admit, this is an iconic love scene that earned its spot in rom-com history, her speedy orgasm that takes all of 30 seconds and only one position change is just a bald-faced lie. I don't care how many years of sexual tension you have built up, a female orgasm does not happen that quickly. In fact, only 8-25% of women can cum from just vaginal penetration. 8-25%! Why isn't this a more well-known stat? Can we get this on a bumper sticker?
Lie #3: Your First Time Will Be Magical And Incredibly Romantic

If you're one of the few people who had a romantic experience that wasn't filled with awkward, painful and fumbling moments, please come forward and share your story, because you're one in a million. Some of our favorite rom-coms led us to believe this moment would be more sweet and tender than painful (HA!). In Love & Basketball, Monica loses her virginity to Quincy, but not before they exchange a series of sensual looks as they slowly undress before the kissing portion of the program even begins. Quincy's lips must have magical powers because there is NO way she's ready when Quincy reaches for the condom. She inhales slightly, which apparently is to be representative of the pain she's feeling? LOL. If they wanted to show us what it's really like, Monica should've displayed a contorted facial expression and let out a blood-curdling scream. This depiction of losing your virginity is even further from reality than the most recent season of Vanderpump Rules.
Lie #4: You Will Wrap A Bed Sheet Around You After Sex
 
Again, if any of you have actually done this (and not just to imitate a famous movie scene) please come forward. I'm not sure which director started this rom-com trend, but it doesn't make any f*cking sense. However, movies like Fever Pitch tell us otherwise. If you actually did this you'd have to wrap it around yourself a number of times to avoid tripping over it and you'd have to keep your arms tightly by your side to make sure it doesn't fall. Why in the world would you go through all of that hassle to rip the flat sheet off the bed and wrap it around you like you're going to a toga party when you could just throw on a T-shirt or stay naked? I'd consider this one of life's greatest mysteries. 
Lie #5: Sex In Cars Is Hot 

Despite how sexy Katherine Heigl and James Marsden made it look in 27 Dresses, or how hot it was in Titanic, there's no way drunk sex in a broken-down car is hot. Do you really think a 5'9" woman and 5'10" man can have great sex without injuring themselves or contorting their body into unnatural positions? I doubt it. Aside from the issue of the size of the car, don't they have anxiety about the broken-down car? Maybe I'm high-strung, but the thought of being stranded forever would inhibit me from enjoying myself.
Lie #6: If You Meet A British Guy In A Bar, You Will Have Sex With Him

Okay so this is oddly specific, but when I saw the scene in Love Actually when Colin meets a group of American women in a bar who fawn over him and later bring him back to their apartment, I audibly groaned. I know the entire movie is based on the suspension of disbelief, but COME ON. Give women a little more credit, we're not going to pull our dresses up just because a guy in a bar has a foreign accent. And even if we do, we're certainly not asking our three best friends to join us. 
So, who's ready for a modern day rom-com that depicts what sex is actually like? I wish someone had warned me about the lies that are laced throughout 2000s rom-coms and beyond, maybe I could have avoided a lot of disappointment. Well, probably not but a girl can dream, right? I'd like to think adding some sense of authenticity into these movies would result in more realistic expectations for women and their sex lives going forward. 
Images: WAYHOME studio / Shutterstock; Giphy; skydart / Twitter
The Best & Worst 2000s Trends Making A Comeback
2020 fashion seems to be one big mashup of years past, and I mean, who can really blame us? This year is nightmare fuel, to put it nicely, and I for one am here for the return of most of the 2000s trends that have come creeping back into our lives. The 2000s were an easier time, you know? Where your biggest stress was which CD you were going to purchase from FYE (My Chemical Romance for me, always) or if the cute salesperson model in front of Abercrombie was going to notice you. Like I said, easier times.
So let me take you down memory lane, 2020 reboot style, with the best and worst 2000s trends to return this year.
The Best
Velour
I'm just going to start here with velour, because it feels really relevant to current times, and I am absolutely on board with this comeback. Obviously, we're in a time where comfy clothes have never been more relevant, and it feels like the perfect opportunity for velour tracksuits to be a thing again. If you haven't been on social media in the past few weeks, Kim Kardashian's SKIMS dropped a collaboration with the president of velour sets, none other than Paris Hilton. That's hot. I'm going to be honest, I bought a set myself after telling everyone around me how I couldn't wait for the affordable Target knock-off to launch. I simply had no self control, and I am not even sure why. Let us pray that $80 sweatpants are in fact worth it.

Juicy Couture's Limited-Edition 25th Anniversary Collection in partnership with New York City Alliance
On the topic of overpriced velour sets, we also have the comeback of the absolute OG velour sweatsuit brand, Juicy Couture. Personally, I am not ready to see "JUICY" slapped across the behind of my peers, but like, I'm still glad the brand is back and thriving. The brand is actually now celebrating its 25th year, to make you feel super f*cking old, and announced a bunch of new collabs, so it's going to feel like middle school all over again with everyone you know sporting a Juicy tracksuit. That being said, Juicy obviously has a place in the best comebacks category, because I dare not disrespect a brand that influenced a generation of fabulous middle schoolers.
Tie-Dye
View this post on Instagram
At this point, there's not much to say about tie-dye, except that it was the biggest trend of 2020. It was like a summer camp in every person on the planet's living room, tie-dying anything we could get our hands on. Eventually we all gave up and brands like BrownDyedGirl (who I found from Hannah B. Who even am I anymore?) came to our rescue bringing tie-dye sets to our doorsteps without the hassle of actually hand-dying pieces. I'm putting this in the best category for a few reasons. It hits all the Cs: cute, comfortable, cozy, casual, classic. If I'm being real, I'm not sure how long this trend will actually last, but for 2020 it has served its purpose.
Color-Tinted Sunglasses

Everyone who was someone rocked color-tinted sunglasses in the 2000s, and when they came back to life I was all in. Now, disclaimer, I literally look like Mrs. Potato Head in ALL sunglasses, but that simply did not stop me from hopping on the bandwagon. The pastel colors hit different and make me feel like a pop star. I shamelessly bought a pair from Vogue Eyewear (taking Watermelon Sugar to new levels here). I hope to see this trend live on for a few years, but if not, I'm glad it had its comeback moment.
Press-On Nails

I mean… come on. These things are so convenient. When I was younger I freakin' LOVED press-on nails and my mom thought I was pure trash. Now we've upgraded from the CVS claws to brands that actually are custom printed to fit your nail, and I really think this is the hack that we all need. I personally have been using ManiMe as my go-to, but there are multiple brands with similar concepts that are doing it right. This is great for my people who are feeling lazy, and also great for those not comfortable and ready to go back to a nail salon.
Glasses Chains
In 2020, glasses chains DID make a comeback, and it was a chic one at that. Early 2000s glasses chains were strictly for grandmothers who lost their reading glasses if they weren't literally tied around their neck, but 2020 glasses chains were a cute accessory just because. It also influenced a much bigger and more important trend, the mask chain. The first time I saw a mask chain was on Lara Eurdolian's Instagram (@prettyconnected), and then I blinked and everyone had one. They're convenient for the same reason a glasses chain would be, but also spruce up your mask in the most needed way. If you told me in January that this would be the best accessory of 2020 I'd laugh, but here we are… and that's on pandemic fashion.
Vests

ASOS Neon Rose relaxed sweater vest in marble knit
2000s vest fashion consisted of diamond checkered sweater vests that could only be rocked by Avril Lavigne. If said vests returned in the same style, this would be at the top of my "worst" list, but now they've come back in a cute and fun way, and I'm obsessed. The oversized sweater vest and button-up shirt dress combo is currently the vibe I'm enjoying, and if there wasn't a pandemic, you bet I'd be seeking fall activities weekly to rock this look. Instead, I'll be ordering this outfit and asking my mom to snap a pic of me in the yard, because that's 2020 in a nutshell.
Flavored Lip Balm

If you didn't have EVERY flavored Lip Smacker balm, were you even alive in the 2000s? I don't even recall if these actually hydrated your lips or just made them more chapped, but I do know that the sweeter the smell, the happier I was. While I would not opt for an actual Lip Smacker in 2020, I have noticed the rise of candy flavored lip products returning. My personal favorite is the Laneige Lip Mask, because it makes my lips feel super hydrated for long periods of time and the flavors are real good. Sweet Candy, Gummy Bear, and Vanilla are my top three, but really they're all delicious. As someone whose lips are literally always chapped (no amount of water can save me, I've tried), this is a trend I am here for today and every day.
Furry Sweaters

Tobi Dream of Me Fuzzy Lavender Sweater
#WinterIsComing and as someone who is ALWAYS cold, this is the type of sweater that never left my closet. That being said, I am well aware that a furry fluffy sweater hasn't always remained on trend, but this year, they're back. I picture a young Mary-Kate and/or Ashley rocking this with some pigtails, and that is the energy I am trying to bring back this winter. This sweater in particular is from Tobi (calling all my sorority girls), but it's safe to assume you can find this staple at any store.
G-Shock

Honorable Mention goes to G-Shock. I NEVER saw this comeback coming, but given the fact that these watches fashionable now must be acknowledged. What's next, Etnies?
The Worst
Visible G String
I don't think I have to go too deep into an explanation as to why this trend is falling under my worst comebacks. The first time this trend existed, I was seven years old, so I didn't really understand it. Now, I am 27 years old and still don't really understand it. The wedgie-but-make-it-fashion look is not for me, and while it might be done tastefully by Hailey Bieber and Kim Kardashian, it most certainly does not suit the average human.
Butterfly Clips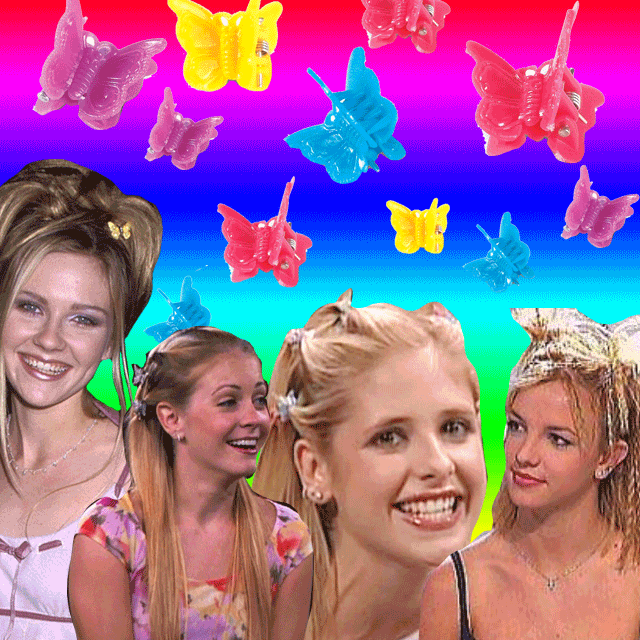 I'm kind of torn on this one, so don't hate me for putting it in the worst comeback category. That being said, I need to be a little realistic here. Butterfly clips were cute AF when we were young, but they were never practical. They never actually held my hair back (granted I have frizzy, curly hair that pre-heat iron days could literally not be tamed) but even worse, the fancy ones would get tangled and lost in my lion's mane and hurt. Now, seeing adults wear them in 2020, I am just wondering… why? Is it for the looks? Is it to test your detangling skills? Again, I see this trend fizzling out quickly, but if you can rock it and make them look as chic as above—all the power to you.
Low Rise Jeans
View this post on Instagram
Not much to say here. I thought low rise jeans were dead and gone, and I was happy about that. Low rise jeans flatter no one, and I thought we all accepted that we just don't need our jeans to expose our pubic bones? I'm just not here for it. So yeah, let's keep these bad boys in the past, please and thank you.
Money Piece
View this post on Instagram
So let me start this bit by saying I myself currently am rocking a money piece, and a thick one at that. But, I am well aware that this trend will be over in no time, and I'll look back and wonder wtf I was thinking. I have physical reactions to how strongly I dislike chunky highlights, so I assume my views will be similar in a few months. I do think they are cute and fun at the moment (when done correctly), but the upkeep sucks, and when the roots start creeping in it goes from funky to disaster real quick. Let's mark this under "worst comebacks that I am currently enjoying but can still acknowledge are the worst."
And there you have it sk8er bois and girls. 2020 has been a fun blast from the past (even the roaring 20s are making an appearance!!!) but the trends remain sharper than ever.
Betches may receive a portion of revenue if you click a link and purchase a product or service. The links are independently placed and do not influence editorial content. 
Images: Jun Sato/ WireImage; Provided by Tobi; GIPHY; SKIMS, Juicy Couture, BrownDyedGirl, DoYouLoveThe2000s, ManiMe.Co, PrettyConnected, TheFrankieShop, Laneige, G Shock, NewBalanceLifestyle, Bella Hadid, Brittany Xavier / Instagram
A New Song About ~Feelin Yourself~ By Charli XCX's Protégés Is What Single People Need RN
If you're quarantining with your significant other, consider yourself lucky—no matter how annoying their snoring is or how badly you want to throttle them when they fail to take out the trash despite your numerous reminders. After spending a few months with only Me, Myself, and I, I'm slowly losing it and beginning to understand why Tom Hanks painted his own blood on a volleyball, let's just say that. And another side-effect is that I'm literally living in one of those "Day 257 without sex" memes. If beaches weren't closed, I might have gone to one just so the waves would slap my ass. Just kidding, but like, it's real out here. Which is why it's amazing that Nasty Cherry, the stars of Netflix's I'm With The Band and Charli XCX's protégés, came out with a song that's all about ~feeling yourself~. It's called "I Am King", and it's out today, May 22, via Vroom Vroom Recordings.
When I asked about the inspo for the song, Nasty Cherry member Gabbriette said, "Masturbating seemed to be the topic of the day. Feel like we don't get to sing and dance about it enough so we made a song to help us out." Honestly, she's not wrong.
As for what it means to really be a king, each of them had a different take. Gabbriette said, "Being a king is loving what makes you you. Livin' life how you want in your body." To Debbie, "It means being fearless and needing nobody but yourself." And for Georgia, "To me, being king means being the ruler of your own body, and having complete authority over it." I cosign all these interpretations.
But we all have days when we're not exactly feelin' ourselves (whether it be literally or figuratively), and on those days, Chloe recommended, "Do an activity that makes you feel good and brings you joy. For example, when I'm low, I listen to Charli XCX and make pasta."
After you check out "I Am King", you'll probably become obsessed with Nasty Cherry. The all-female group puts out music that's fun and provocative (songs about masturbation, titles like "Music With Your Dad", need I say more?). And they have a #tbt aesthetic that any 90s betch will live for. I asked about that, too. Georgia explained, "We all love the early 2000s aesthetic! We grew up with Lizzie McGuire, Bratz dolls, the Cheetah Girls, Christina's Stripped album, etc., and have a lot of shared love for that period of pop music and film. 2002 gets such a bad rap for style, but it was f*cking fun—you could throw on a tracksuit with a pair of stripper heels and sunglasses and it was a look." Ok, like, yes.
Couldn't agree more, and I have a feeling that post-pandemic, tracksuits with stripper heels are going to make their way back. So dim the lights, maybe light a candle, and check out their newest single below.                                                                              
This Twitter Thread Explaining The Iconic Photo Of Britney, Lindsay, & Paris Is Epic
In these trying times, it's important to find things that still bring us joy. For some people, that might be deep cleaning their kitchen or watching inspirational videos, but those things just don't do it for me. But you know what does? Reliving the minutiae of celebrity drama from 2006. On Sunday night, Twitter 2000s expert popculturediedin2009 posted one of the most important threads ever, and we must talk about it. This is the story of the iconic photo of Britney Spears, Paris Hilton, and Lindsay Lohan in the car together, and (no pun intended) you better buckle up.
Responding to another tweet thread purportedly explaining the photo, pcd2009 decided it was time to really get into the facts. What follows is an absolute treasure trove of 2000s relationships, feuds, and tabloid videos—truly a feast for any pop culture addict.
alright so i'm seeing too many of these threads detailing mid-aughts it-girl drama with few facts in sight so it's about time i dusted off a history textbook (my extensive tabloid collection) and relayed the REAL gossip for you all https://t.co/rq1N78LkGl

— popculturediedin2009 (@pcd2009) April 6, 2020
For the most part, this story revolves around the complex relationship between Paris Hilton and Lindsay Lohan. Britney Spears is important too, but she'll come in later. In 2006, Lindsay and Paris were both at the height of their tabloid fame, and they were both out partying like, every night. Lindsay was also only 19 years old, which is insane, but that's a whole different issue.
Here are some other key players who you'll need to know:
Stavros Niarchos: A hot Greek shipping heir who originally dated Mary-Kate Olsen, before dumping her for Paris Hilton.
Brandon Davis: A less-hot oil heir who hung out with the same crowd. He had formerly dated Mischa Barton, and had publicly called out Paris for using racial slurs.
Elliot Mintz: Paris Hilton's publicist, who literally looks like an Oompa Loompa. In 2006, it was basically his job to follow her around to clubs and fix whatever messes she caused. Like Olivia Pope, but sleazier.
In the thread pcd2009 cuts to the chase, saying that the inciting incident that led to the iconic photo was in the spring of 2006, when Paris and Stavros broke up for the first time. Soon after that, he was spotted out with Lindsay, and was caught leaving her hotel room in the morning.
while they'd had their share of drama beforehand, the key stretch that leads up to the aforementioned 'britney, lindsay, paris' photo begins in the spring of 2006, as paris and stavros suffer their first (of many) breakups. pic.twitter.com/FP9KABHIIh

— popculturediedin2009 (@pcd2009) April 6, 2020
According to the thread, Paris and Lindsay already had their issues (partially involving Nicole Richie), and Lindsay hooking up with Stavros obviously didn't help. A few nights after that, Paris and Brandon Davis were caught by the paparazzi leaving the club, and Brandon went off on Lindsay. In this infamous video, he calls her "firecrotch" over and over again, and also says she's "really poor" because she's only worth 7 million. Paris is smart and doesn't say anything, but she's laughing the whole time.
nights later, leaving janet jackson's birthday party, paris – joined by elliot, her sister nicky and pal caroline d'amore – cackles maniacally as brandon unleashes a tirade on lindsay, dubbing her "firecrotch" and saying "she's worth about 7 million" so "she's really poor" pic.twitter.com/3VMnmiyMaB

— popculturediedin2009 (@pcd2009) April 6, 2020
My favorite part of this video is Elliot Mintz. He's right there in a suit and tie, looking like he'd rather die than have to deal with this. At one point, Brandon pulls him by the tie, and I really thought Elliot was going to slap him. I hope this guy was getting paid a lot off money to put up with this bullsh*t every night.
The video went viral by 2006 standards, and Brandon ended up going to rehab because his family was so pissed. That is, after he was spotted wearing a "Team Firecrotch" T-shirt. Classy! After getting out of rehab, he allegedly recorded a song called "Firecrotch," but it was never played in public, and sadly, there is no trace of it on the internet. This seems wrong. Like, shouldn't the Library of Congress be preserving these important historical documents? I'm upset.
So that was the spring of 2006. Over the summer, things mostly just simmered. Paris and Lindsay occasionally ran into each other or made shady comments, but nothing really blew up. Then came fall. Paris reignited the feud by hooking up with Lindsay's ex Harry Morton, and LiLo didn't appreciate it. In what might be my favorite paparazzi video of all time, Lindsay clearly says "Paris is a c*nt," then denies saying it just SECONDS later. God, I would literally give anything to go back to 2006 right now.
come fall, paris strikes again by getting cozy with lindsay's ex, hard rock scion & pink taco founder harry morton (RIP), fueling lindsay's now-infamous "paris is a cunt" comment as she made an exit from a party at the roosevelt hotel in early november. pic.twitter.com/RVkAZTKgZp

— popculturediedin2009 (@pcd2009) April 6, 2020
Around this time, Paris Hilton started getting close with our third major player, Britney Spears. And by getting close, I mean that they were getting wasted with each other every night, and were also clearly buying their fried blonde hair extensions from the same place. Looking back, it's actually kind of wild how rough they look in these photos. Now, every celebrity has a glam team at the ready, but there's not a hairstylist in sight here.
by then, paris had also acquired a new pet for her menagerie: britney spears, newly single after kicking k-fed to the curb and now partaking in nightly crotch-flashings with paris, to both our devastation and morbid fascination. pic.twitter.com/78C9UC424V

— popculturediedin2009 (@pcd2009) April 6, 2020
And now, we've finally arrived at the historic night. November 27th, 2006. The night when it all went down. At around midnight, Lindsay Lohan talked to the paparazzi in a parking garage. In the video, she eagerly shows them a bruise on her arm, saying that Paris Hilton "hit me last night, for no reason apparently," and also that Paris poured a drink on her.
after a party in late november, a distraught lindsay approaches paparazzi to show a bruised arm, alleging paris had hit her. pic.twitter.com/6iyQkF3VCU

— popculturediedin2009 (@pcd2009) April 6, 2020
So that was midnight. Fast forward a few hours, and it was a very different story. Lindsay was hanging out at Brandon Davis' bungalow at the Beverly Hills Hotel (I guess she got over the firecrotch thing?), and Elliot Mintz quickly arranged for Paris and Britney to get their asses over there. Later, Paris, Britney, and Lindsay all left the party together—you guessed it—crammed into Paris' car.
In the paparazzi video, Lindsay tries to clarify her statement (from earlier that night) about Paris hitting her. With Elliot Mintz grabbing her arm, she says that Paris is "a nice person," and that "everyone lies about everything." Soooo she means that she was lying? Or that Elliot Mintz sent her a strongly worded text? Either way, this timeline is truly wild. Basically, the iconic photo of our three hot mess musketeers was a publicity stunt to defuse Lindsay's claims about Paris, and I guess it worked? Everyone remembers the photo, but all of these paparazzi videos are actually blowing my mind. In a leaked email with Shanna Moakler from a couple weeks later, Lindsay says that the whole thing was "more of a photo-op," and that Paris and Britney are "overrated."
in a leaked e-mail exchange with shanna moakler (ex-wife of blink-182's travis barker, whom paris hooked up with after their split, causing shanna to allegedly punch paris in the face at a club) lindsay reiterated the three musketeers act was a publicity stunt: pic.twitter.com/AhHddUxpxD

— popculturediedin2009 (@pcd2009) April 6, 2020
So what happened after that fateful night? Paris, Brittany, and Lindsay were never photographed all together again, and as we know, they all had their own separate issues going on. Lindsay and Paris both served short jail sentences in 2007, and I think we all know that 2007 wasn't a great year for Britney Spears, either.
All in all, this thread is a wild ride, and I can't get over these paparazzi videos. Of course, it's fun to see Lindsay call Paris Hilton the C-word, but living like this looks like an actual nightmare. I would have a panic attack if there were photographers swarming my car at all times, so I can't imagine what it's like. But also, why were these people always driving themselves home from the club? I know Uber didn't exist back then, but I'm pretty sure Paris Hilton could afford a driver. I digress. Thank you, pcd2009, for this incredible feud, which made me forget about coronavirus for a solid two hours. It's the little things.
Images: Michael Caulfield Archive / Contributor / Getty Images; pcd2009 / Twitter
The Most Embarrassing 2010s Fads We're Glad Are Over
By now, you probably know that the decade is about to end. Yeehaw, we made it. And while it's fun to look back on the crazy sh*t that celebrities or The Bachelor contestants did this decade, it's even more interesting to think about what we, the normal people, did in the 2010s. We already looked at the worst wellness and fashion trends of the decade, and uh, oof. Today, let's look back on some of the ridiculous fads and trends that became a thing, and thankfully also stopped being a thing, this decade. 10 years is a long time, and there have been some major rough moments. None of us are making it out unscathed.
Eating For The Insta
I never understood "eating for the insta" ? Like I'm eating it because my body physically needs 17 meals a day & because its in front of me

— Naomi (@gimmenuggets) September 27, 2017
Considering how ubiquitous Instagram has become, it's easy to forget that it didn't even exist at the beginning of this decade. *Takes 10 hours to ponder my existence* We've seen a lot of Instagram trends come and go since its inception, but perhaps the one I'm most glad to see in the past is everyone caring way too much about their food pics. There's nothing wrong with taking pictures of your food and posting them every once in a while, but we've moved past the era of every single girl pretending she's a food blogger and making a huge scene before anyone at the table is allowed to take a bite. These days, if I'm ever out to eat and someone shouts "the phone eats first!!!", I slap their iPhone out of their hand.
Overfiltering Photos

Okay, so while many people still spend more time editing their photos than it took me to write this article, thankfully most of us are no longer using 12 Instagram filters and grainy effects on our photos. Facetune is an epidemic, but at least we've realized that the toaster filter isn't flattering on literally anyone. The same goes for fake lense flairs, unnecessary use of black and white/sepia, and those weird effects that make your photo look like a piece of film. What the f*ck even was that?
Planking

I literally had to triple check because I didn't believe it, but planking became popular THIS DECADE. Who said time flies, because they were mistaken. I never got into this trend, and I still don't understand why it became a thing. Is there anything more cringe than that one friend's dad who got super into planking, and would post pictures on Facebook of himself balancing on like, a motorcycle or some sh*t? People are so weird.
Bitcoin
if I had a dollar for every time someone tried to mansplain bitcoin to me, I could probably afford a bitcoin

— Betches (@betchesluvthis) December 22, 2019
Much like planking, I still have basically no idea what Bitcoin actually is. For a few months in 2017, cryptocurrencies were basically all anyone could talk about, and if you didn't have at least 10 different dudes mansplain Bitcoin to you, congrats, you're an outlier. Since 2018, demand for Bitcoin has dropped, in part due to hacks and other security concerns, and, I would guess, also in part because people realized they can just buy legal things with like, normal money. If you're buying gifts for me, I'm a big fan of good old Benjamins.
Yik Yak
Remember the summer of 2013 when everyone got yik yak, and all hell broke loose

— Dan 🧢 (@DannnThaMan) December 22, 2019
If you weren't still in college during the brief, problematic fever dream that was Yik Yak, you probably have way less to talk about with your therapist. Basically Yik Yak was like an anonymous, location-based Reddit, where people could say whatever they wanted and get upvoted or downvoted. The app quickly exploded on college campuses, and it was a lot of fun, until threats and hate speech started getting an uncomfortable amount of upvotes. The app also made its way into high schools, which was even more of a disaster. Imagine getting outed on Reddit, but then everyone at your school sees it. Hard pass for me! The app was shut down in 2016, thank god.
Fidget Spinners
in a time not too far from now somebody's gonna feel sentimental about finding the fidget spinner that belonged to their grandpa who died from vaping

— everett byram (@rad_milk) October 15, 2019
As adults with jobs and responsibilities, most of you probably don't stay super up to date on the latest fads in toys. Somehow, fidget spinners slipped through the cracks, and adults and kids alike became obsessed with flicking these dumb little things around on their fingers. I never owned one myself, but I'll admit, they're kinda fun. Still, there's no reason for everyone to be going about their business in the world attached to a toy 24/7, so I'm glad this was a passing craze. Just download solitaire on your phone like a goddamn adult if you need something to distract you from your responsibilities.
"Getting Turnt"

I could've written a whole article on the dumbest slang of the 2010s. Just a few of the ones I don't miss are on fleek, being shook, and getting litty titty, but none of those could hold a candle to getting turnt. It's just… so bad. Of course, there's the issue that turnt was never a real word to begin with, but the bigger issue is with how it's used. By that, I mean that everyone used it all the time, whether it was supposed to be ironic, or they were actually talking about getting drunk. I don't even want to know the amount of sh*tty apologies that included the words "too turnt," but thankfully we've moved past this as a society.
Muploads
just trying to find something that'll replicate the high of getting tagged in someone's muploads in 2011

— Betches (@betchesluvthis) December 22, 2019
Wow, this makes me feel old. Throwback to 2011, when nothing was more terrifying than waking up after a night out to a notification that "*insert name* tagged you in 14 photos." And the photos were NEVER GOOD! After surviving the era of uploading absolutely everything to Facebook, it's a true miracle that any of us got accepted to college, or got jobs, or literally have rights. These days, Facebook albums are pretty much a thing of the past, except for your one married friend who posts photos of her kid every. single. day. Hey Maggie, you don't have to do that!
Images: Shutterstock; gimmenuggets, betchesluvthis (2), dannnthaman, rad_milk / Twitter; Giphy (3)
The Worst Fashion Trends Of The Decade
Congrats team, we've officially (almost) completed a full decade… WOW. Hard to think about the fact that I started this decade as a naive high school junior with jet black hair, an unreasonably orange tan, and a wardrobe complete with Ed Hardy graphic tees. Oh, how far I've come! I can speak for us all when I say that we have all have changed significantly over the past ten years, as we should. And, just as we have all changed, fashion too has evolved (for better and for worse). Like, who back in 2010 could have predicted that in 2019 we'd all be wearing baggy sweats with crop tops and dad sneakers because Kim Kardashian West (a future lawyer) made it cool to do so? Trends are a weird thing and, of course, we've seen some terrible ones over this past decade. So now let's all try to contain our cringe sweats as we dive into the worst fashion trends from each year of this decade, and try to forget that we voluntarily chose to participate in these hideous trends. 
2010: Jeggings

What better way to kick off the worst trends of the decade than with jeggings! Oh, jeggings the true star of infomercials, weekend-deal-buster department store ads, and closet staple of all of the trashiest girls from your high school. No matter how hard anyone tried to "elevate" the jegging, it just simply couldn't be done. At the end of the day, it was always still a legging-jean hybrid, two things that we should never have tried to mix. And thus, forever a great fashion tragedy.
2011: Toning Sneakers

Toning sneakers… anyone, anyone? I mean, it's kind of a brilliant concept in theory, but they were just so terrible to look at that it was impossible for anyone to get on board with this trend who wasn't a suburban mom. Not to mention, there's no evidence they even work. So our moms we would be walking around with gigantic orthopedic shoes for nothing. Wait, you know what? I'm just realizing something…were these clunky toning sneakers foreshadowing of the chunky dad sneaker to come???
2012: Statement Necklaces

FSMILING Antique Gold Bib Statement Necklace
If Queen Stassi gave us anything, it was her hard endorsement of the statement necklace trend. Oh, along with, "It's my f*cking birthday!" and "I'm not sure what I've done to you, but I'll take a Pinot Grigio." Okay, she's given us A LOT this decade. Unfortunately, even with all that she has given us, she is still guilty of being a strong supporter of this terrible trend. I don't know who told us we should be walking around with the entire Cave of Wonders from Aladdin strapped to our necks, but they should be burned at the stake for that crime against humanity.
2013: Wedge Sneakers

Cambridge Lace-Up Fashion Sneaker Wedge
Wedge sneakers… yikes. If there is an overarching theme of bad 2000s fashion, it's that we thought we could mix things that never should go together. There's a reason you have sneakers for the gym and wedges for the club, so I don't know who initially thought "let's take my most comfortable, least fashionable shoes and make them hideous and harder to walk in!" But that person needs to be put to justice. I'm going to go ahead and admit here that I MAY have had a pair of these…or two. But it didn't matter because I was always too self-conscious to wear them. For all the trends I've embraced, this is one that I just never thought I could actually pull off. And like, fair, because really, no one could. 
2014: Printed Leggings

Idingding Galaxy Star Printed High Waist Leggings 
I honestly don't know what's worse, cheap-looking jeggings or tacky printed leggings. And somehow, we managed to combine both into one very unflattering and NSFW trend! If you are wearing paper-thin printed leggings for anything other than lounging around your house or a Halloween costume, please take a long, hard look in the mirror.
2015: Flower Crowns

If you didn't wear a flower crown then you're either a liar or you need to get out more. Everyone who is anyone has worn a flower crown at some point in time and, as cringe as that is, it's the sad truth. Throwback to 2015 when flower crowns were the fashion icon of the festival trend. Every basic bitch who only listens to Top 40 hits was being #wanderlust and going to any music festival she could get her dad to buy her tickets to. And that was all fine and good, but then flower crowns made their way into weddings, and we officially had a fiasco on our hands, where any bitch who'd stepped outside one time thought she was a boho princess. This is why we can't have nice things.
2016: Chokers

Forever 21 Cross Pendant Choker 
Not going to lie, I definitely gave this trend my approval along with my hard-earned dollars for legit a piece of string with a charm hanging off of it. And, if I'm still being honest, this is a trend I do still kind of like. However, it's the worst trend of 2016 because EVERY GIRL across this great nation was wearing a choker. It became so basic that seeing a girl in a choker was as much a guarantee as seeing a girl in her Adidas three stripes. 
2017: Furry Sandals

Okay, again, this was actually a trend I do support, but only in theory. This is because I, like most regular everyday civilians, have no f*cking idea how or when to wear these shoes. I have several pairs of these because I think they're adorable, but the question still remains: WHEN THE F*CK DO I WEAR THEM!?! They're sandals, but they have fur, so if I wear them in the summer then my feet will inevitably sweat and make the fur all gross and matted. And, if I wear them in the winter then I'll be on the same level as those white guys who wear shorts year-round, and I'll have to sacrifice a few toes to frostbite. And then what's left? Spring or fall maybe? But with what? And in what context? Even if these may be cute, they still make zero sense.
2018: Tiny Sunglasses

Slocyclub Vintage Small Sunglasses 
Now, I know this is a trend that most of you probably hate and will fully get behind me crowning this the "worst trend of 2018." Of course, as a self-proclaimed fashionista I admit that I do think this trend looks cool. Like, when I see Bella or Kendall wearing tiny sunglasses, it looks so chic. But therein lies the problem: You and I are not Bella or Kendall, and so there is no real-world occasion that these are useful. You're wearing sunglasses that neither protect your eyes, nor the area around your eyes to help prevent wrinkles. This trend is legit just to look cool and, as much as I love to look cool, I still need my trends to, at the minimum, be somewhat practical. Not to mention, our kids are going to roast us so hard for this.
2019 – Micro Mini Bags

Pretty Little Thing Natural Snake Micro Mini Bag
Like I just stated, impractical trends are not my thing. I can't justify spending money on sh*t that isn't going to benefit my daily life. Unlike the sunglasses trend that, although impractical I still think looks cool, I don't think the micro mini bag trend even looks cool, unless you're Lizzo. And I just don't see the point of a bag that can't even fit my phone in it. What am I meant to put in here? A tube of Chapstick and one credit card? I'm good. Call me when Olsen-level oversized hobo bags come back in style, thanks.
So as we now approach the start of this totally new decade, I can't help but think about how in 10 years from now I'll again be looking back and cringing at all the terrible trends I actively participated in. Not to mention the fact that, unfortunately for us all, thanks to social media we will all have our fashion tragedies yet to come officially recorded for all eternity. And they say social media is bad for your mental health…
Images: Beauty Style / Shutterstock.com; Chicos; Skechers; Amazon (6); Forever 21; Pretty Little Thing
Betches may receive a portion of revenue if you click a link and purchase a product or service. The links are independently placed and do not influence editorial content.
5 Stars From The 2000s That Have Normal Jobs Now
Friends, we have officially almost made it to 2020. Taylor Swift's self-titled debut album came out 13 years ago. Justin Bieber is married. Eminem's daughter Hailie graduated from college in 2018 and has almost 2 million followers on Instagram. We. are. old. And it's days like today, as I furiously Google where I can get discount botox, that I get nostalgic for my youth. It was a simpler time, a time when I could paper my walls with the cover of Tiger Beat and dream of making out with Shane West and being as cool as Lindsay Lohan. And this nostalgia got me thinking, what ever happened to my favorite stars of the 2000s? I mean, we know what happened to people like Lindsay Lohan (attempting to run a beach club, hanging out with a shady prince), and Amanda Bynes (mental breakdown, design school, another mental breakdown). But what happened to the ones that went on to have normal jobs? Let's find out! 
1. Dylan Sprouse
Dylan Sprouse is, of course, the identical twin brother of Jughead Jones, and one half of the iconic duo that relentlessly demanded Adam Sandler play them the Kangaroo song. He also lived the suite life of Zack and Cody, but apparently was not saddled with Ross Gellar as his fictional father (that was only Cole). Small mercies. Cole continues to act steadily on the CW's most bonkers show, Riverdale, but Dylan has decided to take a different path in his life. And I don't just mean professionally trolling his brother on Instagram. Dylan co-founded the All-Wise Meadery, New York's first full production meadery located in Brooklyn, because of course. Sooooo that's just a bar, right? Will I be murdered on-site by a man with a handlebar mustache the moment I enter Williamsburg for writing that? 
The All-Wise Meadery website tells me that mead is also known as "honey wine" and is the oldest alcoholic drink known to man. Huh. I thought that was Bud Light. It also goes on to explain that, "It was upon graduation in 2015 that Sprouse realized his true passion for brewing, having spent the better part of his college career experimenting with different mead formulations and perfecting his recipes in the confines of the dorm rooms." OKAY. Just because you mixed Kool-Aid with vodka in a garbage can for a house party and called it Jungle Juice does not make you a mead-ologist, Dylan. Needless to say, I am entirely skeptical of this mead, would never spend a dime on it, and will absolutely be going next weekend. Who's with me?! Great, you can pay. 
2. Jonathan Bennett
I'm baaaack @Flywheel Larchmont tomorrow with my NEW TIME of 7pm!! Go grab a bike it's Wednesday. (yes you can wear pink) ready to inspire!

— Jonathan Bennett (@JonathanBennett) March 11, 2014
Aaron Samuels may look sexy with his hair pushed back, but have you seen how sexy he looks dripping in sweat and wearing bike shorts? Yeah me either, but for a while back in 2013-14 you could have if you attended a Flywheel class in LA. According to Huffpo, Jonathan strove to "bring out the best" in all his riders. How sweet! I've only ever been verbally abused to the point of tears by spin instructors, which is apparently NOT enough to file a police report, according to the detective who threatened to sue me for wasting his time. Can you move to New York, please, Jonathan? I took 911 off my speed dial, I promise!
It looks like Jonathan no longer teaches spin (nice spin instructors finish last and all that, I'm sure) and is back to getting paid to act. I know this because I have seen him in multiple Hallmark Channel movies I have saved on my DVR. You go, Glen Coco! 
3. Erik von Detten
If I was forced to pick a childhood crush that was not Devon Sawa,  it would have to be Erik von Detten. I mean, could you get any sexier than Brink?! (Other than Casper or Junior Floyd or Scott Wormer, obviously). Erik was the epitome of a hot California guy, right up to his douchey turn in The Princess Diaries. It was all *chef's kiss* perfect.
What has happened to this golden boy who shined so bright, you ask? Well, I have some very bad, terrible, horrible, no good news. He is happily married and just had a baby girl this past May. His wife and daughter are incredibly cute and adorably coordinated for Halloween and obviously I hate them. Oh, and I forgot this was supposed to be a job update article and not me lamenting over my lost loves. So, here it is. Erik works in sales now. HAPPY?!
4. Nikki Blonsky
We all know Nikki as the star of Hairspray, the movie where she danced her way into our hearts, and more importantly, Zac Efron's heart. Zac Efron's beautifully coiffed, seductive, perfectly chiseled heart. Where was I? Oh yes, after Hairspray, Nikki found a few more roles, but nothing quite at the level that Hairspray was. She revealed in 2017 a profile with OUT that she would never consciously take a step away from the industry, but, that doesn't mean she hasn't pursued other things. For a while, she went back home to Long Island and worked in a hair salon while waiting for her next acting job to come around. Gotta get that bread (are the kids still saying that these days?). Even people who had John Travolta in drag play their mother in a major motion picture have bills to pay. Nikki still has some small roles to this day, and continues to pay tribute to her iconic character. She's also randomly become iconic f0r her Cameo videos, because 2019.
5. Teddy Dunn

This update is basically for me and It's Britney, Betch, which is totally fine, because as we always tell each other after 1.5 bottles of wine, we're the only ones who matter anyway. Teddy Dunn played Duncan Kane on two seasons of Veronica Mars, and I guess was scarred by the fact that he was a part of the greatest incest plot twist of all time (take that, Riverdale!), because he barely acted after leaving the show. I think he made a guest appearance on Gilmore Girls as the son of one of Emily's rich friends, but we're too deep in this very long article for me to attempt to confirm the accuracy of anything my brain is telling my fingers to type. Recently, Teddy gave an interview to TV Guide, saying he didn't realize that the acting business was going to be quite a "business," and left to pursue a law degree at Boston College. He now works as a law associate at a firm in New York. Who knew the donut had it in him! BRB while I find his company, charm my way past security, and convince him to go to Dylan Sprouse's meadery with me. 
And those are just a few of my favorite 2000s stars that have normal jobs now! Welcome to the real world, celebrities, you're gonna hate it. 
Images: allwisemeadery, angelavondetten, nikkiblonsky/Instagram; jonathanbennett/Twitter
5 Episodes Of 'Sex And The City' That Are Now Cringeworthy
We all love Sex and the City, or at the very least, love to hate Sex and the City. I mean, the better half of the twenty- and thirty-somethings in New York moved here because of the inspiration Carrie Bradshaw and her crew of Manolo Blahnik-clad misfits gave us. We've all sat around with our gals and gays deciding who's the Samantha (always the slutty one that has two glasses of Prosecco and starts announcing "I'm such a Samantha!") the Miranda (the smart one) the Carrie (me… I'm the Carrie, always) and finally the poor, sad soul that gets labeled the Charlotte. If you've ever worked serving tables and had someone order a hot water with lemon, you can blame Sex and the City. I always did. 

Here's the thing about shows from the past: they rarely stand up to today's standards of quality, comedy, and most importantly, political correctness or even personal morals. Sex and the City is no exception. Even when I watched the show in its entirety seven years ago, there were moments that made me wonder how they got away with some of the sh*t they did at the time. The show ran from 1998-2004, arguably a great time for television, but also a time before it was customary for us to question the things on TV that made us uncomfortable, offended, or simply confused. While there are many a "joke" that would now be considered to be um…in poor taste…these are five episodes that made me say "Uh…oh no, no, you can't say stuff like that anymore!"
5. Season 2, Episode 12 "La Douleur Exquise" – Stanford's Big Moment
It's supposed to be New York in the late 90s/early 2000s, and the LGBTQ+ representation is lacking. Carrie's gay BFF Stanford is the most visible gay character on the show, with a whopping 27 episodes out of the 94 that make up the series. 27 episodes sounds pretty good, until you watch them all and realize that most of the time Stanford is just dropping by to make a little quip, call himself a queeny bitch, and then sashay offscreen like me leaving a party the second the open bar ends.

In this particular episode, Big is out of town so Carrie has time to kill, so we're granted a little glimpse into Stanford's dating life. The scene is set: Carrie and Stanford chain-smoking cigarettes inside the apartment, tossing back pink cocktails and trading tea back and forth. (If you don't know what Tea is, it's like gossip—catch an episode of Rupaul's Drag Race every now and then.) Stanford takes a sip of his cosmo and reveals to Carrie that he's been dating—cyber dating, he says wearily. "I have cyber sex on the internet. My name is Rick9Plus. Rick9Plus, how sad is that. So, I've been chatting with this guy and now he wants to meet and I don't know if I should." Carrie, as any good friend should, asks what Stanford knows about him. "His name's BigTool4you. He seems hot, it's exciting, and I haven't good sex since before Cats was on Broadway." Well he seems hot and says he has a big dick, and in gay world that's like scoring a doctor who also has his law degree, an apartment in Paris, and family money out the ass! Only like…gay guys also want to score a doctor who has his law degree, an apartment in Paris, and family money out the ass, you know? Big dicks don't pay the college loans and credit card debt!

Now, do a lot of gay guys have anonymous sex on the internet? Yes. Of course they do. More than most straight people I know, my gay friends have sex a lot. I mean, I don't, because I'm riddled with anxiety and self-doubt, but my friends who are blessed with anxiety-free brains, or a good Xanax prescription, do. Here's the thing though, they don't only have anonymous sex. Growing up I didn't really know any gay people, like, at all, so the only gay men I was exposed to were the ones on TV having wild sex in dungeons, insulting everyone around them, generally being rude to each other, and never really having any kind of traditional life. Maybe Sex and the City should've reconstructed the way gay men were seen on screen, instead of reinforcing those pre-existing stereotypes. But maybe I'm just being a hysterical homo! You know us! Drama, drama, drama!
Stanford does end up meeting with "BigTool4U," very romantically at an underwear party at an after-hours club in Chelsea, and they share a very special moment where he touches the waistband on Stanford's tighty-whities. Ah, just like a modern day Gone With The Wind.  We never hear from "BigTool4U" again in any other episodes, and Stanford never mentions how their torrid love affair ended, but hey, they were only the most popular and talked-about TV show on HBO at the time, they must've just not had the budget to further invest in gay representation!

4. Season 3, Episode 5 "No Ifs, Ands Or Butts" – Samantha Tackles Racism (Not)
It's no secret that Sex and the City was completely lacking in diversity. Lacking in the sense that it didn't exist like, at all. Almost every single episode, one of the girls is dating or having sex with a guest star or two who's only there for one episode. During the entire series, the girls date three people of color. Maria, from the episode where Samantha "tries out" being a lesbian (lol), Dr. Robert Leeds, played by Blair Underwood, who is the go-to defense answer when someone comments on the lack of representation on the show, and then there's Chivon.

We're introduced to Chivon through his sister, Adeena, a restaurateur acquaintance of Samantha's who also happens to be a woman of color. Chivon and Samantha immediately click, and after a few jokes about how smooth and hot he is, sprinkled in with a couple of nuggets of information about how successful he is from Adeena, the girls start potentially the first dialogue about race on the show…and it's all bad. After Samantha insists she's not using "black talk," she's using "sex talk," Charlotte corrects her, "it's African-American talk," Samantha fires back with, "I don't see color, I see conquests," to which Carrie replies, "talk about affirmative action!" I mean… holy sh*t, what? At this point we're only five minutes into the episode. Buckle in kids, it's gonna be a real f*cked-up ride!

As the episode goes on, Samantha ends up dating Chivon, and here is where it gets interesting. When Adeena realizes that her friend Samantha is dating her brother, not only f*cking him, she is very unhappy. "I don't like you seeing my brother, I don't approve. I'm sure you're a very nice person but you're white, and I have a problem with my brother getting serious with a white woman. I'm never going to approve and my approval means a lot to my brother." Samantha is aghast at Adeena's response and immediately takes it to the girls, who begin discussing "his big black cock." Miranda slyly comments, "don't you mean big African-American cock?" SO MUCH IS HAPPENING HERE AND IT'S SO BAD. The first and only time we're going to discuss racism in the show is racism AGAINST Samantha!? No, God, please no.

When Samantha refuses to break up with Chivon and shows up to a club with him they bump into Adeena, where sh*t really hits the fan. She yells at Samantha that no matter how many "Jennifer Lopez dresses" she owns she'll never be with her brother. Samantha makes some comments that made me shrink into my couch, before she struts off, only to get her hair grabbed by Adeena, leading them into fist fighting in the club.

Again, this is one of the only woman of color to ever be on the show, certainly the only one with an actual story line, and she's portrayed as violent, closed-minded, and is literally called a loud-mouthed bitch by Carrie in the narration??? NO. NO, Sex and the City, just….no.
3. Season 4, Episode 11 "Coulda, Woulda, Shoulda" – Roosters & Transgendered People??
When this episode opened with crowing roosters waking up Carrie, I connected. I've literally lived in apartments in New York where my rich neighbors with too much money to burn owned chickens and roosters and kept them on their veranda. It's New York, people are insane. Just this week I saw a man walking down 6th Avenue with a snake wrapped around his neck and an old woman with a parrot on her shoulder shopping at Trader Joe's. Only Carrie doesn't just rant about how annoying the roosters are, but also how annoying a group of transgender sex workers that are supposed to work the street outside Samantha's meatpacking district apartment are! Oh, but also they're not described as transgender sex workers, we're introduced to them through Carrie's narration as follows: "There they were, Samantha's friendly neighborhood pre-op, transsexual hookers. Half-man, half-woman, totally annoying." Tasteful, Carr!

There's so much wrong with this. Imagine Zendaya on Euphoria referring to a group of people as transsexual hookers and it not immediately trending on Twitter. Remember, this is the level SATC was at at the time. The episode goes on with Samantha meeting the girls for breakfast the next morning, where she just digs her ignorant grave deeper. "I'm paying a fortune to live in a neighborhood that's trendy by day and tranny by night." Poor, sweet, dumb Charlotte is confused. "Tranny?" She asks. "Transsexuals. Chicks with dicks! Boobs on top, balls down below!?" Samantha answers. "I don't get the appeal there," Miranda comments before Samantha babbles some bulls*t about pseudo-straight guys from New Jersey and then they all laugh maniacally like Regina George bullying Katy Heron.

Transgender is defined as someone who identifies differently than their biological gender, while transsexual is someone who physically transitions from one gender to another. You know what they have in common? They don't like to be called f*cking trannies! Maybe if we weren't all growing up watching women who inspired a cosmo-and-scooped-out-bagel movement talk so negatively about a vulnerable minority community, we'd be ordering less hot waters with lemon and caring more about basic human rights?
Samantha decides to go down and make friends with the girls, all of whom are women of color, so…yeah, the only women of color in this episode are sex workers referred to as "tranny hookers." How many rounds of people did this script go through? A lot of people read those words and thought "yes! go for it!!" After Samantha "politely" asks them to quiet down, they agree to move down the block, only to be thanked by Carrie's pesky little narration: "Samantha always knew how to get her way with men, even if they were half women." Again, this isn't the craft services lunch of the day! These are words heard by millions of people tuning in each week, and for years after. Like, think about it a little!
In classic Sex and the City fashion, everything wraps up into a little messed-up bow when Samatha invites the transgender sex workers to a rooftop BBQ and Carrie says things like "I need to see you twirl, sista!" at the woman of color they've been talking sh*t about the entire episode, and they all snap their fingers at her joyously. Personally, I want to see this episode rebooted with these three fierce-ass transgender sex workers teaching Samantha and Carrie a thing or two about ignorance while wearing better shoes than them.

2. Season 3, Episode 4 "Boy Girl, Boy Girl…" – Bisexuality Apparently Doesn't Exist
People mostly remember this episode because it guest stars that guy I only know as Rachel's hot assistant Tag from Friends, and of course Alanis Morissette, but it's also the episode where Carrie discusses bisexuality and Miranda cries about being too masculine in her relationship, which is a whole different can of worms I can't even delve into.

Tag and Carrie go on a date to an ice skating rink (barf, literally never) while skating around and swigging Jim Beam from a flask, which I respect. Tag inexplicably calls Carrie "Carrigan" before listing all of his exes, ending with a guy named Mark. *Scandalous!* We immediately cut to the girls going in on their first serving of granola and berries of the day, and Carrie announces she's dating a bisexual. Samantha chimes in: "I'm a try sexual, I'll try anything once!" lol Samantha, l o l. Carrie reluctantly admits that yes, she does have a serious problem with his bisexuality, but he's just such a good kisser! "I'm not even sure bisexuality exists, I think it's just a layover on the way to gay town!"
Carrie, the authority on all things LGBTQ+, proclaims as a pride flag rises from the mist behind her. Charlotte, the resident conservative, makes her opinion known, "I'm very into labels, gay, straight, pick a side and stay there!" Miranda tosses in her two cents—"stop kissing him"—before they all scatter away to deal with their urgent $8,000/month apartments and Yves Saint Laurent bags. As Miranda leaves the screen, I wonder if Cynthia Nixon, real-life-out-lesbian-turned-politician, ever stopped for a second and was like, "wait you guys I have to tell you something!" Ah, the eighth world wonder.

At a fancy new club Carrie, makes her concerns known to Tag. "You're not gay?" she asks. *eyeroll* They end up in bed together, where Carrie starts throwing hypothetical situations at him: "So like..if there was a very beautiful girl on the street, and on the other side was a really good looking man…" He cuts her off and tells her it's not about sex, just about the person, before they have sex for hours. (Also like, sidenote: I  just want to remind you that he is very hot. This has nothing to do with what I'm talking about, but he is very hot.)
Eventually Carrie goes to a party with Tag and his friends, one of whom is Alanis Morissette, and describes the party as a "pupu plater of sexual orientation" before they all play spin the bottle like it's a cast party after a high school production of Anything Goes. Carrie spins the bottle and it lands on Alanis Morissette, and you oughta know it's going to be a messy situation. Isn't it ironic that Carrie kissing Alanis Morissette is what makes her run away from the party with one one hand in her pocket and the other smoking a cigarette, never t0 see Tag again? (Did you get all of those Alanis Morissette puns?? I deserve a f*cking Pulitzer.) There's literally no wrap up, Carrie just says "that was the last time I ever saw him, I took my old fart ass home." For the record, and I shouldn't even have to say this: bisexuality exists, Sex and the City doesn't know how to accurately portray any character that isn't an upper-class white woman, Tag is super hot, and Alanis Morissette's Jagged Little Pill album is still amazing.

 1. Season 3, Episode 2 "Politically Erect" – Voting is Stupid
Nobody is looking to Sex and the City for political guidance. If the show were to take place today I would be terrified to learn who each of the girls would've voted for in 2016, but let's face it, it would've probably been an overall disappointment. Speaking of disappointments, this episode starts with Carrie dating a hot silver fox who's running for comptroller. Naturally, she refuses to wear his pin out in the open, and instead hides its under a godawful flower pin. Carrie and the girls are all soon dining al fresco, discussing politics in fur coats. The conversation goes as follows:
Charlotte: I can't believe you're dating a politician, you're not even registered to vote!
Carrie: It's the undecideds they're really after.
Samantha: I totally get it, not only is he good looking, but he's got the power thing going for him. It's gotta be a turn-on.
Carrie: Oh yeah, I'm dating a potential comptroller, it's hot.
Charlotte: I want to help out with the campaign.
Miranda: Since when are you interested in politics?
Charlotte: Always. It's a really great way to meet men! And with Carrie by our side we can just get to meet the inner circle, and all the really interesting donors.
Miranda: By interesting men, she means single and rich.
Carrie: Guys, he's not running for President.
Samantha: Oh he should! I'd vote for him, he's really cute.
Miranda: So?
Samantha: I always vote for candidates according to their looks.
Carrie: I base my decision on the swimsuit competition.
Samantha: The country runs better with a good looking man in the White House!
The conversation goes on pretty much like that, Carrie saying one-off jokes while letting it be known that politics are stupid, Miranda making little remarks that remind us she's the smartest one of the group, but not smart enough to actually bring up the issue that Carrie's not registered to vote, Samantha talking about how hot JFK was, Charlotte discussing how she wants to date a hot politician—just the usual stuff! Carrie takes the girls to some political event and reminds them to vote for her politician boyfriend. Miranda asks why they're voting for him, and Carrie lists some bullsh*t reasons before giggling and saying "it's because I'm sleeping with him!" Samantha announces she doesn't believe in the Republican Party or the Democratic Party, she just believes in parties—just typical party convo. After more jokes about how he should be elected comptroller because he's hot, the whole politics storyline fizzles out. The comptroller-to-be asks Carrie to pee on him before breaking up with her because his campaign manager tells him dating a sex columnist is a bad look. Which is really the most believable thing about the episode.
Listen, I'm very aware that politics don't have to be a part of everything, but a little mention of how voting is important wouldn't have hurt anyone. If a show can inspire so many people to move to New York and convince their parents to pay for their overpriced apartments then it probably could've inspired some of those same people to vote, ya know?

Am I going to stop watching Sex and the City? Unfortunately, no. I'll probably make more comments on how f*cked up things are on the show, but I'll still sit there while the next episode auto-plays. There's nothing we can change about the media of the past, but at least now we can look at it with a different set of eyes. In 2019, I think we're all a little better at holding TV shows accountable. Also…just like…vote? 
Images: HBO (2); Giphy (14)