Balenciaga Managed To Make Crocs Even More Hideous Than They Already Are
The year 2017 is just full of nightmares surprises, and it looks like the year 2018 is going to carry on with that tradition thanks to Balenciaga, who tried to pawn off what anyone with eyes knows are Crocs as "foam shoes" during their 2018 spring fashion show for Paris Fashion Week. Umm…I'm sorry, but IDGAF what you want to call 10cm pink platform Crocs complete with flower widgets, but we the people know what these "foam shoes" really are: a monstrosity. There are some things that should have just been left in the early 2000s (chunky highlights, Donald Trump, etc.), and Crocs are definitely one of those things. I don't care if I see a pair of these on the cover of Vogue being worn by both Hadid sisters and a Kardashian, we're not going to make Croc-based fashion happen. It's not going to happen.
That's not to say that Crocs don't have their place in the world. They're perfectly fine for dads on vacation, the elderly, and days when you're too hungover to move and have no immediate plans to leave the house, but these platform Crocs don't even work in any of those circumstances. The point of Crocs is to show the world you've given up comfort, and these things are too tall to actually be comfortable in any way. Crocs are house shoes, and nobody is wearing platform sandals around the house for shits and gigs.

What's worse is that Balenciaga isn't even the first high fashion brand to attempt to bring Crocs back into our lives. Christopher Kane also tried his version of a "fashionable Croc" (again, not a thing) last September, telling Vogue, "Crocs are arguably the most comfortable shoe, I love that they are slightly awkward and might be perceived by some as 'ugly.'"

Umm..okay, so agreed about the comfort part, but "slightly awkward" and "might be perceived by some as ugly" are the understatements of the century. Crocs are more awkward than running into your ex on a date, and are perceived by all people as ugly. It's one of the only things Americans can agree on. Balenciaga designer Demna Gvasalia also explained his sick, twisted mind rationale to Vogue, telling them, "It's a very innovative shoe. It's light, it's a one-piece foam mould and to me these kind of techniques and working with these kind of materials is very Balenciaga. In the future you will be able to 3-D print them at home because they are all one piece."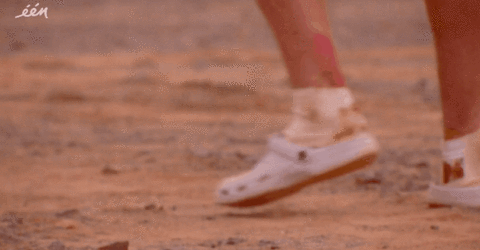 Oh, now I get it. It's just laziness. You want to be able to print a fuckload of shoes for 10 cents and sell them to me dumb fucking fools for $400. Okay, Balenciaga. I see you. And honestly, I respect the hustle, but you're gonna have to try it with a better shoe.
5 Low-Rise Jeans That Won't Make You Look Like A 'Laguna Beach' Reject
Apparently low-rise jeans are making a comeback, which is the least surprising news ever if you really think about it. Every couple of years, the jean style you swore you'd never wear again sneaks back into your closet, kind of like when you hang out with your ex but you're definitely not together again. We all promised to ditch low-rise jeans and their horrible short zippers when we discovered the slimming capabilities of super high rise denim, but obviously that trend wasn't going to last forever. I'm not saying you should get rid of your high-waisted jeans, and I'm definitely not saying you should pull out your old boot cut True Religions with bedazzled butt pockets. I'm just trying to prepare you for a painless transition from one denim trend to the next. Here are a few pairs of low-rise jeans that won't make you look like a Laguna Beach walk-on that never got a more detailed on-screen name credit than "Brody's friend."


These AG jeans are basically as close to a denim legging as you can get without wearing literal Pajama Jeans. These may be low-rise, but they also have a step hem and a distressed wash, so they're way more 2017 than 2007.

These are kind of like mom jeans, but they're low-rise, which helps prevent serious mom butt. They also have a slouchy fit but don't have holes, so you can pull off a relaxed look without every old dude you see in a day asking how much you paid for jeans with holes in them.

On the off chance that you do want every old dude you see in a day to ask how much you paid for jeans with holes in them, this is a pretty good pair. Plus, they're just from H&M, so if you accidentally rip through the knee hole with your foot, it's not the total end of the world.

Before you stop reading and close this article out because I just suggested you buy jeans from Abercrombie, hear me out. Do you still drink the cheap vodka you blacked out off of in college? Yes, of course you do. You just don't take photos of the bottle anymore. This is kind of the same scenario. A&F finally stopped putting their signature pocket stitching on most of their jeans, so you can still wear their super comfortable, actually affordable denim without rocking an infamous Abercrombie butt.

As long as you don't wear these with like, a pink polo with a popped collar and oversized fake pearls, you should be fine. Gigi Hadid is desperately trying to make Tommy Hilfiger a thing again, so you might as well join in on that movement.