Summer is just around the corner and suddenly I'm feeling personally victimized because I've spent the last 3-4 months sitting on my couch eating cheese and drinking wine and judging Bachelor contestants on Instagram. And I am certainly not ready to be, like, social or in clothing that covers less than 90% of my body. But I guess I'll have to make the transition to my summer self at some point and instead of, say, tackling the areas of my life that might actually take work and commitment like eating healthy and going to the gym, I'm going to actively avoid those parts and focus on an issue that money can solve. Like a new haircut. I'll most def be consulting my very trusted hair stylist, Susi, who may or may not give me an extra complimentary glass of chardonnay in exchange for a very overpriced haircut and 3-4 expensive AF beauty products that I did not need in the first place. What we have, you can't fake that, ya know? *laughs into empty wine glass* I recognize that we don't all have a Susi in our lives to con trick exploit guide us on our summer hairstyle journey, but that's why I've put together this super extensive and not at judgmental list of summer haircuts that are the best for your face type:
HEART SHAPED: Shoulder Length Bob
Picture Aria's haircut from PLL season seven or whatever fucking season is still somehow getting air time. I know, I know. Never did I ever think a haircut on Aria fucking Montgomery would actually be in season for summer, but then again I also didn't think people were stupid enough to spend 12K on a music festival that didn't actually exist. You learn something new every day.
But back to the haircut. Instead of assaulting my eyes with like, glittery graphic tees and metallic jeans, Aria's actually on trend. *questions entire existence* This cut looks good AF on Lucy Hale's heart shaped face and you should ask your stylist for a shoulder-grazing bob with layers placed around the bottom. Lower layers help create extra movement and dimension in your hair without you having to do a damn thing. Style it with a center part to add length to your face and create more symmetry.

HAIRCUT RISK LEVEL: Lower than all of the Liar's IQ's put together
ROUND SHAPED: Face Framing Bangs
I know what you're thinking, BANGS? Does everyone regret getting them? Yes. But should people with round faces still get them? Also yes. Baby faces of the world, pay attention because this is your time to shine. Face framing bangs are the perfect way to take your summer look from Wizards of Waverly Place to Justin Bieber Sends Me Dick Pics and that's really the best transformation you can ask for. The fringe is the focal point of this cut and it's v important that the stylist cuts your bangs to that focal point. Be sure to reiterate this to your stylist lest she feels the wrath of your Yelp review. And sorry if you end up hating your bangs. Feel free to skewer me in the comments.

HAIRCUT RISK LEVEL: Posting a selfie with the dog filter to your story
OVAL SHAPED: The Pixie
This cut can seem terrifying, especially if you have super long hair to begin. I bet it's because you have this theory that if you cut off all your hair you'd look like a British man BUT if you have a very petite, oval face shape then you were literally made for this haircut, so grow a pair and take the plunge. Plus you'll look like Millie Bobby Brown aka the betchiest preteen to ever grace my Netflix account (and a personal style icon of mine because, yes, I take style advice from 12-year-olds). Ask your stylist for a short, layered cut with a longer top that stops just below the cheekbone and tapers in the back toward the nape. That way your hair won't overpower your face and you'll just look sleek AF.

HAIRCUT RISK LEVEL: Day drinking on an empty stomach and literally hoping for the best
DIAMOND SHAPED: Angled Lob
You've got cheekbones and, as a person whose winter face resembles that of the Pillsbury doughboy, you should absolutely stop fucking around and get this haircut. Take a page out of Kim Kardashian's book for a dramatic, edgy summer look. Make sure your stylist emphasizes the clean angles of your face to really play up your features.

HAIRCUT RISK LEVEL: Posting the group vacation photo on Instagram when everyone else looks like shit in it
SQUARE SHAPED: The Perm
UGH I did not want to have to put this one on the list but apparently perms are back in style because people have lost their goddamn minds. And by people I mean me because I'm seriously considering this cut for summer 2017. You know something's in when your overpriced salon with 100k Insta followers is posting about it. If you have naturally curly hair then you should ask your stylist for a lot of short, vertical layers in the hair, which gives your curls a more bouncy/full shape.

​
If you don't have naturally curly hair then be sure to ask your stylist to use a larger rod when perming your hair. It's less overpowering on your face, but still gives you enough volume to resemble the less hot cousin of a lesser known Victoria's Secret model. Now, no one spread this shit around lest my mother find out. I've already been tagged in two very smug Facebook posts and I've reached my quota for told ya so's this week.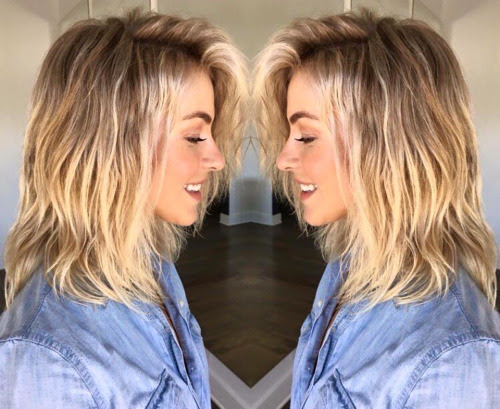 HAIRCUT RISK LEVEL: Having to tell your mother "You were right"
IDFK SHAPED: The Buzz
I had to address this one because this cut is all the rage among Hollywood's biggest cries for help stars. Technically, the right face shape for this cut is a diamond shape but I'm also thinking "lost your damn mind" or "my acting career is clearly struggling" are more accurate face types for this hair trend. I know this year has been, like, hard with our dwindling rights and Donald J. Cheeto casually leading us into WWIII but that's no reason to regress back to Britney Spears circa 2007. Handle your shit like an adult by taking slow, calming breaths and also consuming alcohol. N'amastay.