Happy Monday, everyone! Stassi Schroeder of Vanderpump Rules is may be getting sued for some shit she said on a podcast—and no, not the time she referred to the #MeToo movement as a "male witch hunt." Or the time she said she was "tired" of people of color talking about race. Against the advice of everyone with a grasp on logic and a desire to see Stassi succeed, Stassi went on another podcast, The Bitch Bible, and proceeded to fuck herself over yet again. This time, she accused ex-VPR cast member Faith Stowers of stealing "over $300,000 worth of stuff," and also maybe Jax's car. I'm not sure who Stassi's publicists are, but I wonder why they continue to let her appear on podcasts, including her own. This story is fucking crazy, so pop an Adderall (but stay away from the tequila) and let's get into the details of what she said.
Stassi & Kristen's "Investigation"
Stassi made a ton of claims during this podcast episode—it was honestly kind of hard to keep up. First, she says that Kristen's friend texted her saying "do you know Faith Stowers? She was out and stole my credit card." If you're thinking this sounds less than rock-solid, don't worry—the text continued to say "I know because her friend came to me and admitted it." Maybe I'm being jaded here, but I feel like it's rare for someone to walk up to you and tell you the first and last name of the person who just stole your wallet. Must be an LA thing.
Kristen, because she's Kristen, obviously goes batshit with this information. She finds a Daily Mail article covering an investigation of a woman who allegedly drugs and robs men in LA night clubs, and decides that woman is "100% Faith." All she has to go off is some grainy surveillance footage that, I guess, could be Faith, but could also be a ton of other people. Kristen and Stassi then do a bunch of psycho shit like screen shotting surveillance footage, comparing it to Faith's tagged Instagrams, and seeing if tattoo placement lines up.
https://twitter.com/kristendoute/status/989555026661031936[/embed]
After consulting with DJ James Kennedy, they further allege that Faith (or rather, the unnamed woman in the surveillance footage they've been obsessing over who they think is Faith) is wearing Logan's jacket in the video. (Logan is James' ex-friend/spurned lover, in case you've forgotten. God, this cast is messy.)
https://twitter.com/kristendoute/status/989558741841334272[/embed]
Once JacketGate breaks, Stassi and Kristen go full Law & Order and call the authorities. The police tells them in no uncertain terms that they don't give a shit and are not convinced, which seems like as good a time as any to stop telling people about your "findings." Or, you know, go on a podcast six months later, up to you Stass!
Listen to Benson, sweetie, she's better at this than you.

Don't Worry, There's More
Stassi, whose Adderall appears to be furiously kicking in at this point in the podcast, drops a few more bombs. She talks about how Faith was "homeless" while shooting VPR, and says that while Faith was couch surfing, Lala Kent would "plant things in her apartment to see if Faith stole it." A statement that really exclusively makes Lala look bad, but ok. Stassi then goes on to mention Jax's car being stolen the night that the Jax/Faith hookup is revealed. Again, for unknown reasons, she decides this must be Faith too.

As a parting shot, Stassi warns Faith that she has "video cameras all up in [her] house" and "everyone is going to know it's you." First of all, unless Faith stole the car and then stashed it in Stassi's apartment, I'm not really clear on what kind of damning footage she'd have. Also, WHY do you have video cameras all over your house?? Do you watch old footage of yourself on a regular basis? Is it a sex thing? Please explain. (Actually, don't.)
Faith's Response
Unsurprisingly, Faith has a different version of events. On Wednesday, Faith went on The Tomorrow Show and announced that she's suing Stassi, supposedly using Lisa Vanderpump's legal team. On the car-stealing accusation, Faith seems just as bewildered as I am on how Stassi got from "missing car" to "Faith took it." As Faith puts it, "Jax Taylor's car magically went missing and I had to be the person that stole it." As for the other accusations, she recounts Stassi seeing the Daily Mail article, and adds that the woman pictured "was a black woman who looks nothing like me." Hmm. "I don't know if Stassi's been around a lot of black women in her life," Faith continues. "I'm guessing probably not."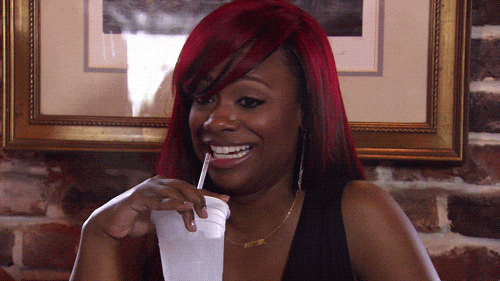 Judging from the general diversity level of VPR's cast, I'd say that's a safe assumption. Faith adds that she was "really shocked" that Stassi would associate her with the woman in the article. But notably, she refuses to label Stassi as a racist outright. "I don't want to put the 'r' word out there and say that she's racist because that can really stick with somebody," Faith says. (Despite the fact that Stassi wasn't particularly concerned about the possibility of false criminal charges sticking with Faith.) As a further insult, Faith reveals MTV "had to do a background check" because of the things Stassi said (for her new show, Ex on the Beach.) V impressed with your restraint, Faith. And good for you for getting off the toxic mess that is VPR (for the not-at-all toxic show that basically Bachelor in Paradise, but with everyone's exes). Also, I kinda think reality shows should be doing background checks in general (Chad Johnson, anyone?), but whatever.
Faith concludes by stating that she doesn't want money from this lawsuit. (I take it with a grain of salt whenever a reality star says in a TV interview that they're not doing something for the money.) She says she just wants Stassi to retract her statements, and more generally, to understand the power of her voice. "You have a reach ma'am," she says of Stassi's VPR fame, "and because you have that reach, you have a responsibility so when you say things…you make a check and you make sure they're true." As for why Stassi might be making these accusations? "Maybe she still likes Jax" is Faith's theory. Truly, the burn Stassi deserves.
Images: Twitter (2); Giphy (3)