So your friends are in town for the weekend and their knowledge of New York is more limited than the Birthday Edition Kylie Lip Kit. I mean, you can't blame these poor non-New Yorker souls. For whatever terrible reason, they decided not to follow the rest of the post-grad world to New York after college and now they're just SO confused by the city. (It's on a grid system, you simple bitch!) You want to give your guests the best New York experience while taking them to places that are trendy but also amazing—and for the record, that doesn't include the goddamn cookie DŌ line. Here's where you need to go out to eat.
1. Emily West Village
Emily recently opened its West Village location after swarms of hipsters went crazy for its sister restaurant, Emmy Squared. While Emmy quickly became the pizza mecca of Brooklyn (debatably second place after Roberta's, but no one has the time for that line), Emily totally kills the pizza game too. The reason we love this location is because it's SO much more than good pizza. The vibes are fun for a night out, and they also serve burgers and side dishes that will make you forget how many man buns are present at the table next to you. It's basically very good food in a very cool atmosphere. You can't not love it.
2. Cafeteria
Cafeteria is probably our favorite Chelsea spot, and we like that it's close enough to Meatpacking so that you can get drinks before or after dinner without having to get on the subway (ew) or get in a cab. Cafeteria has those NY late-night diner vibes with a chic twist, and the tables outside are amazing for judging people watching. They also have a downstairs area that seats more people per table, which is helpful if you're with a big group. FYI, the truffle fries are crack. Don't say we didn't warn you.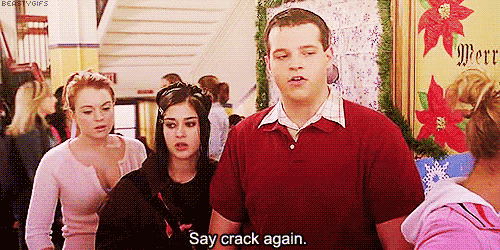 3. La Esquina Brasserie
If your visitors love Mexican food but the thought of a Saturday night at Dos Caminos makes you cringe (good girl), take them to La Esquina in Nolita. The location itself is a ton of fun, and the food and cocktails are amazing. The vibe is a bit more Latin American than your typical tacos and margaritas place, so if you're into trying unique combos, you'll love this place. Even if you're not, just go. Like, does anyone have anything bad to say about tequila and guac? Seriously, let me know because I'll unfriend.
4. Lure Fishbar
Lure Fishbar is one of those places that has been around for over a decade, but it's always a good time. It's also managed to remain a New York staple without being cliché or overdone, like Levain Bakery or Serafina's. Lure is obviously a more expensive dinner, so make sure you're with the right crowd that wants to drop over $40 on slow baked Halibut. Or just wait until your parents visit and want to take you out for dinner. Seriously though, if you're looking for good seafood and a fun bar scene, Lure is a great place to go. You basically feel like you're dining on a yacht when you're really like, 20 feet from Brandy Melville's Soho location. It's magical.

5. Atla
Atla opened pretty recently, and we're pretty sure the line to get inside is filled with people who don't have day jobs or are just scouting the area in the hopes that Gigi Hadid will come out of her across-the-street apartment building. I mean, every table has a pair of sunglasses on it, and we're starting to think it's just an accessory to have in the background of the goat cheese toast Instagram. Either way, Atla serves casual, Mexican-American style food made by the chef who owns Cosme, aka where the Obamas eat on vacation. It's super cute and it's worth checking out.
6. by CHLOE.
If you have visitors who are vegan or vegetarian, you'll need an option that will make you forget the fact that you're eating $16 sponges tofu on a Thursday night. By CHLOE. kills the veggie game without killing any animals in the process. The burgers are too good to actually be healthy, and the kale caesar salad will literally change your life. Try to go during off-peak hours to avoid a line of Postmates guys and NYU students wearing chokers. They have a few locations around the city now, but the Flatiron location prob has the most seating if you're with a few people and don't want to squeeze at the community table with randoms. I'd rather stay home.

7. Minnie's on Clinton
Minnie's is one of those Lower East Side restaurants that's too cool to have an actual defined cuisine, but that's why we love it. Whether you're with people who are into extreme comfort food or just want some light sides, Minnie's has all of that, and they do it really well. The brick wall atmosphere is super intimate and cute, and you definitely don't have to worry about being underdressed. It's basically low-key dining done right.
8. SushiSamba
Out of towners love to complain that New York sushi isn't as good as *fill in the random-state blank." While we're not sure where this kind of hate is coming from, we're down to challenge it. SushiSamba serves amazing sushi and it's unlike any other place your guests have ever been (unless they've been to the Miami location.) SushiSamba's food is actually a Japanese-Brazilian-Peruvian fusion, so the rolls are unique and really cool. If you've never considered fresh mozzarella on your crispy rice roll, it's time to rethink your sushi palette. Not judging though. You're not from here.