Joke's on all of us for thinking we had a fun weekend, because if you weren't in Paris, then you seriously messed up. First, France won the World Cup for only the second time in twenty years which is a great victory considering the United States team didn't even qualify this year. I guess soccer just isn't our thing when we're too busy watching our country's leadership crumble into a raging dumpster fire. Maybe we'll get 'em in 2020, boys. Much more important than sports, though, is that The World Cup of music, Queen Bey, was in town and of course, she delivered.
Beyoncé had a concert in Paris as part of her On the Run II Tour and fellow queens Michelle Obama and her daughter Sasha were in attendance. Sasha, I know you're 17 years old and it's not cool to party with your mom, but I hope you're making an exception considering your mom is literally friends with Beyoncé.
Here's Michelle hanging out with Beyoncé's mom, Tina Lawson.
Michelle Obama checking out Beyoncé at #OTRII in Paris? YES! pic.twitter.com/azOsTTKIzV

— Johanna Fuentes (@jfuentes) July 15, 2018
Here's Michelle and Sasha, having the best mother-daughter bonding sesh of all time.
And can we just reflect on how beautiful Sasha Obama is? Hair is laid, sis. #OTRII pic.twitter.com/KMv335YEE7

— Joi-Marie (@joimariewrites) July 15, 2018
The best part, though, probably has to be Michelle's sweet moves. Even when Mama Bey Tina takes a seat during Jay-Z's performance (good for her, considering) Michelle keeps dancing like the gracious angel she is.
.@MichelleObama & Ms. Tina dancing at Beyoncé & JAY-Z's show in Paris tonight. #OTRII #Round2 pic.twitter.com/lQsAnmzhtg

— BEYONCÉ LEGION (@BeyLegion) July 15, 2018
It's good to know that the Obamas can still have fun considering the act that followed them in the White House is bombing real hard right now. Also, Michelle, if you're looking for a third daughter, we're all very available.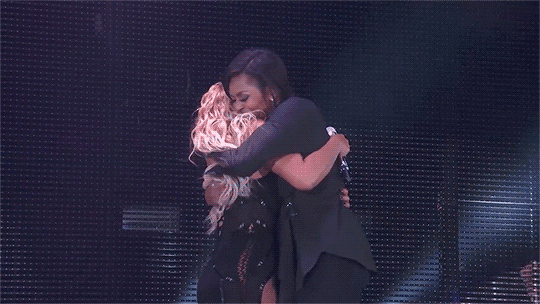 Heads up, you need to keep up with the news. It's not cute anymore. That's why we've created a 5x weekly newsletter called The 'Sup that will explain all the news of the week in a hilarious af way. Because if we weren't laughing, we'd be crying. Sign up for The 'Sup now!