On this week's episode of Game of Thrones White Houses, the Secretary of Homeland Security got the Cersei Lannister treatment and was booed while trying to enjoy her marg. Her and some colleagues thought after a tough week of immigration policy what's better than enjoying the cuisine of those you don't want to stay in America! Not pretentious at all. She pretended like nothing was happening and ignored the protestors who went on for more than 10 minutes. Meanwhile expecting a largely hispanic waitstaff to make her some guac and not thinking about the fact that some of them may know people effected by the policy she is carrying out. Besides her being part of the Trump Administration, the reason for her being booed was because she stood in favor of the separation of families at the boarder. How a woman stood for this I will never understand.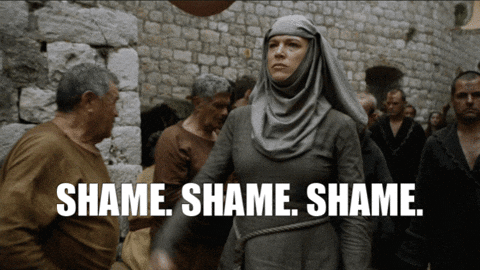 Who TF Is Kristjen Nielson?
Kris "with a J" Nielson has been around since Bush Dub's administration. Nielsen is was the Principal Deputy White House Chief of Staff to President Donald Trump and before that the chief of staff to John F. Kelly during his term as Secretary of Homeland Security. The on December 5, 2017, the v republican Senate confirmed her as the Secretary of Homeland Security, and was sworn in the next day. The reason you are just hearing about who TF she is, has to do with the the zero tolerance immigration policy… and some of these tweets. Trump must be hosting weekly twitter workshops, most likely called "The Art of the Tweet."
https://twitter.com/SecNielsen/status/1009254405659615233[/embed]
Okay So Show Me The Video
Okay okay, we'll show you the goods. TBH I can't wait for technology to get to a place where you can get a full body tattoo of a video, because as soon as that happens I'll be getting this permanently inked onto my back:
Part one of a video of @mdc_dsa @DC_IWW and others shouting DHS Secretary Nielsen out of a restaurant. She doesn't need to be kidnapping #immigrantchildren to deserve this treatment. Don't give the regime a moment of rest. #KeepFamilesTogether pic.twitter.com/B3RfraOk1E

— Smash Racism DC (@SmashRacismDC) June 20, 2018
If you want to know who to thank for this precious gift of a protest, it's the Metro DC branch of the DSA – aka the Democratic Socialists of America, and the DC branch of the Industrial Workers of the World (IWW). Leftists truly have no chill, and I mean that in the absolute best way possible.
WTF Is Happening With Family Separation Now?
On Wednesday, Trump signed yet another executive order, which kept the zero tolerance policies in place but directs families to be jailed together, rather than separately. Yay?
You can read our full breakdown of the executive order and what it means here.
Find out how to help migrant children and their families here.
Heads up, you need to keep up with the news. It's not cute anymore. That's why we've created a 5x weekly newsletter called The 'Sup that will explain all the news of the week in a hilarious af way. Because if we weren't laughing, we'd be crying. Sign up for The 'Sup now!