While Taylor Swift has been busy cooking up lame revenge plots against Kim Kardashian and Kanye West, they've been a little busy with some exciting plans of their own. Way back in July we told you that Kimye's surrogate (still upset I was not contacted for this position TBH) was pregnant. This week, most likely to distract us from the 15 category five hurricanes that are currently brewing in the Atlantic, Kim and Kanye gave us their due date. This means Kim will tie Kourtney with three children each, while Khloé still has none. She really is the Gretchen Wieners of this family.
Kim has been public about how difficult it was for her to get pregnant, so using a surrogate seemed like the obvious choice for baby number three, and now it's really happening. We've always felt strongly that the movie Baby Mama is highly underrated, so hopefully Kimye will help bring awareness to surrogates everywhere, or something.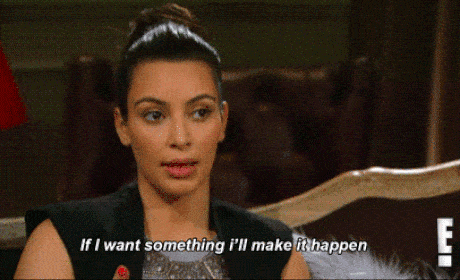 The newest Kardashian-West arrival is due in January of next year, and according to the always reliable "sources," the baby is supposedly going to be a girl. We're very happy about this. Obviously Saint is a cute kid, but North is literally the most beautiful child since me the baby Jesus. Hopefully the new baby will look just like her and everyone will be jealous happy.

Some additional sources also claim to have details about the surrogate herself, who is reportedly a black woman in her 20s who already has two children. Sounds about right. She's also reportedly a registered Democrat, which will probably cause drama with Caitlyn on a future episode of Keeping Up.
Kim has talked about wanting a third child, so she must be super excited, and is probably already making a list of baby names that will sound the best on contouring kits and reality show spin-offs. We can't wait for January 2018 when we find out what rich person name they choose, because the last two haven't disappointed.