Last week news broke that men are scum Tristan Thompson probs cheated on nine-month-pregnant Khloé Kardashian with some hoe at a club. Is this the part where we corral up all of the men and set fire to everything they know and love? Cause I've been ready and waiting for that shit since 1992. Just saying. Anyway, while I've been at home sharpening my pitchfork gleefully following this scandal from afar, the Kardashians have been "rallying" around Khloé in her time of need. Cosmo.com recently reported that the Khloé's family has been trying to help her concentrate on her newborn daughter and keep her away from the news, which, like, would be super sweet of them if I wasn't seeing their barely clothed bodies all over my damn Instagram feed. I guess some families show their love and support with cards and flowers, while others take selfies of their asses. To each their own. So here's how all of the Kardashians are responding to the Tristan Thompson cheating scandal, may God have mercy on their souls:
EXHIBIT A: The Kardashians Break Their Silence
https://www.instagram.com/p/BhcP0r8g7O0/?taken-by=kyliejenner[/embed]
Kylie was the first to break the Kardashian/Jenner silence pact after the cheating scandal broke. This picture was posted just hours after her sister's personal life went up in literal flames, and as you can see, Kylie (and her ass) are clearly distraught over the whole thing. Kylie posted not one, not two, but a whole damn series of photos that not only showed off her post pregnancy body unwavering support, but also helped promote an old lip kit. Because nothing says "thinking of you, sis" like an aptly timed promotion. Kris Jenner would be so proud.
EXHIBIT B: Green Is The New Grief
https://www.instagram.com/p/Bhbwk7-jdA8/?taken-by=kourtneykardash[/embed]
Kourtney was the second member of the Kardashian fam to break their silence, and she did so with a casual reminder that while sources say Khloé is "devastated" and trying to "get the hell out of Cleveland," Kourt and Kim are living their best lives on vacation. So sweet! I literally can not think of one single other way to send thoughts and prayers to a family member going through something than with a photo-shoot in between Mai Thais by the pool. What I find most interesting here is Kim and Kourtney's choice of wardrobe. They both chose to wear green, which I can only assume is a subtle way of saying they're green with envy at all the press Khloé's been getting from her obliterated relationship. Like, no one even seems to give a shit that they're in Turks & Caicos for adult spring break. I mean, what has the world come to??
EXHIBIT C: Nothing Says Support Like A Selfie
https://www.instagram.com/p/BhXdWWBFlbF/?taken-by=kimkardashian[/embed]
Then we have Kim, from whom I honestly expected nothing less. If you'll recall from early episodes of Keeping Up With The Kardashians, Kim has always handled painful, traumatic family moments by taking fire selfies. To be fair, this pic was taken a whole day after Khloé's world imploded. Who knew Kim would be the most sensitive out of all the siblings? Perhaps motherhood has changed her? Lol, I know. I crack myself up. Let's just hope that Kim doesn't keep the picture that captured Khloé's emotional devastation at finding out the father of her child blatantly cheated on her with another woman on the mantel in her and Kanye's mansion like she did Khloe's DUI mugshot. Never change, Kim!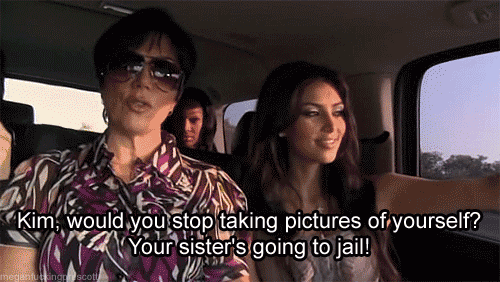 EXHIBIT D: This Is Really Necessary
https://www.instagram.com/p/BhhUZXWAR_C/?taken-by=kyliejenner[/embed]
And finally, my favorite show of support, here we have half of the Kardashian fam (and friends!) dancing on the metaphorical grave of Tristan and Khloé's relationship. This photo was taken just days after Khloé gave birth to little baby True and her sisters rushed to her side in the delivery room. Based on the time stamp, I'm assuming this was taken sometime after Khloé pushed a human being out of her body and in the next breath had to call her lawyer to see if they got that video of Tristan taken off of TMZ yet. While this may not have been taken at the Cleveland airport (though several paps caught similar footage of Kim and Kourtney leaving said airport) this photo shoot is still a little too close for comfort. And by "comfort" I mean common human decency.
Well, as you can see, with sisters like these how can you not want to kill yourself feel loved and supported during your most vulnerable moments? I'll keep these shows of support in mind for the next time my sister calls me to cry about her ex-boyfriend. Thanks for the tips, ladies!!
Images: @kourtneykardash /Instagram (1); @kyliejenner /Instagram (2); @kimkardashian /Instagram (1); Giphy (1)