From Ivanka receiving Chinese licenses for her brands while Chinese diplomats lounge at Mar-a-Lago to Jared's company receiving loans from private equity groups he invites to the White House, Jared and Ivanka just can't resist acting like the Gossip Girl characters they actually once were. Seriously, Kushner Companies might be the one real estate entity more corrupt than Bart Bass's empire.
1998: Jared's Dad Buys Him Into Harvard
Jared's first brush with public shame comes when Charlie Kushner's $2.5 million donation and Jared's subsequent acceptance to Harvard are profiled in a book on rich kids getting into college on the basis of their parents' bank accounts rather than their, you know, merits as students. Ouch. While not mentioned in the book, I'm going to go out on a limb here and say that Ivanka's personal statement was not what got her into Georgetown.

2005: Jared's Dad Goes To Jail
Jared's dad is the only convicted criminal in the Jarvanka story (so far), but his saga is an essential prologue to their sordid tale. Jared's dad spent a year in jail on charges of illegal campaign contributions, tax evasion, and witness tampering after hiring a sex worker to entrap his brother in a sex scandal in order to win back control of his company. This one is so beyond the pale that even Olivia Pope couldn't cover it up.

2012: Ivanka Lies About Trump Soho
While Jared takes the reins at his family's real estate company, Ivanka is getting busy lying to the press and future investors about hers. The Manhattan District Attorney's office found emails between Donald Jr. and Ivanka in which they planned to lie to prospective condo buyers about units sold at the Trump Soho. DA Cy Vance (low-key the same DA who didn't bring charges against Harvey Weinstein) mysteriously dropped the case without pursuing prosecution after receiving a campaign donation from one of Donald Trump's personal lawyers. I assume Ivanka told Vance that her father, the inventor of Toaster Strudel, would not be happy to hear about this case going to trial.

2016: The Campaign & The Trump Tower Meeting
Jared, Donald Junior, and Paul Manafort infamously chill with a group of Russians who want to talk shit about Hillary Clinton. Apparently, Jared got bored at this election rigging pregame, which he literally told reporters because he thinks it demonstrates his innocence. Like you on a bad Tinder date, he emailed his assistant asking her to "pls call me on my cell? Need excuse to get out of meeting." Corrupt celebrity politicians, they're just like us.

2017: Trump is President, Shit Gets Real
Spring: Loans on Loans on Bribes
Citigroup CEO Michael Corbat meets with Jared in the White House, and then loans Kushner Companies $325 million. The year is off to a great start! Private equity firm Apollo Global Management also loans Kushner Companies $184 million. Try not to be too shocked, but this also came soon after a White House meeting.
Spring is an incredibly busy season for Jarvanka and espionage. On April 6, they have dinner with Trump and Chinese President Xi Jinping at Mar-a-Lago. On the literal same day as this dinner, the Chinese government approves trademarks for Ivanka clothing, jewelry, and spa brands. Subtle.
Next, Jared asked Qatar's minister of finance for a loan to keep Kushner Companies' flagship building on Fifth Avenue afloat. He is rejected, probably because his plans to renovate the building into something that a Bloomberg reporter described as belonging in the Emerald City — yes, Kushner is being compared to the Wizard of Oz by business journalists. If he only had a brain. Donald Trump then condemns Qatari foreign policy. I am sure these things are unrelated.

Fall: Lawsuits on Lawsuits
In August, tenants of Kushner Companies buildings in New York sue Kushner Companies for overcharging rent. Kushner Companies is also sued in Baltimore for charging residents illegal fees, baselessly evicting them, and otherwise attempting to take advantage of tenants. Presumably because they knew a Baltimore jury was not going to take any of their shits, the Kushners attempted to move the case to federal court. They also tried to keep the identities of their investment partners in the Baltimore properties sealed, which does not at all indicate that said investors are probably international governments and/or criminals.
To top off an exhausting year of colluding with foreign governments and hawking their influence with the president for money, Jarvanka are sued yet again, this time together (romantic!) over failing to include all their assets in their financial disclosures.

2018: Bye?!
Jared loses his security clearance after 'forgetting' to list multiple foreign contacts on his background check. The director of the National Background Investigations Bureau literally says that he has "never seen that level of mistakes" on a security clearance application. Now I really want to know what Jared's Harvard application looked like. To be fair, if I had as many foreign government contacts as Jared, I would probably forget a few too. Also, multiple governments apparently plotted to play on Jared's inexperience to influence Trump. I don't know whether Ivanka's security clearance or her marriage is next, but one of the two is definitely going down in 2018.
In conclusion, bear with me and return to this Gossip Girl analogy, because real American politics are so ridiculous they are making Gossip Girl plots look restrained. There is a Bass-esque real estate empire involved, Ivanka is as blonde and dead in the eyes as Serena van der Woodsen, and Jared Kushner is basically a wildly less hot Nate Archibald. I mean, he has the businessman turned disgraced convict father with financial ties to political dynasties and also randomly owns a newspaper. Chillingly, the Gossip Girl finale ended with Nate running for mayor. Mueller, if you're reading, I would look for ties to Georgina Sparks. That bitch def has Russia connections.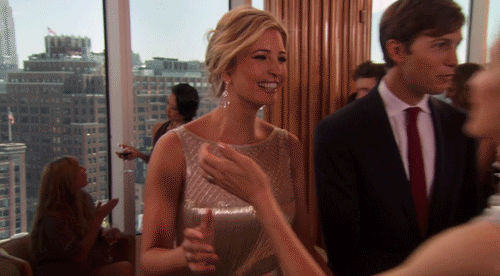 Heads up, you need to keep up with the news. It's not cute anymore. That's why we've created a 5x weekly newsletter called The 'Sup that will explain all the news of the week in a hilarious af way. Because if we weren't laughing, we'd be crying. Sign up for The 'Sup now!