If you go to the gym with any regularity (ok, stop bragging), you likely have a love-hate relationship with the elliptical. On the one hand, it's literally the easiest machine there. On the other hand, you kind of feel like a fake piece of sh*t because pop culture consistently references the elliptical as a non-workout. But as we've learned in 2019, the workout you're seeing all over Instagram is not necessarily the right one for you—and types of cardio you'd written off as a waste of time could actually be valuable (hello, walking on the treadmill!). So, is the elliptical actually worth it? Here are the results of my investigation.
Sidenote: Women of Twitter, please stop bragging about using the squat rack over the elliptical. You are giving the worst men in the world so much ammunition. Just use whatever machines make you happy.
I'm literally the only girl who uses the squat rack at snap… And the only one who isn't always on a freaking elliptical.

— Bailey Bowlin (@baileybowlin) April 30, 2013
If you're a girl and go to the squat rack instead of the elliptical you become 100x more attractive

— Nick Marquart (@NickMarquart) June 22, 2014
The Elliptical Feels Easier, But It's Not
The short answer is yes, the elliptical is worth it! Don't believe me? Good, I'm not a licensed professional! Y'all are learning. ISSA-certified fitness nutrition specialist and trainer Adam Rosante weighed in on this for Cosmo, and his ~professional~ opinion is that "all movement is good movement." The myth that elliptical machines are somehow worse for you than other cardio, he says, comes from the fact that it puts less pressure on your joints than running outside or using a treadmill. So the workout may feel less intense, but it's not—provided, of course, that you're putting in a good amount of effort.
Science Says It's As Good As A Treadmill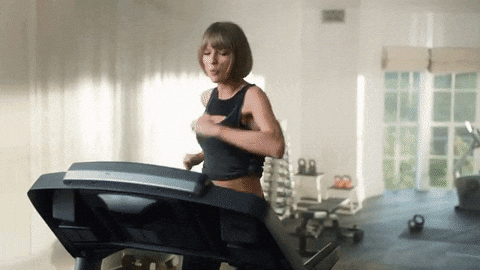 A 2010 study in The Journal of Strength & Conditioning Research (sounds like a great read) tested a group of people's oxygen consumption, energy expenditure, and heart rate while performing 15-minute exercise tests on a treadmill and elliptical. The study found that there was no difference in oxygen consumption or energy expenditure for treadmill vs. elliptical, and that heart rates were slightly higher across the board on the elliptical. The study concluded that for "cross training or noncompetition-specific exercise an elliptical device is an acceptable alternative to a treadmill." I'd pretty confidently describe all my exercising as noncompetition-specific, so I personally find this to be great news.
This Doctor Says It's Better Than A Treadmill
Next up, board-certified sports medicine specialist Dr. Edward Laskowski weighs in. He confirms that you can get an "effective aerobic workout" from either a treadmill or an elliptical machine, and suggests you let your personal fitness goals dictate which one you choose. For example, if you're training for a race, you will probably want to stick to running-based cardio. If you're not a masochist, though, the elliptical offers several distinct advantages. As Adam Rosante pointed out, it puts less pressure on your joints—which means it's a good choice if you suffer from pain in your knees, hips, or back. Your elliptical workout can also be customized to work different parts of your body, Dr. Laskowski points out: pedaling in reverse will activate your calves and hamstrings, while using the handles will activate your upper body.
Basically: on both machines you're getting out what you put in, but if you're not a professional runner and actually looking for a full-body workout (hello), the elliptical could be a good choice. Or, y'know, this:
Like just about any other exercise known to man, how you complete the exercise is the important thing. And when it comes to the elliptical, that means making sure your form is correct, adding an appropriate amount of resistance, and working in some interval training. The treadmill can also be totally useless if you don't push yourself on it—so can the rower, the squat rack, and even that $40 SoulCycle class. TBH, I think the elliptical has largely gotten such a bad rap due to the self-fulfilling prophecy: you don't think it's a hard workout, so you don't try hard on it. So tomorrow, I invite you to stride into the gym and go absolutely apesh*t on the nearest elliptical. If you still don't think it's an effective cardio workout, then I give you permission to sound off below.
Images: Giphy (1); @dylanhafer / Instagram; @NickMarquart, @baileybowlin / Twitter