Tomorrow officially marks the first day of basic bitch szn fall, so you know what that means. It's essentially Halloween, bitches. Get ready for nauseating candy corn Pinterest concoctions and ultra thotty Instagrams because say it with me: Halloween is the one night a year when a girl can dress up like a total slu—actually, I don't feel like it typing it out for the millionth time. You already know the line, it'll be your caption on October 31st. Slutty costumes require a lot of planning and effort. Like, I've been stressing over mine since fucking July because I don't want to be the same thing as 10 other sluts on my Insta feed. While being the center of attention is fun, so is sharing the spotlight with your main betches. Nothing parts the red Solo cup sea quite like a bangin' group costume. 2017 has brought us the bad and the ugly, but boy, did it bring some good costume inspo. From yours truly, here are the group costumes you and your #squad need to start coordinating now so no other basic bitches steal it first.
1. The Handmaids
If I'm being frank, this probably won't be the most original idea since everyone and their mother has watched this show, but it's gonna be a good one. To further carry your obsession with the scarily accurate plot, have you and your girls turn heads at every party with a mysterious red cloak and Little Bo Peep bonnet. Don't buy this for $70 on Yandy or some shit, just go on Amazon. It already has a ~feminist~ flair so bonus points there, but if you want to reveal some more skin because you can wear whatever the fuck you want, swap the red cloak out for a v tight red bodycon dress. I mean, this might be the last year you can legally dress like a slut or go out in public except to run errands for your rich mistress, so live it up while you can.

2. The Kardashians
I've yet to see a group actually pull this off without looking like idiots, so I'm throwing this out there in hopes that I will finally be impressed this year. This is, by far, one of the easiest costumes ever, tbh. Either coordinate all together in the same color bodycon or have each person wear a staple piece of a particular Kardashian. Get yourself some butt pads and find cheap (not tacky) hair extensions and part your hair down the middle. Put on your best falsies, fave Kylie lipkit, and contour the fuck out of your face. Pair with thigh-high boots and would you look at that—Kardashian for life, baby.

3. The Liquor That Makes You Sicker
If I had a dime for every time I saw sorority girls coordinate as different kinds of boxed Franzia wine, I'd be a fucking millionaire by now. Cliché but still (half) true. Instead of doing something overdone and annoying, dress up as your worst enemy go-to liquor. Swap out the Franzia for the one liquor we love to hate: Fireball. Whatever you do, don't go that extra mile and be that girl who says, "And I'll beee drinking this allll night tooo" because you will be that girl who doesn't even make it past the pregame. No one likes that girl.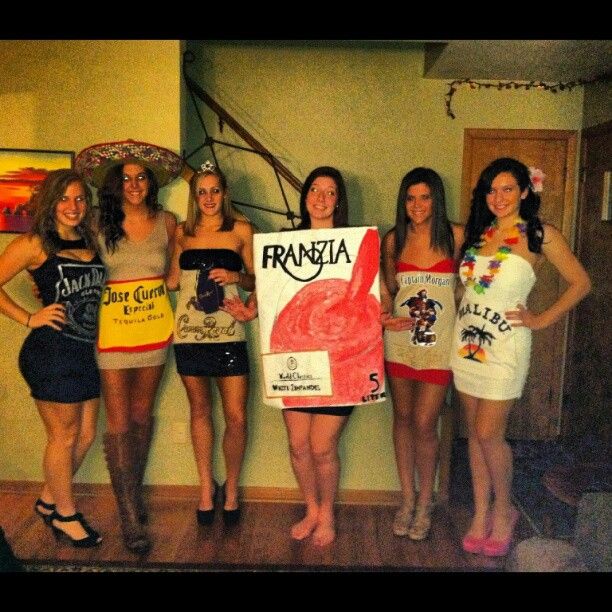 4. Swipe Right
A cupid, bumble bee, and lone flame walk into a bar… and they meet their next husband fuckboy. Sounds like an ordinary weekend. You can't deny your addiction to swiping left and right and using it as an excuse to cop a booty call, so there's no reason why you and your girls can't wear it loud and proud this year.

5. A Certain Iconic Celebrity with Multiple Personalities
"Maybe 2018 will be my year," Taylor Swift probs says to herself every night before she goes to sleep. By the looks of it? Um, no, sweetie, uh-uh. However, you have given us even more ideas than I thought possible for a grool Halloween costume *and* being hella extra when I find out someone keeps my receipts. TYSM. The old Taylor might be dead (debatable), but all the old Taylors are conveniently located in one video for reference for your group costume. Just make sure that when you dress up like a frigid bitch you don't look constipated.

6. The Greatest People You'll Ever Meet
#ShamelessPlug This year for Halloween, we're bringing back our best-selling I'm A Mouse Duh T-Shirt dress so you can be comfortable, lazy, and slutty all at the same time. We literally sold thousands of these last year so you know they're good. But this year, we're adding ANOTHER Mean Girls-inspired costume: Boo You Whore. It's a super comfy white T-shirt dress so you can be a slutty ghost, no cutting holes in sheets necessary. Pick one up for every member of your group to let everyone know they can't sit with you. They're on sale now at Shop Betches, but hurry tf up because they WILL sell out.
You: Omg Betches, you guys are like, the smartest people ever!
Us: I know, right?