Read our Golden Globes fashion recap here!
Welcome to awards season, Betches. We kicked off the happiest time of year last night with the 75th annual Golden Globes, God's gift to those of us who love to watch the most famous people in the world get wasted on thousands of bottles of Moët and pretend they're happy for the award winners. Given the current political climate and post-Reckoning world that Hollywood exists in, there was a lot of anticipation on how our favorite stars would tackle the night. Let's just say, the show set the tone for the rest of 2018, and it is "Women Are Tired of Your Shit." The ladies of Hollywood did not come to fucking play and engaged in our two favorite pastimes: talking shit about men, and wearing all black.
Seth Meyers hosted and, other than absolutely killing it, he served to be the only man all night who took the time to address the Time's Up movement that was taking place. Don't get me wrong, I could watch Alexander Skarsgard bumble his way through an acceptance speech for the rest of my life. But seeing as how the dude won for a playing an abusive husband, and given the general mood in the room, you would think he could have thrown out a quick shout-out to survivors or just not assaulting women or something.
True to form, Seth spared no bitch. Compared to Jimmy Fallon's half-hearted jabs at Trump last year, it was a bloodbath, albeit, a bloodbath that everyone very much needed. He wasted no time immediately getting to the point by welcoming all the "ladies and remaining gentlemen" in Hollywood. If you were worried that Harvey Weinstein and Kevin Spacey would be gently mentioned and then immediately smoothed over, our boy Seth did not let you down.
The audience quite literally gasped when Seth went in on Harvey Weinstein, assuring everyone that while he wasn't there last night, he would "be back in 20 years when he becomes the first person ever booed in the in memoriam." The groans returned when Kevin Spacey surfaced and Seth mocked his House of Cards southern accent. "Oh," he deadpanned "is that too mean….to Kevin Spacey."
Basically, Seth tackled everything you could possibly have wanted him to, toeing a supremely fine line between making jokes while not diminishing the very serious issues lying beneath them. Can you believe that 2018 has been kind enough to gift us with one real ally?
The only dull part of Seth's speech came when he and Amy Poehler attempted some sort of back-and-forth bit, but it just felt awkward and didn't go anywhere. You'd think two people who were literally coworkers on SNL would have more on-screen chemistry, but I thought I'd have more chemistry with this guy I met at the bar last week and yet, here I am, hiding in the bathroom writing a Golden Globes recap instead of finishing our date.

THE GOOD
The first thing that we, as a country, need to collectively recognize is that Viola Davis is a goddamn SNACK. The hair. The dress. The glam. THE EYEROLL. Next year hand out miniature statues of her instead of the actual Golden Globes.

The Handmaid's Tale came away with two awards: Best Actress for Elisabeth Moss and one for Best Prediction of the Future Drama. The award for haunting my nightmares is still pending, but the odds are in their favor.
We'll fully dive into Oprah later on in this recap, but for now I'd like to request that she be placed front and center at every award show for the rest of my life so that every overwhelmed celebrity can start their acceptance speech by gasping her name.
The Rock announced that his daughter had been appointed this year's Golden Globe ambassador, which means she hands out the awards and then participates in philanthropy on behalf of the HFPA. Did anyone else spontaneously break out into tears because you know, inexplicably and yet to your core, that The Rock is just an amazing father? Just me? Cool.
I, Tonya took home a couple well-deserved awards, but all I could think about was how angry Nancy Kerrigan was at that very moment. Has anyone checked on her? I hope she's as drunk as we all are to just momentarily forget that Tonya was very much part of a conspiracy to bash her fucking knee in, and now she's chilling at the Golden Globes with Meryl Streep.
Big Little Lies was a big winner, taking home four awards and cementing the girl power vibe of the night. Literally not one person went on stage and mentioned a single man involved in that show. It was amazing. Let's all just stop mentioning men's involvement in anything and see how much happier we all are.
Natalie Portman won our hearts and souls by taking on the nearly impossible job of following Oprah's speech and shutting down the goddamn house. Bring Vine back just so this single moment can live on in perpetuity.

The quick one-liner. The clear disdain. The fact that Greta Gerwig was completely shunned from the Best Director category despite the fact that she directed the movie that won Best Comedy and Best Actress. Burn them all down, Natalie.
Frances McDormand seems like she would say things along the lines of "I'm not a bitch, I just tell it how it is." I'm scared of her. I'm confused as to why she shirked the Time's Up black dress code and opted for blue. Mostly, I respect that the broadcasters were so scared of her that they bleeped out half her acceptance speech for Best Actress in a Drama in fear and anticipation of her saying fuck.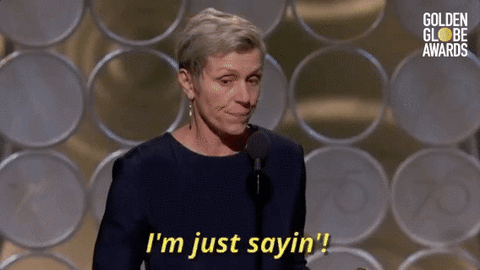 Honorable mention: This technically happened on the red carpet, and not the show itself, but it deserves a shout-out. Debra Messing called out E! for not paying its female hosts the same as men…while be interview on E!
The sheer shade of it is mesmerizing. The only way she could have been betchier was if she started her interview with "No offense but…"
THE BAD
Not sure if everyone was just on their best behavior this year, but there weren't a ton of cringeworthy interactions. That being said, it's the Golden Globes, so there were still a few moments that exacerbated my already raging hangover.
I know that this technically wasn't part of the show, but let's please all take some time today to talk about the L'Oreal commercial that compared Winona Ryder's comeback to damaged hair. Nominate it for Best Limited Series Drama. Play it in advertising classes across the country. Someone apologize to Winona, and while you're at it, to me. It will be seared into my brain for the rest of time.
The return of Roseanne meant that we got to watch her and John Goodman present and award and apparently just collectively forget that she's a fucking Trump supporter. Nice of her to leave her MAGA hat at home, at least.
James Franco took home the award for Best Actor in a Comedy or Musical for his role as Tommy Wiseau in The Disaster Room. He very kindly brought Tommy up on stage with him before body-checking him as he reached for the microphone. This is James' world Tommy, and he's just barely letting you live in it.

Clearly no one has ever explained an indoor voice to James Franco, because he proceeded to scream his acceptance speech into what became an incredibly redundant microphone. He went on to deliver a touching story about how he'd always wished for a brother to collaborate with, probably before remembering that Dave Franco literally exists. It's okay, he loves him more than anything now, so shout-out to the third unnamed Franco I guess.
James Franco: Wow I wish I had my own Coen brother. A brother to collaborate with. A brother.
Dave, probably: Um?
Anyway, if you need me, I'll be in my bedroom writing a thesis about how James Franco is officially over. See you guys in 10 years when I emerge to accept my Pulitzer.
This will be an unpopular take that will likely get me eviscerated in the comments section, but I could have done without the crypt keeper Kirk Douglas portion of the night. I get it. Really. I get the gesture of rolling this 102-year-old man out on stage and forcing him to quite literally age before our very eyes, but I have never experienced greater discomfort than watching him attempt to cough out a sentence while Catherine Zeta-Jones laughs and pretends to understand wtf he's saying. Either my feed had a slight audio malfunction or I could actually HEAR his bones disintegrating on live television. Give the man some Metamucil and let him sleep, please.
Sidenote: If/when I make it to 101 (I drank a kale smoothie today so like, I'll probs live forever) please do not put me on stage to be compared to the world's hottest people, all looking their best, in the prime of their lives. Instead, just show a slideshow of my best thirst traps from when I, too, was young and hot. This statement counts as a living will and is legally binding.
A moment that went generally unnoticed but should definitely be addressed is the random French dude who won an award, got up on stage, and then literally said "If you see a cop, warn a brother."
No one reacted??? Is it because he's French?? I feel like I'm taking crazy pills??? Why didn't the black power table up front reach up and just rip him to shreds?
The night ended on a relatively low note when Three Billboards Outside Ebbing, Missouri took home the final award for Best Drama. It's like the HFPA forgot that an entire movie of Armie Hammer and Timothee Chalamet having sex exists or something.

Another honorable mention from the red carpet: Connie Britton (who is usually on point, always) attempted to get into the #TimesUp spirit by wearing a shirt that said "Poverty is sexist", to which we all replied "Uh….what?" I mean, there's clearly a point that Connie is trying to make here, but nobody is quite sure what it is. Is this about the wage gap? Is it about the intersection between sex, and race, and class? Unclear. The shirt kind of felt like a liberal madlib. [Institutional problem] is [oppressed group]ist. You could do it with anything—global warming is ageist! Gay marriage is racist! Animal cruelty is classist!!
Also, a graphic tee on the red carpet? It's a no from me…
THE OPRAH
January 7th, 2018 was the day that I found out that I really, really care about Oprah. Don't get me wrong, I've never disliked her, but I just didn't realize how much I actually, genuinely, love her. I had no idea my body could harbor this level of devotion. It's like when you don't call your mom for a while but then get drunk and start thinking about how she's getting kind of old now and you end up getting really emotional and leaving her a drunk voicemail about how beautiful she looked at her wedding….not that I've ever done that.
Watching Oprah scream "THEIR Time's Up" to a room full of women who were staring up at her with a level of adoration that the I generally reserve for Harry Styles cured my hangover. Suddenly my skin was moisturized, my body hydrated, my eyesight a perfect 20/20. That speech was more effective than any Adderall I've ever taken in my life. Who needs drugs when Oprah is telling you that a new day is on the horizon? If you watch her speech every morning before you go to work, you'll be a CEO in two years' time.

Oprah: THEIR Time's Up.
Me, lying in the fetal position on my couch, sobbing: I would kill for you.
No recap could or would do it justice. Read it in full. Watch the video once a day. Tattoo the transcript on your body. Know that whatever you're doing, Oprah believes in you. Just don't make the same "Oprah 2020" joke that the entire internet did.
Check out the entire list of winners below and then weep with me over the fact that we didn't get to listen to Timothee Chalamet deliver an acceptance speech. It's okay, we still have The Oscars.
MOVIES
Best motion picture, drama
"Three Billboards Outside Ebbing, Missouri"
Best motion picture, musical or comedy
"Lady Bird"
Best actress in a motion picture, drama
Frances McDormand, "Three Billboards Outside Ebbing, Missouri"
Best actor in a motion picture, drama
Gary Oldman, "Darkest Hour"
Best actor in a motion picture, musical or comedy
James Franco, "The Disaster Artist"
Best actress in a motion picture, musical or comedy
Saoirse Ronan, "Lady Bird"
Best supporting actor, any motion picture
Sam Rockwell, "Three Billboards outside Ebbing, Missouri"
Best supporting actress, any motion picture
Allison Janney, "I, Tonya"
Best director
Guillermo del Toro, "The Shape of Water"
Best original score
Alexandre Desplat, "The Shape of Water"
Best original song
"This Is Me" (from "The Greatest Showman")
Best screenplay
Martin McDonagh, "Three Billboards Outside Ebbing, Missouri"
Best foreign language film
"In the Fade"
TELEVISION
Best television series, drama
"The Handmaid's Tale"
Best television series, musical or comedy
"The Marvelous Mrs. Maisel"
Best limited series or motion picture made for television
"Big Little Lies"
Best actress in a series, limited series or motion picture made for television
Nicole Kidman, "Big Little Lies"
Best actor in a series, limited series or motion picture made for television
Ewan McGregor, "Fargo"
Best actress in a television series, drama
Elisabeth Moss, "The Handmaid's Tale"
Best actor in a television series, drama
Sterling K. Brown, "This Is Us"
Best actress in a television series, musical or comedy
Rachel Brosnahan, "The Marvelous Mrs. Maisel"
Best actor in a television series, musical or comedy
Aziz Ansari, "Master of None"
Best supporting actor in a series, limited series or motion picture made for television
Alexander Skarsgård, "Big Little Lies"
Best supporting actress in a series, limited series or motion picture made for television
Laura Dern, "Big Little Lies"