National holidays are like, fucking awesome for obvious reasons. Not only because you can "occasionally" dress like a total slut, but because they free us from our dreary office and provide an excuse to excessively drink even if it's because a fucking groundhog emerged from hibernation—but when I hibernate all winter, I'm anti-social and depressing… K. This Labor Day weekend, it's expected that we'll drink an ungodly amount of alcohol, indulge in our mom's pasta salad (and then hate ourselves) and shop last-minute summer finds because this is corporate America and holiday sales are massive. Out of the hundreds with Labor Day sales, the only store worthy besides Shop Betches is of course, Nordstrom's Labor Day Summer Sale because it discounts our fave brands up to 40% off, both in store and online. Not only is this a fab opportunity for swimsuits and shorts you've been eyeing, but it'll also have leggings and fall-ready dresses to prep you for next season. It starts today (you're welcome) and runs through September 10th so, before your three-day binge-drinking sesh weekend begins, take advantage of these must-haves or forever hold your peace.
From here on out until summer 2018, our exposure to vitamin D will be slim to none, as will the summer tan we worked so hard on. Pale pink may not be a big fall trend, but you have plenty of good reasons to buy this summer style ahead of time. You probs have a fall wedding coming up anyway that you def didn't buy a dress for yet. Well, here you go. It's semi-slutty short, form-fitting, and v accentuating, so before you gain three pounds during hibernation, you may as well show off the summer bod you got now with this minidress.

These are basically your life-savers for every occasion where leggings, denim, and sweats aren't a question. Weird, I was thinking work, too. Speaking of jobs, the reason why we're even celebrating this weekend since I had to Google the meaning to check is because we put up with ridiculous dress codes and fugly cubicles to begin with. So, cheers to that and get yourself a pair of bangin' black jeans that feel as comfy as leggings that you can totes get away with wearing to the office. Since they're black, slightly cropped, and high waisted, you'll look tall and and skinny AF.

It is slowly becoming sweater weather. Start your obsession with this slightly oversized sweater. It's kinda hipster-ish in the sense that it only bares one shoulder, which sounds odd, but if worn correctly, you'll look cute and comfy like an Insta thot influencer who captions a picture of herself wearing knee-high socks and coffee in bed with something like, "You fell in love with my flowers and my roots, so when autumn came you didn't know what to do." Oh, this sounds like you? Perfect. You and this slouchy cotton-blend sweater are meant to be.

I'll be the first to admit that I have an unhealthy obsession with over the knee boots. They are the sexiest and most versatile shoes EVER. And like, they make your legs look fucking fire, so IDK what's not to like. On that note, all three colors of these Marc Fisher leg-lengthening and booty-plumping boot heels are 40% off so obviously you need to get a pair like, now. Or better yet, get one in every shade.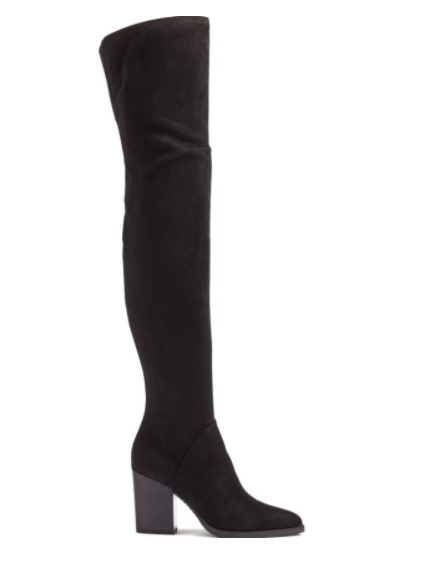 Tbh, you can never have too many leggings and anyone who's anyone already fucking knows that. But be real—half of the leggings in your closet have a hole in the crotch, the other half make your ass saggy and flat, so it's time for an upgrade. These have the basic betch fave of mesh panels to prevent us from having thigh sweat (a major necessity) and feature a figure-sculpting high waistband to keep up with the illusion that you actually go to cycling class and miraculously lost weight this summer.

Suede and leather skirts are v important during cooler seasons because they're trendy, modern, and elevate an average look with new bold pieces. This reddish-brown leather skirt is a twist on the old-fashioned "pencil skirt-businesswoman" look for an upgrade that's professional, edgy, and elegant all in one. It's honestly soft, easy to wear, and falls right above the knee, making it perfect for any boot you decide to pair it with and for getting out of trouble if your HR rep tries to start shit.