A betch wearing distressed denim shorts, in the summer? Groundbreaking. Whether they were your mom's in the 80s or an Abercrombie pair you never grew out of, you def have quite the collection. Here's my problem, though: I, for one, am honestly broke and lazy AF to buy new pairs every year so I settle for ones that still fit because I wear the same pair multiple times a week as long as they miraculously still button. Despite fitting around my waist, the hems obvs get shorter and therefore, ride up my crotch. As a result, I not only look like an idiot who has pockets hanging out (so not cool, btw) but, I incidentally end up mooning everyone on the sidewalk since my ass cheeks are out on display. Now, some of you may think this is socially acceptable, but news fucking flash—it's not. I highly doubt you want to see the girl's butt standing in front of you on the train on your way to work, so no one wants to see yours either. Hoping this is your wake up call, here are some cute high waisted denim cut-offs to replace your booty shorts.


This v simple pair has a mid-rise fit and cuffed hems that fall at about 11 inches. You can dress this versatile pair up or down and stay looking classy because your butt won't be showing for all to see. The shorts feature a 3 inch inseam, which FYI, is a solid indicator that your cheeks won't be peeking out.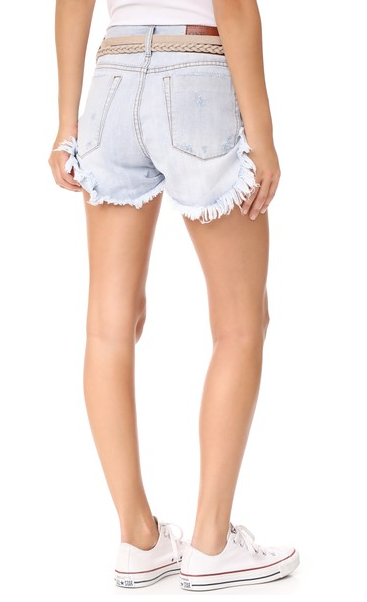 You can wear a shredded, carefree style without having to pull your shorts down every five seconds if you opt for a pair like this. With a shorter hem in the front, you can still show off your long tan legs while your backside is still very much covered. I guess that fingertip rule in high school actually works.

Your beloved high waisted style in black elongates your legs (if you're 5-foot-something like me) and thins out your torso, so don't worry about beer bloat for all those dagers. With the shorts being 10 inches long (which is more than enough before they become Bermudas), you'll keep what's meant to be hidden inside the denim. These will def be the next pair you abuse multiple times before realizing you should probably wash them at some point.

This loose fit on your hips will make your friends think you actually lost weight this summer (LOL, as if) and make a super casual outfit a slutty flirty one with its raw-cut hem. These fall a little before your mid-thigh, but at least you won't look like you're wearing a denim diaper.

Everything about a white pair of high-waisted shorts with floral details is a yes for summer. You'll still prove to everyone you have something worth showing off in the back, but without actually showing it off. The latest mom fit trend, because apparently all sizes have to be named after member of your family, makes for a longer, more comfortable fit. Wear this stylish pair with your fave bralette or bardot crop top so you don't look like an actual mom.

The right picture is bothering me just as much as you, don't worry. Someone should've pulled her corner down, god. Anyway, these shorts come down to 11 and a half inches so I assure you that you'll still slay a backside rooftop picture without being semi-pornographic trashy on Insta. It's only a plus that the millions of buttons make you look skinny AF but, um, have fun trying to undo them when you gotta break the seal.