Chrissy Teigen is our spirit animal IRL. I know no one ever says "spirit animal" anymore, but she's the most relatable, real af, down-to-earth queen woman who rarely ever gives a fuck on social media. So, literally all of us. She's fucking hilarious (RT @ChrissyTeigen), hella smart, has a family that's #goals, can cook better than we ever could, gives clothes away because she is just so nice, and even pissed Trump off enough to get blocked by him on Twitter. It's no surprise that we all aspire to be as betchy as her in every way possible. Not only does she have a bomb af makeup line, but now, we can channel our inner Chrissy in more ways than one. Chrissy's fab collab with Revolve just launched and naturally, I'm buying one of everything as we speak.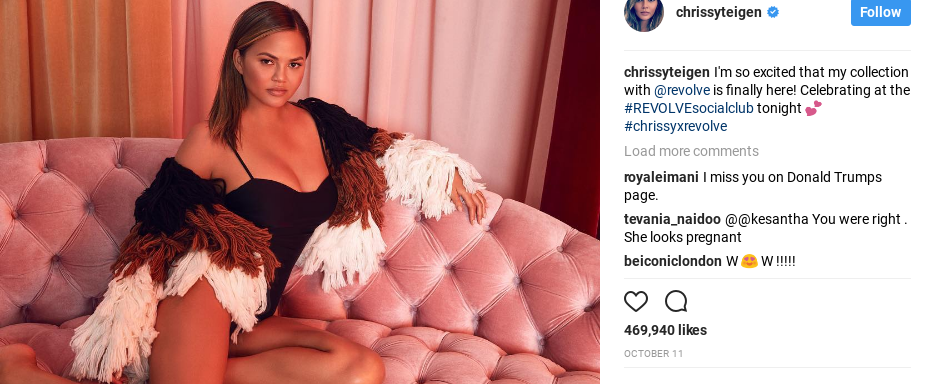 It's mostly in black, so clearly, she knows what's good. From little black dresses to to-die-for matcha pants to risqué tops that show off our "developing" abs, here are just a few of my faves (which doesn't even cut it because I love everything, tbh). I'm not even mad that I'm spending every last dime to my name, though. Peace. Love. Chrissy.

Chrissy's take on a LBD turns up the sex appeal by like, 10 notches on this little number. With cut-out sleeves, a deep neckline, and cinched waist to hide our bloat, the dress is perfect balance of slutty and classy. Those words are normally never in a sentence together, but Chrissy makes it fashion.

All I've seen on the street is everyone wearing these pants. At first, I was hesitant to buy such an item of clothing, but now I def see why everyone's obsessed. They're comfy as hell and still fashion-forward enough to wear to a low-key office (or maybe just my office, but I can't speak for everyone's profession here) and of course, out to happy hour. Plus, with a black pair, you can wear them with anything. Duh. Pair with sock boots, block-heeled booties, flats, or—fuck it. Any shoe looks just as good.

This is the next best thing to add to your closet after a LBD, because it's v versatile so you can wear it like, more than a once a week and still get away with it. Since you can pair this top with any bottom of your choice, you can elevate even the laziest look (sweatpants, anyone?) to appear as though you made an attempt at dressing yourself.

Bodysuits are such a necessity if you're striving to look both v stylish and skinny at the same time. They come in so many styles and colors, it's a wonder why we still own tops, honestly. That is, if we're willing to look past the whole peeing shenanigans. This black off the shoulder bodysuit is plunging enough without actually showing a nip, and is so ideal for all those times when the weather is simply bipolar.

These are the biggest shoe trend of the season, in case you haven't noticed every celeb or store as of late. I basically have a pair in every color at this point, because they make my legs look long af, and I can honestly walk forever in them. Not only are they comfortable AF, but I still get compliments every time I wear them… Even though I wear them on a weekly basis. Needless to say, these are 100% worth every cent, so I def 10/10 recommend you cop this pair ASAP.